St. David's
Minnetonka, MN USA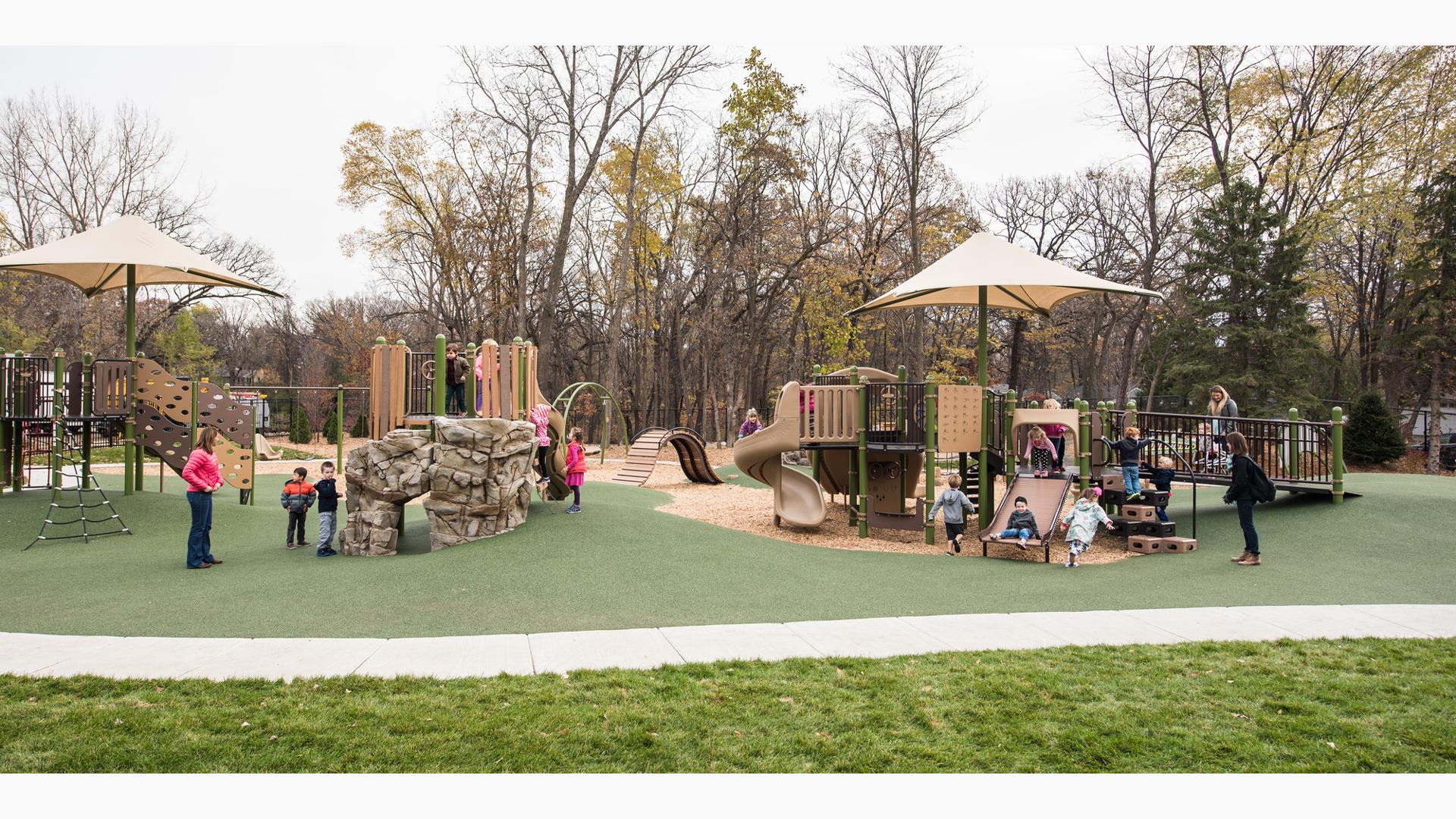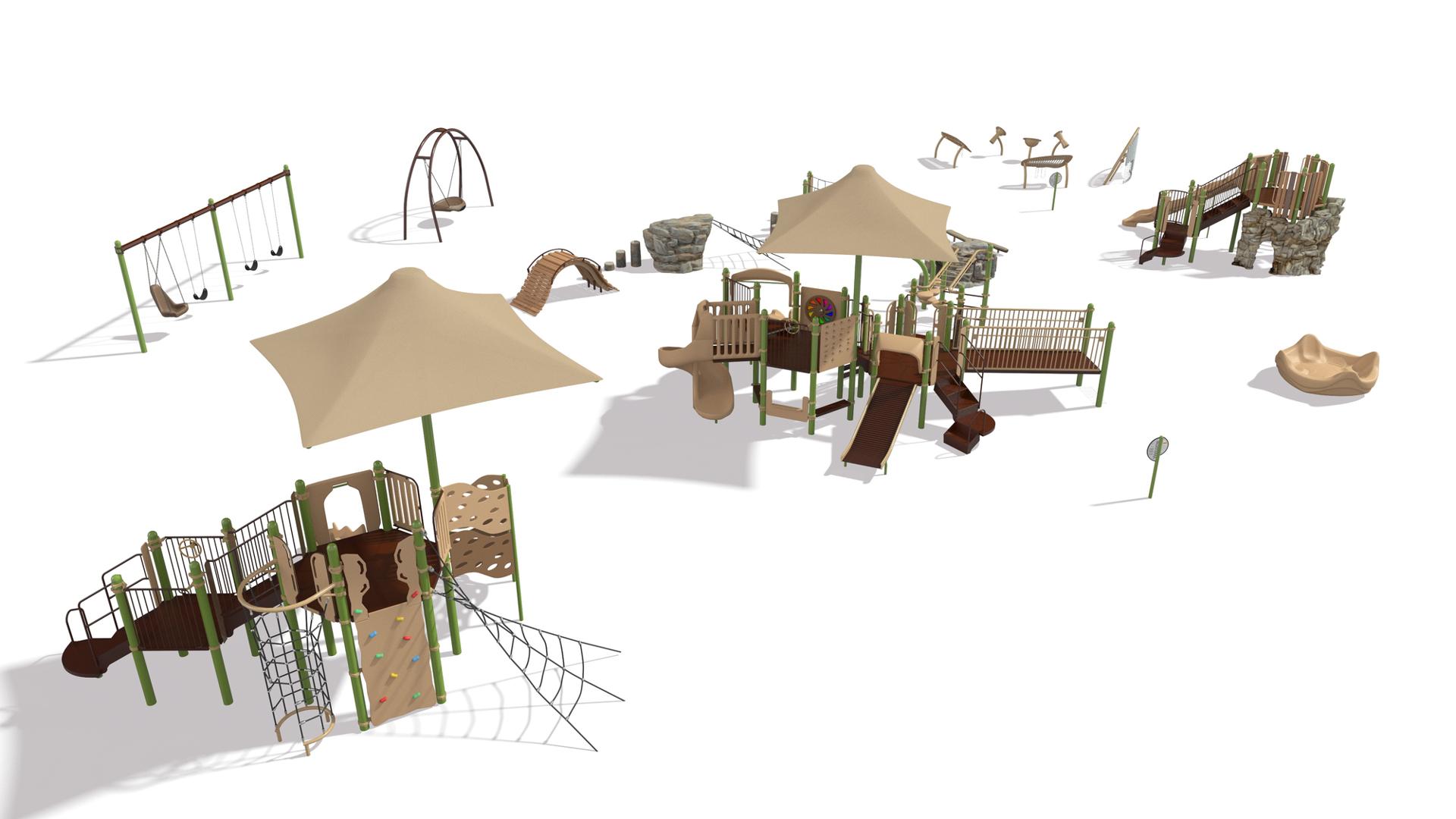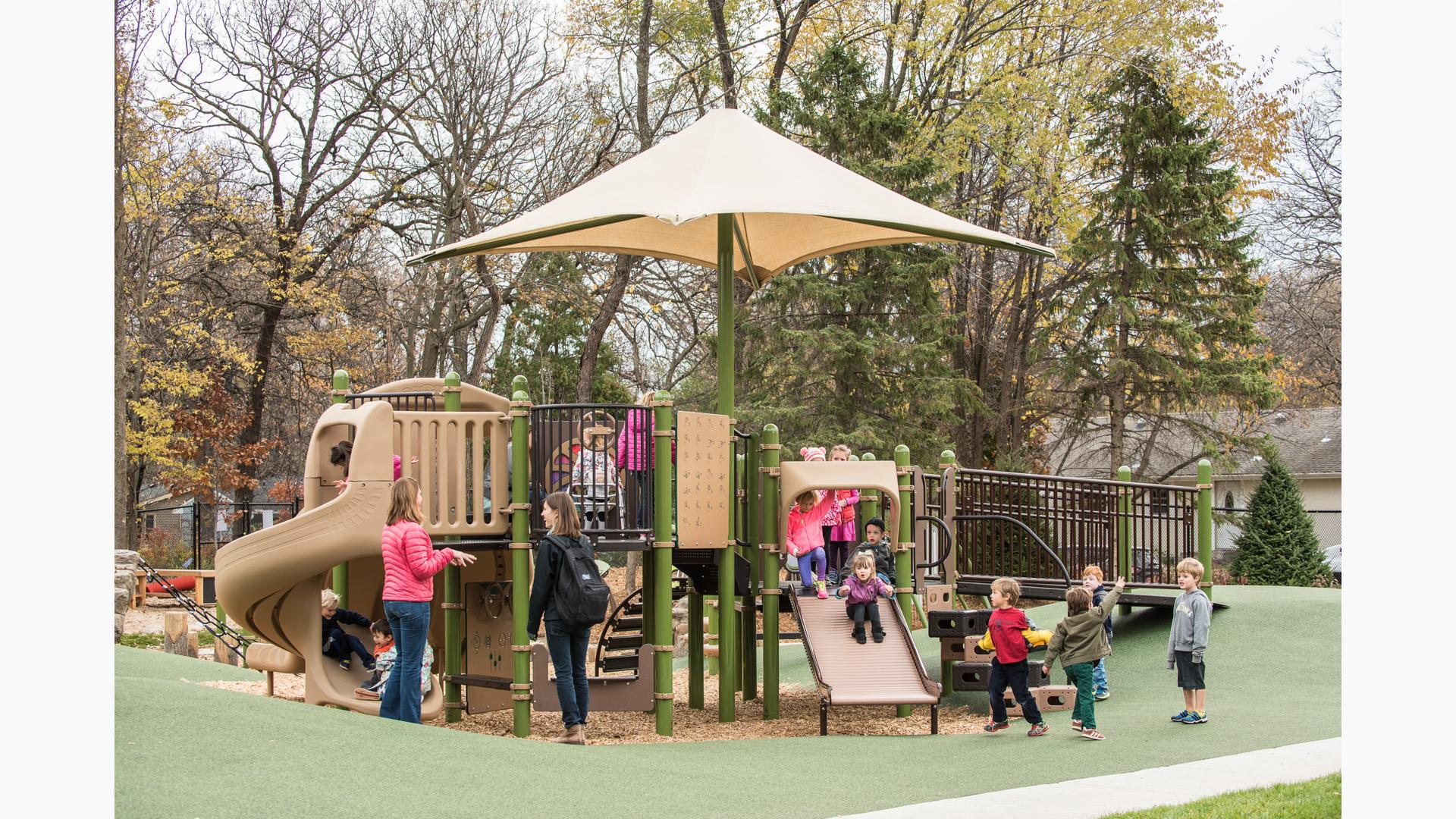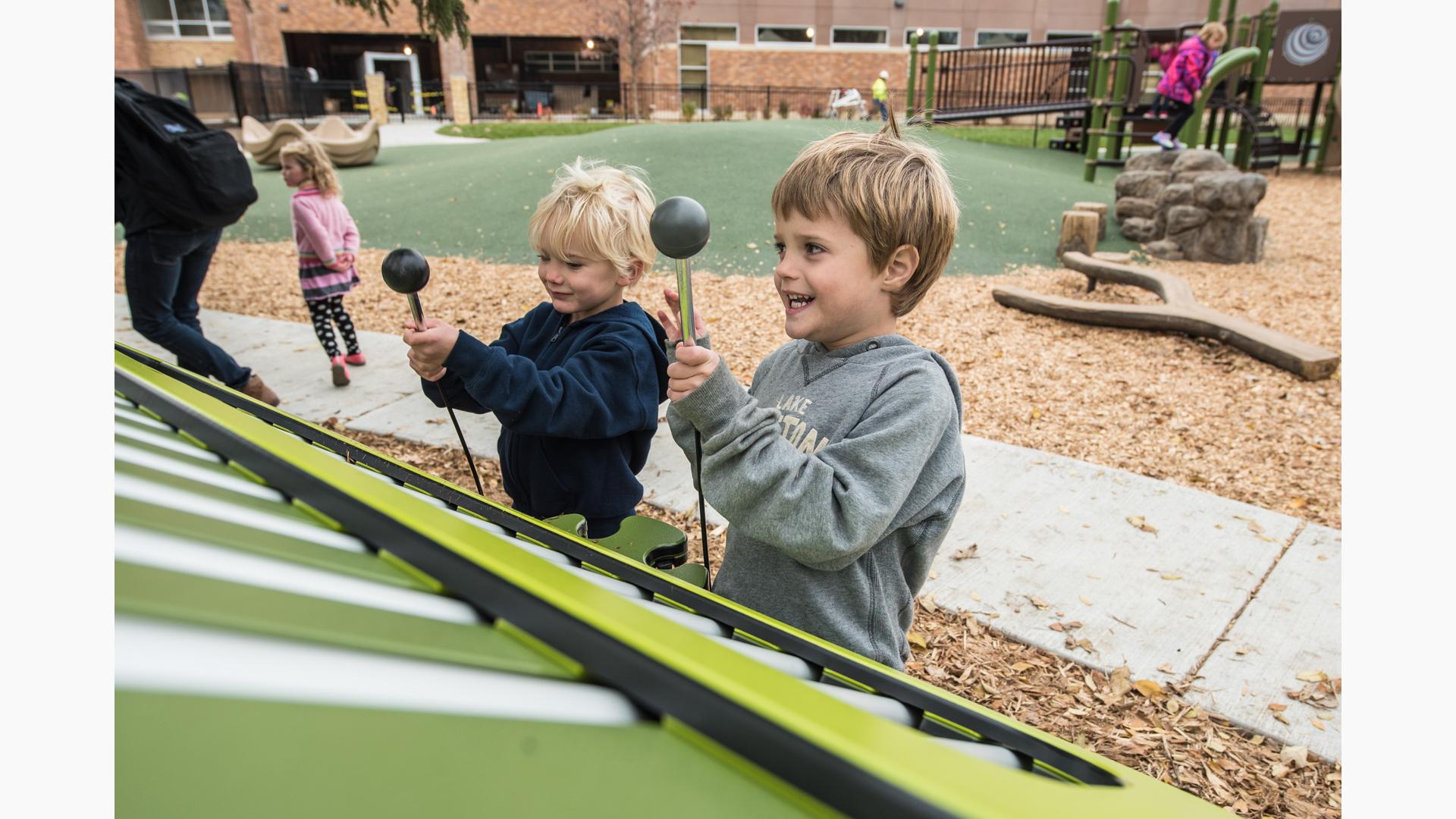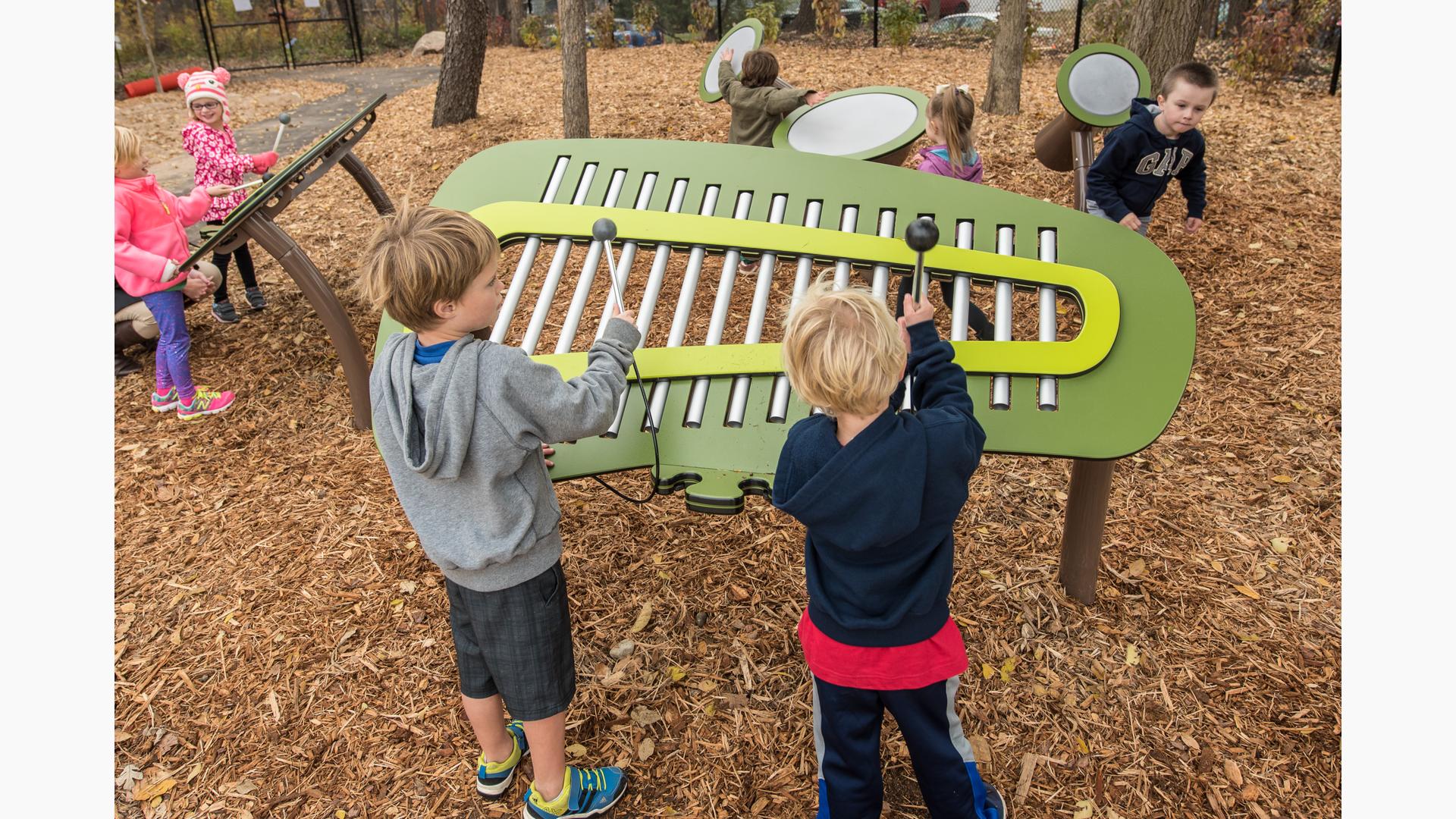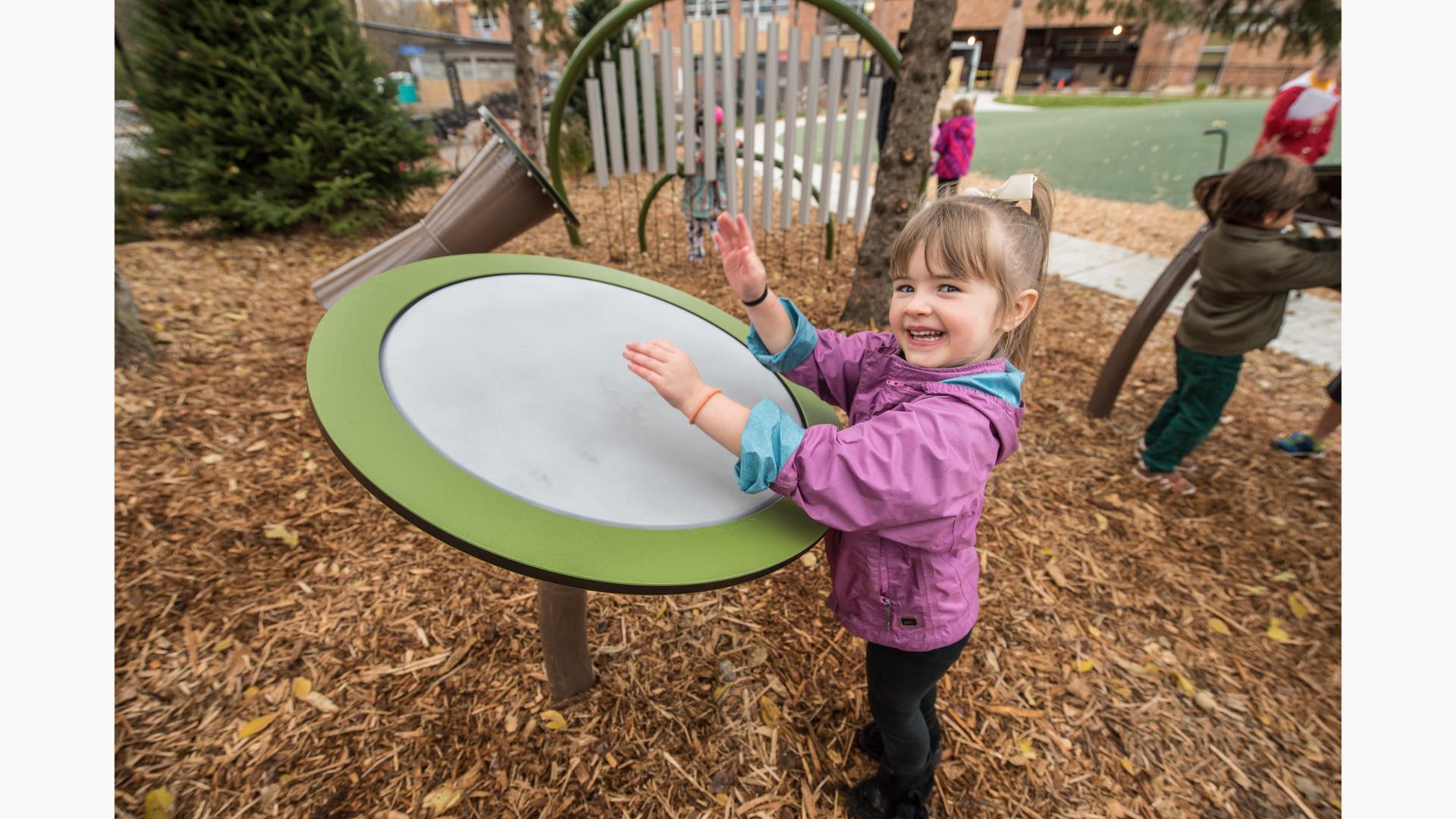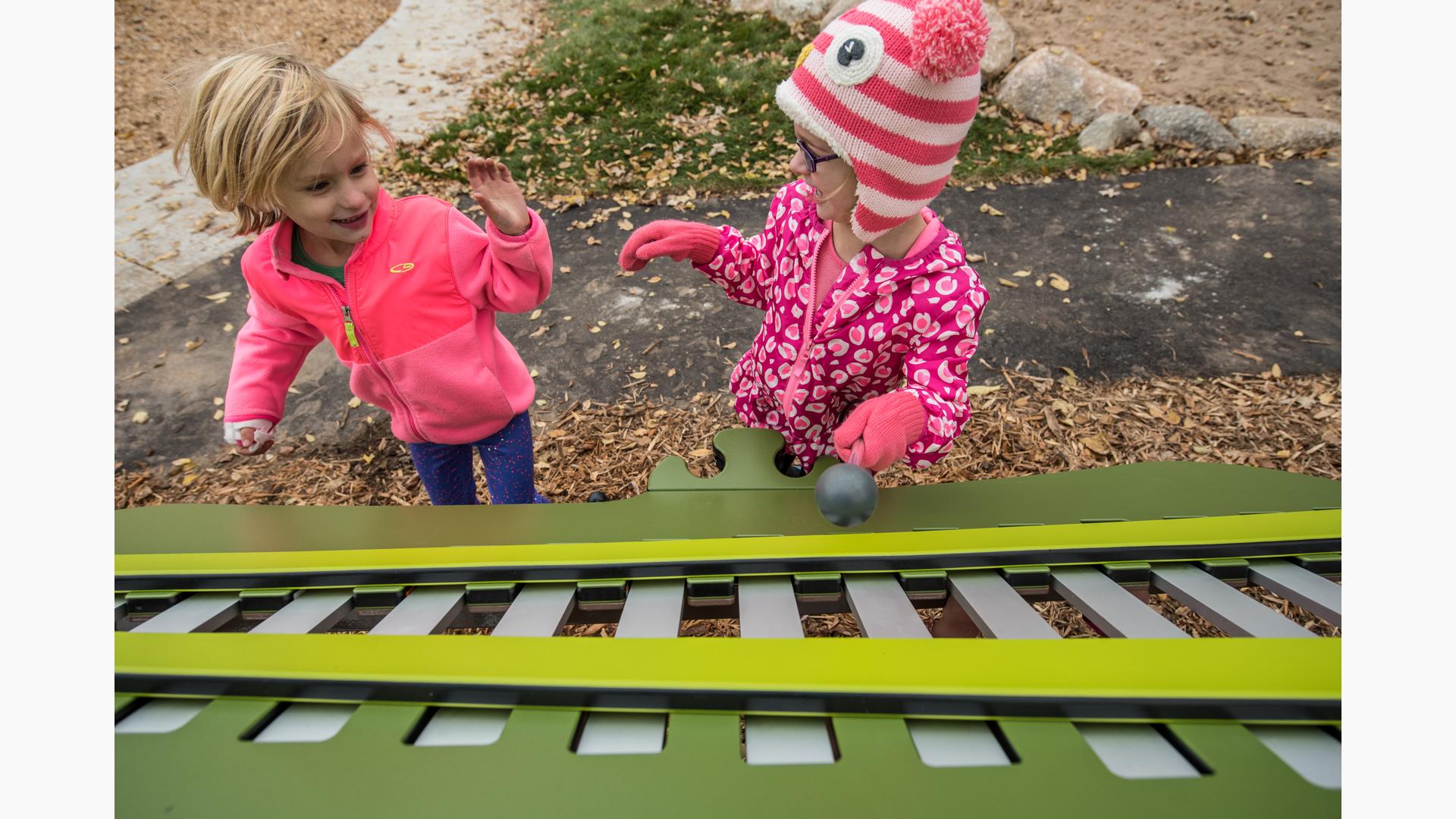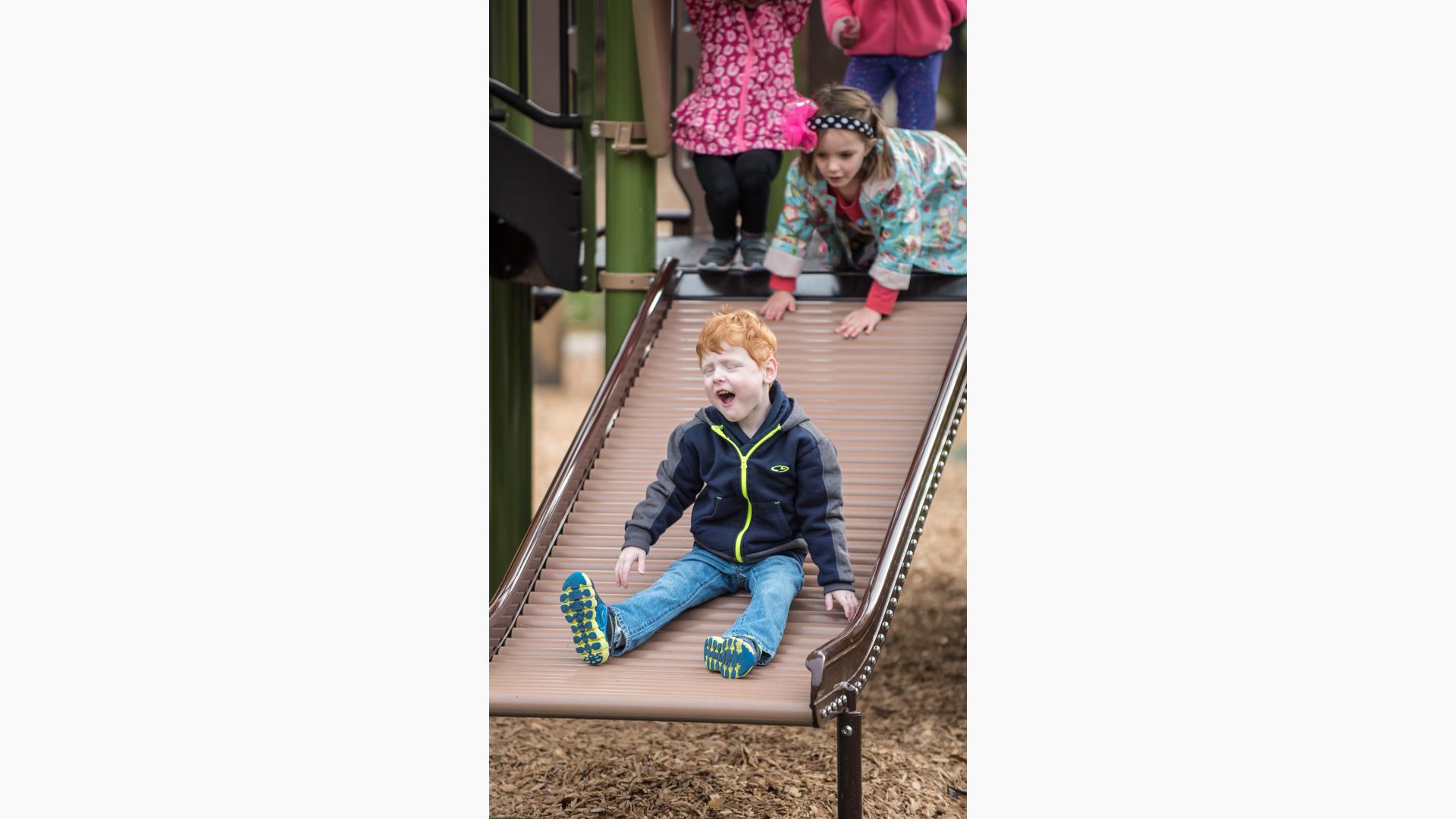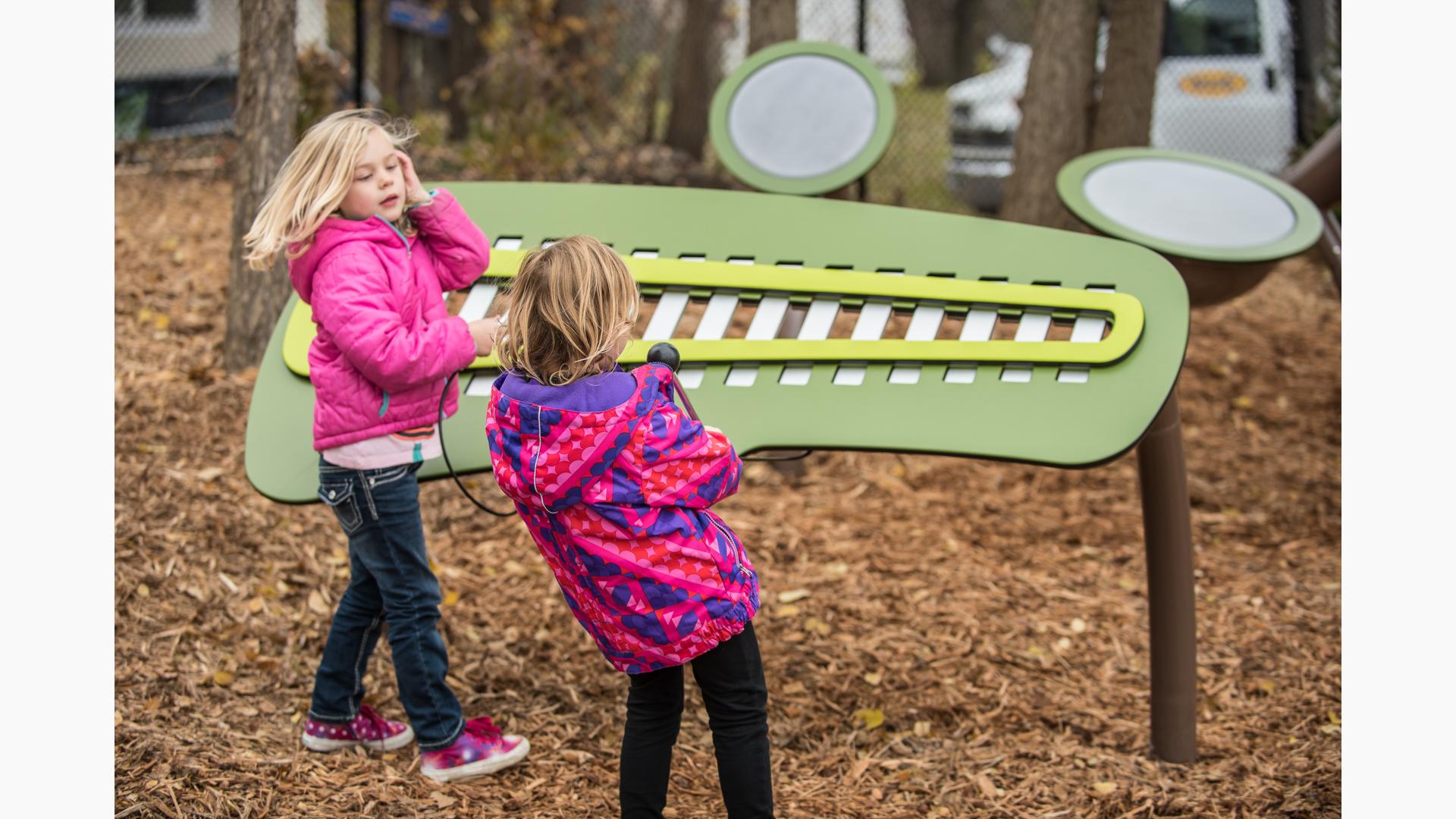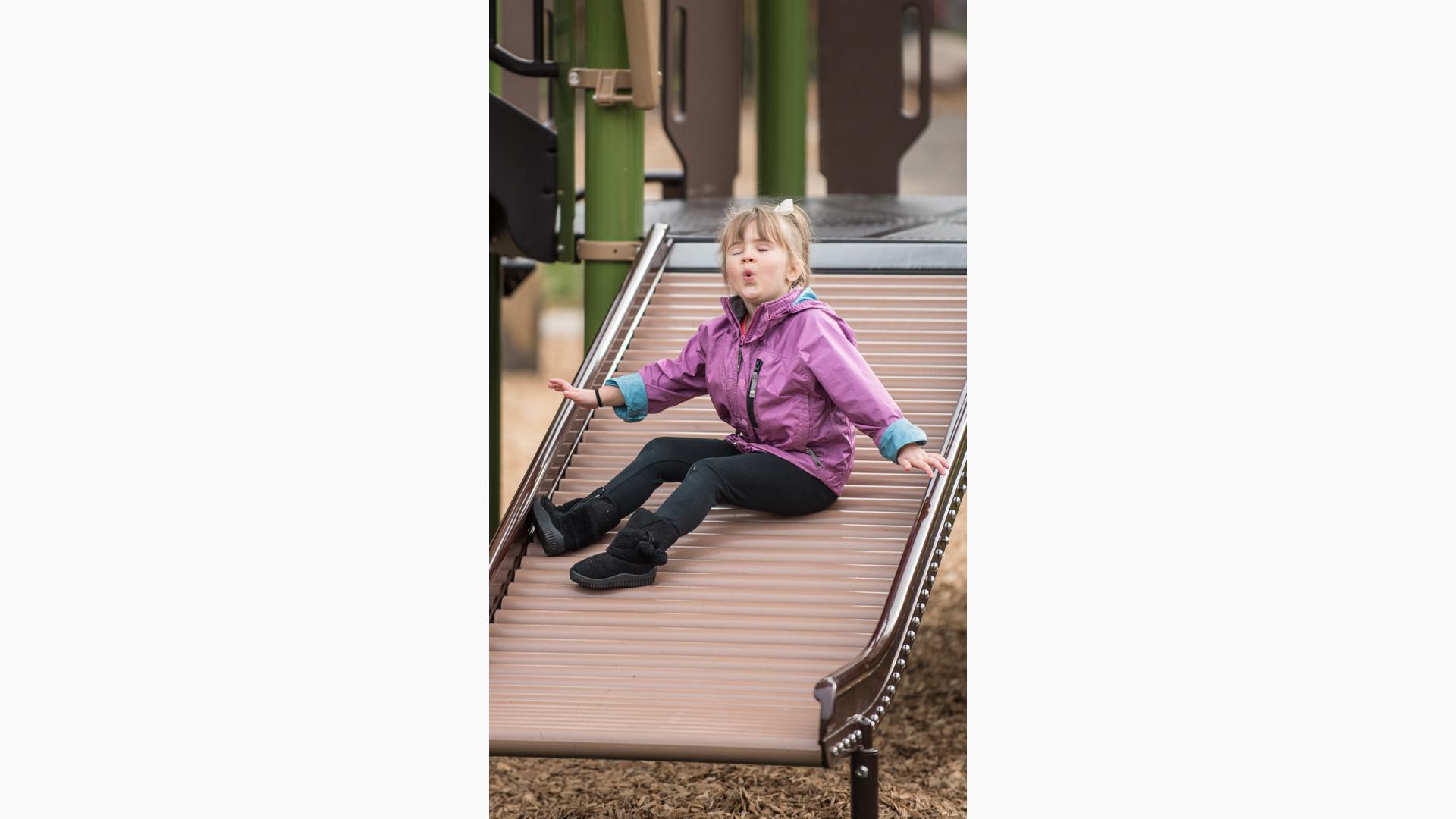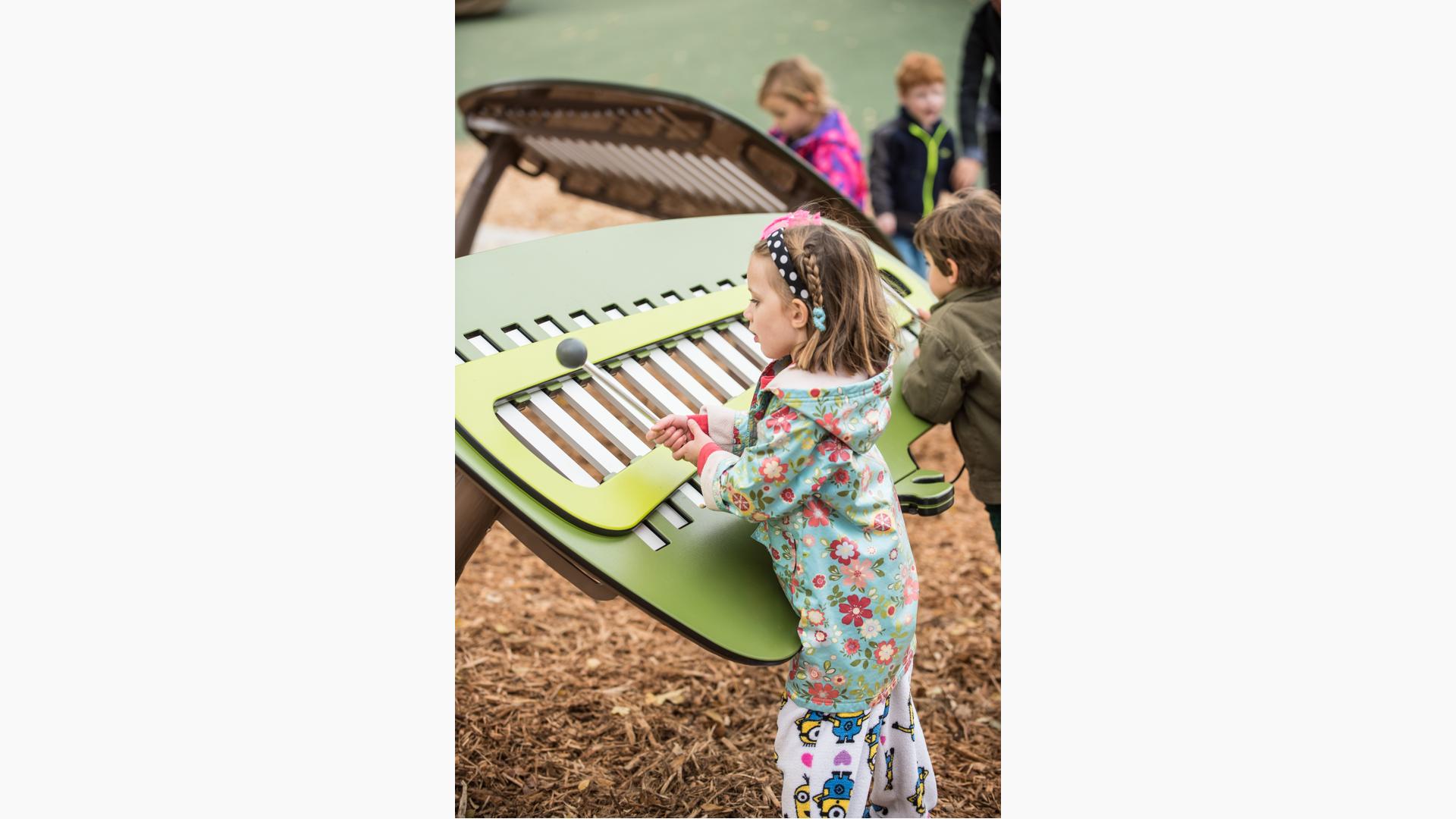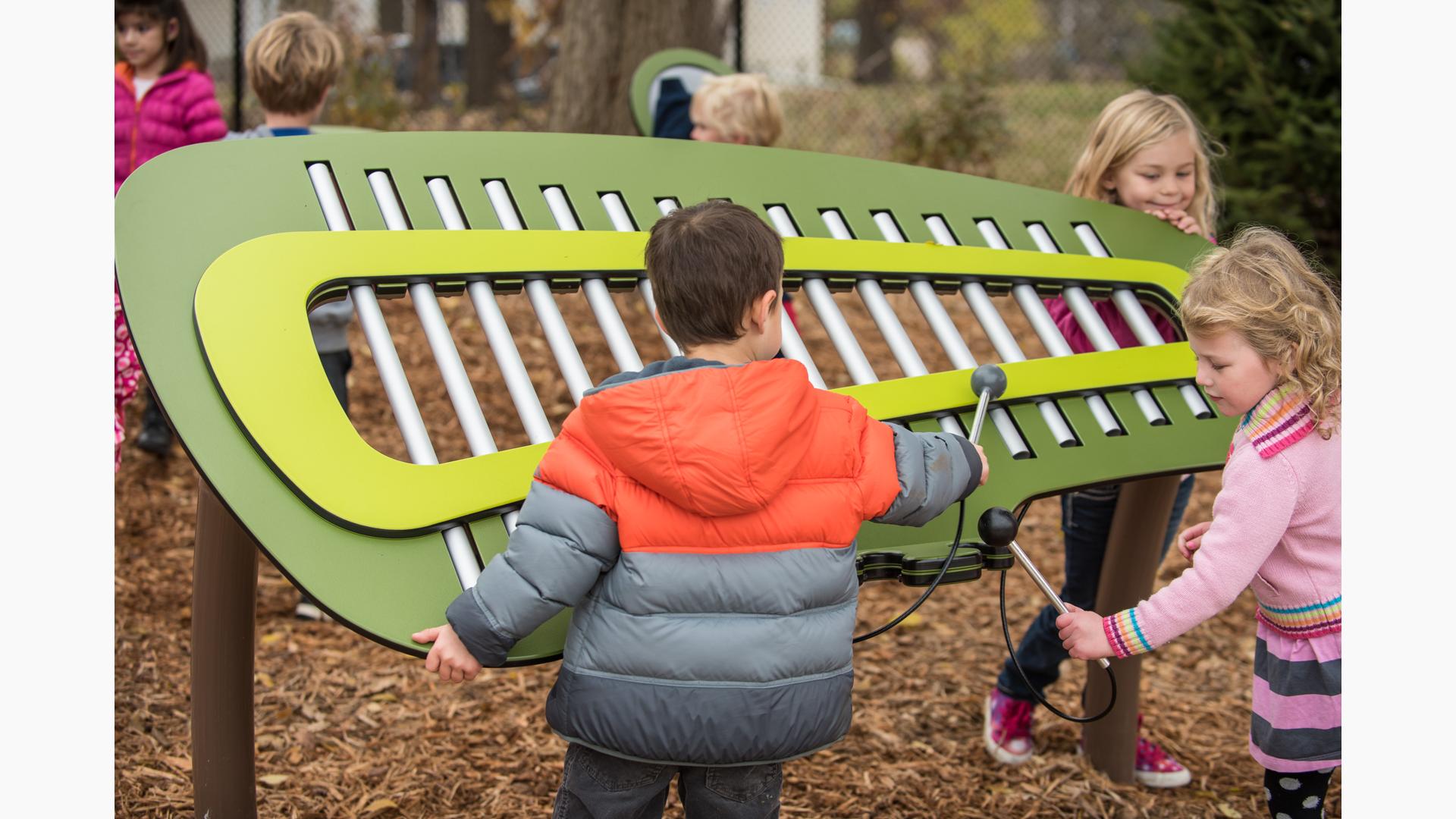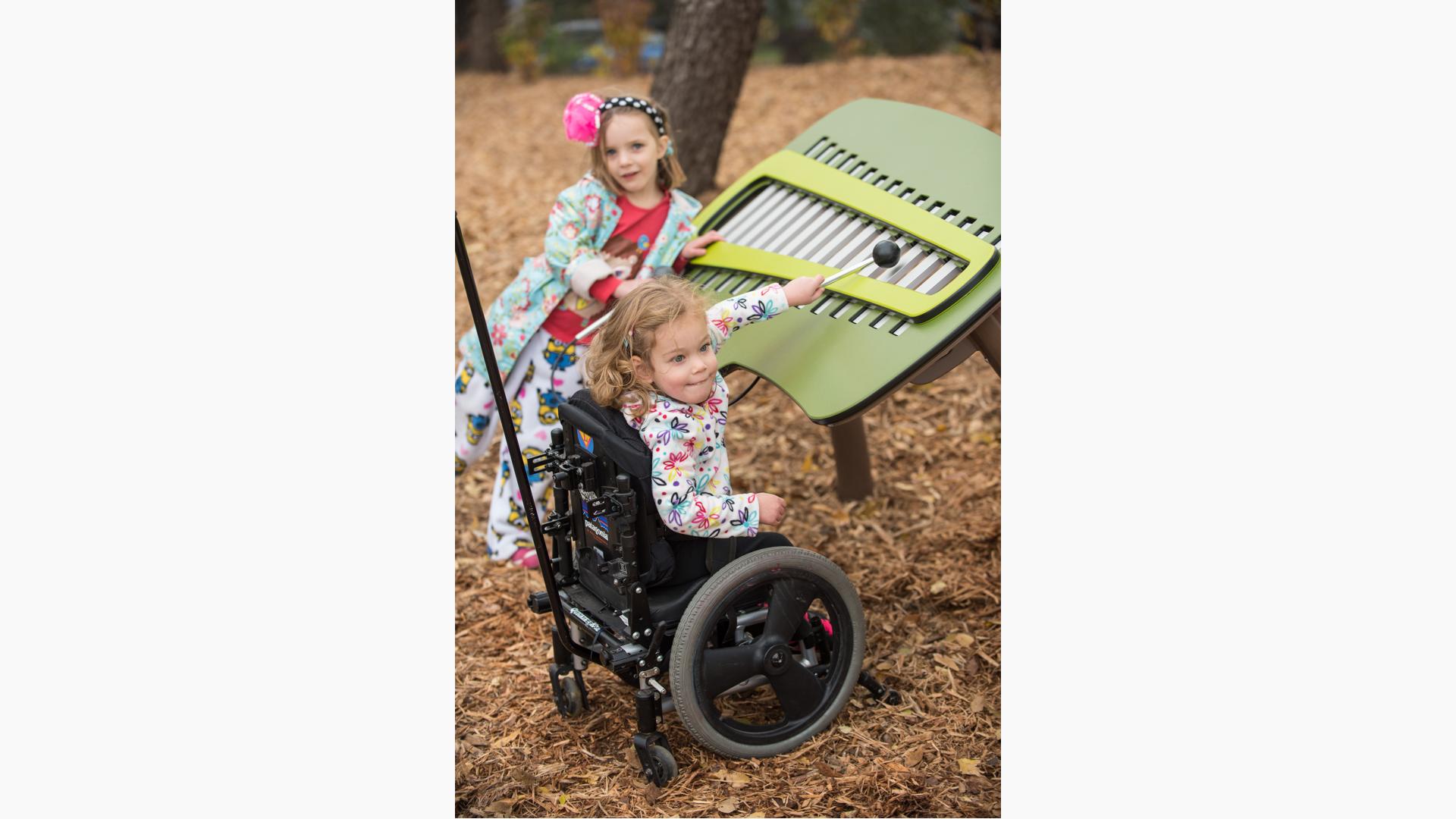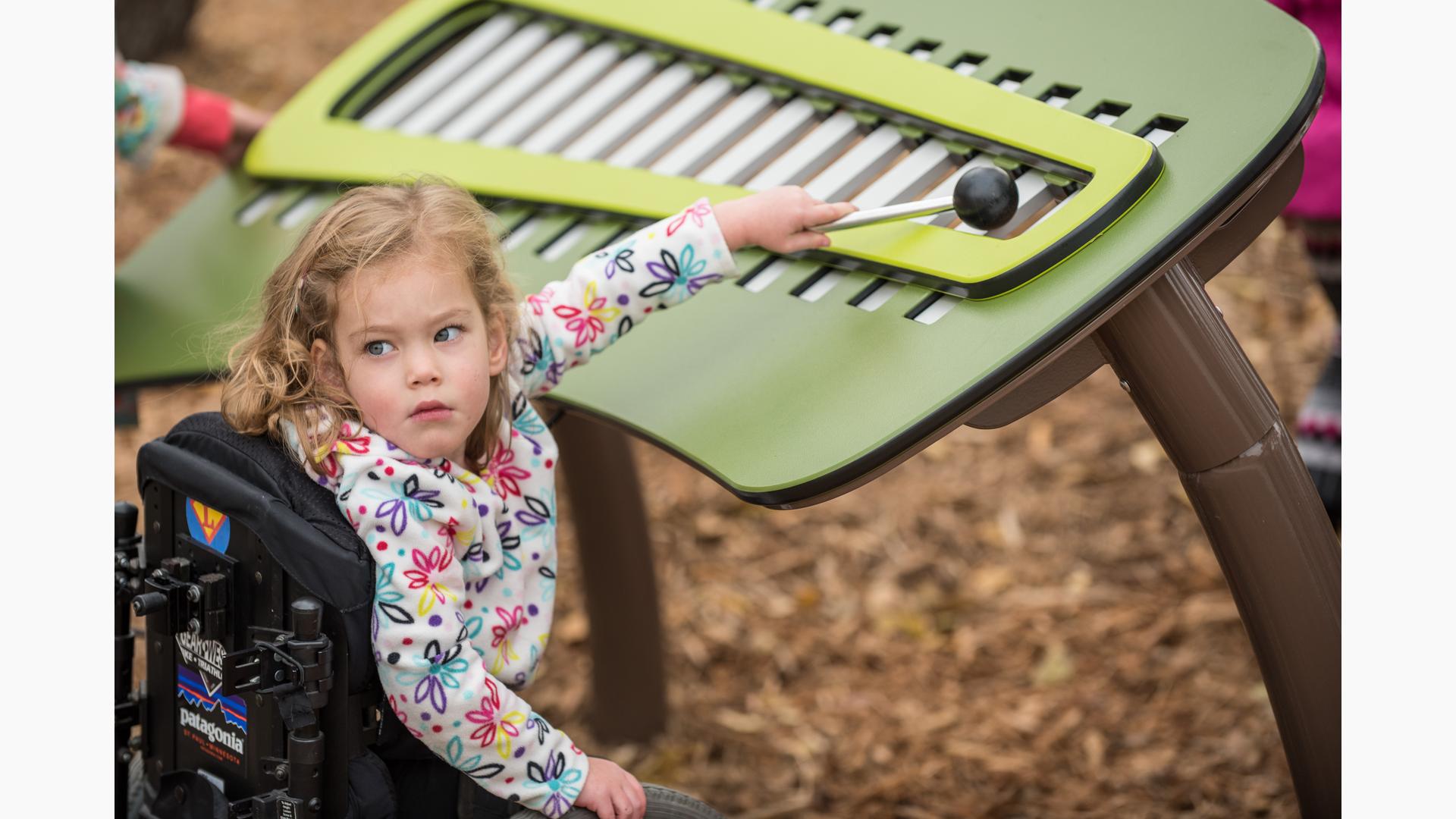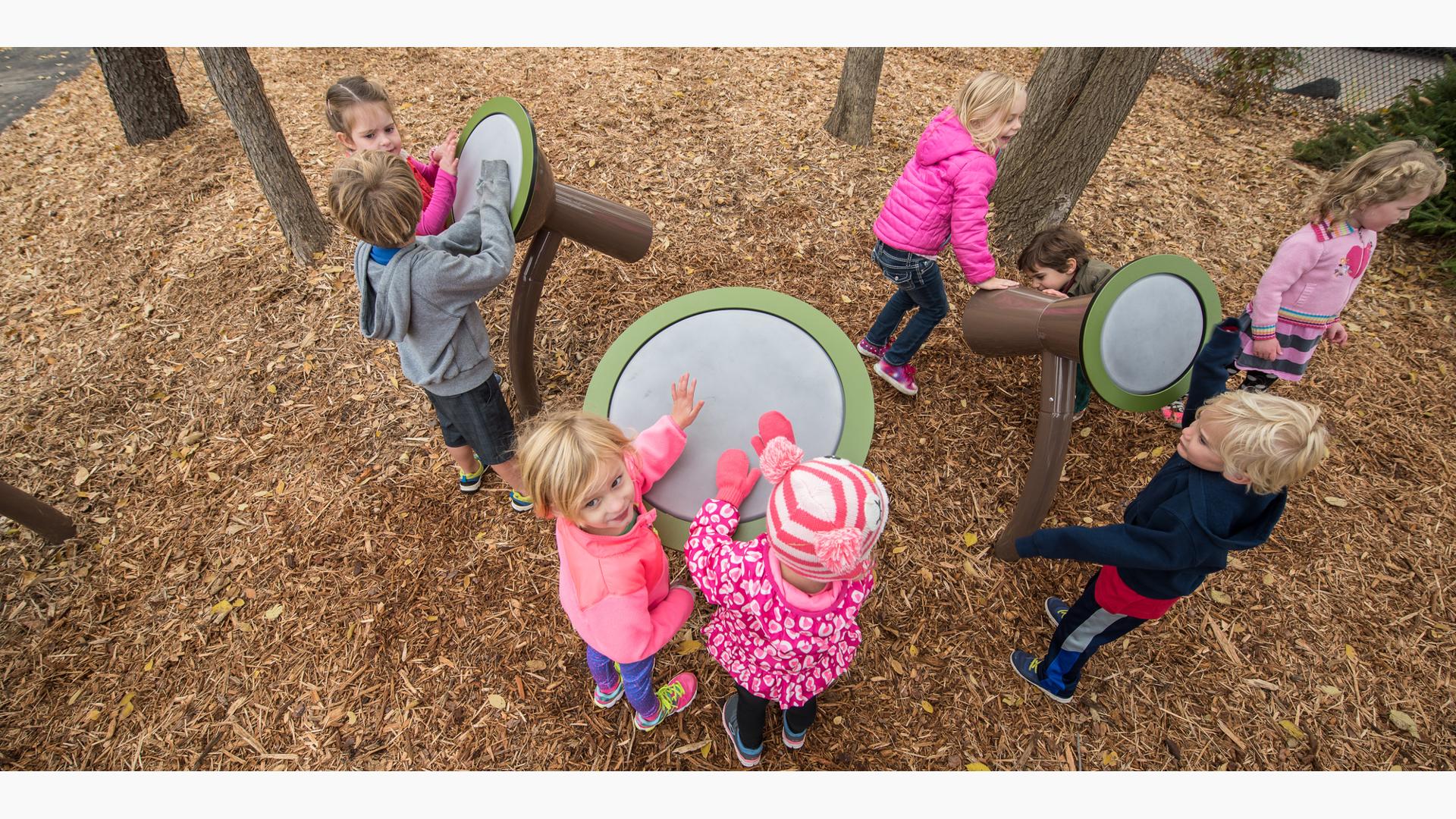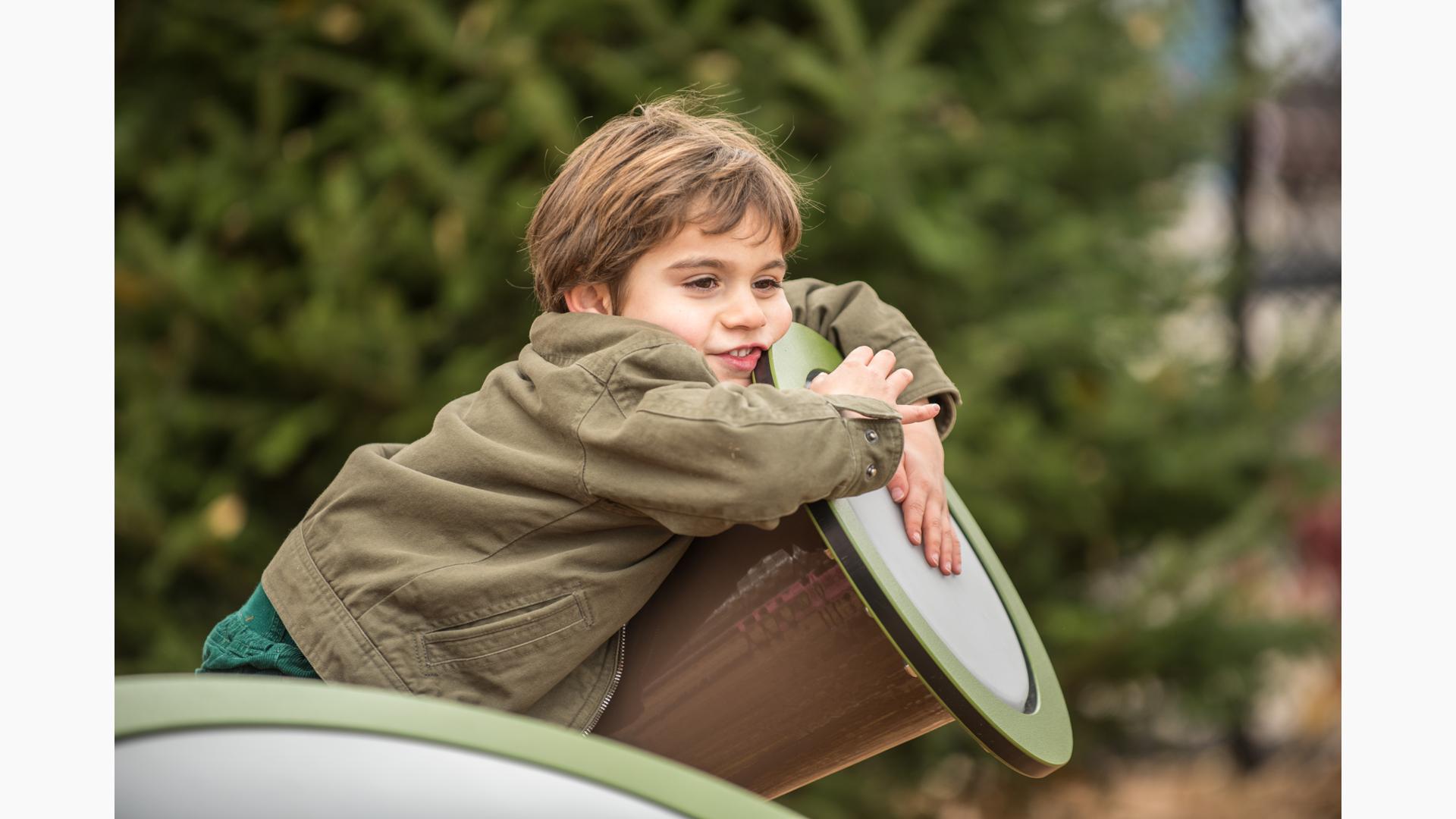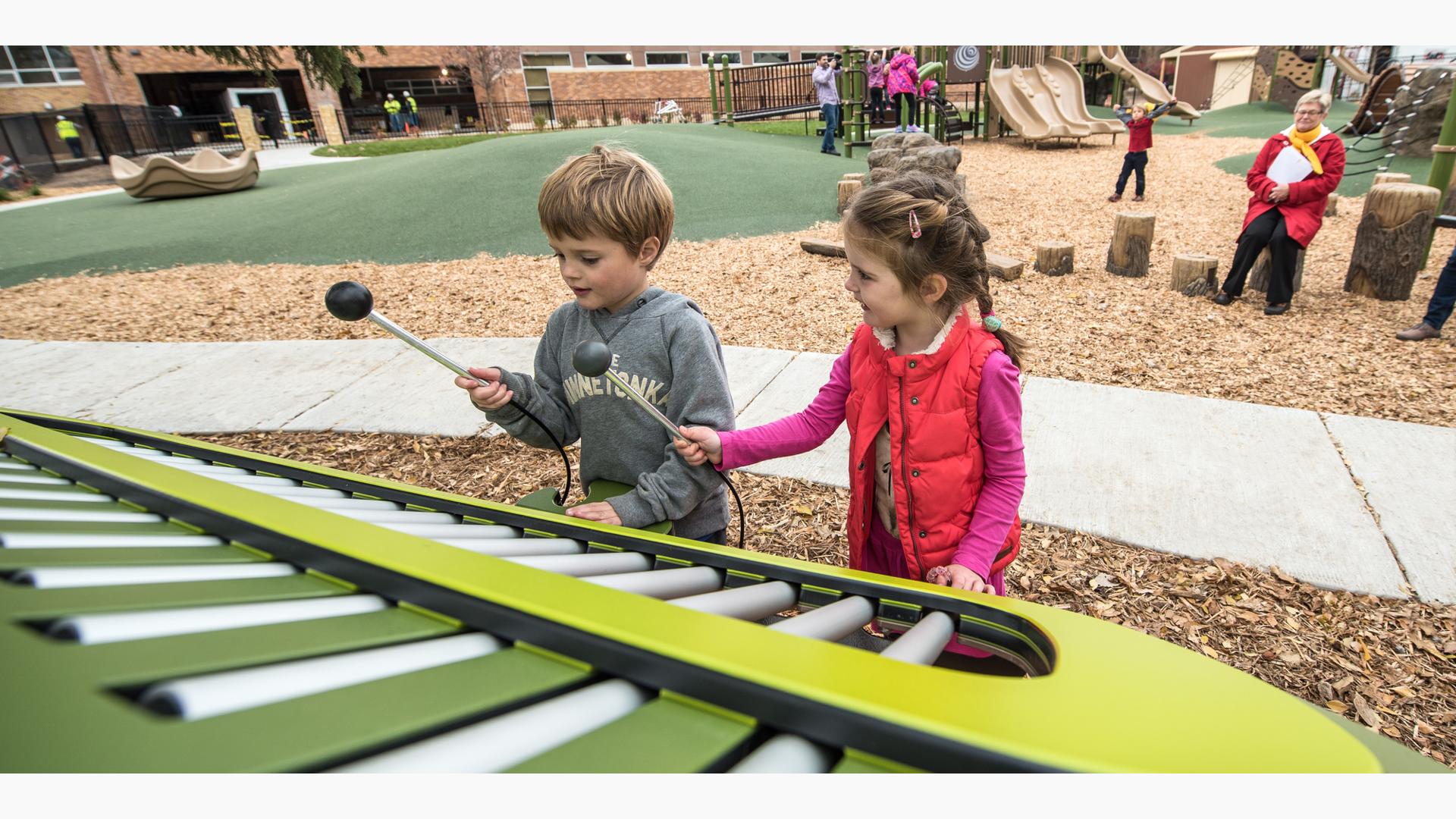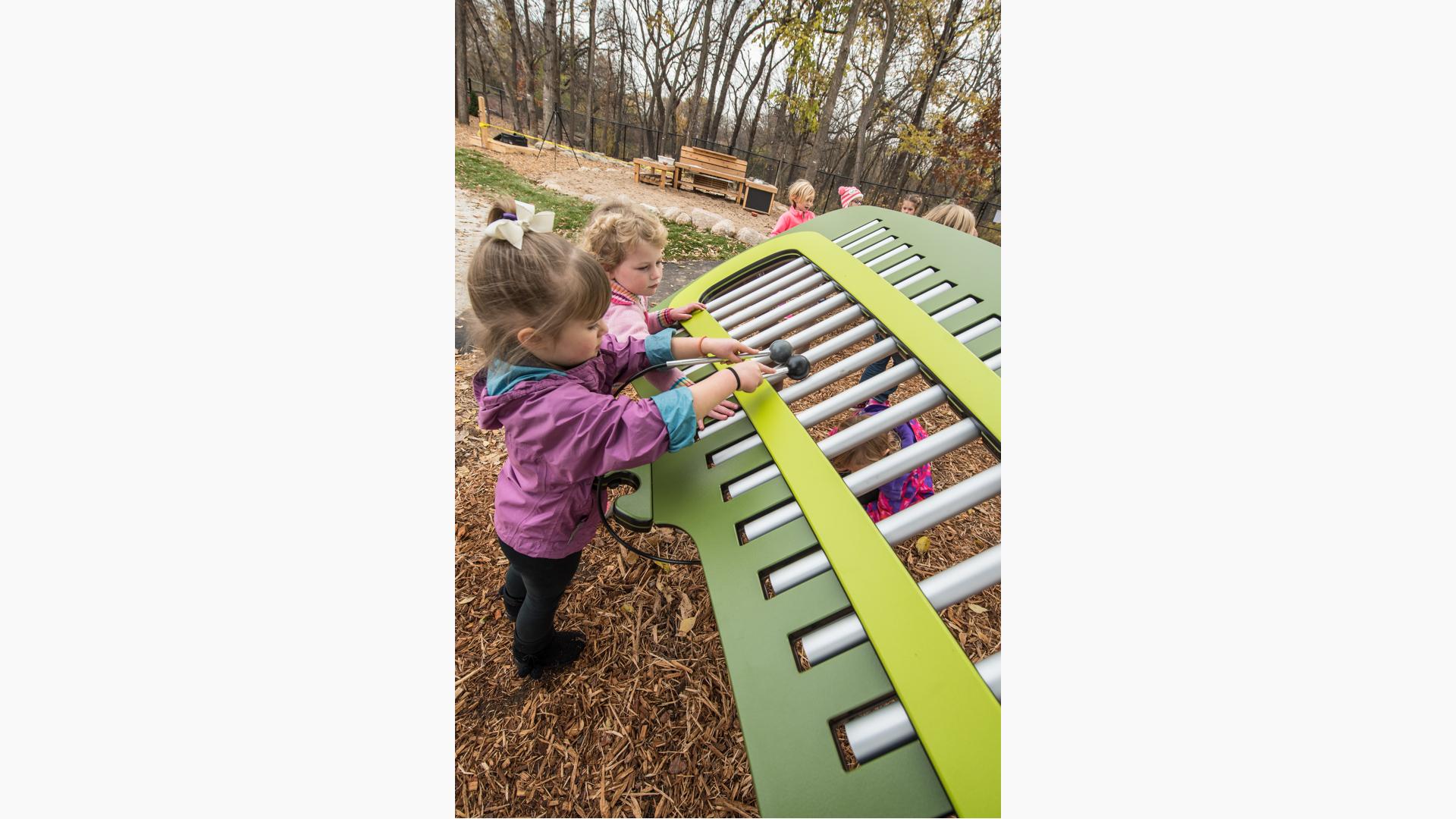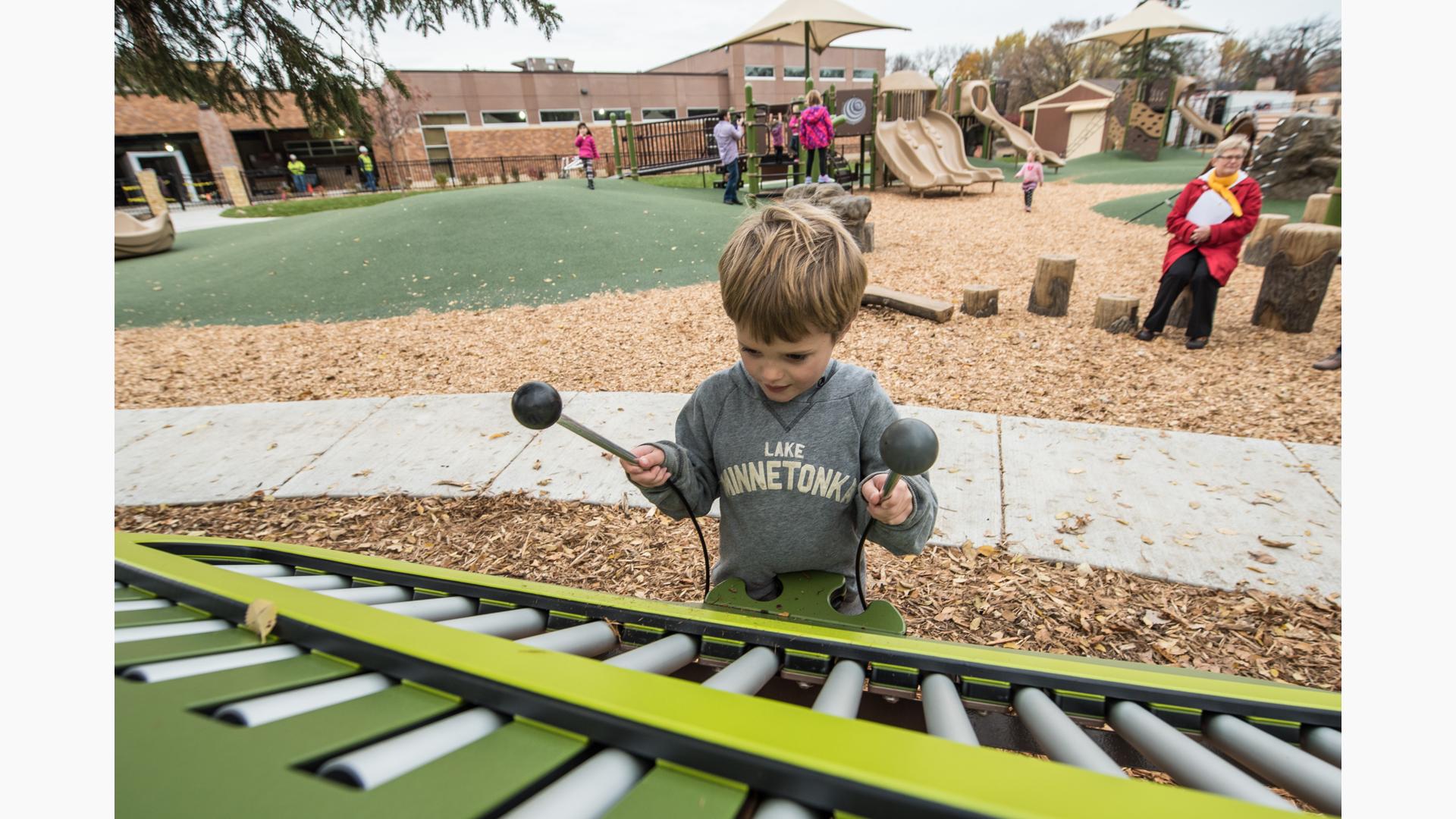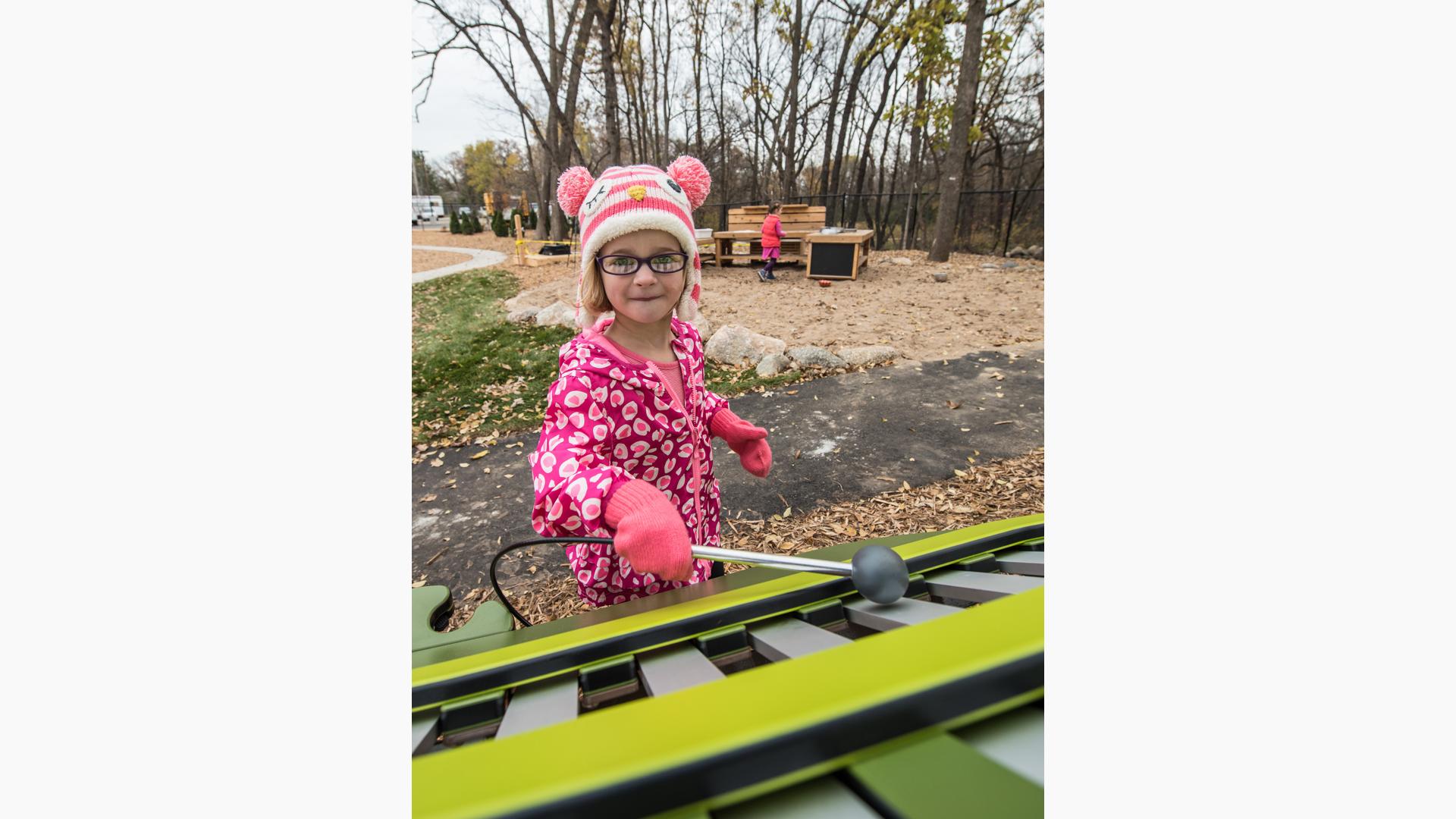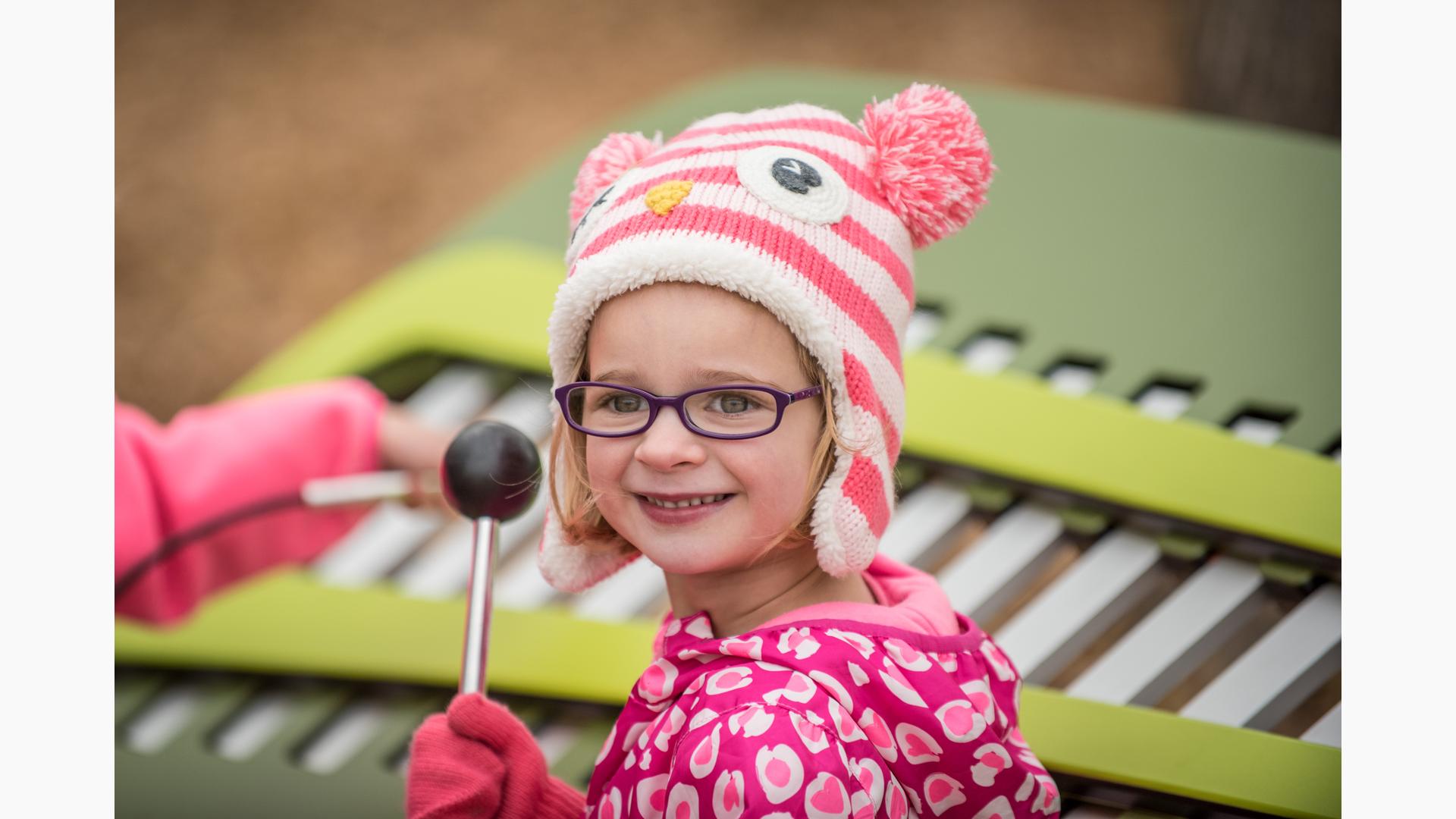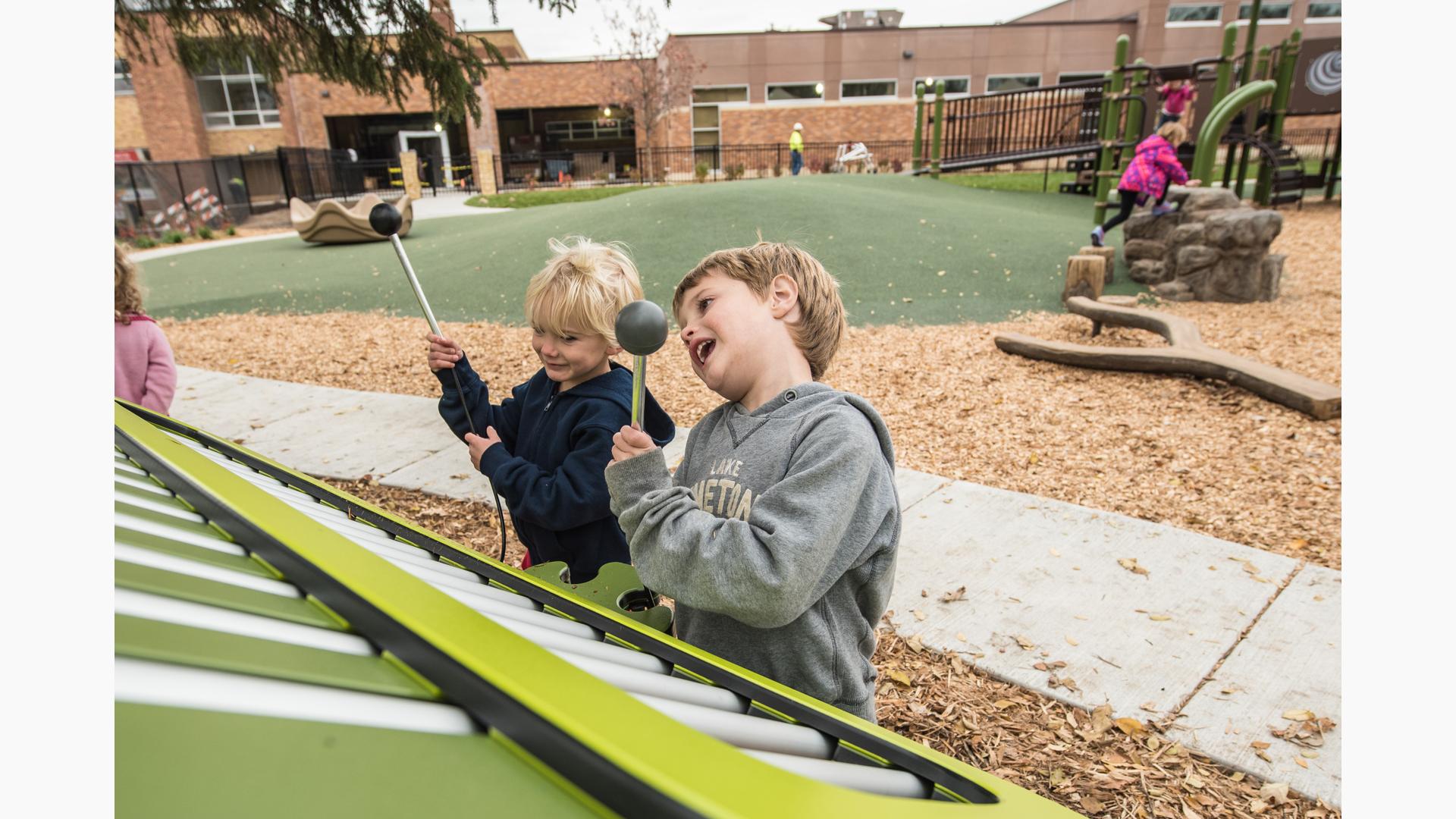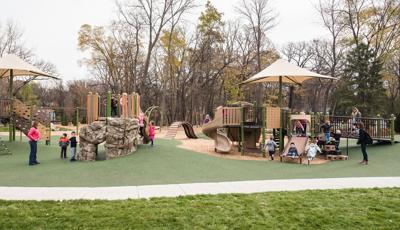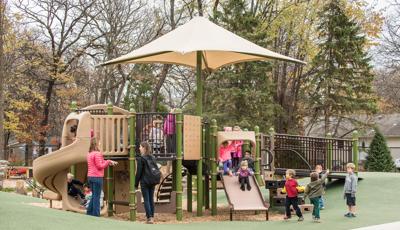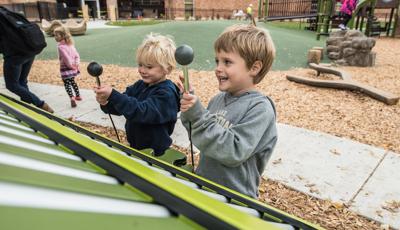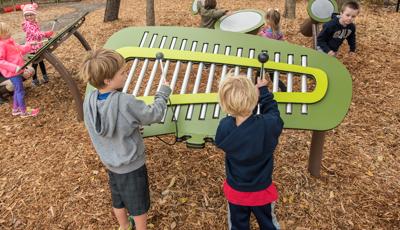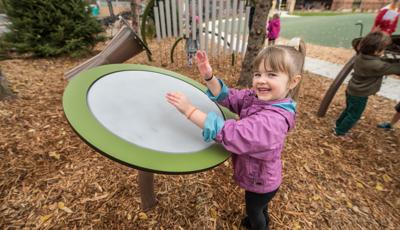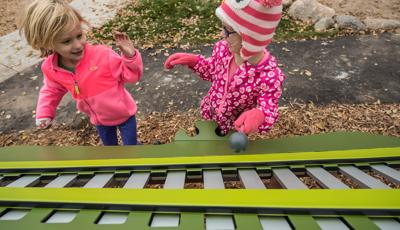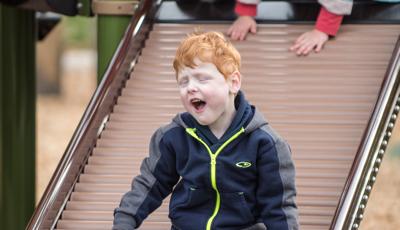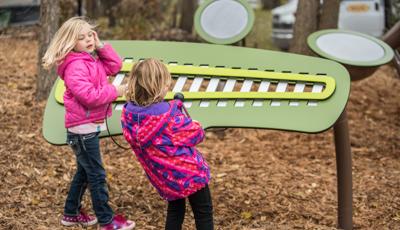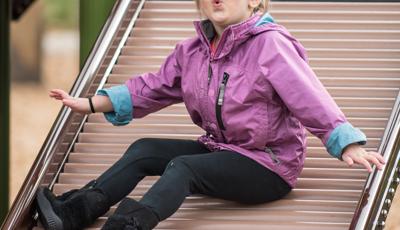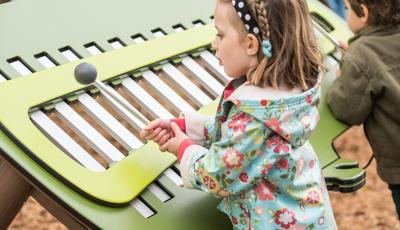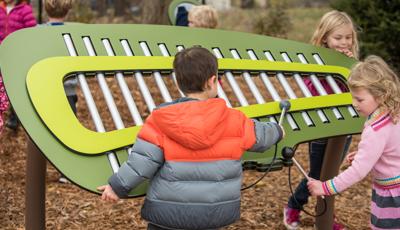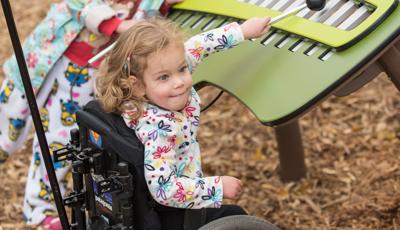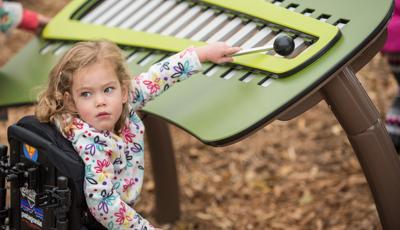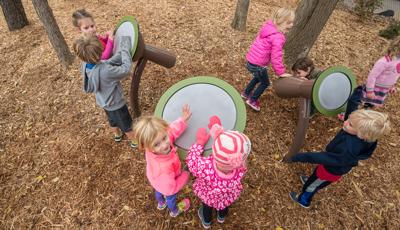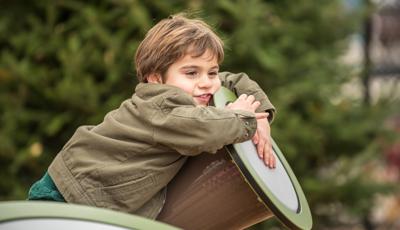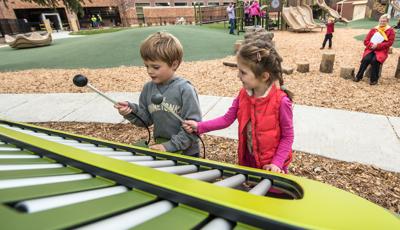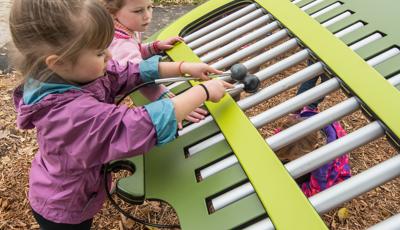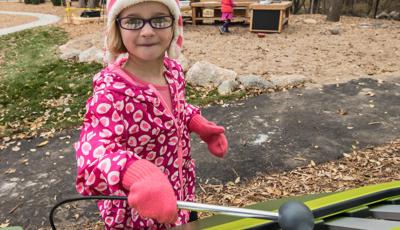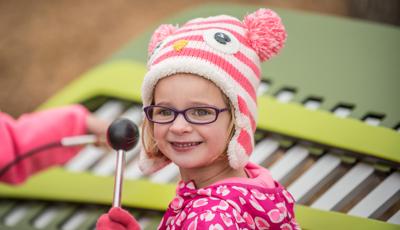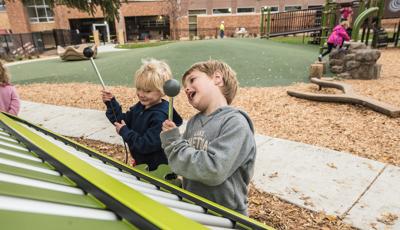 MN - St. David's
Video features a fully inclusive Landscape Structures PlayBooster multisensory playground at St. David's Center in Minnetonka Minnesota.
[video: fade in to an elevated panning view of the inclusive play structures as children play all around. Children play and climb on a play structure with a Canyon collection rock climber. A boy steps on to some log steppers next to a wood plank rope bridge. A mother stands close by as a group of young children climb up a recycled plastic lumber wave climber.]
[video: camera pulls back for a full view of a Oodle swing with children playing on the recycled plastic lumber wave climber in the background. Two girls sit at the top of an AdventureScapes rock climber as a young girl with leg braces climbers her way up the attached rope climber.]
[video: a group of children play on the Rhapsody playground musical instruments. Scene change to a side view of a boy as he slides down a roller slide. Scene changes quickly to a boy sliding down a SpyroSlide. Camera switches back to the boy on the roller slide as he reaches the end of the slide. A young girl spins the steering wheel of a Pilot panel.]
[video: elevated view of children playing at the three different playground structures with SkyWays shade systems. Children climb up to the top of the plastic lumber wave climber. Two girls slide down a Cloudburst three lane slide while a young boy stays seating at the top. Elevated panning view over the top of a playground structure with playground shade system, fade out.]
[video: fade in to a young boy as he plays the Rhapsody Vivo Metallophone. Side view of the boy excitedly playing the xylophone playground musical instrument. A young girl plays on the Rhapsody Animato Metallophone with a young in a wheelchair. They share the mallets, so they can both play the playground instrument. Close-up of the young girl in the wheelchair as she reaches up with the mallet to play the metallophone. A boy and girl play the Rhapsody Vivo Metallophone together. Many different chime noises can be heard from other children while they play with the playground instruments. A young boy aggressively plays the Rhapsody Grandioso Chimes. Top down view of a young boy as he hands a mallet to his friend so that they can play the Grandioso Chimes together.]
[video: Camera switch to an aerial view of the entire play area with the three playground structures, surrounding freestanding nature-inspired climbers, swing sets, and OmniSpin spinner. Close-up of children's hands as they bang on one of the playground Rhapsody Goblet Drums. A young boy smiles while standing by the Rhapsody Kettle Drum as children play it. Close-up of a young girls face as she climbs across the playground monkey bars. Camera comes into focus on a young girl's face as she looks down while walking on the recycle plastic lumber rope bridge. Close-up of the young girl's feet as she walks over the planks of the rope bridge.]
[video: a boy smiles joyfully as he slides down towards the camera on a single wave slide. A boy looks down as he carefully steps down a Chimney climber. Close-up of the boy's feet as he steps down the Chimney climber.]
[video: close-up of a young girl's face as she smirks at the camera, fade out. Fade in to a girl standing in front of the Rhapsody Vivo Metallophone happily smiling and holding up instruments mallet for the camera, fade out. Fade in to a young girl wearing classes and a knitted hat as she smiles back at the camera while standing in front of the vivo metallophone, fade to black. Text appears on screen that reads: Better playgrounds. Better world. Landscape Structures logo slides up from the bottom of the screen to replace the text.]
Play Styles
Product Lines/ Categories
Min Area Required
134' x 128' (40,84 m x 39,01 m)
Design/CAD Files for this Playground
Design Standards
Contact your consultant to verify that this playground design meets current design standard requirements or to modify for other design standards.
Price Range (USD)
$200K-$500K+
Pricing reflects only the equipment shown in the 3D render above in USD. Freight, brokerage, exchange rates, etc. not included. For international and exact pricing, please contact your local playground consultant.
Contact Your Consultant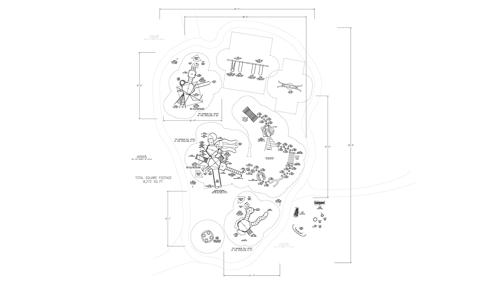 Bridges & Ramps
Motion & More Fun
Sensory Play
+ view more
Swings
Climbers
+ view more
Overhead Events
Slides & Gliders
Custom
This playground includes a variety of custom elements and/or customized product(s). Please contact your local playground consultant for additional details.
St. David's Center delivers a nature-inspired play experience to kids of all abilities. The fully inclusive PlayBooster® play structure has a variety of multisensory playground activities including The Canyon Collection®, Rollerside, play panels, net climbers and more. Even more, custom wave climbers, log steppers, the Oodle® Swing and OmniSpin® spinner provide play opportunities apart from the main playground structure.
In addition, the new Rhapsody® Outdoor Musical Instruments were included in the design to provide a unique way for kids to express themselves both physically and emotionally. With the Grandioso® Chimes, Vivo® and Animato® Metallophones, and Kundu, Kettle and Goblet Drums, kids and caregivers share their musical creativity with one another.
Installed: October 2015
Our color palettes offer a range of options to customize your projects
Our state of the art materials make our playgrounds stand out.
We've created a global network of local playground experts to be at your side, every step of the way. With an average of 20 years of experience, our playground consultants are knowledgeable and personable. They will guide you through product pricing and specifications, customization, financing options, community builds, on-time deliveries, maintenance, finding replacement parts, and service questions.
Playground consultant for this project
Find a Playground Consultant Near You
Contact Your Consultant
Related Playgrounds & Designs