Why Choose Our Shade Structures?
SkyWays® shade structures remain unmatched in their design, engineering and manufacturing while sourcing the highest quality materials for projects of all sizes. SkyWays shade products successfully block up to 97 percent of harmful UV rays from the sun and are able to keep areas beneath up to 30 degrees cooler. Our shade products can be used on a variety of different projects to ensure safe and cool spaces for many different outdoors places and can be custom-designed for your next project. These stylish shade canopies add function, style, and comfort. We are certified to both IS0 9001:20015 and ISO 14001:2015 quality and environmental standards and SkyWays demonstrates our commitment to quality with our AISC Certification.
Commercial Shade Sails & Structures We Offer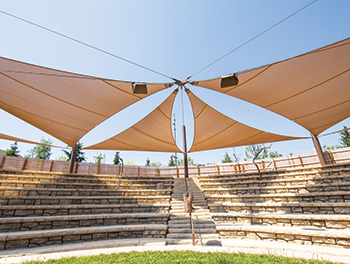 From small shade to big shade, decorative shade to themed shade, SkyWays by Landscape Structures offers flexible and stylish options for everywhere people like to gather. SkyWays offers the largest reprieve from the sun's rays to provide cool and reliable shade for any play, rest and activity! Shade structures come in a variety of shapes to customize your space: shade canopies, cantilever shade, single post shade, double post shade, hexagon/umbrella, and pyramid shade structures. Custom shade can also be configured for any project requiring more specific design capabilities.
Playground products shown in video may not be appropriate for every age group. Playsystems shown in video are for demonstration purposes only. Product configurations may vary.
Shade Shapes
Where Can Commercial Shade Structures Be Used?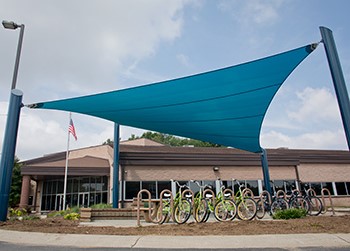 SkyWays provides nearly unlimited shade capabilities for a variety of places! Recreational areas such as tennis courts, fitness parks, playgrounds, dog parks, outdoor activities such as zoos, amusement parks, waterparks, splash pads, public/community spaces like pavilions, corporate locations, hotels, airports and more have benefitted from the addition of commercial shade structures. Whatever the size, configuration or attachment method of your project, we can create the ideal solution to fit the unique requirements of your environment. If your projects require removal or reinstallation of shade canopies, our patent-pending Rapid Release® system features an adjustable mechanism to remove your SkyWays shade quickly and easily, and then achieve proper tensioning while reinstalling.
Examples of Commercial Shade Locations
Work with an Expert
Our global network of commercial shade experts are available to help you the right shade sail size, shape and attachment method that meets your project needs. They are a highly trained and responsive team who are deeply engaged and go above and beyond to deliver on every project.