The Future of Playgrounds
Innovation has been at the heart of who we are from day one. As our company's grown, our process has become more sophisticated and collaborative. From design to manufacturing, safety to sustainability, efficiency to accessibility, our employees have thought so far outside the box, that one moment we're being told, "it will never work," and the next, we're being followed.
Continuous Play
In the mid-1960s, playgrounds meant freestanding metal equipment with a large footprint, resulting in a less natural and challenging play experience for many children. A young landscape architecture student named Steve King had a crazy idea. What if play components were attached so kids could move from play event to play event without ever touching the ground, creating a "continuous play" experience?
Continuous Play brought more play value to a smaller space, more social interactions and more skill development among children. The idea led to the formation of Landscape Structures and marked a first of many revolutions for the playground equipment industry.
For decades, we've paid attention not only to how children play together, but who can play together. The playground is a place where kids of all abilities should be able to interact and play side by side.
Inclusive and Accessible Play
In order to create a truly inclusive playground, it not only needs to be accessible, but also age and developmentally appropriate and stimulating to the senses. We work collaboratively with an Inclusive Play Advisory Board to ensure our Higher Level of Inclusive Play™ helps kids develop, build confidence, make friends and play as equals.
Innovative Playground Design
As we continue to grow, more and more people have a voice in our design decisions. In addition to our designers, teams from different disciplines collaborate on the product development process: engineering, testing, manufacturing, marketing, sales and packaging. A good idea can come from anywhere, and many of our innovations soon become industry standards.
GFRC Case Study
Glass Fiber Reinforced Concrete, or GFRC, is tough-as-nails, has a rugged, rock-like texture that never feels artificial. In fact, molds are created from real trees and rock formations for the most realistic look and feel. And it hardens over time to deliver years of reliable fun in any environment.Beyond rocks and logs, GFRC offers the flexibility to provide almost any unique element to any playground, from dolphins to lollipops to spaceships to dinosaur bones.
We have the only concrete playground production facility in the U.S. where the capabilities of inhouse design, engineering, manufacturing and installation—both for traditional play systems and concrete components—are all vertically integrated within one facility.
Evos® Case Study
Industrial Designer Tom Keller was sitting in his office, bending copper tubing into various shapes. He finally formed a nice, even arch and was reminded of the interplay of water bouncing from end to end in a fountain. There was something beautiful about the overlapping asymmetry in that design.
We began working on a system, looking for something entirely unknown. We knew the market was ready for something new, something without decks or posts, something that would challenge kids at every turn, with no prescribed entry points. We launched Evos® in 2007, and it's quickly become our most popular play structure.
Playground products shown in video may not be appropriate for every age group. Playsystems shown in video are for demonstration purposes only. Product configurations may vary.
Video features the making of the Landscape Structures Evos™ play system.
[video: fade in to a Tom Keller standing in front of a Evos playground as he speaks to the camera.]
Tom: My name is Tom Keller I work for Landscape Structures, I've been there for five years and my role there is industrial designer. Big part of my day is to work on new concepts and this is one of the things that I had rolling as concept designer.
[video: screen fades to black, white text appears in the center of the screen reading: What inspired the design of Evos™?]
Tom: A lot of the design work that I do starts from just daydreaming, just brainstorming, just sitting in my office and I've got things like clay and I've got copper tubing different things and so one day I was sitting at my desk just bending this copper tubing into different shapes. And finally, I formed this nice even arch. And then I started thinking you know more about that arch and I remember seeing the dancing waters at Disney I think it was Disneyland. And you know they're the, these perfect columns these perfect tubes of water and they don't just go in one direction they start to bounce from one over and this way. And there's this asymmetry to that design or two that you know water play or water activity. So, I started thinking more about that and adding more of these arches together and playing around with them and I love the idea that one's a little bit bigger than the other and it's not just a perfect symmetrical type design but there's this nice asymmetry to it.
[video: screen fades to black, white text fades into the center of the screen reading: What makes Evos™ different?]
Tom: Okay so when we first started working on the system that was one of the big things that we wanted to concentrate on. We didn't want this to be what we have always known as a playground system-
Tom voiceover: with posts and decks and standard activities. One of the big driving factors for me and this was that if I come up with a, an activity that you automatically know how to use it I don't want it in the system. So, I wanted everything to be surprising I wanted to challenge kids at every turn to come up with their own way to interact with the activities, and I think this system did a good job of that.
[video: side view of two children climbing on a Ring Tangle climber underneath a SkyWays shade system. Scene switch to a view across a playground of a boy spinning quickly on the Gyro spinner. Scene switch to a full view of a Evos™ O-Zone and Hemisphere rope climber as children play all around. Side view of a girl sliding down an Evos™ slide. Side view of children climbing through the suspended rings of the O-Zone climber. Children climb and step from pod steppers around the playground. Scene switch to a full view of a Evos™ playground covered in children shaded by a SkyWays shad system. Scene switches to a boy lifting his feet up on an arched Evos chin up bar while other children play behind him on other playground activities. Scene switch to a girl smiling and leaning to speak into a playground talk tube. Scene switch to ground view of a Wobble Pod where two boy's shoes can be seen jumping up and down on top. Top down view of a boy climbing up the ropes of the Hemisphere climber. Scene switch to a view across a park of an Evos™ play system. Camera zooms in closer on the Evos playground as children climb and play all around. Camera pans across the playground as children play on the many different activities. Camera switches to a ground level close-up of the Pod Stomper seesaw bridge as children jump and wiggle the bridge back and forth. Camera switch to a boy riding down on the Blender spinner as is turns. Scene switches back to Tom as he finishes speaking. Screen goes black, white text fades into the center of the screen reading: How did your children influence the design?]
Tome: It's easy to keep my kids in mind with everything that I do you know at work and having them you know so close to work it's nice to be able to bring them in and once we've got a prototype ready for kids to get on, they actually came in on a routine basis and we said "Okay here's something new what do you guys want to do with it? How would you interact with it.?" And just watch them play and that, that's a good test for you know, are we doing the right thing?
[video: screen fades to black, white text fades into the center of the screen reading: Has the way children play on Evos™ surprised you?]
Tim: Every time I watch kids play on Evos I get surprised. Because the beauty of the system is that there are so many different ways to go from activity to activity or just in how they use each activity. So, every time I watch kids play on this system it's a surprise and I was surprised today.
Tim voiceover: Today we had a group of kids with varied disabilities using the equipment. And I thought they had a blast and that is that's the best thing to watch kids that they're not you know maybe the average school age kids that have perfect you know ability. These are kids that have some challenges and I think that they interacted with the with the system in a wonderful way they all had fun and so that was very heartening.
[video: camera zooms in on a boy and girl as they begin to walk up to the playground area. Side view of two children as they begin to climb up and across the Crescent rope climber. Close-up of a young boy's face as he looks out across the playground. A woman and young boy sit on the discs of the Disc Challenge bridge and gently twist back and forth. A woman pushes a young boy in a wheelchair through the accessible artificial playground grass surfacing. A woman helps a young boy out of his wheel chair down to the ground. A boy crawls from his wheelchair to the O-Zone climber. Camera switches to the boy crawling to the Ring Tangle climber and lifting himself to his feet. Top down view as a young girl shakes the ropes on the Disc Challenge bridge. A boy begins to climb up on the ropes of the Crescent climber. Front view of a boy looking down at the hand cycler as the handles spin on their own. A young boy in a wheelchair as he roles himself to the hand cycler. Camera switches to behind the boy as he spins the handles of the cycler. Camera pulls back for a full view of the Evos™ play system where a man and a boy spin together on a Gyro Twister. A girl sits on the seat pod of the hand cycler holding her hands in the air as a boy stands on a pod with his arms stretched out to his side. Camera switches back to Tom as he finishes speaking. Screen fades to black as white text fades into the center of the screen reading: How do you know you have done a good job?]
Tom: I would consider this to be kind of the end of the day.
Tom voiceover: So, the designs been done it's out there, we're watching kids play on it and they're having fun, that's it.
[video: A boy with leg braces lifts himself up onto the first ring of the O-Zone climber. Scene switches to a side view of three children as they climb on the Ring Tangle climber. Scene switch to the O-Zone climber where the camera is viewing through one of the climbing rings as a young girl climbs through. Camera switch to a different girl climbing through on her stomach through the O-Zone climbing rings. Close-up of a young boy's face as he holds onto a Gyro Twister. The camera zooms out as a woman slowly spins him. Screen fades to black and white text fades to the center of the screen reading: Better playgrounds. Better world. The Landscape Structures logo fades into the center of the screen.]
Cutting Edge Playground Equipment and Materials
Sway Fun® Glider
We premiere 10 to 20 new products every year. We're especially proud of our innovations in designing inclusive play environments. The Sway Fun® Glider, introduced in 2002, is a first-multi-user glider that was the first of its kind to be accessible to children and adults in wheelchairs, meeting all safety standards, while allowing users to control the motion. This is often the first time children in mobility devices experience a swinging motion and provides parents in mobility devices the ability to play with their children.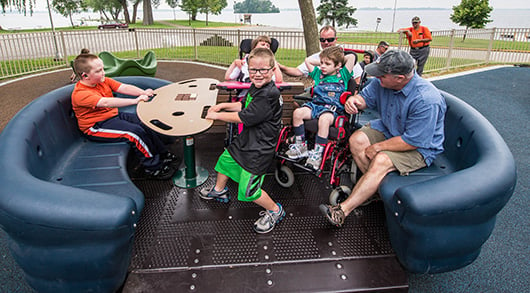 TenderTuff™
Around 1981, we began coating decks and steel parts—anything that kids touched and could cut themselves on or burn themselves on during hot, sunny days—with TenderTuff coating, otherwise known as PVC (polyvinyl chloride).
Steve King became interested in PVC when he was fiddling with his freezer and he noticed that his hand didn't stick to the shelving. Everyone said it wouldn't work. Three years later, everyone was using this material. TenderTuff changed the industry again and, like continuous play, is now an industry standard.
Permalene®
At first, Steve designed all of the innovations. He'd walk through a shopping center and see some detail on a guardrail or furnishing, and pretty soon incorporate that detail into our equipment.
Looking at the partitions in an airport bathroom, Steve realized that the same compressed polyethylene material could work as activity panels in our playground equipment. From that notion, we introduced Permalene® in 1985. These kid-friendly panels and components continue to look new, year after year. In 2010, a 73% post-consumer recycled option was added for our enclosures.
Precision Manufacturing
We utilize precision manufacturing techniques that ensure consistency, safety and durability in every playground product we make. From personalized 3D CAD design to robotic welding to extensive product testing, we leave nothing to chance.
Our goal is that every piece of our playground equipment, every finish and every coating is built to last through this generation of children, and on to the next. And our equipment is created to be as safe on the ten-thousandth use as it is on the first.
Things like tighter manufacturing tolerances, better fasteners, smaller gaps and no-flake finishes mean no pinched fingers, caught clothing or other safety hazards. And that's good for everyone.
Because of our precision manufacturing and use of only the best materials, our products are built to last.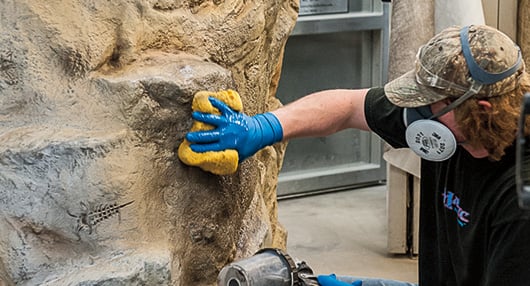 Concrete Facility Onsite
We're the only playground manufacturer in the industry with an in-house concrete plant. Opened in 2011, our world-class, sustainable manufacturing facility enables us to bring any playground theme or idea to life.
ISO
Sustainability has always been an important part of our culture, even before there was a word for it. In 1998, we became the first playground equipment manufacturer in North America to be ISO 14001 certified for environmental stewardship.
Each of our employee-owners is committed to producing the highest-quality, most environmentally preferable products available for longer-lasting, sustainable products that are built to last for years—and generations—to come. You have our word.