Monterey Park
Mesa, AZ USA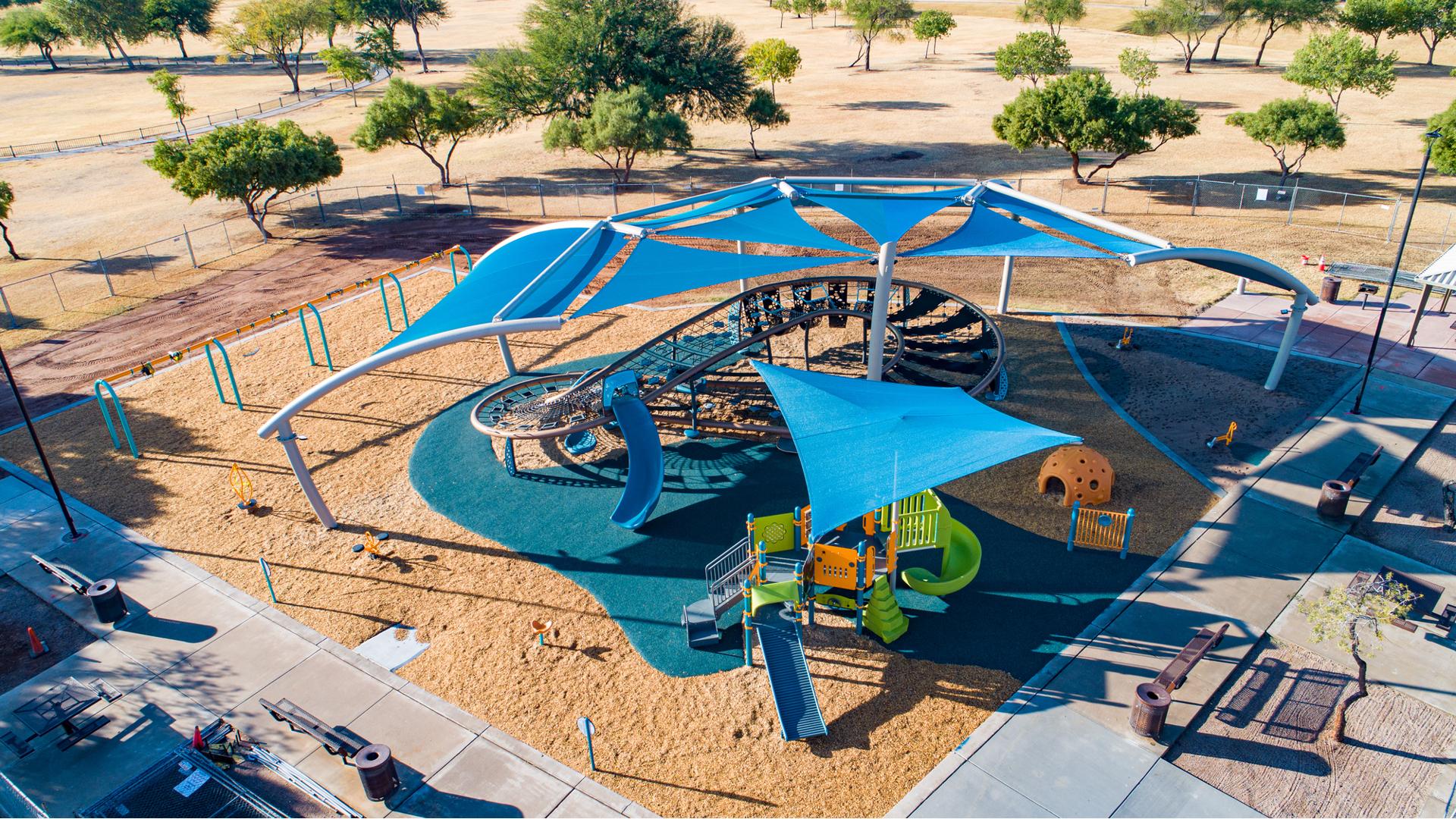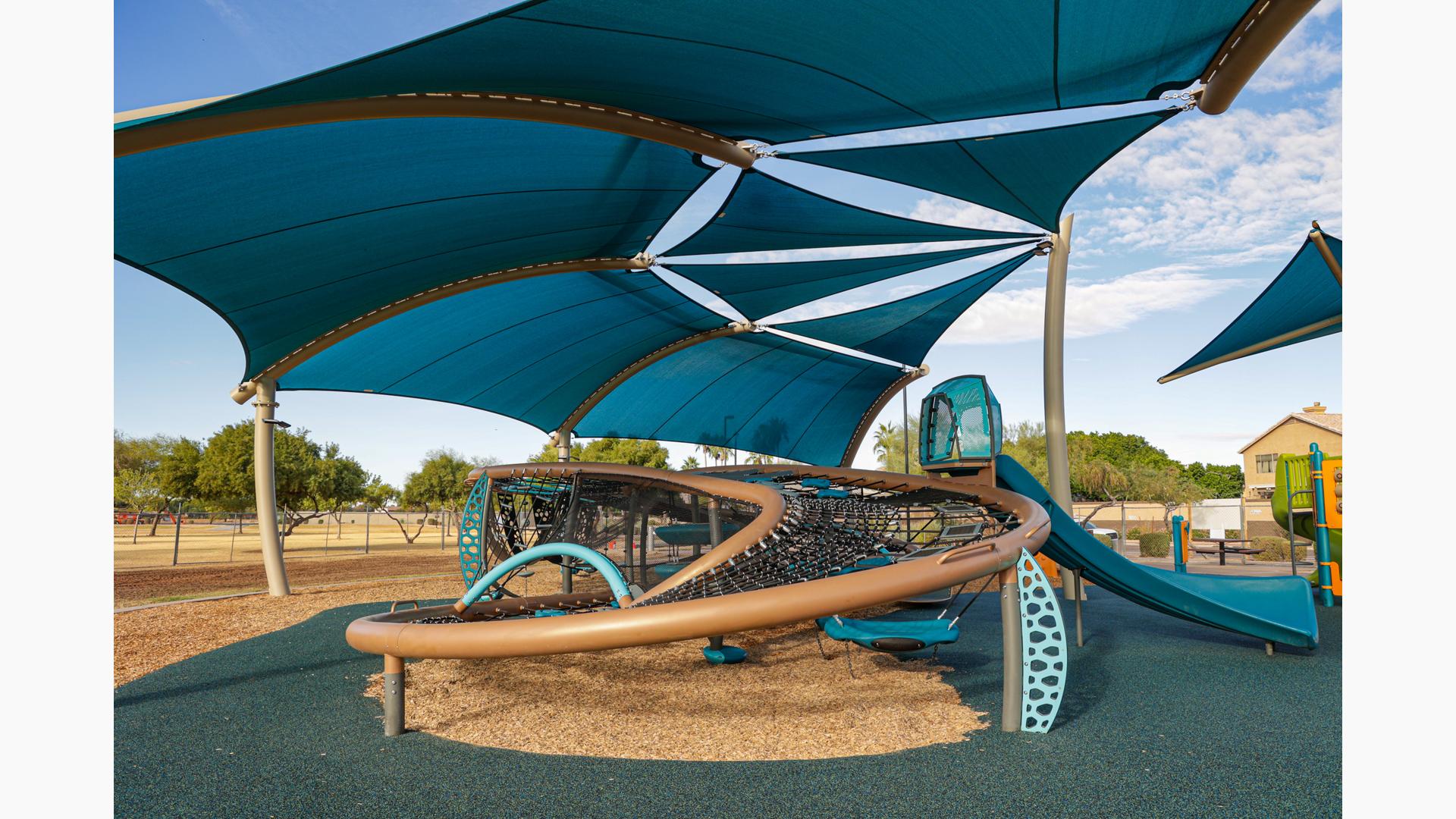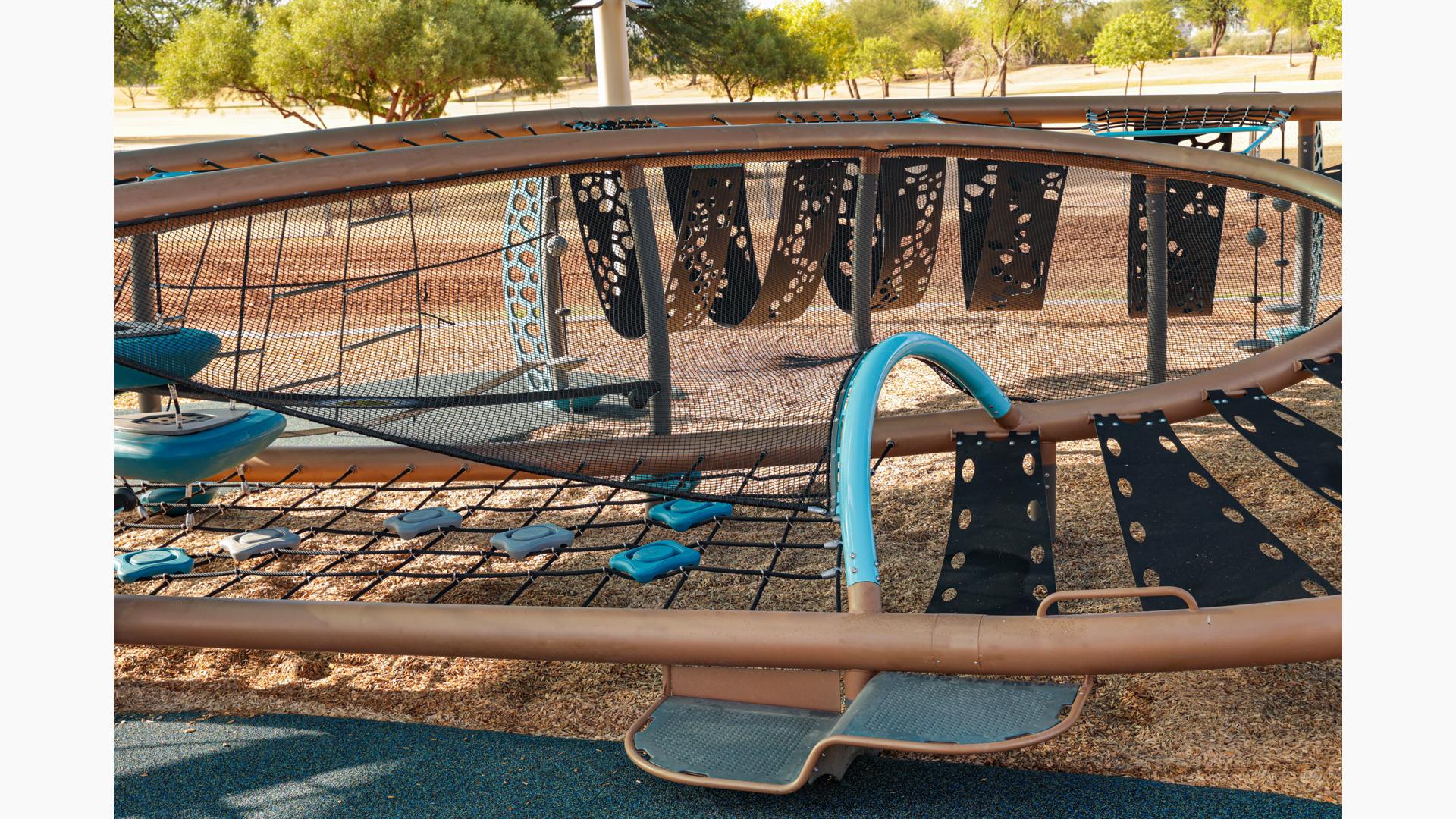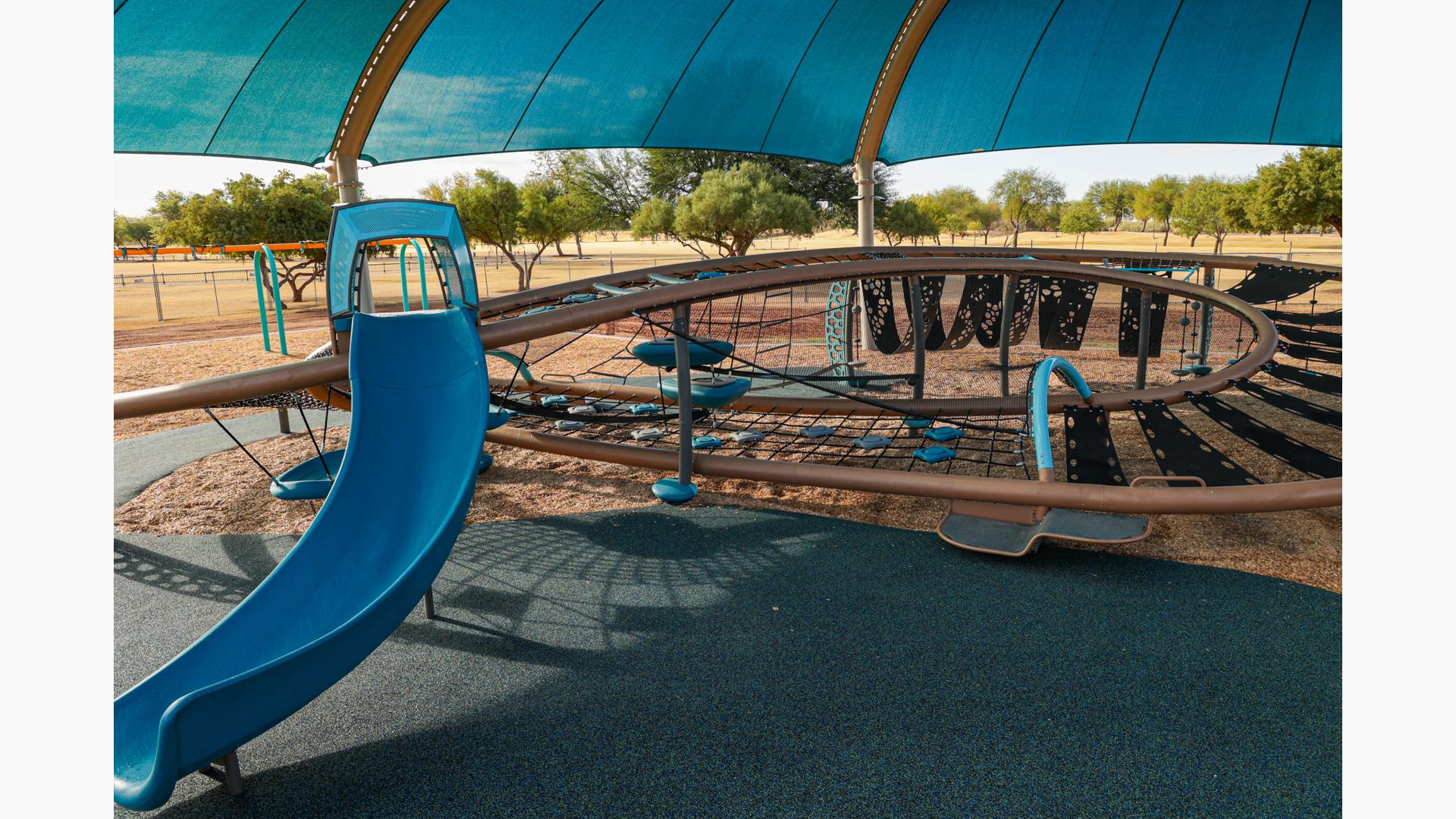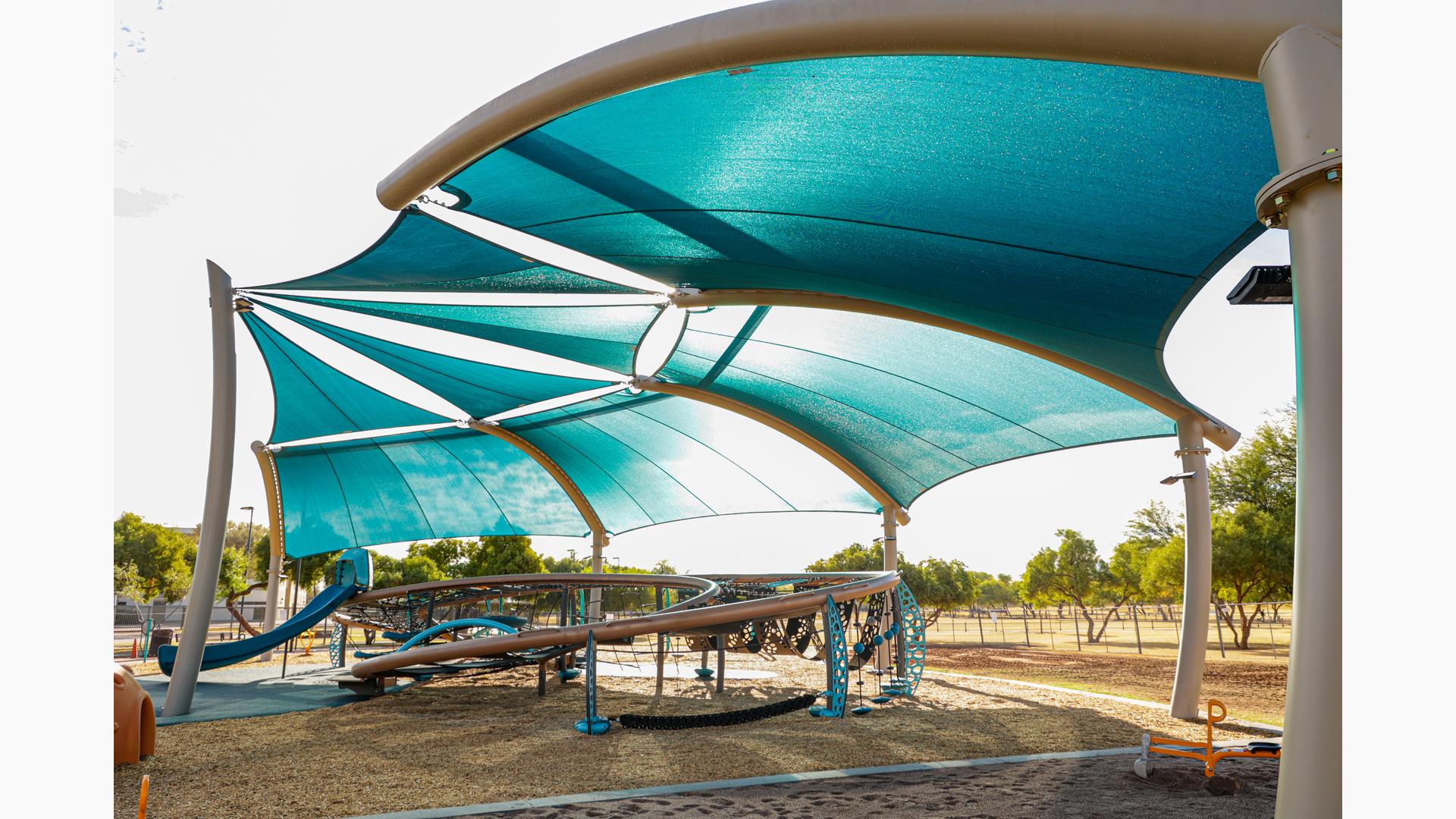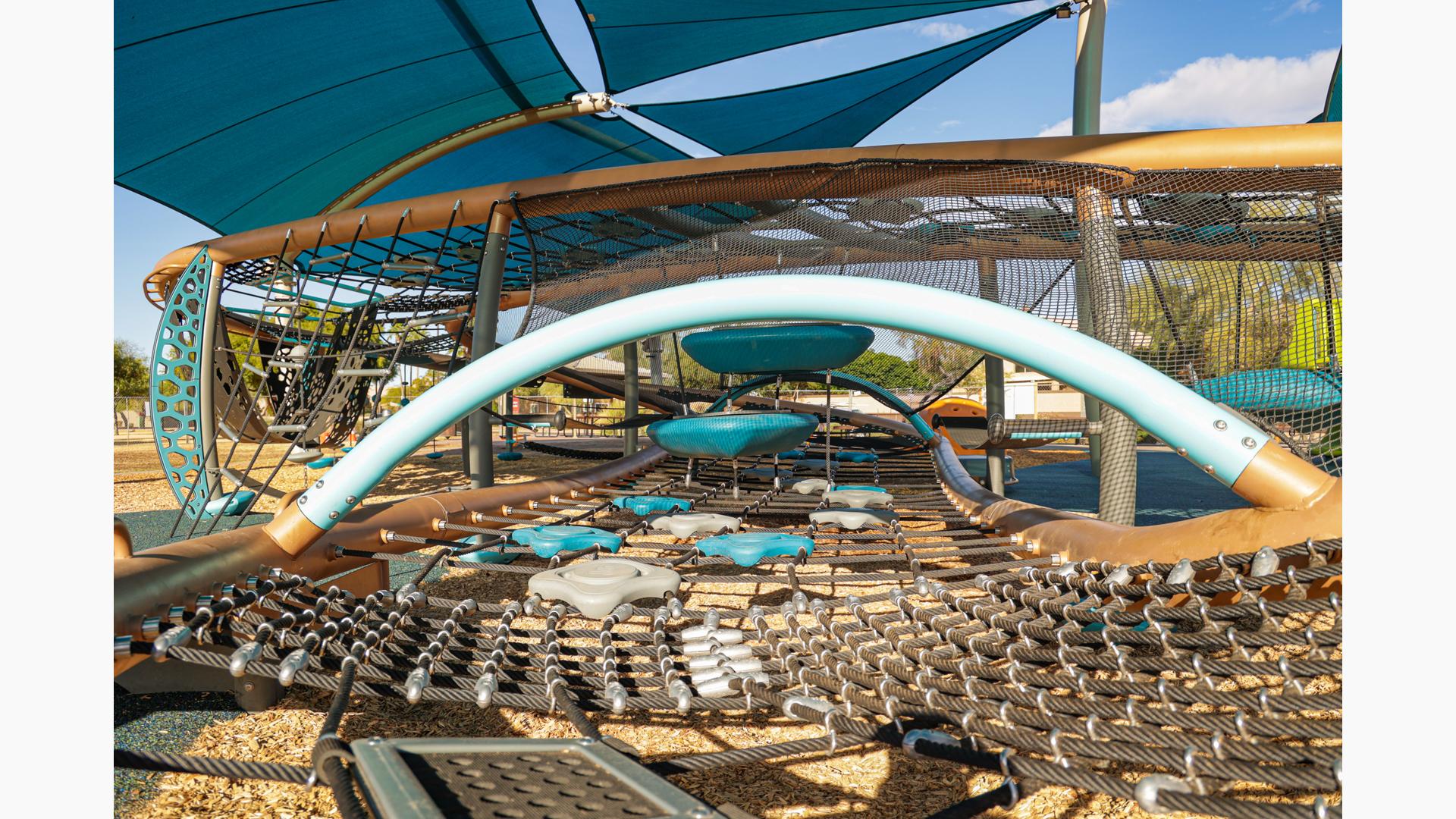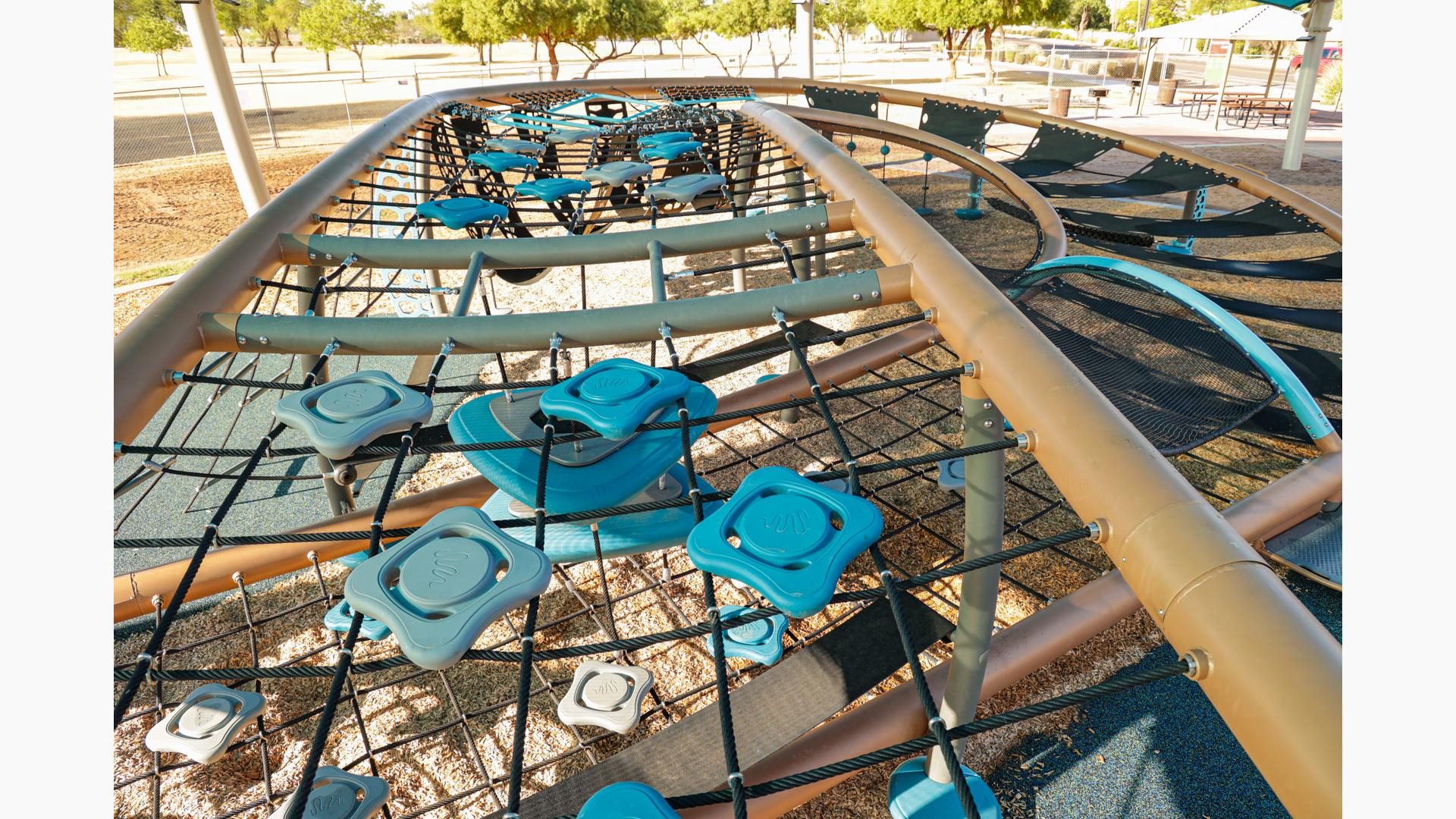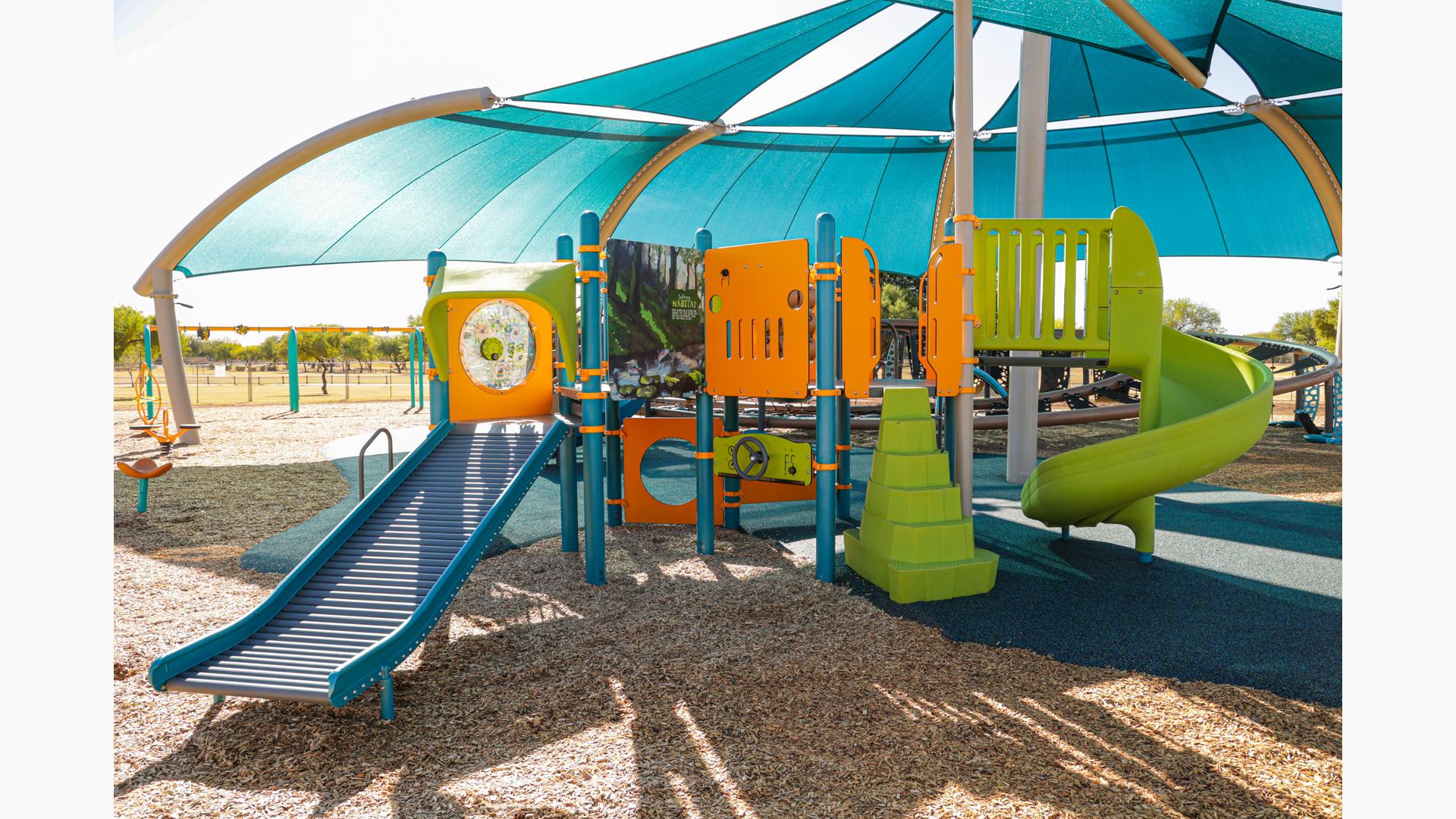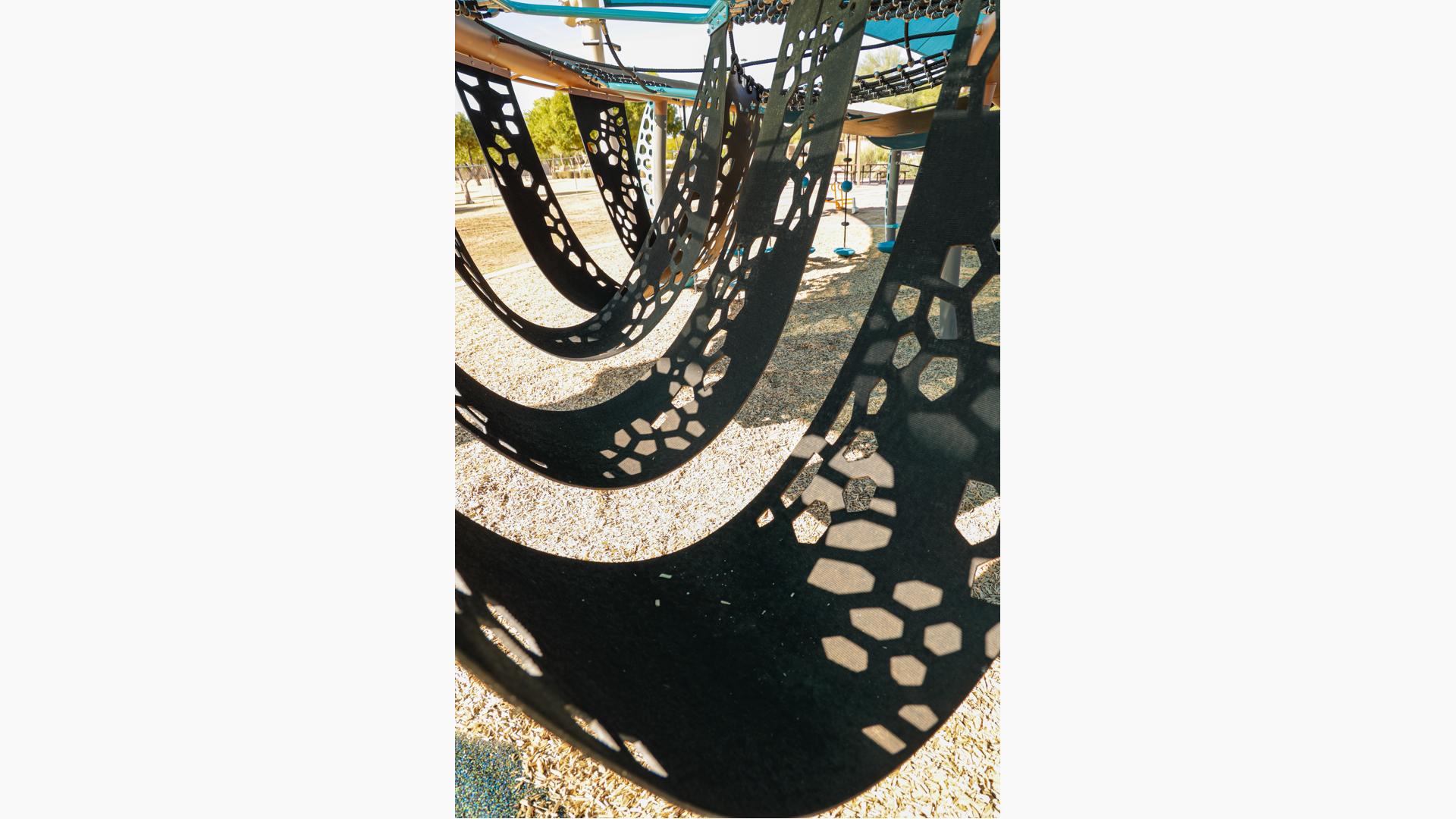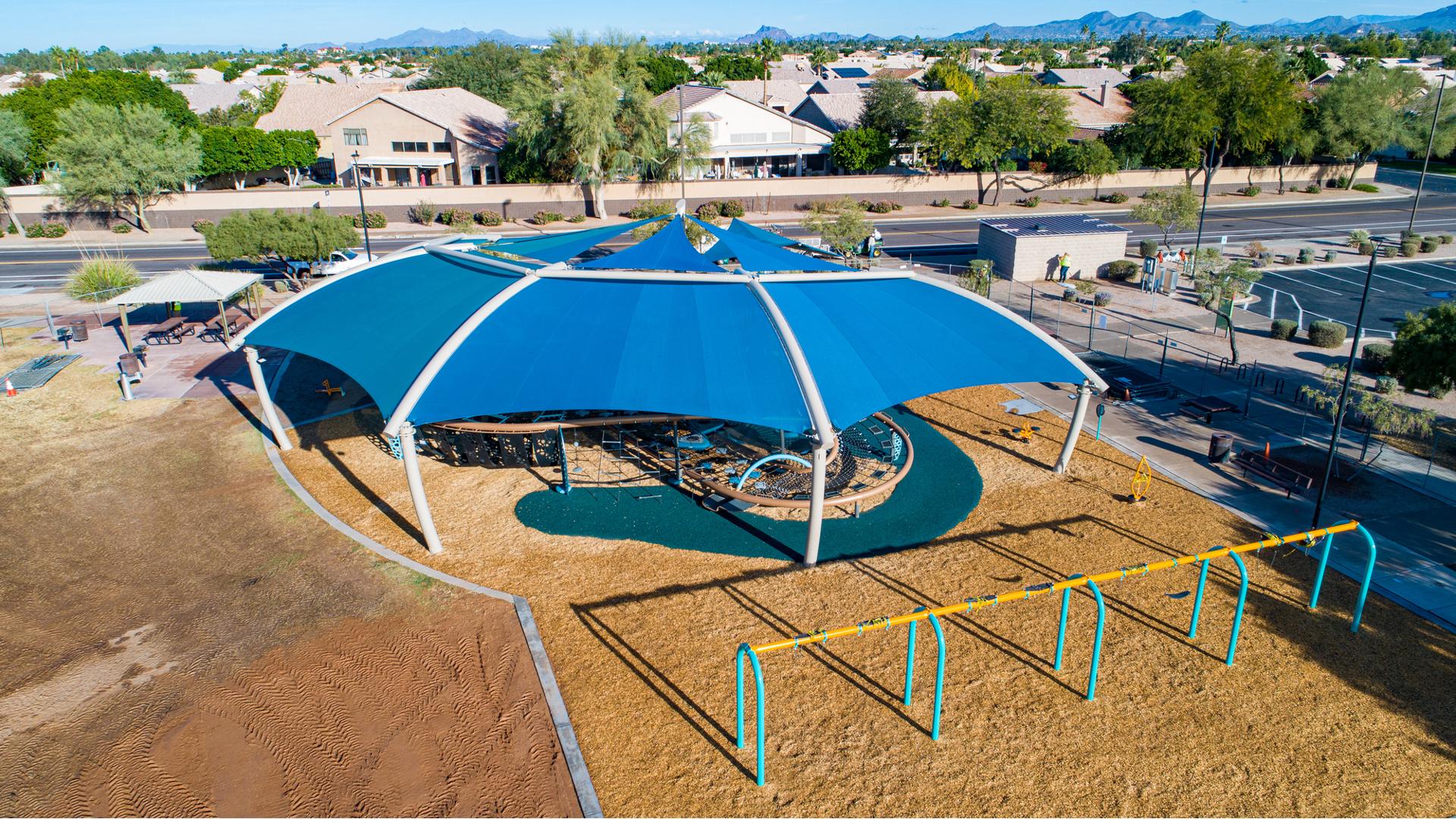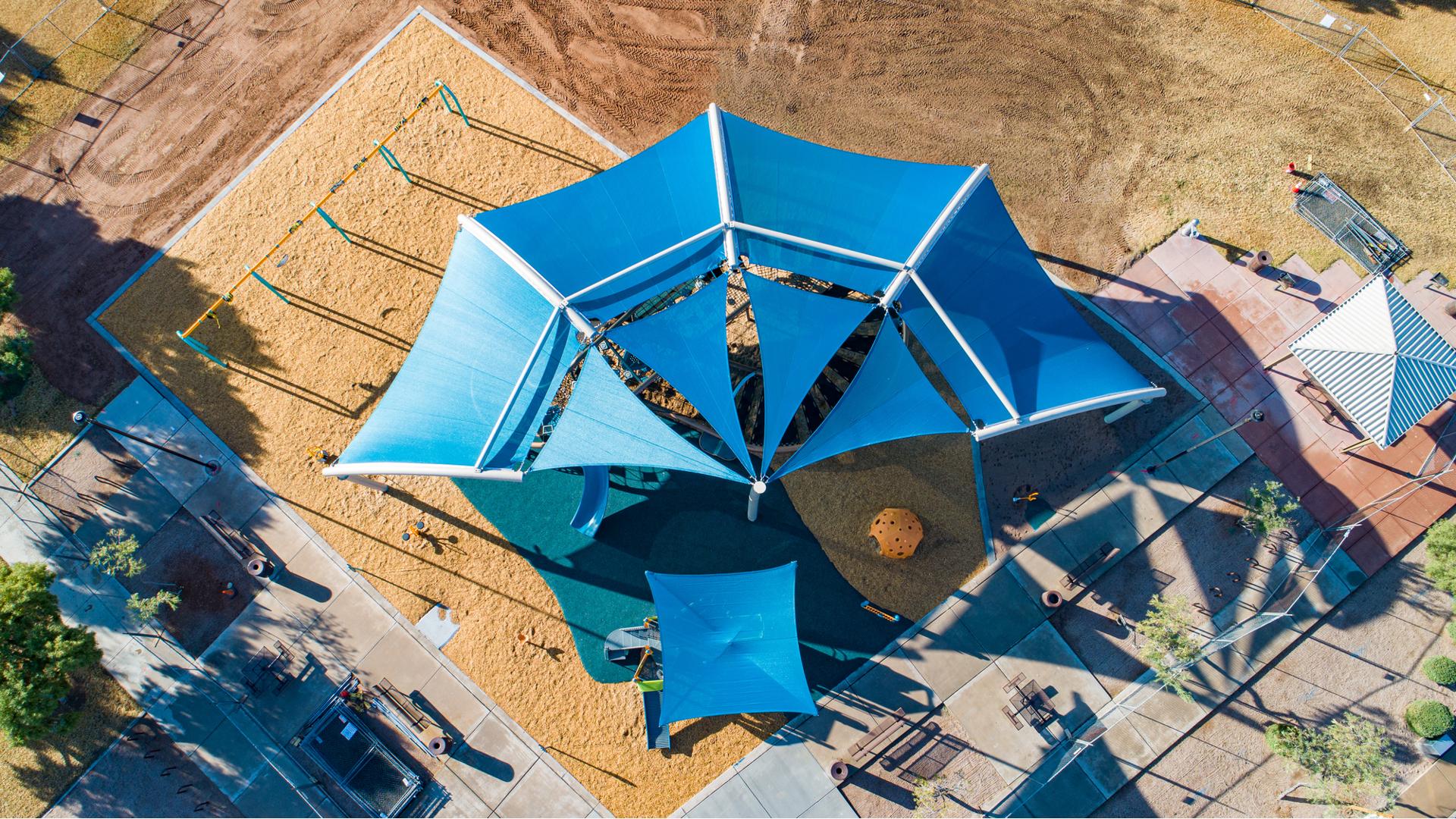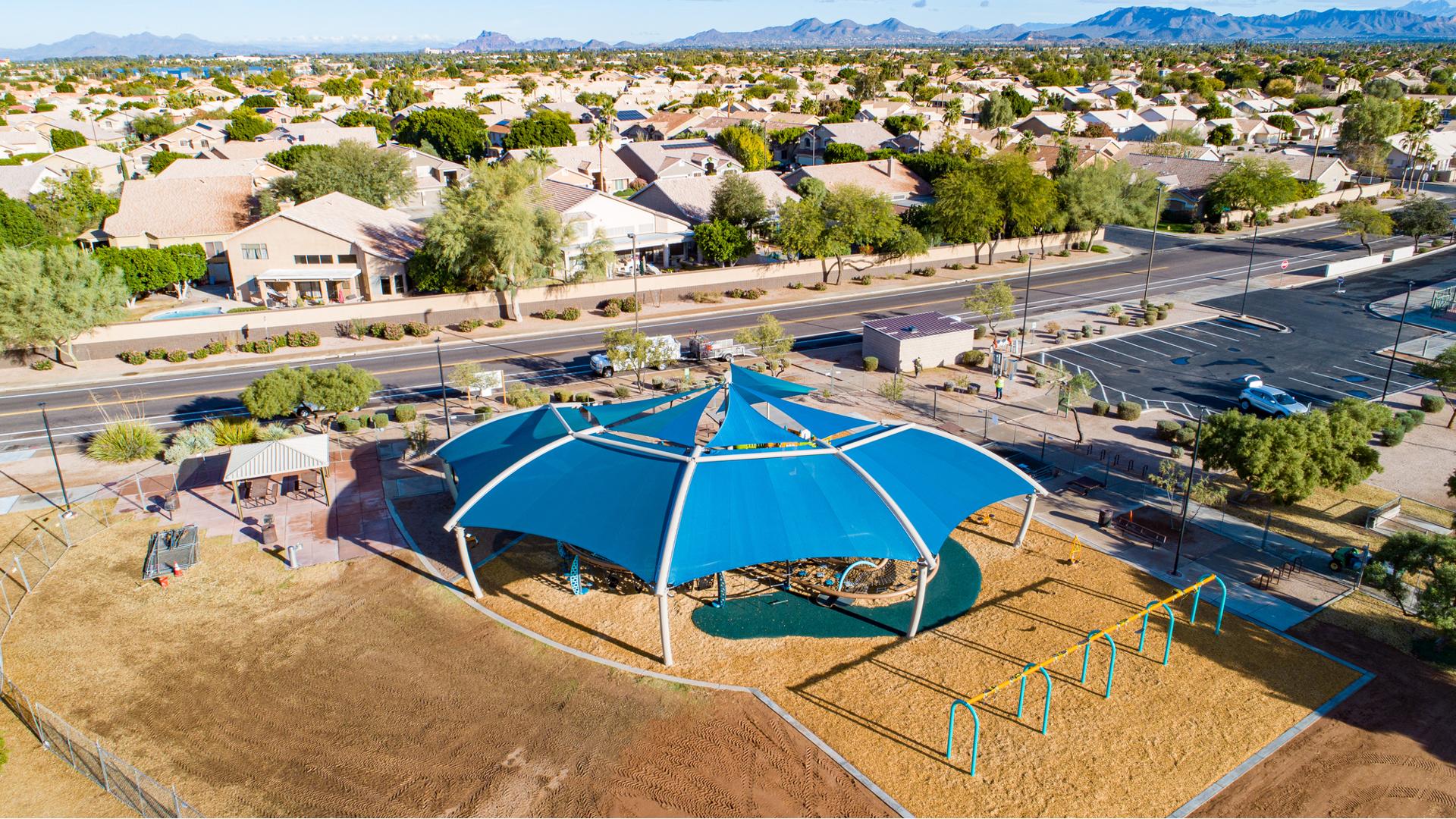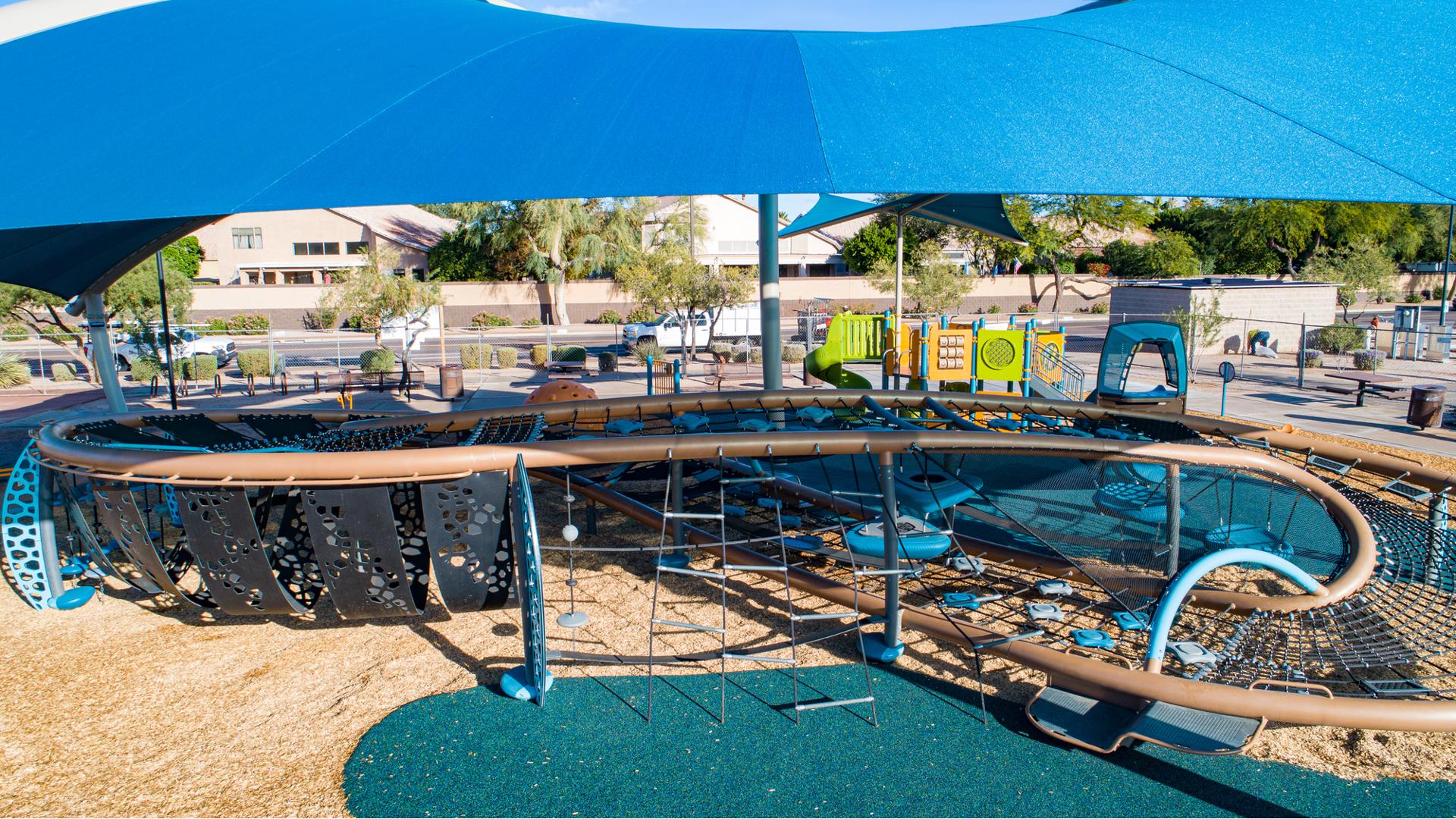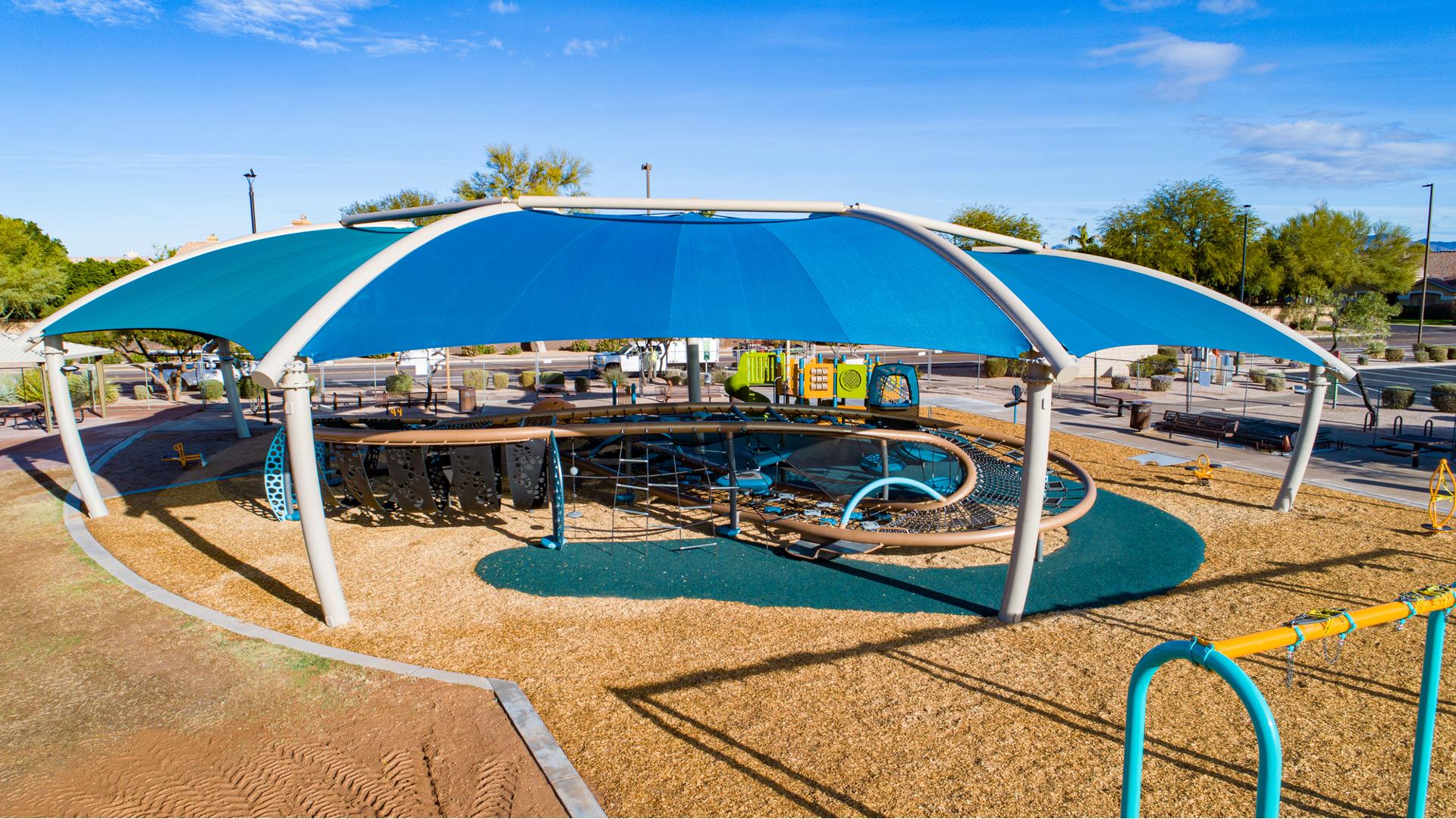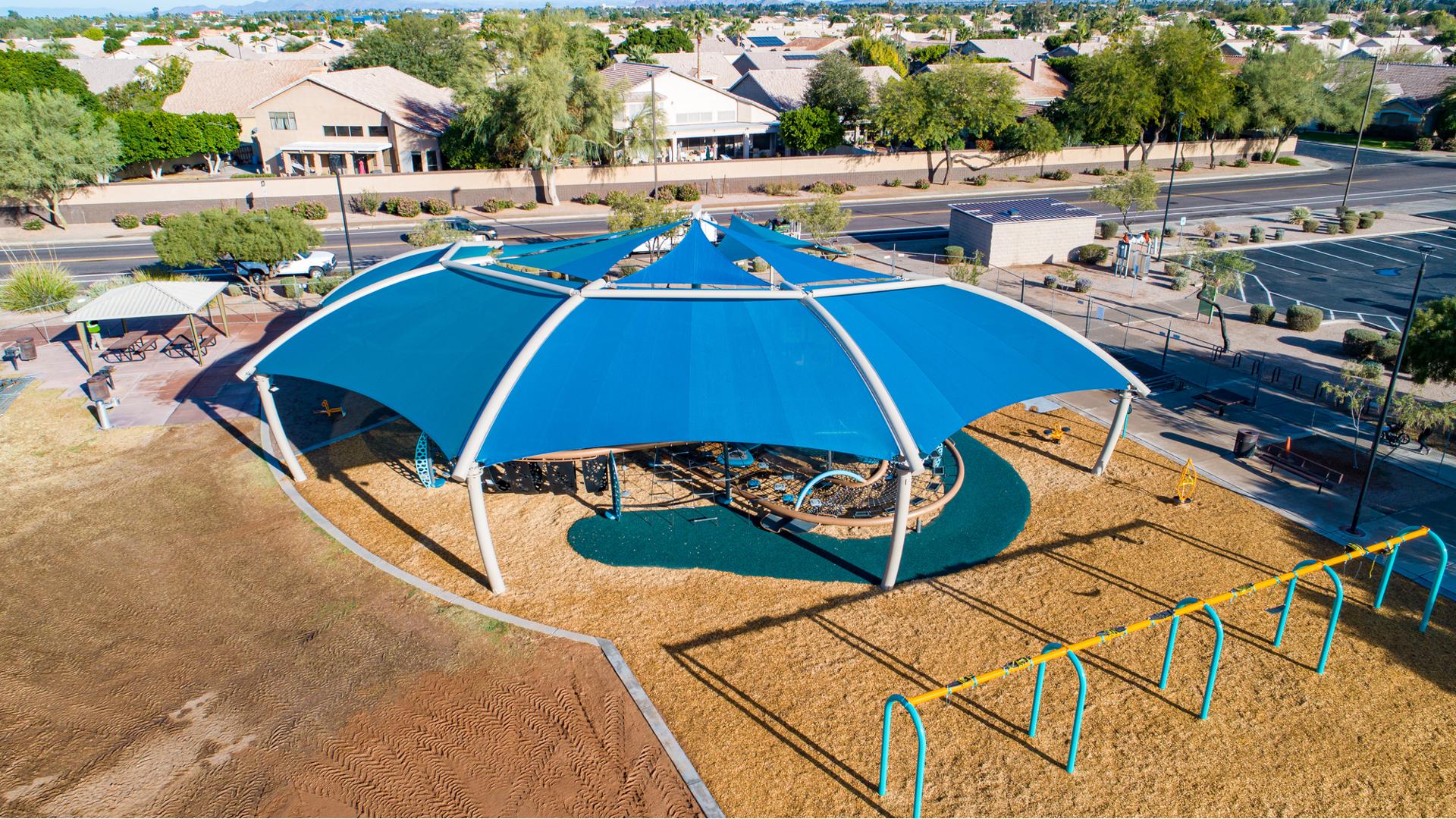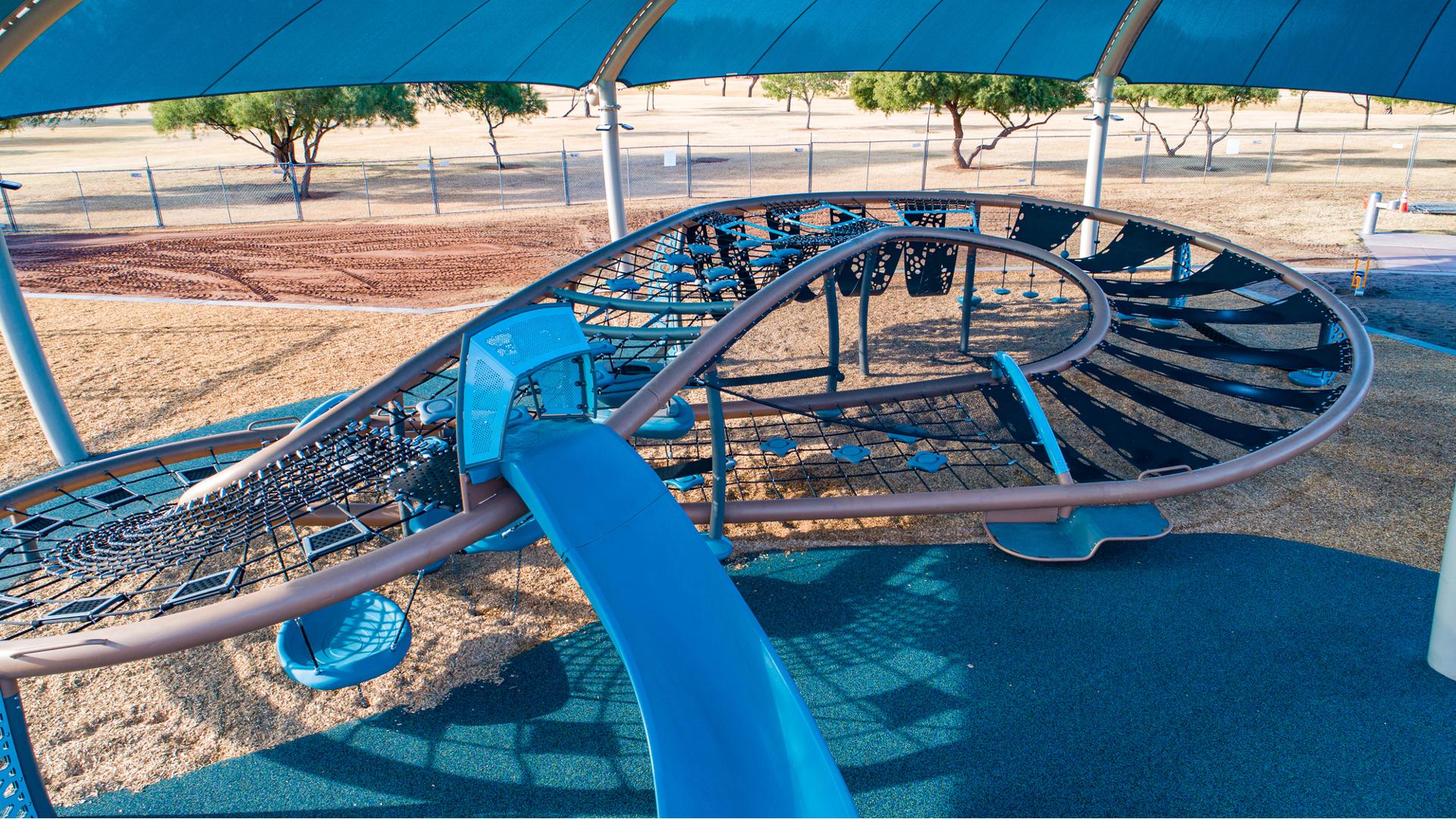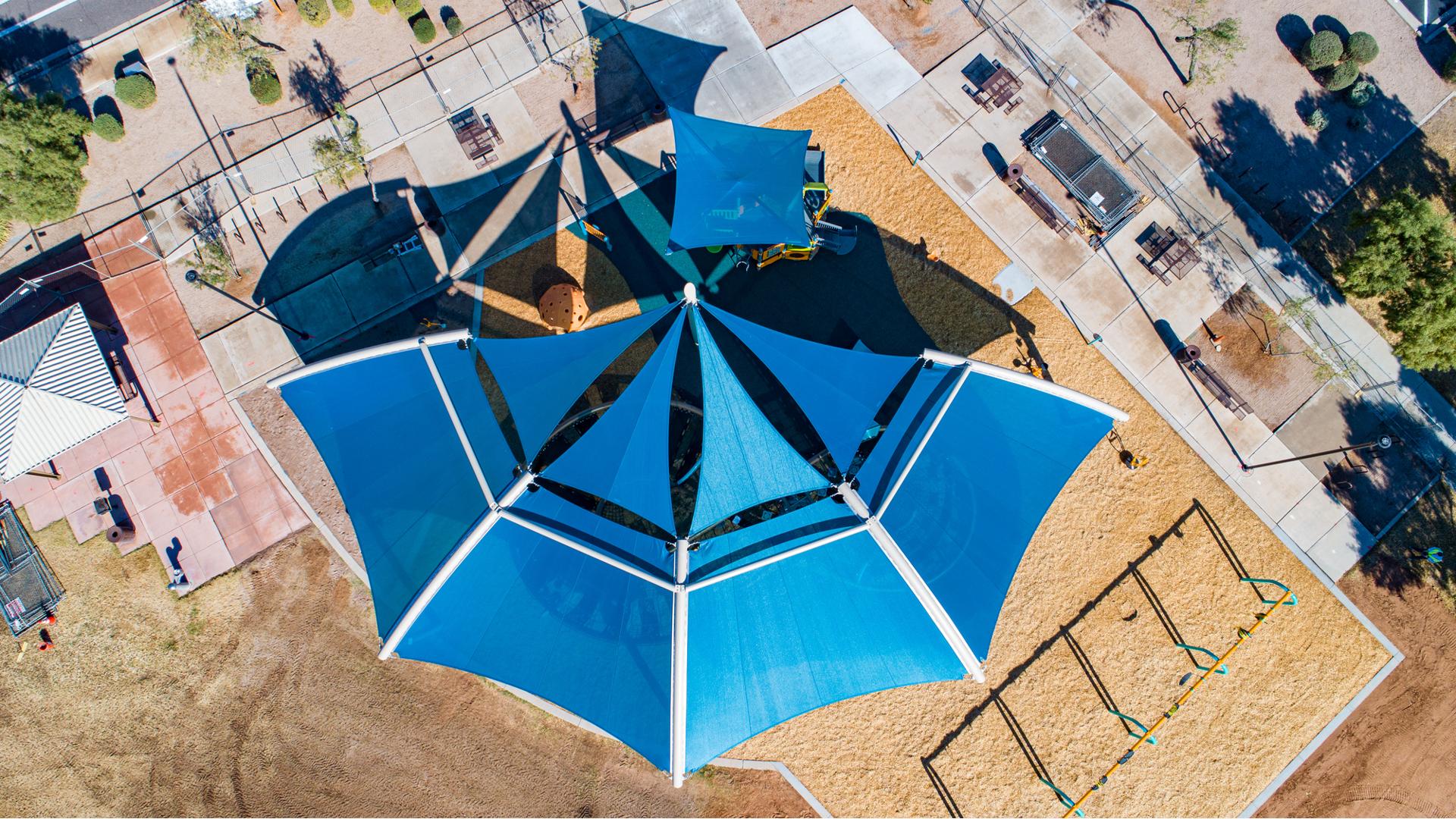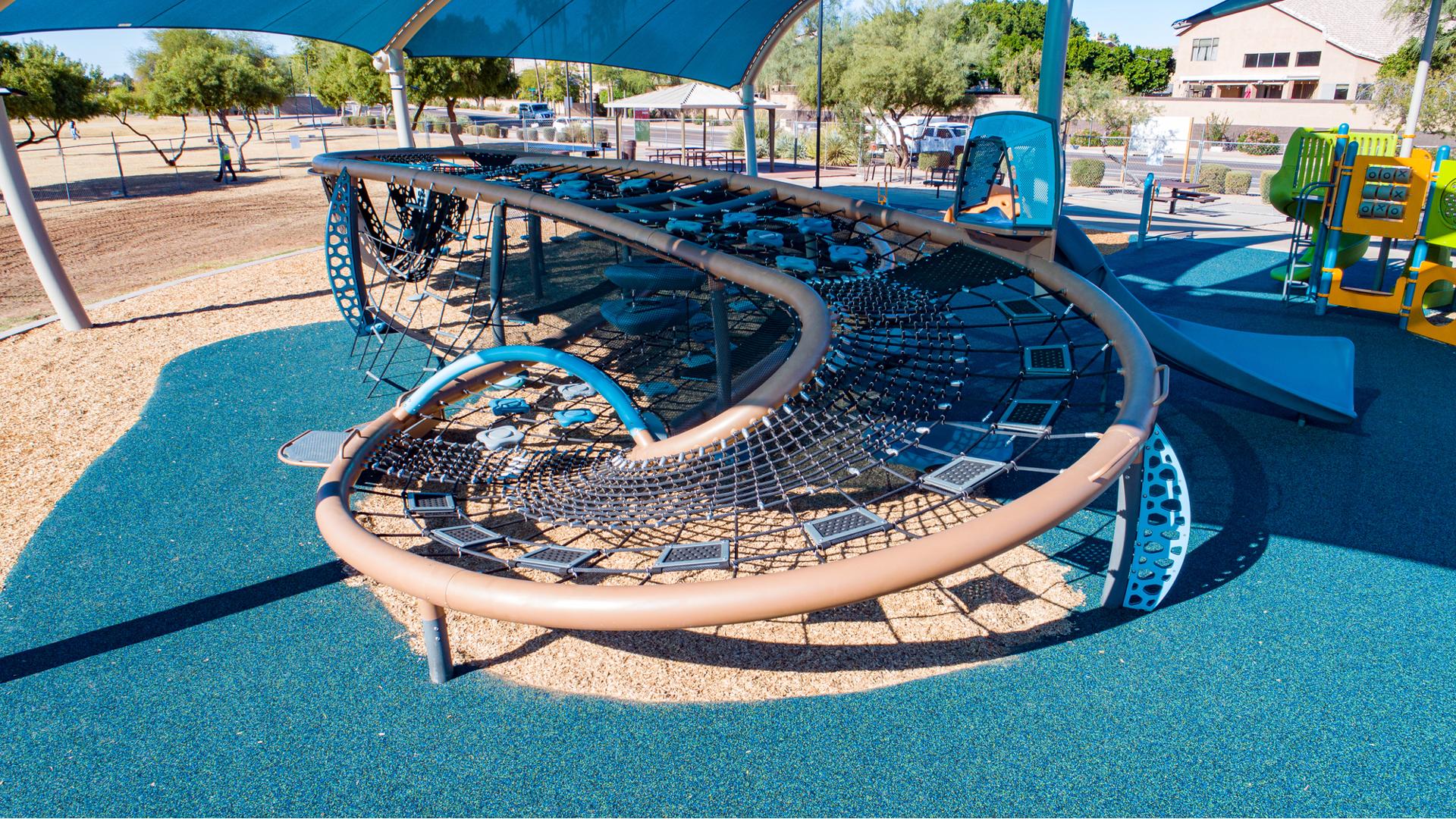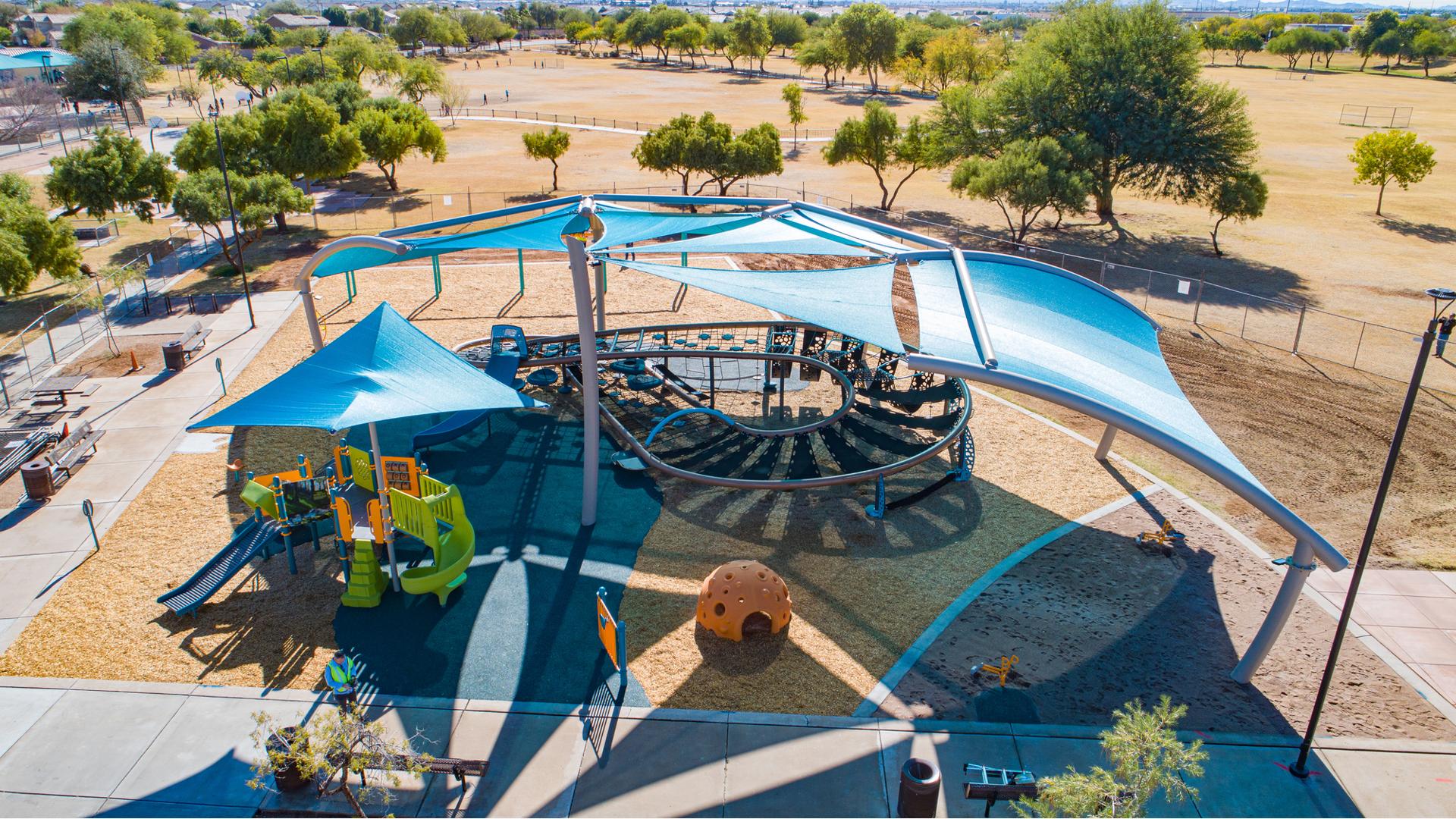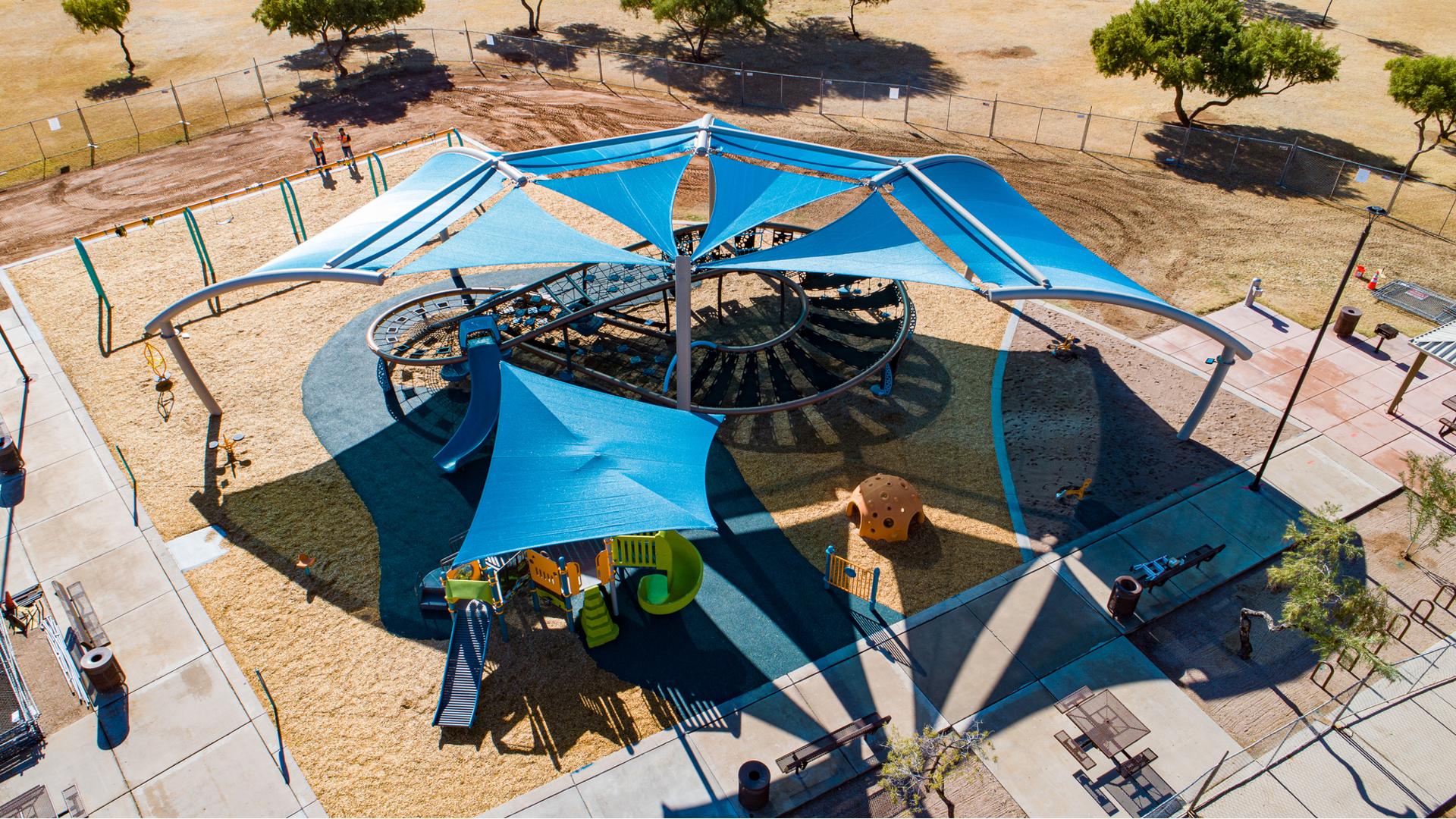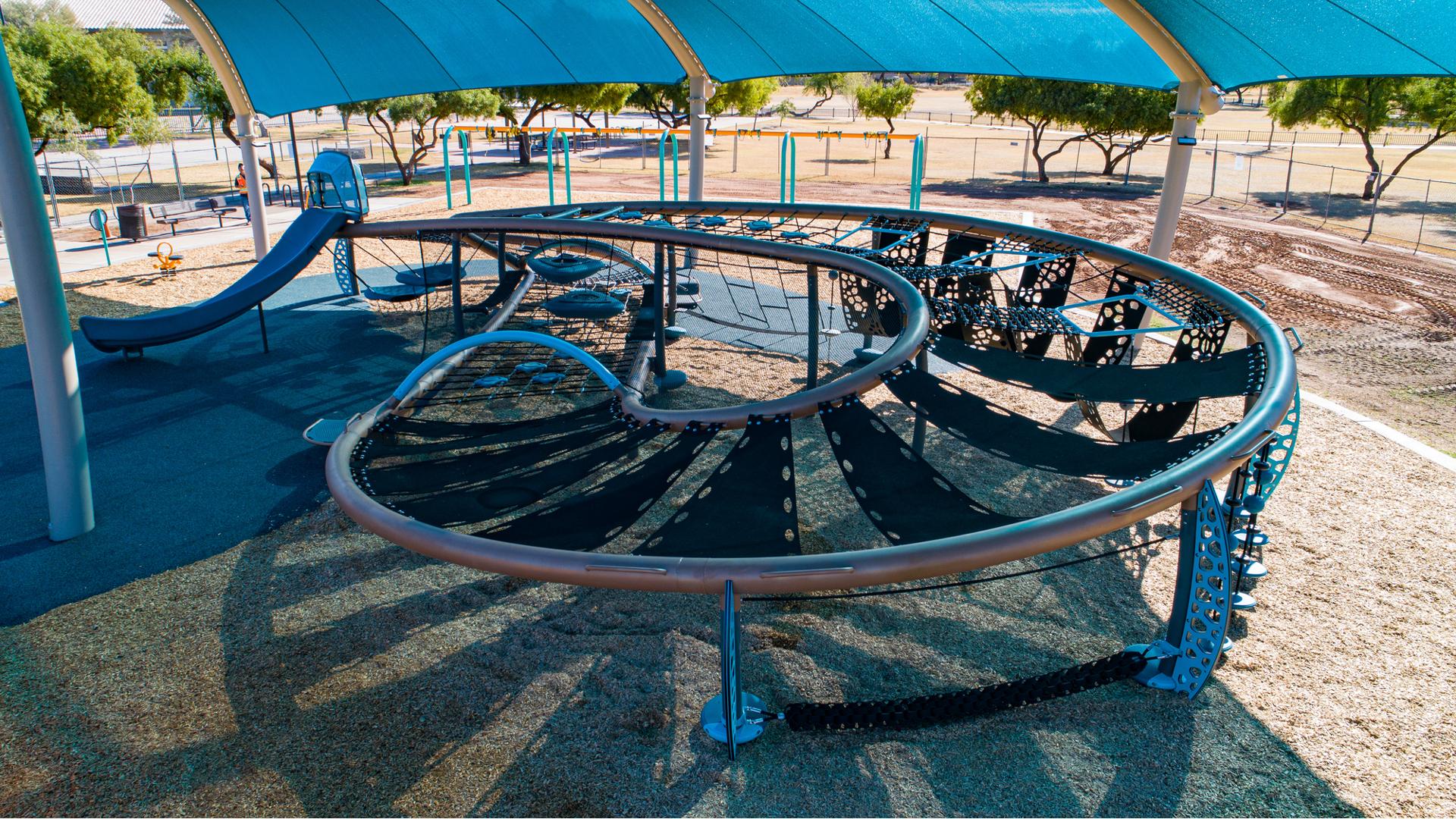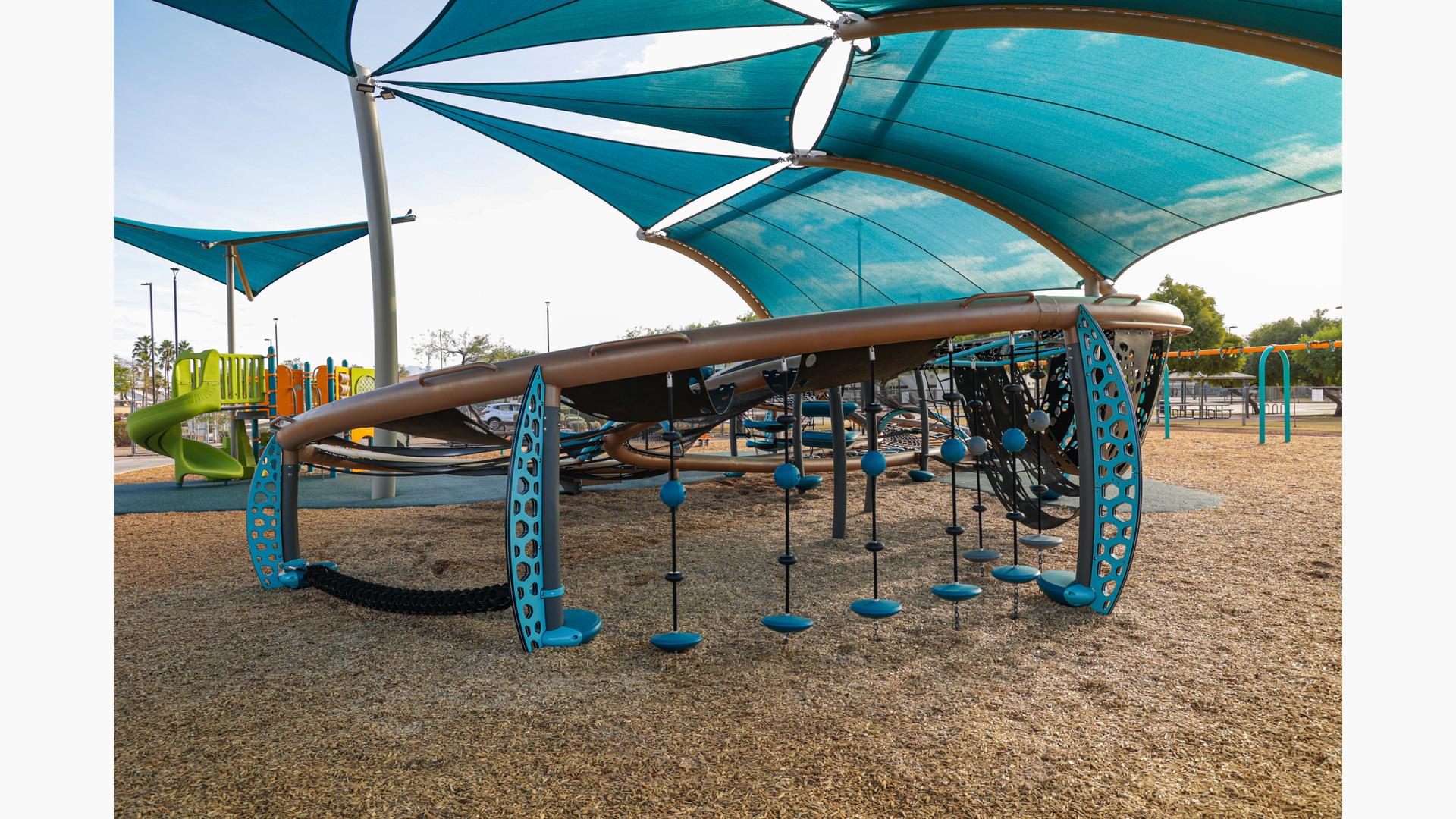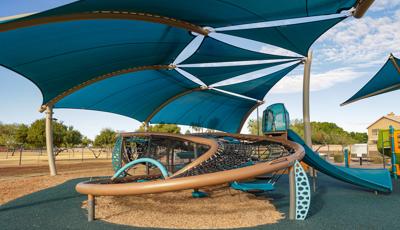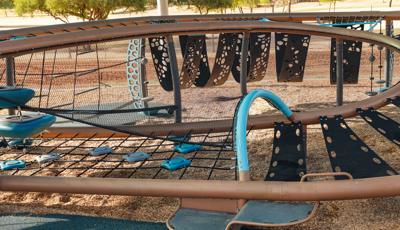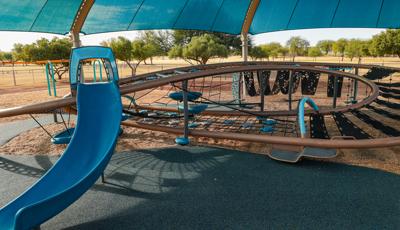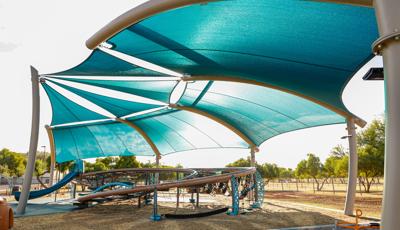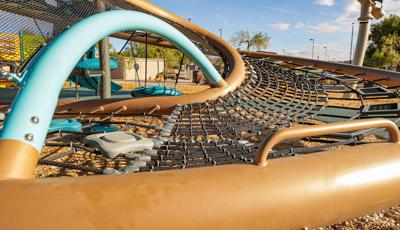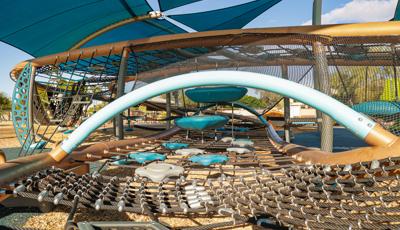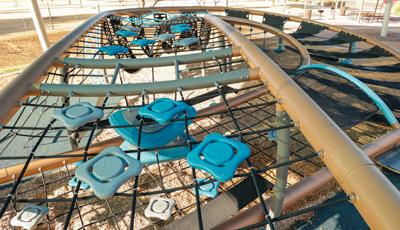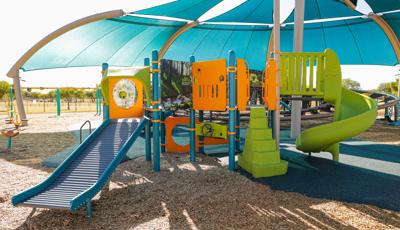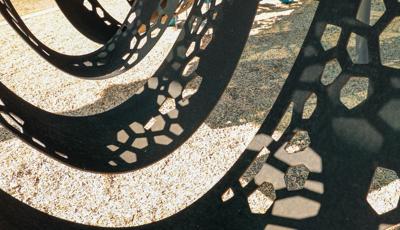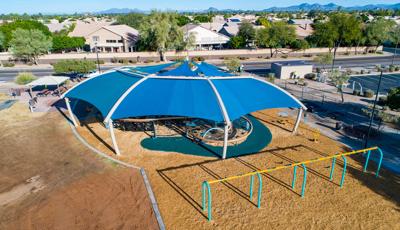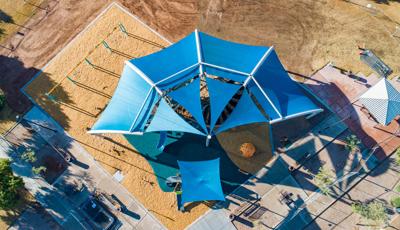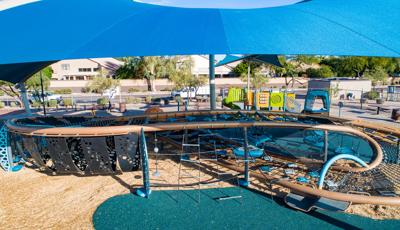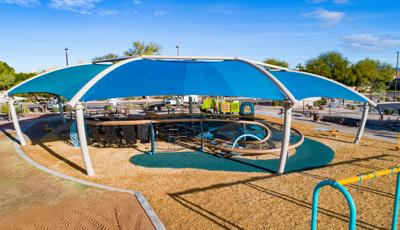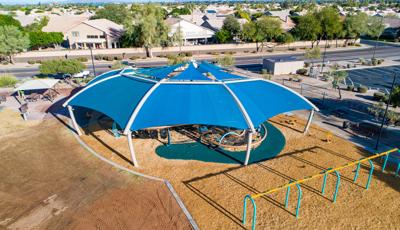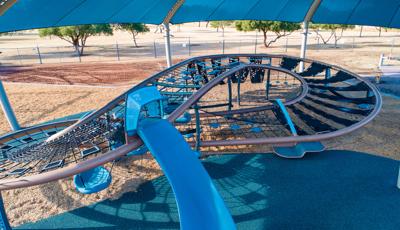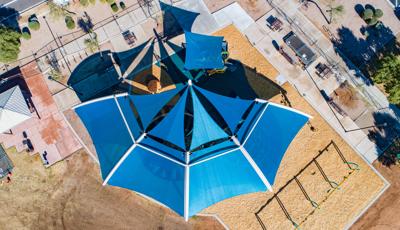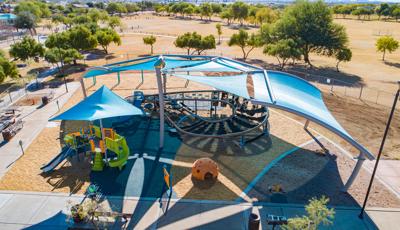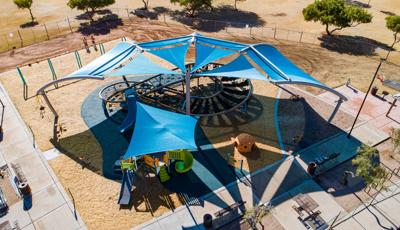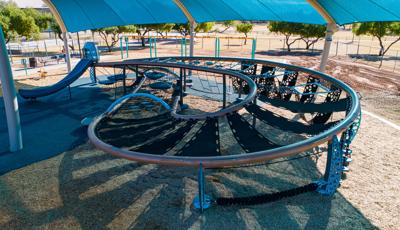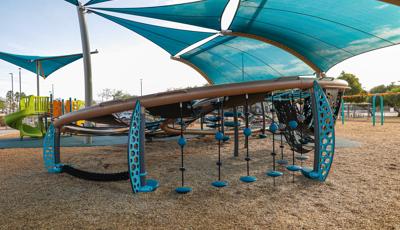 AZ - Monterey Park
Video features a Landscape Structures custom playground and shade installation at Monterey Park in Mesa Arizona.
[video: scene fades a full elevated rotating view of a park playground with a large custom shade system over one of the play structures. Scene switches to a ground view up to the blue fabric shade sails all connecting to their support posts. Camera switches to an elevated view of the top of the custom shade system. The view rotates right to left. The camera switches to a view under the large shade of the unique figure eight shape play structure. The structure is made up of belted walking and climbing panels, rope nets, swings, and other climbers. A large blue slide cascades down from the top of the structure. Scene switches to a focused view of a circular swing. The front of the swing as a black bumper with the Landscape Structure logo embossed on it. Scene switches to a view through evenly spaced hanging "U" shape belt material with random geometric cut outs. Scene switches to a focused view of a ball knot connected to a vertical rope. The Landscape Structures squiggle ribbon logo is embossed on the ball. Scene switches to a view of a park sign with lots of park and playground information with the large figure eight play structure in the background. Camera switches to an elevated panning view over the figure eight play structure. Scene switches to a close-up panning view of a tightly woven net climber. View switches to a close-up of a larger rope net climber and the metal hardware connecting it. Scene switches to a full elevated view of the large shade system over the play structures. Camera switches to a ground view as it pans around one of the shade posts focused on the figure eight play structure. Scene switches as the camera pans up from the large frame of the figure eight play structure up to the large shade sails up above. The sun illuminates the blue shade sails. Camera switches back to a full elevated view of the park. Several swing set bays can be seen to the right of the large shade and figure eight play structure.]
[video: screen fades to white. A black line appears in the center of the screen. The Exerplay logo slides out to the right of the black line as the Landscape Structures logo slides out to the left. Text fades in below both logos reading "For a better tomorrow we play today". Screen fades to black and video ends.]
Age Ranges
2 to 5 years
5 to 12 years
Product Lines/ Categories
Min Area Required
103' x 76' (31,39 m x 23,16 m)
Design/CAD Files for this Playground
Design files are not available for this custom design. Contact your local playground consultant for additional details.
Design Standards
Contact your consultant to verify that this playground design meets current design standard requirements or to modify for other design standards.
Price Range (USD)
$200K-$500K+
Pricing for custom playground equipment varies. For international and exact pricing, please contact your local playground consultant.
Contact Your Consultant
The Quantis® 8.2 at Monterey Park delivers hours of fun for kids ages 5 to 12. The playground net climbers as well as the SwiggleKnots™ bridge, Cargo Net with Square Steppers and molecular-style belting challenge the kids both physically and mentally. For younger visitors, there is a PlayBooster® playstructure that provides more age-appropriate challenges with climbers, play panels and slides. Freestanding play components including the Cozy Dome®, spinners and playground swings deliver more thrills for all ages. Best of all, custom SkyWays® shade sails were installed to provide maximum protection from the Arizona sun and heat.
Installed: December 2021
Our color palettes offer a range of options to customize your projects
Our state of the art materials make our playgrounds stand out.
We've created a global network of local playground experts to be at your side, every step of the way. With an average of 20 years of experience, our playground consultants are knowledgeable and personable. They will guide you through product pricing and specifications, customization, financing options, community builds, on-time deliveries, maintenance, finding replacement parts, and service questions.
Playground consultant for this project
Find a Playground Consultant Near You
Contact Your Consultant
Related Playgrounds & Designs