Planning Made Easy
Planning the perfect community or school playground is easy when you have the right tools. Follow these five easy steps to create the ultimate playground for children in your community and beyond.
Envision your Play Area
A great playground will complement your school or community's unique personality and be a destination for years to come. Work with a landscape architect or your Landscape Structures playground consultant for help in laying out an efficient and exciting design that follows accessibility and safety guidelines to ensure you create a beautiful playground that is safe, fun and comfortable for all visitors. Get started by defining objectives for your play area:
What ages and abilities will use this play area?
How many visitors will play at once?
Are there unique historical characteristics, a color scheme or theme you'd like to incorporate?
Do you need additional amenities such as shade, benches or waste receptacles?
Analyze your Site
"Bob was extremely helpful and knowledgeable; he made the playground planning process smooth and painless." Kim Yarrington
The characteristics of your site, including both natural and man-made elements, can greatly impact the design of your playground. Our playground consultants will work with you to analyze your site to make the most of the natural topography, nearby trees and shrubbery, and existing walking paths to create a beautiful play environment. Consider the following when choosing your playground site:
Will the slope and soil conditions of your site allow for proper drainage?
Is there existing vegetation that can be incorporated into your design?
Does your site receive high levels of wind or precipitation, or hot afternoon sun?
Can the playground be located near existing amenities such as parking, restrooms and walking/biking paths?
Design Your Playground Site
Now that you've envisioned your playground and assessed your site, it's time to create a detailed budget and design a playground that will meet the needs of your community. The Consumer Products Safety Commission (CPSC) recommends separate areas for ages 6 to 23 months, 2- to 5-year-olds and school-age children; consider designing separate play areas for all age groups that may visit your playground. Be sure to consider other design elements:
Do you want your playground to have a modern look, mimic the environment or carry out a theme?
What freestanding play elements will you incorporate?
Spinners, swings or seesaws?
How much challenge do you want to incorporate?
What inclusive elements—ramps, transfer points, sensory play, music—will your design have?
Are you designing for future phases so it's easier to enhance your playground down the road?
Playground products shown in video may not be appropriate for every age group. Playsystems shown in video are for demonstration purposes only. Product configurations may vary.
Install Your Playground
We have choices when it comes to the installation of your playground. You can recruit volunteers to help with the installation, which is supervised by a professional installer. Not only is our community build option exciting, but it helps create a sense of pride and ownership in the new play space. If volunteers are hard to come by, we can send a certified crew to install your playground professionally.
Enjoy and Maintain Your Playground
When your playground is ready for public use, host a grand opening party to welcome visitors and thank all those involved in the process. Grand openings are a great way to celebrate all the work that went into creating the new play area. To keep your playground looking great and safe for play, we'll send you a customized maintenance kit. Ask your playground consultant to determine the frequency of inspections and maintenance needed.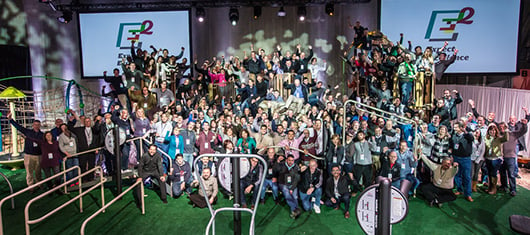 Playground Consultation
We've created a global network of local playground experts—with an average of 20 years of experience—who know how to make finding the right playground design easy for you. They'll learn about your specific needs and priorities, then guide you through every step to make the process as easy as possible. Get started today!