Playground Overview
Kids ages 5 to 12 fly across the playground of Legion Memorial Park in Winnipeg, Manitoba, Canada. The ZipKrooz® has become a playground favorite because of the two-way, thrilling ride it delivers. In addition to this standalone playground component, the PlayBooster Netplex® play structure offers a complex of webbed nets to provide a full-body workout as kids navigate over, under and through the nets. Netplex's playground components add to the fun with more climbers, slides and other unique play activities that challenge balance and coordination.
---
---
Playground Details
Age Ranges

Design Standards

CSA

Installed

September 2014

Min Area Required

42' x 40' (12,8 m x 12,19 m)

Max Fall Height

96" (2,44 m)
Project Price Range

$60K-$79K

Pricing reflects only the equipment shown in the 3D render above. For international and exact pricing, please contact your local playground consultant.
---
Playground products shown in video may not be appropriate for every age group. Playsystems shown in video are for demonstration purposes only. Product configurations may vary.
Video features a Landscape Structures playground at the St. James Memorial Sports Park in Winnipeg Manitoba Canada.
[video: park overhead sign reading: St. James Memorial Sports Park, Royal Canadian Legion Branch No. 4.]
[video: slow zoom forward on a still image of the playground area with children and parents playing. Fade to slow vertical pan on a still image of children climbing on a Netplex playground.]
[video: a man's voiceover begins.]
Alan voiceover: So, I barely got the van stopped before the kids were already ripping the door open and getting out onto the playground. And see they haven't stopped moving since they've gotten here so instead of sitting there playing a video game-
[video: fade in to a girl with a long flowing ponytail as she begins to glide down the ZipKrooz in slow motion. Camera pans up as a young girl kneels at the top of the Stainless-Steel Surf slide. Camera switch to a group of children spinning on the Sol playground spinner. A girl climbs up the outer ropes to climb up the Netplex playground structure. Camera switch to Alan Sirtonski speaking to the camera. Text appears that reads: Alan Sirtonski neighborhood dad.]
Alan: they are actually being active and getting out there playing and having fun.
Alan voiceover: And I like this too, all the metal and plastic and stuff like that, you know in the middle of a park somewhere and you're picking slivers out of the kids fingers they got ratty old wood. Winnipeg whether it's just too rough on wood. Minus forty to plus forty, so I love the idea of this it's going to last a long time.
[video: camera fallows as a girl climbs up the ropes on the Netplex playground structure. Camera zooms in on a rope clamp while some young girl's feet stands on the rope the clamp is holding. Camera flows as a young girl slides down the Stainless-Steel Surf slide. Camera zooms in on a girl as she holds on to a rope on the Netplex climber. She looks up in slow motion to the top of the climber. Camera zooms in on the girl's hands as she continues to hold onto the rope. A boy jumps to sit on the ZipKrooz disc swing. He glides past the camera and down the ZipKrooz bay. An older girl pushes two boys on the Oodle swing. Girl wearing a bright orange shirt swings towards the camera. Camera switches to a side view of Alan's face as he continues to talk about the playground.
Alan: But it's just great. See people all getting together and more people showing up.
Alan voiceover: A little place you know we need to get back together.
[video: a young girl walks on the ropes and support bars on the Netplex playground structure. Top down view of two boys swinging on the Oodle swing. Camera switches to a girl wearing pink sunglasses smiles. A young girl missing her front two teeth smiles at the camera. Fade in to two girls as they smile at the camera. Fade to black, Landscape Structures logo appears with text below reading: Better playground, better world.]
Next Tab
Featured Products
We offer the widest range of park and playground equipment to promote healthy lifestyles, encourage skill-building and create unique outdoor experiences. From our playsystems and freestanding playground components to themed designs, site furnishings and more, we'll help you create a recreation space that welcomes your whole community.
Play Systems featured in this Playground
PlayBooster®
Ages 5 to 12 Years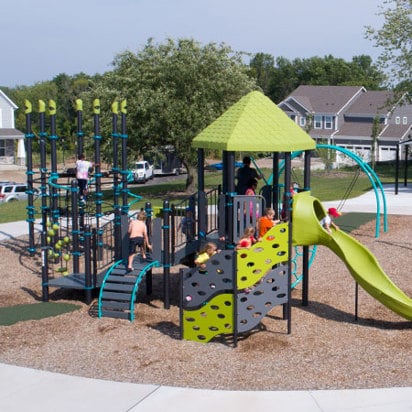 The PlayBooster® playground structure, the original post-and-clamp system, combines exciting ground-level components with climbing events and overhead activities for kids ages 5 to 12. The PlayBooster family includes the interconnected cables of Netplex®, the contemporary Vibe®, the nature-inspired Tree House and the double-decker PlayOdyssey® Tower.
Resources
View all PlayBooster® Components
Product Categories featured in this Playground
Freestanding Play
Ages 2 to 12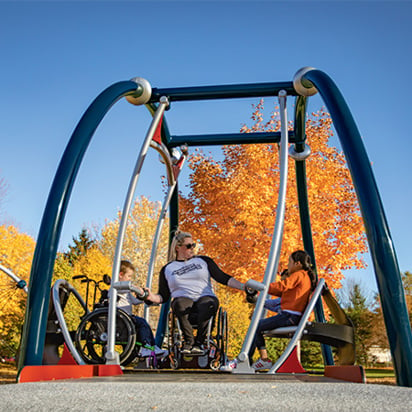 Freestanding Play events add fun and excitement to new and existing playgrounds! Revitalize your current playground or create a playground design that's completely unique using Freestanding Play components for kids ages 2 to 5 and 5 to 12.
Resources
View all Freestanding Play Events
Previous Tab
Next Tab
Playground consultant for this project
We've created a global network of local playground experts to be at your side, every step of the way. With an average of 20 years of experience, our playground consultants are knowledgeable and personable. They will guide you through product pricing and specifications, customization, financing options, community builds, on-time deliveries, maintenance, finding replacement parts, and service questions.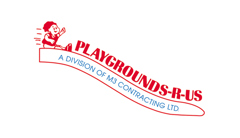 PLAYGROUNDS-R-US
250 Transport Road
Springfield, MB R5R 0J5
CAN
Toll free 800-889-4305
Phone 204-632-7000
info@pru.ca
www.pru.ca
Find a Playground Consultant Near You
Previous Tab
Related Playgrounds & Designs