Gladstone Savanna Playground
Maplewood, MN USA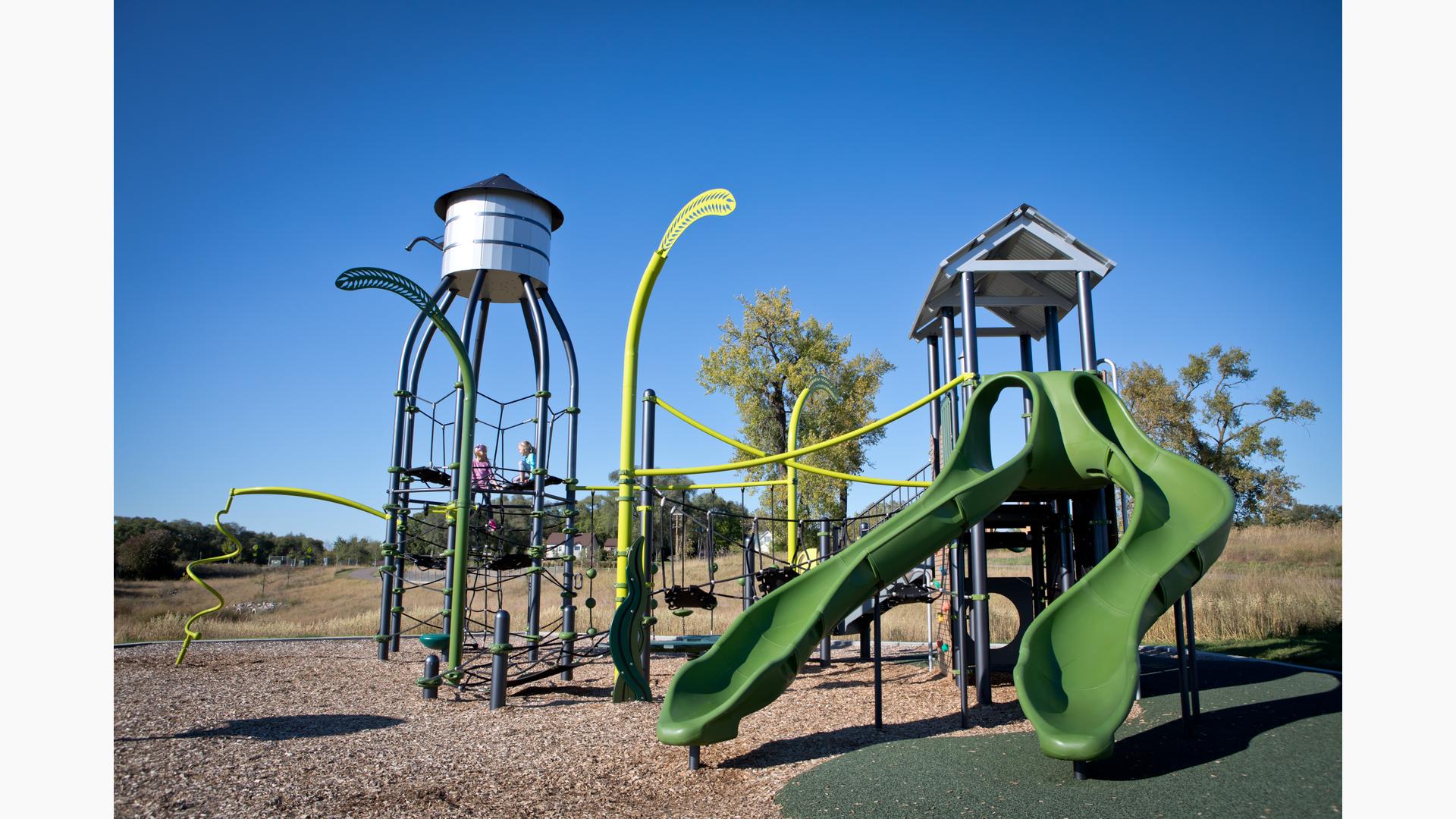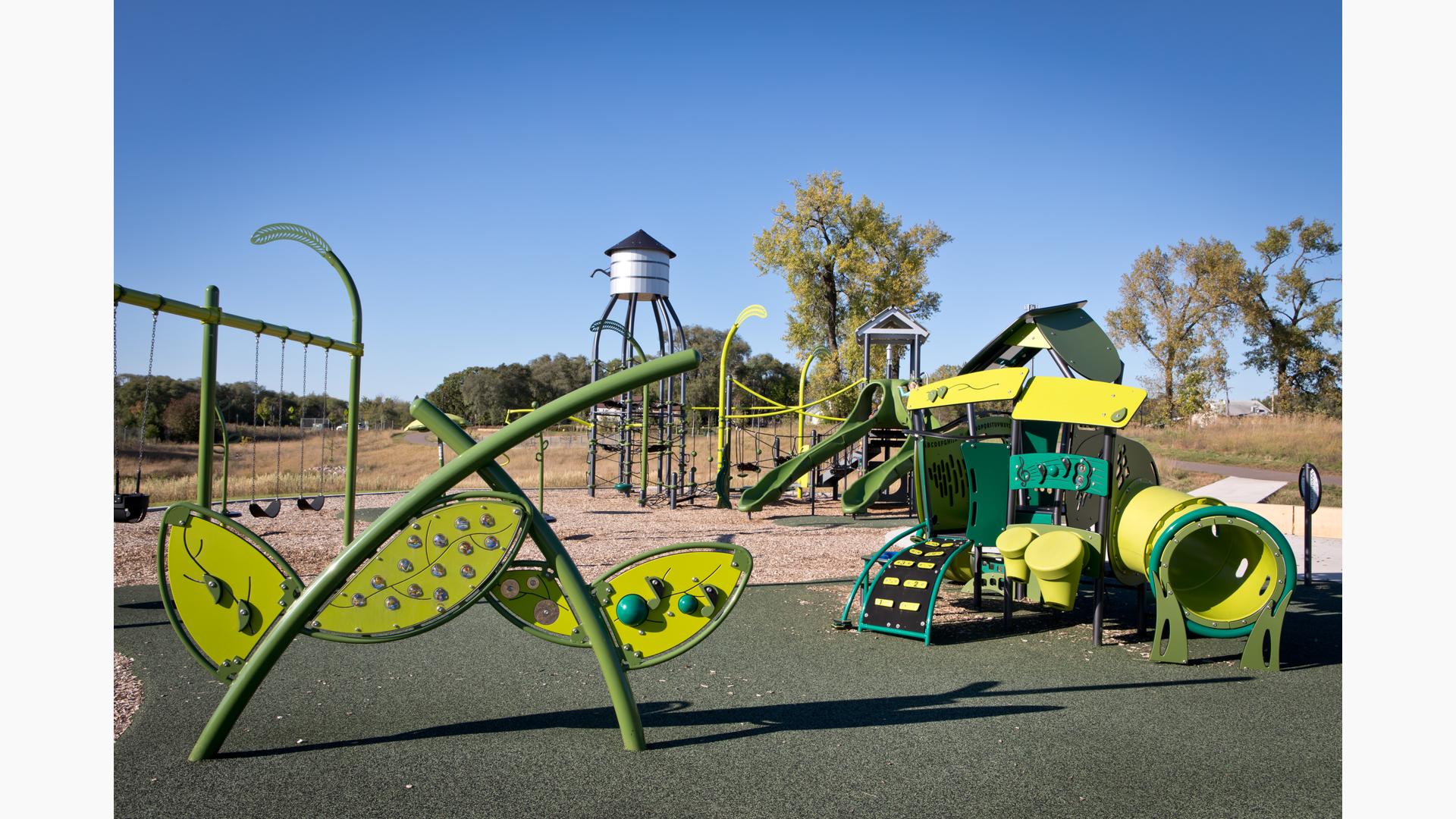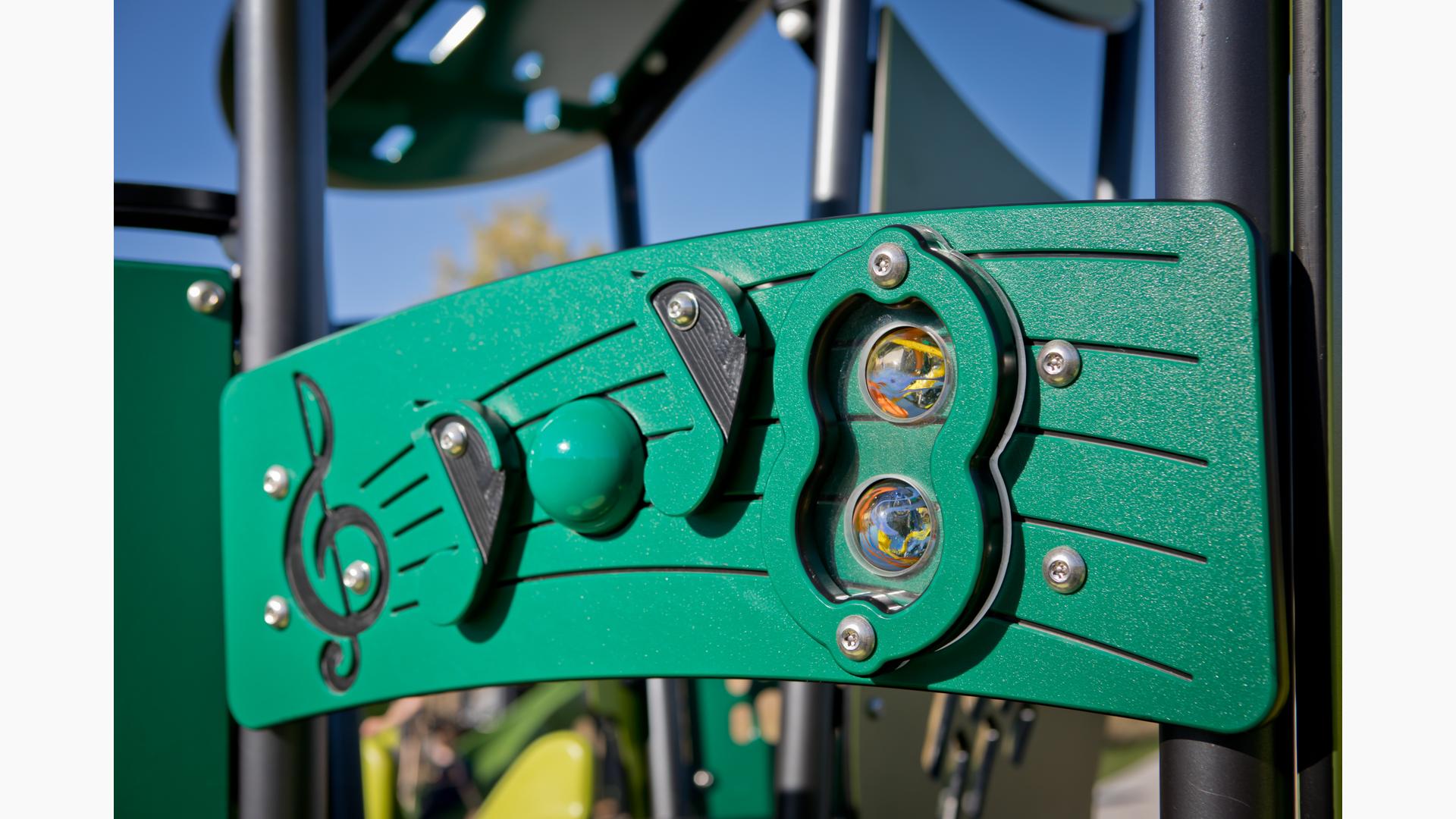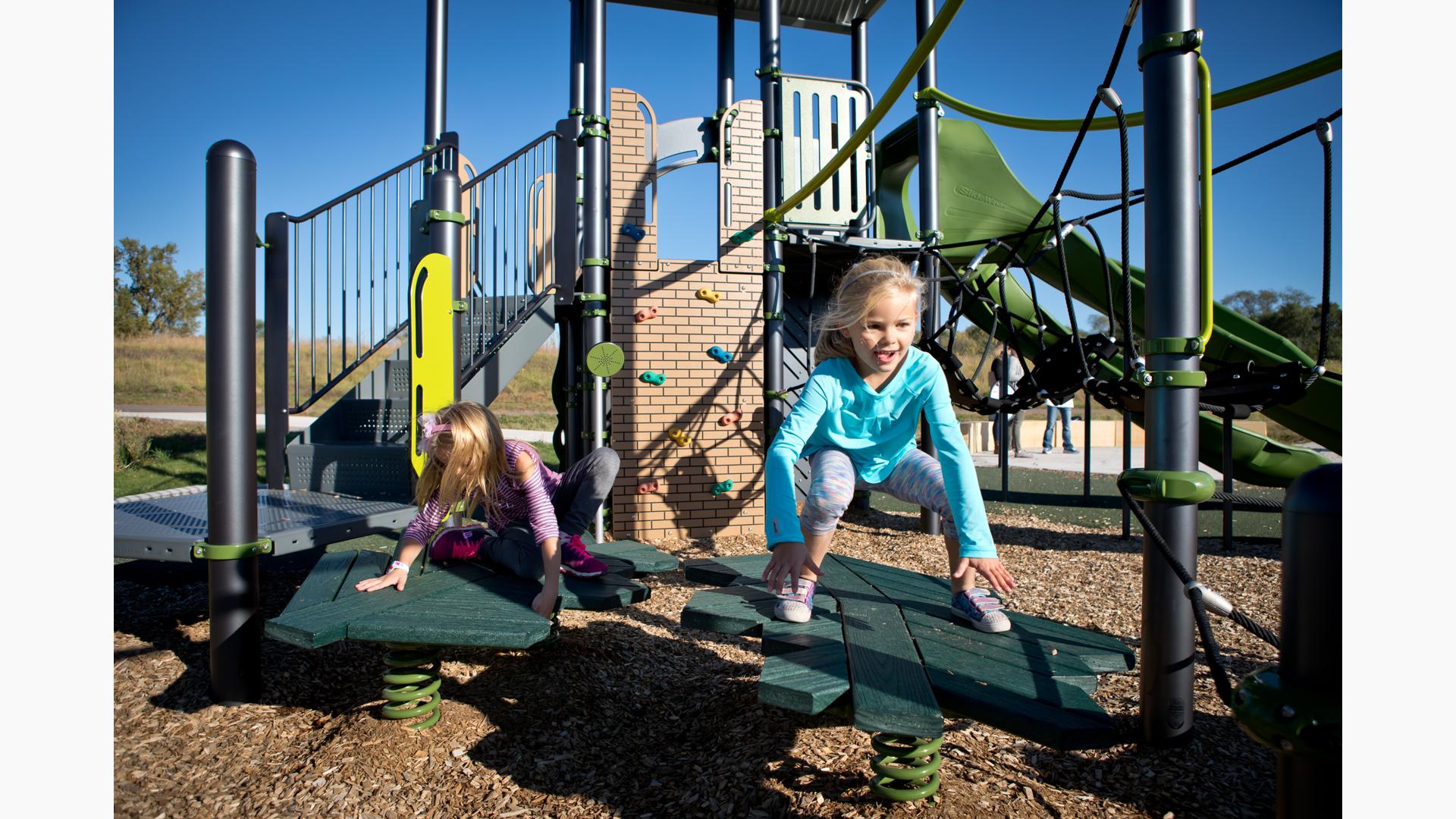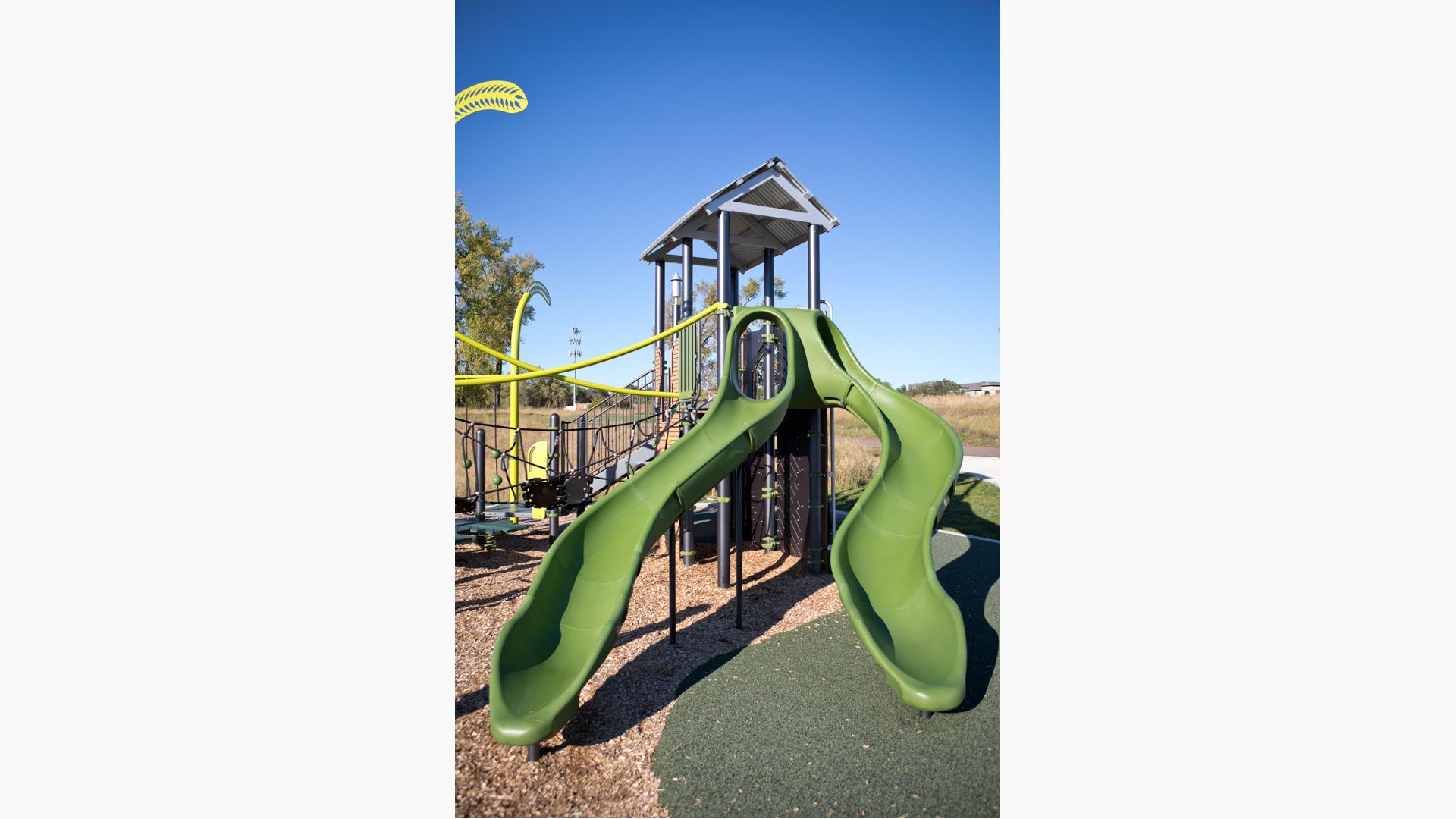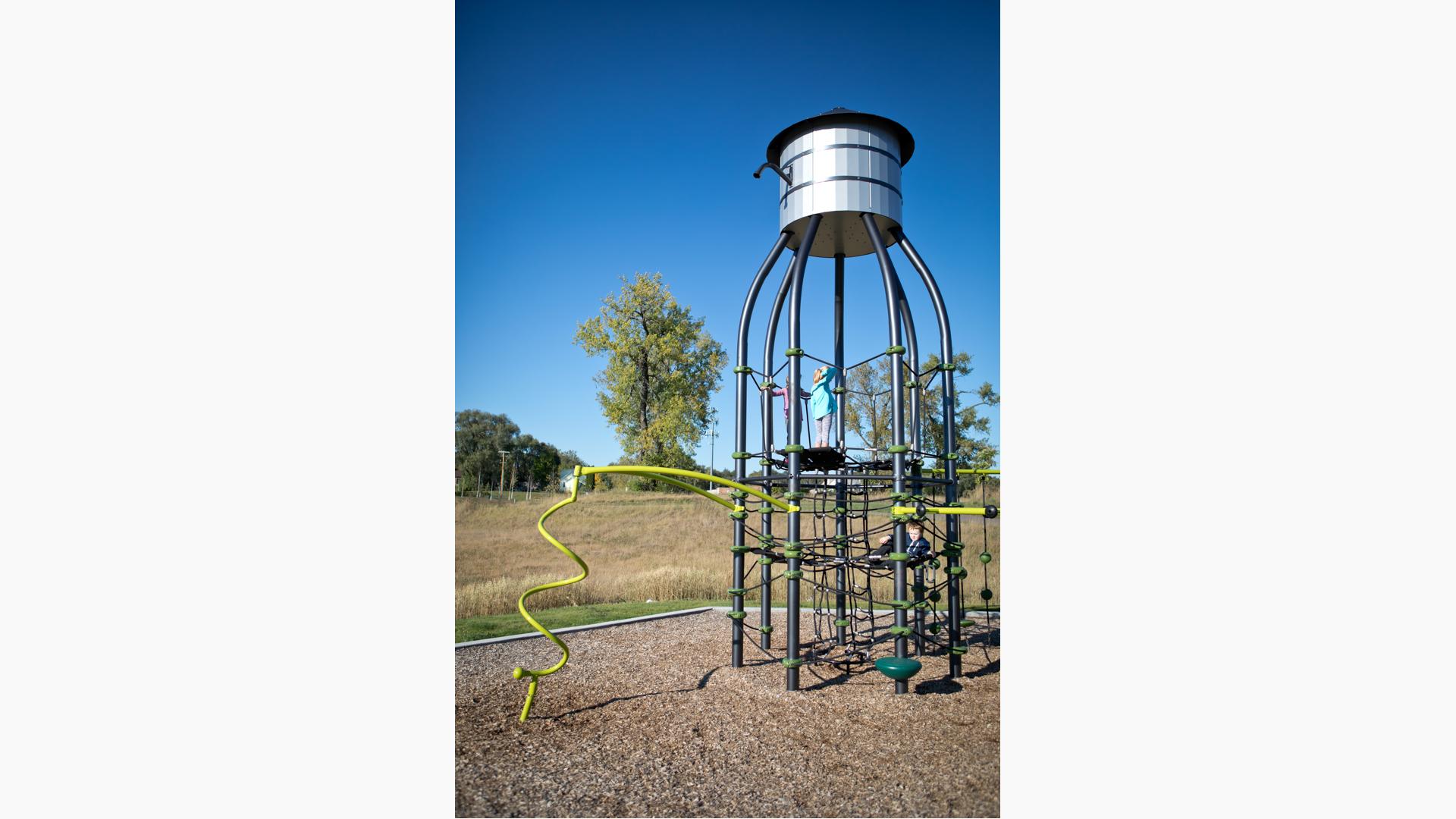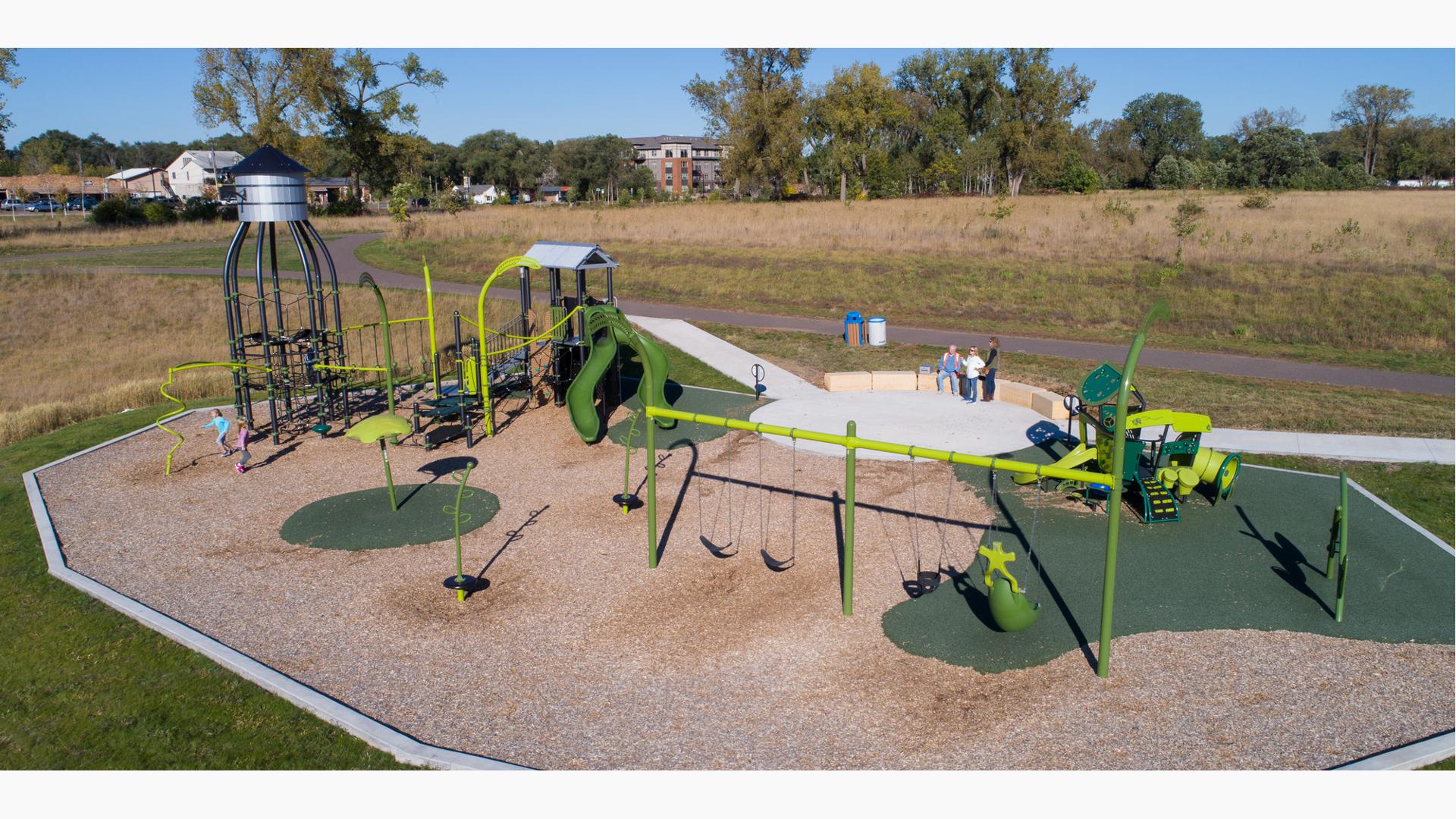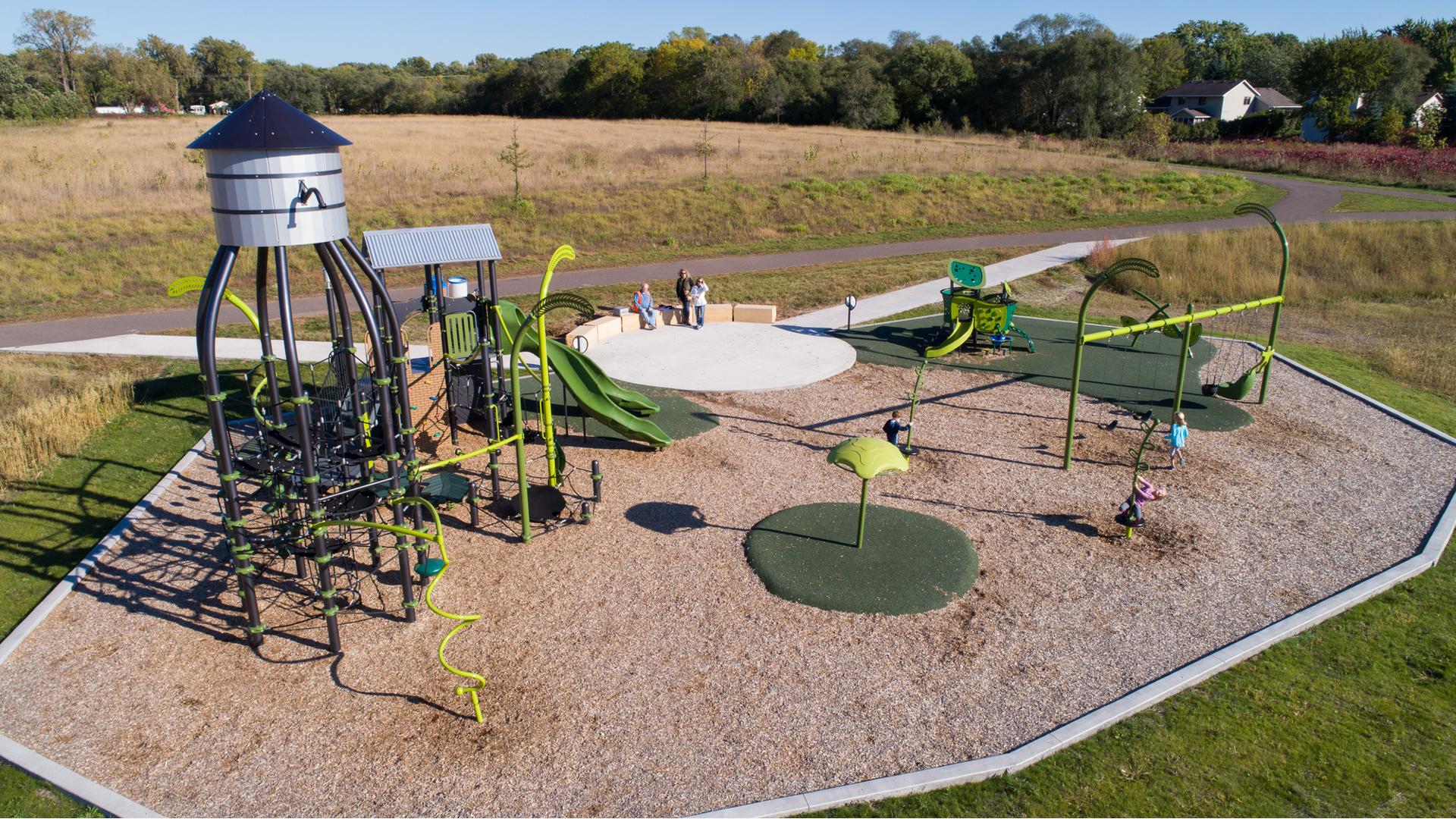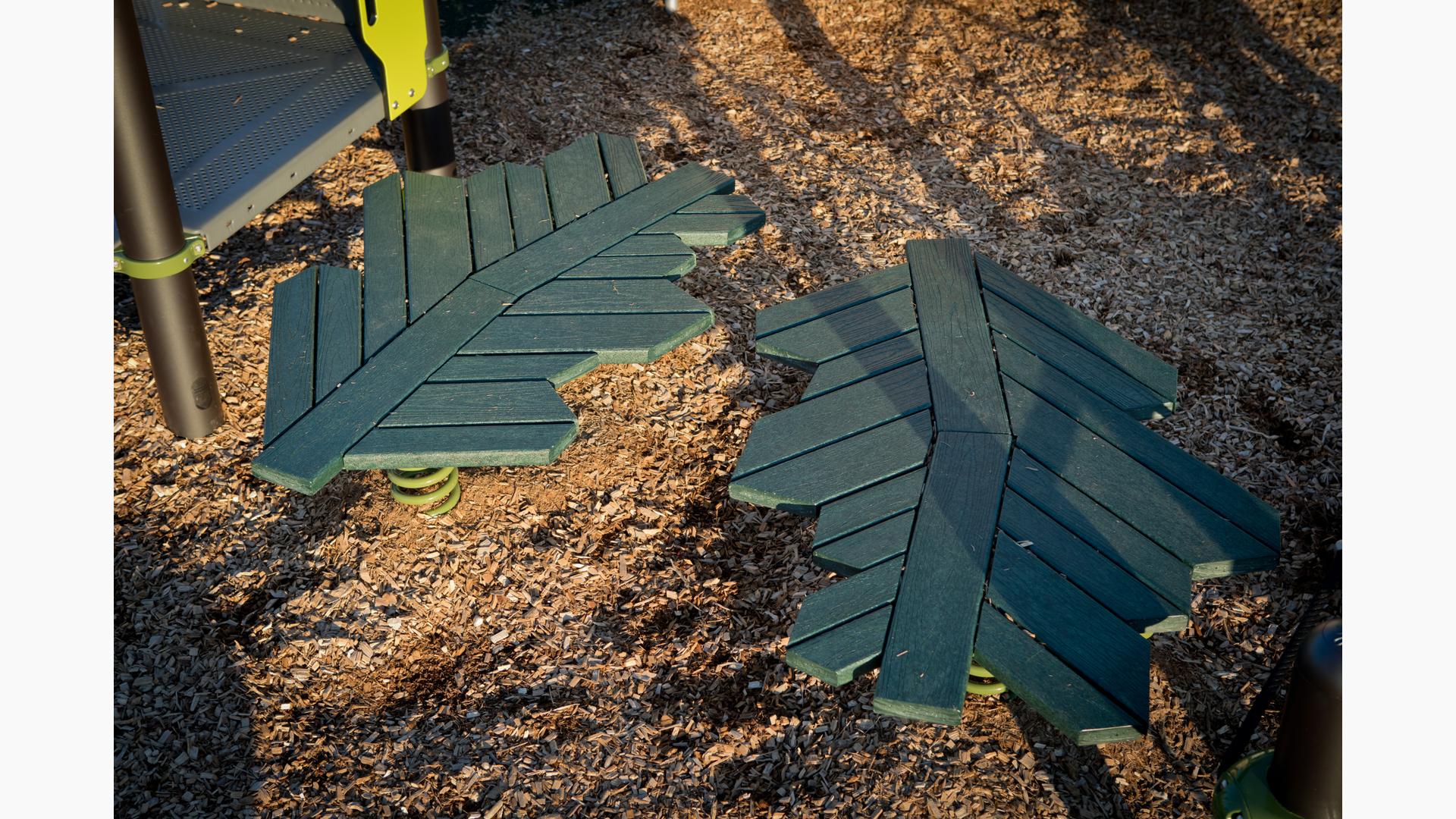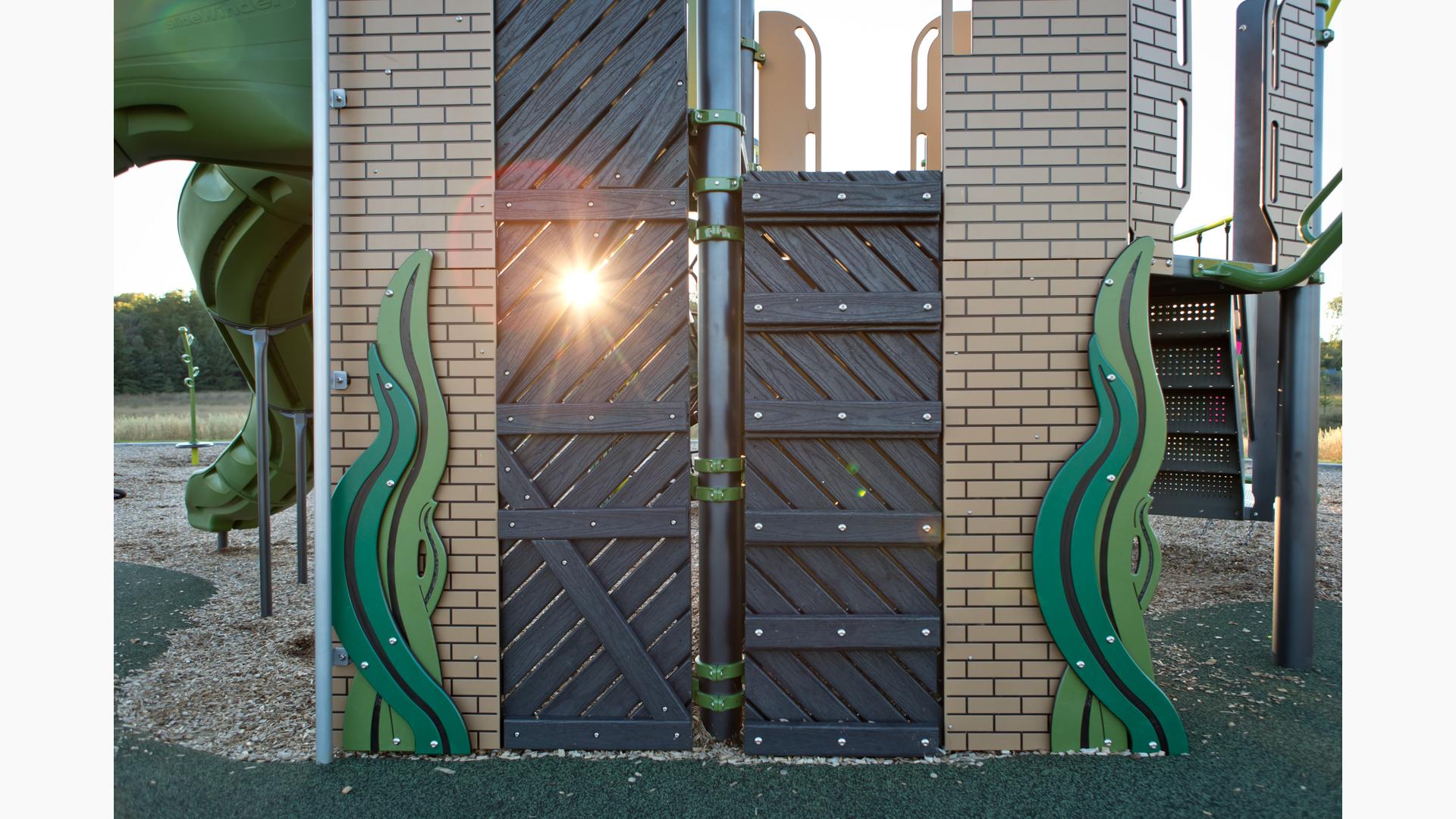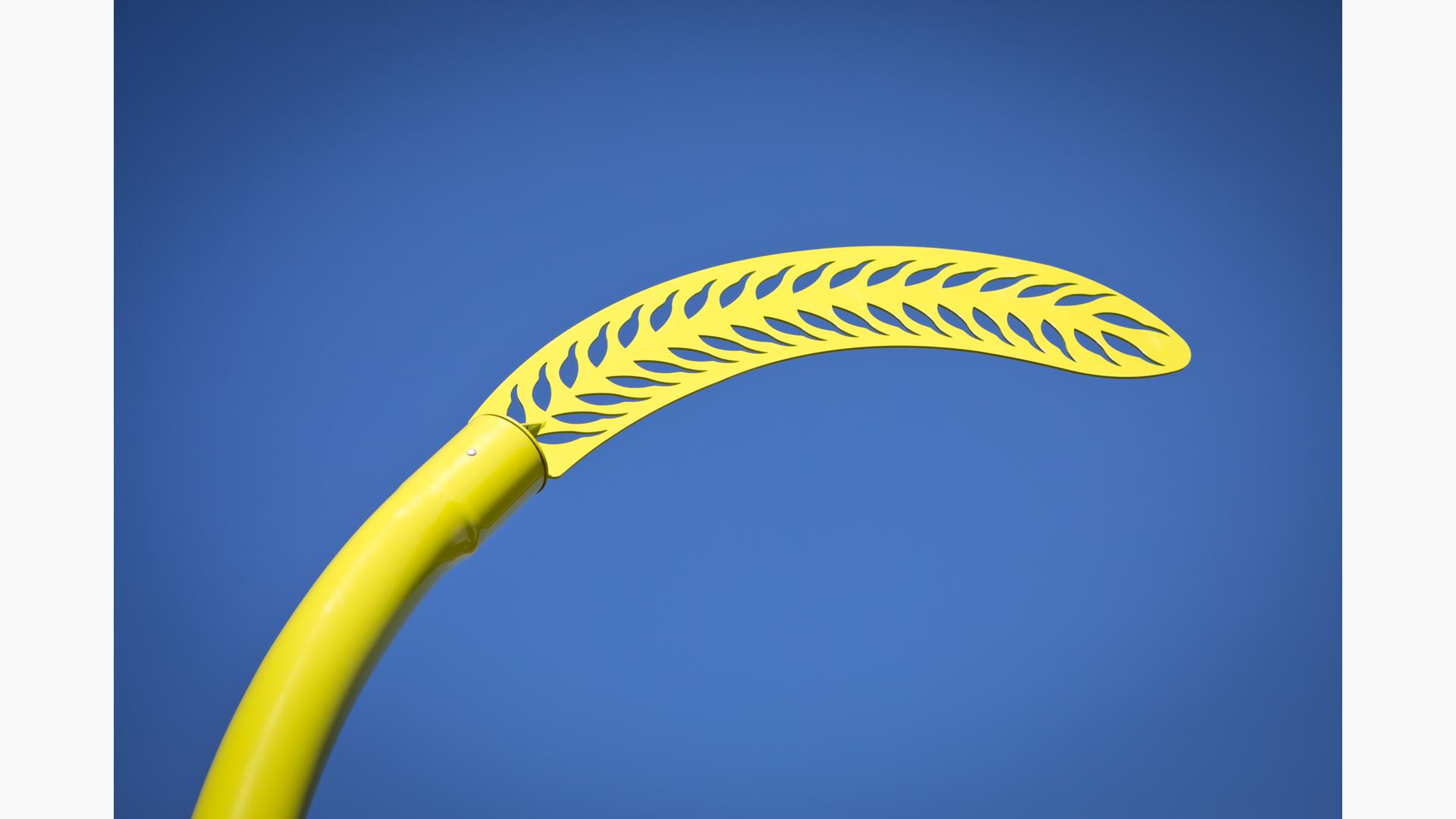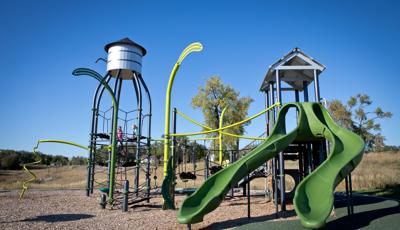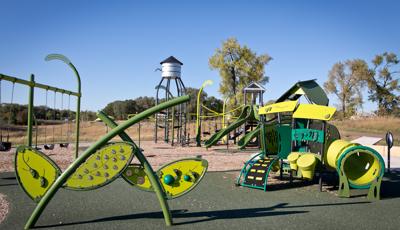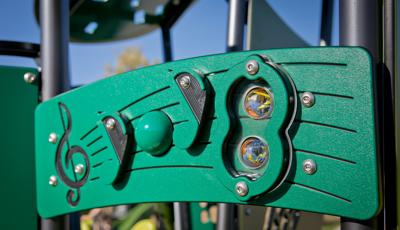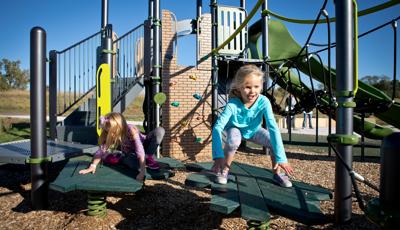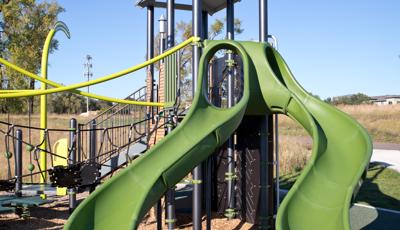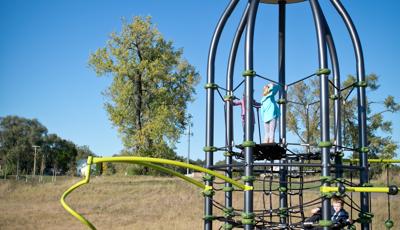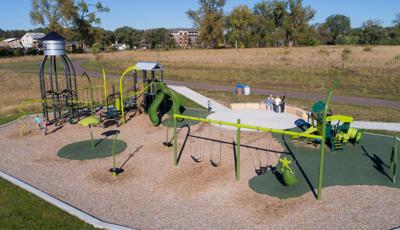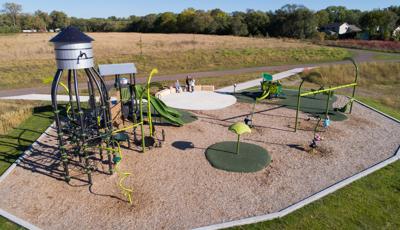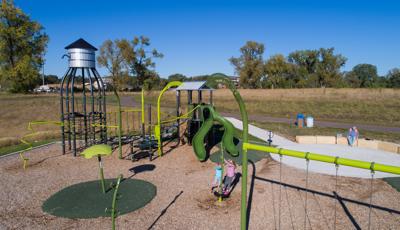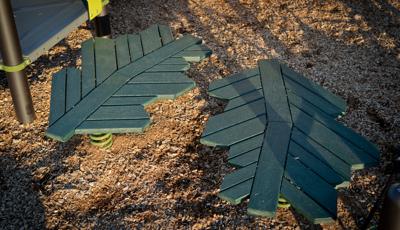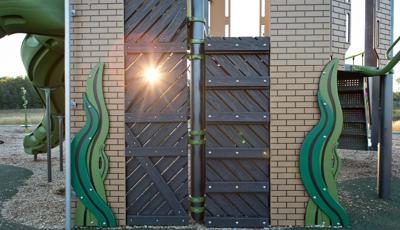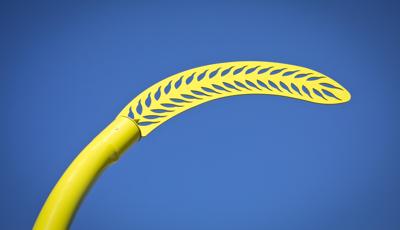 MN - Gladstone Savanna Playground
Video features the Gladstone Savanna playground in Maplewood Minnesota made by Landscape Structures.
[video: A elevated panning view of the entire playground as a few children play. A Skyport climber is topped with a decorative water tower tank at the top. A PlayBooster playground sits beyond the Skyport water tower climber. The PlayBooster playground has a Rushwinder and slidewinder2 slides. A young boy sits on a stand-up spinner that has been customized to look like a corn stock. A swing set sits to the left of the spinner and behind the swing set is an age 2 to 5 year old Motion playground structure.]
[video: camera shoots across playground at the Motion playground structure. Custom arched poles outside the motion playground have leaf shape sensory play panels. Two girls play inside the motion playground. Scene switches to the PlayBooster playground two sides. A young boy goes down the slidewinder2 towards the camera, he stops at the bottom of the slide and smiles at the camera. Scene changes to the Skyport water tower climber. Camera pans up the entire Skyport climber. Two girls play at the top of the Skyport climber.]
[video: scene changes to a young boy playing on the leaf shaped wobble pods. He crawls onto a wobble pod and stands up, he begins to sway back and forth to move the wobble pod. Camera zooms into the boy's feet as he wobbles back and forth. Camera switches to the boy's face as he squints at the camera. Two girls climb up the wood plank ladder on the backside of the PlayBooster playground. Camera follows down the side of the Rushwinder slide as a young girl rides down. Camera zooms in on a girl climbing on the logo climber. Camera pans down to a boy's feet as he wobbles around on the SwiggleKnots bridge. Camera switches to a boy beginning to climb through the seeker rope climber. Camera zooms in on the boy back as he continues to climb away from the camera on the seeker rope climber.]
[video: camera points up at a swing set post tip made to look like a leaf. A woman spins around slowly on the stand-up spinner. She holds onto one of the leaf shaped hand holds of the corn stock shaped pipe. She smiles and laughs as she makes a full rotation around. A young boy sits on the foot disc corn stock stand up spinner. Camera pans up the corn stock spinner as the boy spins. A bird's eye view of the top of the Skyport water tower climber and PlayBooster playground. A young boy sits on a web belt climber as two girls bounce and move on the leaf shaped wobble pods.]
[video: camera pans across the SwiggleKnots bridge connecting to the Skyport water tower climber. A young girl wiggles around on one of the SwiggleKnots ropes as another girl climbs down the side of the Skyport rope climber. A top down view of a boy as he plays on the leaf shaped wobble pods. Camera is placed at ground level pointing up towards a flywheel spinner. A young girl hands from the flywheel spinner handle as her friend pushes her body to make her spin around. Her friend lets go and the girl freely spins around several times. Fade to black. Landscape Structures logo appears with text below reading, for a better tomorrow, we play today.]
Age Ranges
2 to 5 years
5 to 12 years
Product Lines/ Categories
Min Area Required
39' x 30' (11,89 m x 9,14 m)
Design/CAD Files for this Playground
Design files are not available for this custom design. Contact your local playground consultant for additional details.
Design Standards
Contact your consultant to verify that this playground design meets current design standard requirements or to modify for other design standards.
Price Range (USD)
$200K-$500K+
Pricing for custom playground equipment varies. For international and exact pricing, please contact your local playground consultant.
Contact Your Consultant
Located within the prairieland of Gladstone Savanna Park is a custom playground that pays tribute to the Lost City of Gladstone. With a water tower roof atop a Netplex® playstructure, a custom tin roof above the PlayBooster® playstructure and wheat head post toppers, this themed playground fits into the natural park setting. Even more, kids of all ages will find play activities—net climbers, playground swings, spinners and more—to keep them active and engaged for hours of play.
Installed: September 2017
Our color palettes offer a range of options to customize your projects
Our state of the art materials make our playgrounds stand out.
We've created a global network of local playground experts to be at your side, every step of the way. With an average of 20 years of experience, our playground consultants are knowledgeable and personable. They will guide you through product pricing and specifications, customization, financing options, community builds, on-time deliveries, maintenance, finding replacement parts, and service questions.
Playground consultant for this project
Find a Playground Consultant Near You
Contact Your Consultant
Related Playgrounds & Designs