We offer the widest range of park and playground equipment to promote healthy lifestyles, encourage skill-building and create unique outdoor experiences. From our playsystems and freestanding playground components to themed designs, site furnishings and more, we'll help you create a recreation space that welcomes your whole community.
PlayBooster®
Ages 5 to 12 Years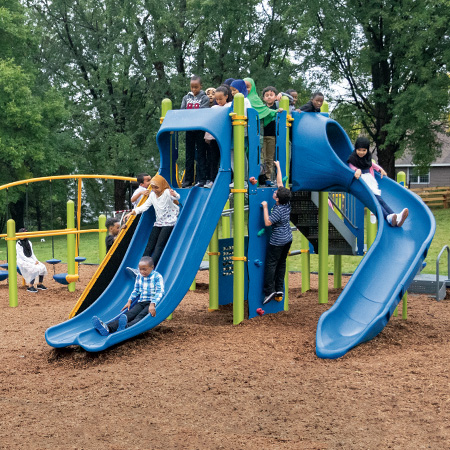 The PlayBooster® playground structure, the original post-and-clamp system, combines exciting ground-level components with climbing events and overhead activities for kids ages 5 to 12. The PlayBooster family includes the interconnected cables of Netplex®, the contemporary Vibe®, the nature-inspired Tree House and the double-decker PlayOdyssey® Tower.
Resources
View all PlayBooster® Components
PlayShaper®
Ages 2 to 5 Years
Let curious young minds go exploring on a safe and durable PlayShaper® playground structure. Scaled to size for preschoolers, these play systems invite youngsters to develop their physical skills while learning the social skills needed for community life.
Resources
View all PlayShaper® Components
Evos® attracts kids with its unique appearance and endless opportunities for unstructured fun. Its ground-to-ground arches allow kids of all abilities to join in the fun. But most importantly, Evos lets kids find their own ways to play while building muscle strength, endurance and mental agility.
U.S. Patent Nos. 8,021,240, 8,366,562, 8,485,911 and 9,089,731. Canada Patent No. 2,658,420.
View all Evos® Components
Weevos®
Ages 2 to 5 Years
The Weevos® playground structure is designed for growth and development in 2- to 5-year-olds in six key areas: physical, balance, cognitive, sensory/motor, emotional/social and language. Best of all, Weevos safely lets toddlers and preschoolers bee-bop and giggle with just the right amount of wiggle, and clear sight lines let supervisors keep their eyes on all the action!
U.S. Patent Nos. 8,021,240, 8,366,562, 8,485,911 and 9,089,731. Canada Patent No. 2,658,420.
View of Weevos® Components
Smart Play®
Ages 6 Months to 12 Years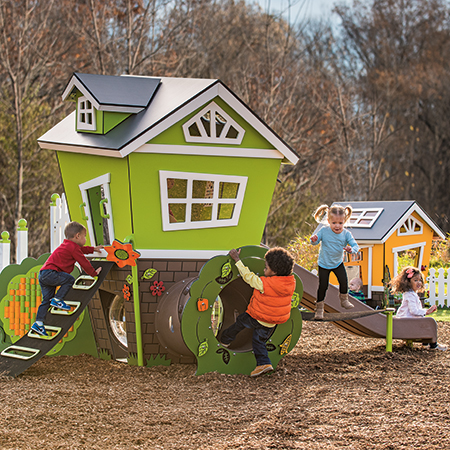 Smart Play® not only provides smart design to help create smart kids, but it's manufactured with a smart use of materials—focused on getting as many components as possible out of the smallest amount of material. Smart Play structures are preconfigured and designed with just your choice of color. All at a smart price.
View all Smart Play® Structures
PlaySense®
Ages 2 to 12 Years
PlaySense® playgrounds are perfect when you are looking for more fun per dollar. These preconfigured playgrounds serve kids ages 2 to 5 and 5 to 12 so everyone is happy, and every community can have an affordable playground to call their own.
Resources
View all PlaySense® Playgrounds
Freestanding Play
Ages 2 to 12
Freestanding Play events add fun and excitement to new and existing playgrounds! Revitalize your current playground or create a playground design that's completely unique using Freestanding Play components for kids ages 2 to 5 and 5 to 12.
Resources
View all Freestanding Play Events
Landscape Structures' SkyWays® division based in Dallas, Texas, is dedicated to shade products.
Choose from two types of shade products that provide cool and reliable shade for any play, rest and activity: SkyWays offer the largest break from the sun, and CoolToppers® connect to our PlayBooster® playstructures. Designed to block up to 97 percent of the sun's harmful UV rays and keep playground temperatures up to 30 degrees cooler.
Resources
View all Shade Products
All of our various furnishings including shade structures, picnic tables, benches, trash receptacles and more are designed to coordinate with your playground and surrounding environment. The right pieces will create a clean, safe and welcoming spot for the whole community.
View all Site Furnishings
Sports & Fitness
Ages 5 to 12, Ages 13+
Our Sports & Fitness equipment provides fitness components that are designed for outdoor parks and playgrounds where people of any ability can challenge their physical fitness and work toward improving their health from head to toe. We make it easy to add fitness to outdoor play.
Resources
View all Sports & Fitness Products
We combine the benefits of design, technology and safety into breakthrough, high-performance solutions for PebbleFlex® 2.0 playground and AquaFlex® water play safety surfacing. PebbleFlex 2.0 and AquaFlex, a Landscape Structures product provided by Surface America, use an advanced bond-in-place technology where engineered pebbles bond together to create an unparalleled surface that stands up to the demands of weather extremes and active use.
PebbleFlex U.S. Patent No. 8,962,750.
Resources
View all Surfacing Products
We can help you create playground designs unique to your community! Everything in our custom design process is driven by your goals and ideas. Together, we'll create a destination playground that's as individual as your imagination!
View Custom/Themed Ideas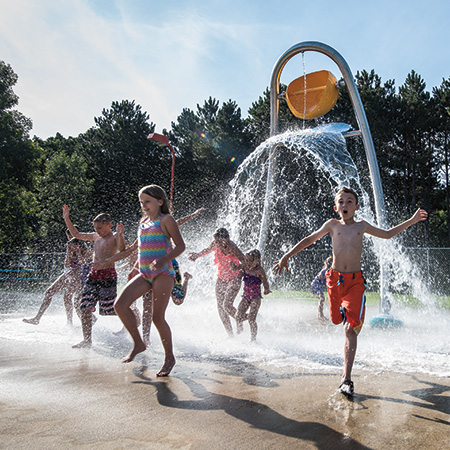 Our Aquatix® team can help you design interactive water park and splash pad products that encourage kids to experience water in novel ways. From aim-and-sprays to dumping buckets, ground sprays and much more, our water products provide an inclusive, sensory-rich nature play experience in water for children of all ages and abilities.
Resources
Views All Waterparks Components