Playground Overview
Lions Park offers two age-appropriate spaces for children to play. The main Netplex® playstructure is anchored by a Skyport™ Climber, which features vertical net tunnels and latex-free rubber landings where kids can hang out. From there, kids can climb up and over on the Crest Climber, perfect their balance walking across the S-Disc Challenge or spin around and around on the Blender™ Spinner. Younger kids can explore in a developmentally appropriate space on the Smart Play®: Motion 2-5. While this playground design welcomes kids ages 2 to 5, Smart Play: Motion was designed with 16 activities that meet the unique needs of kids ages 2 to 3.
---
---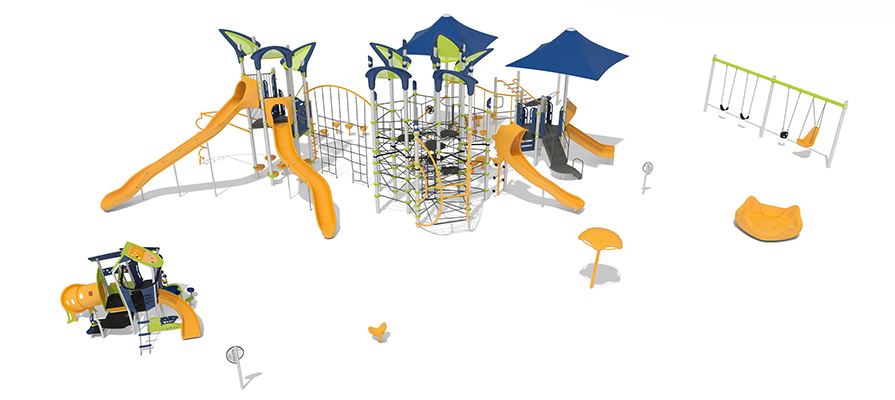 Playground Details
Age Ranges

2 to 5 Years
5 to 12 years

Design Standards

ASTM

Installed

September 2016

Design/CAD Files

Min Area Required

Total Area: 127' x 70' (38,71 m x 21,34 m)
5-12 Area: 80' x 51' (24,38 m x 15,54 m)
2-5 Area: 24' x 23' (7,32 m x 7,01 m)

Max Fall Height

120" (3,05 m)
Project Price Range

$160K-$179K

Pricing reflects only the equipment shown in the 3D render above. For international and exact pricing, please contact your local playground consultant.
---
Playground products shown in video may not be appropriate for every age group. Playsystems shown in video are for demonstration purposes only. Product configurations may vary.
Video features the Landscape Structures playground at the Lions Park in Clearwater Minnesota.
[video: fade in to an elevated view of the Lions Park playground. Camera pans across the Skyport and playground towers with connecting cargo net climbers and slides. Two boys climb on the rope Portal climber. Camera zooms in boy's hand as he pushes a toy car and a race track. A girl points up at the sign with animal pictures on it. Side view of a girl swinging on the overhead Ring bridge. Camera pans across the back side of a swing set. A mother pushes her toddler in a full bucket toddler swing. Shannon Essler-Petty a member of the Clearwater parks board commission speaks to the camera. She holds her daughter in her arms while she speaks.
Shannon: Part of the big thing that we knew we wanted was we wanted it to be handicap-accessible. And this park was fairly run down at the time, and so we needed to replace it.
Shannon voiceover: So, we started the process at looking at different structures. And we knew at the time that we wanted something big to attract people to our city. We have a sign that has all of the different animals that they can find within the structure, so they're hidden throughout the structure. So kids then can play like a seek and find, you know, kind of game and look for all of the different animals within the structure.
[video: a young girl points to a caterpillar picture on a Cascade climber. Camera zooms in on the picture of the caterpillar. Camera follows young girl as she walks up to a bumble bee picture on a Permalene hand hold. She points and touches the picture. Scene switch to the girl walking up to Permalene hand hold on the playground with a dragonfly image. The girl reaches up her hand to point at the image. She taps the image three times. Camera back to Shannon speaking to the camera.]
Shannon: All of the pieces in here were specifically designed for a purpose;
Shannon voiceover: like some sort of physical, cognitive type of play. And so, kids are playing, but then they're also working on different skills like fine motor and as they're playing… so this structure has so many cool aspects to it, it's not just a playground. It's been such a wonderful opportunity for our city and for the kids. I mean, I just love that this playground is used as frequently as it is right now. Now that it's up, I mean this place is busy all of the time and that's really what we wanted to see.
[video: a girl spins herself with her feet on a Saddle Seat spinner. Shannon holds her daughter's hands above her head as she slides down a slide. Full elevated view of the playground structures. A boy lets go of a toy car on a race track. He watches as the car races away down the track. The car loses momentum and stops. A girl grabs the car and pushes it up the other side of the race track.]
[video: a woman pushes two children as they lay on their stomachs on the Boogie Board swing. Camera zooms in on the boy laying on his stomach on the Boogie Board. A girl swings towards the camera on the monkey bars. A girl pushes the Omni spinner. She spins a boy sitting on the Omni spinner. Camera pans across the playground structure. A girl swings on the monkey bars, another girl climbs across the Disc Challenge bridge. Camera switches to the other end of the playground where a Cascade climber connects to a playground tower. A girl spins on a Blender spinner. Camera is mounted to the handle of the Flywheel spinner. A girl hangs and spins on the Flywheel spinner. Camera switches to a bird's eye view of the entire park area as children play on the playground.]
[video: a baby swings in slow motion while sitting in a full bucket baby swing. A woman pushes a young girl on a swing. She pushes her very high and runs underneath her. A boy sits on a Molded Bucket seat swing while smiling and waving at the camera. A boy sits at the top of the Blender spinner. He smiles into the camera. Camera zooms in on a girl as swings on the monkey bar rungs. As she swings she smiles at the camera. Camera zooms in on a young boy's face. He looks up into the camera and smiles. A girl stands on the Corkscrew climber. She smiles and waves to the camera. Fade to black, Landscape Structures logo appears with text below reading: For a better tomorrow we play today.]
Next Tab
Featured Products
We offer the widest range of park and playground equipment to promote healthy lifestyles, encourage skill-building and create unique outdoor experiences. From our playsystems and freestanding playground components to themed designs, site furnishings and more, we'll help you create a recreation space that welcomes your whole community.
Play Systems featured in this Playground
PlayBooster®
Ages 5 to 12 Years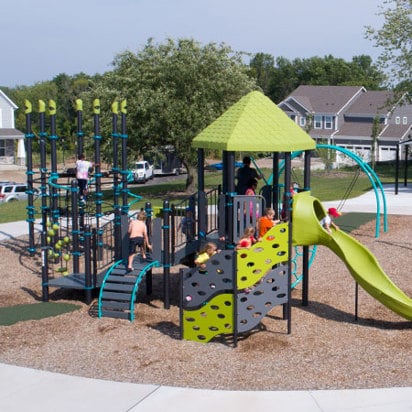 The PlayBooster® playground structure, the original post-and-clamp system, combines exciting ground-level components with climbing events and overhead activities for kids ages 5 to 12. The PlayBooster family includes the interconnected cables of Netplex®, the contemporary Vibe®, the nature-inspired Tree House and the double-decker PlayOdyssey® Tower.
Resources
View all PlayBooster® Components
Create a futuristic climbing experience that pushes kids beyond their known boundaries! Netplex®, a hub of multi-leveled, webbed nets, offers kids the challenge they need for healthy development into self-assured adults. And with endless design flexibility, Netplex makes it easy to create a unique play environment. Encourage kids to play longer and more often with Netplex.
U.S. Patent No. 9,375,609
Views All Netplex® Components
Smart Play®
Ages 6 Months to 12 Years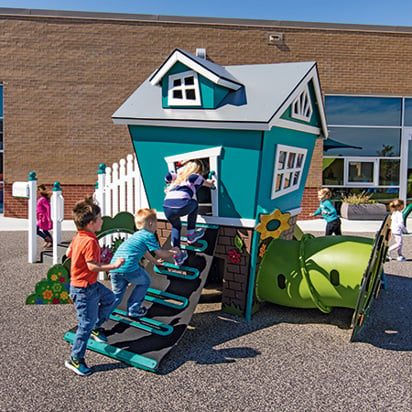 Smart Play® not only provides smart design to help create smart kids, but it's manufactured with a smart use of materials—focused on getting as many components as possible out of the smallest amount of material. Smart Play structures are preconfigured and designed with just your choice of color. All at a smart price.
Smart Play® Centre – U.S. Patent numbers D832,965, D859,563 and D873,365
Smart Play® Fire Station – U.S. Patent number D859,563
Smart Play® Loft – U.S. Patent number D832,965
Smart Play® Market Cafe – U.S. Patent number D873,365
Smart Play® Nook – U.S. Patent number D832,964
Smart Play® Venti® – U.S. Patent number D807,978
View all Smart Play® Structures
Product Categories featured in this Playground
Freestanding Play
Ages 2 to 12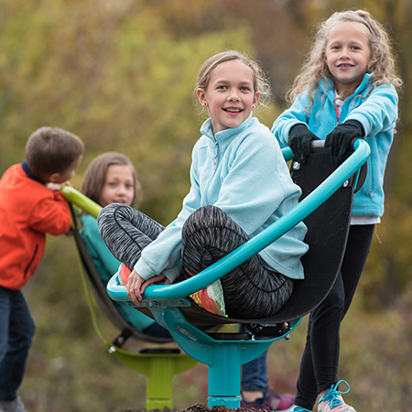 Freestanding Play events add fun and excitement to new and existing playgrounds! Revitalize your current playground or create a playground design that's completely unique using Freestanding Play components for kids ages 2 to 5 and 5 to 12.
Resources
View all Freestanding Play Events
Previous Tab
Next Tab
Playground consultant for this project
We've created a global network of local playground experts to be at your side, every step of the way. With an average of 20 years of experience, our playground consultants are knowledgeable and personable. They will guide you through product pricing and specifications, customization, financing options, community builds, on-time deliveries, maintenance, finding replacement parts, and service questions.
Find a Playground Consultant Near You
Previous Tab
Related Playgrounds & Designs