Playground Overview
This playground features Talking is Teaching DigiFuse® panels developed in partnership with Too Small to Fail's "Talking is Teaching: Talk, Read, Sing" campaign. In addition to literacy education, kids from ages 6 months to 5 years can build their strength and cognitive skills on the PlayShaper® playstructure or the Smart Play®: Motion 2-5 with slides, climbers and sensory play components. If they're up for a different challenge, kids can head over to the Sensory Play Center® wall where the built-in tactile elements encourage kids to explore various textures and shapes as they play together. A SkyWays® Back-to-Back Cantilever shade structure provides the maximum amount of shade with the fewest posts for everyone on the playground.
---
---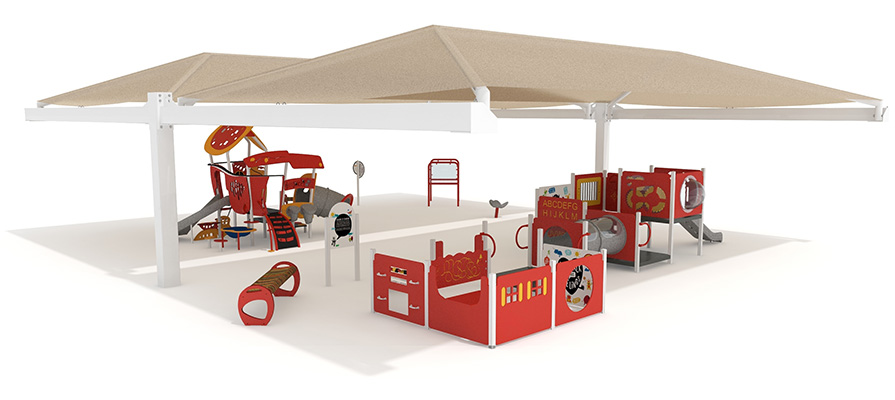 Playground Details
Age Ranges

6 to 23 months
2 to 5 Years

Design Standards

ASTM

Installed

October 2016

Design/CAD Files

Min Area Required

Total Area: 43' x 34' (13,11 m x 10,36 m)
6-23 Mos. Area: 34' x 20' (10,36 m x 6,1 m)
2-5 Area: 24' x 23' (7,32 m x 7,01 m)

Max Fall Height

32" (0,81 m)
Project Price Range

$60K-$79K

Pricing reflects only the equipment shown in the 3D render above. For international and exact pricing, please contact your local playground consultant.
---
Playground products shown in video may not be appropriate for every age group. Playsystems shown in video are for demonstration purposes only. Product configurations may vary.
Video features Talking is Teaching DigiFuse panels on the play structure at Pooh Bear Daycare Center in Indianola Mississippi.
[video: fade into a garage roof with red trimming and a Whinny the Pooh character sign at the peak of the roof. Camera switch to a multi person van with the words: Pooh Bear Childcare "Quality Care When You're Not There" written on the side of the van. Camera switches to a close up of the Whinny the Pooh character cut out at the top of the garage roof.]
[video: close up of a Talking is Teaching DigiFuse panel that reads: Talking is Teaching, when you talk, read and sing with your children from birth, you fill their brains with words and thoughts that make all the difference to their happiness and future. You can find lots of fun ideas for talking with your children all over this playground.]
[video: a line of young children exiting a building out to the playground area. Camera switch to a full view of the play area with overhead SkyWays shade system. Teachers, parents, and children play all around the play structure.]
[video: a young boy pushes a young girl as she sits on a Saddle seat spinner. The young girl sucks on her thumb as the boy spins her. The young boy laughs after pushing her and watching her spin. Camera switches to a woman showing children the different colors of beads on the Bead and Block panel. The woman points to the different beads.]
Woman: Red, yellow, black.
[video: Elevated view of the playground area with overhead SkyWays shade system. Camera fallows two young children as they walk up the steps onto the Smart Play Motion play structure. Camera switches to a woman speaking to a group of children as they point and look at a Talking is Teaching DigiFuse panel. Camera switch to an elevated view of the SkyWays shade system over the playground area as children play.]
[video: camera slowly pans left to right as teachers and parents play with children on the Smart Play Motion play structure. Camera zooms in on a boy as he spins the Rain Sound Wheel panel. Camera pans up as children take turns sliding down the slide on the Smart Play Motion play structure. Camera zooms in on a boy's face as he walks up to the camera. A young girl peaks over the top of a DigiFuse panel and smiles at the camera. A woman sitting next to a Talking is Teaching panel points to a carrot on the panel.]
Woman: What is this in the refrigerator?
Woman: That's an orange carrot.
[video: a young girl reaches up to put her finger on the carrot on the DigiFuse panel.]
Woman: That's food.
[video: Top down view of a boy as he points to different foods on the DigiFuse panel.]
Woman: What's the name of the food chain? Is that corn?
Boy: Yeah.
Woman: Do you like corn?
Boy: Yes.
[video: camera zooms in on the woman's hand as she points to a carton of milk on the DigiFuse panel.]
Woman: That's milk.
[video: a young boy sitting in front of the mirror on the Bead and Block panel begins to stand himself up. A woman's hands reach down to assist him as he stands up. A young girl holds hands with a teacher as they walk across they playground area.]
[video: fade in to two girls as they play the Bongo drum panel with drum sticks. Camera zooms in on two girls as they stand on the opposite side of a play panel, fade out. Fade in to children standing on the Smart Play Motion play structure. A boy runs his hands down the toy race track as he watches a ball roll down the track. Fade to black, Landscape Structures logo appears with the text below reading: For a better tomorrow we play today.]
Next Tab
Featured Products
We offer the widest range of park and playground equipment to promote healthy lifestyles, encourage skill-building and create unique outdoor experiences. From our playsystems and freestanding playground components to themed designs, site furnishings and more, we'll help you create a recreation space that welcomes your whole community.
Play Systems featured in this Playground
PlayShaper®
Ages 2 to 5 Years
Let curious young minds go exploring on a safe and durable PlayShaper® playground structure. Scaled to size for preschoolers, these play systems invite youngsters to develop their physical skills while learning the social skills needed for community life.
Resources
View all PlayShaper® Components
Smart Play®
Ages 6 Months to 12 Years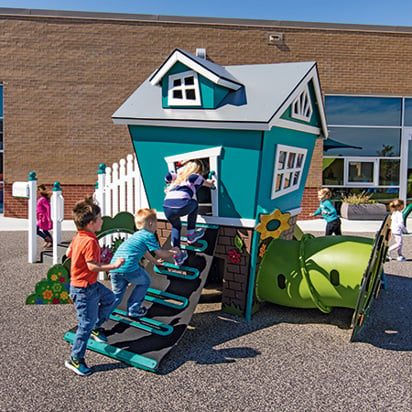 Smart Play® not only provides smart design to help create smart kids, but it's manufactured with a smart use of materials—focused on getting as many components as possible out of the smallest amount of material. Smart Play structures are preconfigured and designed with just your choice of color. All at a smart price.
View all Smart Play® Structures
Product Categories featured in this Playground
Freestanding Play
Ages 2 to 12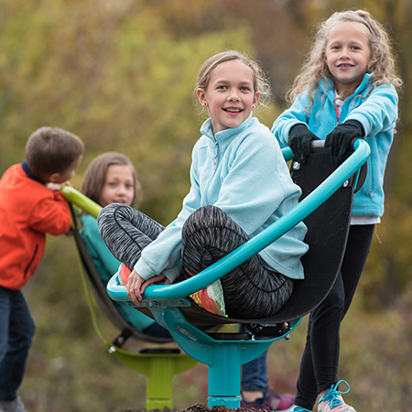 Freestanding Play events add fun and excitement to new and existing playgrounds! Revitalize your current playground or create a playground design that's completely unique using Freestanding Play components for kids ages 2 to 5 and 5 to 12.
Resources
View all Freestanding Play Events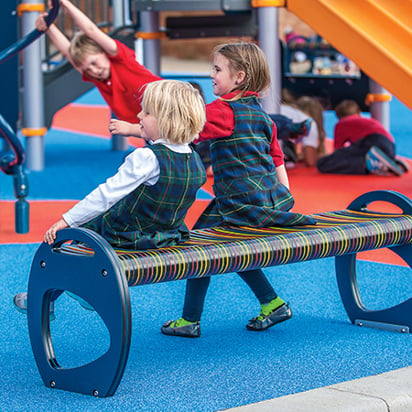 All of our various furnishings including shade products, picnic tables, benches, trash receptacles and more are designed to coordinate with your playground and surrounding environment. The right pieces will create a clean, safe and welcoming spot for the whole community.
View all Site Furnishings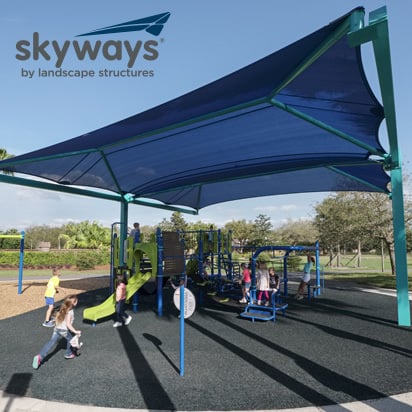 Landscape Structures' SkyWays® division based in Dallas, Texas, is dedicated to shade structures.
Choose from two types of shade products that provide cool and reliable shade for any play, rest and activity: SkyWays offer the largest break from the sun, and CoolToppers® connect to our PlayBooster® playstructures. Designed to block up to 97 percent of UV rays and keep playground temperatures up to 30 degrees cooler on the hottest of days.
View all Shade Products
Previous Tab
Next Tab
Playground consultant for this project
We've created a global network of local playground experts to be at your side, every step of the way. With an average of 20 years of experience, our playground consultants are knowledgeable and personable. They will guide you through product pricing and specifications, customization, financing options, community builds, on-time deliveries, maintenance, finding replacement parts, and service questions.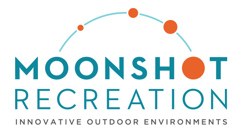 Find a Playground Consultant Near You
Previous Tab
Related Playgrounds & Designs