Overview
The PlayShaper® Chimes Panel brings music to the playground, regardless of ability!
---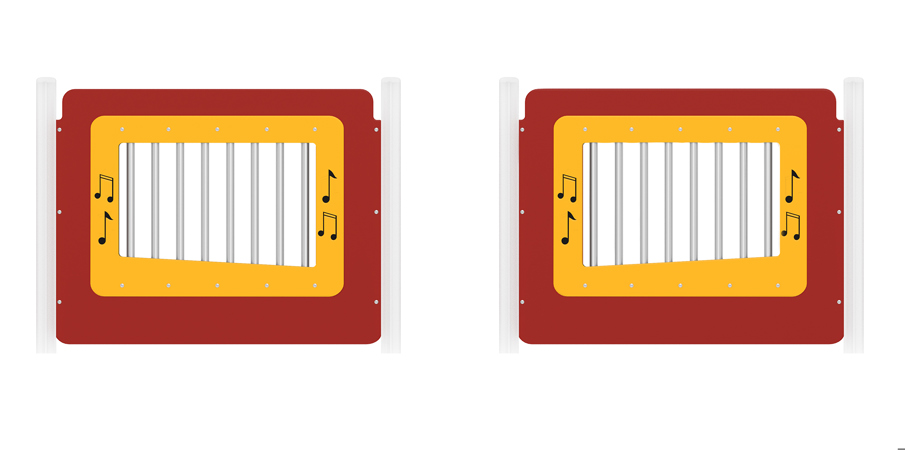 Features
Chimes are framed within the panel to deter vandalism
Choose any Permalene® color
Kids of all ages can create their own games
Developmental Benefits
Sensory
Auditory, Proprioception, Tactile
Motor Skills
Eye-Hand Coordination, Motor Planning
Cognitive Skills
Problem Solving, Strategic Thinking
Social/Emotional Skills
Cooperation, Imaginative Play, Social Skill Development
Learn about Developmental Benefits
Component Details
Age Ranges

6 to 23 months
2 to 5 Years

Play Systems

Design Standards

ASTM, CSA, EN
Design/CAD Files

Downloads are not available for individual components.

All About Color

Color is an important decision, and our products are available in many color options. Contact your consultant to find the colors available for this component.

See Color Inspiration
Playground products shown in video may not be appropriate for every age group. Playsystems shown in video are for demonstration purposes only. Product configurations may vary.
Video features a PlayShaper sensory Chimes play panel.
[video: scene fades into the camera zooming out from the metal tubes of the Chime Panel. Music notes decorate the sides of the Chimes panel. Scene switches to a young girl as she looks back and up to the camera while standing at the Chimes Panel. She grabs one of the metal tubes and begins shaking it. Chimes clink and clang as she shakes the panel. Scene switches to a full view of the panel as the young girl plays it from the opposite side.]
Woman off camera: Ooo beautiful music.
[video: camera switches back to a side view of the girl as she pushes with both hands on the Chime Panel. Scene switches to a view through the metal tubbed notes of the Chime Panel. A young girl runs her hand down the tubes to play the panel. Scene switches to a back view of a young girl as she sits in front of the Chimes panel. A young boy holds onto two of the metal tubular notes and shakes them back and forth. Another young girl standing by plays the far-left side of the panel. Camera switches to a back view of two girls as they stand up and walk away from the Chimes Panel. Scene fades to black.]
Next Tab
Play System of this Component
We offer the widest range of park and playground equipment to promote healthy lifestyles, encourage skill-building and create unique outdoor experiences. From our playsystems and freestanding playground components to themed designs, site furnishings and more, we'll help you create a recreation space that welcomes your whole community.
---
PlayShaper®
Ages 2 to 5 Years
Let curious young minds go exploring on a safe and durable PlayShaper® playground structure. Scaled to size for preschoolers, these play systems invite youngsters to develop their physical skills while learning the social skills needed for community life.
Resources
View all PlayShaper® Components
Previous Tab
Related Playground Components