Madison's Place
Woodbury, Minn.
After the loss of their daughter, Madison, Dana and Dave Millington established the Madison Claire Foundation. Their goal with the Foundation was to help families of children with special needs. And based on her family's experience at the playground, Dana decided the first project of the Foundation would be to create an inclusive playground.
Madison's medical costs were high, so the Millingtons looked for things to do with their family that had little to no cost. Madison loved to be outdoors, so Dana assumed family outings to the playground were a great option. But when they went to the playground, the Millingtons quickly learned it was not. The playground was not accessible for Madison. With two other young children that needed help navigating the playground, Dana was left with two options: leave Madison on the side to help the other two play or leave her siblings to stay with Madison.
"It really was not a choice that we could make because neither one is good," explained Dana, president of the Madison Claire Foundation. "So we never went back; there were no playgrounds that we could go to."
"This playground project allowed our family to talk about Madison and not cry."
Dana wished her family had had more opportunities to do "normal" stuff with Madison, which would have given her children more positive memories of their little sister. And that's why she set out to bring an inclusive playground, named Madison's Place, to the community. Not only would it honor Madison's short life, but it would help other families create lasting and happy memories.
Playground products shown in video may not be appropriate for every age group. Playsystems shown in video are for demonstration purposes only. Product configurations may vary.
A Bucket List Fulfilled
When Dana started discussing the design for Madison's Place with Flagship Recreation, a distributor of Landscape Structures commercial playground equipment in Minnesota, she had two big items on her bucket list—a fully ramped structure and unitary surfacing.
"I wanted ramping all the way to the top of the playground," explained Dana. "It was a discussion many times because it was expensive, but I was adamant from day one. I didn't care if it took longer to fundraise; I was not willing to compromise on it."
Dana and the Madison Claire Foundation Board of Directors met with the rehabilitation team at the University of Minnesota Masonic Children's Hospital to get their input on the inclusive playground design. The occupational and physical therapists reviewed the design and suggested activities to assist with therapy programs.
"By including specific activities, the OTs and PTs can direct children to the playground," said Dana. "And as they play, they'll also be working on their therapy."
After talking to parents of children with disabilities, Dana and the Board learned about the wide variety of needs in the community. In addition to welcoming children of all abilities, they wanted Madison's Place to be a place where parents who are physically disabled and aging caregivers are able to play with their kids and grandchildren.
"The idea of inclusive play was broadened to account for as many different situations as possible." Dana Millington President, Madison Claire Foundation
The final playground design is fully ramped and includes many sensory-stimulating activities including the Sway Fun® glider, Cozy Dome®, We-saw™, Sensory Play Center®, OmniSpin® spinner, Roller Table and Oodle® Swing.
"Because it took us a few years to fundraise, we were able to add on some of the new products that were introduced," said Dana. "The double ZipKrooz® was a last-minute add. I'm so glad we did because it's one of the most heavily used pieces of equipment."
There is also a custom sensory tunnel, which is the highlight of the inclusive play design. The plum tunnel, with its star cutouts and marbles, invites intrigued visitors to step inside. Once inside, it's a kaleidoscope of light and colors as the movement of the sun casts colorful stars on the opposite wall. It's truly a sensory play masterpiece.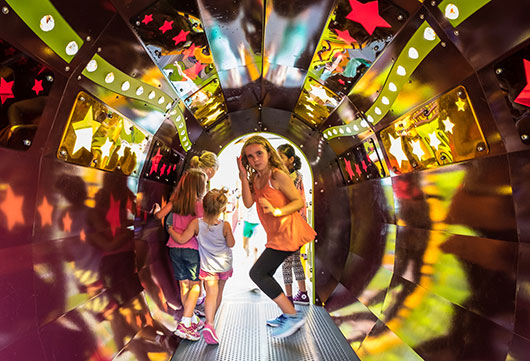 The unique color palette of the playground was decided on by vote. "Instead of the board choosing the color scheme, we put them up at the [University of Minnesota Masonic Children's] Hospital and asked patients to vote," explained Dana. "More than 90 percent of the kids voted for the current colors."
Education is Key
When Dana began the playground planning process, she tried nearly everything when it came to fundraising efforts.
"When we started fundraising, we wanted to get kids involved to be part of the process," said Dana. "We threw American Idol finale parties that included dinners and raffles. That gave us our seed money to see how we could get the ball rolling."
After the initial kid-friendly events, the Madison Claire Foundation put together a Board of Directors to brainstorm more effective ways to raise money. They hosted golf tournaments, garage sales, galas, and wine and beer tastings. Dana did a lot of research to find grant opportunities, but quickly learned that wasn't going to be good source of funding for Madison's Place. Next, the Board began connecting with corporate foundations.
"Look at who you know, and who they know. Your connections can help make important introductions." Dana Millington
"We found that face-to-face meetings with the decision makers of the corporate foundations were important," explained Dana. "Once we were able to educate these individuals about the need for inclusive playgrounds, our requests for funding were about 95 percent effective."
Dana also suggests that individuals planning an inclusive playground involve their local disability communities. Education is an important piece to find support for inclusive playgrounds because many people don't understand the need.
"As cities continue to grow, inclusion will become more important than it ever has been," said Dana. "Communities with inclusive playgrounds and programs become a factor for families with members that have special needs when choose where they want to live."
A Destination Realized
Madison's Place opened in June 2016, and it has quickly become the destination playground that Dana and the Madison Claire Foundation had hoped for.
"It has far exceeded everyone's expectations," said Dana. "The playground has been busy since day one. This summer, blankets were lined up along the perimeter of the playground—it looked like the beach on a hot summer day."
And just because school is in session doesn't mean the activity is dying down. In fact, a nearby high school is using the playground for its special education classes. According to one of the special education teachers, the days that the students go to the park to practice social and recreation skills in this real-world setting, they come back to class in great spirits.
Even more, word of Madison's Place is traveling to the other side of the Minneapolis/St. Paul metro bringing more families to the inclusive playground. Some families even visit in order to use the playground to work on therapy between therapy appointments—a goal of the rehabilitation team at the University of Minnesota Masonic Children's Hospital.
For individuals or communities working to build an inclusive playground, Dana offers this advice: don't give up. Find the playground features that are important to you and fight for them even if it takes longer to fund.
"It's worth it," said Dana. "At the grand opening, I watched five kids in wheelchairs playing tag throughout the playground and knew that I was right to hold out for the ramps all the way to the top of the playground."