Component Overview
The Blender™ Spinner adds kids' favorite spinning experience to your Evos® play structure.
---
Features
Durable steel construction
Meets current ASTM and EN standards and new CSA standard Z614-14 requiring 6' minimum use zone
Play functionally link to an Evos play structure or connect with the Power Lifter™ Chinning Bar (#202821)
E-Pod® Step (#156454) required when play functionally linked to the Evos play structure
Also available for the PlayBooster® playsystem or as a Freestanding Play event
Direct bury
Developmental Benefits
Sensory
Proprioception, Vestibular+
Motor Skills
Balance, Core Body Strength, Flexibility, Upper Body Strength
Cognitive Skills
Problem Solving
Social/Emotional Skills
Cooperation, Imaginative Play, Social Skill Development
Learn about Developmental Benefits
Component Details
Dimensions

Max Fall Height: 75" (1,90 m)

Design/CAD Files

Downloads are not available for individual components.

All About Color

Color is an important decision, and our products are available in many color options. Contact your consultant to find the colors available for this component.

See Color Inspiration
Playground products shown in video may not be appropriate for every age group. Playsystems shown in video are for demonstration purposes only. Product configurations may vary.
This video features children playing on the Evos vertical blender spinner.
[video: to young boys hold on the blender spinner as it spins.] Young boy says to the other boy: Don't step on my hand.
[video: camera pulls back for full view of blender spinner as young boy rides the spiral of the spinner down from the top to the ground. Camera view switch to looking up at spinner while young boy climbs higher on the spiral.] Young boy standing by: Just playing in the inside, no, yeah. [video: young boy riding spinner shouts as he pics up speed.]
[video: camera shoots below blender spinner as young boy spirals down towards the camera. Camera switch to close-up of two boys holding on to the blender spinner as they laugh at each other. Camera switch to top down view of young boy holding on to spinner with his hands as he hangs his legs just off the ground and spins.]
[video: young girl sits on blender spinner as two boys stand closely by. Three boys crowdedly sit on blender spinner as it slowly rotates. Camera pulls back of full view of blender spinner as a boy spins himself down the spiral shape from the top down to the ground.] Young boy: Woo-hoo!
Next Tab
Play System of this Component
We offer the widest range of park and playground equipment to promote healthy lifestyles, encourage skill-building and create unique outdoor experiences. From our playsystems and freestanding playground components to themed designs, site furnishings and more, we'll help you create a recreation space that welcomes your whole community.
---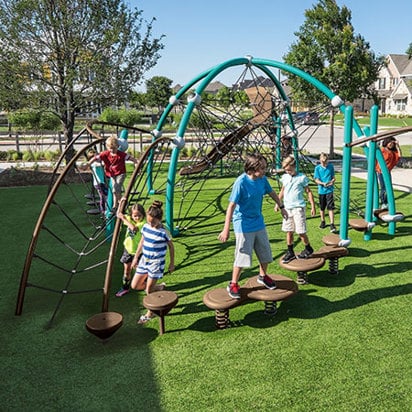 Evos® attracts kids with its unique appearance and endless opportunities for unstructured fun. Its ground-to-ground arches allow kids of all abilities to join in the fun. But most importantly, Evos lets kids find their own ways to play while building muscle strength, endurance and mental agility.
U.S. Patent Nos. 8,021,240, 8,366,562, 8,485,911 and 9,089,731. Canada Patent No. 2,658,420.
View all Evos® Components
Previous Tab
Related Playground Components