Wright Brothers Playground
New York, NY USA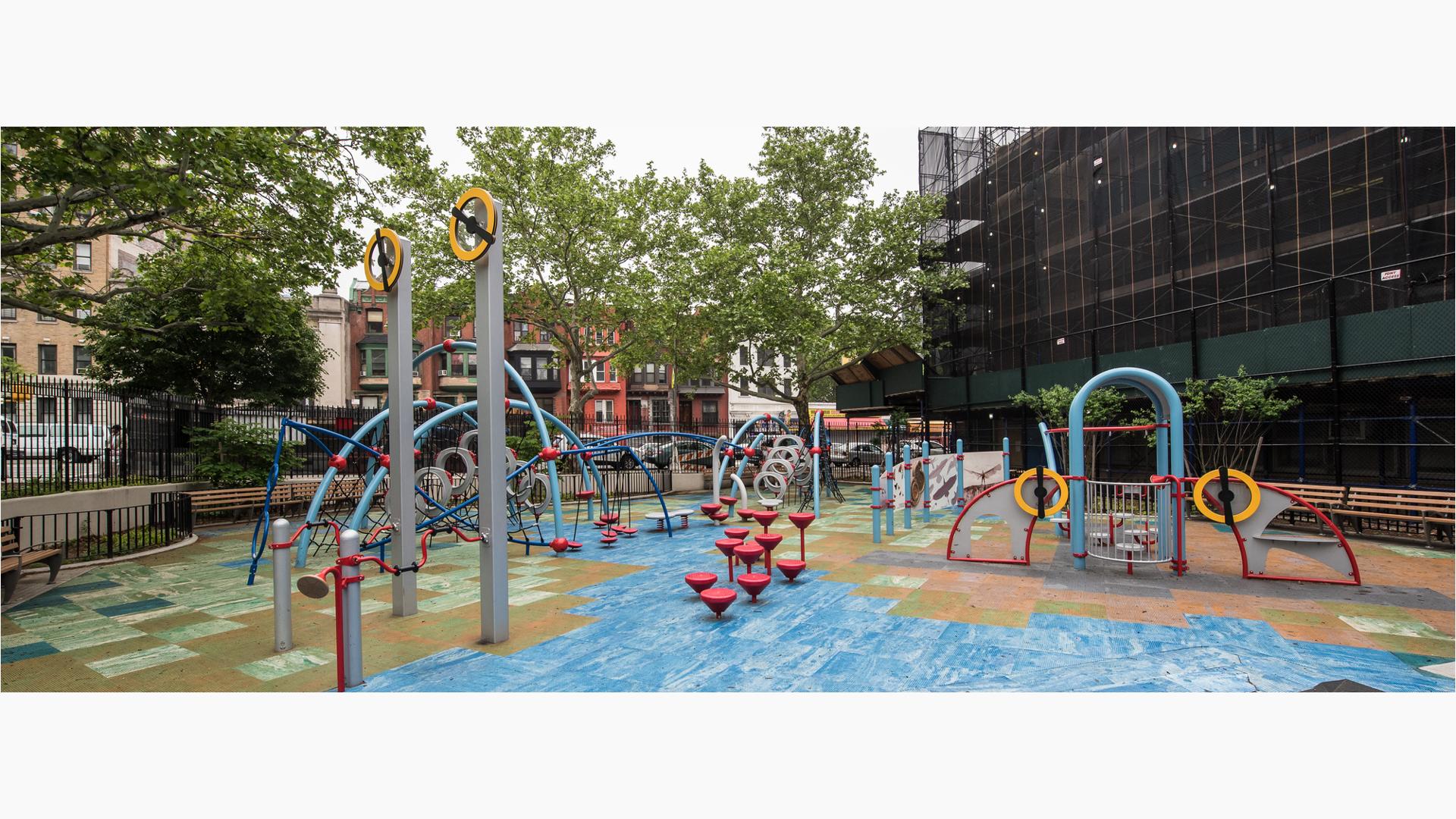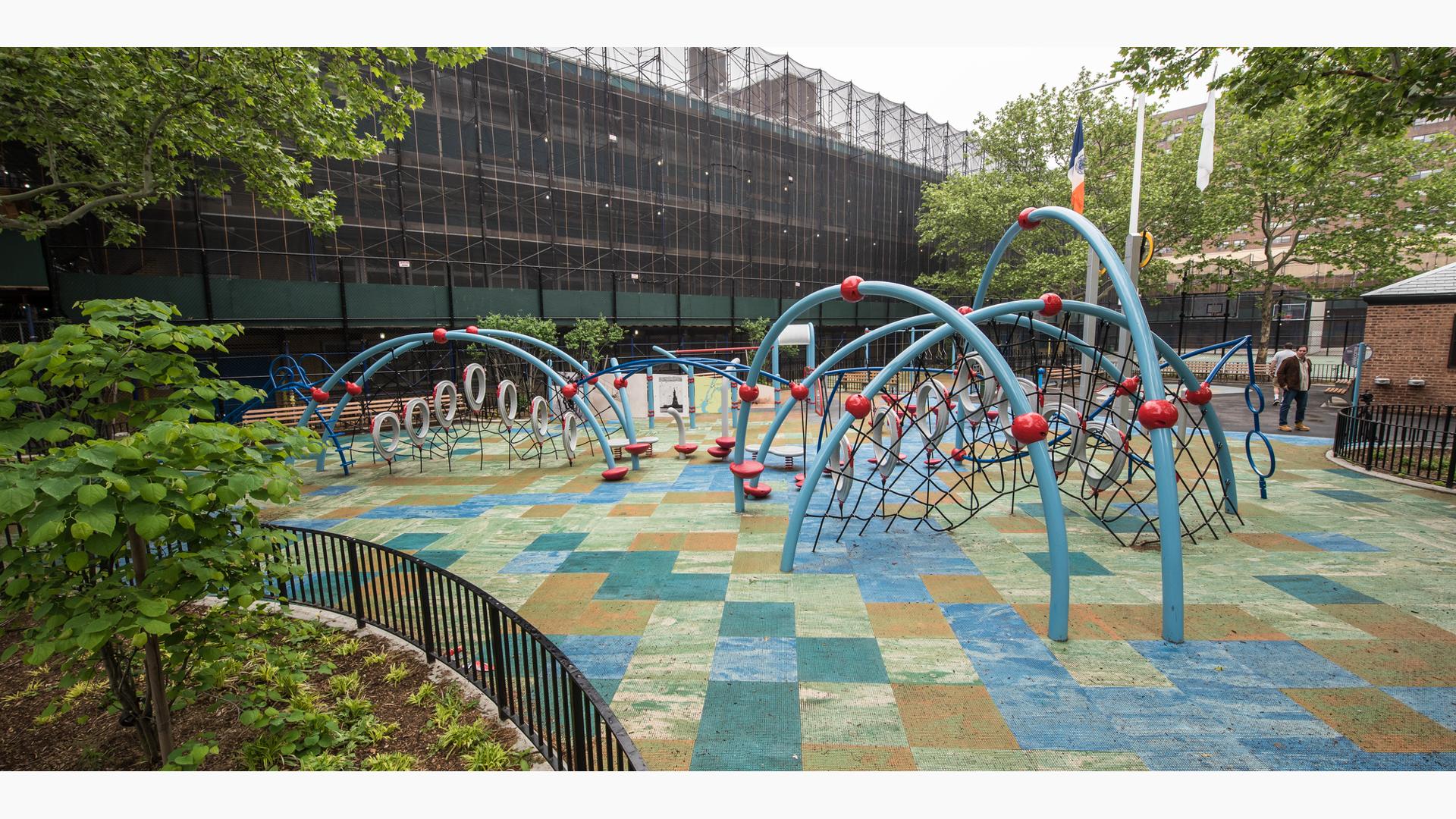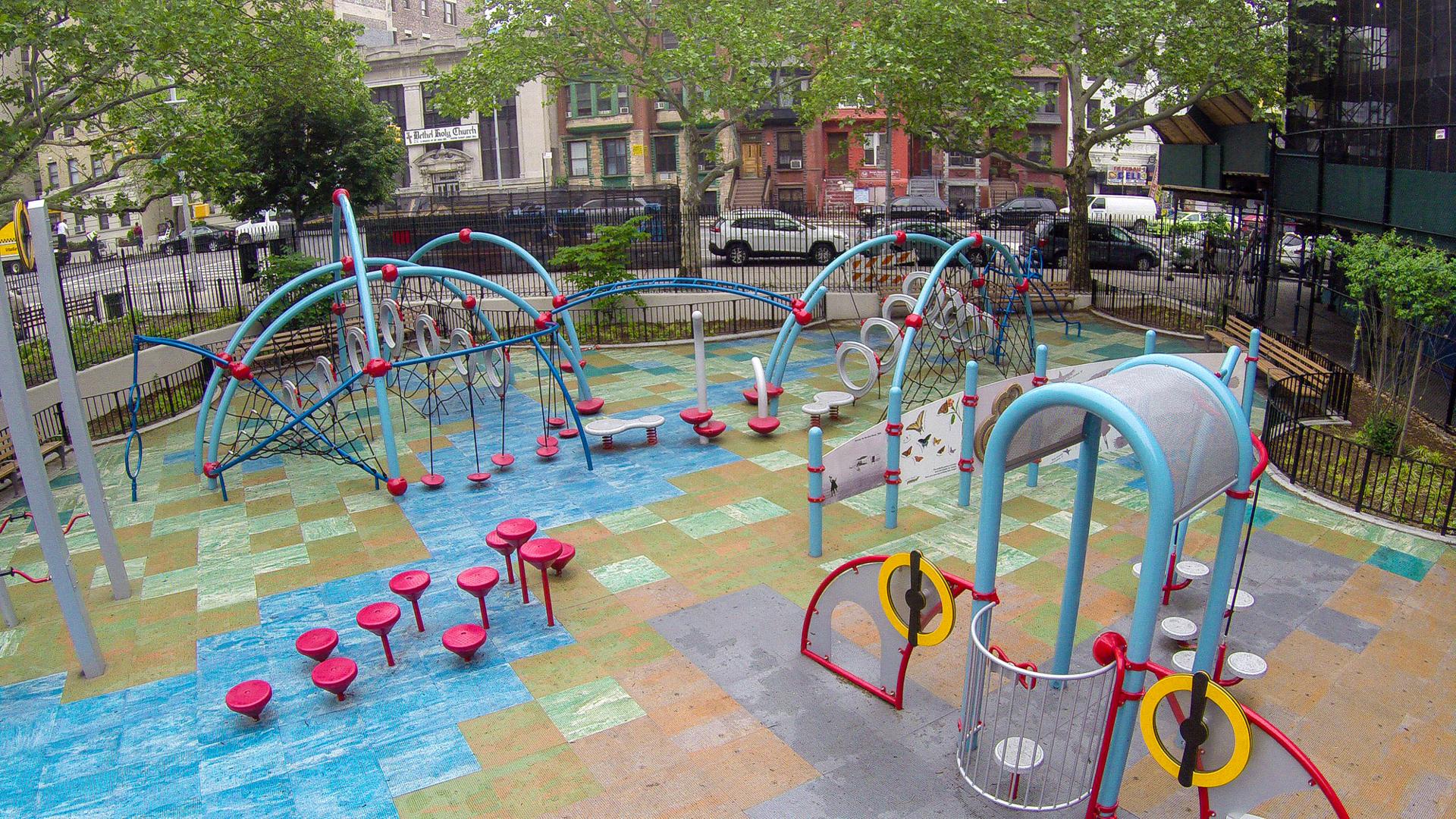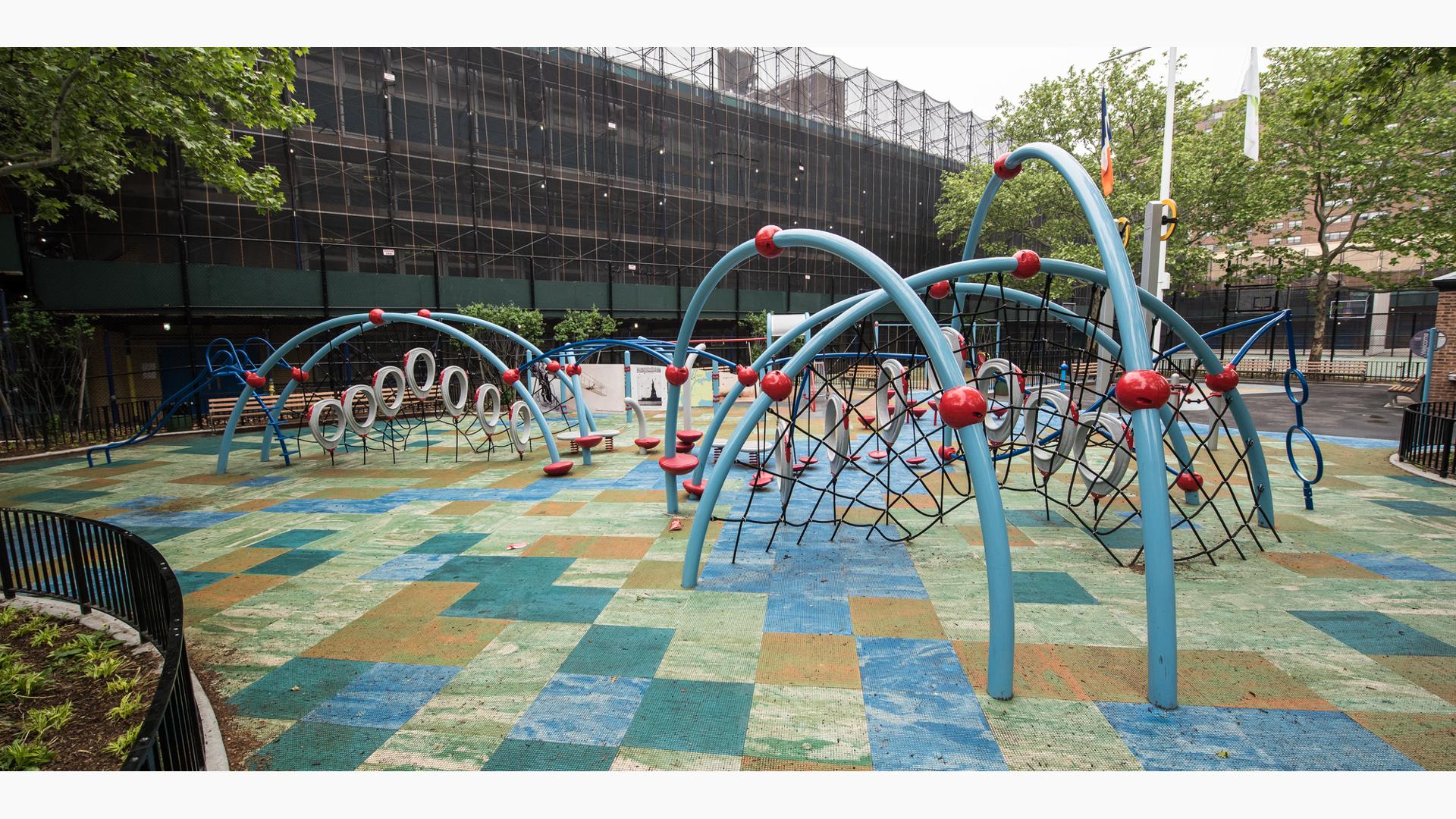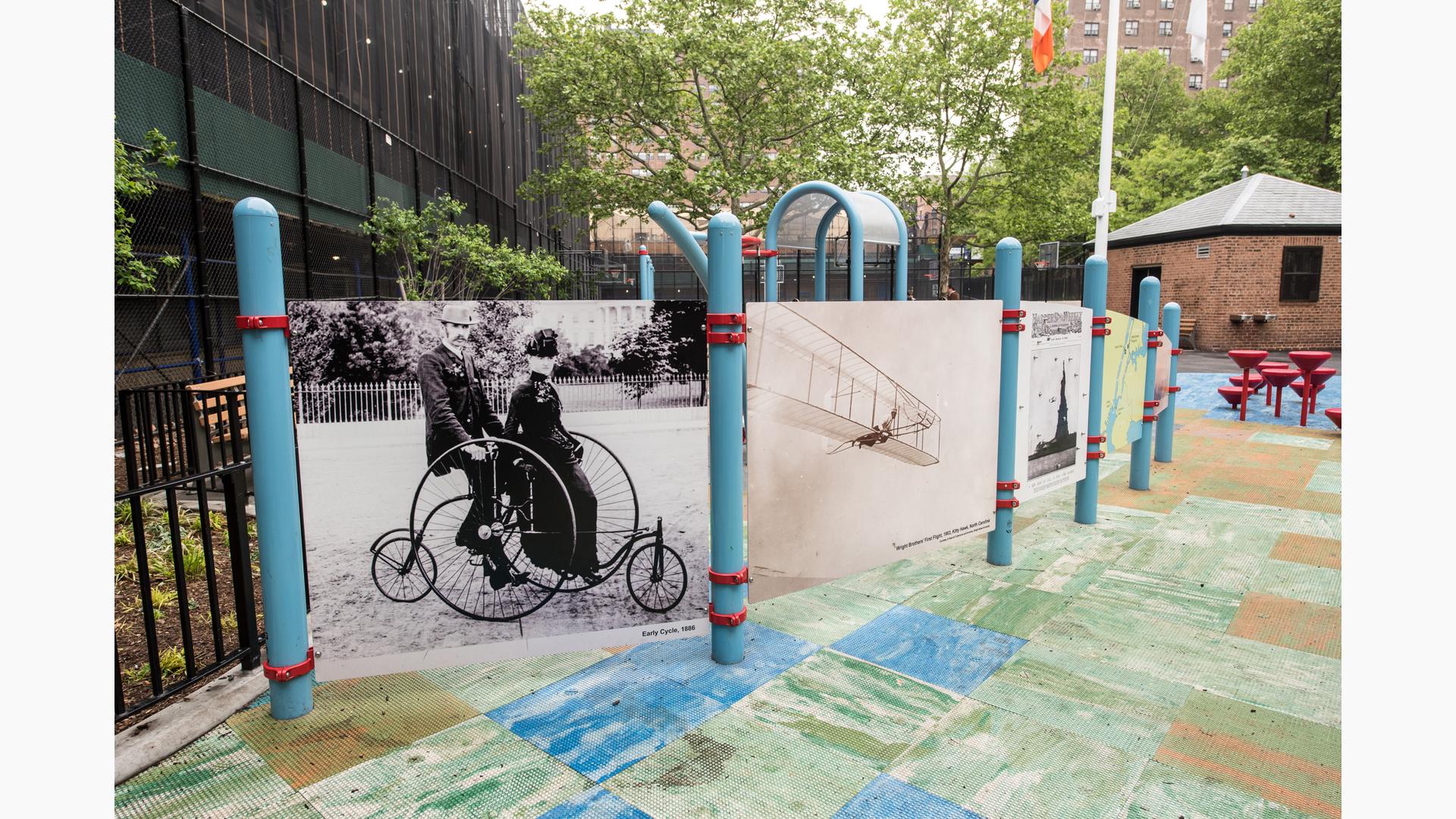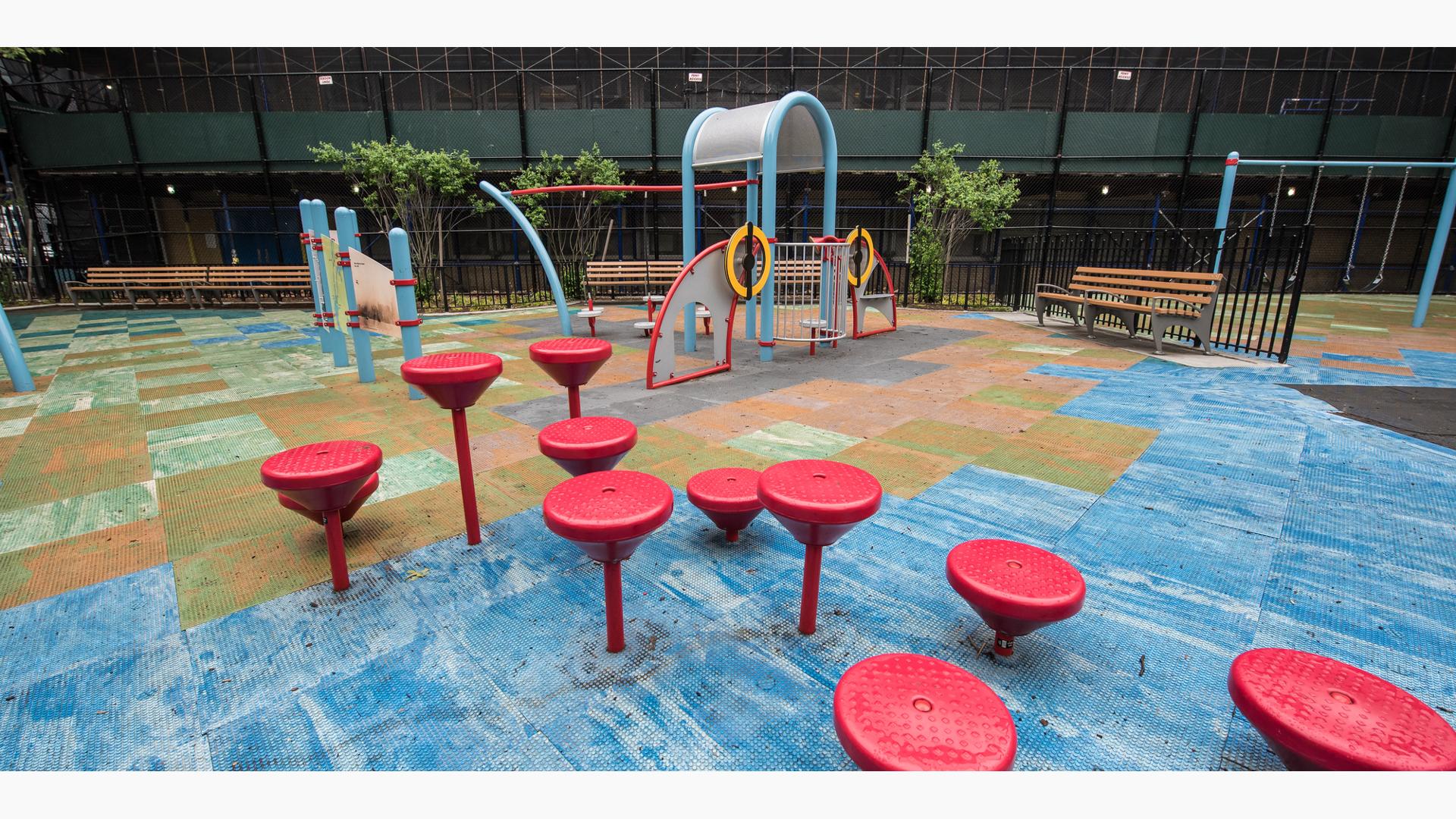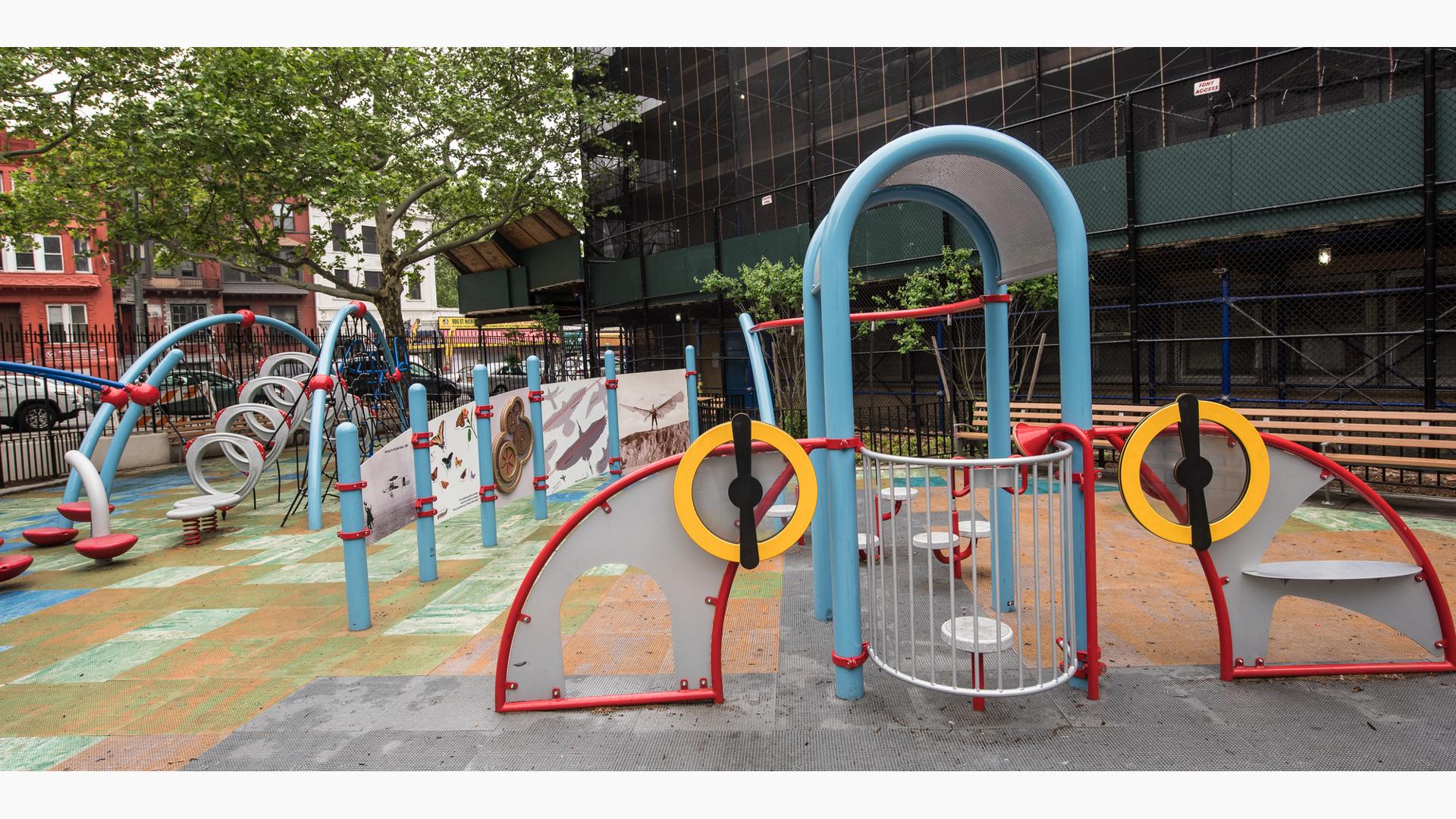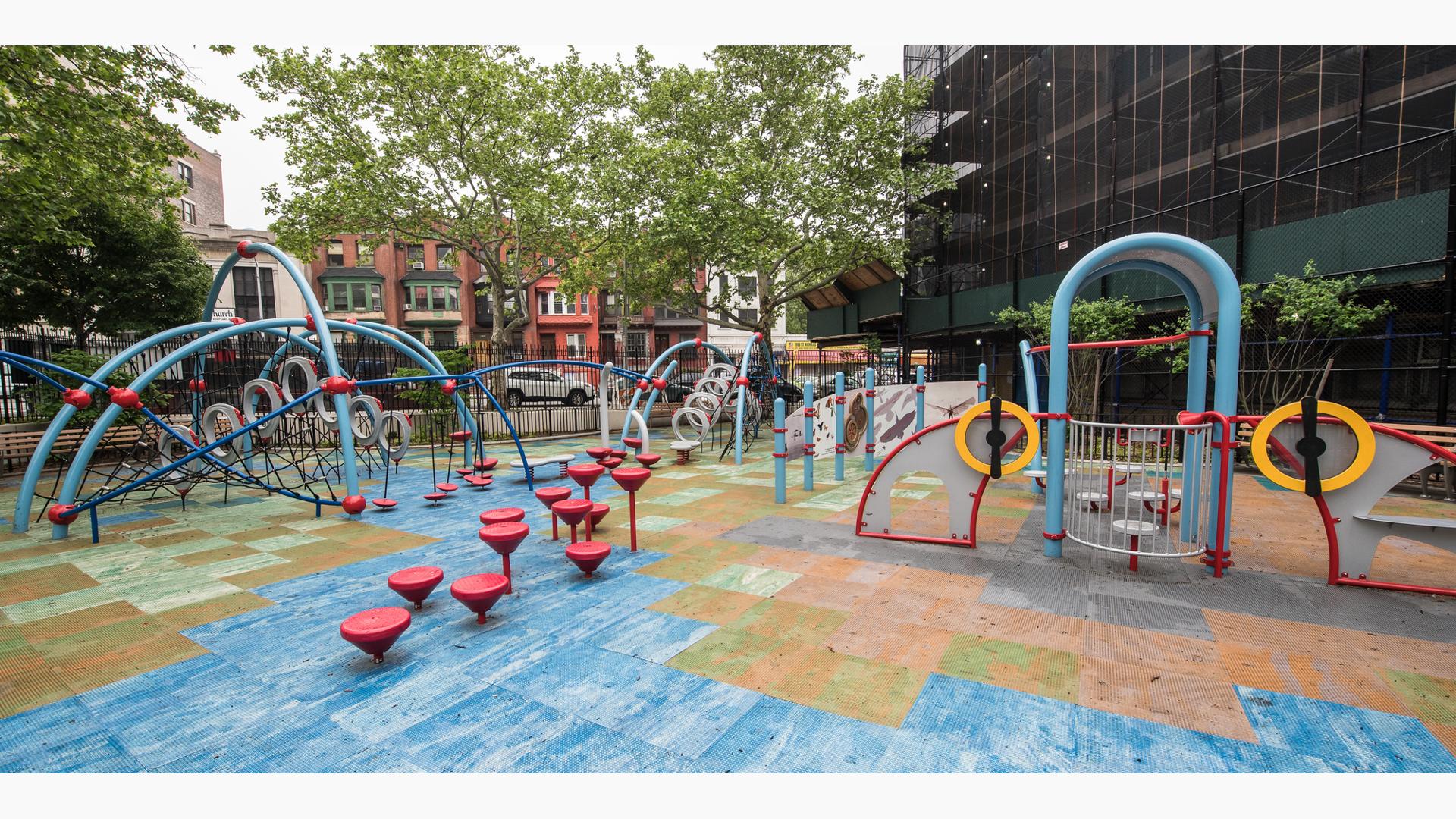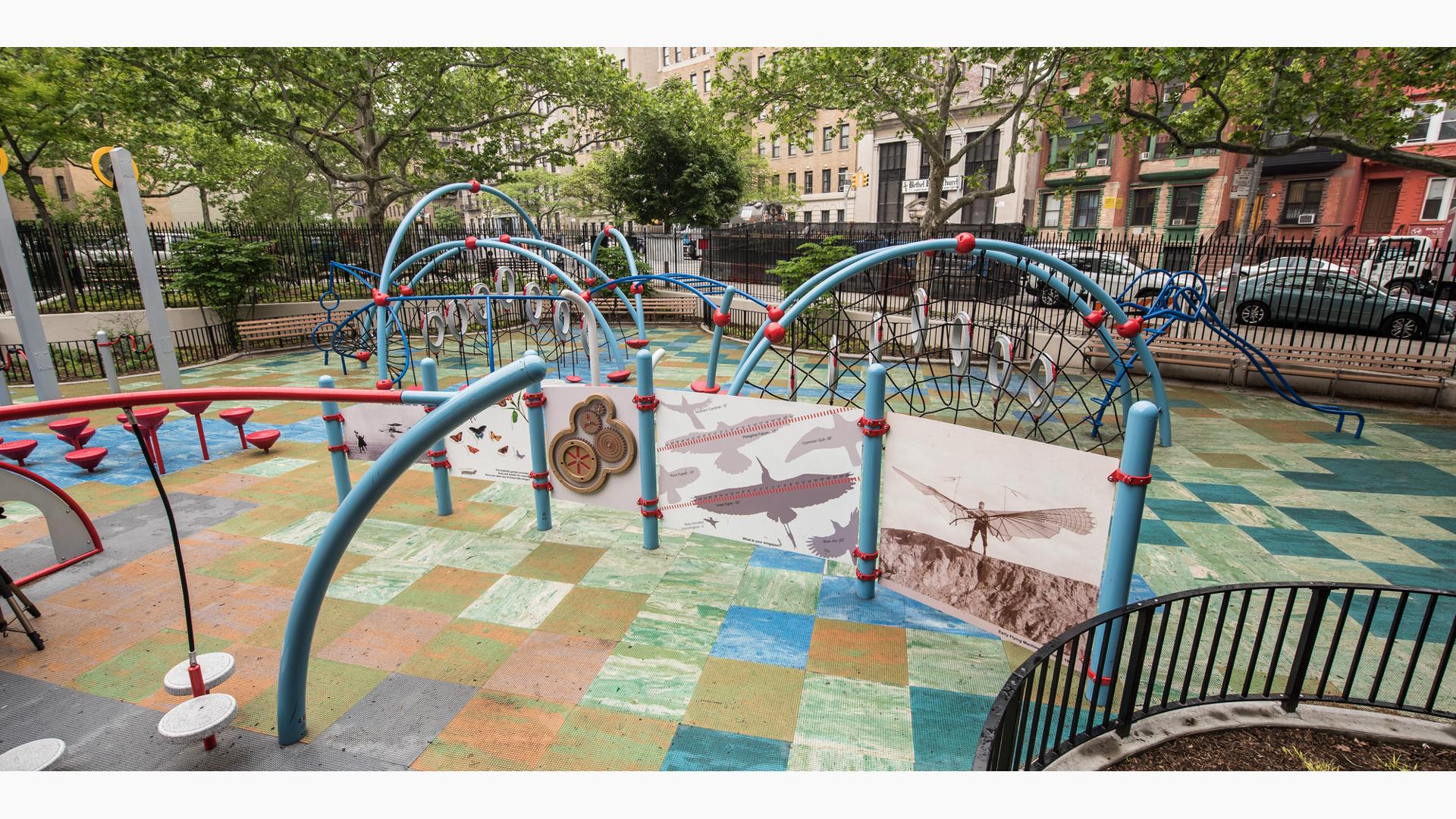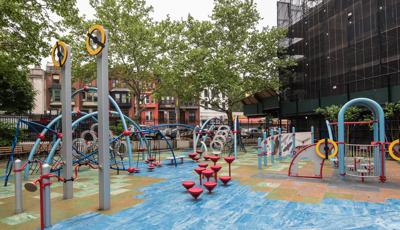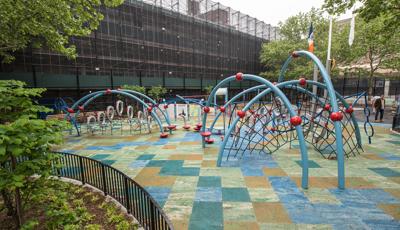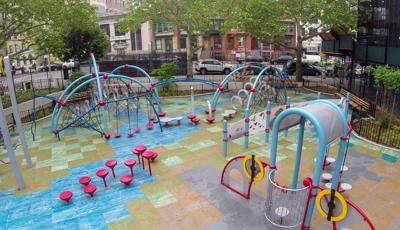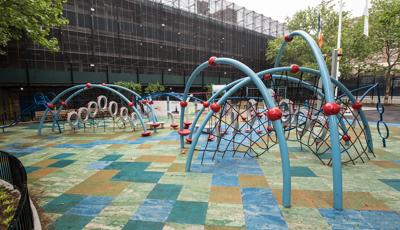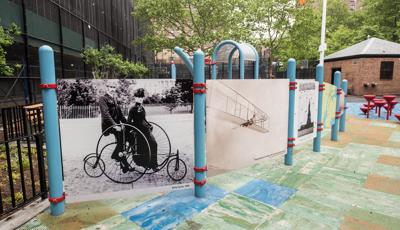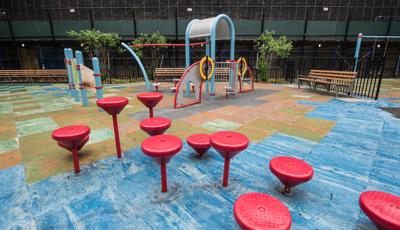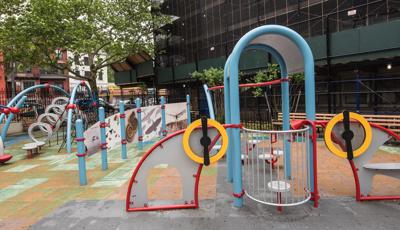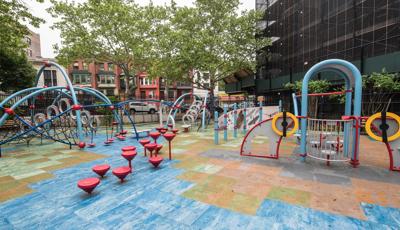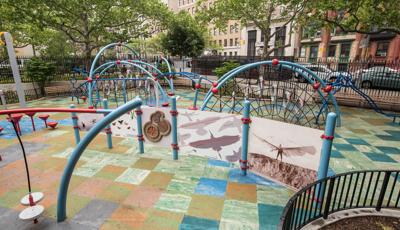 NY - Wright Brothers Playground
Video features an airplanes-themed play structure at the Write Brothers Playground in New Your City New York.
[video: fade in to playground sign on a black metal fence reading: Wright Brothers Playground.]
[video: fade in to an elevated view of the colorful baby blue and red accented playground area, fade out. Fade in to a downward pan of the Evos play structure with O-Zone and rope climbers. Camera switch to a play structure designed like the front of an airplane with Permalene panels cut like propellers. Birds chip in the background. Close-up of the Permalene panel shaped like an airplane propeller.]
[video: camera pans across the Evos play structure with rope and O-Zone climbers, Disc Challenge bridge and wobble pod. A line of DigiFuse panels printed with vintage images of the Wright brothers and labeled maps of their journeys, fade out.]
[video: fade in to an overhead panning view over the playground area, fade out. Fade in to an elevated view of the Evos play structures with surrounding pod steppers and other playground activities. The hum of traffic buzzes by in the background. Camera pans on the back side of an O-Zone climber and across the playground to the second O-Zone climber, fade out. Fade in to overhead panning view over the top of the playground area.]
[video: close-up of the Landscape Structures logo on the playground welcome sign. Camera pulls back from a cargo net climber for a full view, fade out. Fade in to an elevated panning forward view of the playground area. A vehicles hydraulic breaks hiss in the background. Fade to black, Landscape Structures logo fades in with text below reading: Better playgrounds. Better world.]
Age Ranges
2 to 5 years
5 to 12 years
Product Lines/ Categories
Min Area Required
69' x 37' (21,03 m x 11,28 m)
Design/CAD Files for this Playground
Design files are not available for this custom design. Contact your local playground consultant for additional details.
Design Standards
Contact your consultant to verify that this playground design meets current design standard requirements or to modify for other design standards.
Price Range (USD)
$200K-$500K+
Pricing for custom playground equipment varies. For international and exact pricing, please contact your local playground consultant.
Contact Your Consultant
Wright Brothers Playground in New York, N.Y., is home to, you guessed it, airplane-themed playstructures. Evos® playsystems invite kids ages 5 to 12 to navigate through the O-Zone™ Rings and net climbers, over the Overhead Trekker™, and across the Swiggle Stix® bridge and Wobble Pod® bouncers. Smaller visitors can step across to the cockpit of the plane for steering and Talk Tube fun. In between the age-appropriate play areas is education signage about the Wright Brothers' first flight.
Installed: July 2014
Our color palettes offer a range of options to customize your projects
Our state of the art materials make our playgrounds stand out.
We've created a global network of local playground experts to be at your side, every step of the way. With an average of 20 years of experience, our playground consultants are knowledgeable and personable. They will guide you through product pricing and specifications, customization, financing options, community builds, on-time deliveries, maintenance, finding replacement parts, and service questions.
Playground consultant for this project
Find a Playground Consultant Near You
Contact Your Consultant
Related Playgrounds & Designs