Playground Overview
Located within Lake Parker Park is the Rotary Playground in Hernando's Landing, which features a ship-themed playground design. Playground nets and other climbers lead kids up to the bow of the ship where they can sail the ship, explore more nets or navigate their way up to the crow's nest for an amazing look-out. In addition to the ship, there are nature-inspired PlayBooster® and PlayShaper® playstructures, Global Motion®, Rhapsody® Outdoor Musical Instruments, ZipKrooz® and swings!
---
---
Playground Details
Age Ranges

Design Standards

ASTM

Installed

April 2017
Project Price Range

Pricing for custom playground equipment varies. For international and exact pricing, please contact your local playground consultant.
---
Playground products shown in video may not be appropriate for every age group. Playsystems shown in video are for demonstration purposes only. Product configurations may vary.
Lake Parker Park, Lakeland Florida- a custom pirate ship themed playground by Rotary in Hernando's Landing.
[video: aerial view of pirate ship themed play space featuring Global Motion rotating climber, ZipKrooz and many freestanding features. Camera pans to show interior details of pirate ship structure with focus on recycled plastic lumber planks.]
[video: continues to show interior climbing nets throughout ship. The ship steering wheel sits at the front of the boat with the Rotary Club logo on it.]
[video: ship's crow's nest sits in the middle of the structure with nets to climb to top of crow's nest and a slide to get back down.]
[video: young boy and girl slide down slide, then climb back into crow's nest to slide down again.]
[video: scene switches to the young boy and girl sliding across the ZipKrooz, a playground zipline track ride.]
Boy 1: I love this park. I think it's really cool because... because the telescopes are real, and you get to see things up close from afar.
[video shows telescope at top of crow's nest structure.]
Young girl 1: I like that pirate ship because the telescopes are real.
[video pans to Rhapsody outdoor music collection. Young girl plays Grandioso chimes.]
Young girl 1: You play music and I love music.
[music chimes as she plays.]
[video: overhead view of play structure pans to sign guests see upon leaving the park that says, "Come Play Again!". Fades to Landscape Structures logo.
Next Tab
Featured Products
We offer the widest range of park and playground equipment to promote healthy lifestyles, encourage skill-building and create unique outdoor experiences. From our playsystems and freestanding playground components to themed designs, site furnishings and more, we'll help you create a recreation space that welcomes your whole community.
Play Systems featured in this Playground
PlayBooster®
Ages 5 to 12 Years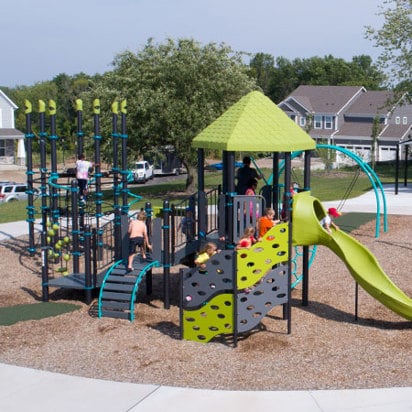 The PlayBooster® playground structure, the original post-and-clamp system, combines exciting ground-level components with climbing events and overhead activities for kids ages 5 to 12. The PlayBooster family includes the interconnected cables of Netplex®, the contemporary Vibe®, the nature-inspired Tree House and the double-decker PlayOdyssey® Tower.
Resources
View all PlayBooster® Components
Product Categories featured in this Playground
Freestanding Play
Ages 2 to 12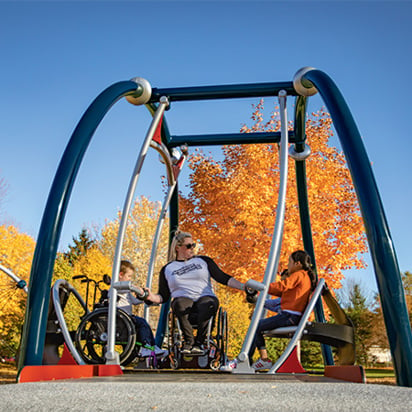 Freestanding Play events add fun and excitement to new and existing playgrounds! Revitalize your current playground or create a playground design that's completely unique using Freestanding Play components for kids ages 2 to 5 and 5 to 12.
Resources
View all Freestanding Play Events
Play Styles featured in this Playground
We can help you create playground designs unique to your community! Everything in our custom design process is driven by your goals and ideas. Together, we'll create a destination playground that's as individual as your imagination!
View Custom/Themed Ideas
Previous Tab
Next Tab
Playground consultant for this project
We've created a global network of local playground experts to be at your side, every step of the way. With an average of 20 years of experience, our playground consultants are knowledgeable and personable. They will guide you through product pricing and specifications, customization, financing options, community builds, on-time deliveries, maintenance, finding replacement parts, and service questions.
Find a Playground Consultant Near You
Previous Tab
Related Playgrounds & Designs