Smart playgrounds are compact playgrounds, packed with interactive activities, designed for kids ages 6 months to 12 years old. Toddlers and preschoolers are still developing many of their senses and skills, so naturally they are interested in playground activities that move—steering wheels, puzzles, shape-and-fit games. Our Smart Play® line is designed to meet kids where they are and engage them in play.
Smart compact play systems take kids from early crawling exploration to active climbing and social play on up to a challenging course for older children. This line helps span several critical periods of childhood development, making it ideal for childcare, early learning centers, neighborhood playgrounds and schools.
Smart Play Benefits
The compact size of Smart Play structures means they require less space and surfacing materials than typical playgrounds, resulting in a lower-total investment. That makes Smart Play structures ideal for tight spaces and tight budgets.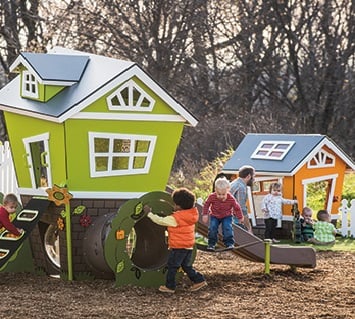 Our line of smart playgrounds are more than commercial playground playhouses. The 6 to 23 month and 2 to 5 year structures were created specifically for toddlers and preschoolers to help build their senses, and motor and cognitive skills through play.
Developed with guidance from the National Head Start Association and Too Small to Fail, our smart playgrounds can prompt adult-child conversations and support child learning across key developmental domains. They include literacy, math, science, nature, social-emotional development, nutrition and physical activity. When adults and children play together, language-rich interactions can support children's early brain and language development.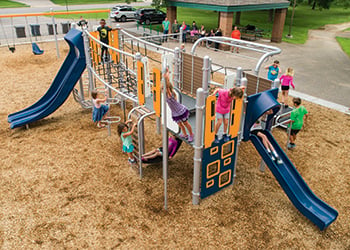 These preconfigured playgrounds also encourage imaginative pretend play, which has been linked to children's language development, social competence and self-regulation abilities. When children pretend to be firefighters, chefs or store clerks they are actively experimenting with social roles and learning to cooperate and compromise with peers. This type of early childhood interaction helps develop social cues by practicing eye contact, using different tones and emotions.
In addition to our Smart Play structures for toddlers and preschoolers, we also offer play structures specifically designed for 5 to 12 year-olds. These compact playgrounds contain nets, slides, belts and climbers that promote physical development and strategic thinking, while also creating hangouts where kids can take a break and connect with others.
Adding Smart Play to Your Playground
We offer several Smart Play structures to choose from including mid-century modern or more whimsical designs, enabling you to easily incorporate these activity-packed play structures into your play area. Even more, you can feel good about purchasing Smart Play structures since they are manufactured with an efficient use of materials to create minimal waste.
Smart Playground Options
Nook – Designed for kids ages 6 to 23 months, the 20 interactive components of the Nook playstructure; prompt adult-child conversations and support whole-child learning across key developmental domains.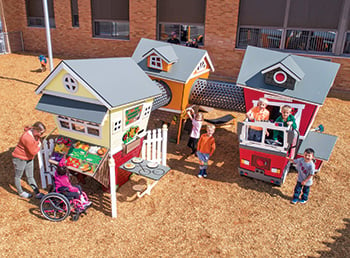 Loft – Handrails on the Loft playstructure lead 2 to 5-year-olds up into a world of imaginary play, with a built-in find-it game, learning activities, lower level clubhouse and so many more interactive elements.
Fire Station – On the Fire Station, kids ages 2 to 5 take control at the wheel, pet Sparky the friendly fire dog or slide down to their next adventure like the object find game.
Market Cafe – Among lots of activities on the Market Cafe, kids ages 2 to 5 can make pictures in the image panel, bing-bong the apple bell and chat about food colors and tastes.
Centre – Playstructure connecting a Loft, Fire Station and Market Cafe with elevated crawl tunnels to create a whole village for kids to explore. Centre is perfect for focusing on the whole-child development of kids ages 2 to 5 in a playful setting.
Cube – The modern, compact playground design of the Cube means lots of activities and plenty of fun for little explorers.
Motion – Packing 16 activities into a compact space including a race car/roller track, the whimsical Motion playstructure keeps kids ages 2 to 5 entertained in a safe, developmentally appropriate way.
Venti – Designed for kids ages 5 to 12, Venti packs 20 exciting activities into its modern design and compact size.