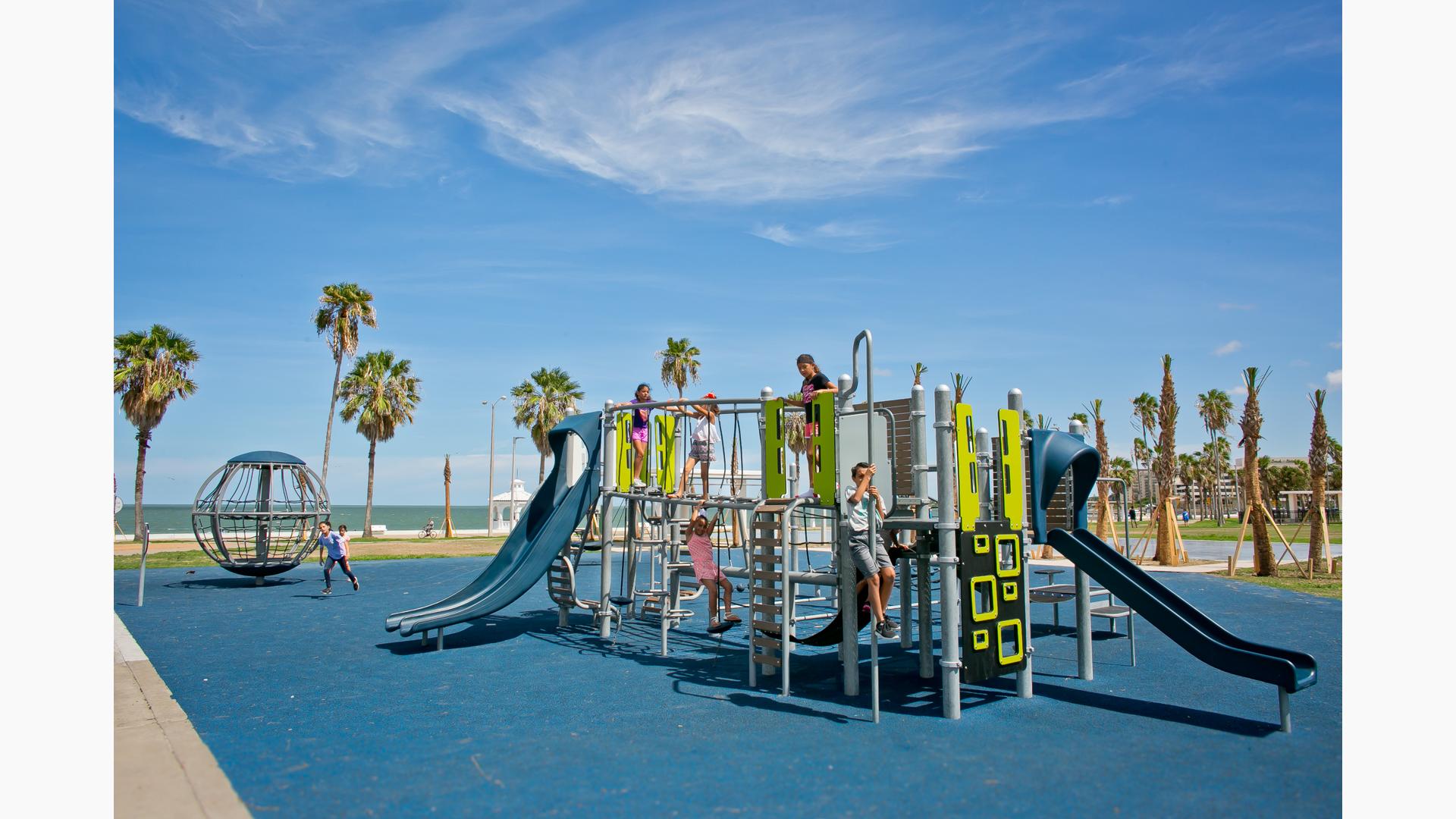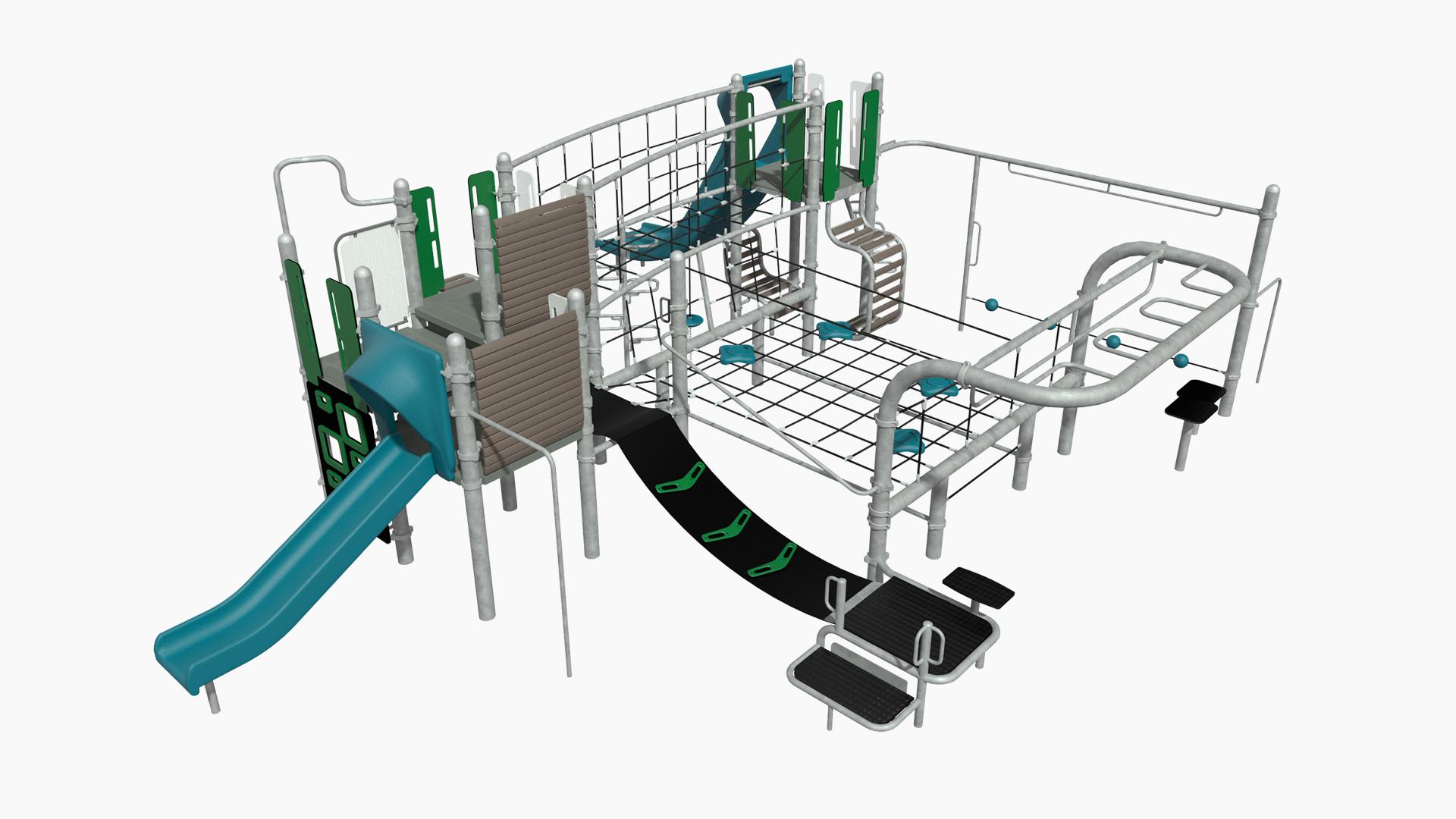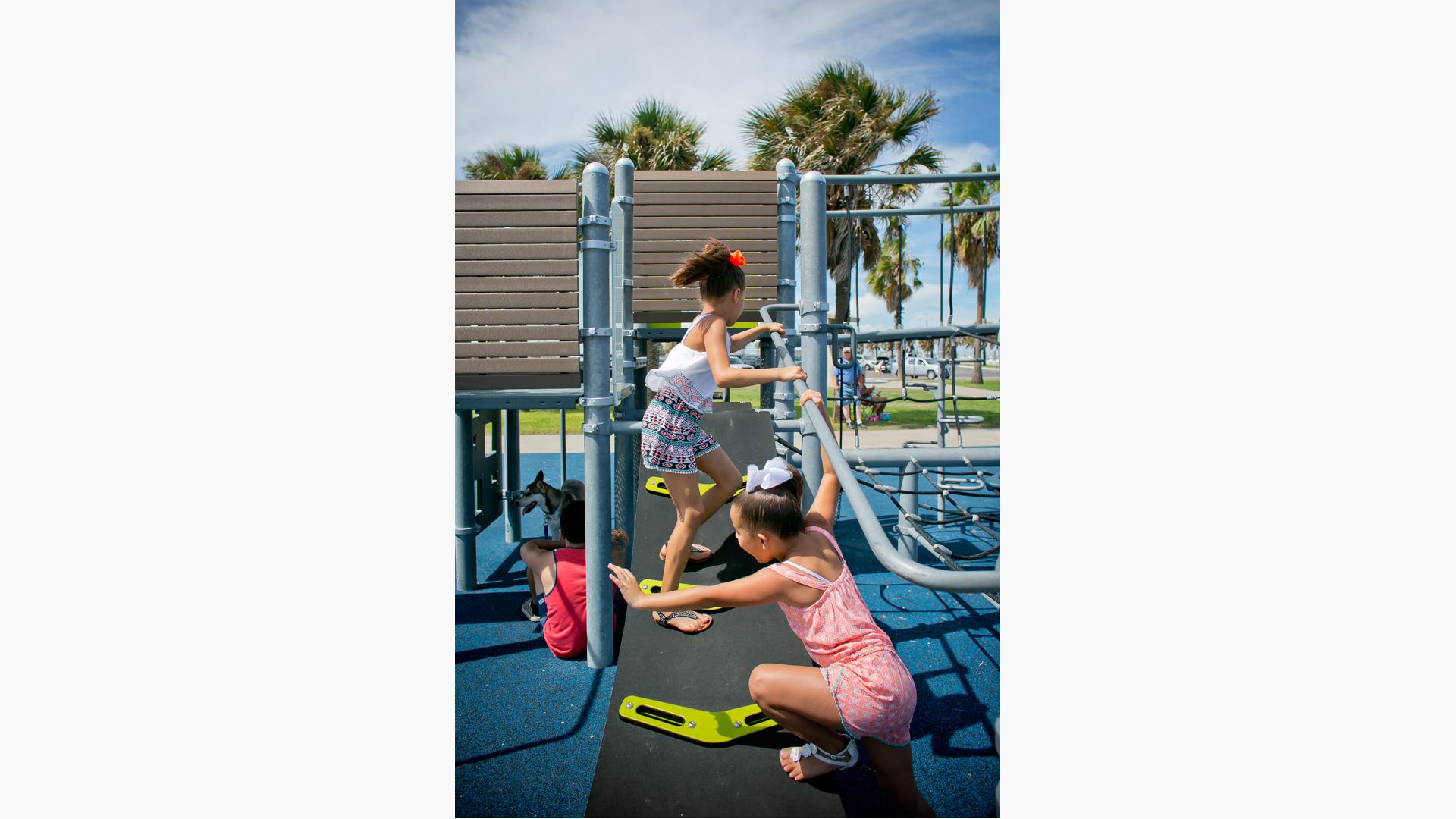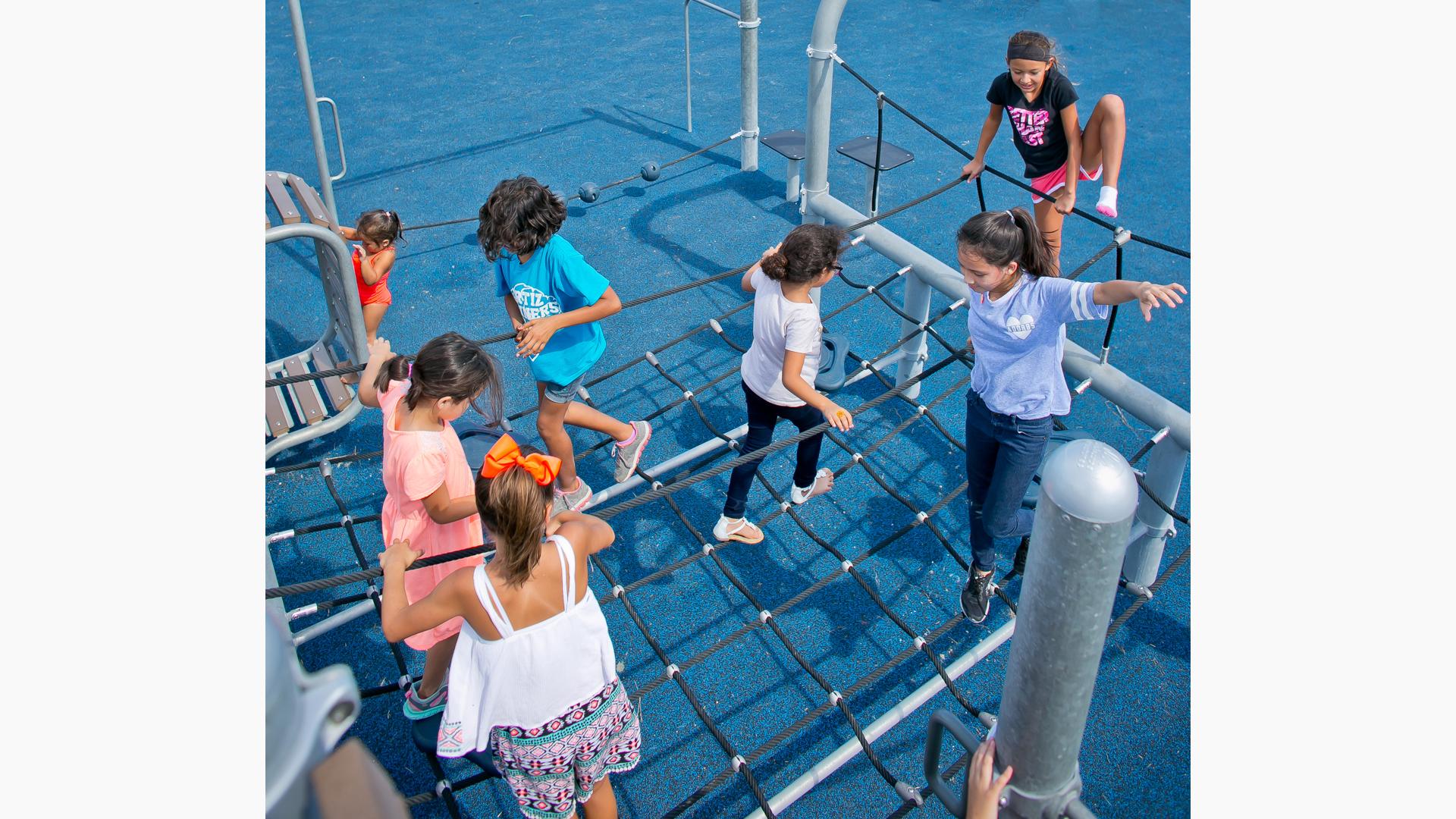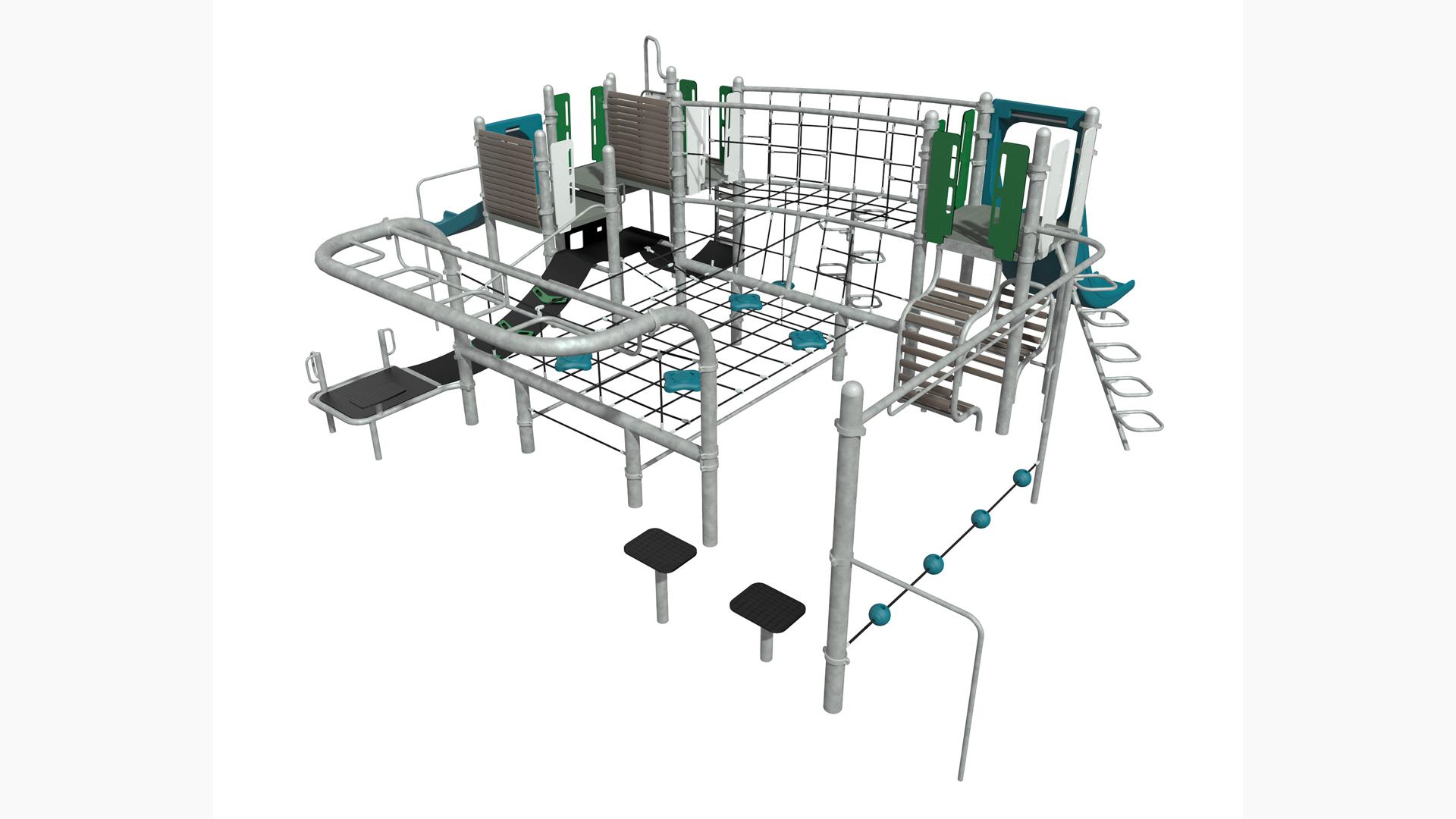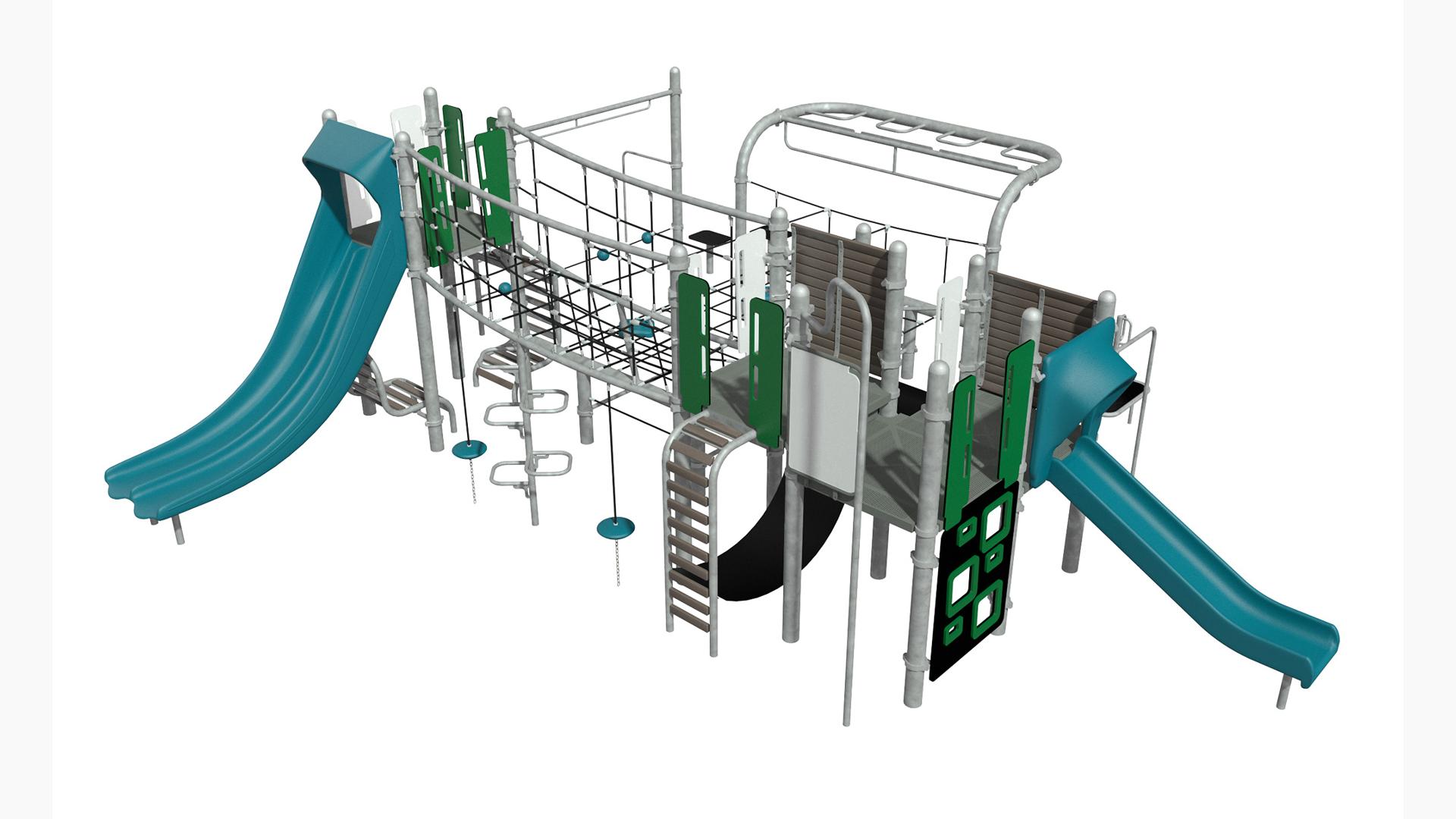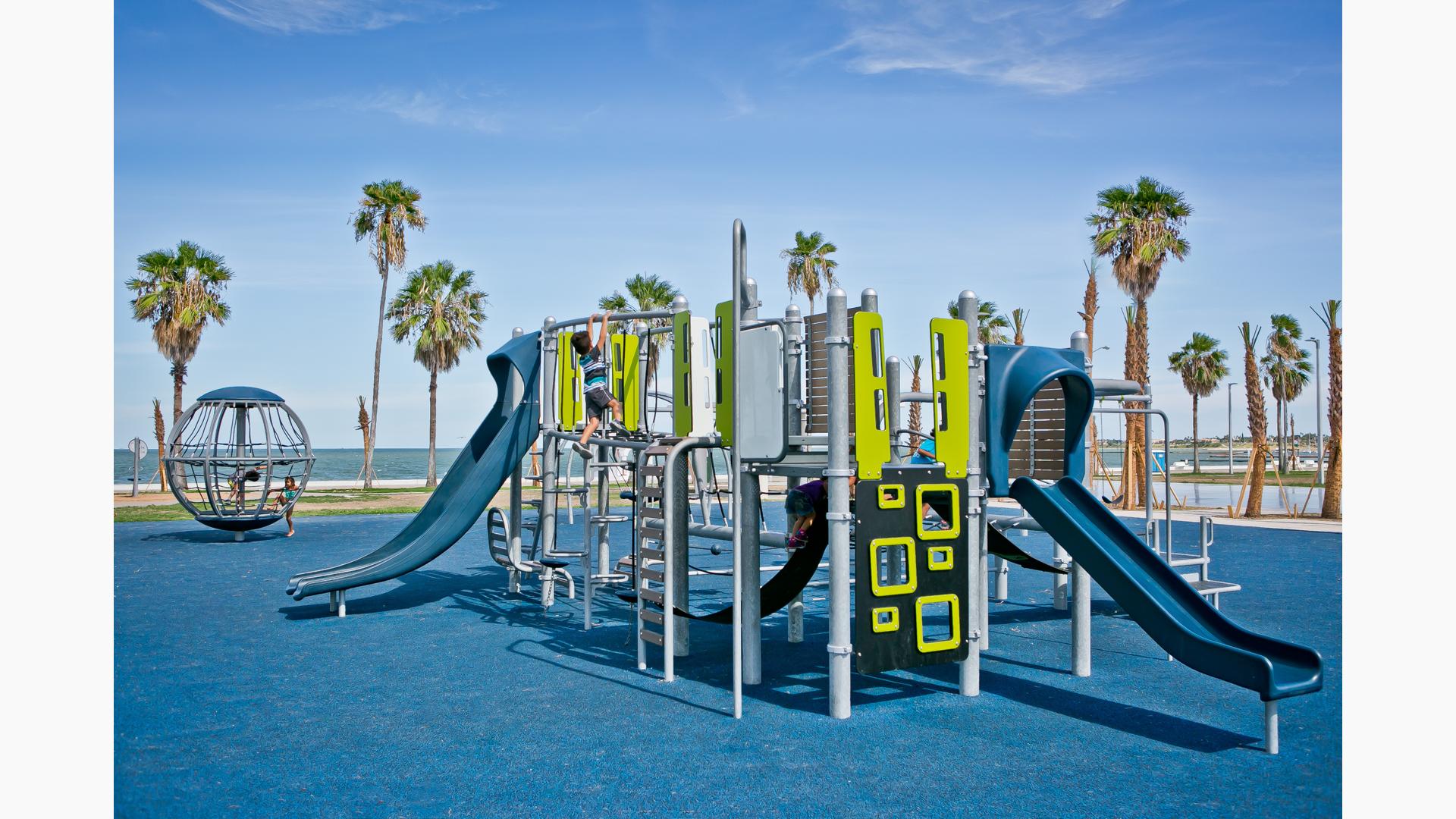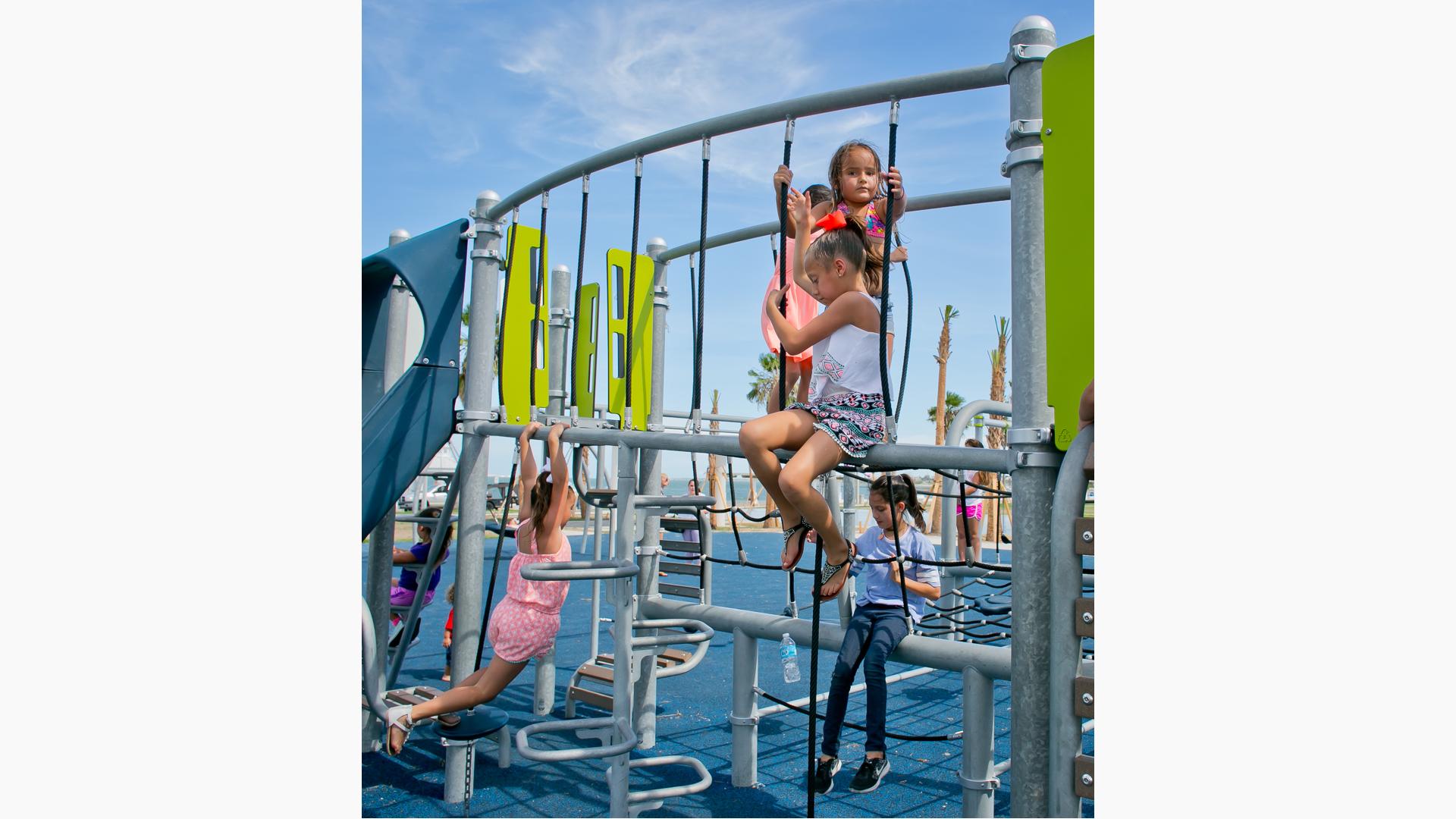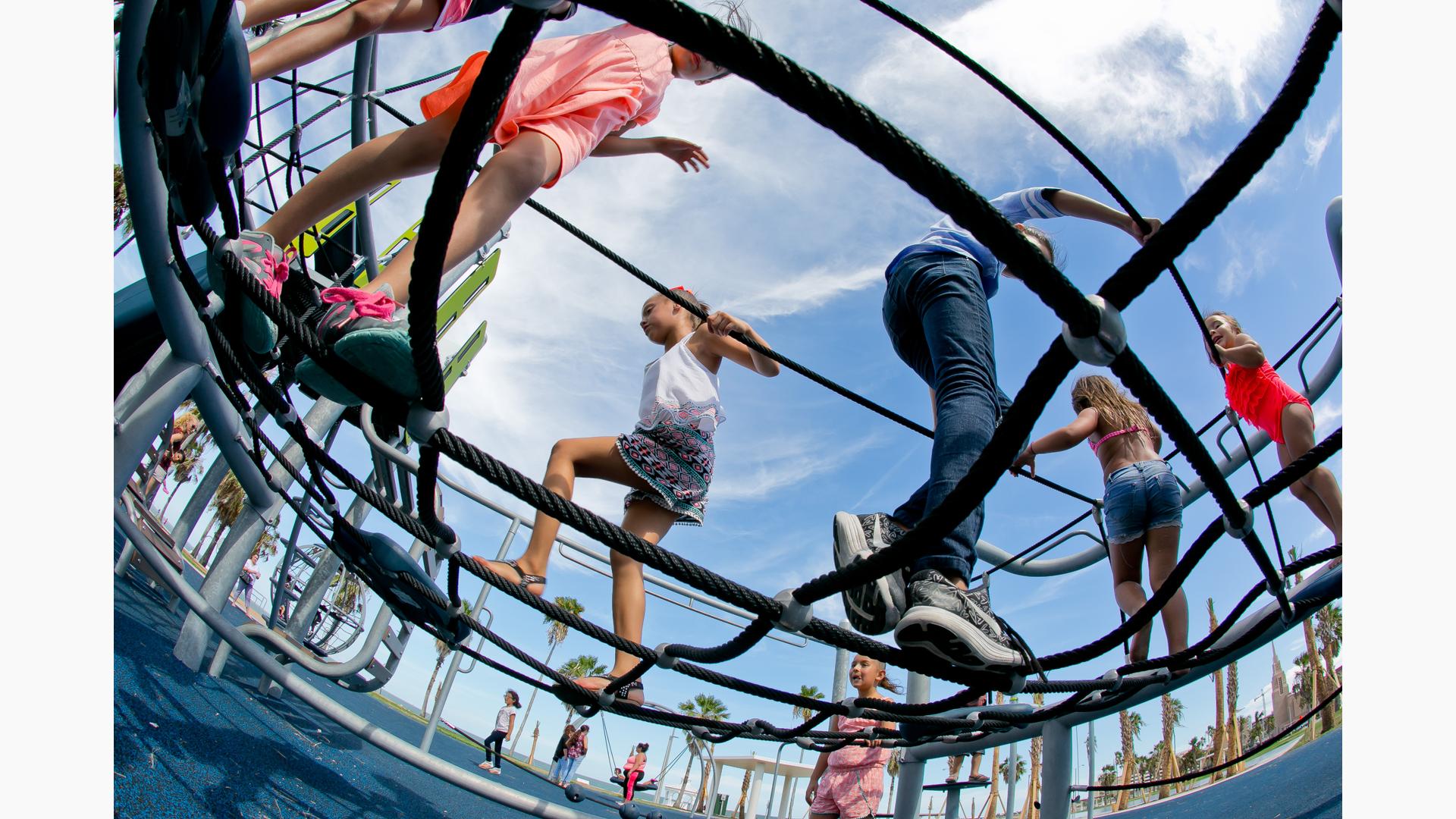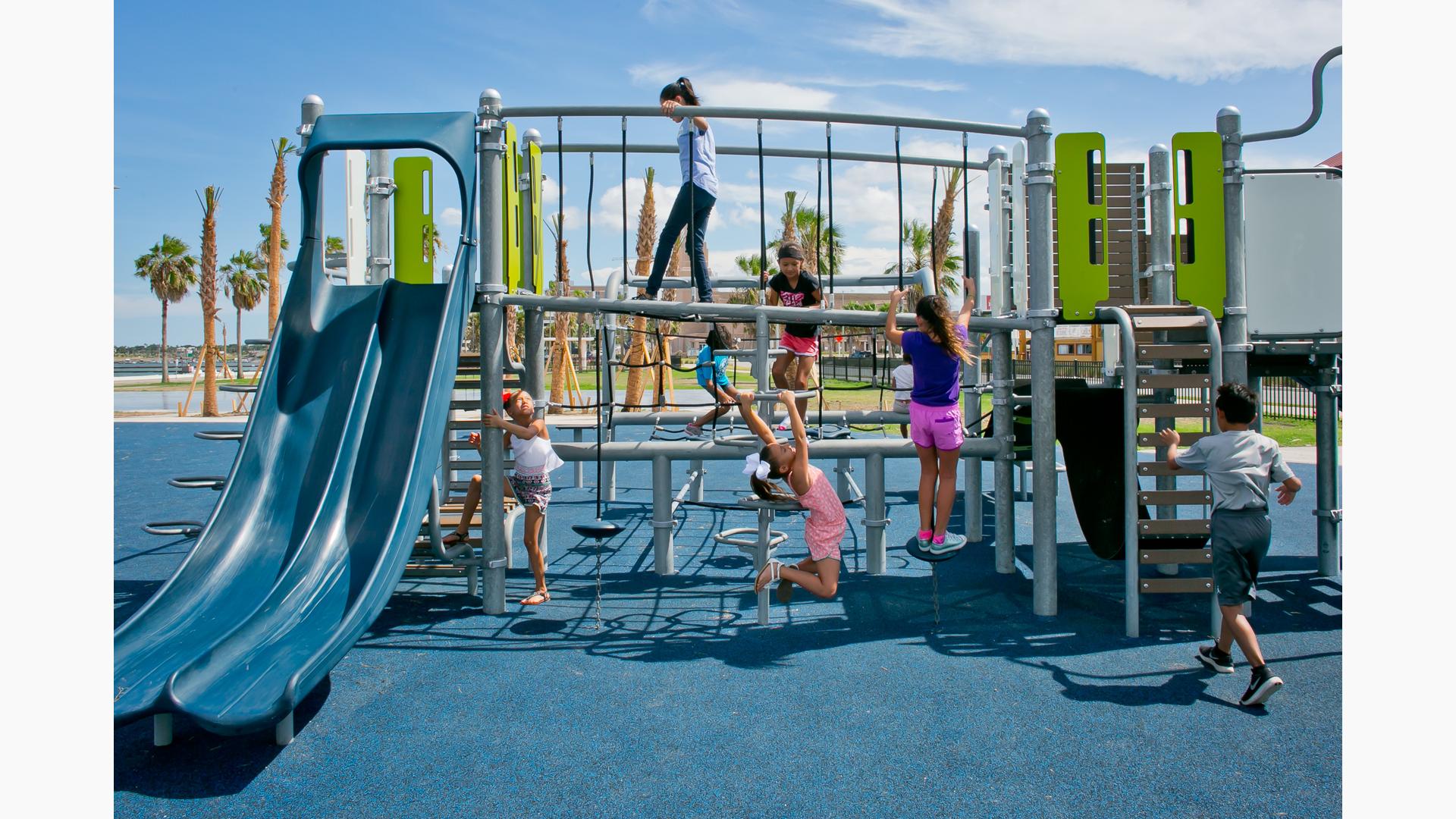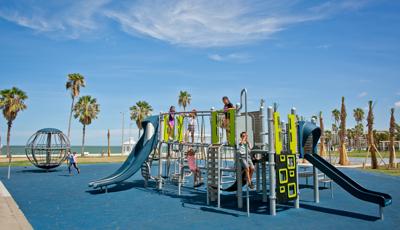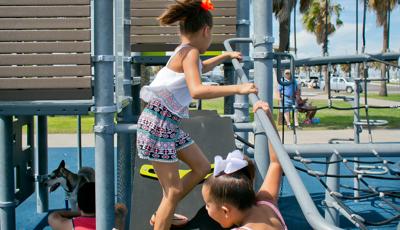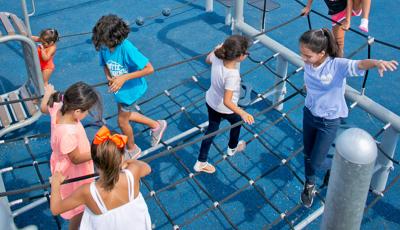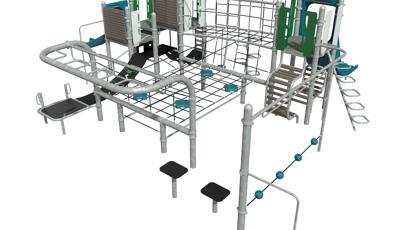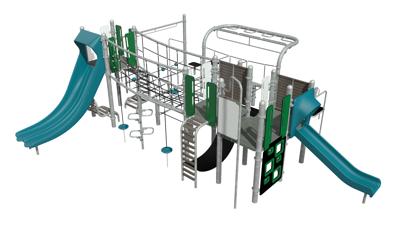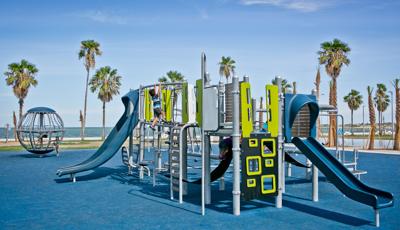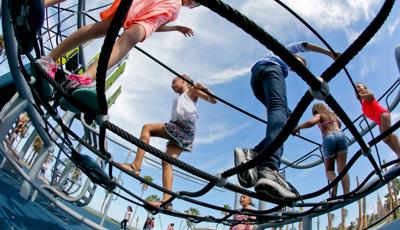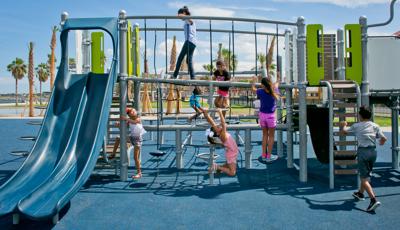 Play Systems
Dimensions
Max Fall Height: 87" (2,20 m)
Min Area Required: 45' 2" x 39' 2" (13,76 m x 11,93 m)
Design/CAD Files Featuring this Component
Price Range (USD)
$50K-$75K
*Prices vary. For international and exact pricing, contact your local playground consultant.
Contact Your Consultant
Overview
Designed for kids ages 5-12, Venti® HDG packs 20 exciting activities into its compact size. Nets, slides, belts and climbers provide lots of fun and challenges that promote physical development and strategic thinking, while also creating hangouts where kids can take a break and connect with others. With multiple entry points and plenty of activities, this accessible playstructure can accommodate a whole class at once!
Venti HDG epitomizes smart design. Materials are used efficiently to create a large number of activities. The compact size requires less space and surfacing material than typical playgrounds, resulting in a lower total investment. The Hot Dip Galvanized (HDG) distinctive zinc patina eventually takes on a matte gray appearance, blending in well with the styles of many different play environments—urban, sculptural, modern, industrial and more. Also, if you happen to live in a coastal area, this durable finish provides an extra level of protection against the harsh elements.
Features
20 activities addressing developmentally-appropriate skills: Cargo Net, Inclined Cable Walk, Belt Bridge, Vertical Panel Climber, Panel Maze, Windowpane Overhead Ladder, TightRope™ Bridge, Chinning Bar, Wood Plank Ladder, Cabin Climber, Double Swoosh™ Poly Slide, Single Poly Slide, Fire Pole, Square Loop Incline Climber, Square Loop Vertical Climber, Swiggle Stix® Bridge, Cabin Seating Area, Turning Bar, Square Steppers, Belt Hammock

Compact structure fits in smaller spaces and requires less surfacing

Multiple entry points and 20 activities accommodate a large number of kids

Choice of Permalene® color and polyethylene color

HDG finish available for Venti®, Oodle® Swing and Global Motion®

ADA compliant

Steel posts only

Direct bury

U.S. Patent No. D807,978
Polyethylene
Recycled Permalene®
Climbing Cables
Sensory
Agility
Tactile
Vestibular+
Visual
Motor Skills
Balance
Coordination
Core Body Strength
Endurance
Eye-Hand Coordination
Lower Body Strength
Motor Planning
Upper Body Strength
Cognitive Skills
Problem Solving
Strategic Thinking
Social/Emotional Skills
Cooperation
Imaginative Play
Social Skill Development
Learn about Developmental Benefits
Related Playground Components