Browse our digital publication filled with more than 50 dynamic playground designs carefully curated by our design experts. Best of all, these inclusive playground are great for children of all ages and abilities.
Greatly Affordable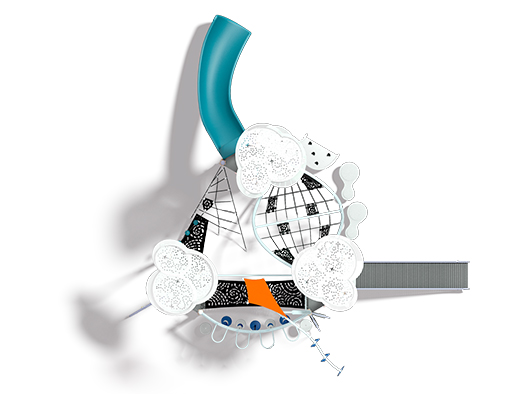 We didn't set out to design dynamic play opportunities for smaller budgets. In fact, we simply designed great inclusive playgrounds, then discovered they happened to come in at lower price points. We've assembled a library of nearly 50 great designs that meet ASTM standards and are great for children of all ages and abilities.
50 Designs Filled with Dynamic Play
Featured Great Designs
Tree Tops
The wondrously abstract Tree Tops playstructure gives kids the sense of playing in the treetops, exploring a forest canopy branch by branch. Navigate across wiggly bridges, crawl through a 3-ring climber, roar down two slides, plus so much more. Whether it is a tree fort, a forest city or agility race in the sky, there is much to explore!
Explore Tree Tops
BeachComber
Kids ages 5 to 12 will love creating seaworthy adventures as they sail across the Tidal Wave Climber, wind their way down curvy slides and skip over the Pod Climber®. Young imaginations are encouraged to go with the watery flow as they surge forth to explore the oceans of activity built into the BeachComber.
Surf Beachcomber
Billows
Deliver a thrilling adventure with the Billows playstructure. From the Alpine™ Slide to the twists of the Flex Climber, SwiggleKnots™ bridge and Mobius® Climber , kids ages 5 to 12 will find a plethora of ways to bounce, climb and slide the day away. Even more, with cloud-shaped shade and a kite flying overhead, kids' imaginations will soar to new heights.
Discover Billows