Parkview Hills Park
Delano, MN USA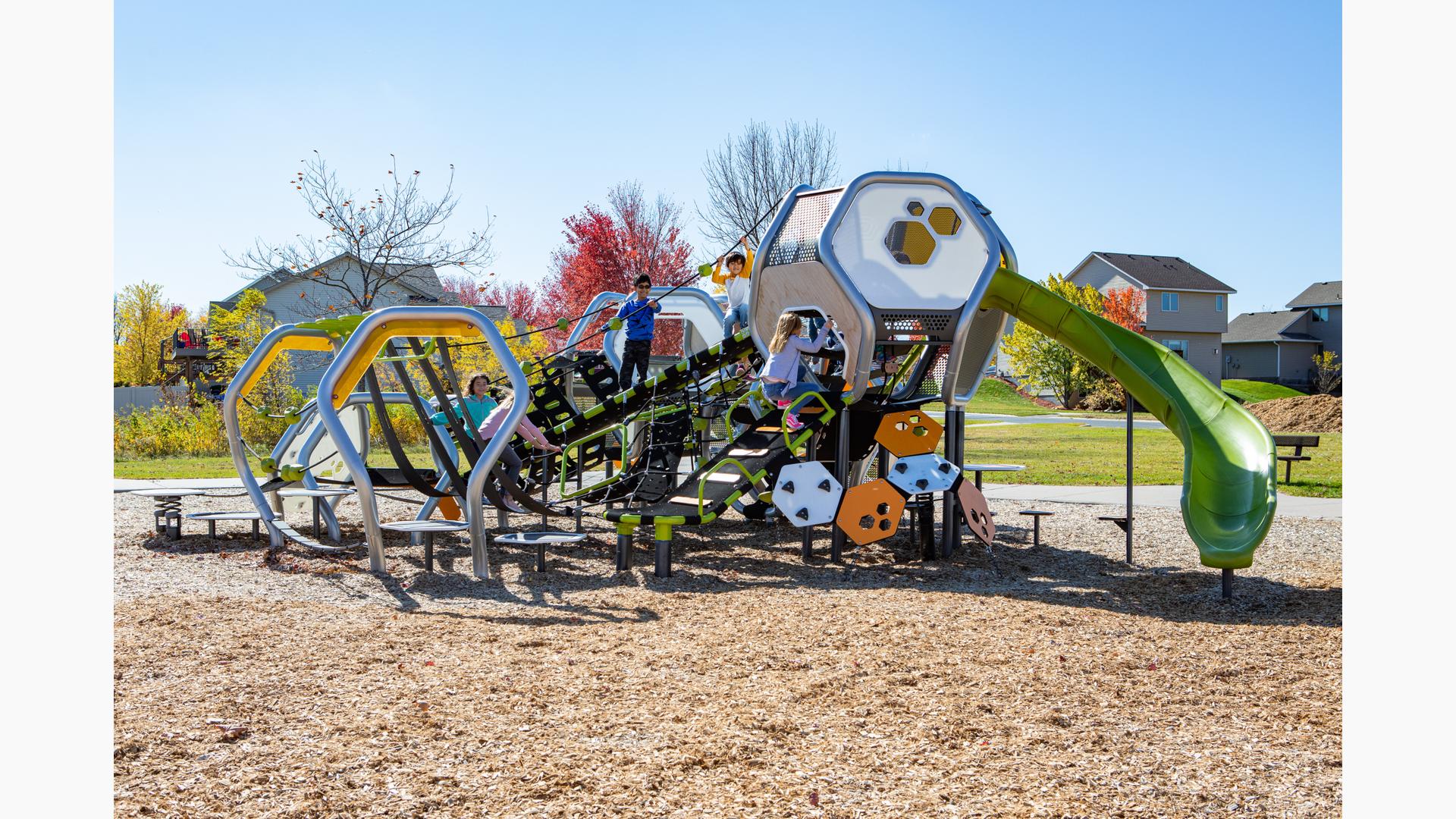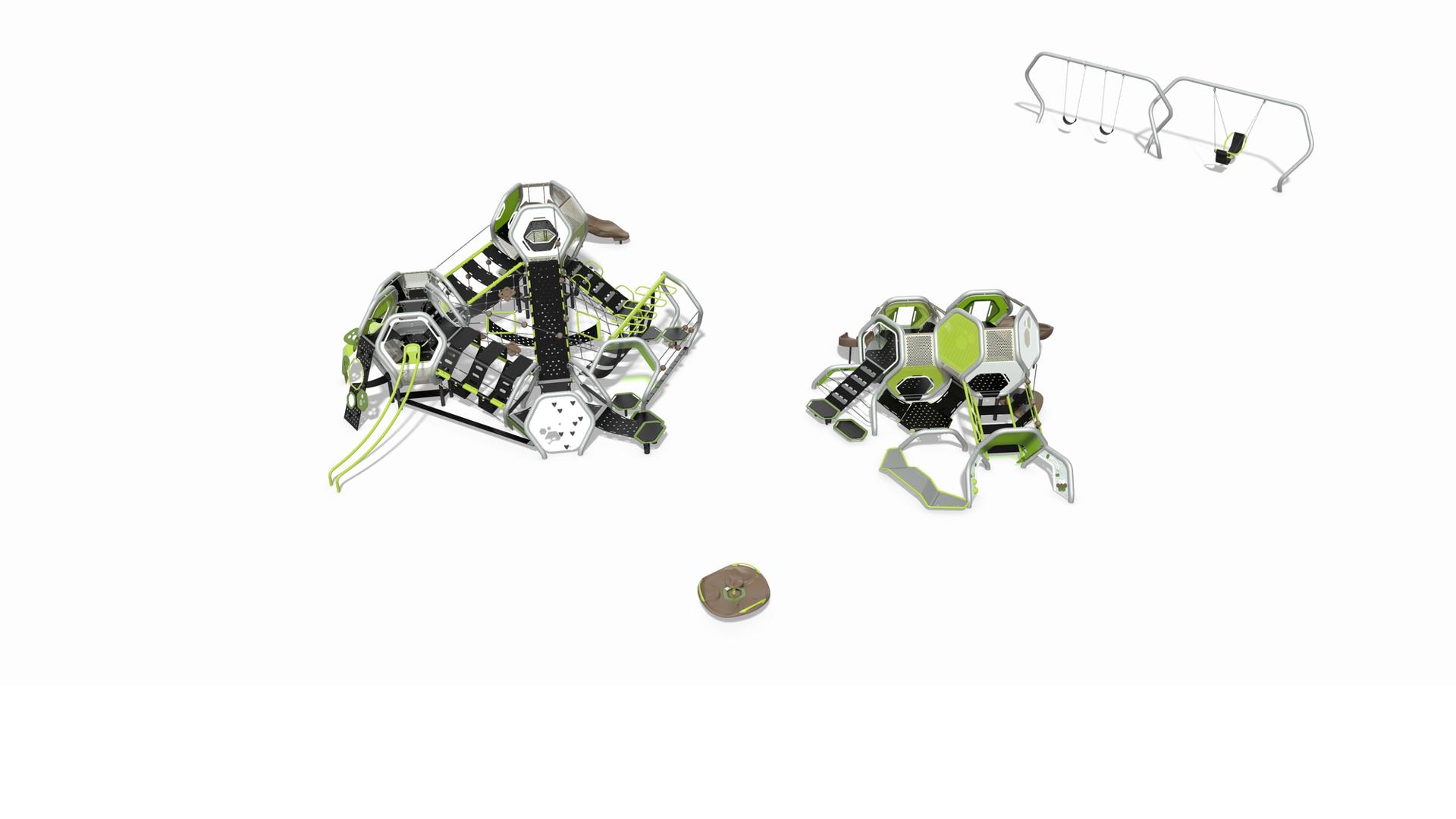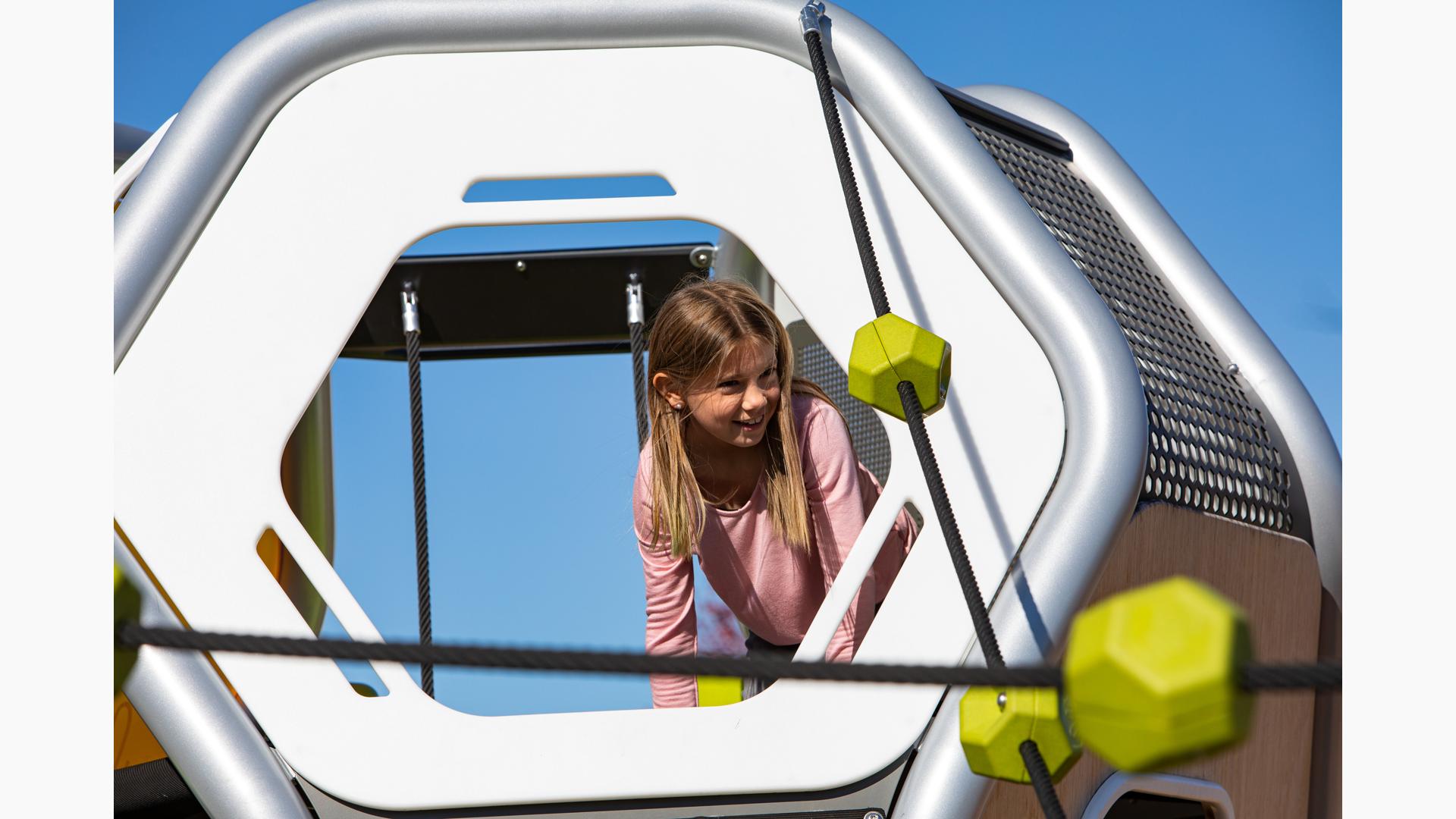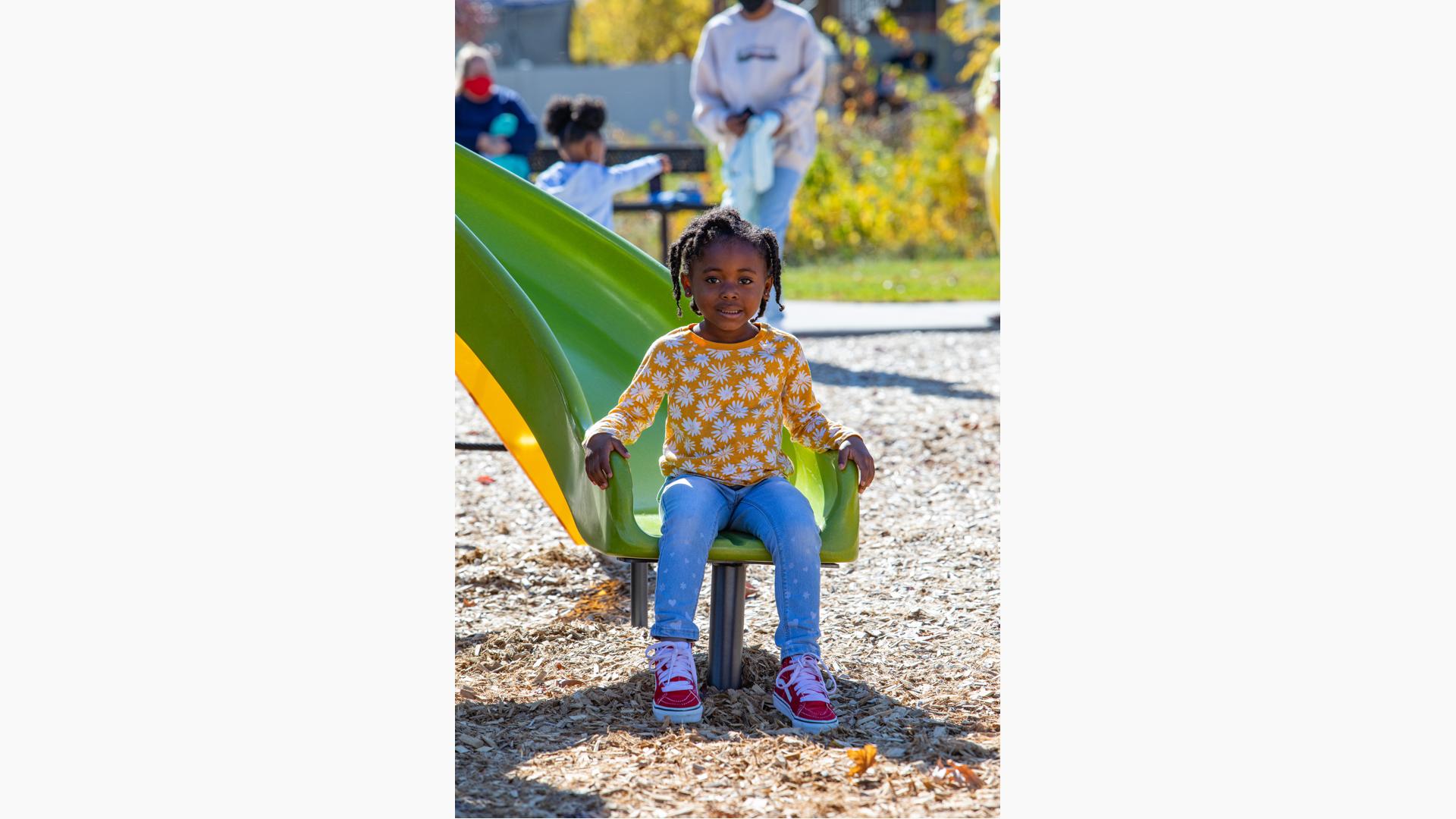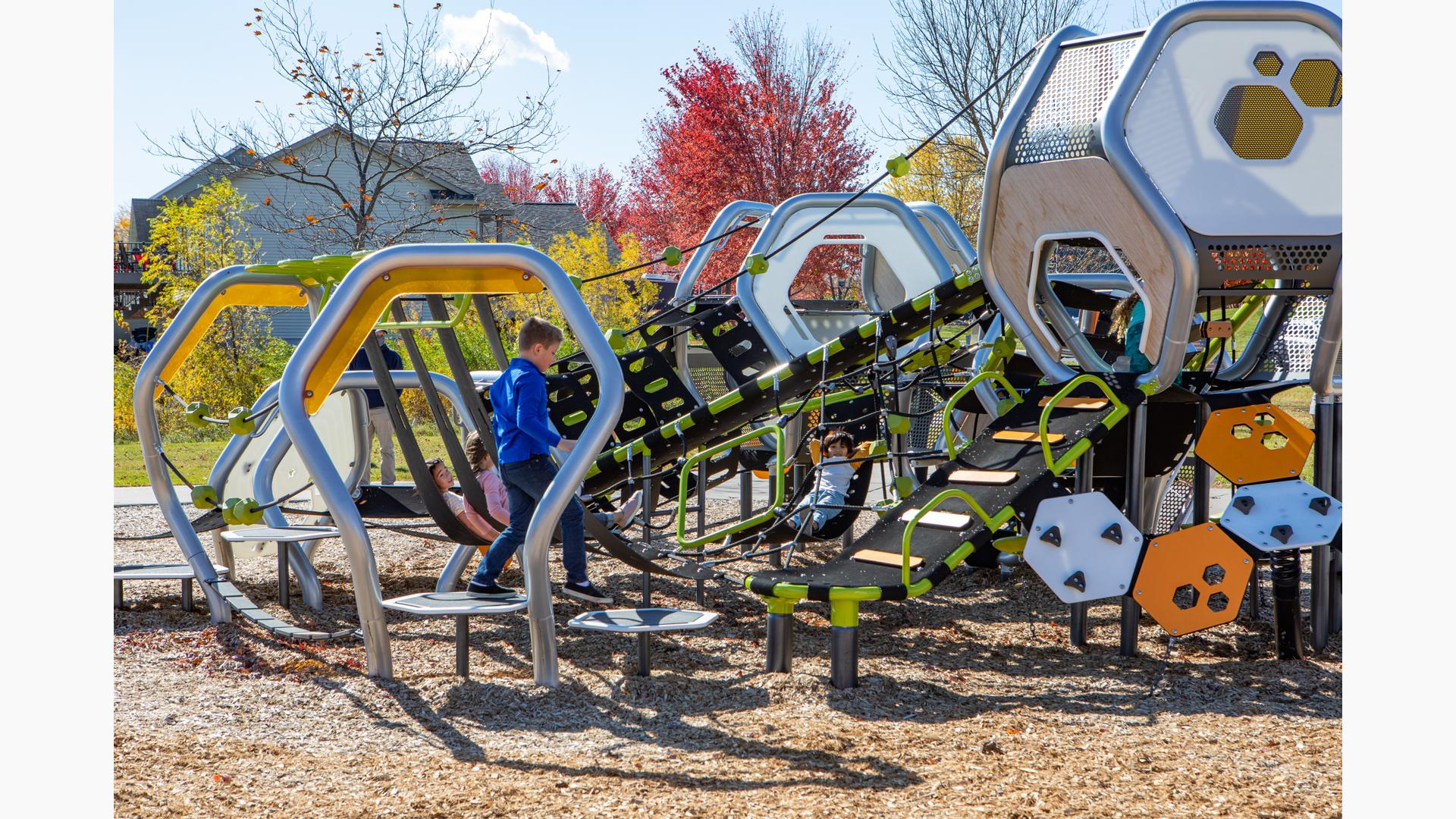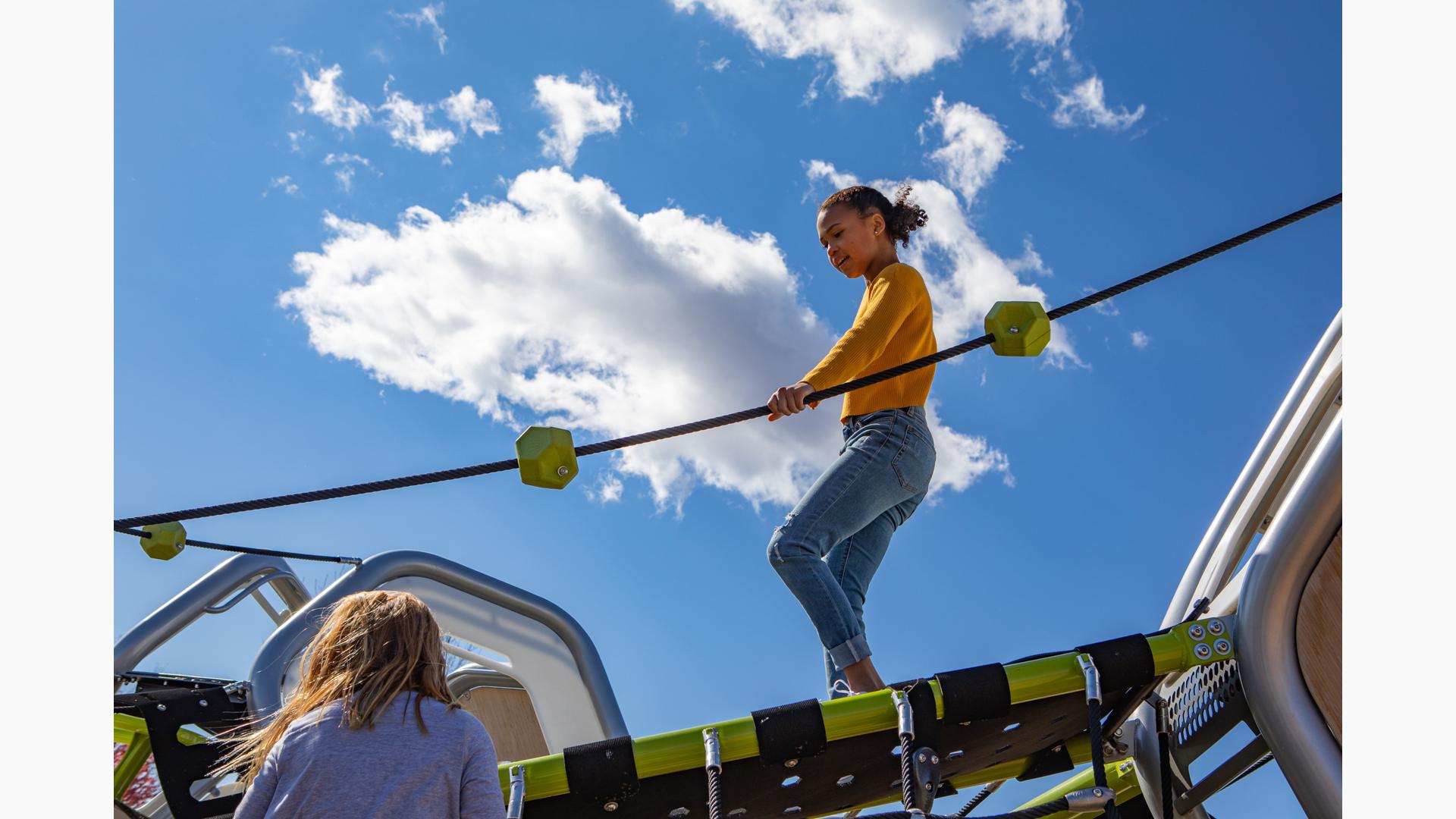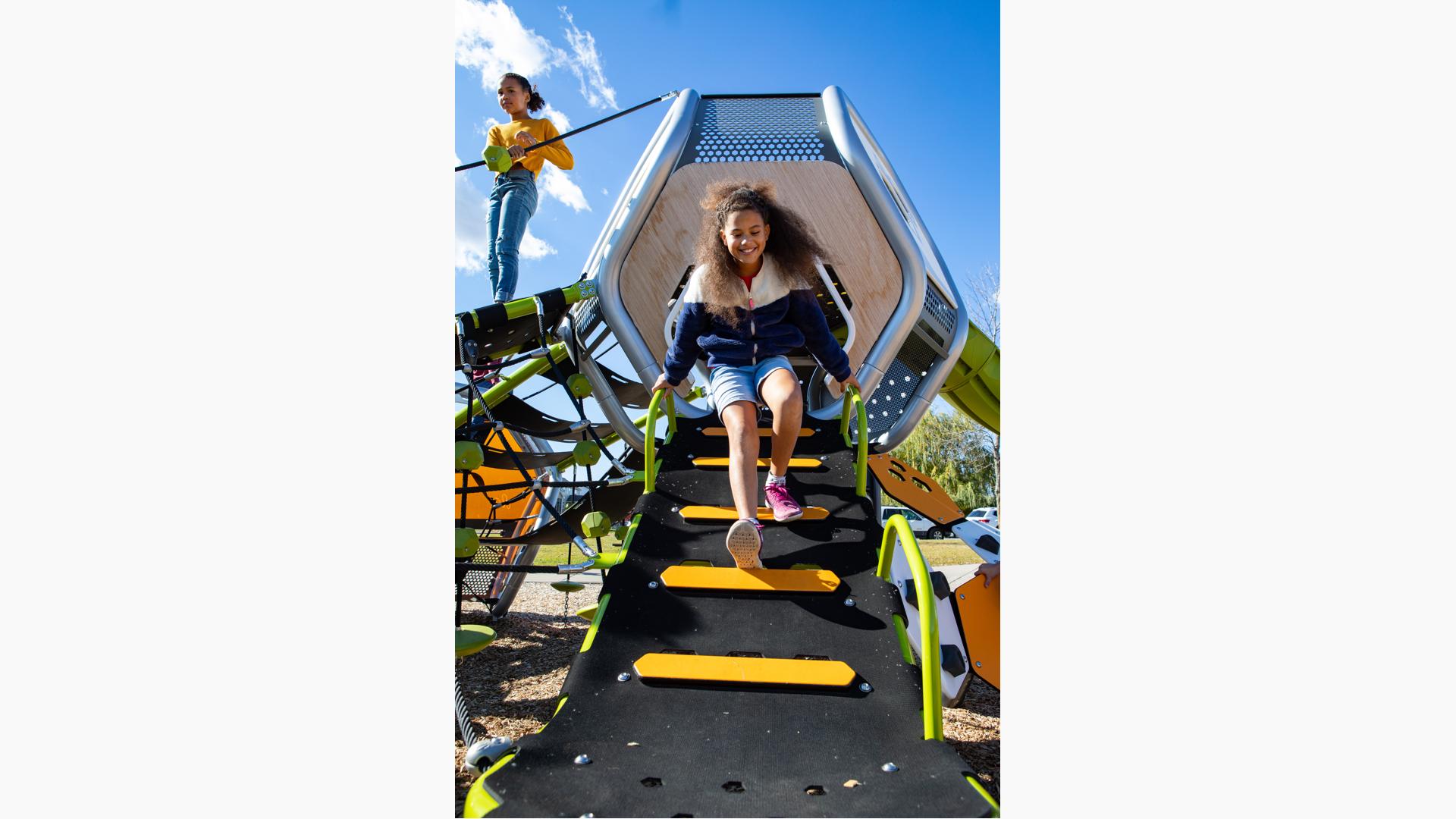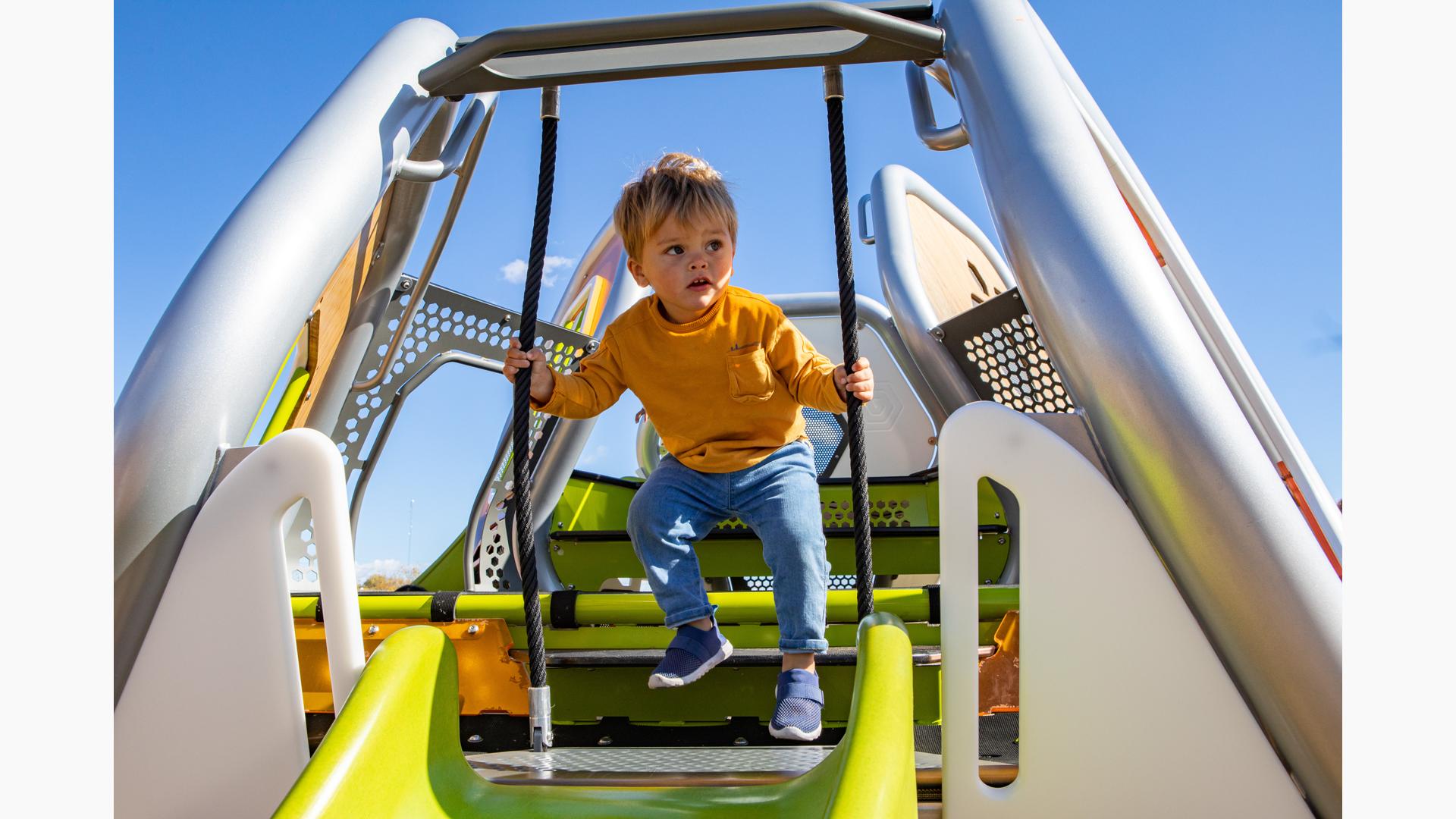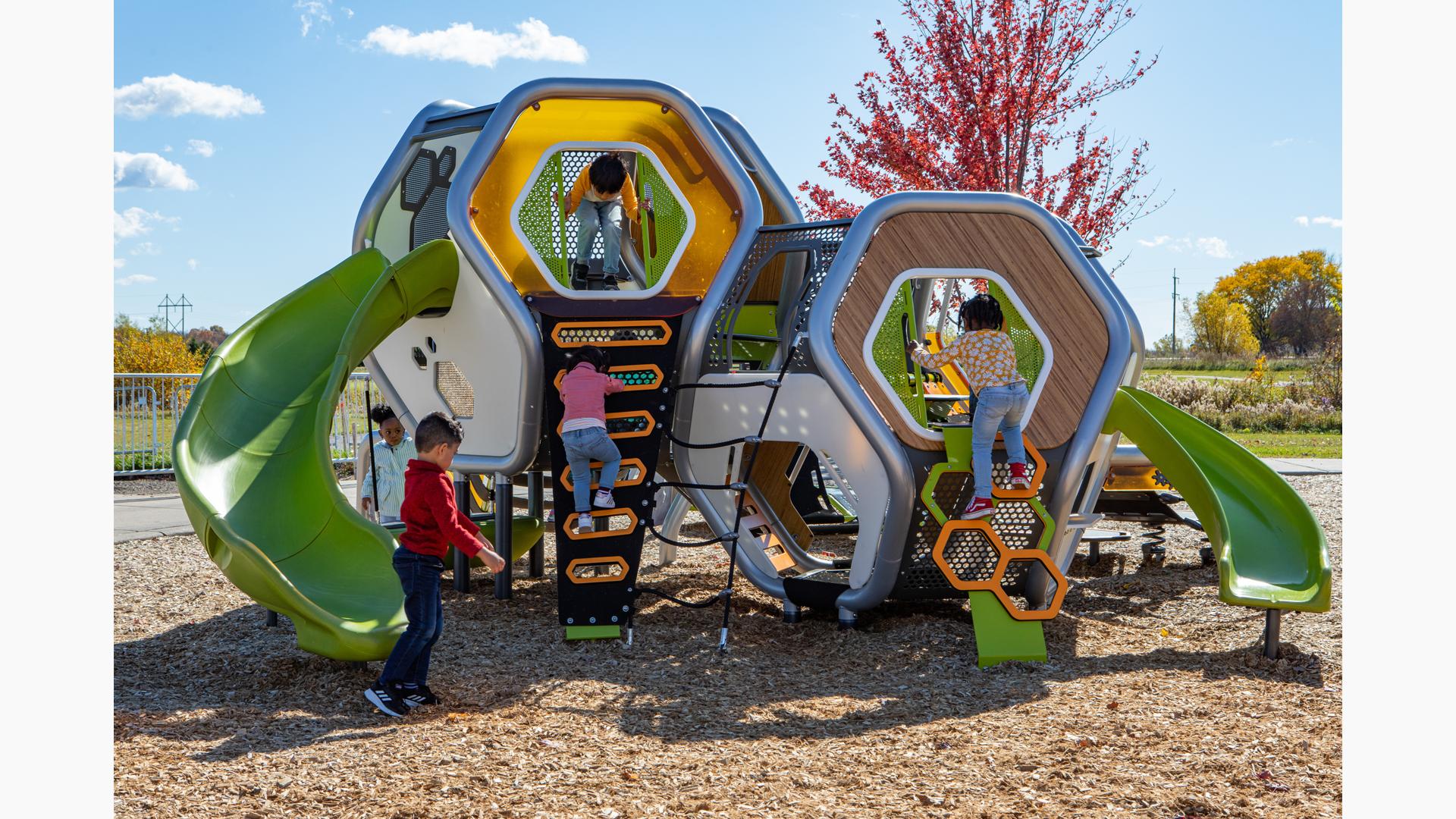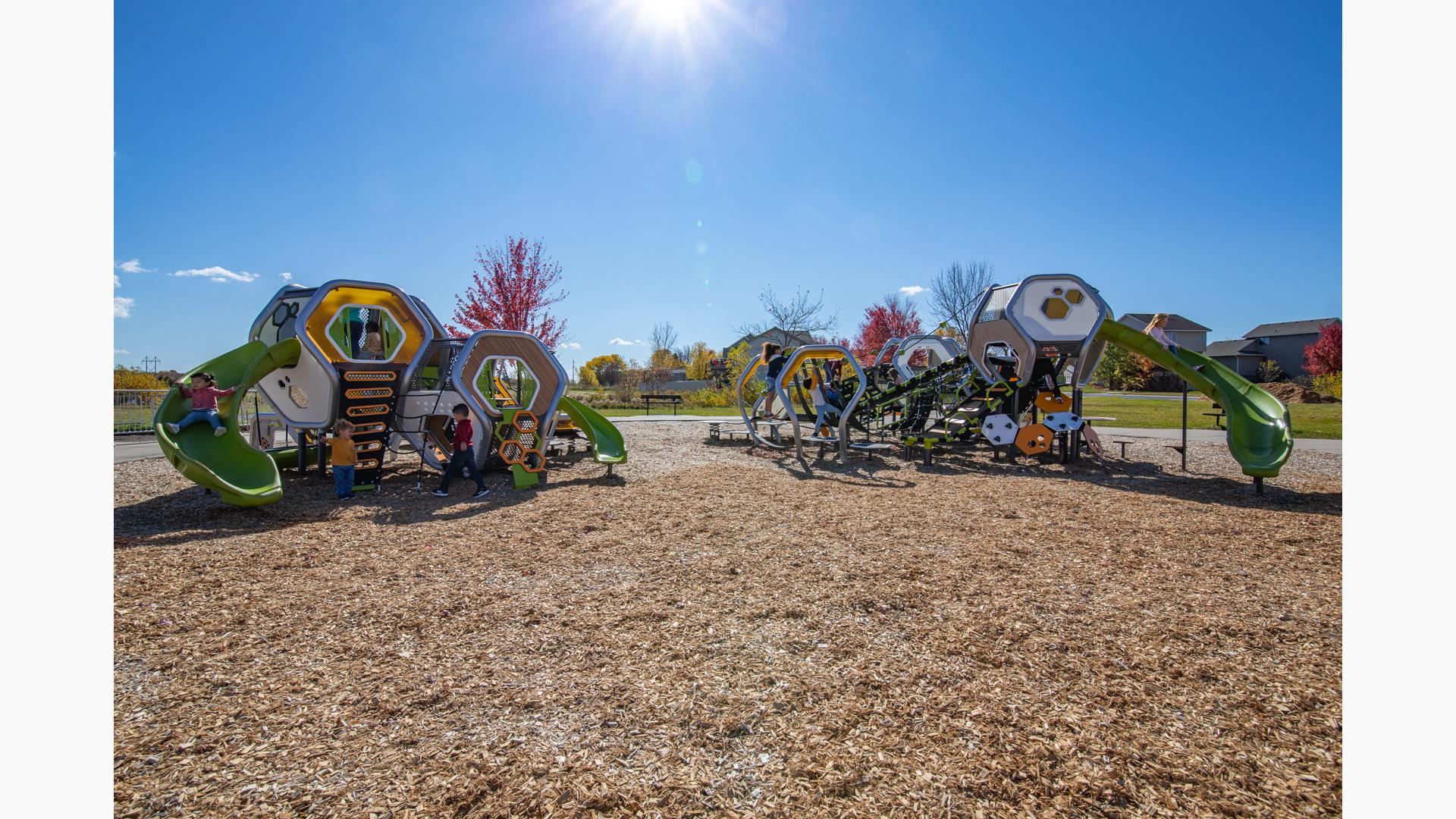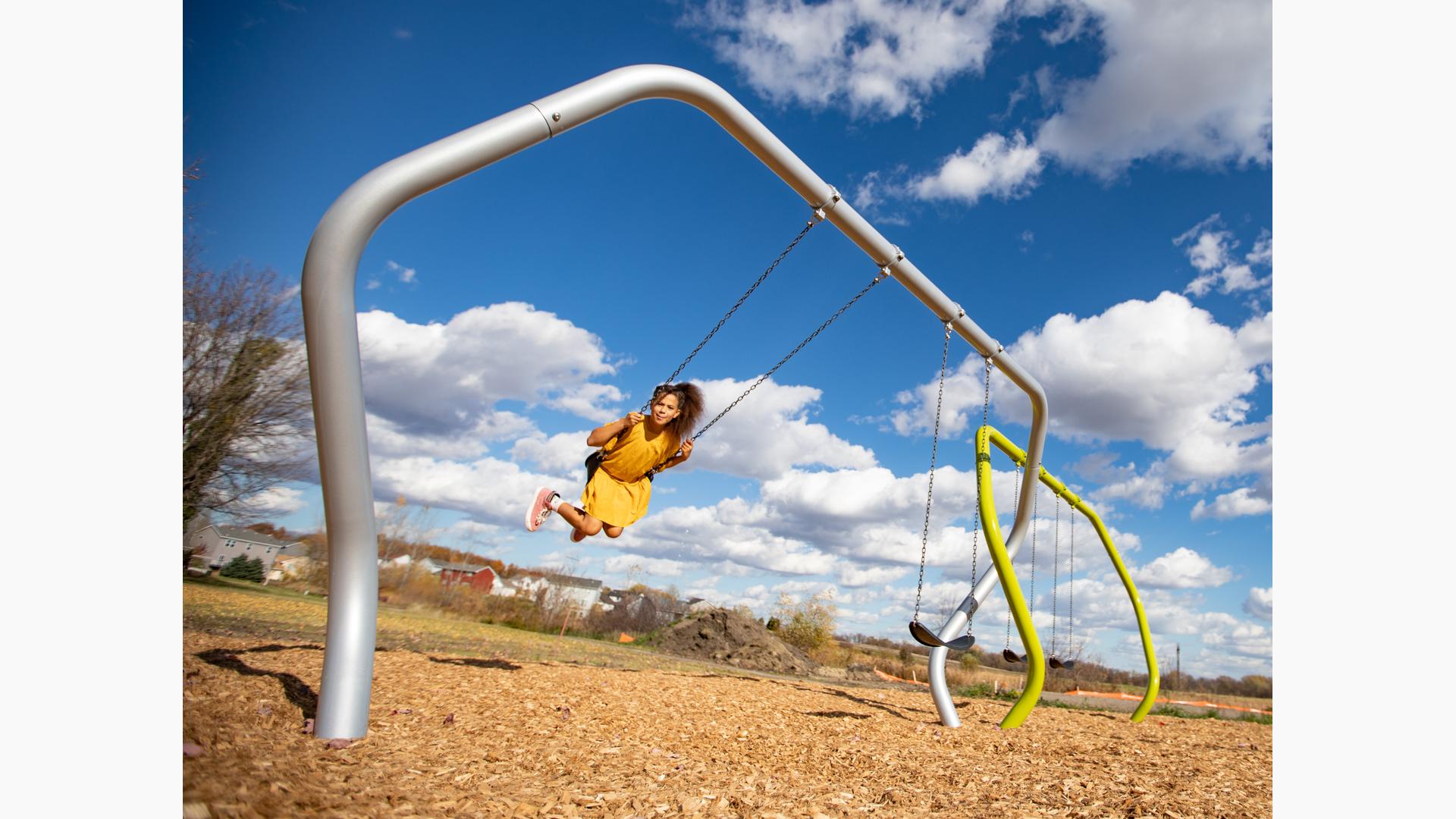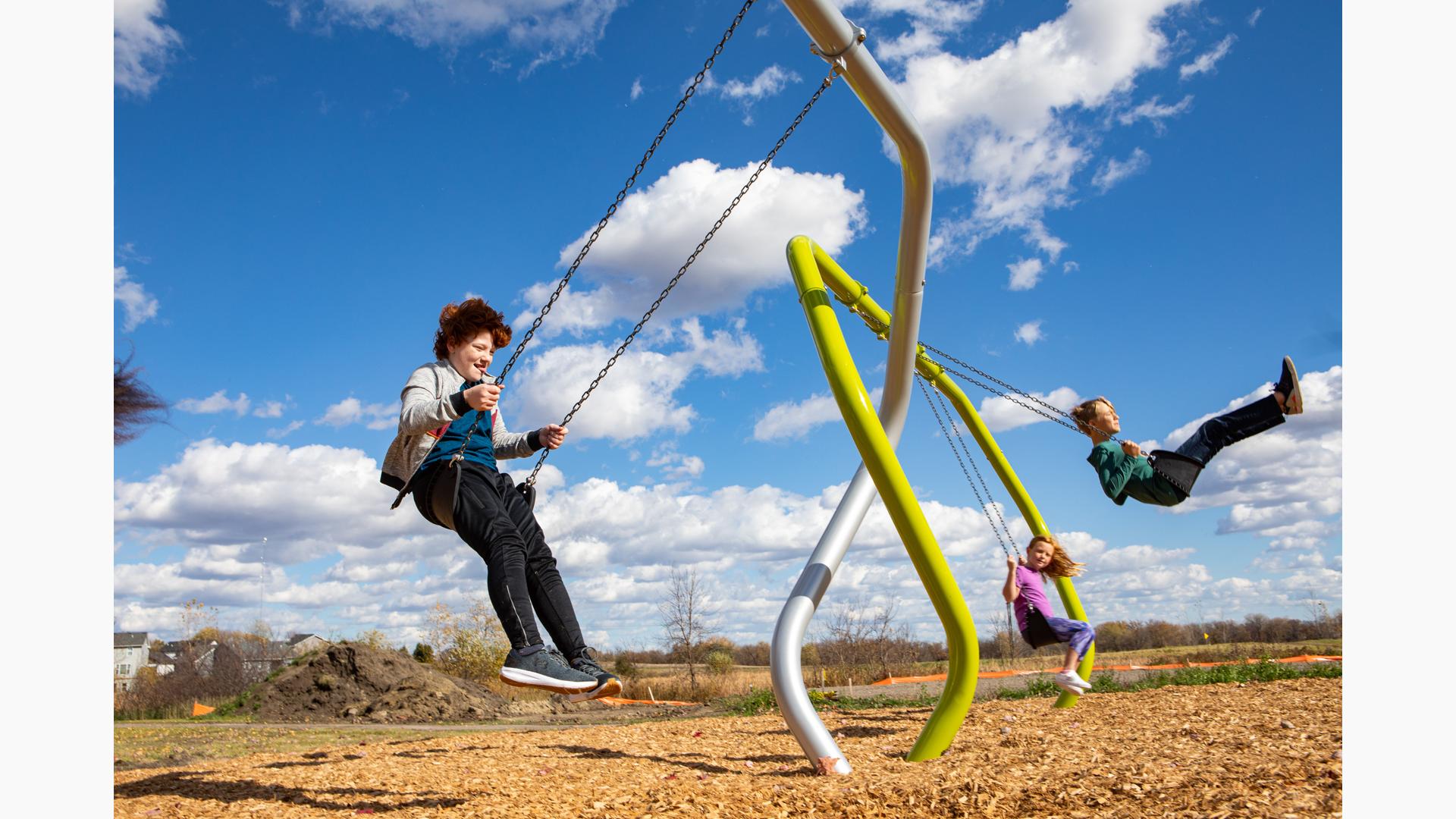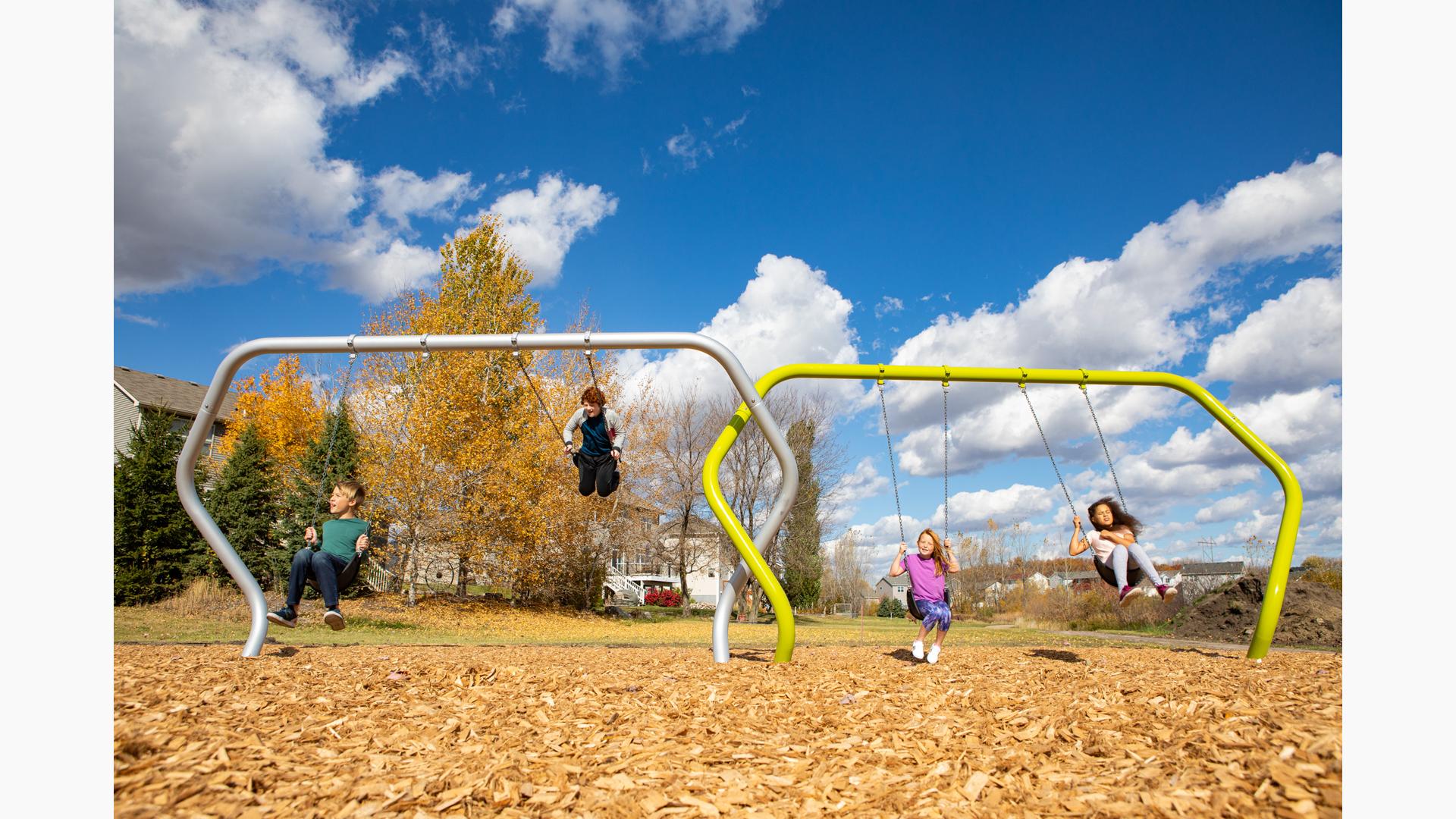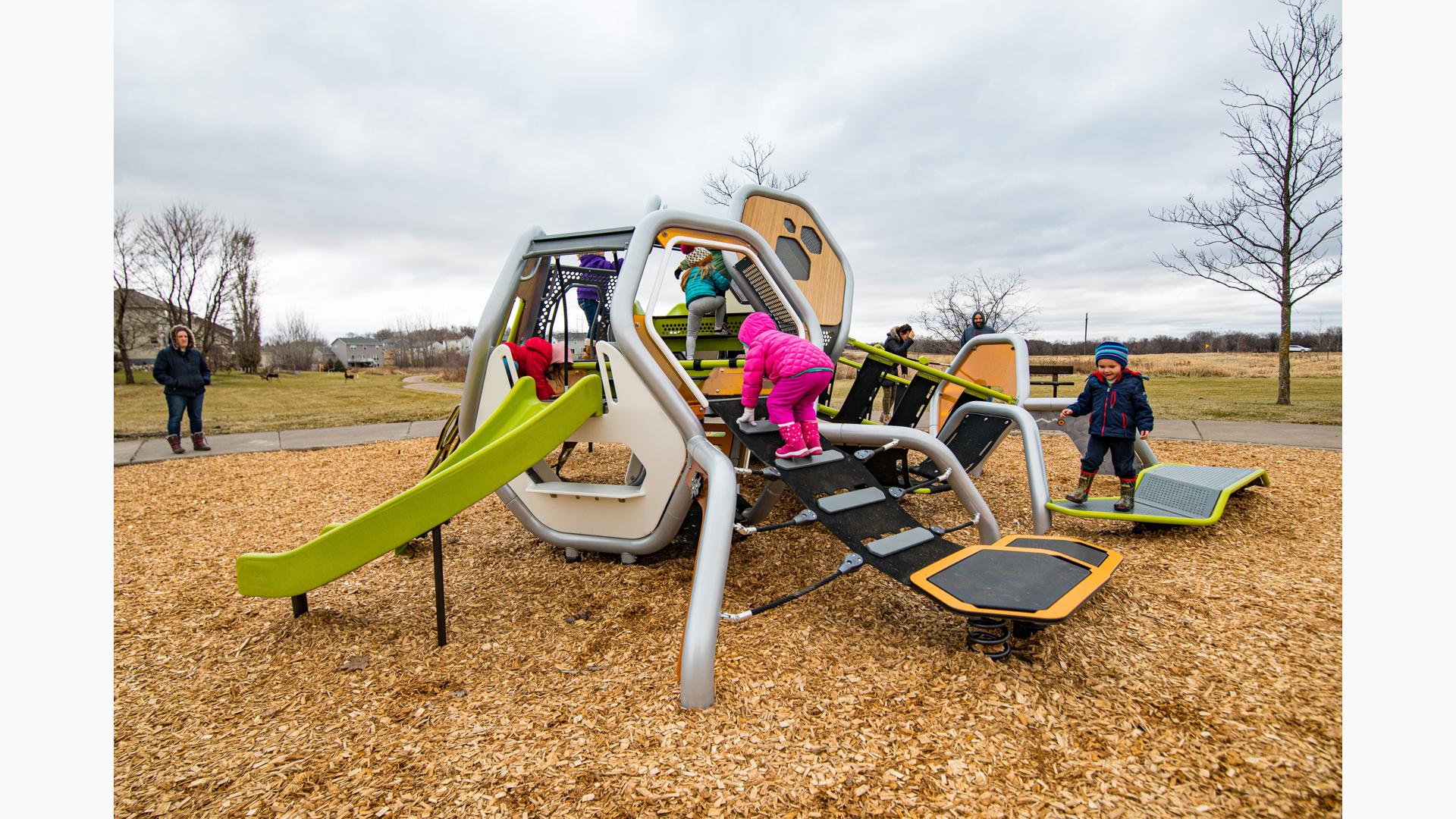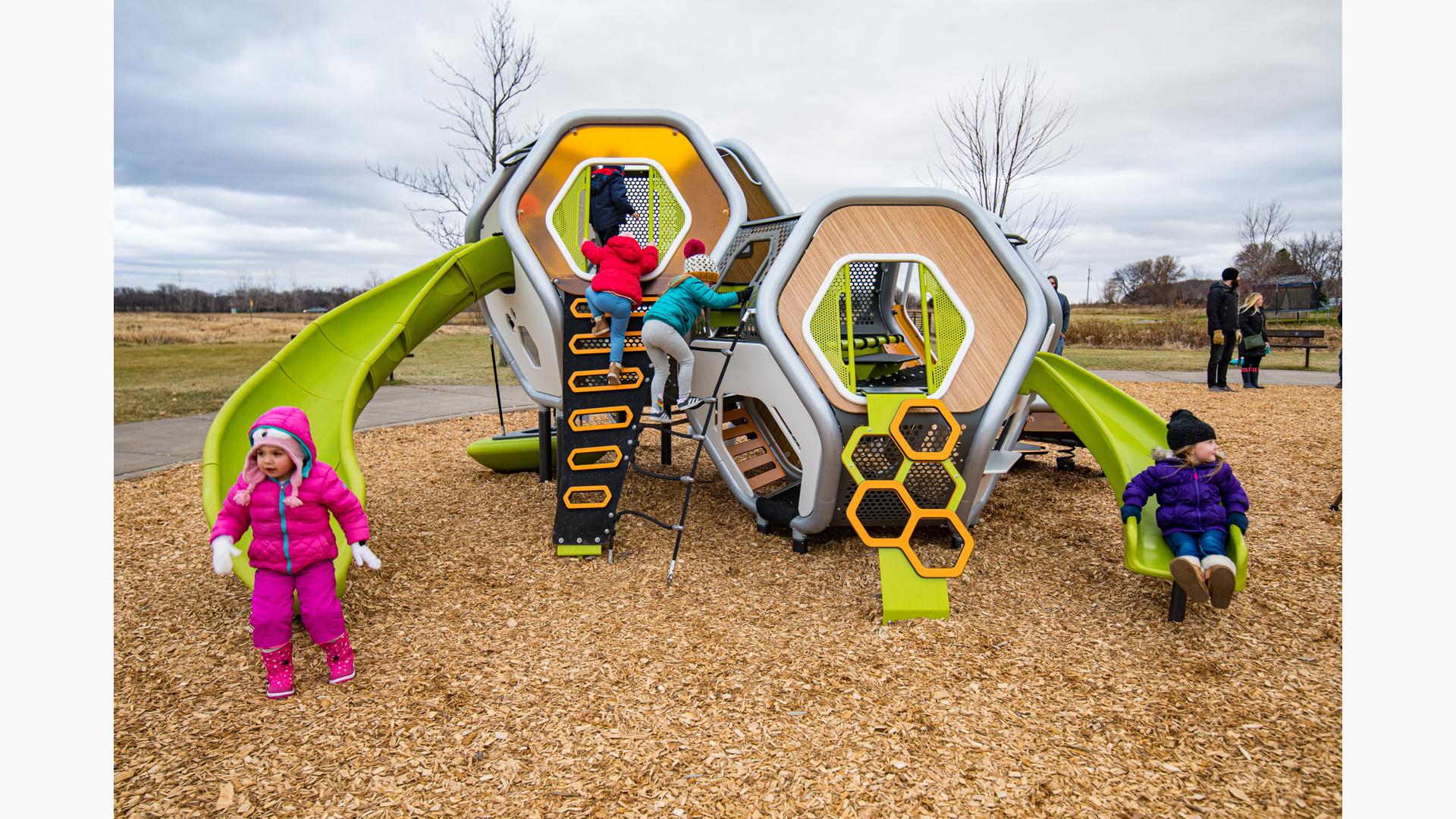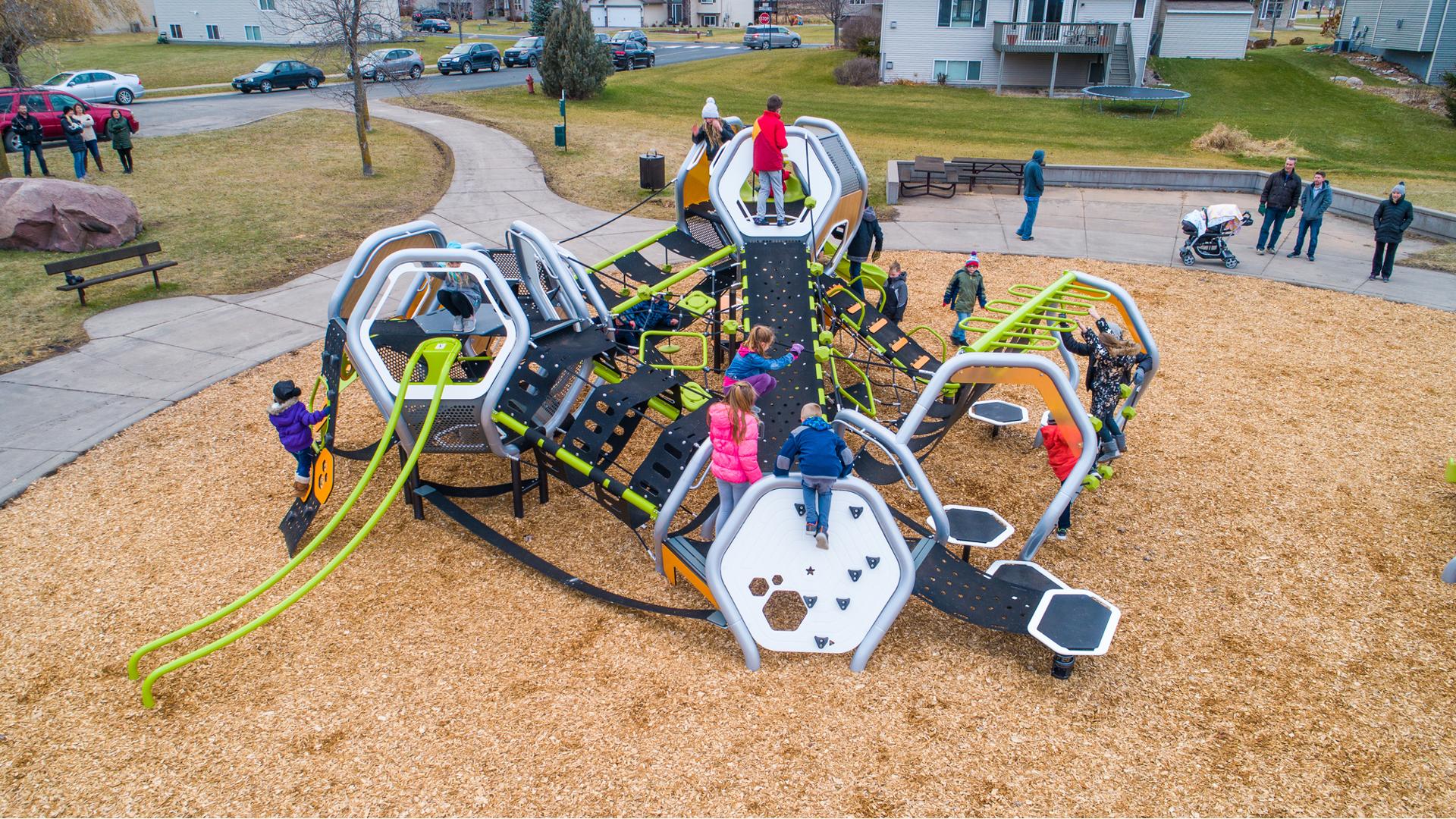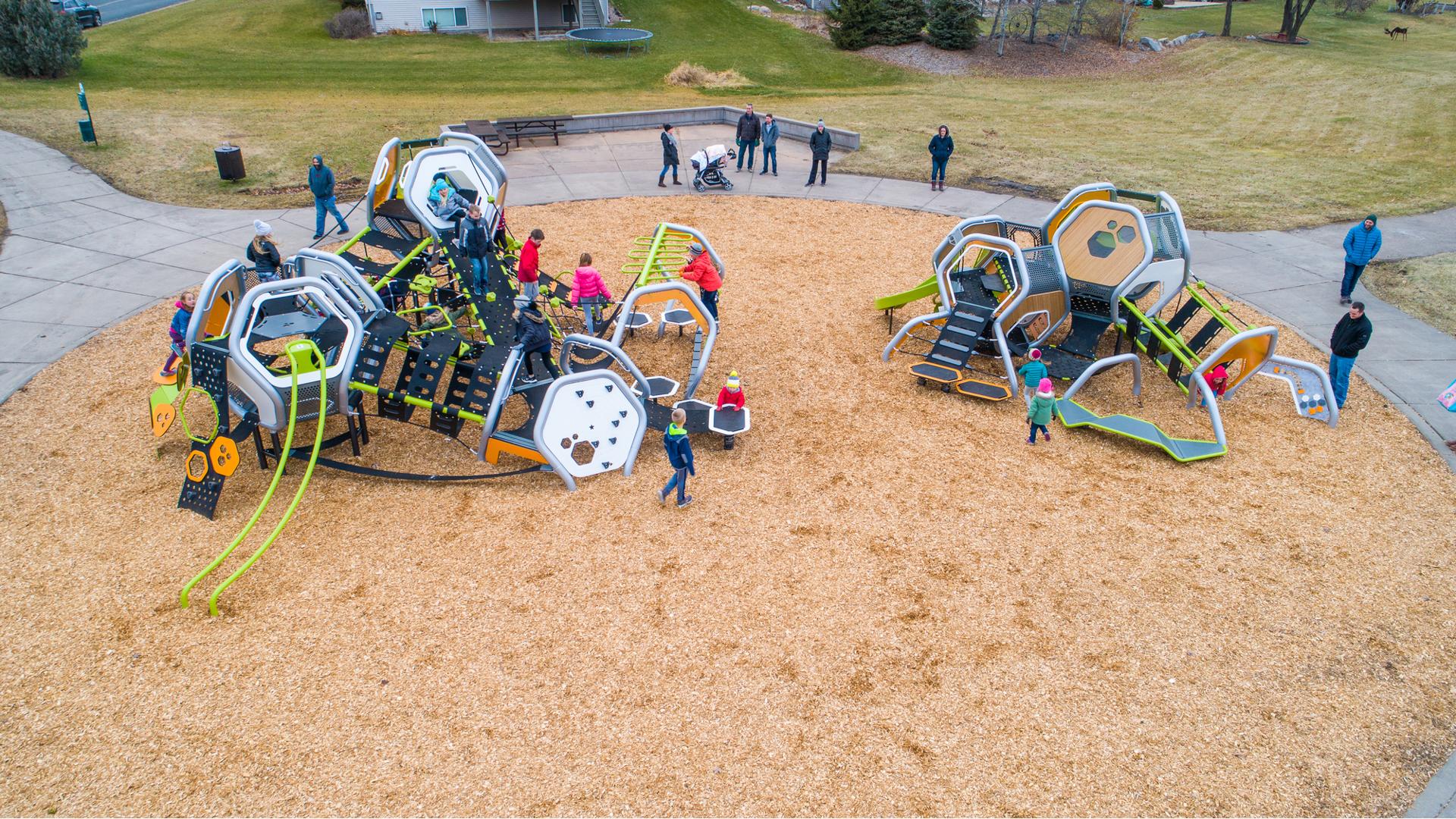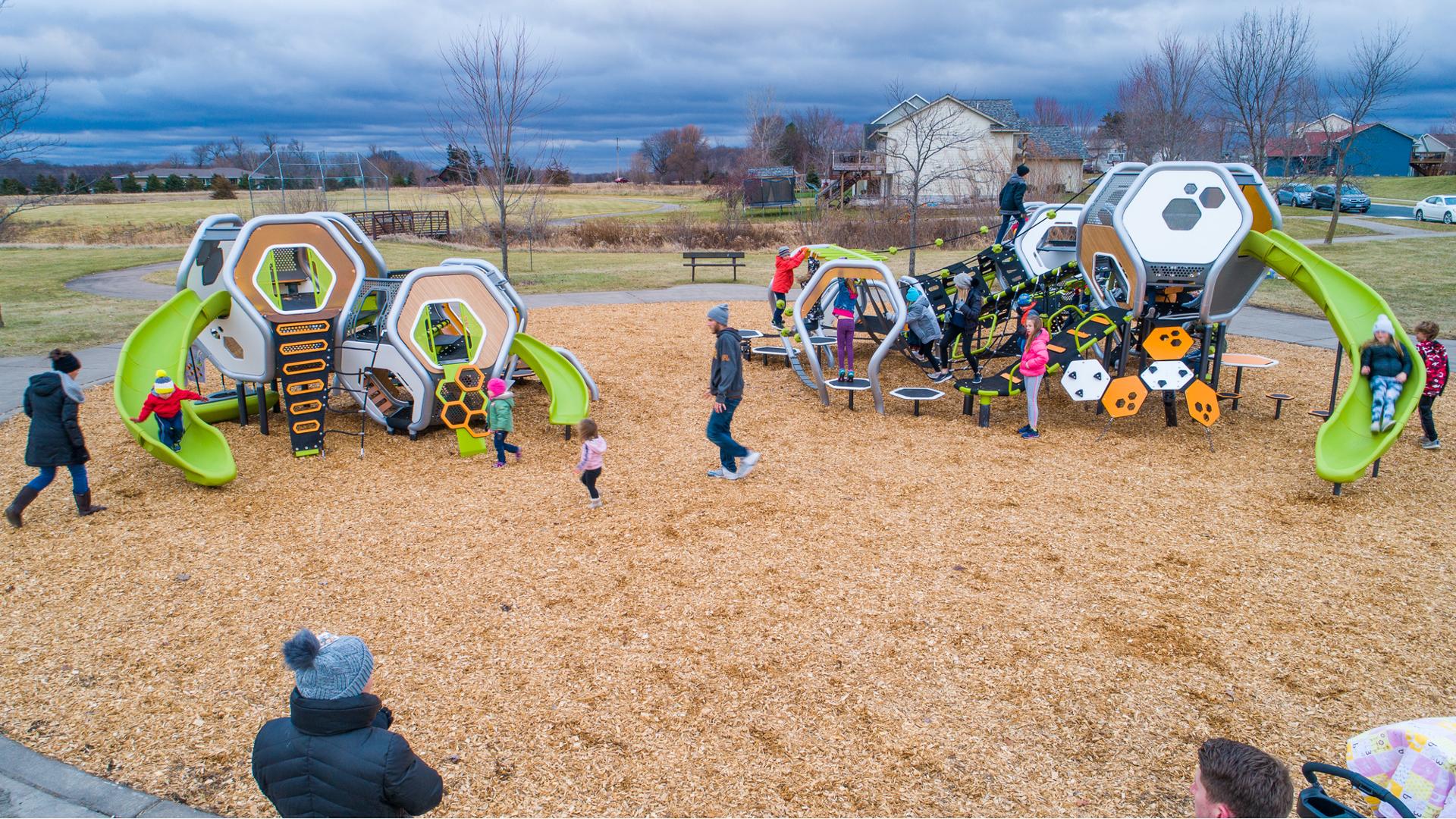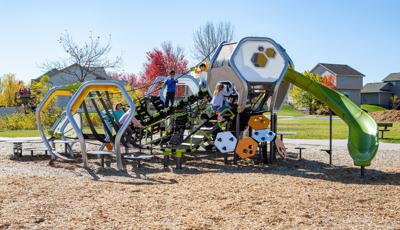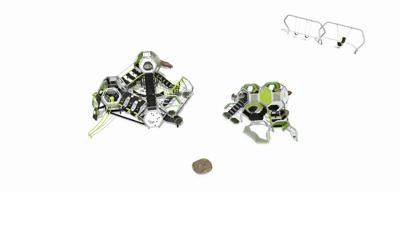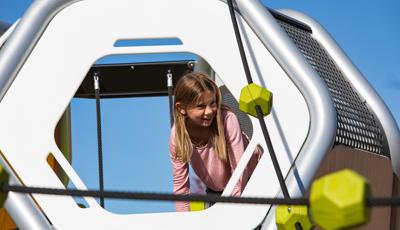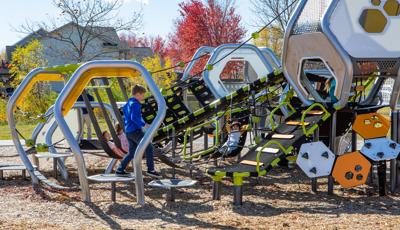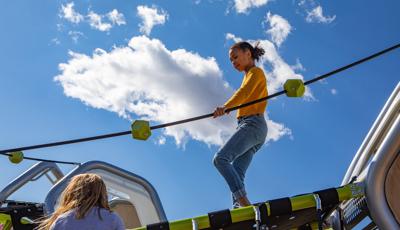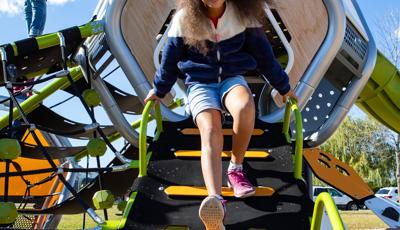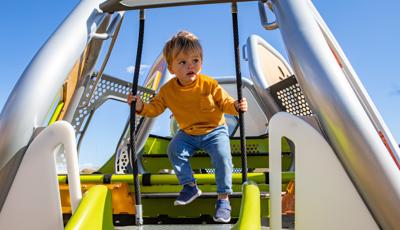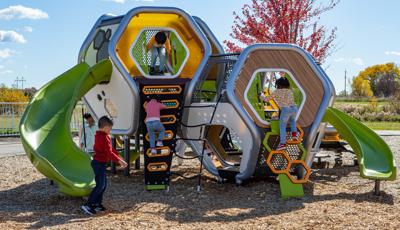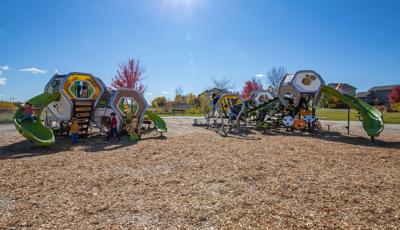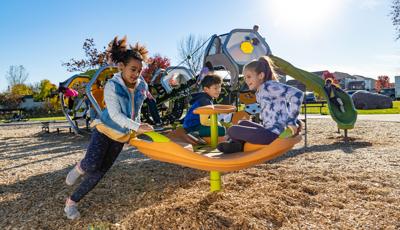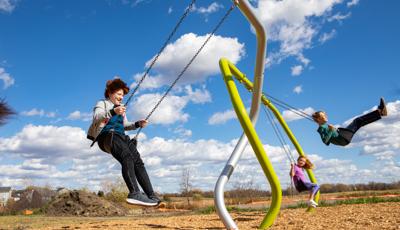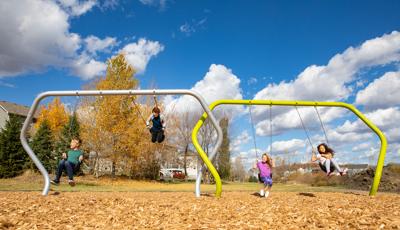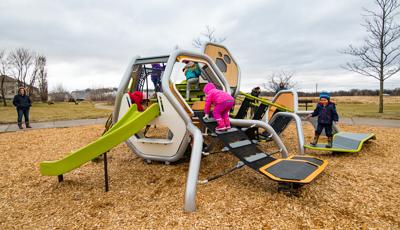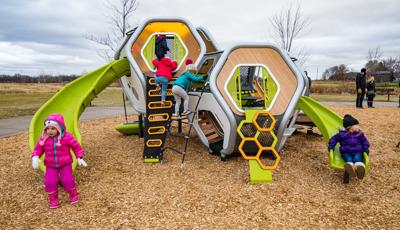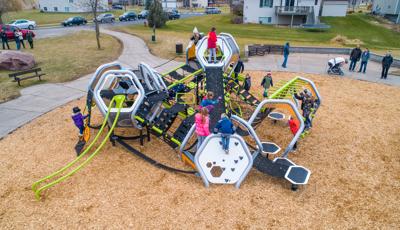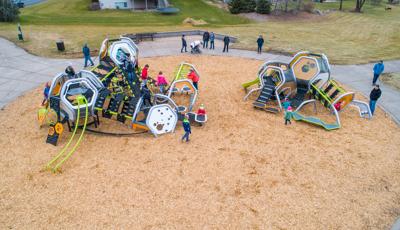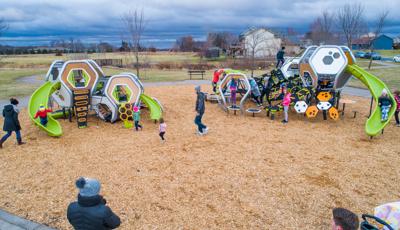 MN - Parkview Hills Park
Video features the playground at Parkview Hills Park in Delano Minnesota.
[video: scene fades into a full view of a unique playground structure with hexagonal shaped pods and orange fogged plastic panels. Children climb and play on the structures different rope and other geometric shaped climbers. A father stops and takes a picture of his children playing on the structure. Scene switches to a focused view of a girl as she transfers from a climber to the playground decking. A boy runs up a belted ramp to the highest pod of the play structure. Scene switches to a young girl as she wiggles the center rope of three with geometric knobs and discs on the bottom for climbing. Another girl in the background scooches on her rear down a belted ramp. A boy sits on his hip in one of the hexagonal pods as he waves to the camera through a metal hexagon perforated panel.]
[video: a boy climbs up a climber with hexagonal panels and smaller hexagon shape cut outs for foot and hand holds as it shifts and sways on its spring base. Scene switches to a boy and girl as they bounce up and down on a narrow strip of belting while holding onto parallel ropes to stabilize themselves. Camera switches to an elevated view down to children playing on the connecting belt climbers in the center of the play structure. A girl ducks through an opening of a hexagonal pod to climb up onto a belted platform. Scene switches to view of one of the orange fogged panels with the Landscape Structures squiggled ribbon logo engraved on it. A boy's body figure can be seen through the panel, the camera pans down to the boy's hand as he moves and slides a circular plastic donut back and forth on a metal rod. Scene switches to a view up to the highest hexagonal pod where a girl climbs up into it while another girl sits at the top of a slide and the far left of the pod. Scene switches to a ground view of children climbing and running around the play structure at the park playground.]
[video: with a full elevated view of the large hexagonal inspired play structure and a smaller version of the same structure in the background the camera pans from right to left. Children play all over both structures and parents stand and watch from a surrounding sidewalk. A child shouts to their friends.]
Child: Whoever gets up there wins!
[video: with a full elevated view of the smaller hexagonal inspired play structure two children slide down the two separate curved slides of the structure.]
Girl: Wee! [laughter]
[video: the camera pans up with two girls as they climb up a roped ladder and another belted climber. The climb up into the highest pod and slide down a green curved slide. The camera focuses and follows a girl as she slides down the slide. A girl sitting at the top of the green slide smiles as she holds onto its rounded sides. She screeches as she slides down past the camera. Scene switches to a father as he lifts his young toddler onto a triangular platform. The young girl giggles as she climbs up onto a second belted platform area and stands herself up. Camera switches as it pans from a fogged orange plastic panel down to view a girl as she climbs out of a hexagonal pod. The camera focuses close on the girl's jacket as she jumps down from the platform. She giggles. Scene switches to a top down view of a boy as he climbs up into one of the hexagonal pods. A girl with a knitted winter hat also climbs up into on of the pods. A girl kneels on the ground next to a panel with three different sized metal domes. She flips a triangular shaped piece of this plastic attached to the panel hitting the metal dome created a bell like ring. She yells.]
Girl: Fire! Fire!
[video: scene switches to the girl as she walks across a small geometrically shaped bridge. The camera pulls back for a full view of the bridge like climber as she jumps down next to another girl standing nearby. The screen fades to white as a black vertical line appears in the center of the screen, the Flagship Recreation logo slides out from the right of the black line. Then the Landscape Structures logo slides out from the left of the line. Text below both logos read "For a better tomorrow we play today". Adult laughter can be heard in the background.]
Child: Daddy I already climbed that.
[video: screen fades to black and video ends.]
Age Ranges
2 to 5 years
5 to 12 years
Product Lines/ Categories
Min Area Required
117' x 89' (35,66 m x 27,13 m)

5-12 Area: 54' x 40' (16,46 m x 12,19 m)
2-5 Area: 37' x 34' (11,28 m x 10,36 m)
Design/CAD Files for this Playground
Design Standards
Price Range (USD)
$180K-$200K
Pricing reflects only the equipment shown in the 3D render above in USD. Freight, brokerage, exchange rates, etc. not included. For international and exact pricing, please contact your local playground consultant.
Contact Your Consultant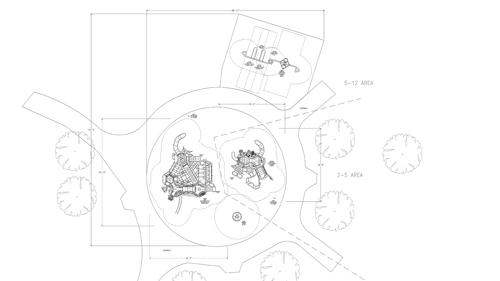 Visitors to Parkview Hills Park will find endless formations of fun in the form of Hedra® for ages 5 to 12 and Hedra® Scout for ages 2 to 5. These geometric pods link together to create an interconnected matrix of three-dimensional play. Multiple entry points on both playstructures encourage exploration, while various climbers, slides, tunnels and more create a hive of evolving play. Even more, kids of all abilities will experience the warmth and texture of natural bamboo, polycarbonate panels that offer colorful light play and pathways that morph into hangout spots where friends can relax. In addition, the Hedra® Swing Frame extends the unique geometric appearance of the Hedra playstructures to swinging fun! And the ReviWheel™ Spinner brings lots of laughs and spinning fun for playground visitors!
Installed: October 2019
Our color palettes offer a range of options to customize your projects
Our state of the art materials make our playgrounds stand out.
We've created a global network of local playground experts to be at your side, every step of the way. With an average of 20 years of experience, our playground consultants are knowledgeable and personable. They will guide you through product pricing and specifications, customization, financing options, community builds, on-time deliveries, maintenance, finding replacement parts, and service questions.
Playground consultant for this project
Find a Playground Consultant Near You
Contact Your Consultant
Related Playgrounds & Designs