Playground Overview
Liberty Arts Academy has a school playground for kids ages 5 to 12 that's sure to encourage fun and fitness. The PlayBooster® playstructure delivers balance and climbing challenges plus fun playground nets. DigiFuse® playground panels teach students about the solar system and musical instruments. And to round out the playground design, the Curva® and Chill® spinners deliver the spinning thrill many kids crave.
---
---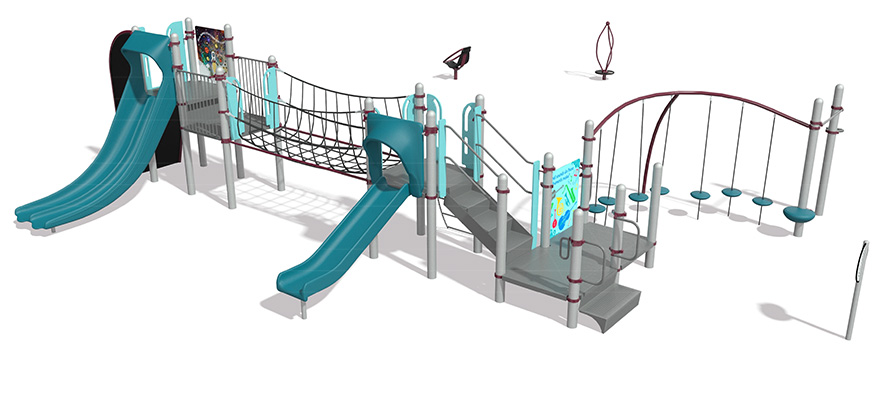 Playground Details
Age Ranges

Design Standards

ASTM

Installed

June 2019

Design/CAD Files

Min Area Required

48' x 40' (14,63 m x 12,19 m)

Max Fall Height

90" (2,29 m)
Project Price Range

$40K-$59K

Pricing reflects only the equipment shown in the 3D render above. For international and exact pricing, please contact your local playground consultant.
---
Playground products shown in video may not be appropriate for every age group. Playsystems shown in video are for demonstration purposes only. Product configurations may vary.
Video features a Landscape Structures playground build by a KABOOM! community build at Liberty Arts Academy in Mesa Arizona.
[video: scene fades into a crowd of children as they scream and rush towards the newly build playground. The children scatter all around the playground to all the different fun activities. The camera moves around the playground as children climb across rope bridges and other playground climbing structures. The camera focuses on the connecting rope Space Walk climber. The camera focuses on the top rope of the climber as a girl stabilizes herself while walking across. Scene switches to a girl as she smiles while riding down a slide.]
[video: scene switches to a bird's eye view of the entire new play area build at the academy as children play. Scene switches again as it focuses on the feet of a child as they climb up the foot and hand holds of a Corner Climber™. A young boy climbs into frame and smiles with joy. Camera switches to a full ground view of the playground structure filled with children. The camera focuses on a space themed DigiFuse® panel. The panel is illustrated with a rocket ship blasting into a galaxy full of planets, it reads "How many stars can you count?"]
[video: a girl spins her friend in a Chill® Spinner seat. Scene switches to a different girl as her friends spin her in the Chill® Spinner. Scene switches to a group of children spinning gently together on a stand up Curva® Spinner. They hoot and holler as they rotate around. Camera switches to a view across the play area to a music themed DigiFuse® panel filled with different kinds of instruments. A girl reads the panel.]
Girl: What sounds do these instruments make?
[video: the camera peers over a group of children's shoulders as they point and name the different instruments illustrated on the panel.]
Girl: Guitar, this is a guitar. French horn, ukulele, saxophone.
[video: the scene switches to a view across the rope Space Walk climber as two girls walk across. Three friends work together to spin a girl in the Chill® Spinner seat. The camera focuses on the play are welcome sign illustrated with the funding partners that help make the playground build possible. Children play together in the background. Scene switches to a boy and girl playing on a Swiggle Stix® Bridge. The camera focuses on a boy as he quickly spins on the Chill® Spinner. Camera switches to being mounted on the Chill® Spinner facing a girl as she sits in the spinnable seat. Here friends spin her, she smirks at the camera. A different girl begins ridding the Chill® Spinner, she holds onto the side bars as her friend's spinner her faster.]
Girl: Ahh, no.
[video: with a top down view, four girls spin and giggle together up at the camera on a Curva® Spinner. Scene switches as the camera slowly zooms in close to a smiling girls face. Scene fades to a girl as she waves to the camera as she peaks out from behind a friend's shoulder. Scene fades to a close up of two girls as they smirk at the camera. One girl begins to laugh as the scene fades to a group of children gather on the playground smile and wave to the camera.]
[video: Screen fades to white as the Landscape Structures logo appears. A black vertical line appears next to the Landscape Structure logo as the KABOOM! slides out from behind it. A second black vertical line appears and the Exerplay logo slides out from behind it. Screen fades to black.]
Next Tab
Featured Products
We offer the widest range of park and playground equipment to promote healthy lifestyles, encourage skill-building and create unique outdoor experiences. From our playsystems and freestanding playground components to themed designs, site furnishings and more, we'll help you create a recreation space that welcomes your whole community.
Play Systems featured in this Playground
PlayBooster®
Ages 5 to 12 Years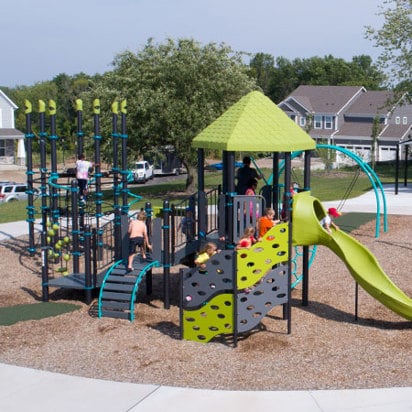 The PlayBooster® playground structure, the original post-and-clamp system, combines exciting ground-level components with climbing events and overhead activities for kids ages 5 to 12. The PlayBooster family includes the interconnected cables of Netplex®, the contemporary Vibe®, the nature-inspired Tree House and the double-decker PlayOdyssey® Tower.
Resources
View all PlayBooster® Components
Product Categories featured in this Playground
Freestanding Play
Ages 2 to 12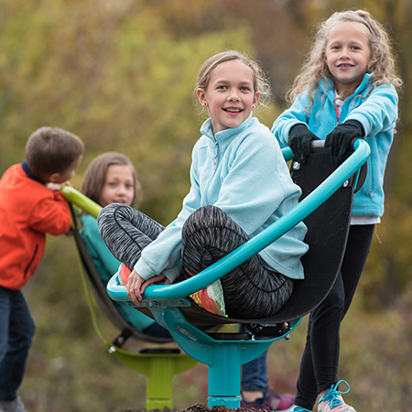 Freestanding Play events add fun and excitement to new and existing playgrounds! Revitalize your current playground or create a playground design that's completely unique using Freestanding Play components for kids ages 2 to 5 and 5 to 12.
Resources
View all Freestanding Play Events
Previous Tab
Next Tab
Playground consultant for this project
We've created a global network of local playground experts to be at your side, every step of the way. With an average of 20 years of experience, our playground consultants are knowledgeable and personable. They will guide you through product pricing and specifications, customization, financing options, community builds, on-time deliveries, maintenance, finding replacement parts, and service questions.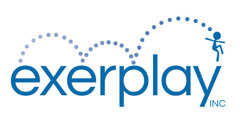 Find a Playground Consultant Near You
Previous Tab
Related Playgrounds & Designs