Epcot® International Flower and Garden Festival - 2022 - Whimsical Billows and Breeze Playstructures
Lake Buena Vista, FL USA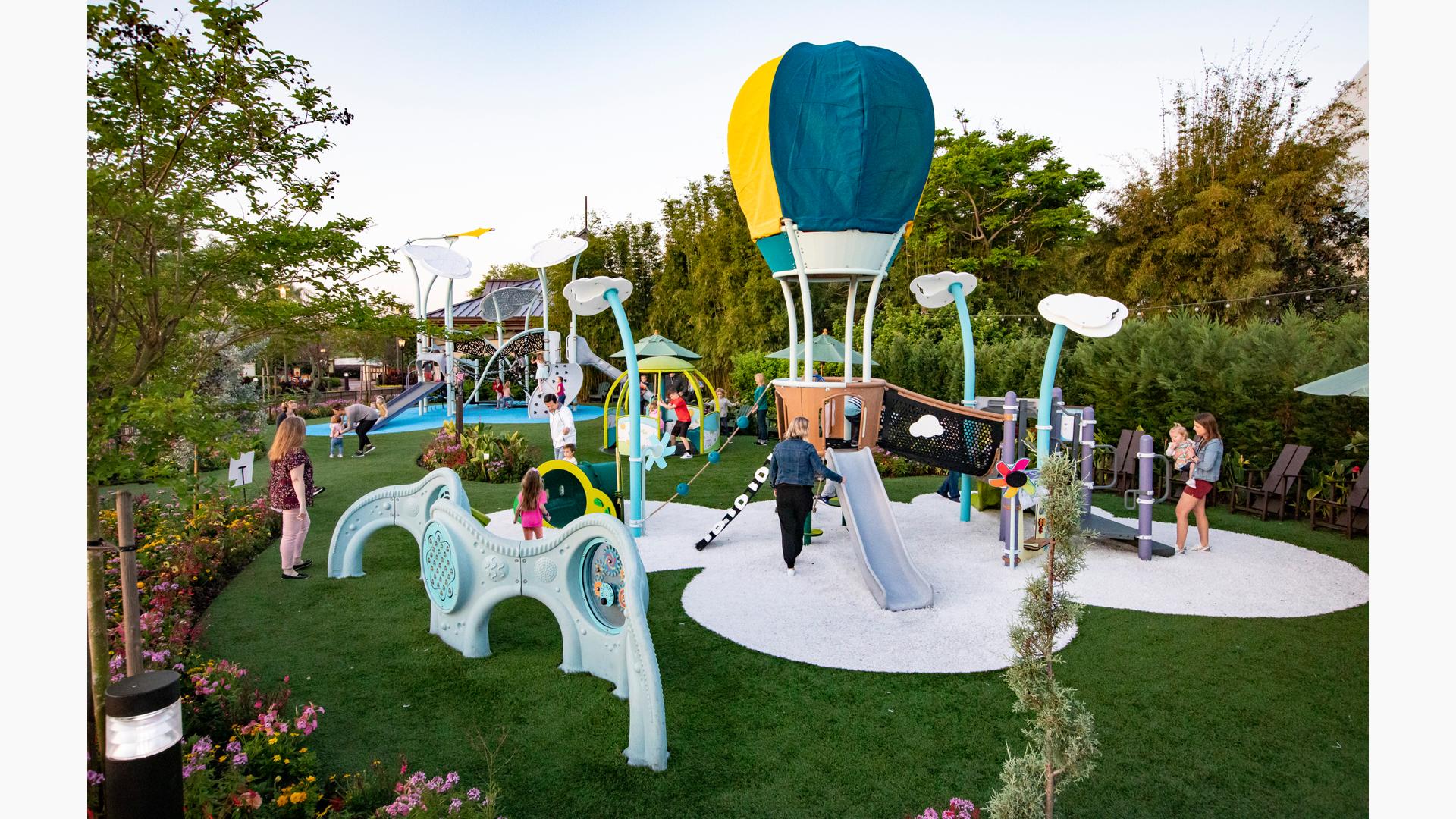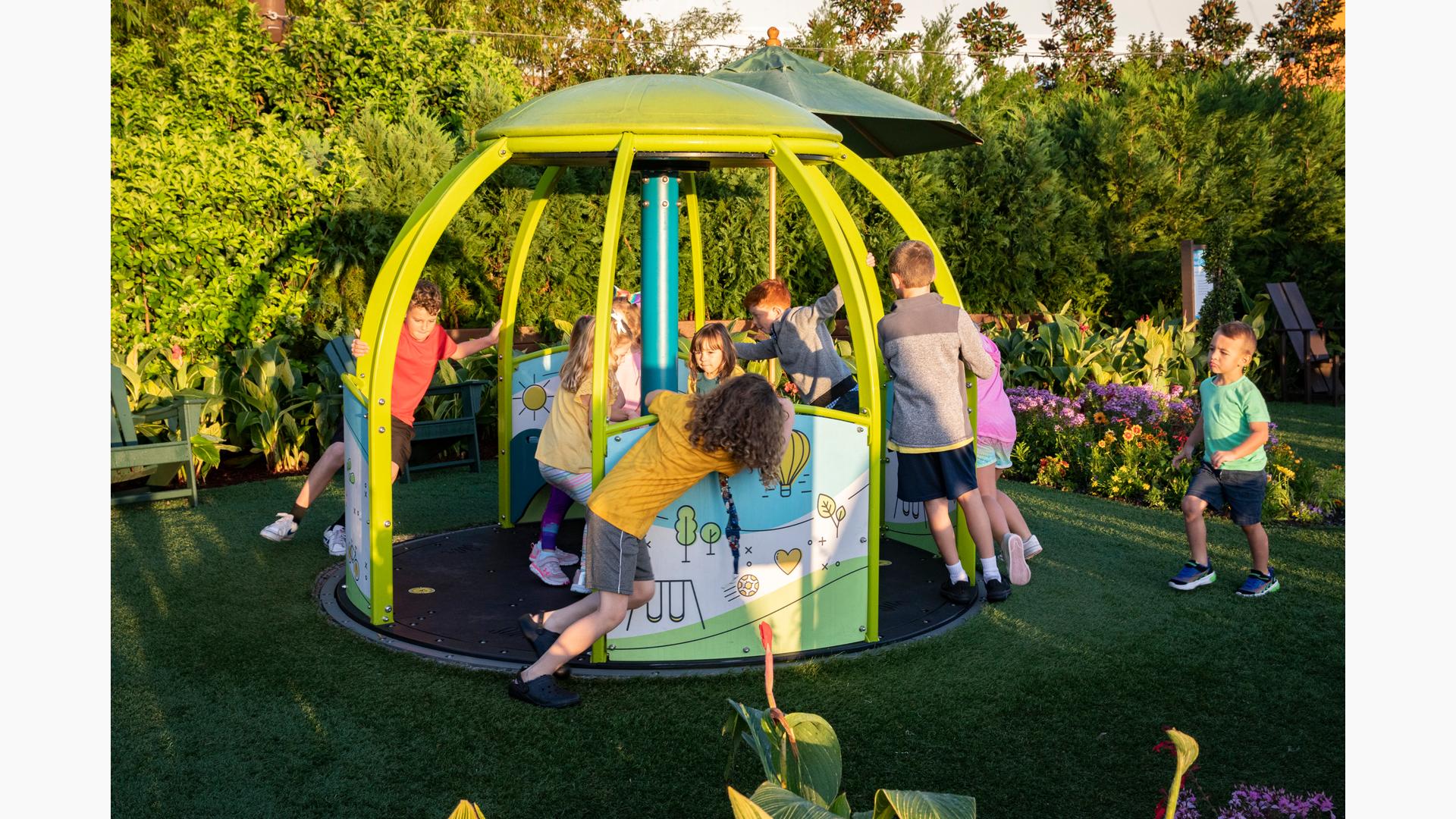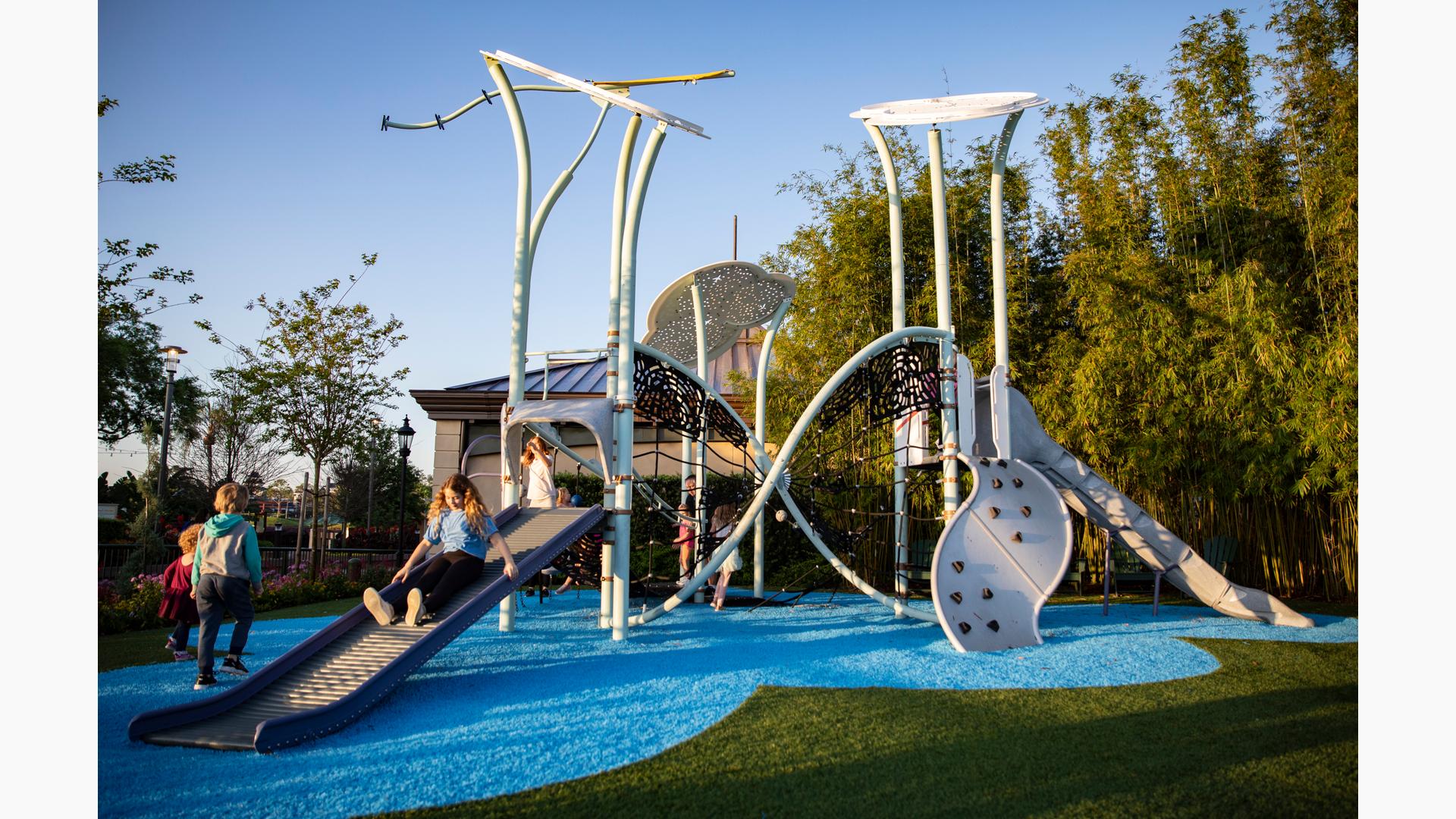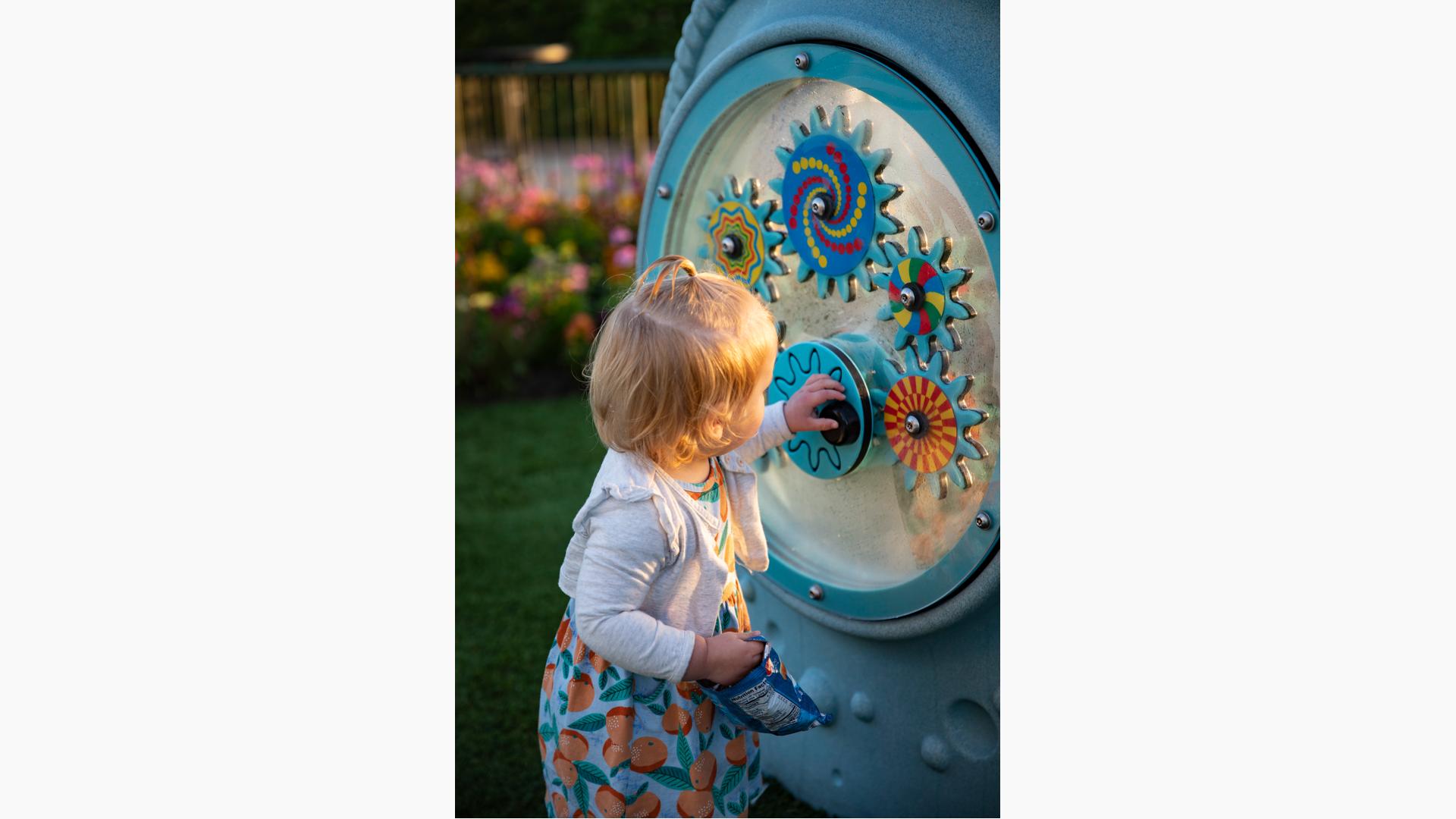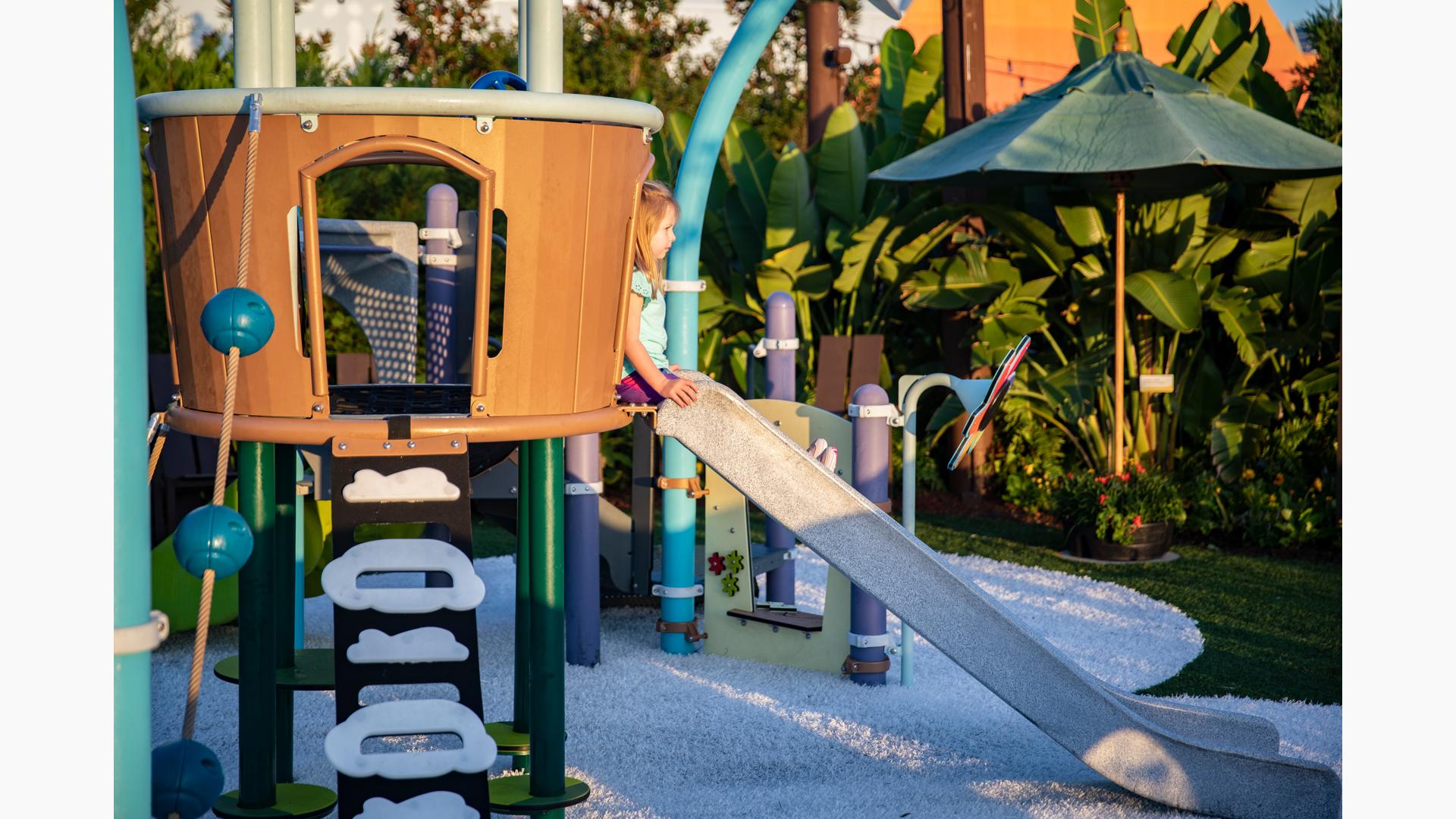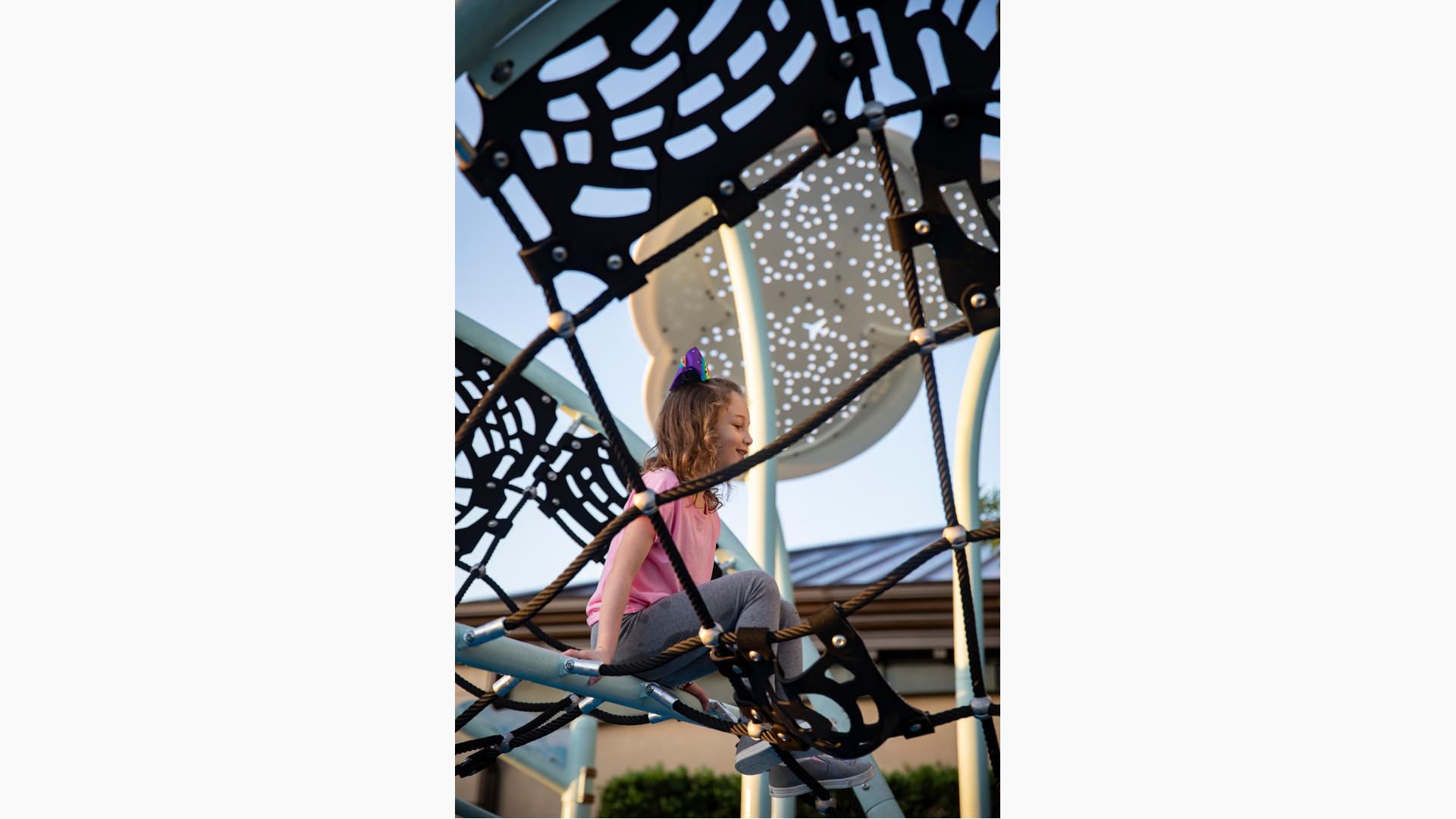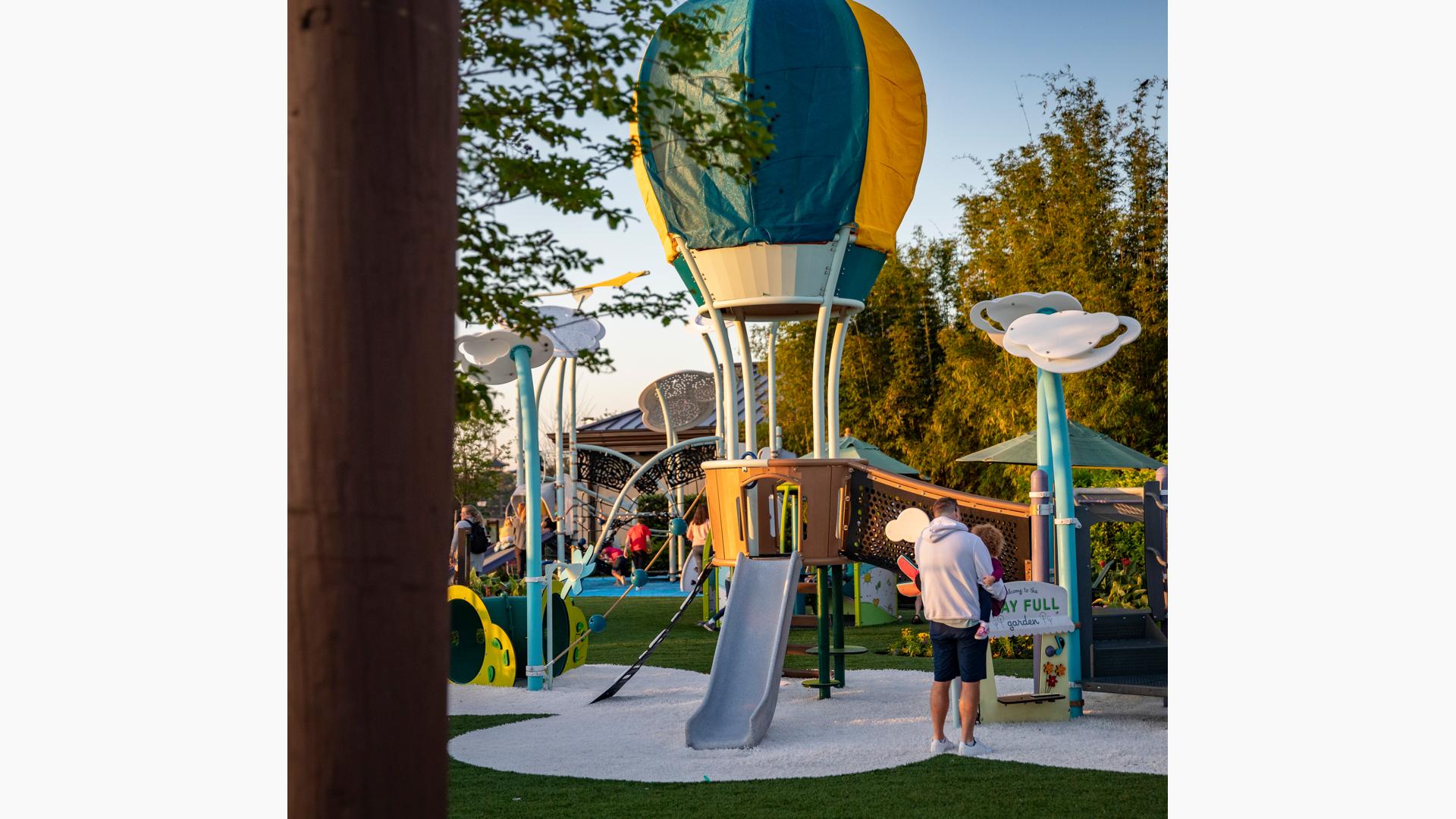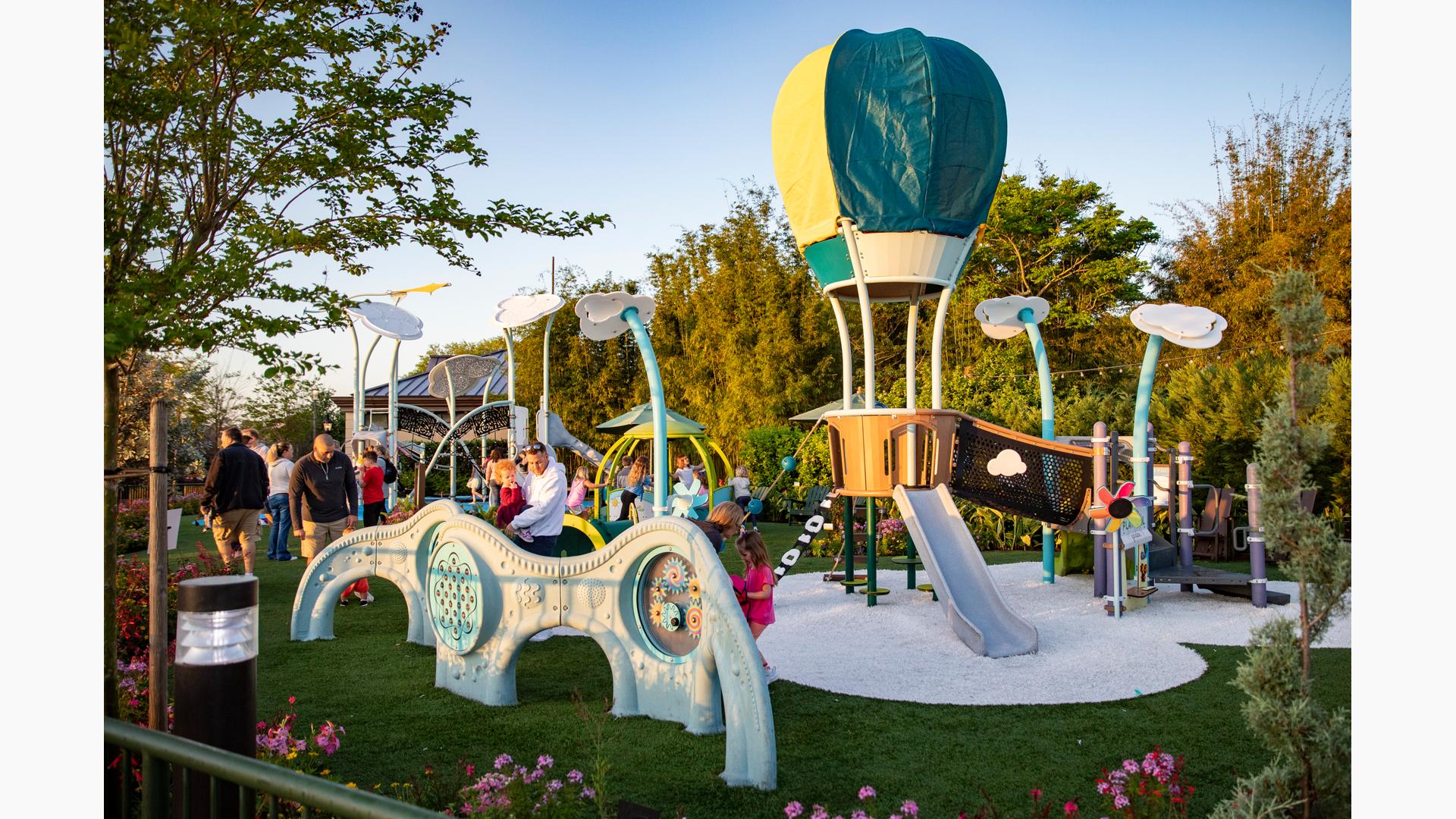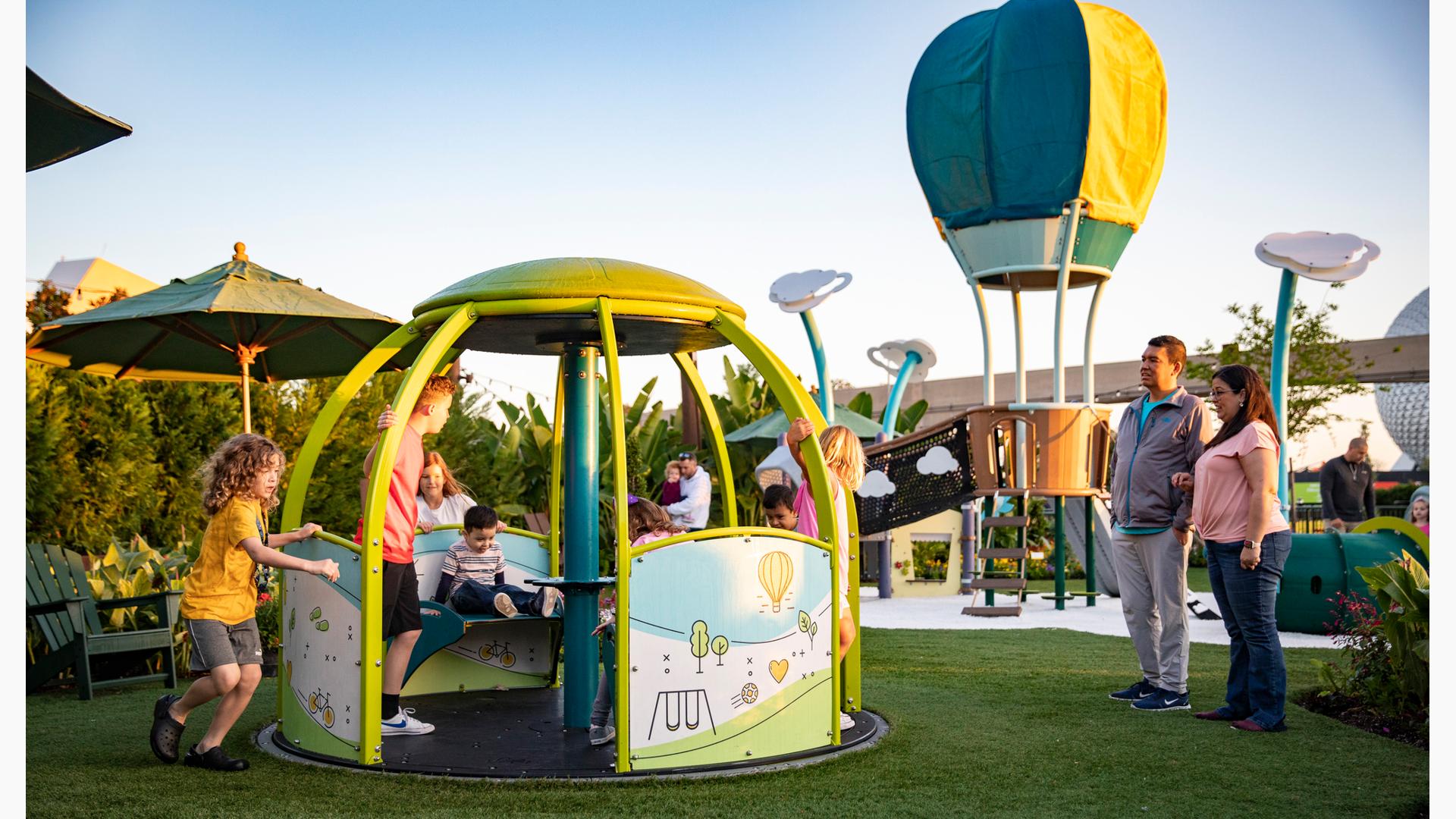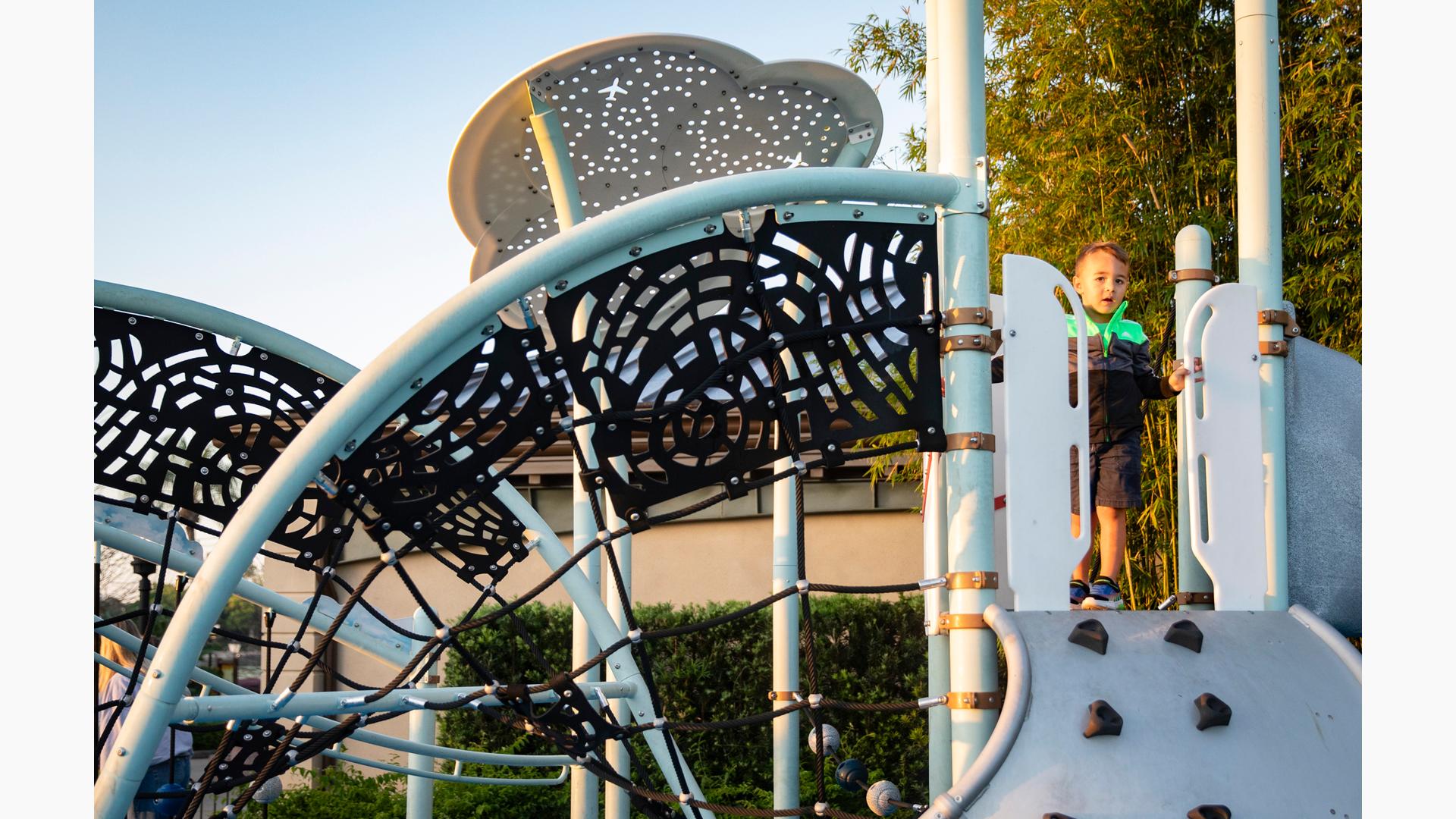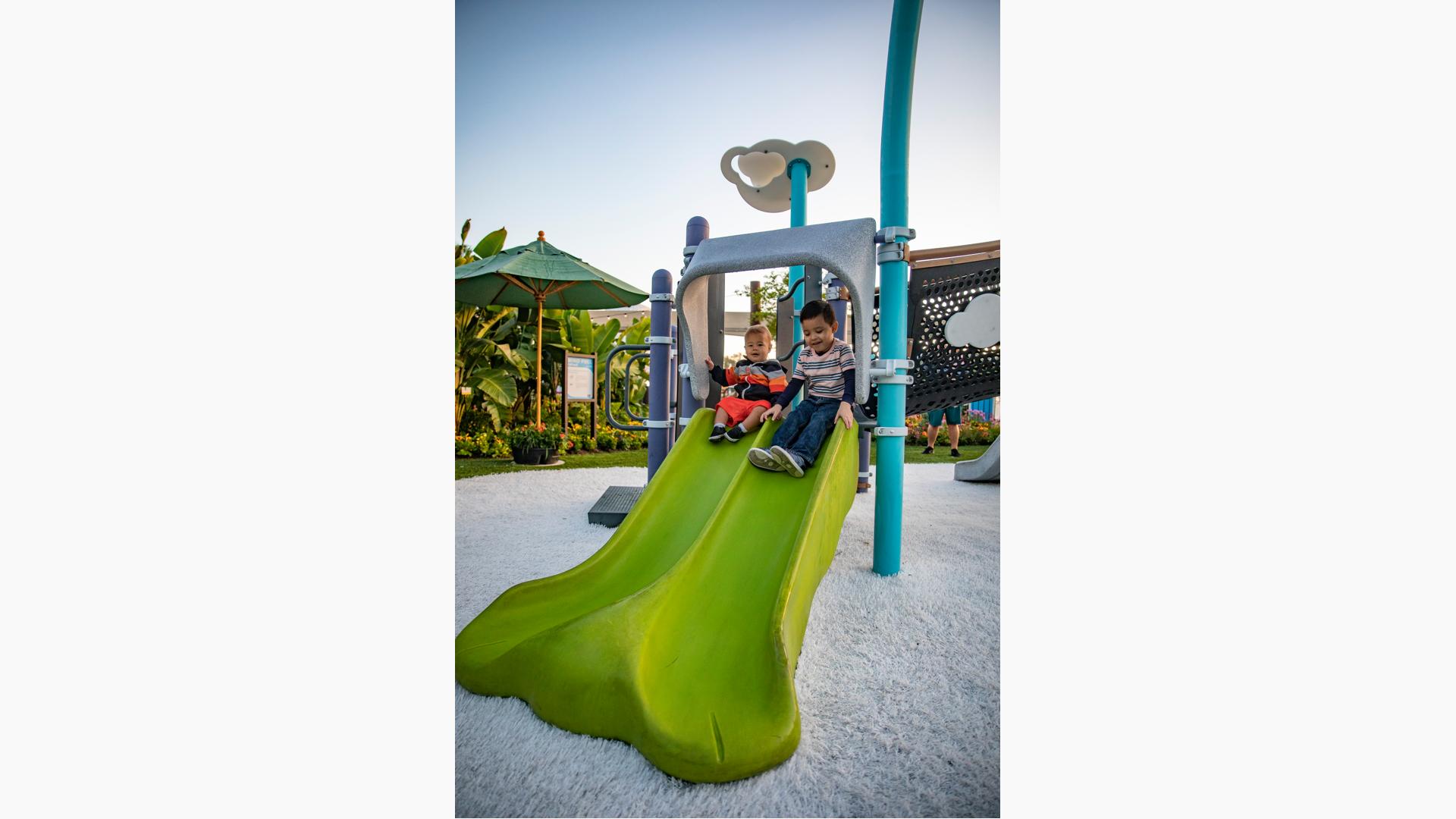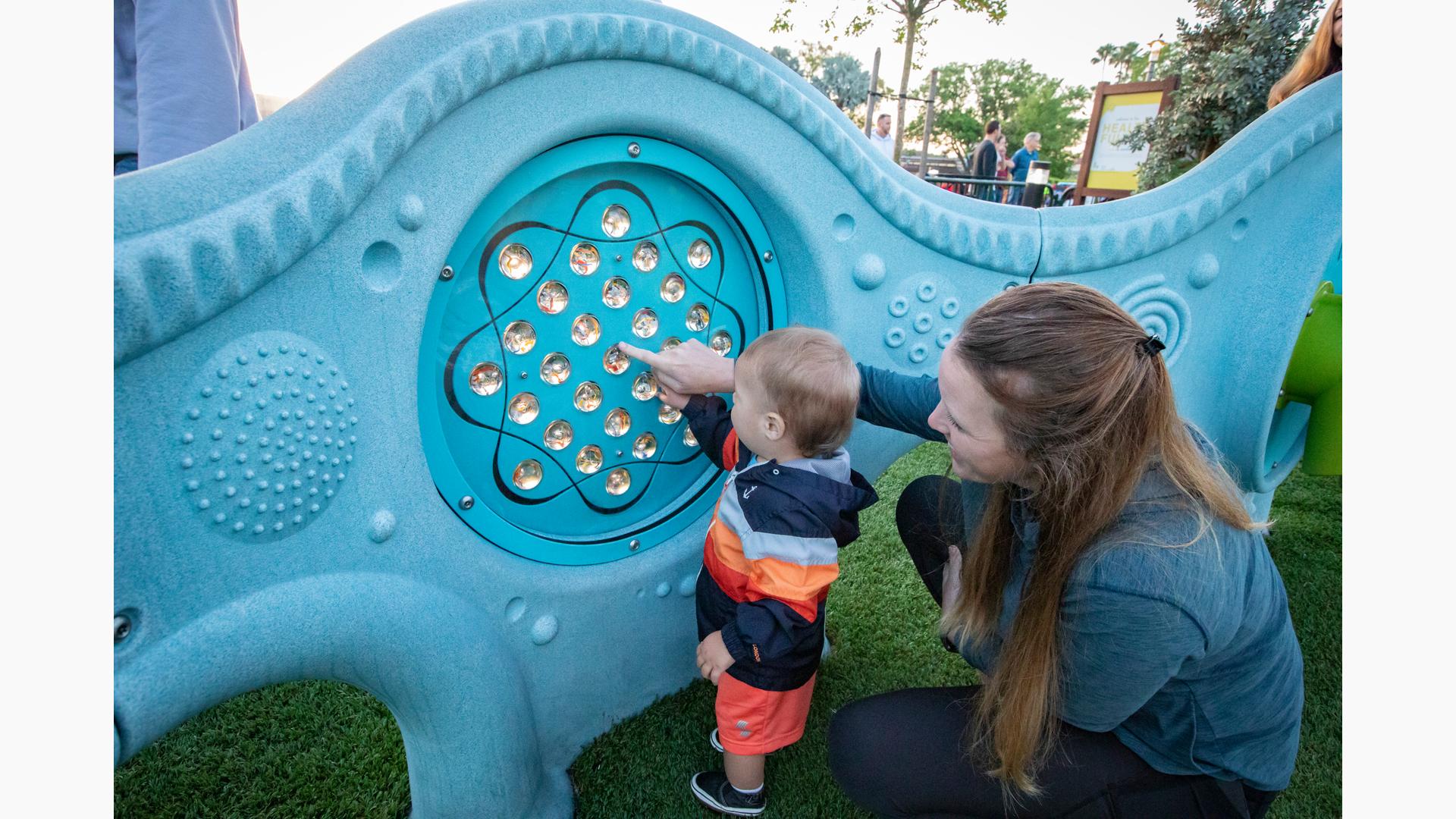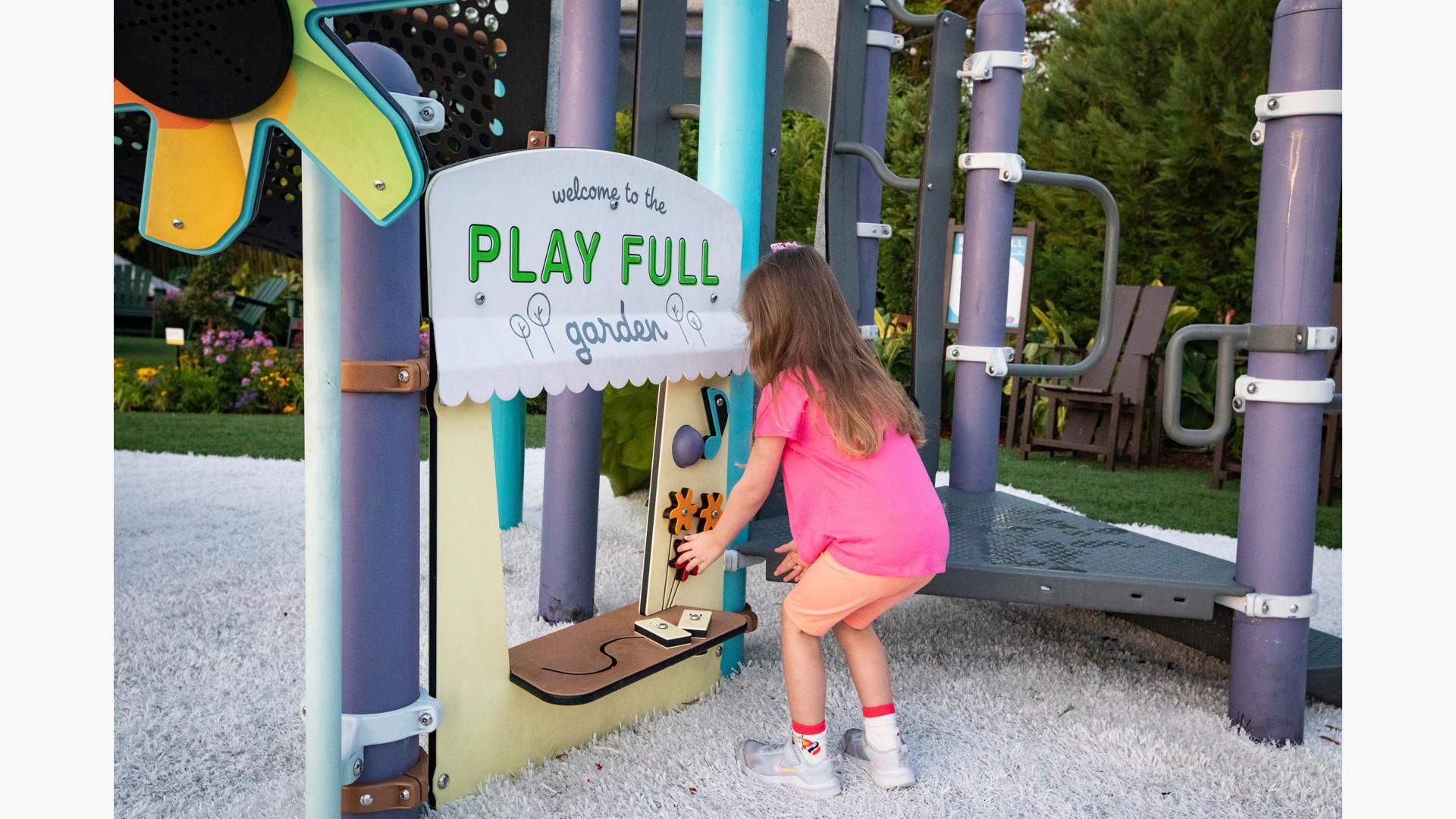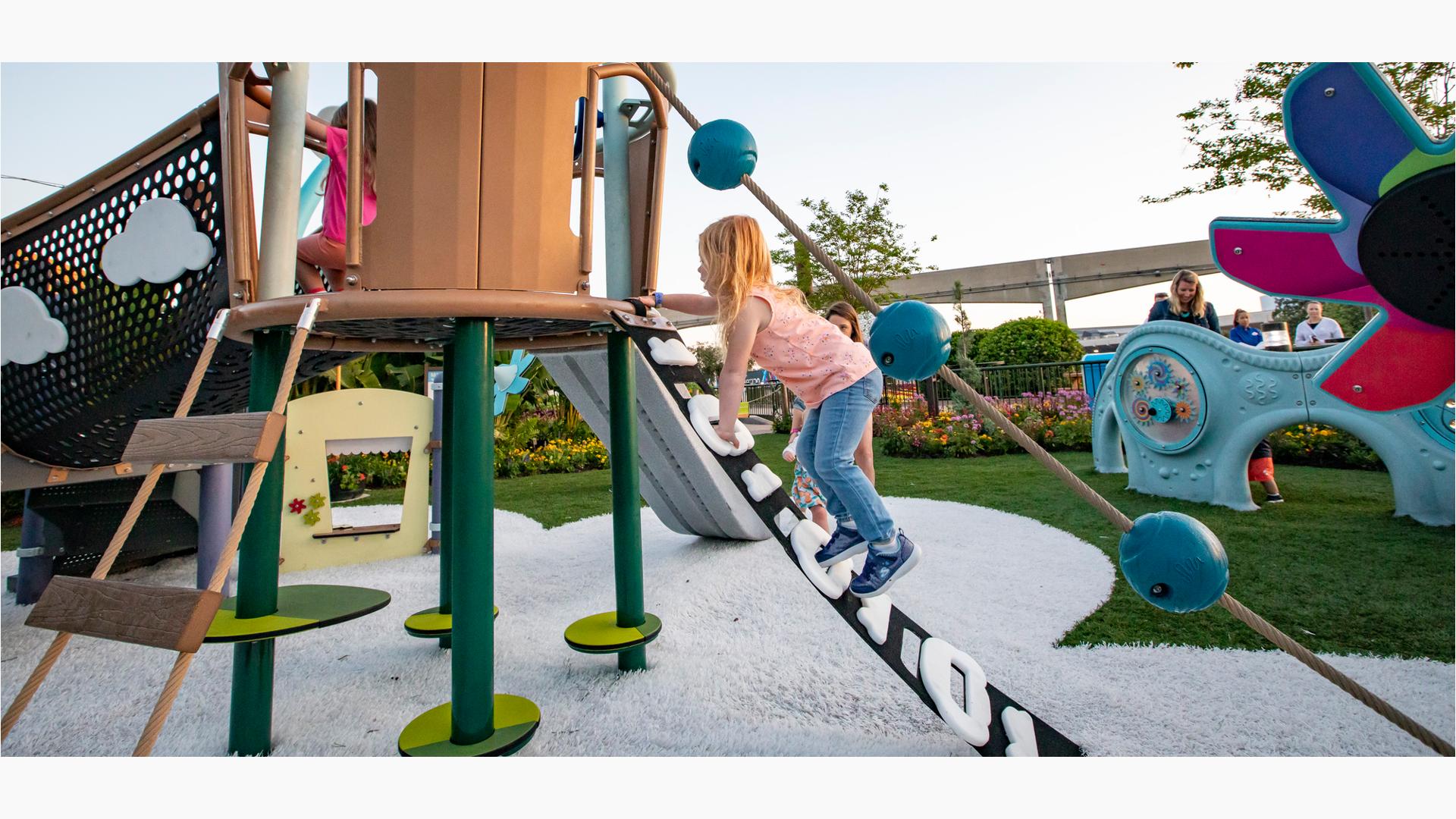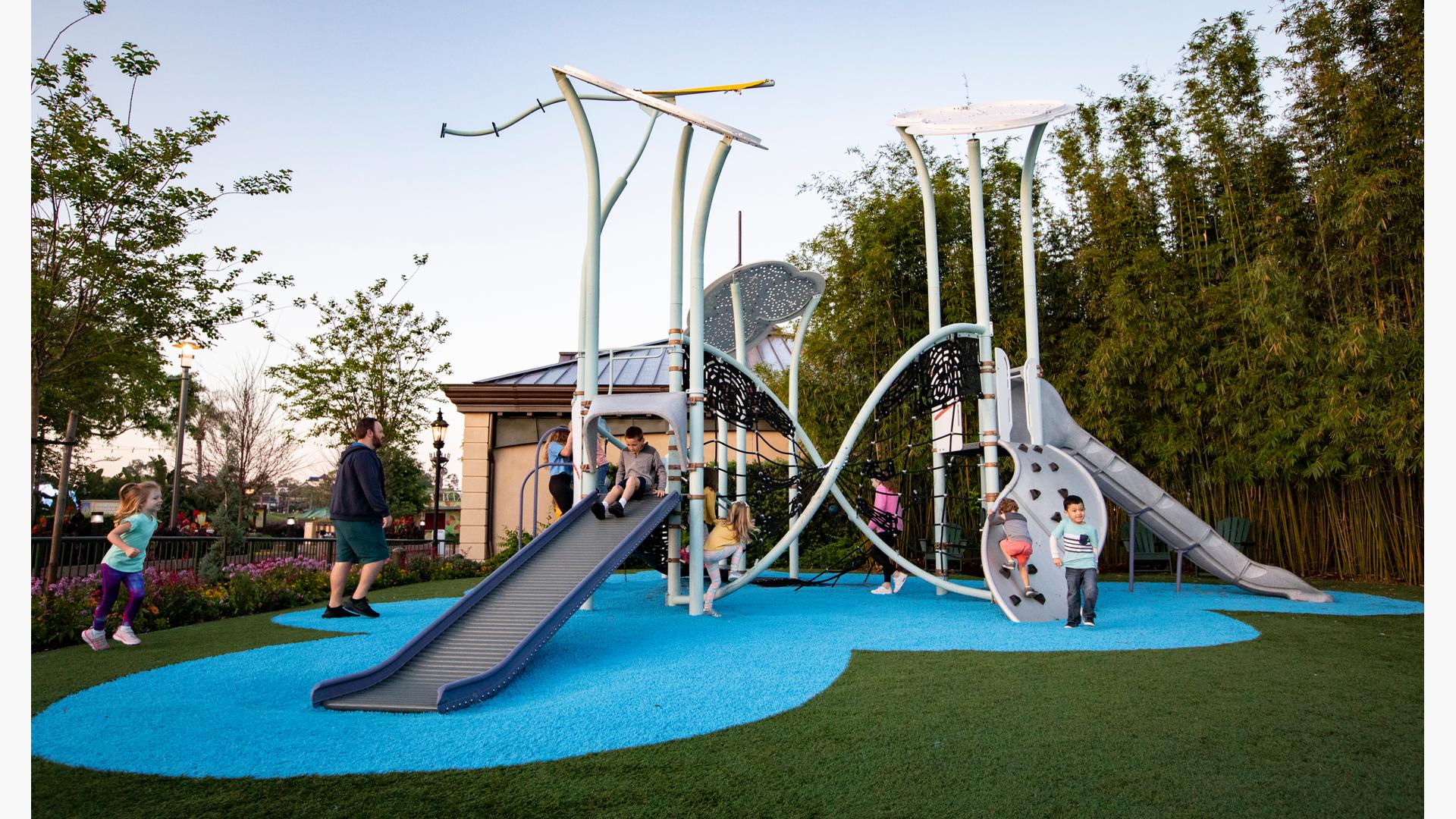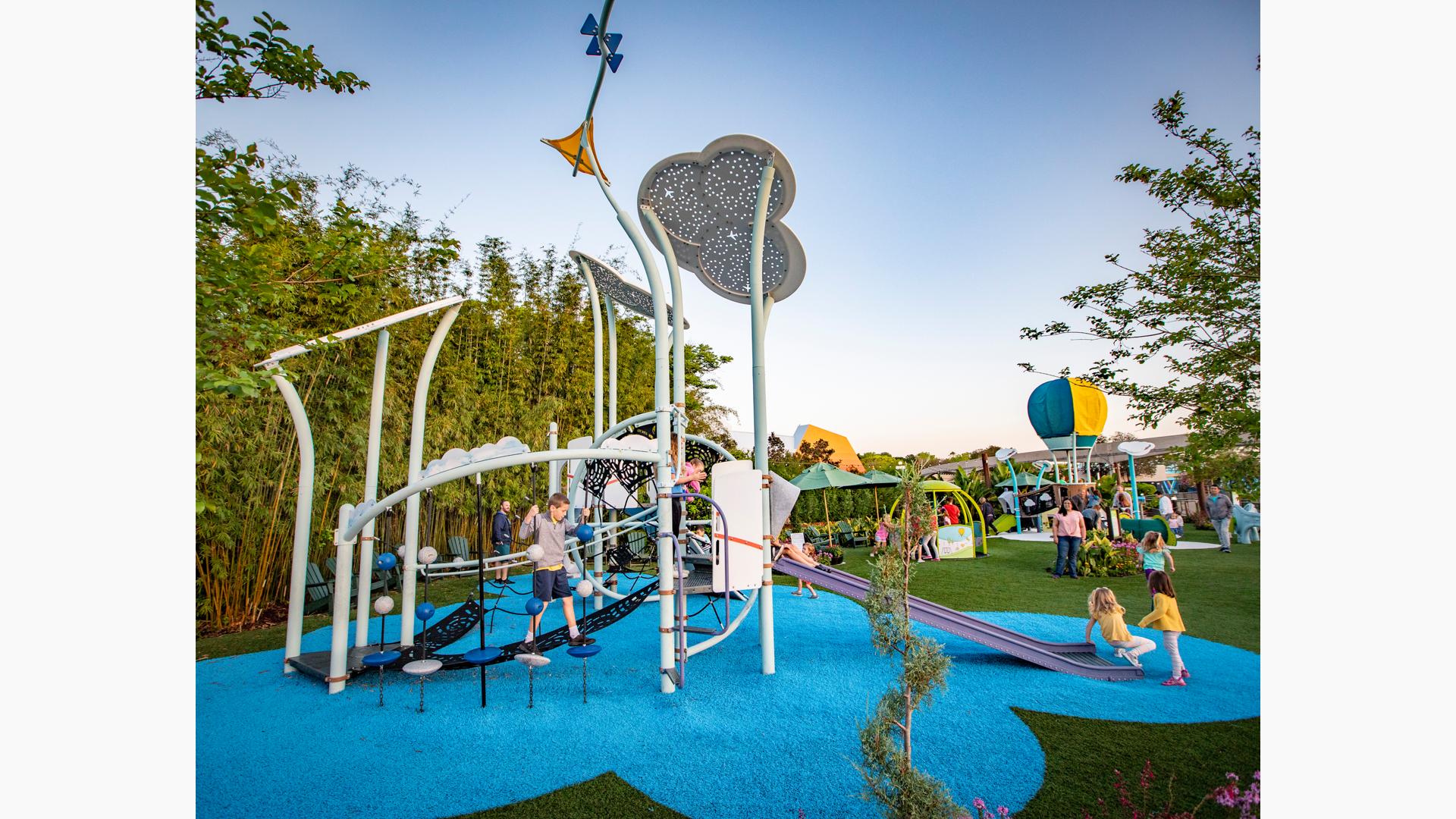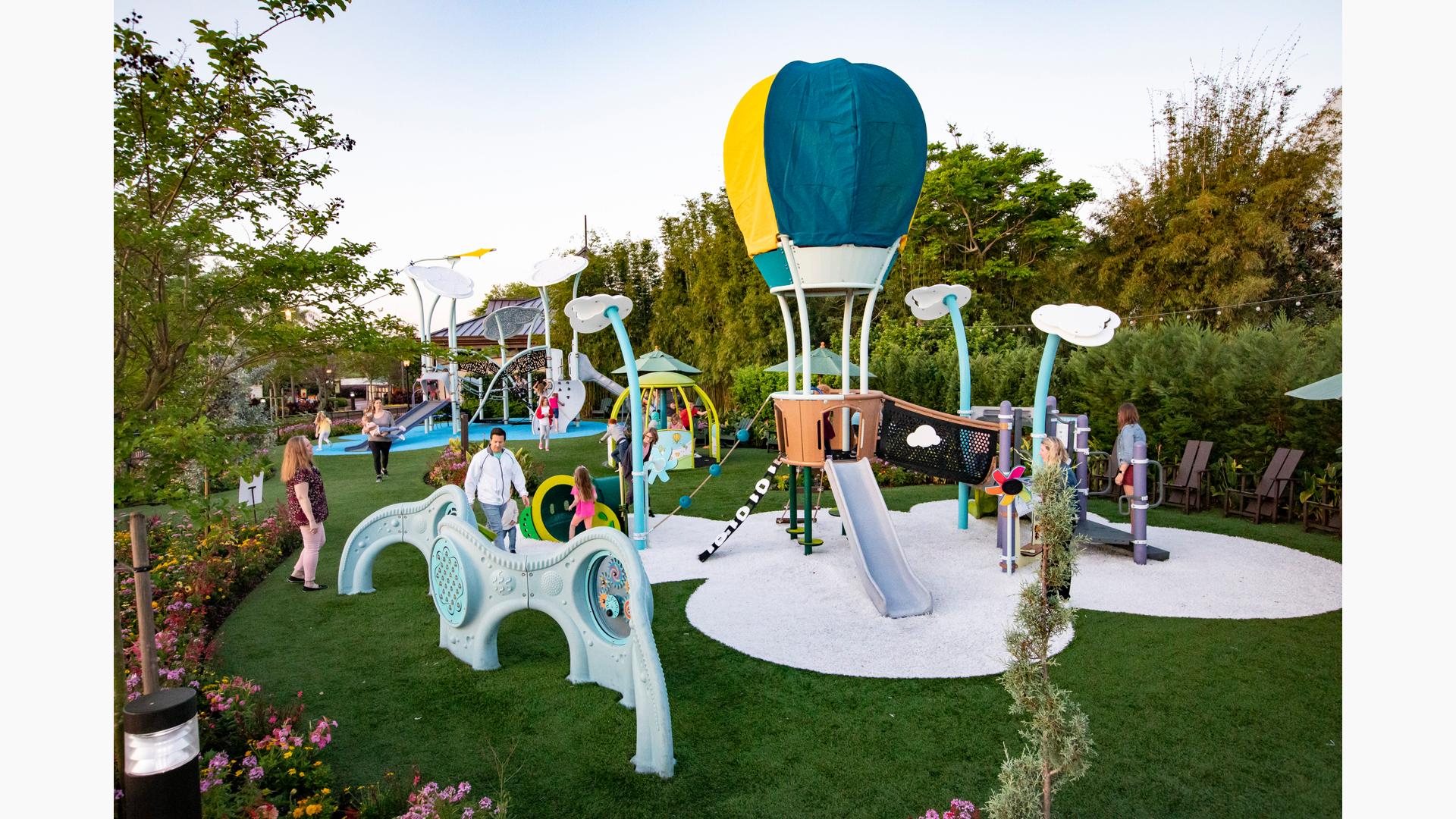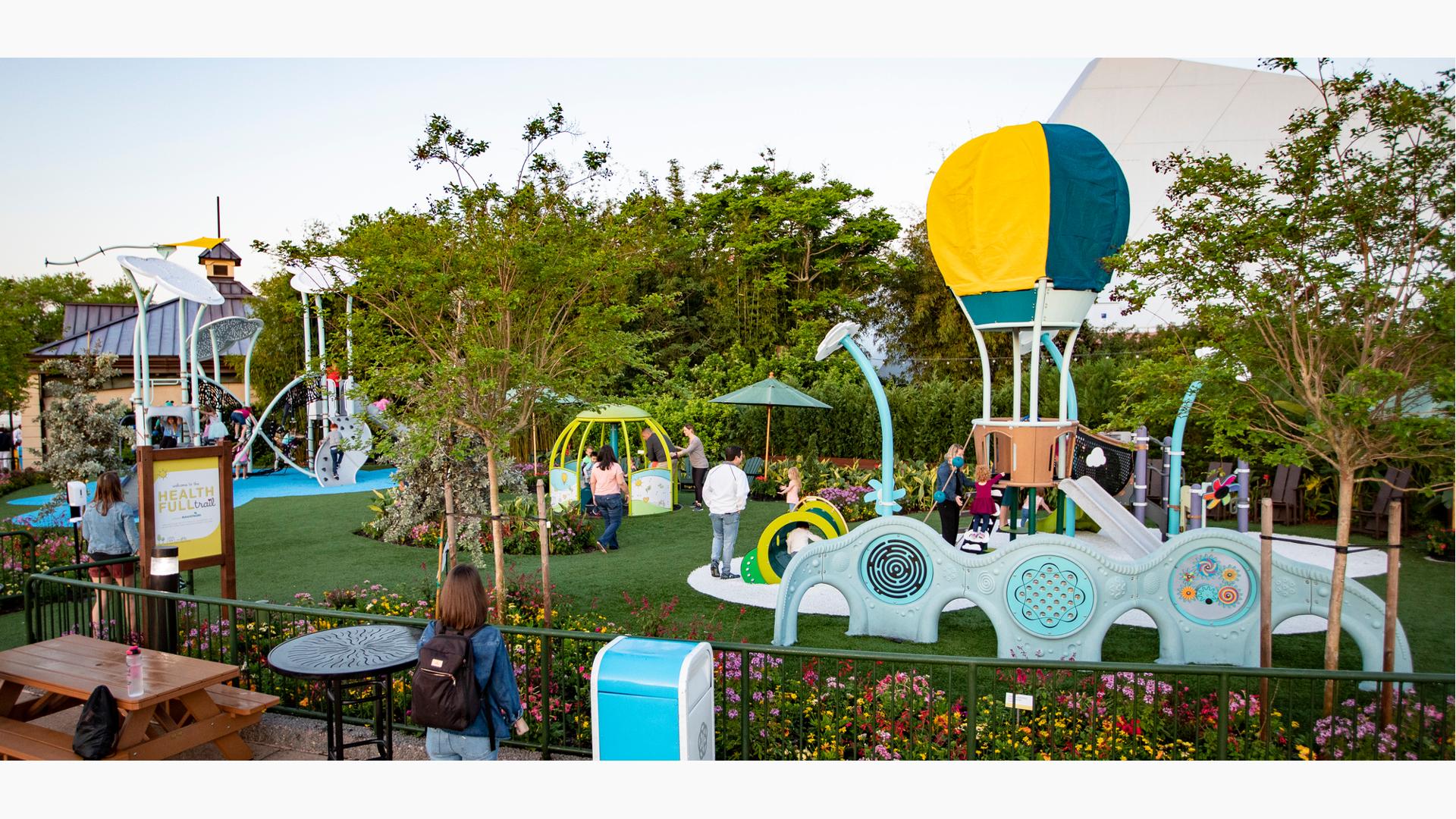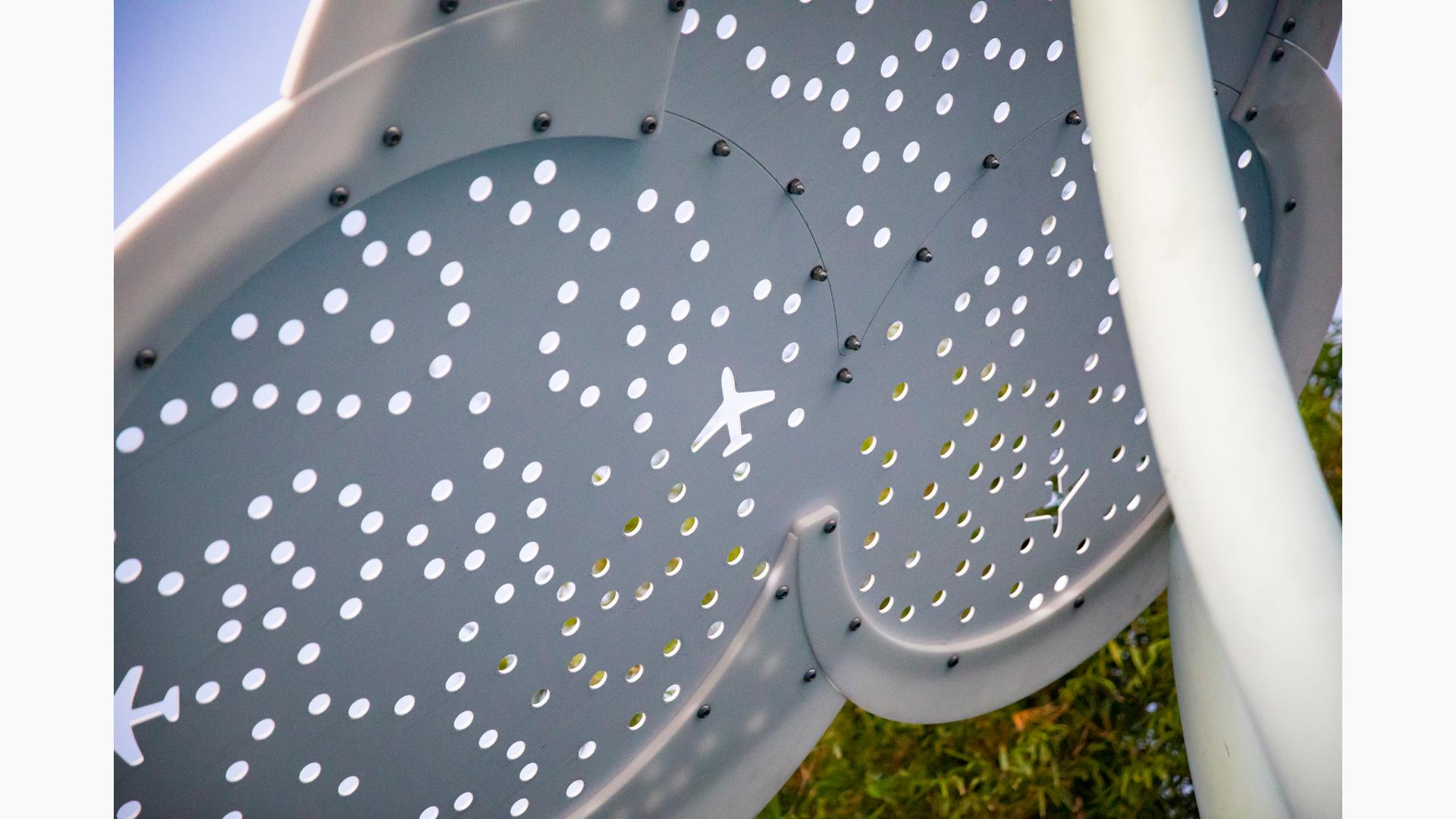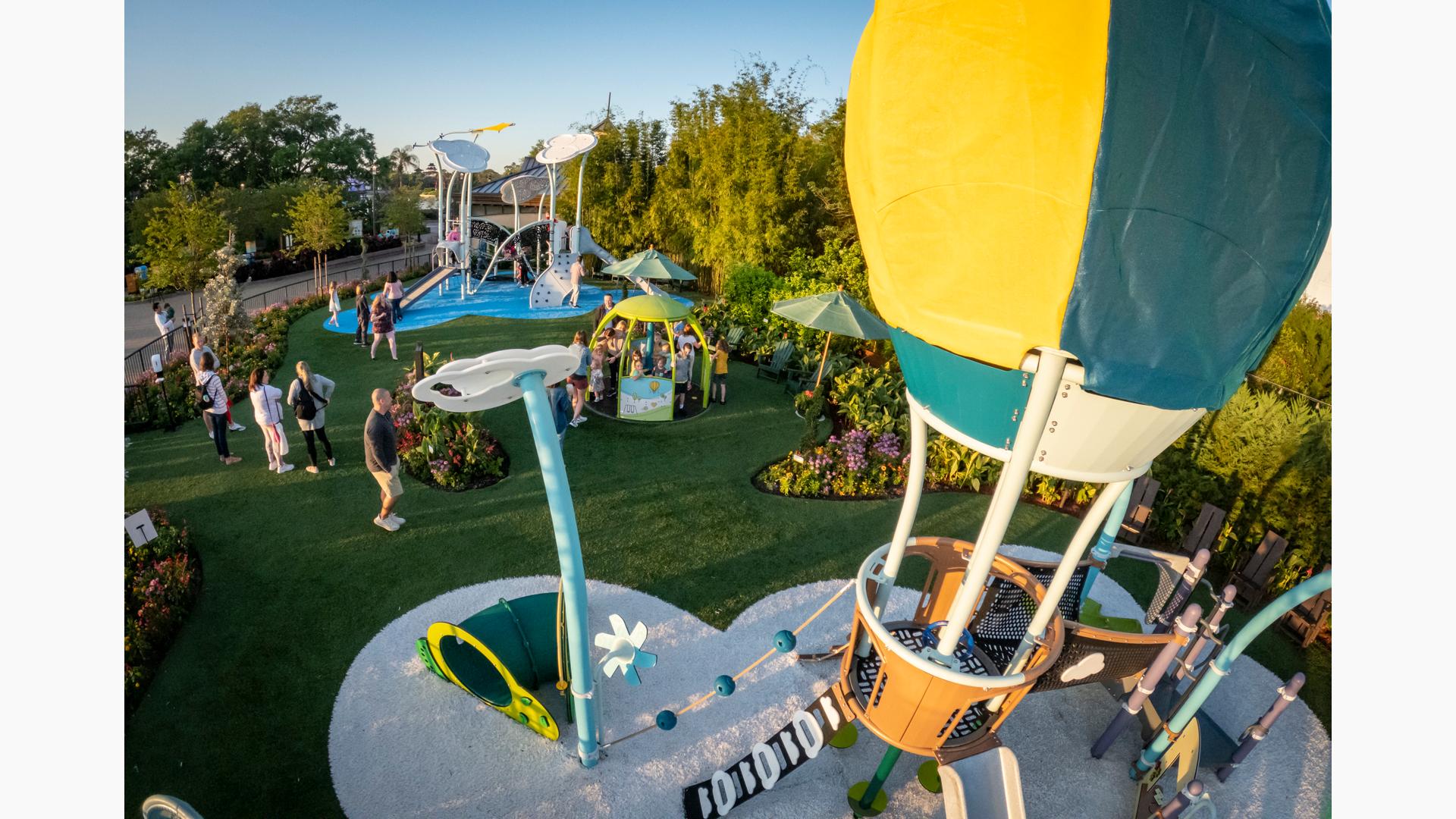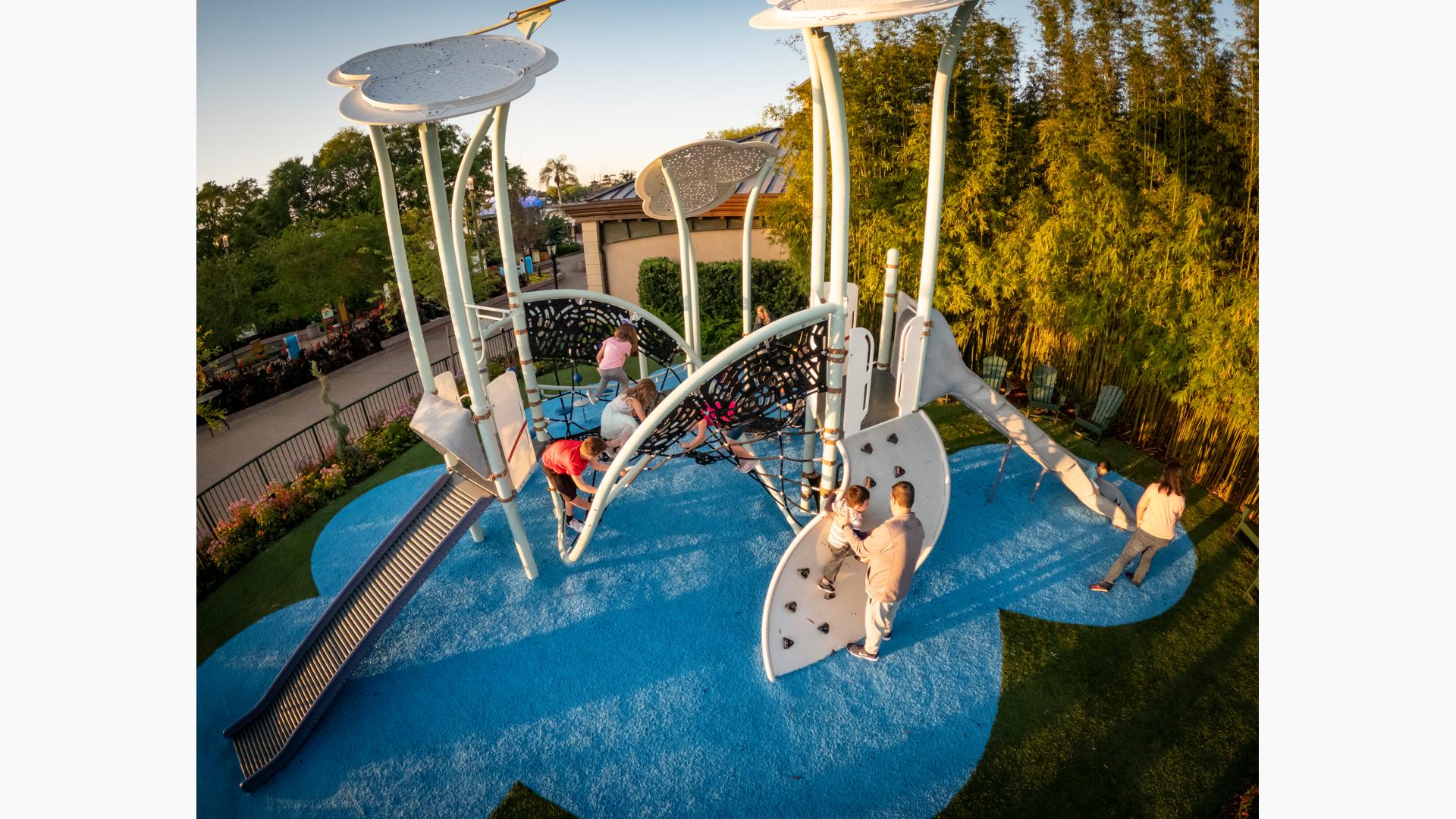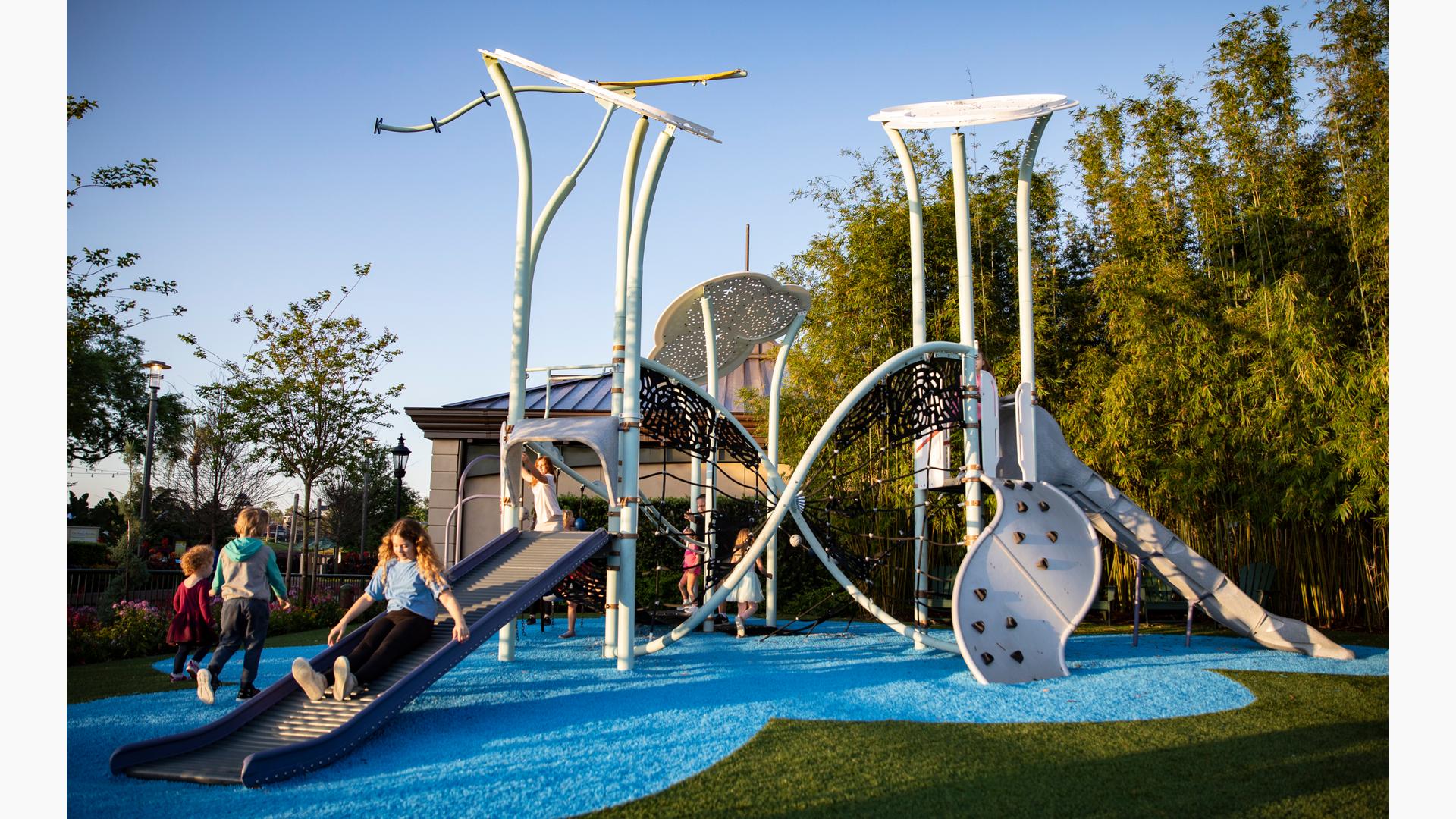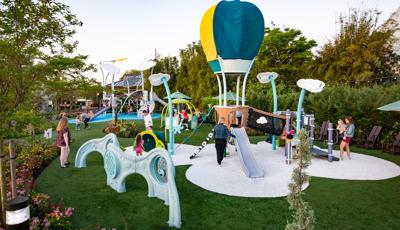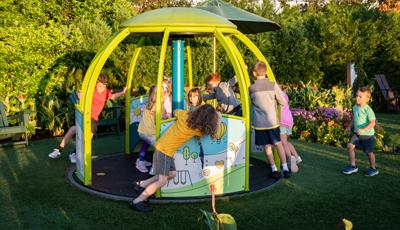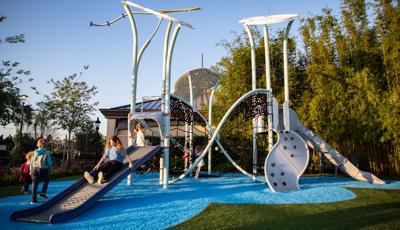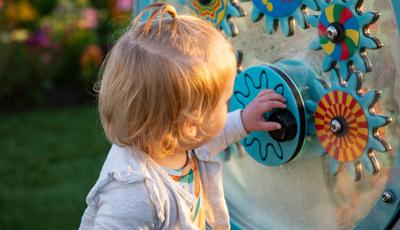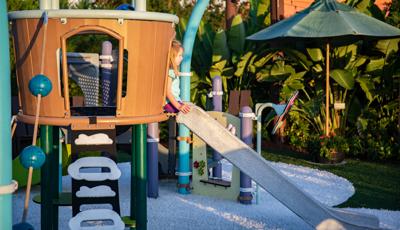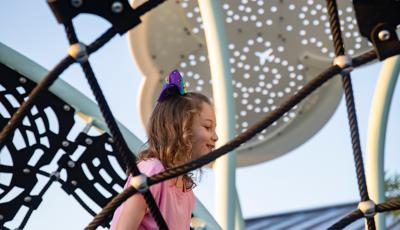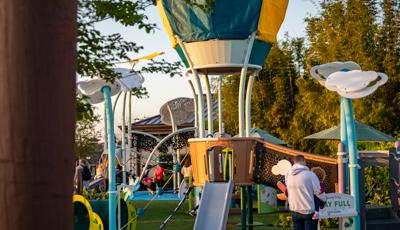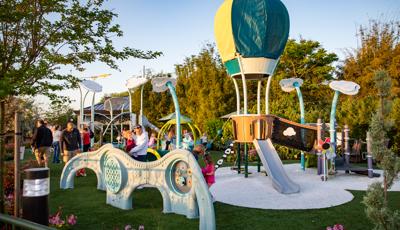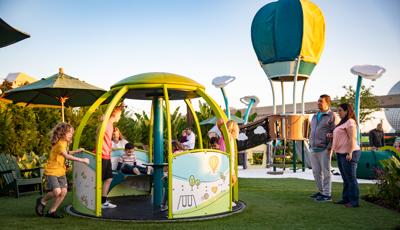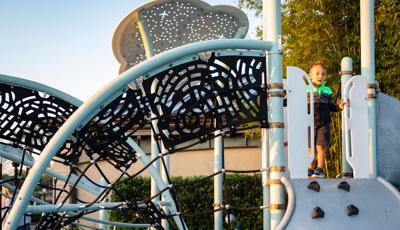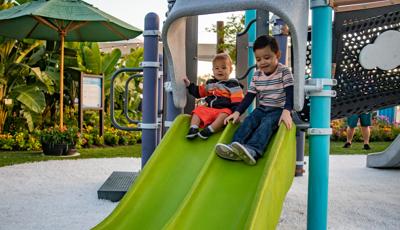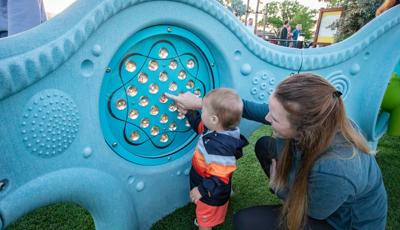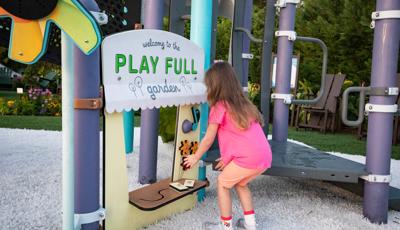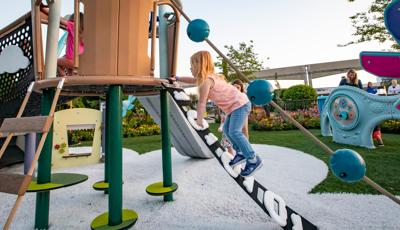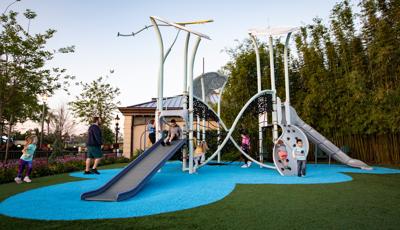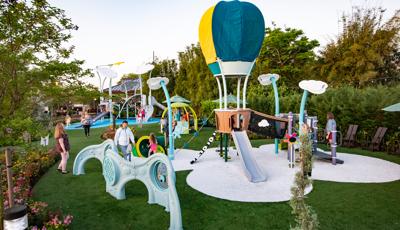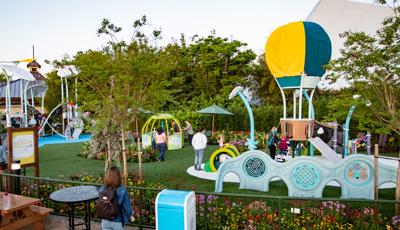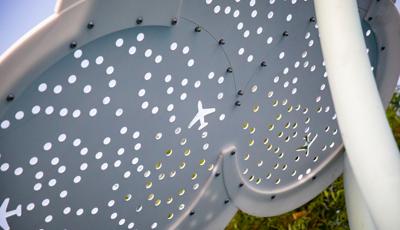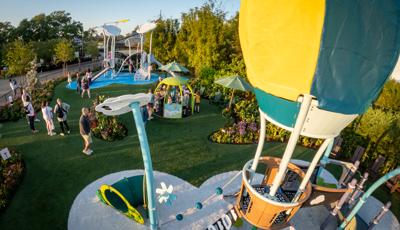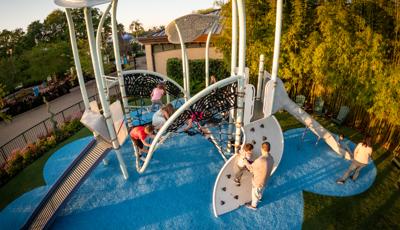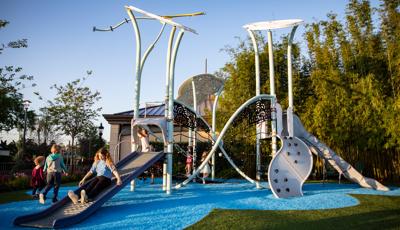 FL - Epcot International Flower and Garden Festival 2022
Video features a Landscape Structures custom play area layout at the Epcot® International Flower and Garden Festival of 2022.
[video: scene fades into a close-up of clusters of small purple flowers. Scene fades to a ground view of a playground structure with cloud shape roof panels at dawn. Scene fades to a ground pan up a play structure themed like a hot air balloon ride. Scene fades to the fresh light of a sunrise as it lights up a group of kids spinning on an inclusive playground carousel. The camera switches to a view inside the carousel as children spin it. A girl sits on one of the benches on the carousel as other children us the central post gear to help spin the carousel. The camera pans around the inside of the carousel where a boy sits at another bench while it spins.]
[video: a mother holds and hugs her daughter while standing behind a play sensory wall and the hot air balloon ride play structure just beyond her. A grandfather carries a young boy over to the sensory wall. He sets the boy down on the ground. The boy reaches up and plays with the marbles of a marble panel on the sensory wall. Scene switches to a full ground view of the largest play structures themed like wind and clouds. Children ride down a roller slide while other children climb on a wave shaped rope climber. The camera switches to a back view of the waved rope climber as a girl climbs across. Scene switches as the camera comes into focus on vertical ropes with large ball knots colored speckled gray and blue. Just beyond the ropes a mother and her older daughter help a young toddler to walk up a belt bridge.]
[video: camera pans to a full view of the hot air balloon ride play structure. A girl climbs up a wood plank rope ladder up into the hot air balloon basket. Scene switches to a view through a small green tunnel. A boy crouches as he walks through the tunnel. Scene switches to a boy climbing up an included belt climber with cloud shape foot holds. Scene switches to a boy as he speaks into a talk tube design like a pin wheel. Scene switches to a view across the play area to a group of kids playing on a self-propelled carousel. The camera moves in closer as a bunch of kids sit, stand, and push the carousel in slow motion. The camera angle bounces to different vantage points as the children spin. Children's sneakers can be heard squeaking on the dewy carousel floor. Camera switches to an elevated view as it slowly pans away from the top of the spinning carousel. Scene switches to an elevated view of the wind and cloud them play structure as children climb and play in slow motion on the many play activities. Birds can be heard chirping in the background as the scene fades to black. The Landscape Structures logo sparkles like fairy dust into the center of the screen. Little chimes play as the logo appears. A bell rings when the logo fully emerges. Text below the logo reads: For a better tomorrow we play today. Video ends]
Age Ranges
2 to 5 years
5 to 12 years
Product Lines/ Categories
Min Area Required
53' x 121' (16,15 m x 36,88 m)

2-5 Area: 35' x 28' (10,67 m x 8,53 m)
5-12 Area: 47' x 41' (14,33 m x 12,5 m)
Design/CAD Files for this Playground
Design files are not available for this custom design. Contact your local playground consultant for additional details.
Design Standards
Contact your consultant to verify that this playground design meets current design standard requirements or to modify for other design standards.
Price Range (USD)
$120K-$140K
Pricing for custom playground equipment varies. For international and exact pricing, please contact your local playground consultant.
Contact Your Consultant
Welcome to the Play Full garden at the EPCOT® International Flower and Garden Festival! Imaginations can run wild in the unique play experience featuring the whimsical, cloud-themed Smart Play® Billows® + Breeze™. The Billows playstructure, designed for kids ages 5 to 12, offers a plethora of ways to bounce, climb and slide. And with cloud-shaped shade and a kite flying overhead, kids' imaginations are sure to soar. With Breeze, toddlers and preschoolers discover tunnels, slides and climbers, but the puffy balloon topped by SkyWays® shade fabric is what sets imaginations a flight. Even more, the We-Go-Round® and Sensory Play Center® were included in the design to ensure individuals of all abilities can participate in the fun.
Installed: March 2022
Our color palettes offer a range of options to customize your projects
Our state of the art materials make our playgrounds stand out.
We've created a global network of local playground experts to be at your side, every step of the way. With an average of 20 years of experience, our playground consultants are knowledgeable and personable. They will guide you through product pricing and specifications, customization, financing options, community builds, on-time deliveries, maintenance, finding replacement parts, and service questions.
Playground consultant for this project
Find a Playground Consultant Near You
Contact Your Consultant
Related Playgrounds & Designs