Christ Evangelical Presbyterian Church
Playground Overview
Christ Evangelical Presbyterian Church offers two play structures carefully designed to provide age-appropriate thrills for kids ages 2 to 12. With the inclusion of both PlayBooster® and PlayShaper® play structures, kids can choose from a variety of developmentally appropriate physical challenges, sensory play panels, multiple sliding experiences and tunnel exploration. Covering the play environment are CoolToppers® Single Post shade system, which protect children from up to 90 percent of the sun's UV rays and keeps the playground surface 30-degrees cooler.
---
---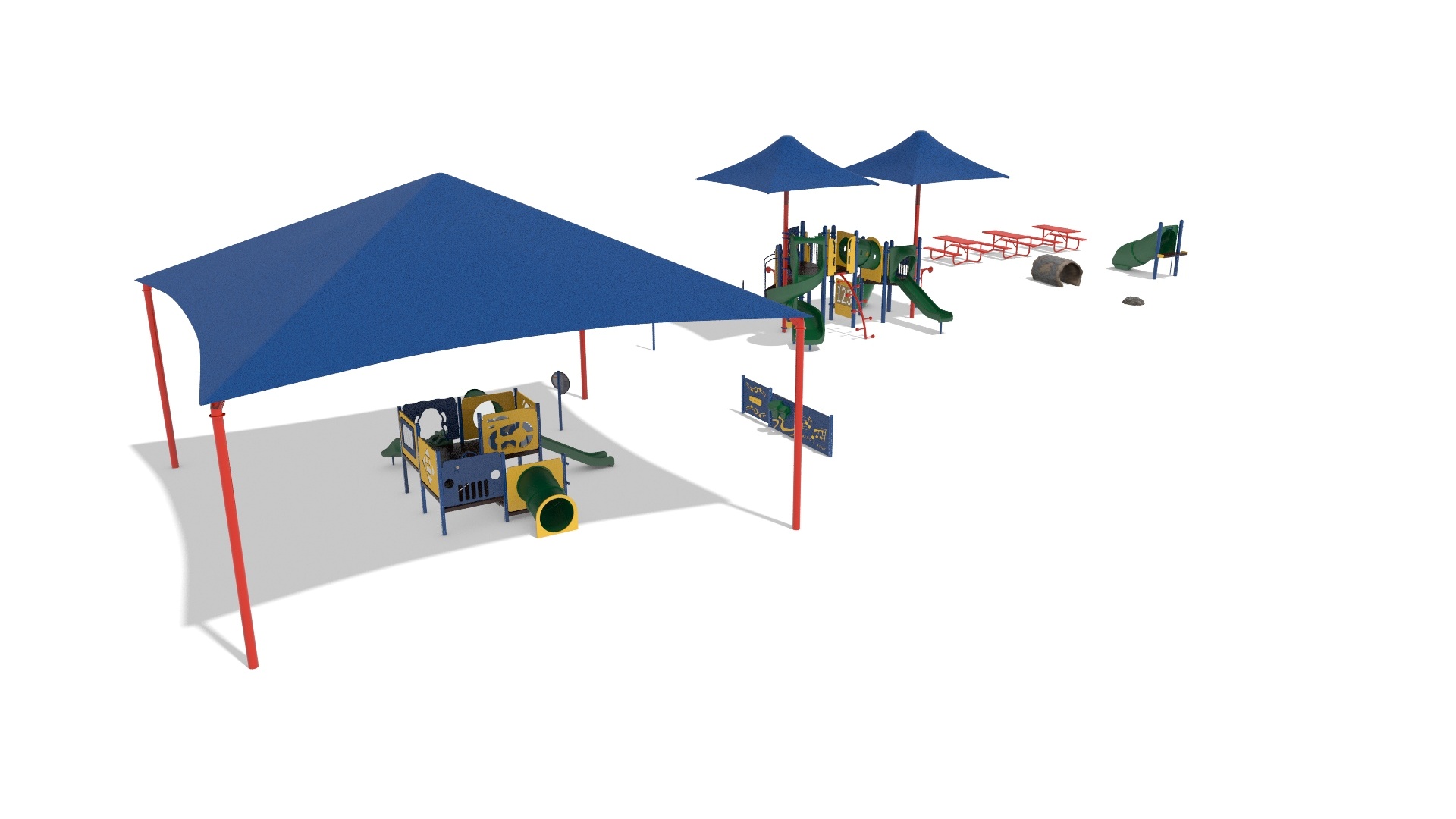 Playground Details
Age Ranges

6 to 23 months
5 to 12 years

Design Standards

ASTM

Installed

June 2015

Design/CAD Files

Min Area Required

Total Area: 59' x 32' (17,98 m x 9,75 m)
6-23 Months Area: 28' x 25' (2,44 m x 7,62 m)
5-12 Area: 34' x 32' (10,36 m x 9,75 m)

Max Fall Height

72" (1,83 m)
Project Price Range

$80K-$99K

Pricing reflects only the equipment shown in the 3D render above. For international and exact pricing, please contact your local playground consultant.
---
Playground products shown in video may not be appropriate for every age group. Playsystems shown in video are for demonstration purposes only. Product configurations may vary.
Video features the Landscape Structures playground at the Christ Evangelical Presbyterian Church.
[video: music plays. Camera is placed at the top of a hill looking down at the main play structure with SkyWays shade systems. Camera switches to a ground level view of the main play structure. This angle shows the Conical climber, main access stairs and the different sensory panels on the playground. Camera switches to a different angle on the other side of the main play structure. This angle shows more of the main access stairs, sensory play panels and the SpyroSlide. Camera switches to a third angle of the main play structure. This angle shows the SpyroSlide, small single slide and the Lollipop Climber. Camera close-up of a Permalene Panel reading ring-a-bell with music notes. Scene switches to a view of the Kaleidospin Panel underneath the main playground structure. Camera switches to an elevated panning view of the main playground. Scene switches to a view of the fully shaded 2 to 5-year-old outdoor play area. A frontal view of the 2 to 5-year-old play structure with crawling tube and small single slide. Camera angle changes to a different view of the small play structure with the two small slides. A view of the freestanding Bongo Panel and the Ring-a-Bell Panel. Close-up of butterfly design on a Permalene Panel. Close-up of Kaleidospin Panel spin able viewing handles. A top down view of the concrete nature-inspired Log Crawl Tunnel. A top down view of the Fossil Dig sea shell concrete disc. Camera switches to an aerial panning view of the entire play areas. Fade to black. Landscape Structures logo appears. Landscape Structures logo is made of a ribbon shape undulating above the text landscape structures.]
Next Tab
Featured Products
We offer the widest range of park and playground equipment to promote healthy lifestyles, encourage skill-building and create unique outdoor experiences. From our playsystems and freestanding playground components to themed designs, site furnishings and more, we'll help you create a recreation space that welcomes your whole community.
Play Systems featured in this Playground
PlayShaper®
Ages 2 to 5 Years
Let curious young minds go exploring on a safe and durable PlayShaper® playground structure. Scaled to size for preschoolers, these play systems invite youngsters to develop their physical skills while learning the social skills needed for community life.
Resources
View all PlayShaper® Components
PlayBooster®
Ages 5 to 12 Years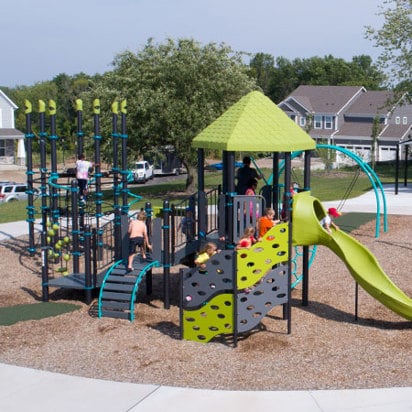 The PlayBooster® playground structure, the original post-and-clamp system, combines exciting ground-level components with climbing events and overhead activities for kids ages 5 to 12. The PlayBooster family includes the interconnected cables of Netplex®, the contemporary Vibe®, the nature-inspired Tree House and the double-decker PlayOdyssey® Tower.
Resources
View all PlayBooster® Components
Product Categories featured in this Playground
Freestanding Play
Ages 2 to 12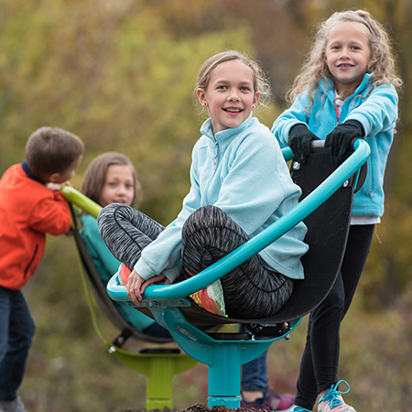 Freestanding Play events add fun and excitement to new and existing playgrounds! Revitalize your current playground or create a playground design that's completely unique using Freestanding Play components for kids ages 2 to 5 and 5 to 12.
Resources
View all Freestanding Play Events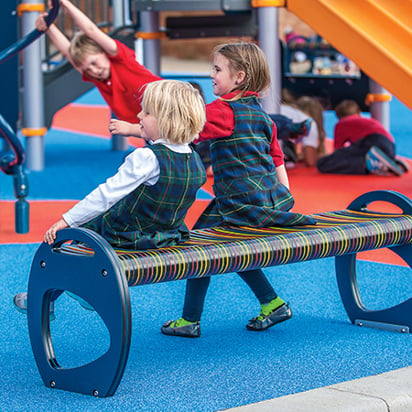 All of our various furnishings including shade products, picnic tables, benches, trash receptacles and more are designed to coordinate with your playground and surrounding environment. The right pieces will create a clean, safe and welcoming spot for the whole community.
View all Site Furnishings
Previous Tab
Next Tab
Playground consultant for this project
We've created a global network of local playground experts to be at your side, every step of the way. With an average of 20 years of experience, our playground consultants are knowledgeable and personable. They will guide you through product pricing and specifications, customization, financing options, community builds, on-time deliveries, maintenance, finding replacement parts, and service questions.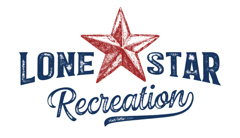 Find a Playground Consultant Near You
Previous Tab
Related Playgrounds & Designs