Children's Museum of Memphis
Playground Overview
Smart Play®: Motion 2-5 is the perfect playground addition to the Children's Museum of Memphis! Designed to meet the needs of 2- to 5-year-olds, the play structure delivers 16 playground activities including cut-out shapes to peek through, a winding race car track, interactive sand shoot, bongos and ring-a-bells to play, and geometric shape-and-fit games. The Smart Play structure encourages interactive play to develop smart kids.
---
---
Playground Details
Age Ranges

Design Standards

ASTM

Installed

October 2014
Project Price Range

$0K-$19K

Pricing reflects only the equipment shown in the 3D render above. For international and exact pricing, please contact your local playground consultant.
---
Playground products shown in video may not be appropriate for every age group. Playsystems shown in video are for demonstration purposes only. Product configurations may vary.
Video features The Children's Museum of Memphis indoor and outdoor playgrounds.
[video: close up of museum sign that reads, The Children's Museum of Memphis at The Katherine and John Dobbs Family Center.]
[video: a view of a weevos ages 2 to 5 years of age play structure indoors. Children crawl and climb all around the structure. A young boy hunches down and springs upwards to jump down from a foot stepper. A young boy goes down the small slide, a young girl waits her turn at the top of the slide. She goes down the slide once the boy stands up and runs to the ladder to go back up to the slide. Close up of the boy and girl inside the weevos structure setting up the toy race cars on a race track. They let go of their cars and they race down the track, the young girl shouts: Woo!]
[video: camera pans the back side of the weevos play system as a young boy enters the wee crawl tunnel. A young girl lays on the artificial grass like she is making a snow angel. A young boy lays down next to her to do the same. A young girl spins the multi colored squares on sensory panel. A young girl kneels down and plays on the shape slider table. A young girl plays with the chimes panel. A boy bangs on the bongo panel. Close up of young boys feet as he crawls up and away on the belated number brail learning climber. The young boy holds his hand out pointing to each letter on the alphabet panel. He sings the alphabet song. Children play on the weevos play structure. Young boy crawls through and out of the wee crawl tunnel. A young girl spins the color splash panel. A boy spins the Opti gear panel. Camera close up of toddler as she smiles and laughs. Camera pans of the entire indoor play area at the Children's Museum of Memphis. A young girl shifts the beads back and forth on the bead and block panel. A young girl standing on a large pillow falls backwards hold a baby doll. The young girl lays on the large pillow with her baby doll. Fade to black.]
[video: camera fades into a panning view of the shaded outdoor play area at the museum. The zip krooz bays spray water out of their custom mister system. A young girl goes down a double slide by herself. A young girl slides down a spyro slide, her hairs stands up from the static electricity. Camera switches to the enclosed zip krooz bays as the water misting system runs. Camera view down a zip krooz bay as misters run. Camera pans left to right along the glide rail of the zip krooz. A mother slowly walks to push the assisted harness bucket seat swing in one of the zip krooz bays. Fade to black. Landscape Structures logo appears.]
Next Tab
Featured Products
We offer the widest range of park and playground equipment to promote healthy lifestyles, encourage skill-building and create unique outdoor experiences. From our playsystems and freestanding playground components to themed designs, site furnishings and more, we'll help you create a recreation space that welcomes your whole community.
Play Systems featured in this Playground
Smart Play®
Ages 6 Months to 12 Years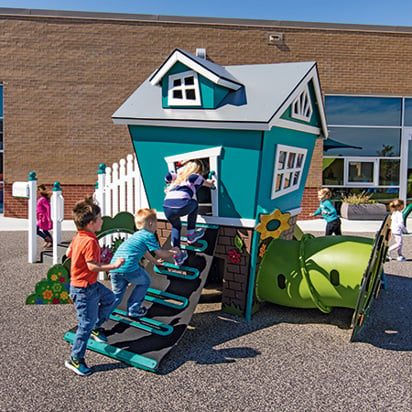 Smart Play® not only provides smart design to help create smart kids, but it's manufactured with a smart use of materials—focused on getting as many components as possible out of the smallest amount of material. Smart Play structures are preconfigured and designed with just your choice of color. All at a smart price.
View all Smart Play® Structures
Previous Tab
Next Tab
Playground consultant for this project
We've created a global network of local playground experts to be at your side, every step of the way. With an average of 20 years of experience, our playground consultants are knowledgeable and personable. They will guide you through product pricing and specifications, customization, financing options, community builds, on-time deliveries, maintenance, finding replacement parts, and service questions.
Find a Playground Consultant Near You
Previous Tab
Related Playgrounds & Designs