Overview
The Humpty Climbers are versatile climbers with a fun shape that kids love.
---
Features
A curious and fun shape for the playground
Available in single and double models
Cool and colorful for any playground
Developmental Benefits
Sensory
Proprioception, Tactile, Vestibular+
Motor Skills
Agility, Balance, Coordination, Core Body Strength, Flexibility, Lower Body Strength, Motor Planning, Upper Body Strength
Cognitive Skills
Problem Solving
Social/Emotional Skills
Cooperation, Imaginative Play, Social Skill Development
Learn about Developmental Benefits
Component Details
Age Ranges

Product Categories

Shipping Weight

308 lbs

Design Standards

ASTM, CSA
Dimensions

Max Fall Height: 88" (2,24 m) for Double and Single
Min Area Required: 14' x 26' (4,27 m x 7,92 m) for Double; 14' x 16' 10" (4,27 m x 5,13 m) for Single

Design/CAD Files

All About Color

Color is an important decision, and our products are available in many color options. Contact your consultant to find the colors available for this component.

See Color Inspiration
Playground products shown in video may not be appropriate for every age group. Playsystems shown in video are for demonstration purposes only. Product configurations may vary.
Video features children playing on the freestanding Humpty Climber.
[video: scene fades into a full view of a Humpty Climber double. The climber is a blue triple arched freestanding playground climber. Camera zooms for a close-up pan across the climber. Camera switches to a view through the climber rungs to the opposite end. Scene switches to a side view of children climbing all over the Humpty Climber. Camera close-up of a group of children standing on the Humpty Climber. Children shout and scream as they climb. Camera switches to a back view of the climber as a few children climb on either end of the climber. Camera zooms in as a girl climbs down to the center of the climber. Camera slowly zooms in to a boy and girl climbing at one of the peaks of the climber. The boy hangs by his arms from the top of the peak. Children shout in the background. Scene switches to a girl sitting on the rungs at the top of one of the peaks of the Humpty Climber. Scene switches as the camera zooms in to a girl as she lifts herself onto the climber. Scene switches to a close-up view of a girl climbing up the loop rungs of the climber, she speaks to another child climbing.]
Girl: In Indiana I learned how to climb.
[video: the camera rotates to the other side of the where a group of children climb and hang from the looped rungs. A child shouts.]
Child: Wooh!
[video: the camera pulls back for a full view of the climber as children climb all over it. Scene switches to a top down view as children climb up the looped ladder towards the camera. The children giggle as they climb. Scene switches to a view down to one of the arch peaks of the climber where children climb up either side. Scene switches to a close-up of children sitting and climbing below and on top of the peak of the arched climber. Scene fades to black.]
Next Tab
Play System of this Component
We offer the widest range of park and playground equipment to promote healthy lifestyles, encourage skill-building and create unique outdoor experiences. From our playsystems and freestanding playground components to themed designs, site furnishings and more, we'll help you create a recreation space that welcomes your whole community.
---
Freestanding Play
Ages 2 to 12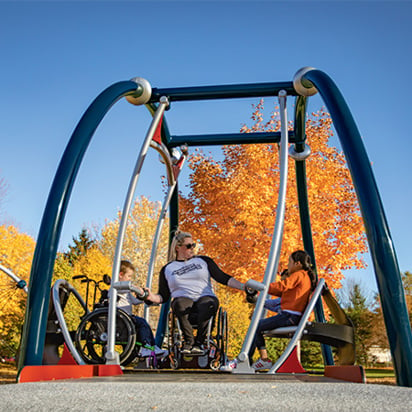 Freestanding Play events add fun and excitement to new and existing playgrounds! Revitalize your current playground or create a playground design that's completely unique using Freestanding Play components for kids ages 2 to 5 and 5 to 12.
Resources
View all Freestanding Play Events
Previous Tab
Related Playground Components