Block Climber
Model #117966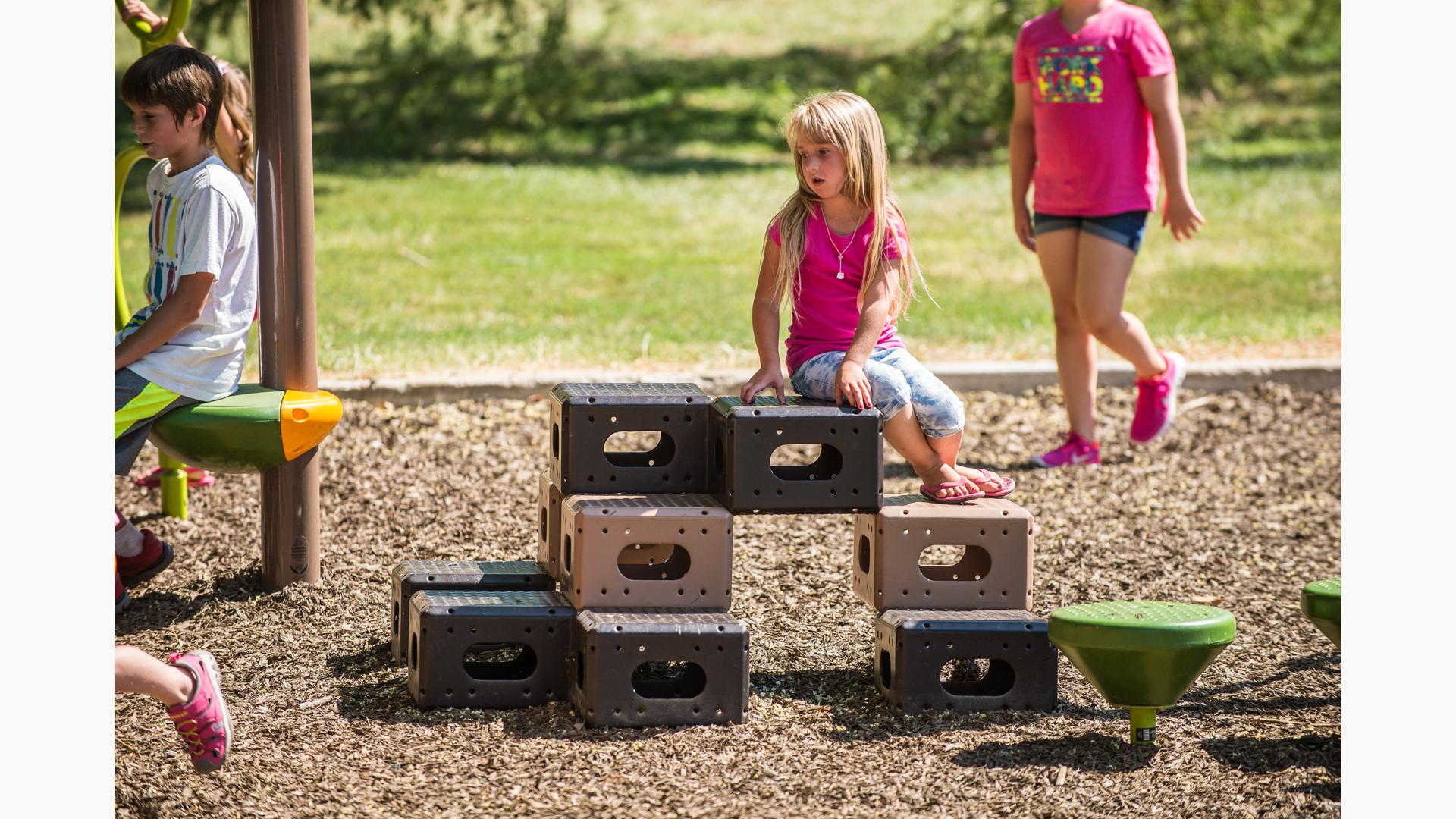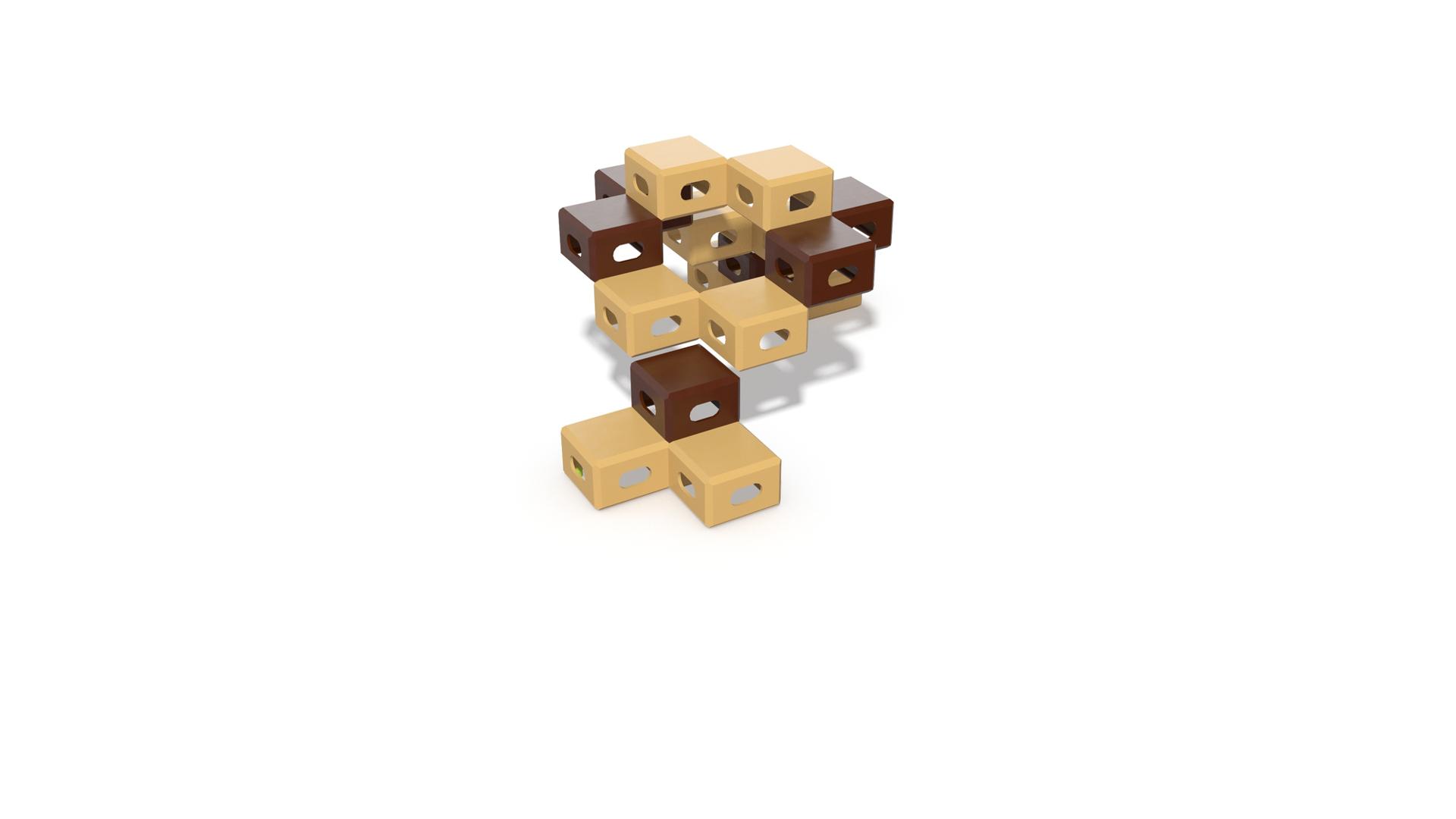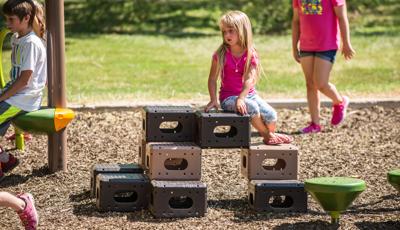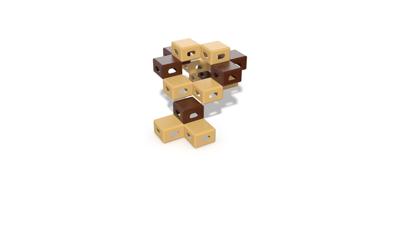 Block Climber
Video features a freestanding play Block Climber made of nine blocks.
[video: fade into a side view of the full block climbers integrated between playground pod steppers for continuous play. Children shout in the background as they play on the playground. Slightly elevated view as a boy steps off the playground onto the three pod steppers and onto the block climber. His shoes squeak as he steps up and across the block climber to the next set up pod steppers. He stops as another boy blocks his way on the pod steppers.]
[video: the two boys maneuver around each other as they climb and step on the Block climber. They both turn and step off the block climber and onto the pod steppers up to the playground deck. A child makes a howling shout in the background.]
[video: camera switches to a close-up of the entire block climber as a boy's feet can be seen walking up and down the different tiered blocks. The boy's feet walk around on the blocks then jumps to a pod stepper. Fade to black.]
Product Categories
Dimensions
Max Fall Height: 40" (1,02 m) for 16 Blocks; 32" (0,81 m) for 12 Blocks; 24" (0,61 m) for 9 Blocks
Min Area Required: 18' x 18' (5,49 m x 5,49 m) for 16 Blocks; 17' x 17' (5,18 m x 5,18 m) for 12 Blocks; 16' x 16' (4,88 m x 4,88 m) for 9 Blocks
Design/CAD Files for this Freestanding Play Element
Price Range (USD)
$5K-$10K
*Prices vary. For international and exact pricing, contact your local playground consultant.
Contact Your Consultant
Overview
The freestanding Block Climbers teach kids about balance and spatial relationships while they play. Nine-block configuration for kids ages 2 to 5. Other configurations for kids ages 5 to 12.
Features
Available in 9-block, 12-block or 16-block configurations
Firmly bolt together in fun clusters
Spaces beneath the blocks provide a new perspective
ProShield® Finish
TenderTuff™ Coating
Sensory
Proprioception
Tactile
Vestibular
Motor Skills
Agility
Balance
Coordination
Core Body Strength
Flexibility
Lower Body Strength
Motor Planning
Upper Body Strength
Social/Emotional Skills
Cooperation
Imaginative Play
Social Skill Development
Learn about Developmental Benefits
Related Playground Components