Riverstone Recreation Center
Playground Overview
Unstructured outdoor play lets kids do what they do best­—learn and grow through play. The Riverstone Recreation Center in Sugar Land, Texas, pairs nature-inspired playstructures with its leafy backdrop to engage kids of all ages with rugged fun found only in nature. This playground features Mushroom Steppers leading to a PlayBooster® Treehouse where kids can continue their outdoor expedition while scaling The Point™ rock climber or swinging across a set of overhead parallel bars.
---
---
Playground Details
Age Ranges

2 to 5 Years
5 to 12 years

Design Standards

ASTM

Installed

September 2015

Min Area Required

37' x 36' (11,28 m x 10,97 m)
Project Price Range

$200K-$500K+

Pricing reflects only the equipment shown in the 3D render above. For international and exact pricing, please contact your local playground consultant.
---
Playground products shown in video may not be appropriate for every age group. Playsystems shown in video are for demonstration purposes only. Product configurations may vary.
Video features a Landscape Structures PlayBooster Treehouse themed playground at the Riverstone Recreation Center in Sugar Land Texas.
[video: fade in to a statue of four life size metal paper dolls holding hands with heart cutouts in their chests, fade out. Fade in to sidewalks winding around a group of trees leading up to the playground area, fade out. Fade in to a mother and son as they walk towards the camera on a purple painted pathway. Log stumps line each side of the pathway and painted a different shade of purple on each end of the stump, fade out. Fade in to a full panning view from the surrounding side walk of the entire play area. A treehouse themed PlayBooster playground sits in the middle of a mulched area with surrounding play panels, swing set, and spring rider.]
[video: A stack of stumps make up a stepper to the top of a stone retaining wall. Camera pans up and across an overhead SpaceWalk rope bridge leading from a stone retaining wall to another, fade out. Fade in to a small garden incorporated into the mulched play area. An Australian weeping bottlebrush tree blows gently in the breeze next to the tree house themed playground. Close-up of the trees red blooming flowers.]
[video: fade in to an overhead top down panning view over the tops of the playground roofs. Camera switch to a ground level view of the playground where a Panicle rock climber and monkey bars are located. Camera switch to the opposite side of the playground where a SlideWinder slide and Wood Plank Wiggle Ladder are located. Switch to the top platform of a Roller Slide incorporated in to the top of a small pebble flex covered mound. Camera switch to a view across the SpaceWalk rope bridge from the top of the stone retaining wall.]
[video: camera close-up of the chains and fasteners of the Pod Bridge. Camera switch to a view of the Rain Sound Wheel Panel. Scene switch to a close-up view of a mushroom playground stepper.]
[video: panning view over the tops of the many scattered gardens in the play area. Switch to the AdventureScapes rock and rope climber. Camera close-up of a fossil carving in the rock climber. Close-up view of the Landscape Structures logo carved into the rock climber.]
[video: ground level pan of the Pod Bridge. Camera switch to a pyramid made up of log stump steppers, fade out. Fade in to and overhead panning view of the tops of the playground roofs and climbers below. Fade to black, Landscape Structures appears with text below reading: Better playground, better world.]
Next Tab
Featured Products
We offer the widest range of park and playground equipment to promote healthy lifestyles, encourage skill-building and create unique outdoor experiences. From our playsystems and freestanding playground components to themed designs, site furnishings and more, we'll help you create a recreation space that welcomes your whole community.
Play Systems featured in this Playground
PlayShaper®
Ages 2 to 5 Years
Let curious young minds go exploring on a safe and durable PlayShaper® playground structure. Scaled to size for preschoolers, these play systems invite youngsters to develop their physical skills while learning the social skills needed for community life.
Resources
View all PlayShaper® Components
PlayBooster®
Ages 5 to 12 Years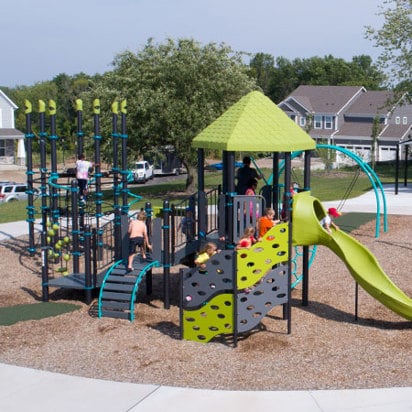 The PlayBooster® playground structure, the original post-and-clamp system, combines exciting ground-level components with climbing events and overhead activities for kids ages 5 to 12. The PlayBooster family includes the interconnected cables of Netplex®, the contemporary Vibe®, the nature-inspired Tree House and the double-decker PlayOdyssey® Tower.
Resources
View all PlayBooster® Components
Product Categories featured in this Playground
Freestanding Play
Ages 2 to 12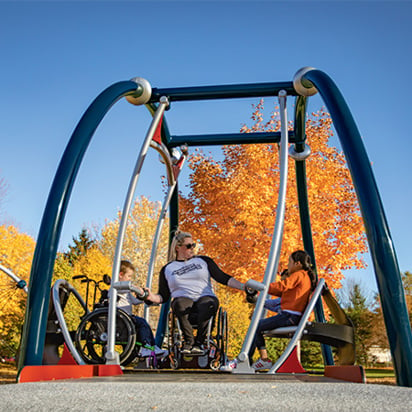 Freestanding Play events add fun and excitement to new and existing playgrounds! Revitalize your current playground or create a playground design that's completely unique using Freestanding Play components for kids ages 2 to 5 and 5 to 12.
Resources
View all Freestanding Play Events
Play Styles featured in this Playground
We can help you create playground designs unique to your community! Everything in our custom design process is driven by your goals and ideas. Together, we'll create a destination playground that's as individual as your imagination!
View Custom/Themed Ideas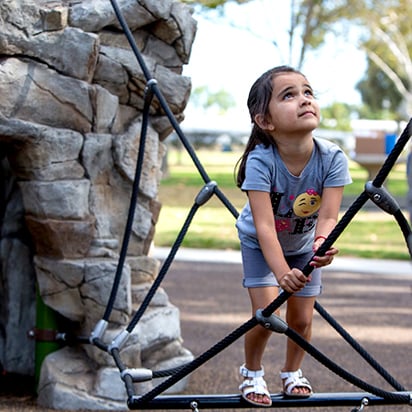 Our nature-inspired playground collection is a natural fit when it comes to planning outdoor play spaces, combining the adventure and wonder of nature with the durability, safety and low maintenance of high-quality play equipment. Our team of artists will work with you to blend your new playground into its surrounding environment—making your outdoor play space a place where children and families gather.
View Nature-Inspired Playground Ideas
Previous Tab
Next Tab
Playground consultant for this project
We've created a global network of local playground experts to be at your side, every step of the way. With an average of 20 years of experience, our playground consultants are knowledgeable and personable. They will guide you through product pricing and specifications, customization, financing options, community builds, on-time deliveries, maintenance, finding replacement parts, and service questions.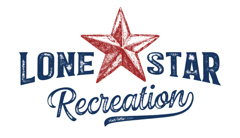 Find a Playground Consultant Near You
Previous Tab
Related Playgrounds & Designs