Lincoln Heights Recreation Center
Playground Overview
Lincoln Heights Recreation Center is home to an amazing Day of the Dead-themed playground. A festive color scheme along with custom flower-printed SkyWays® shade sails grab the attention of passers-by. Once on the playground, children and their families will see all the details dedicated to bringing this holiday theme to life. Picado banner climbers, sugar skull steppers and DigiFuse® flowers printed throughout the play space deliver fun and opportunities for exploration. Even more, Too Small to Fail Talking is Teaching panels encourage kids and caregivers to talk, read and sing.
---
---
Playground Details
Age Ranges

2 to 5 Years
5 to 12 years

Design Standards

ASTM

Installed

July 2019

Design/CAD Files
Project Price Range

Pricing for custom playground equipment varies. For international and exact pricing, please contact your local playground consultant.
---
Playground products shown in video may not be appropriate for every age group. Playsystems shown in video are for demonstration purposes only. Product configurations may vary.
Video features a Landscape Structures custom themed as Dia de Muertos "Day of the Dead" playground at Lincoln Heights Recreation Center in Los Angeles California.
[video: scene fades into an elevated view of the colorful SkyWays shade systems designed with flowers cover the three play structures of the play area. Children play all over the three play structures. A boy walks up to a lime green Logo climber and begins to climb the uniquely shape playground activity. Camera switches to a and pan across the colorful play structures with unique "Day of the Dead" décor and design. Scene switches to a young girl climbing on a Wee Planet Climber designed with colorful images of sugar skulls and flowers. Scene switches to a full view of the PlayBooster Skyport Climber filled with children playing in the shade of the colorful overhead shade system. Camera switches on a girl's hands as she leans over a custom design playground panel with intricate decorative cut outs.]
[video: a young boy points to a playground panel designed with a pinata, sombrero hat, guitar and maraca. He reads the panel out loud.
Boy: Can you find these around the playground?
[video: a young boy speaks to the camera as he sits in front of the unique Permalene® playground panels with intricate cut out designs.]
Boy: I'm eight years old and the thing that I like about this slide is because it is like steep.
[video: Two girls ride down the double landed Double Swoosh Slide. When they reach the bottom of the slide they stand up and raise their hands in the air. Camera switches to a second boy as he talks about his favorite piece of the playground.]
Boy 2: I like the Roller Slide because it goes fast.
[video: a girl slides down a Roller Slide as a group of children wait at the top of a play structure for their turn on the slide. Scene switches to a young girl as she explains her favorite part of the playground.]
Girl: What I like about this park is its very fun and how everybody gets to play together.
[video: the camera shoots up at children as they climb above on a rope climber. Camera switches to a top down view of the SkyWays shade systems over the three playground structures.
[video: Elevated view of a girl as she slides down a Roller Slide. Scene switches to a young girl with a toy monkey hung around her neck, she speaks to the camera about the park.]
Girl 2: I like the little rolley slides, and also everything about it. It's awesome its cool [blows kiss to the camera]
[video: Camera switches and pans with a girl as she rides down on a disc swing of the ZipKrooz playground zip line bay. Camera switches to a young boy looking up into the lens.]
Boy: This is a fun ride!
[video: a young girl climbs up a playground climber to the top decking. Camera pans up to a group of children climbing on a SpaceWalk Climber™ that is elevated. Side view of a girl as she walks sideways across a S-Curved Balance Beam. She loses her balance and steps down off the beam. Scene switches to a child's foot stepping onto a belted zone of a Seeker Climber. The camera follows the child's feet as they climb across the ropes and belted zone of the climber. Scene switches to the camera panning down from a playground shade to the colorful play structure below.]
[video: camera pans up unique sugar skull and flower playground steppers. The camera focuses on a child's feet as they step on the colorful and unique designed steppers. The camera stops to focus on the bottom yellow stepper designed like a sugar skull. Scene switches to a boy as he slides down a Roller Slide. Three children look together at the colorful and educational signs on a playground wire barrier. A girl points up to a colorful and beautifully designed sign and reads it to her friends.]
Girl: This is bienvendidos. That means, that bienvendidos, that means welcome.
[video: a man shouts with excitement as he rides down a roller slide. Children laugh and shout with him. Scene switches to a close up of a custom flower climber. Camera views up through the ropes of a SpaceWalk Climber™ as a girl walks across. A group of children play and climb together on the rope Seeker Climber. Two girls smile as they play on the Seeker Climber. Scene fades to a child's legs as they climb up two custom Permalene® panels with intricate cut outs. Scene fades to a side view of a couple of children climbing on a custom flower playground climber. Scene fades to a boy and girl as they climb through the rope tunnel of the Seeker Climber. Scene fades to a child's feet as they climb up a Chimney Climber in slow motion. Scene fades to a group of children as they smile and wave to the camera. Screen goes black. A boy shouts [Wah hoo!]. The Landscape Structures logo appears. Text below the logo reads: For a better tomorrow we play today.]
Next Tab
Featured Products
We offer the widest range of park and playground equipment to promote healthy lifestyles, encourage skill-building and create unique outdoor experiences. From our playsystems and freestanding playground components to themed designs, site furnishings and more, we'll help you create a recreation space that welcomes your whole community.
Play Systems featured in this Playground
PlayBooster®
Ages 5 to 12 Years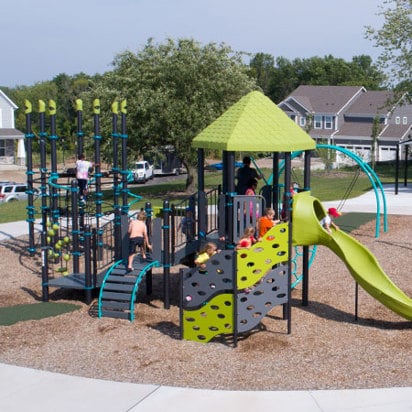 The PlayBooster® playground structure, the original post-and-clamp system, combines exciting ground-level components with climbing events and overhead activities for kids ages 5 to 12. The PlayBooster family includes the interconnected cables of Netplex®, the contemporary Vibe®, the nature-inspired Tree House and the double-decker PlayOdyssey® Tower.
Resources
View all PlayBooster® Components
Product Categories featured in this Playground
Freestanding Play
Ages 2 to 12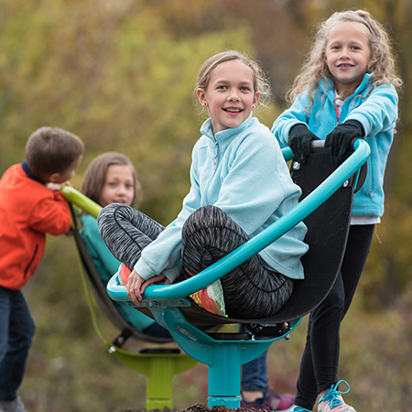 Freestanding Play events add fun and excitement to new and existing playgrounds! Revitalize your current playground or create a playground design that's completely unique using Freestanding Play components for kids ages 2 to 5 and 5 to 12.
Resources
View all Freestanding Play Events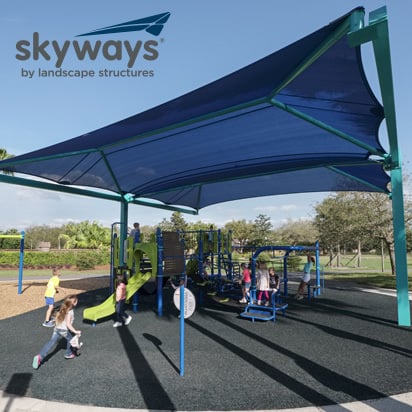 Landscape Structures' SkyWays® division based in Dallas, Texas, is dedicated to shade structures.
Choose from two types of shade products that provide cool and reliable shade for any play, rest and activity: SkyWays offer the largest break from the sun, and CoolToppers® connect to our PlayBooster® playstructures. Designed to block up to 97 percent of UV rays and keep playground temperatures up to 30 degrees cooler on the hottest of days.
View all Shade Products
Play Styles featured in this Playground
We can help you create playground designs unique to your community! Everything in our custom design process is driven by your goals and ideas. Together, we'll create a destination playground that's as individual as your imagination!
View Custom/Themed Ideas
Previous Tab
Next Tab
Playground consultant for this project
We've created a global network of local playground experts to be at your side, every step of the way. With an average of 20 years of experience, our playground consultants are knowledgeable and personable. They will guide you through product pricing and specifications, customization, financing options, community builds, on-time deliveries, maintenance, finding replacement parts, and service questions.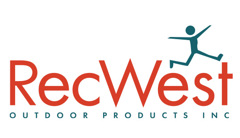 RecWest Outdoor Products, Inc.
31316 Via Colinas Ste 118
Westlake Village, CA 91362
USA
Phone 818-735-3838
info@recwest.com
recwest.com
Find a Playground Consultant Near You
Previous Tab
Related Playgrounds & Designs