King Greenleaf Playground
Playground Overview
Marine enthusiasts will love congregating at King Greenleaf Playground. With a lighthouse-themed PlayBooster® play structure and wave-themed climbers, this playground design will encourage imaginative play in kids of all ages. Even more, log steppers and rock climbers offer balance activities, swings deliver that high-flying feel that many kids love and rubberized playground safety surfacing provides easy access to the play environment. And playground designers didn't forget about young children... there's a play area devoted to kids ages 2 to 5 that encourages skill development.
---
---
Playground Details
Age Ranges

2 to 5 Years
5 to 12 years

Design Standards

ASTM

Installed

April 2015

Min Area Required

180' x 74' (54,86 m x 22,56 m)
Project Price Range

Pricing for custom playground equipment varies. For international and exact pricing, please contact your local playground consultant.
---
Playground products shown in video may not be appropriate for every age group. Playsystems shown in video are for demonstration purposes only. Product configurations may vary.
Video features Landscape Structures playground at King Greenleaf Playground in Washington D.C.
[video: camera view from outside of the playground fence. Large overhead entrance sign reads: King Greenleaf Playground. The red and blue accented playground sits in the background. Camera switches to a full view of the entire PlayBooster playground with children playing all around. Camera pans up to three children standing on the Wood Plank Wave shaped climber.]
[video: elevated panning view over the playground area as children play below. A group of boys climb across the Ring Tangle climber. Slow vertical pan up the Sky Rail climber as children climb to the playground tower. A girl spins another girl on the Blender Spinner. Camera zooms in on a girl quickly spinning on the Blender Spinner. Another girl's hands come into view as they help the girl spinning to stop.]
[video: a group of children hand and climb on the Sky Rail climber. Chamia Day a summer camp recreational aide speaks to the camera.]
Chamia: They are loving the new playground. They like to play. It's a place where they are free-
Chamia voiceover: and they can do whatever they please. They have great big slides for them. They play games on the playground.
[video: a girl runs up the different height Log Steppers. Top down view as a girl slides down the tall SlideWinder slide. A group of children all stand on individual Log Steppers. Camera back to Chamia speaking to the camera.]
Chamia: They love to hang up on the big place at the top.
[video: Chamia points up to the tallest tower on the playground. Camera fallows as a girl climbs up the ladder to the decking of the tallest playground tower.]
Chamia voiceover: They love to hang out there. [she laughs] I guess there's a lot of shade up there but…-
[video: camera pans vertically up the tallest tower on the playground. Camera back to Chamia speaking.]
Chamia: Our favorite things are the swings.
Chamia voiceover: They love the swings. And the slides, the long slides, they love them.]
[video: side view of the swing set as children swing. Chamia walks up to the swing set as the children swing. Camera shows a full view of the tall playground tower structure with the SlideWinder slide. A child slides down the slide towards the camera. Two girls slide down a double slide, they stand up at the end of the slide and look up into the camera. Fade to a side view of a boy sliding down the SlideWinder slide.]
[video: a group of children stand on Log stepper stumps. They all stand and balance on one foot while holding their arms up above their head like a yoga pose. Fade to an elevated view of the entire playground area. Fade to black. Text appears on screen reading: Better playgrounds. Better world. Landscape Structures logo slides up from the bottom replacing the text.]
Next Tab
Featured Products
We offer the widest range of park and playground equipment to promote healthy lifestyles, encourage skill-building and create unique outdoor experiences. From our playsystems and freestanding playground components to themed designs, site furnishings and more, we'll help you create a recreation space that welcomes your whole community.
Play Systems featured in this Playground
PlayBooster®
Ages 5 to 12 Years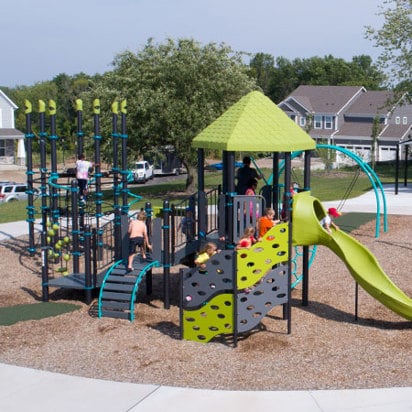 The PlayBooster® playground structure, the original post-and-clamp system, combines exciting ground-level components with climbing events and overhead activities for kids ages 5 to 12. The PlayBooster family includes the interconnected cables of Netplex®, the contemporary Vibe®, the nature-inspired Tree House and the double-decker PlayOdyssey® Tower.
Resources
View all PlayBooster® Components
Product Categories featured in this Playground
Freestanding Play
Ages 2 to 12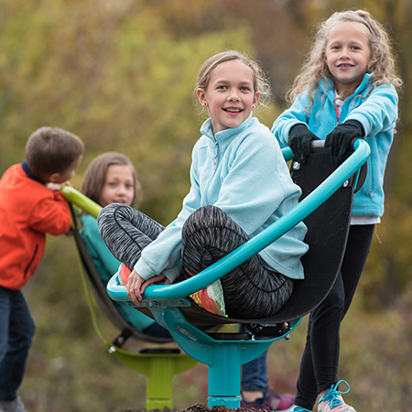 Freestanding Play events add fun and excitement to new and existing playgrounds! Revitalize your current playground or create a playground design that's completely unique using Freestanding Play components for kids ages 2 to 5 and 5 to 12.
Resources
View all Freestanding Play Events
Play Styles featured in this Playground
We can help you create playground designs unique to your community! Everything in our custom design process is driven by your goals and ideas. Together, we'll create a destination playground that's as individual as your imagination!
View Custom/Themed Ideas
Previous Tab
Next Tab
Playground consultant for this project
We've created a global network of local playground experts to be at your side, every step of the way. With an average of 20 years of experience, our playground consultants are knowledgeable and personable. They will guide you through product pricing and specifications, customization, financing options, community builds, on-time deliveries, maintenance, finding replacement parts, and service questions.
Find a Playground Consultant Near You
Previous Tab
Related Playgrounds & Designs