Overview
Harrison Recreation Center is home to music-themed playstructures, which honor the strong history of jazz in the neighborhood. Featuring Evos® and Weevos® playsystems, customized components like a piano keys climber, violin spinner and music activity panels help complete the theme. This signature playground has become a gathering space for children ages 2 to 12, their families and the entire community.
New Colors
Color is an important decision. And we've got lots to choose from including eight new colors! Find suggested combinations through our palette page or work with our team to create your own.
See more color options
Product Lines
Price Range
$45K-$135K
*prices vary based upon configurations, options, delivery and installation. For international and exact pricing, please contact your local playground consultant.
Age Ranges
2 to 5 Years
5 to 12 Years
Min Area Required
79' x 48' (24,08 m x 14,63 m)
Product Lines Featured in this Playground
Evos®
Ages 5 to 12
Evos® attracts kids with its unique appearance and endless opportunities for unstructured fun. Its ground-to-ground arches allow kids of all abilities to join in the fun. But most importantly, Evos lets kids find their own ways to play while building muscle strength, endurance and mental agility.
Related Links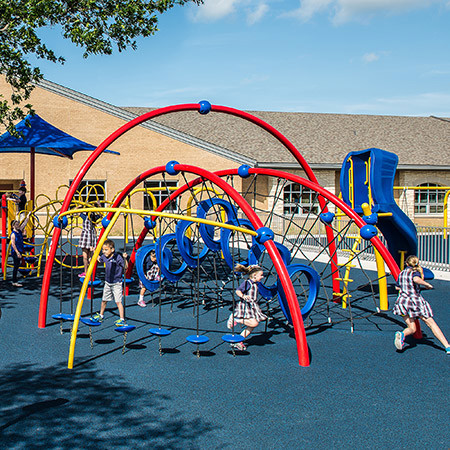 Weevos®
Ages 2 to 5
The Weevos® playground structure is designed to growth and development in 2- to 5-year-olds in six key areas: physical, balance, cognitive, sensory/motor, emotional/social and language. Best of all, Weevos safely lets toddlers and preschoolers bee-bop and giggle with just the right amount of wiggle, and clear sight lines let supervisors keep their eyes on all the action!
Related Links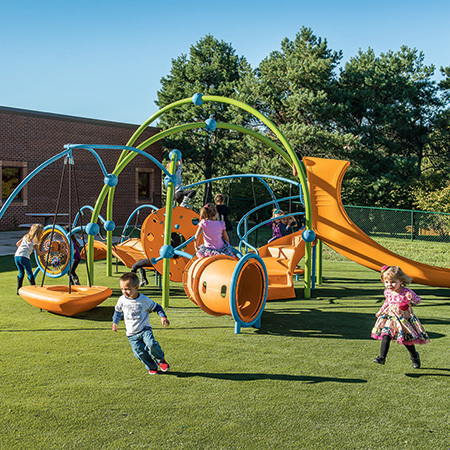 Freestanding Play
Ages 2 to 12
Freestanding Play events add fun and excitement to new and existing playgrounds! Revitalize your current playground or create a playground design that's completely unique using Freestanding Play components for kids ages 2 to 5 and 5 to 12.
Related Links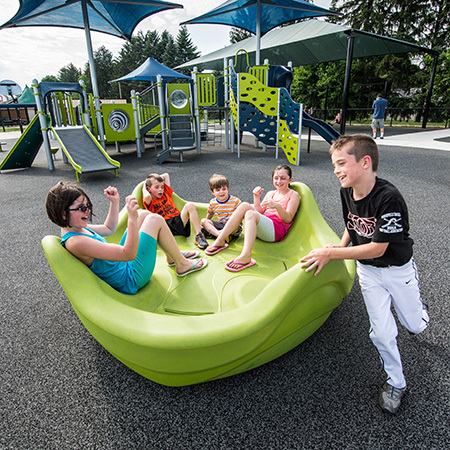 Surfacing
We combine the benefits of design, technology and safety into breakthrough, high-performance solutions for playground and water play safety surfacing: PebbleFlex® and AquaFlex®. PebbleFlex and AquaFlex use an advanced bond-in-place technology where millions of pebbles bond together to create an unparalleled surface that stands up to the demands of weather extremes and active use.
Related Links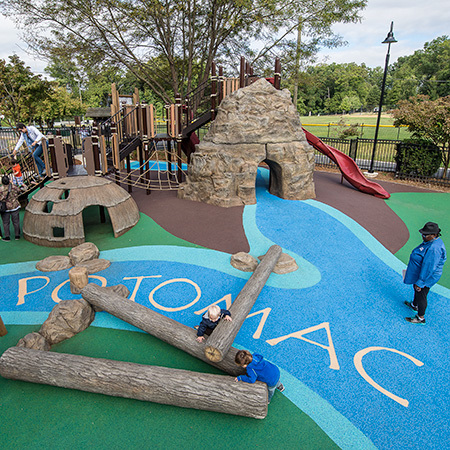 Themes
We can help you create playground designs unique to your community! Everything in our custom design process is driven by your goals and ideas. Together, we'll create a destination playground that's as individual as your imagination!
Related Links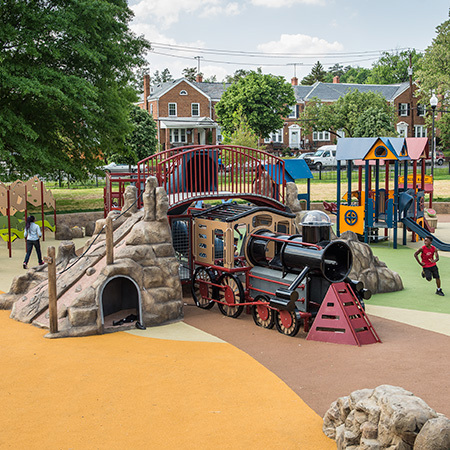 Three cheers for our partner in play covering Washington D.C.!