Cory B. Wride Memorial Park
Playground Overview
Cory B. Wride Memorial Park delivers a sprawling playground fit for the entire family. Positioned in the center of the circular playground design is a custom circle swing set complete with a variety of swing seats. Moving out from the center, kids will find the Netplex® playstructure, Global Motion®, Sway Fun® glider as well as a playstructure designed for toddlers and preschoolers. Even further out, visitors will meet the Mobius®, Aeronet® and AdventureScapes® climbers. And hillside climbers and slides are covered with a SkyWays® shade structure to help keep equipment and users cooler while they enjoy the ride.
---
---
Playground Details
Age Ranges

Design Standards

ASTM

Installed

July 2018
Project Price Range

Pricing for custom playground equipment varies. For international and exact pricing, please contact your local playground consultant.
---
Playground products shown in video may not be appropriate for every age group. Playsystems shown in video are for demonstration purposes only. Product configurations may vary.
Video featuring an outdoor playground with several climbing and motion structures, Cory B. Wride Memorial Park in Eagle Mountain Utah.
[video: fade into full aerial shot of all play areas with children swinging on large circular swing. Camera ground level view of families playing on cargo net course and slides that are incorporated on a hillside.]
[video: side view of girl going down large yellow slide. Older girl spinning quickly on a vertical stand spinner. A group of children work together to rock the "Sway Fun" motion structure.]
[video: camera switch to ground view panning upwards of children playing on rocket shaped webbed ropes course. Camera switch to directly underneath webbed rope structure with children climbing. Close-up of young boy and girl climbing on ropes.]
[video: girl walking down rope plank bridge to the bottom of a hill. Camera switch to bottom of plank bridge look up to boy walking up plank bridge. Three children being spun on large multi seated spinner by adult.
Boy with braces: I'm Mason and I'm nine. I like this playground it's fun. It has a lot of things you can do. [Camera view switches to panning view of children playing on gliding swing]
[video: close-up shot of young boy's face] Young boy 1: My name's Alec and I'm seven years old. What I like about this playground it's super big and there is a lot of things to do. [aerial panning view of entire play area]
[video: close-up shot of young girl's face] Young Girl 1: My name is Eva, I am eight. It's the funniest playground that I've ever been to.
[video: close-up of young boy 2 face] Young boy 2: My name is Wilson and I am ten and I really like that rocket because [camera view switches to full view of rocket webbed ropes course] you can climb really high up and then you can look over the whole park and its really cool.
[video: close-up of young girl 2] Young girl 2: My names Toby and I like to play on parks and I'm seven years old. [camera switch to older girl] Older girl: I am twelve years old going on thirteen. I like this park
because there's a lot of variety and there's some things that are fun for me. for my little brother, for my little sister who's over there and it's just, there's lots of stuff for everybody to do.
[video: mother helping young daughter on seated ZipKrooz seat and letting go. Camera switch to girl looking through telescope. Two boys swinging on large round swing together. Camera switch to mother pushing her daughter in baby swing. Three children walking on mushroom head steps, stump steps, and log walks. Older girl with sunglasses pushing baby in swing.]
[video: camera switch to boy and girl playing on SuperScoops in a large sand box. Camera switch to young girls playing playground xylophone and hanging chimes. Camera view changes to bird's eye view panning over large water play area of playground with fountains and waterfalls.]
[video: camera switch to young children jumping and walking across mushroom head steps, stump steps, and log walks. Camera switch to aerial view same play area.]
[video: group of children climbing on wood planked arch. Children gather on top of arch] Young boy 3: I'm King Kong!]
[video: elevated view of children going down shaded side by side slides. Camera switches to looking down at young boy swinging and smiling.]
[video: group of kids on top of webbed ropes course waving at camera and smile. Camera switches to a full aerial view of the complete park. Fade to Landscape Structures logo.]
Next Tab
Featured Products
We offer the widest range of park and playground equipment to promote healthy lifestyles, encourage skill-building and create unique outdoor experiences. From our playsystems and freestanding playground components to themed designs, site furnishings and more, we'll help you create a recreation space that welcomes your whole community.
Play Systems featured in this Playground
PlayBooster®
Ages 5 to 12 Years
The PlayBooster® playground structure, the original post-and-clamp system, combines exciting ground-level components with climbing events and overhead activities for kids ages 5 to 12. The PlayBooster family includes the interconnected cables of Netplex®, the contemporary Vibe®, the nature-inspired Tree House and the double-decker PlayOdyssey® Tower.
Resources
View all PlayBooster® Components
Product Categories featured in this Playground
Freestanding Play
Ages 2 to 12
Freestanding Play events add fun and excitement to new and existing playgrounds! Revitalize your current playground or create a playground design that's completely unique using Freestanding Play components for kids ages 2 to 5 and 5 to 12.
Resources
View all Freestanding Play Events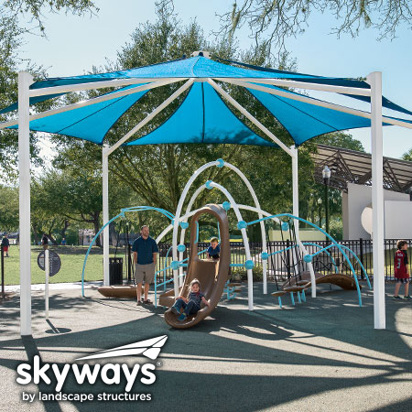 Landscape Structures' SkyWays® division based in Dallas, Texas, is dedicated to shade structures.
Choose from two types of shade products that provide cool and reliable shade for any play, rest and activity: SkyWays offer the largest break from the sun, and CoolToppers® connect to our PlayBooster® playstructures. Designed to block up to 97 percent of UV rays and keep playground temperatures up to 30 degrees cooler on the hottest of days.
View all Shade Products
Play Styles featured in this Playground
We can help you create playground designs unique to your community! Everything in our custom design process is driven by your goals and ideas. Together, we'll create a destination playground that's as individual as your imagination!
View Custom/Themed Ideas
Previous Tab
Next Tab
Playground consultant for this project
We've created a global network of local playground experts to be at your side, every step of the way. With an average of 20 years of experience, our playground consultants are knowledgeable and personable. They will guide you through product pricing and specifications, customization, financing options, community builds, on-time deliveries, maintenance, finding replacement parts, and service questions.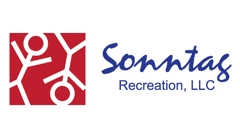 Find a Playground Consultant Near You
Previous Tab
Related Playgrounds & Designs