Berkeley Preparatory School
Playground Overview
Berkeley Preparatory School combines all the best elements of shade and custom design for their perfect play space. Bright blue skies are the ideal backdrop for the custom pirate ship as it sets sail daily. Jump ship via one of the slides or steps. Smaller elements add to the theme like barrel steps, telescope and a seek-and-find. Freestanding play elements, GeoPlex climber and Saddle Spinners add extra challenge and excitement.
---
---
Playground Details
Age Ranges

Design Standards

ASTM

Installed

October 2018

Design/CAD Files
Project Price Range

Pricing for custom playground equipment varies. For international and exact pricing, please contact your local playground consultant.
---
Playground products shown in video may not be appropriate for every age group. Playsystems shown in video are for demonstration purposes only. Product configurations may vary.
Video features the roof top playground at Berkeley Preparatory School in Tampa Florida.
[video: scene fades into the Berkeley School lobby with a large fake tree with a spiraling staircase around it. Large blue letters on a lobby wall spell out Berkeley. Scene switches to a close-up of a scale model of the Berkeley School grounds and building. Scene fades to black and into an outside panning view across the front of the school. Peaking over the glass barrier on the roof is a ship themed playground with two large blue SkyWays playground sails. Scene switches to a pan across the roof top ship themed playground. Camera switches to a view across the roof top play area of the back of the playground ship structure. Children shout, and they race to the playground. Scene switches to the camera panning up the side of the ship themed playground where children run around and up onto the structure. Scene switches to a young girl as she steps up Glass Fiber Reinforced Concrete barrels designed as playground steps. Scene switches to a close-up of children as they hang and play on some playground ropes. Camera switches to two boys on the playground decking as they giggle and smile at the camera. Scene switches to a top down view of a young boy as he spins himself on a Saddle seat spinner. A child screeches loudly in the background. Another young boy rushes near to the boy on the Saddle Spinner. He raises his hands up in the air and jumps up and down to get the cameras attention. Scene switches to a full view of the roof top play area as a handful of children play. Scene switches to a side view of the ship themed playground as a large class of children play all around. The two large SkyWays shade sails connect to the masts of the ship playground and out to the surrounding school building walls. Scene switches to a group of boys and girls as they stand and play on the barrel designed playground steps. Camera switches to a view under the ship themed playground as children duck and kneel in the underneath cargo hold. The camera focuses on a boy as he sits in one of the port hole climbers of the ship's cargo hold. Children shout and laugh in the background. Scene switches to a top down view from the playground decking of a Roller Slide. A young girl rides down the slide. Camera switches back to the young boy spinning on the Saddle Spinner while his friend dances for the camera nearby. Scene switches to a side view of a young girl as she slowly rotates herself on the Saddle Spinner. Her friend walks up to her and grabs the seat of the spinner. Her friend spins her seat, the girl riding smiles as her hair flies away from her face. Scene fades to a young girl wearing a glittery Berkeley School t-shirt as she smiles and waves to the camera. Screen goes black with the Landscape Structures logo in the center. The Landscape Structures logo is made of a red ribbon undulating above the white text Landscape Structures. White text below the logo reads: For a better tomorrow we play today.]
Next Tab
Featured Products
We offer the widest range of park and playground equipment to promote healthy lifestyles, encourage skill-building and create unique outdoor experiences. From our playsystems and freestanding playground components to themed designs, site furnishings and more, we'll help you create a recreation space that welcomes your whole community.
Play Systems featured in this Playground
PlayBooster®
Ages 5 to 12 Years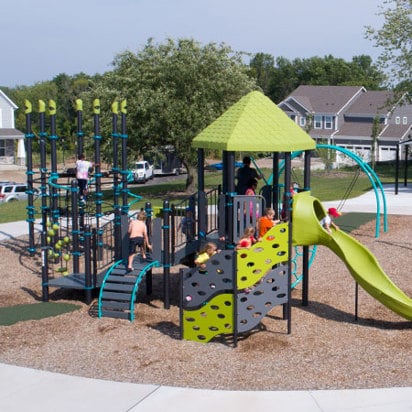 The PlayBooster® playground structure, the original post-and-clamp system, combines exciting ground-level components with climbing events and overhead activities for kids ages 5 to 12. The PlayBooster family includes the interconnected cables of Netplex®, the contemporary Vibe®, the nature-inspired Tree House and the double-decker PlayOdyssey® Tower.
Resources
View all PlayBooster® Components
Product Categories featured in this Playground
Freestanding Play
Ages 2 to 12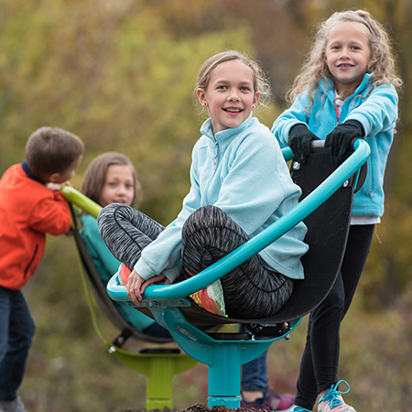 Freestanding Play events add fun and excitement to new and existing playgrounds! Revitalize your current playground or create a playground design that's completely unique using Freestanding Play components for kids ages 2 to 5 and 5 to 12.
Resources
View all Freestanding Play Events
Play Styles featured in this Playground
We can help you create playground designs unique to your community! Everything in our custom design process is driven by your goals and ideas. Together, we'll create a destination playground that's as individual as your imagination!
View Custom/Themed Ideas
Previous Tab
Next Tab
Playground consultant for this project
We've created a global network of local playground experts to be at your side, every step of the way. With an average of 20 years of experience, our playground consultants are knowledgeable and personable. They will guide you through product pricing and specifications, customization, financing options, community builds, on-time deliveries, maintenance, finding replacement parts, and service questions.
Find a Playground Consultant Near You
Previous Tab
Related Playgrounds & Designs