4th Avenue Playground
Minneapolis, MN USA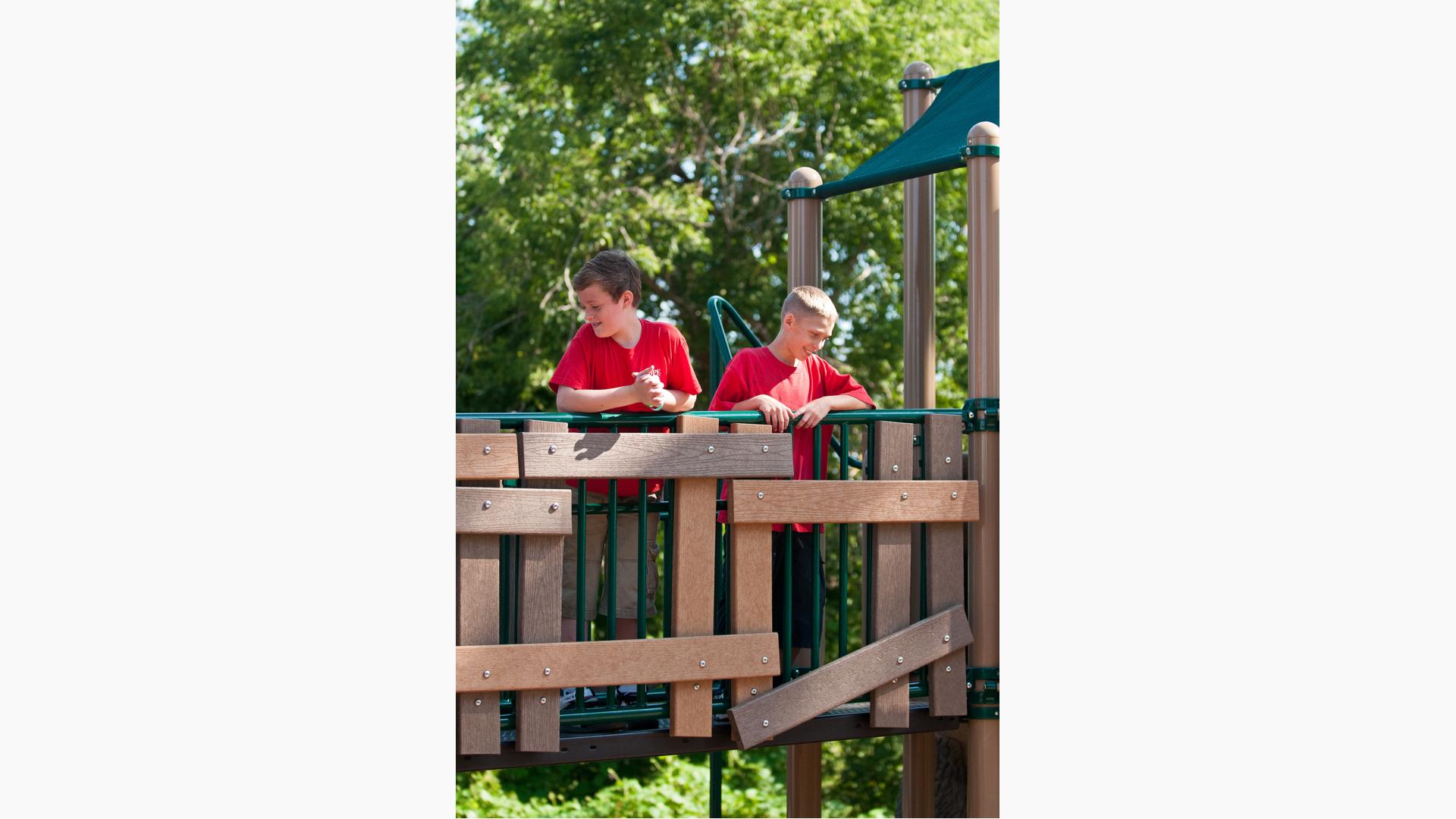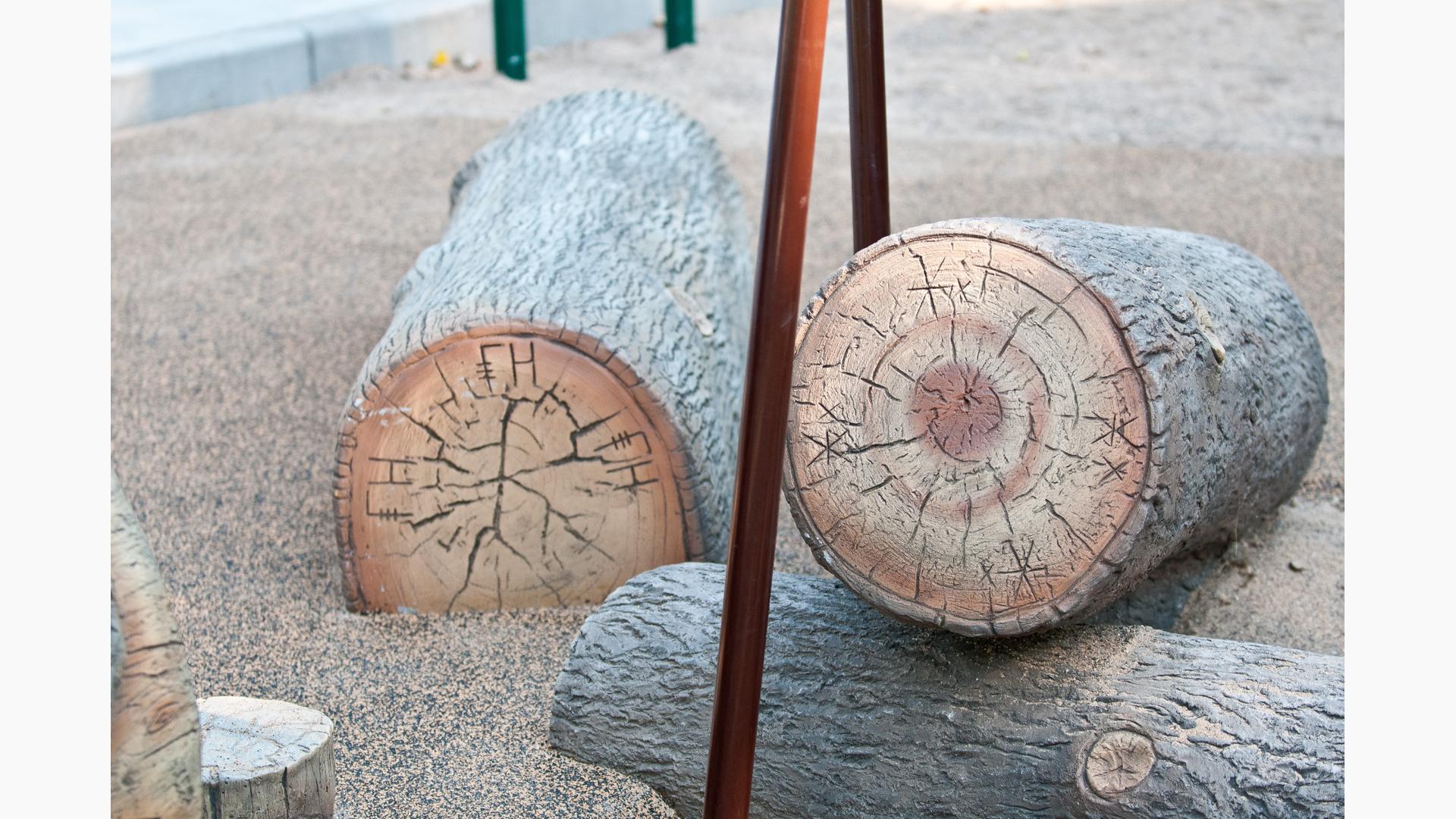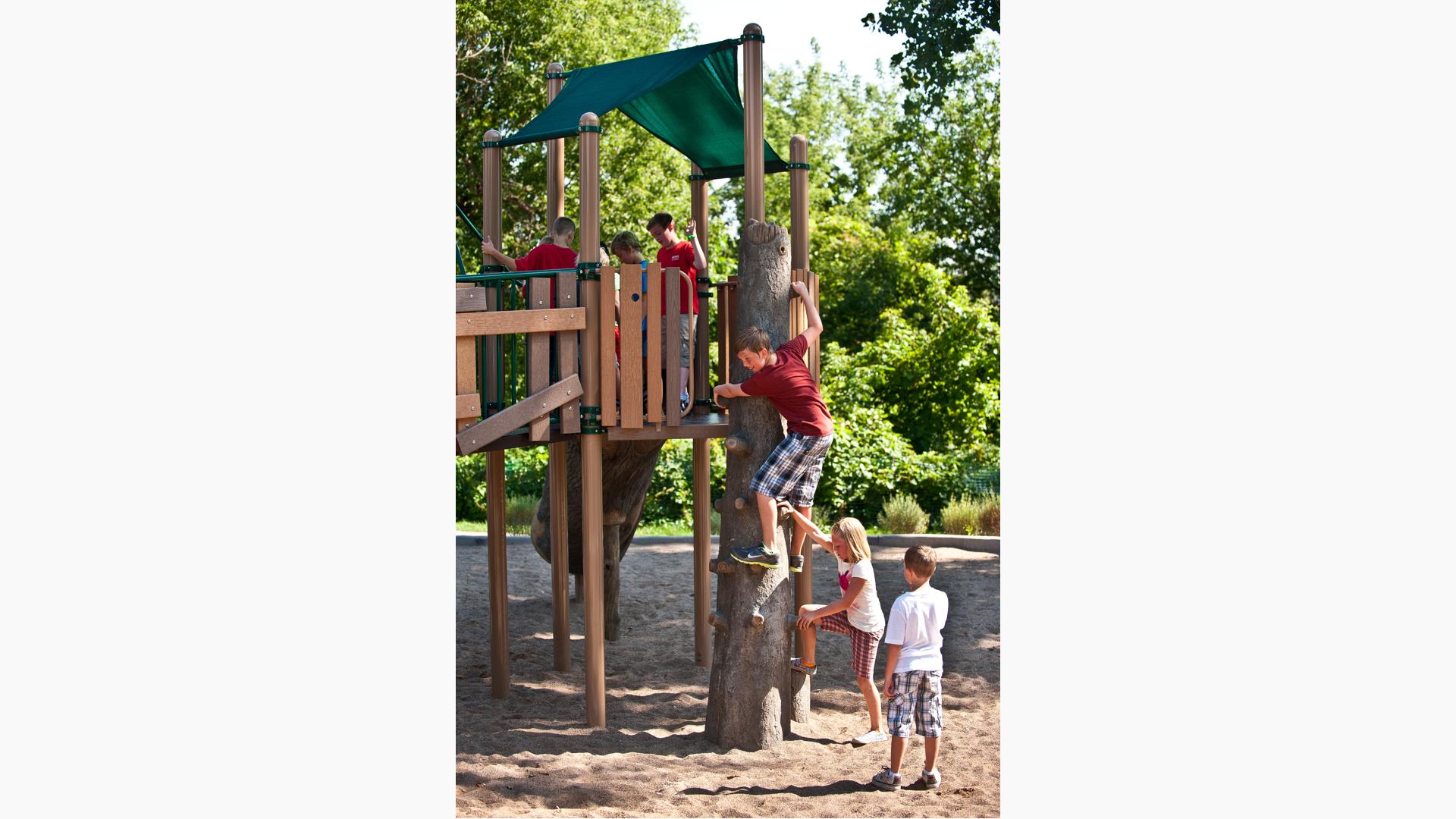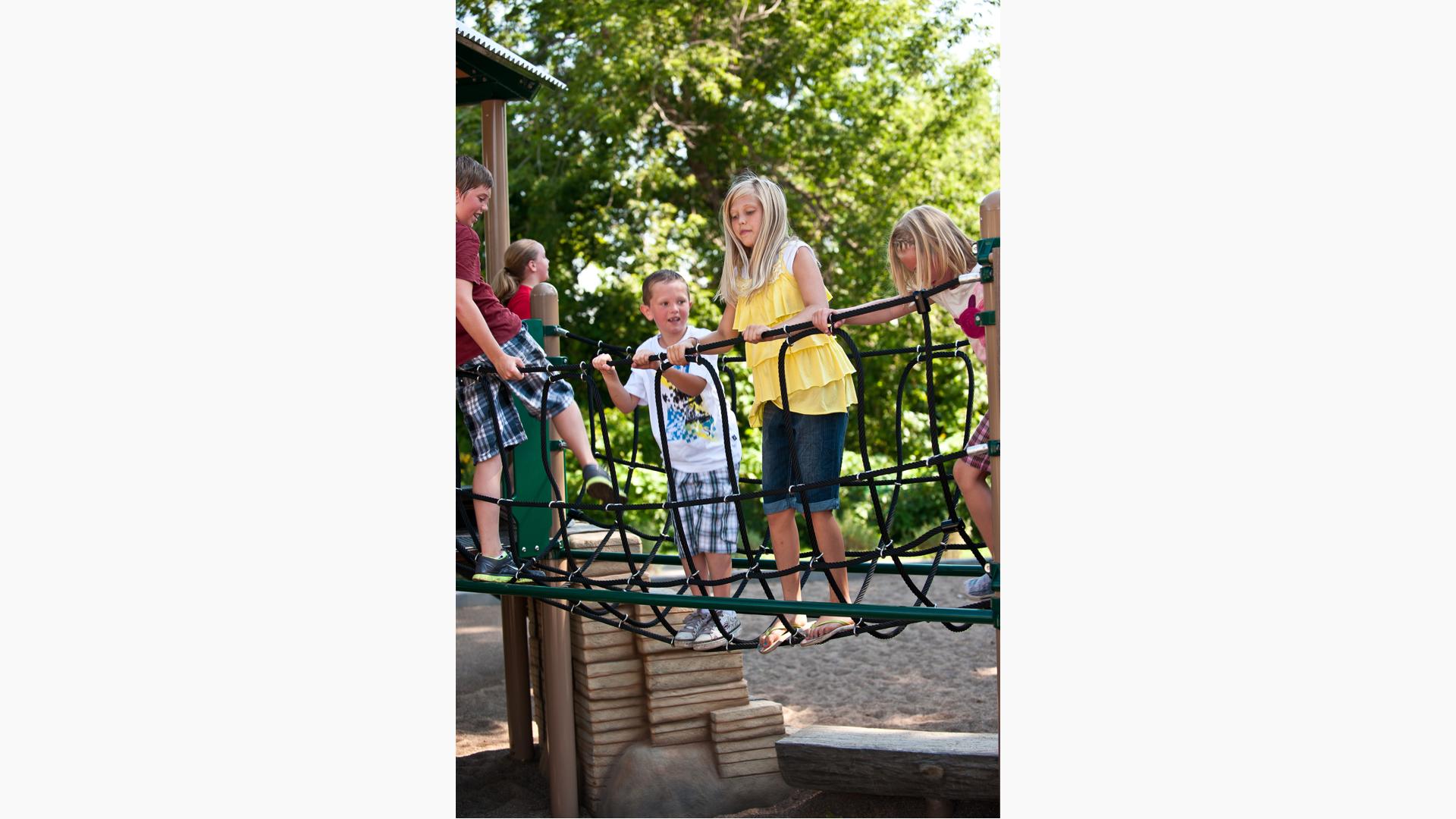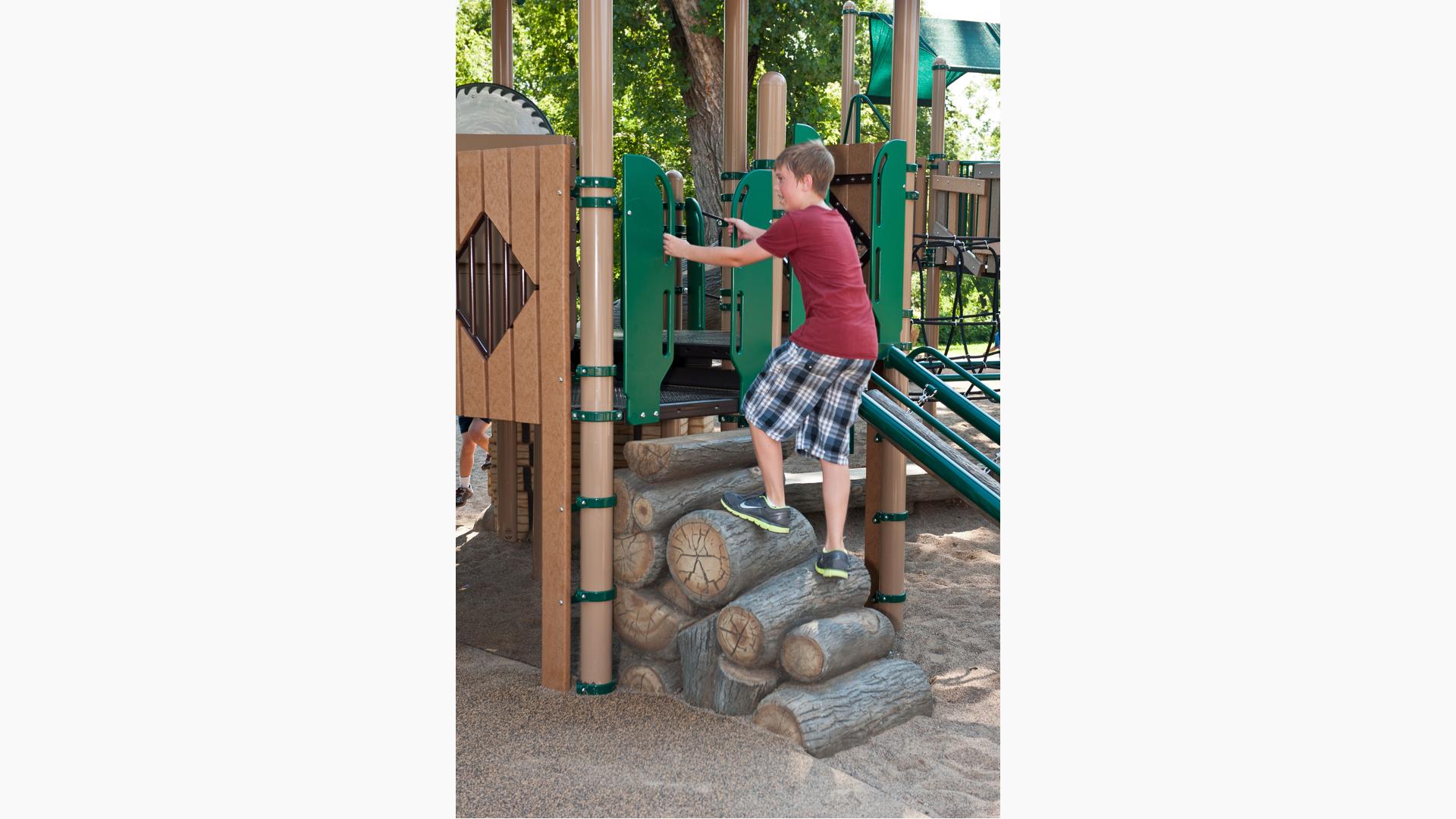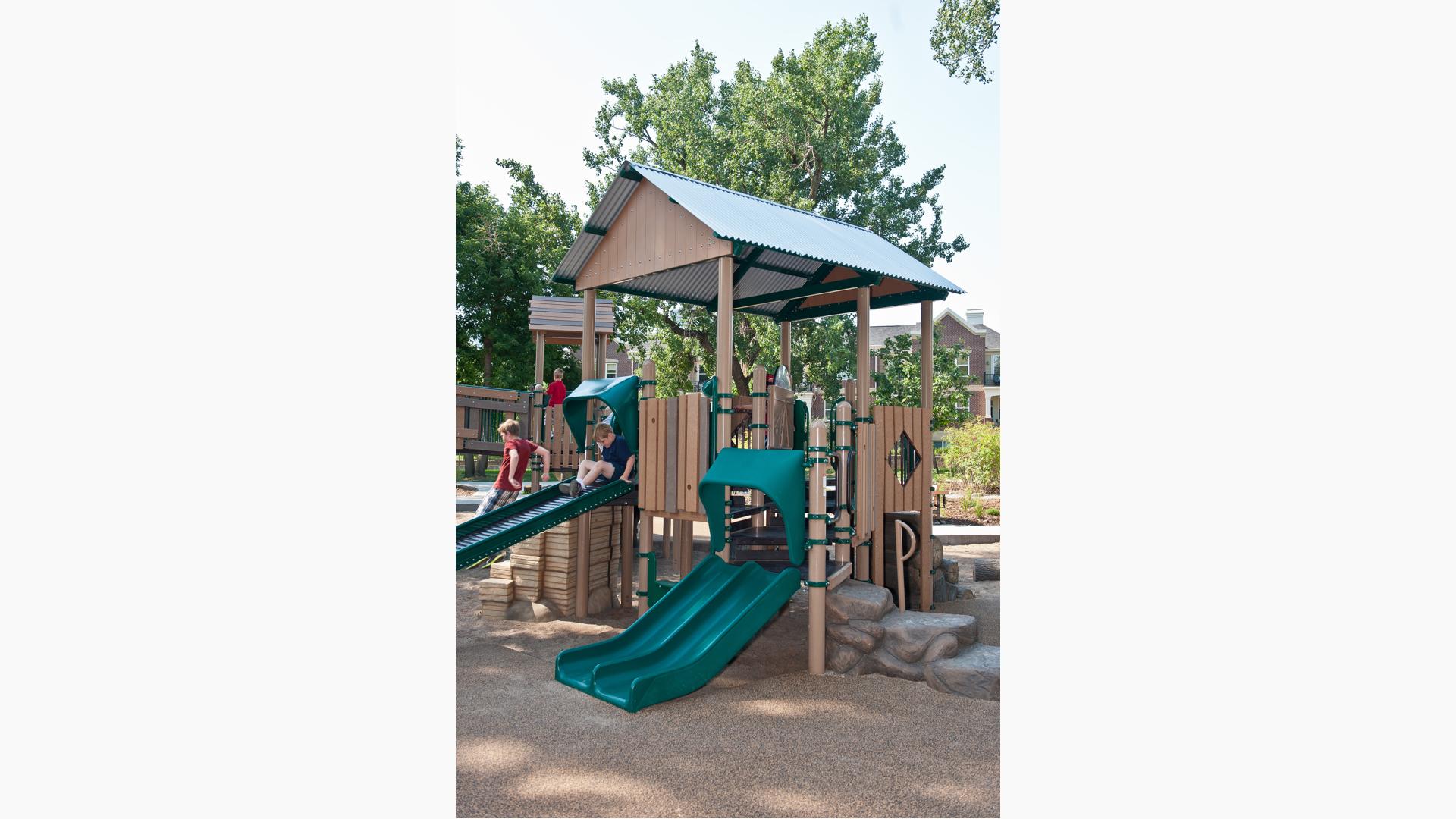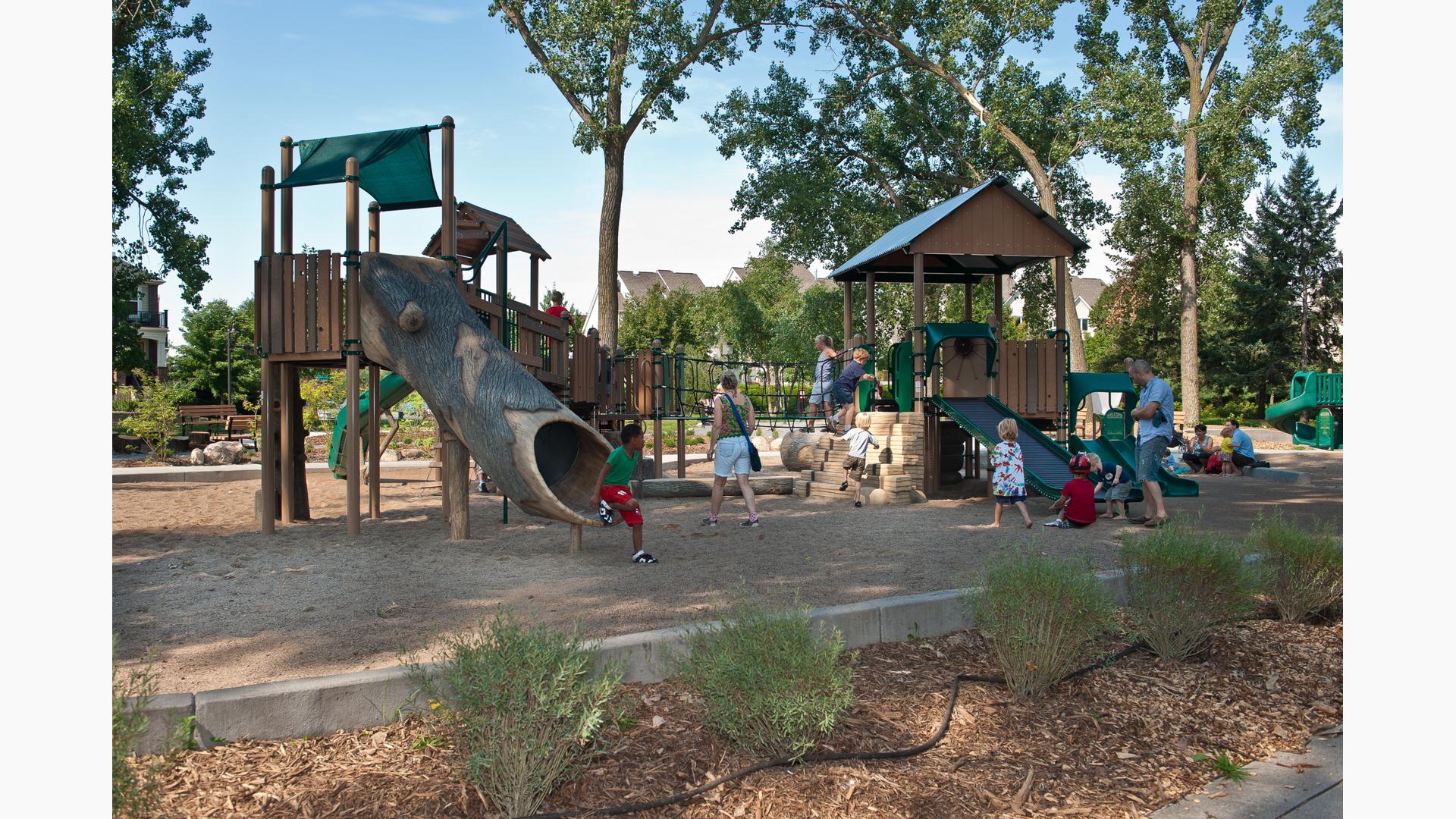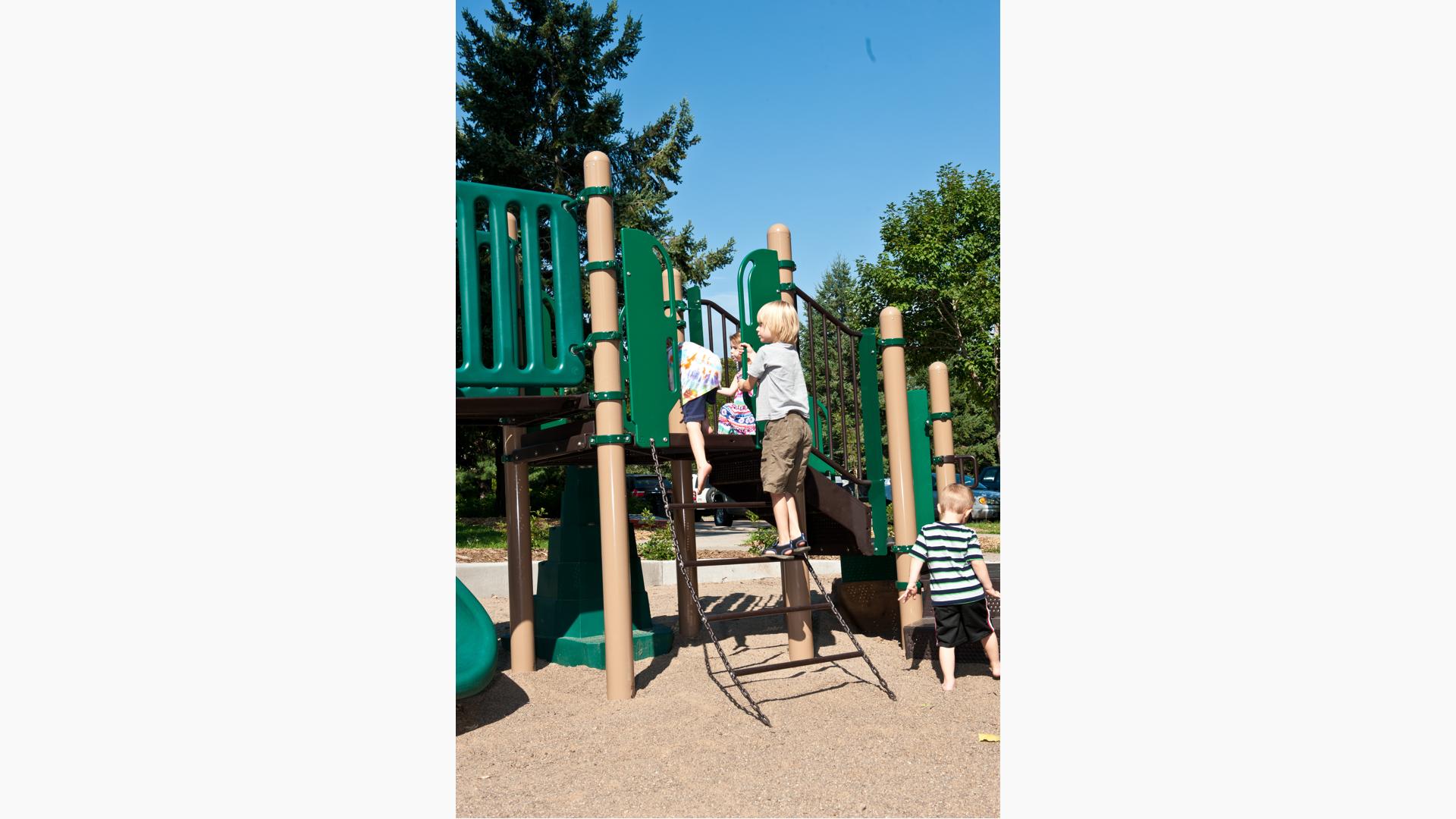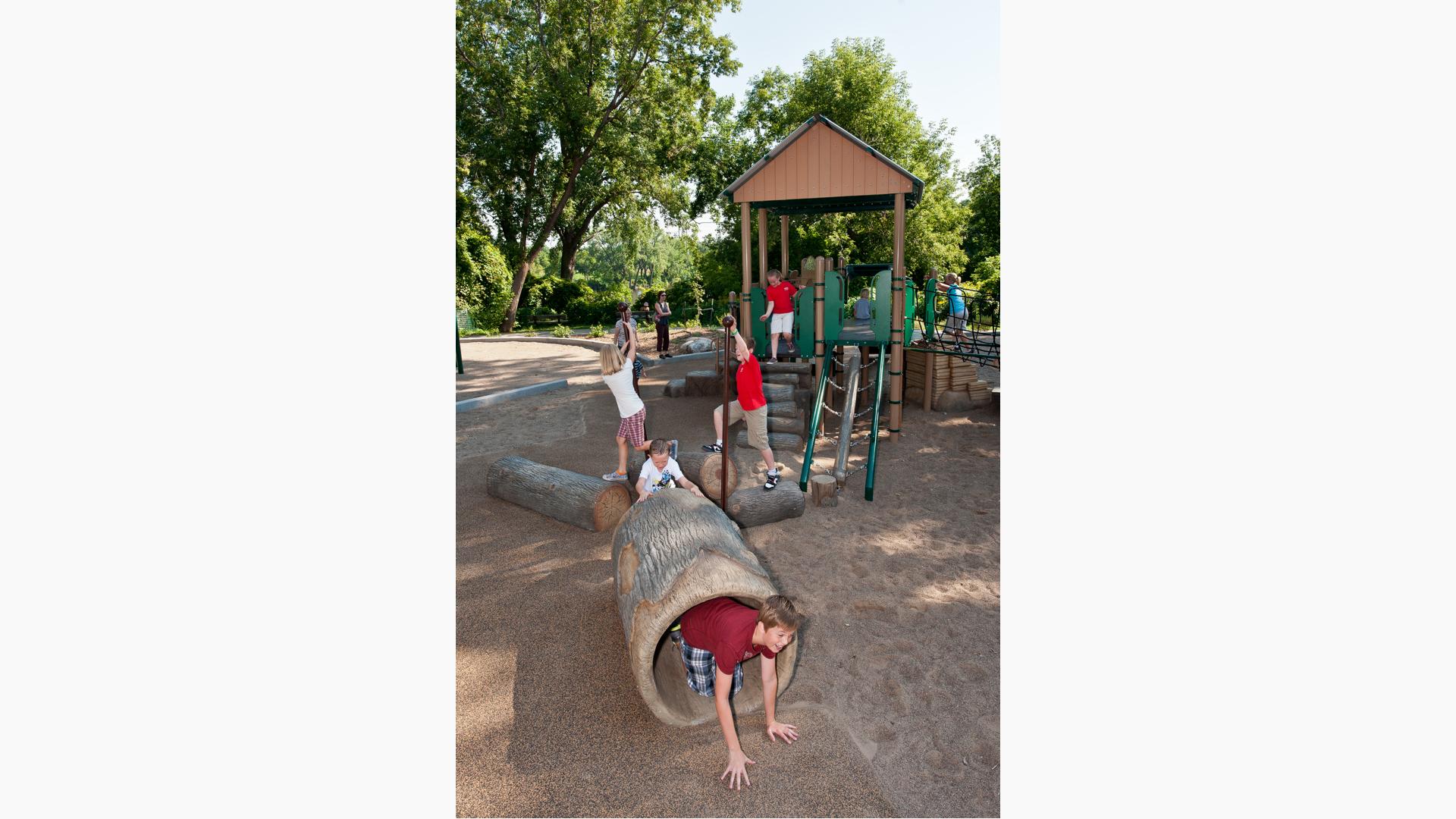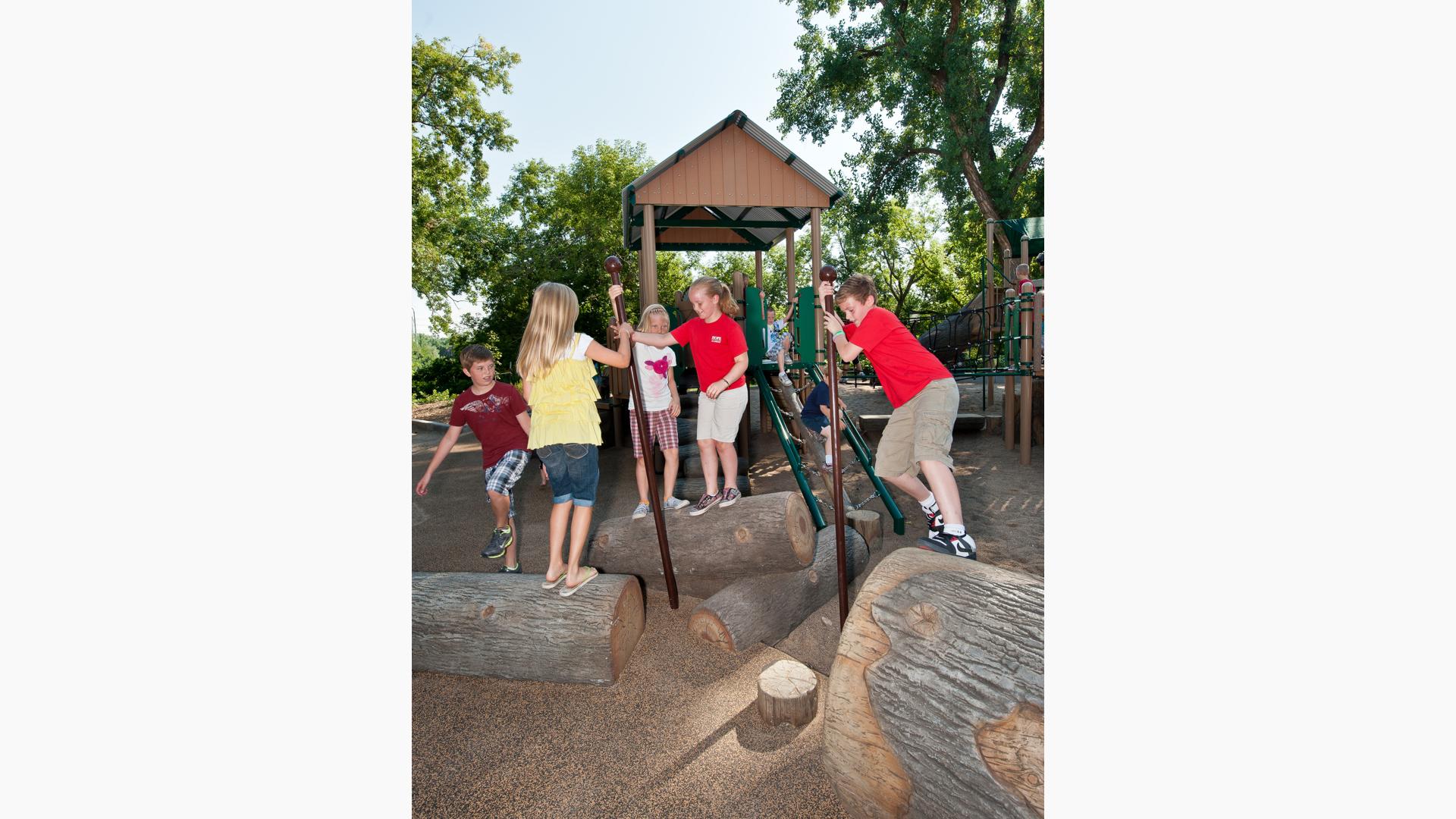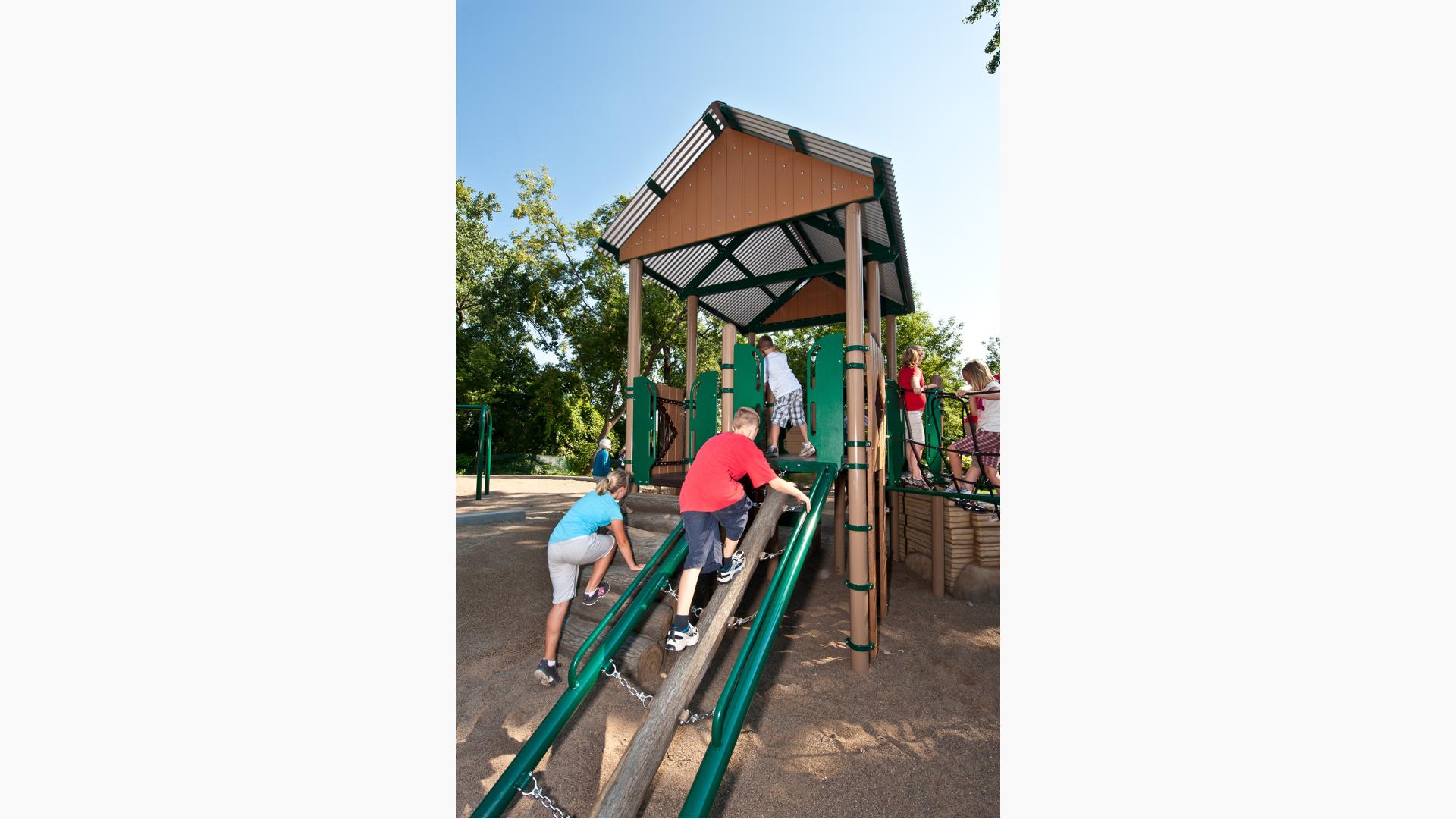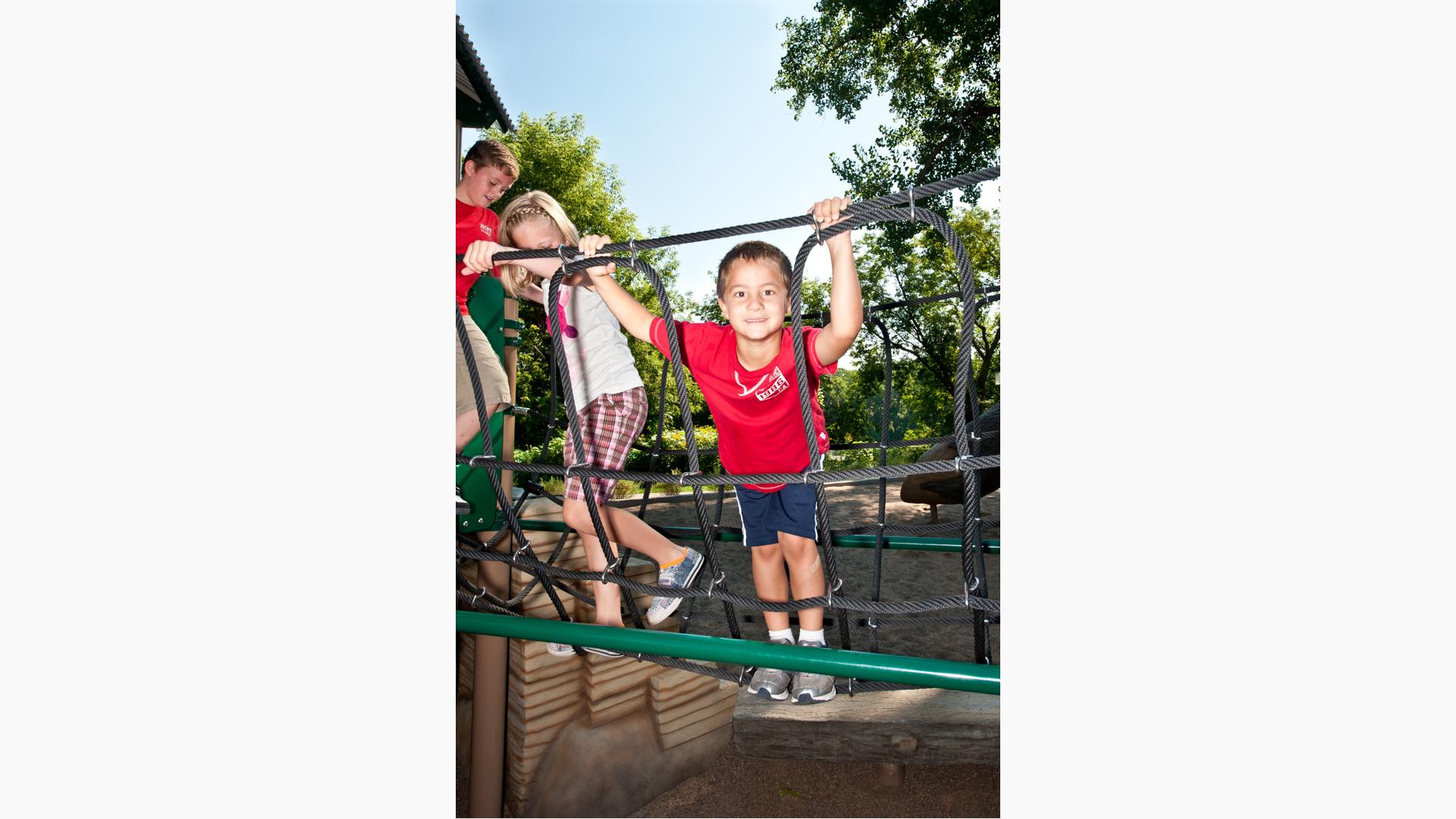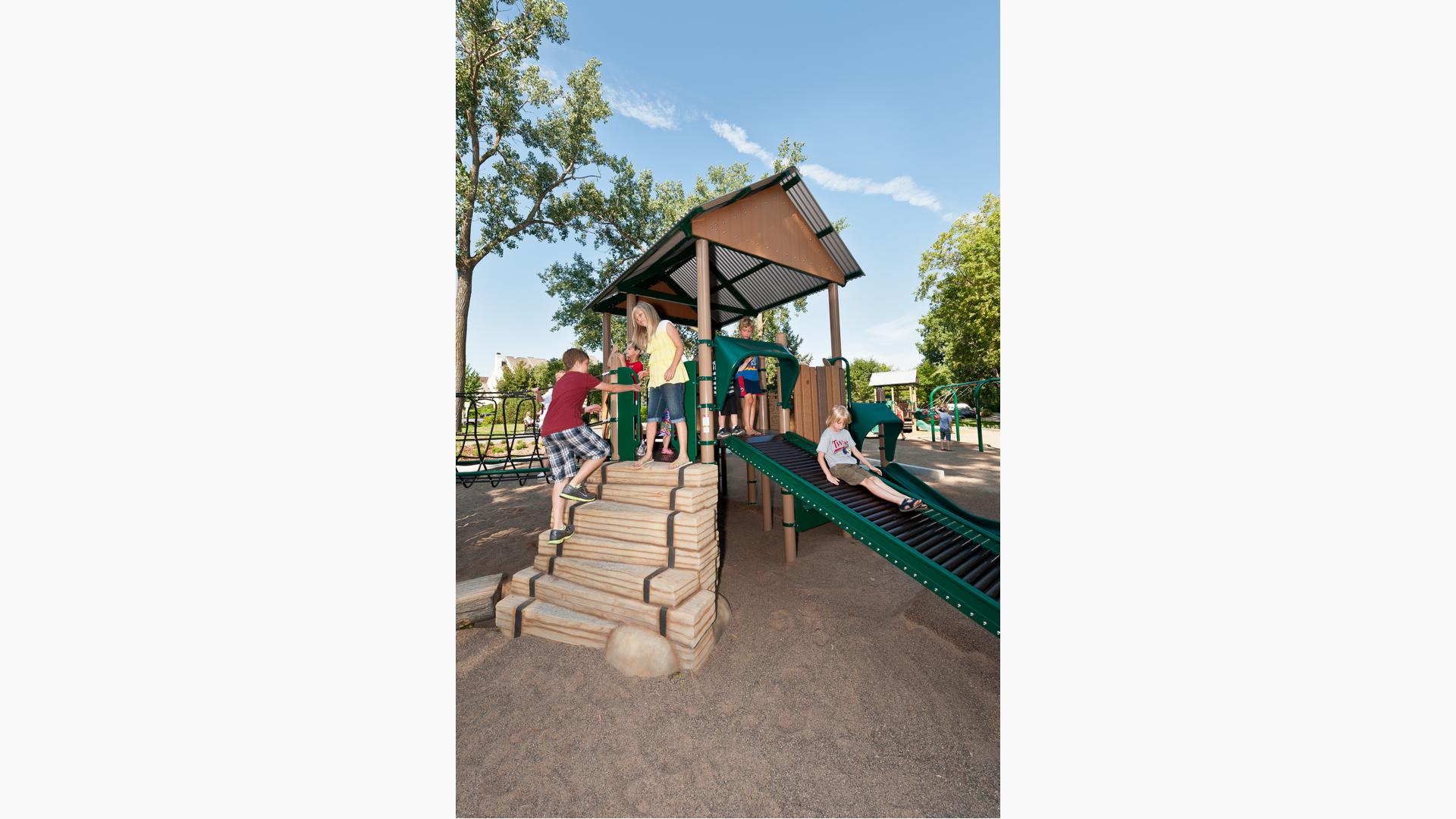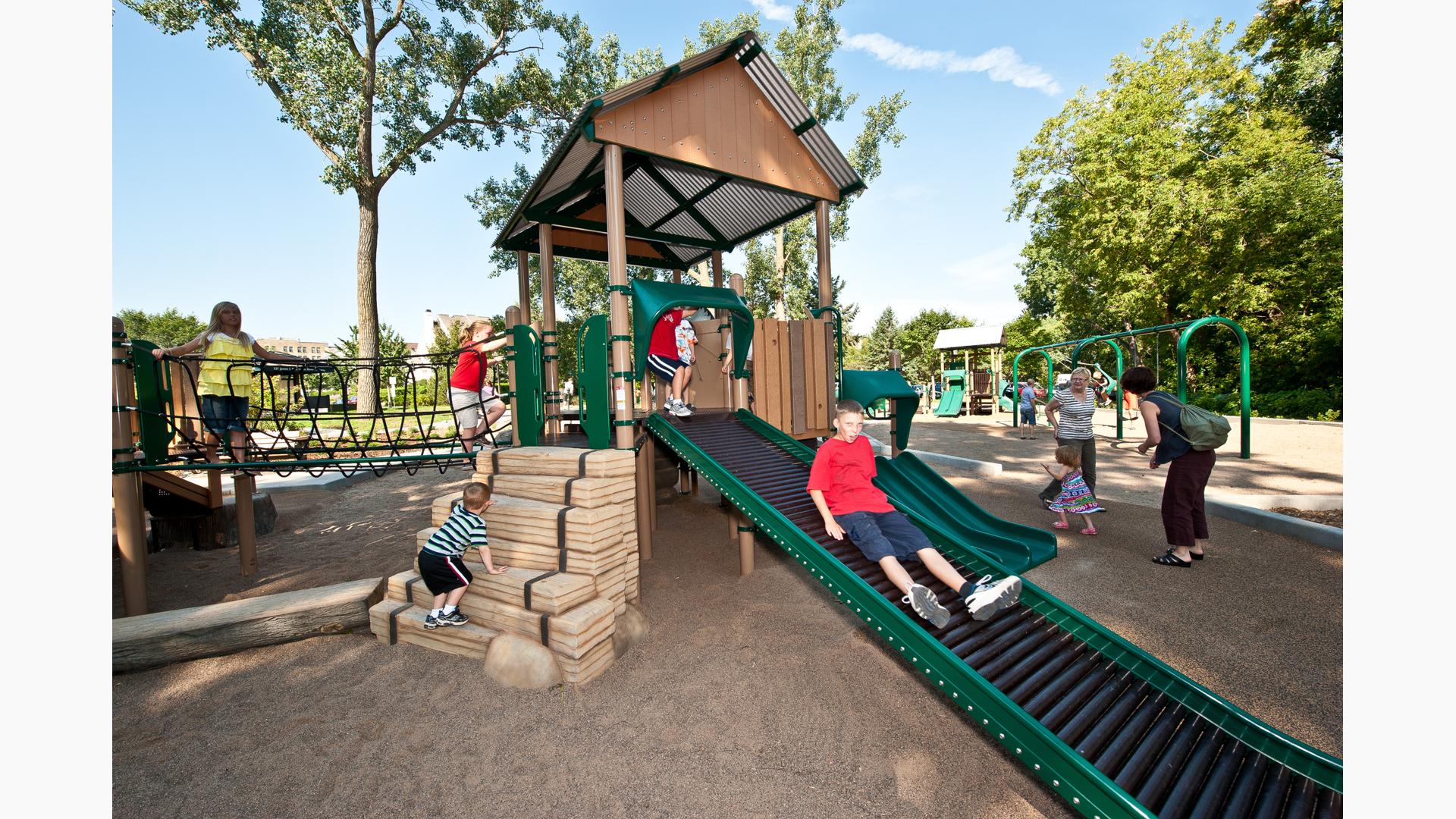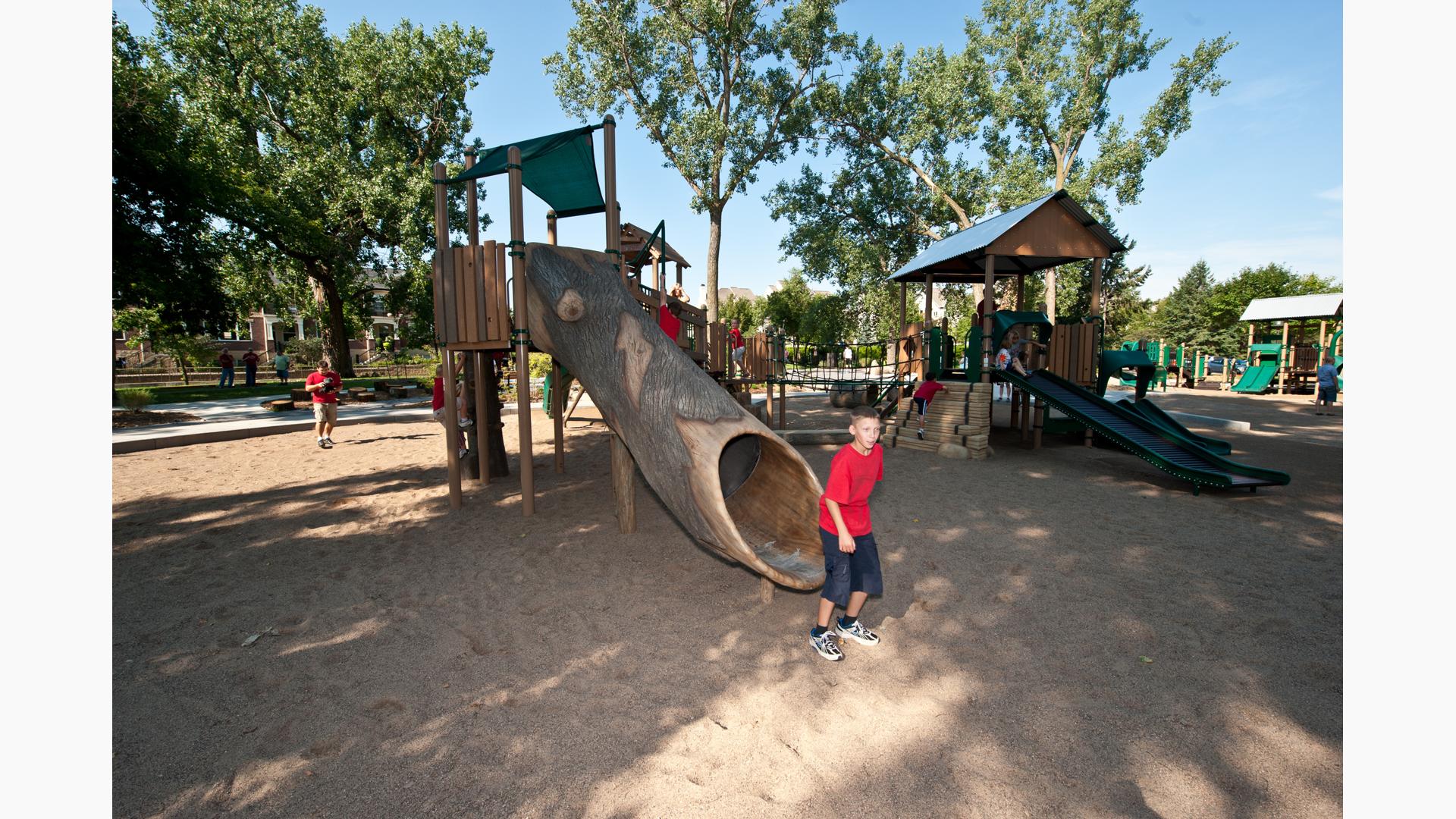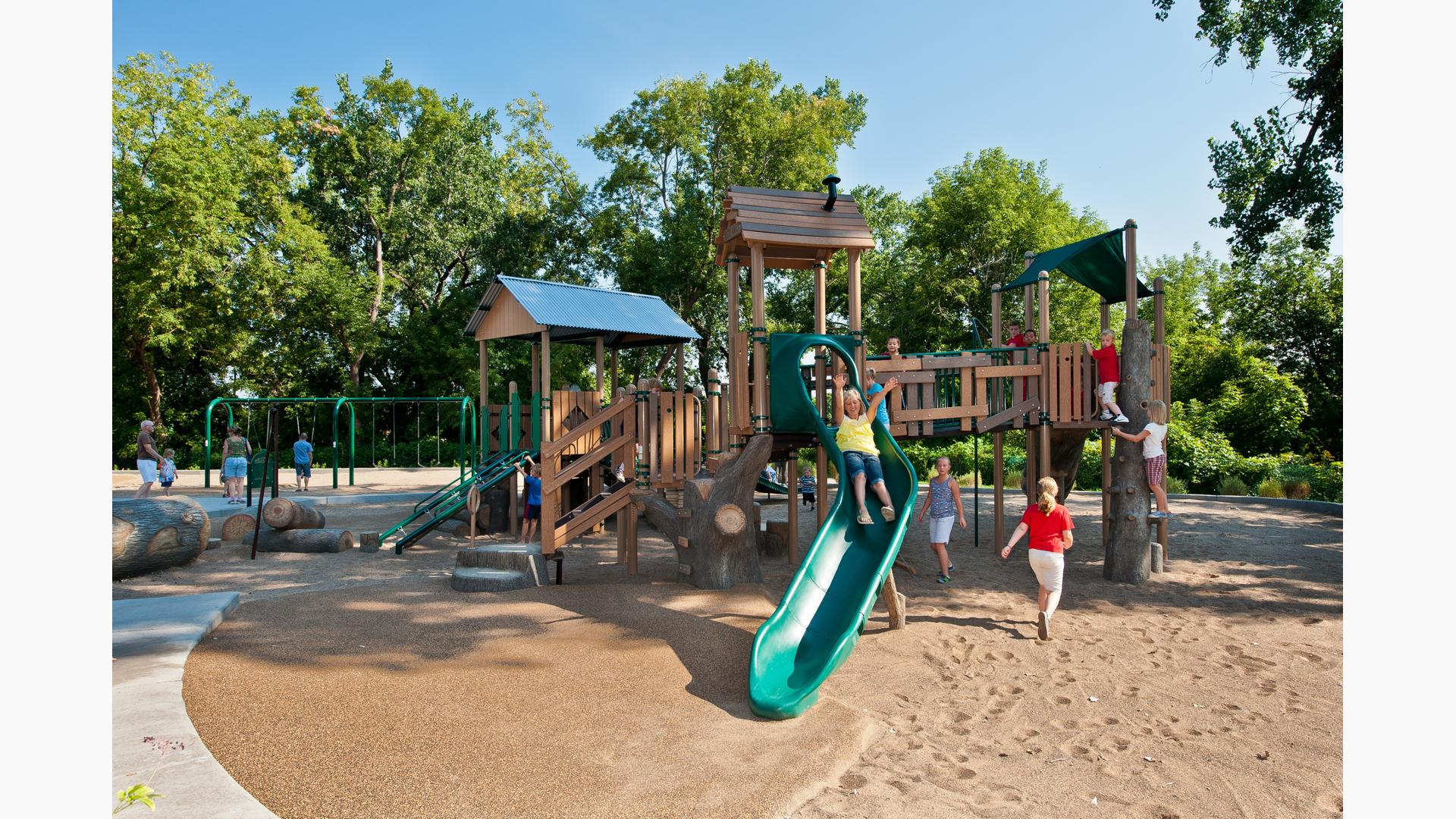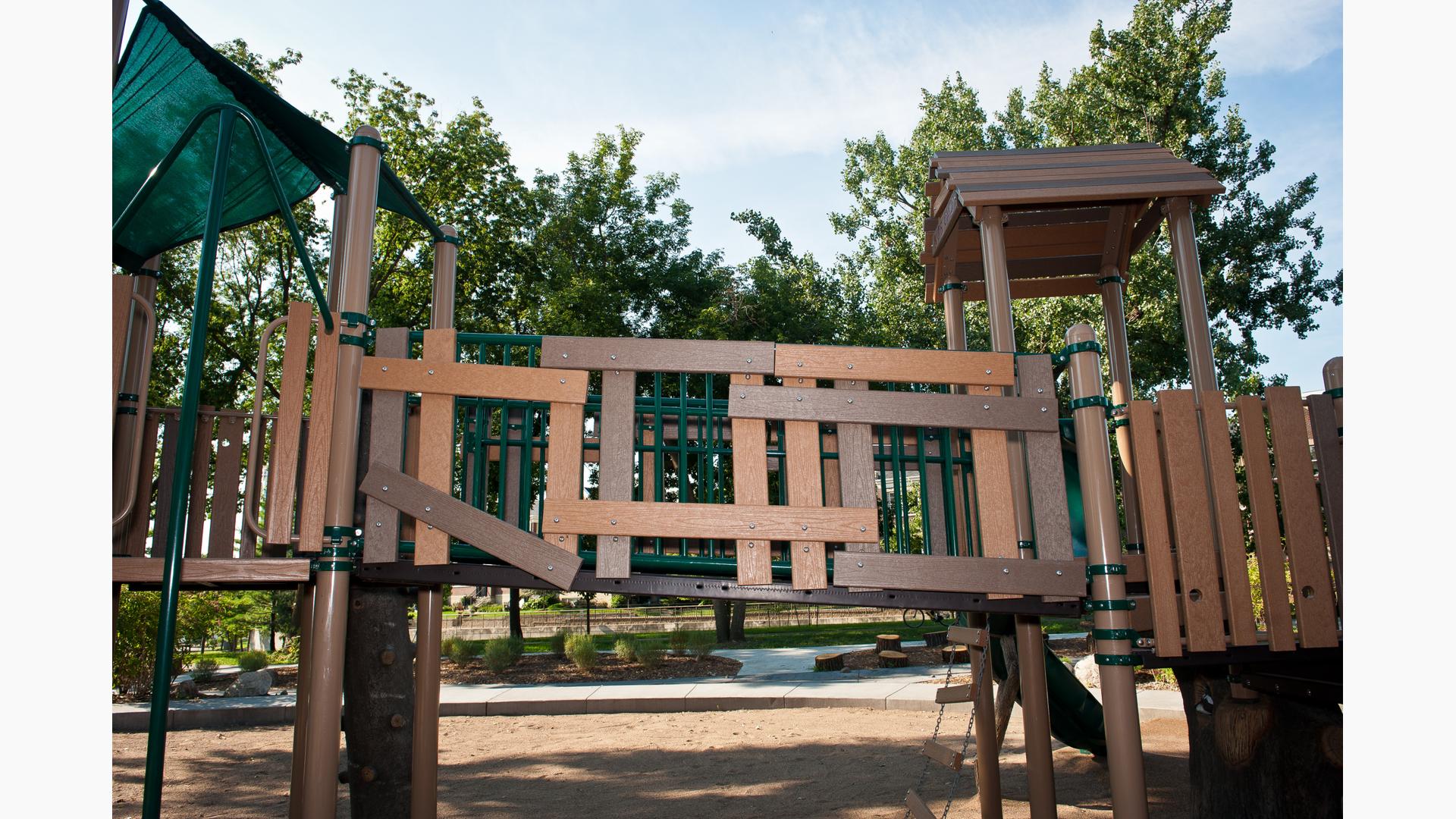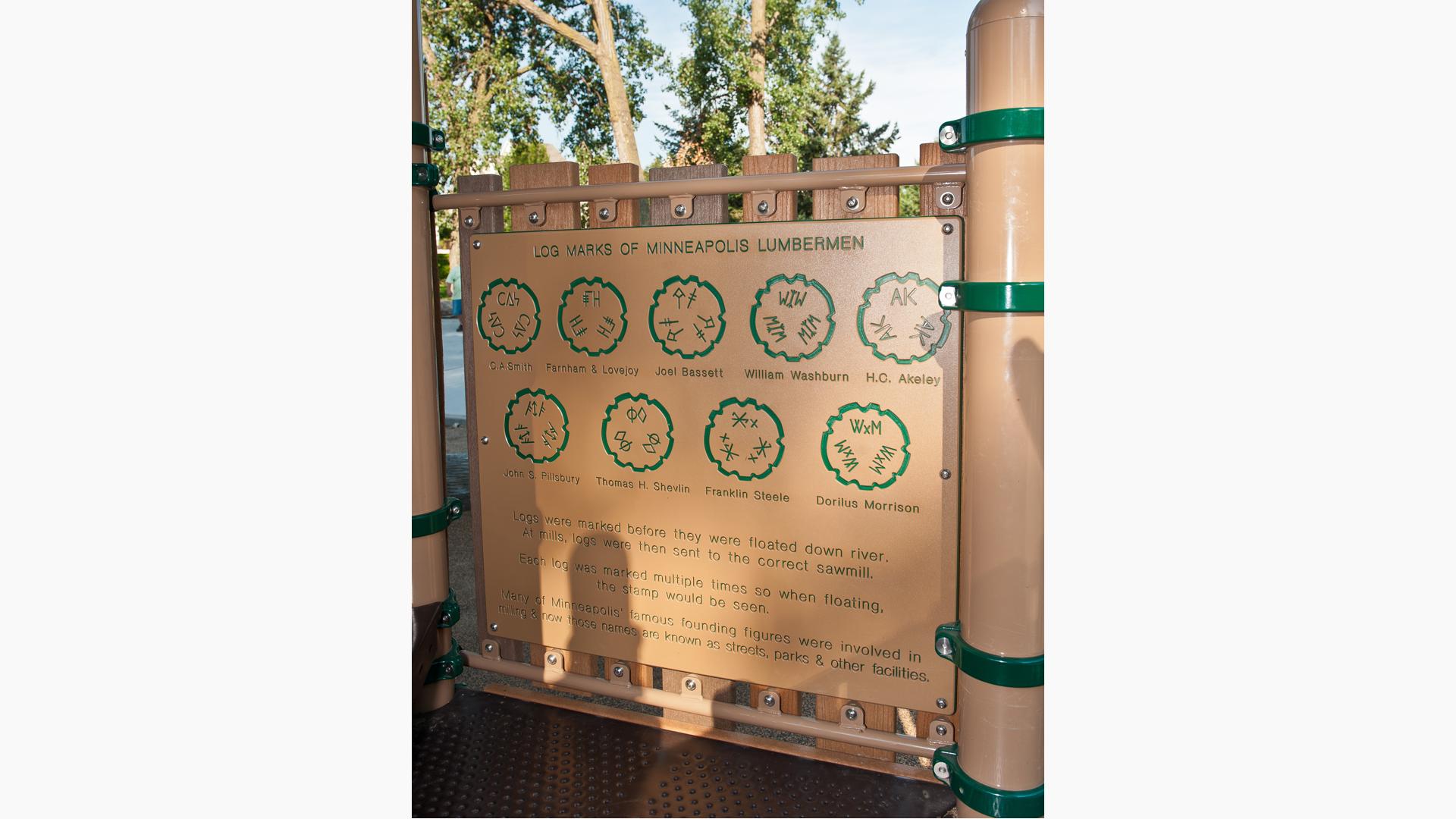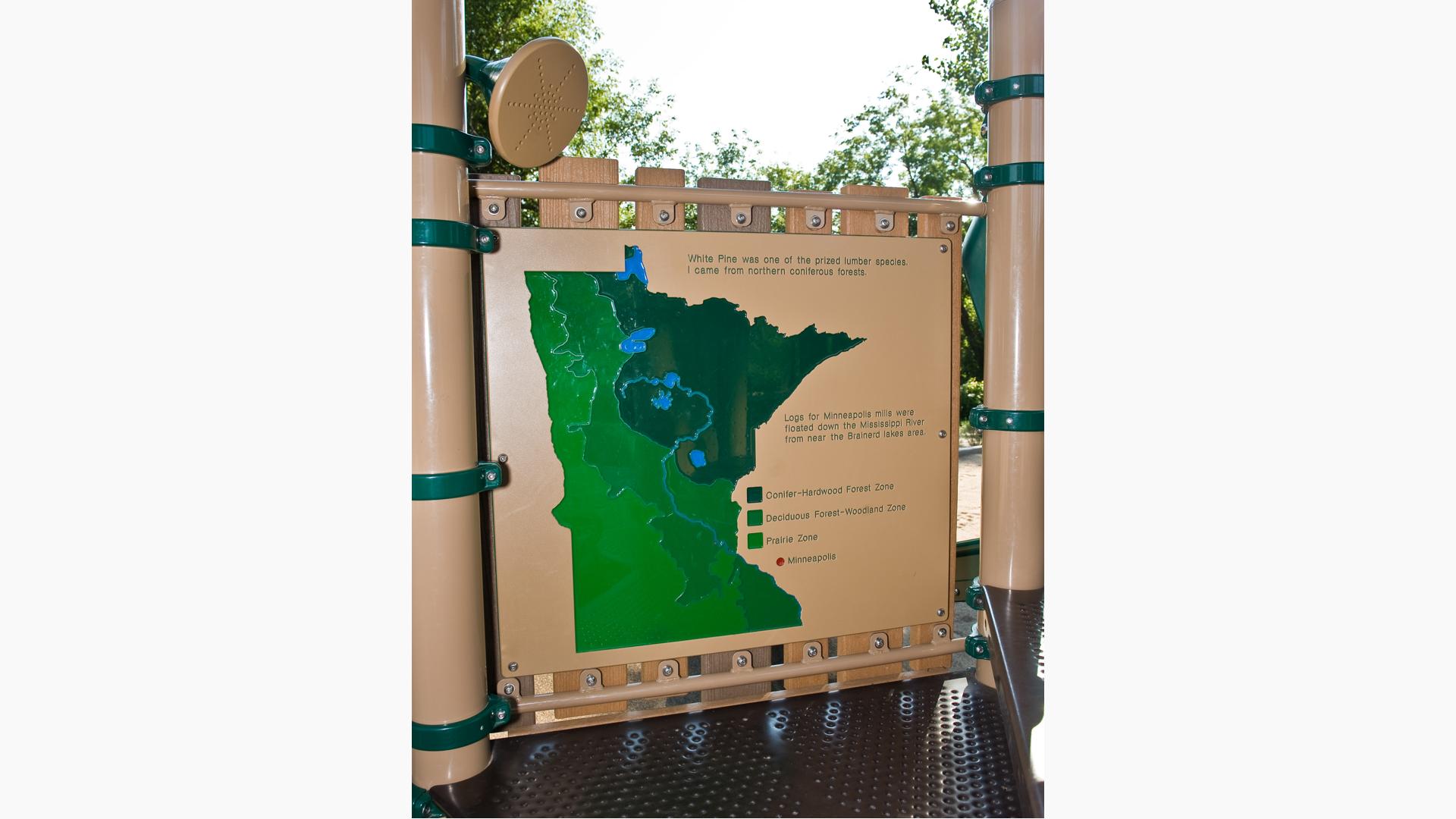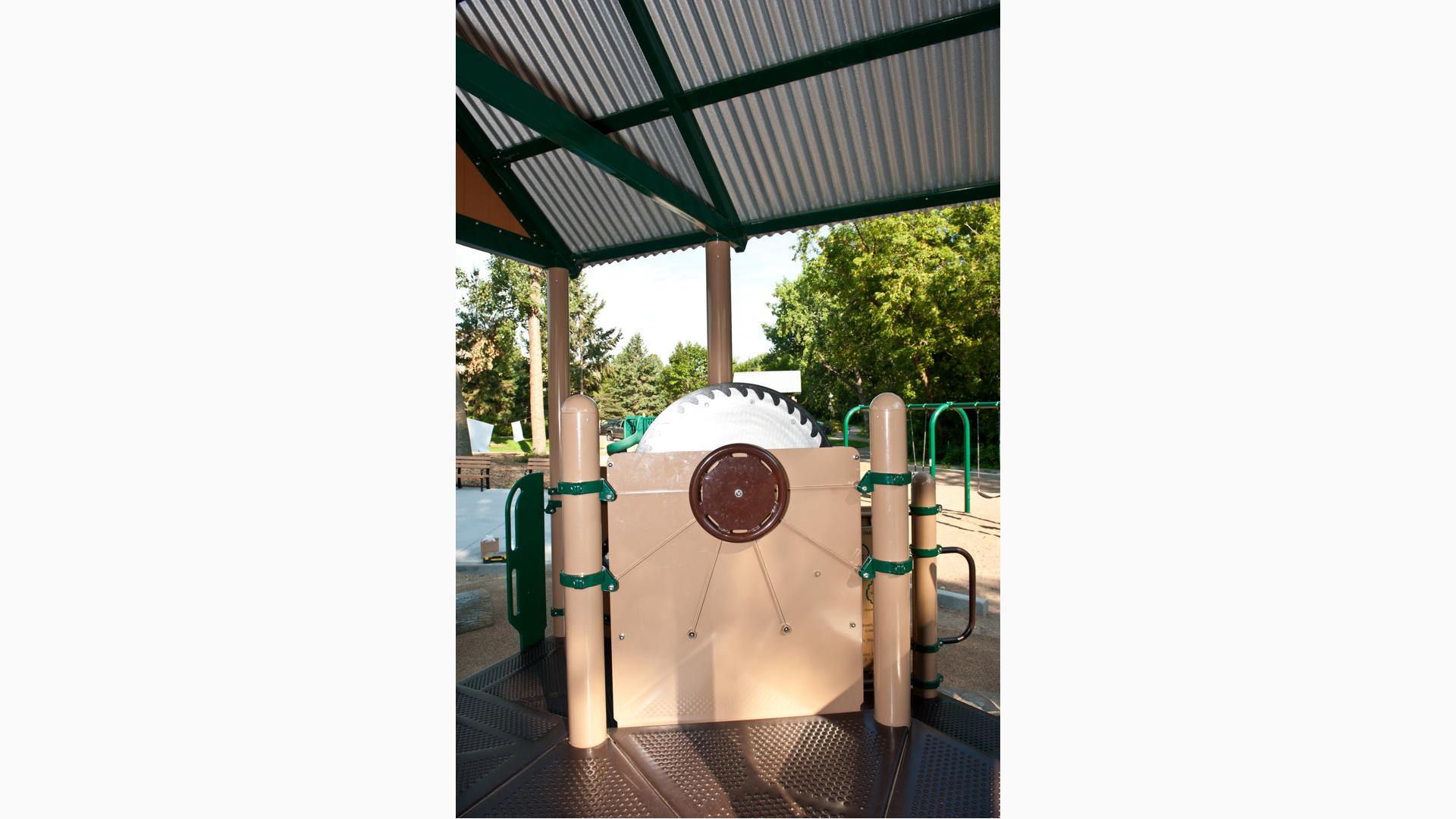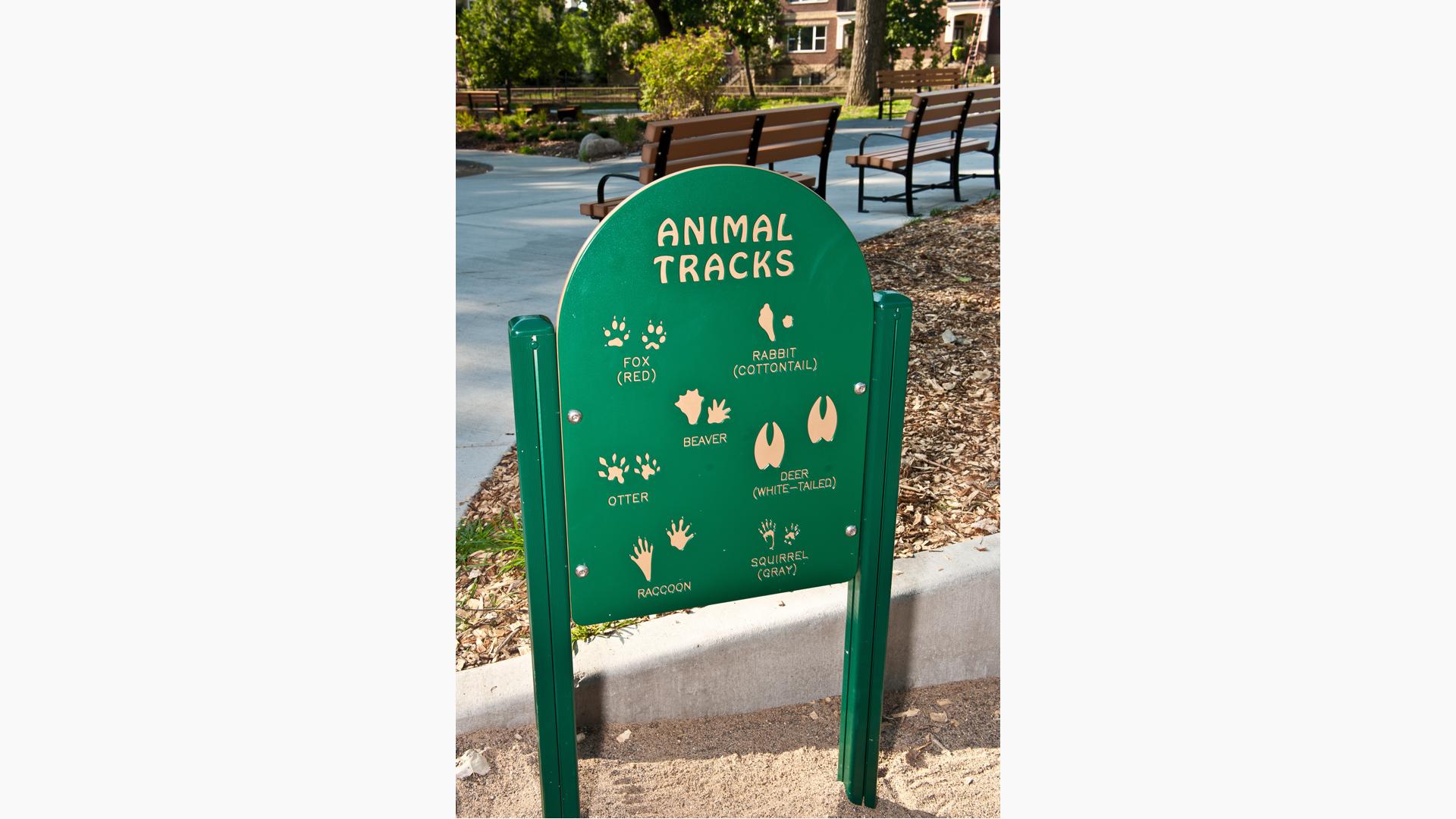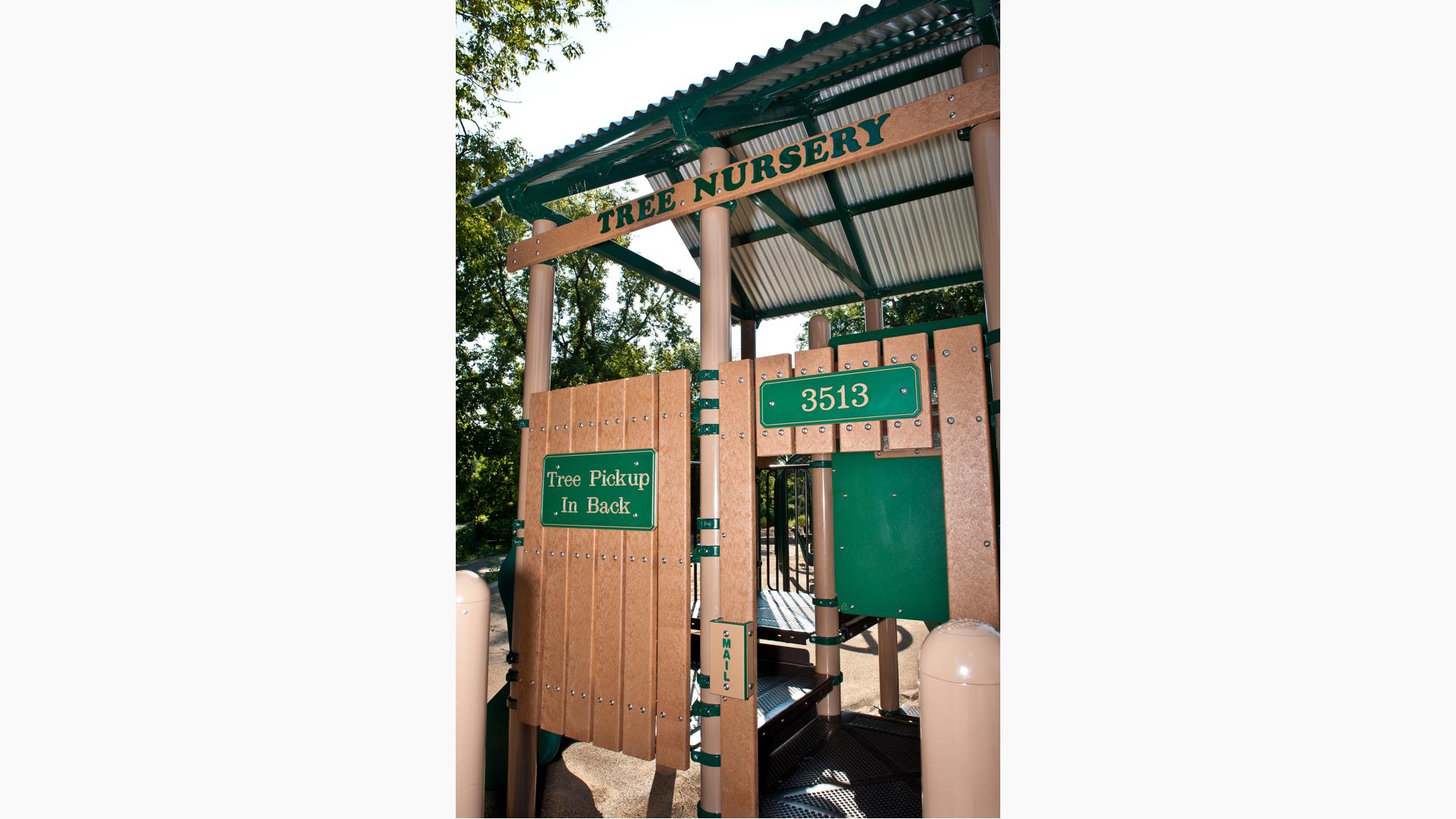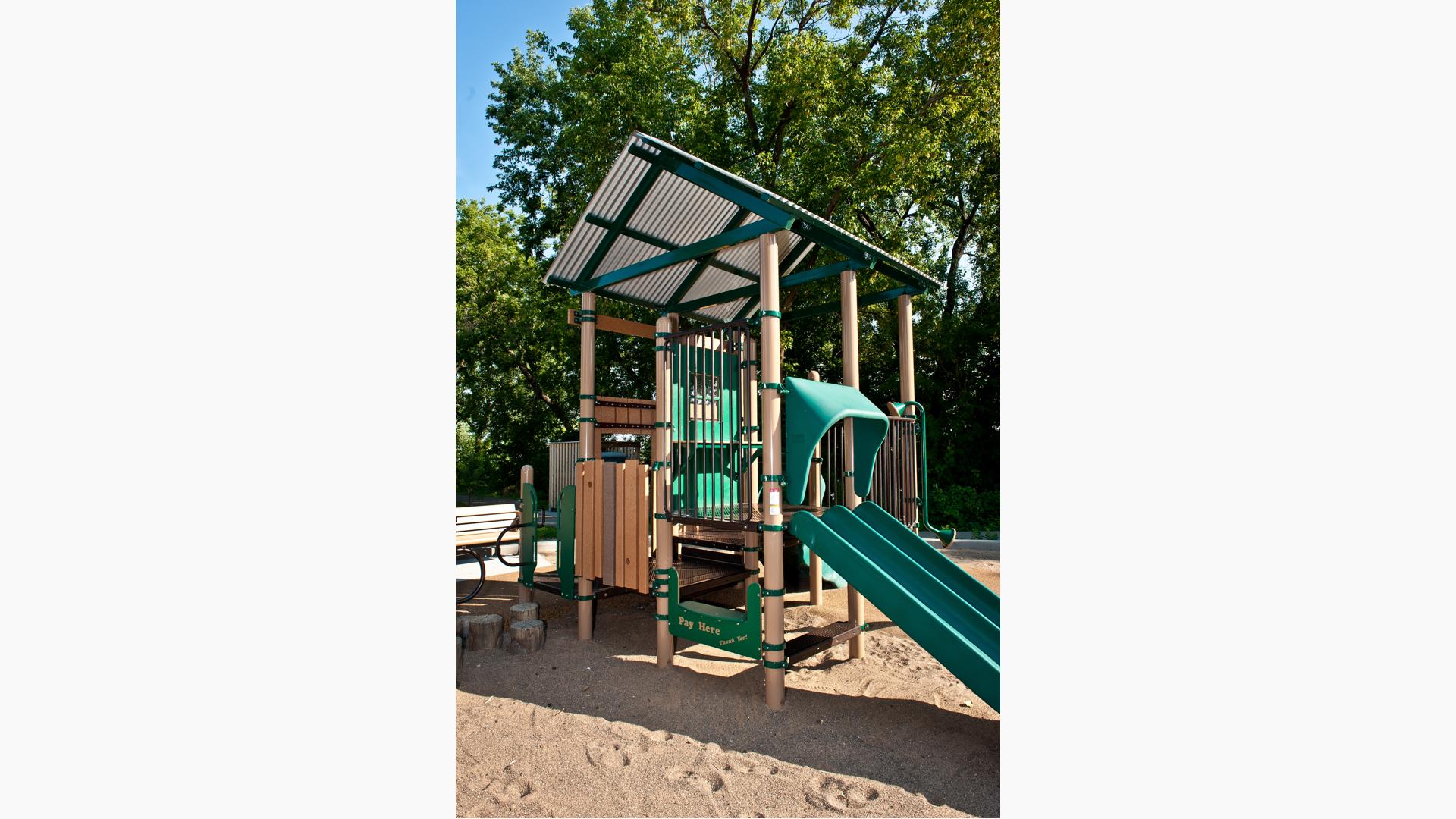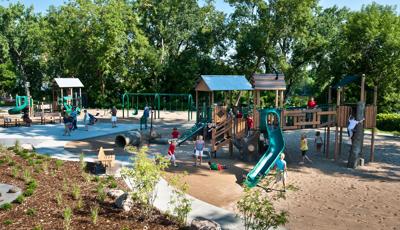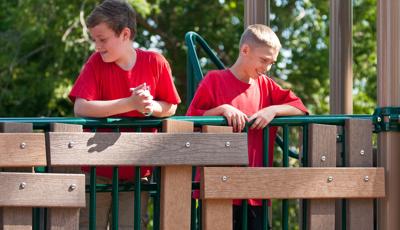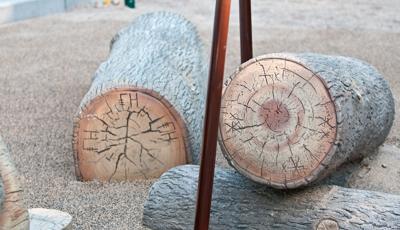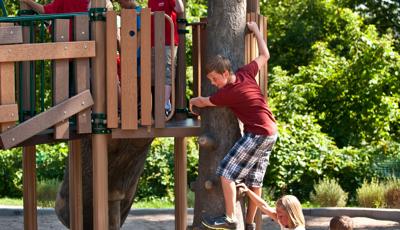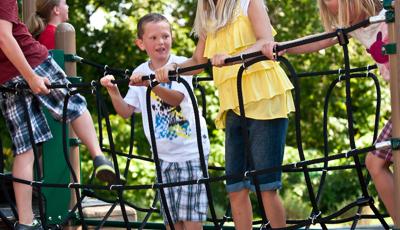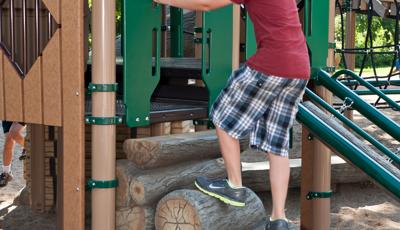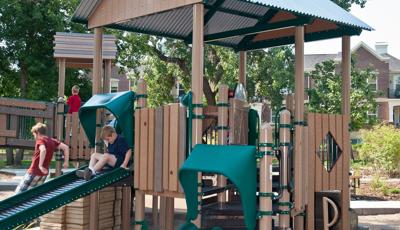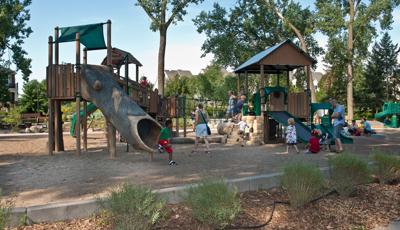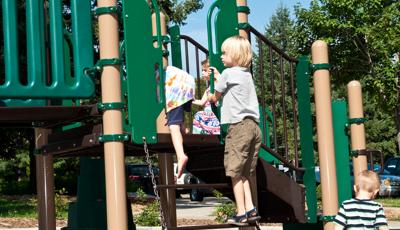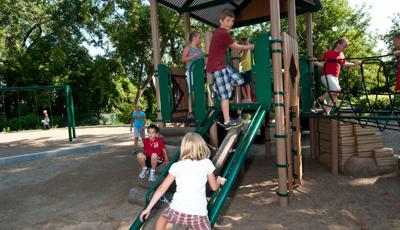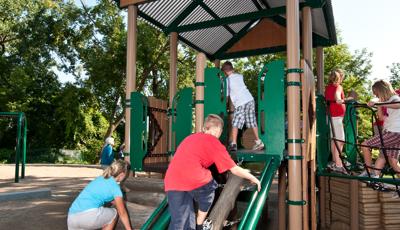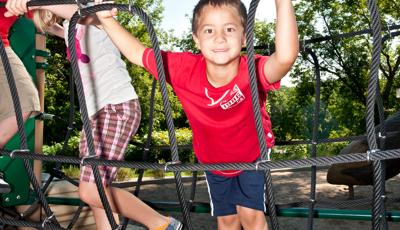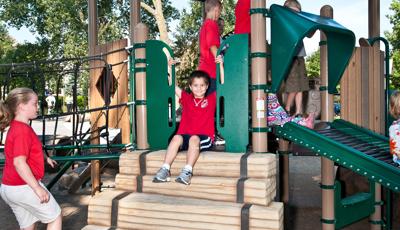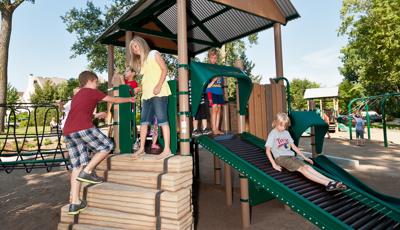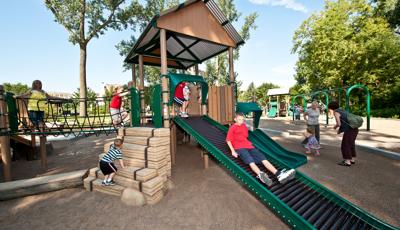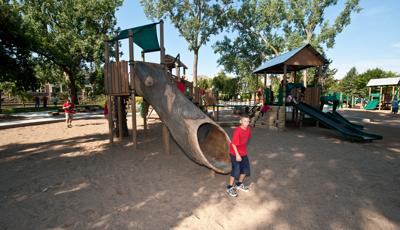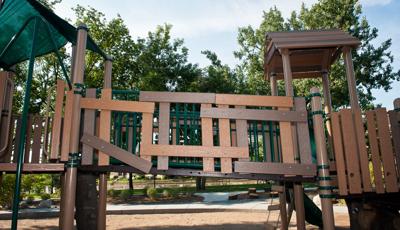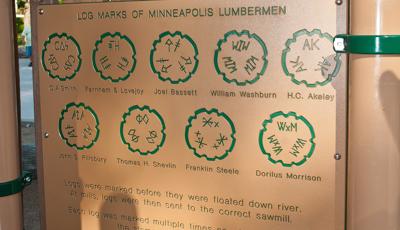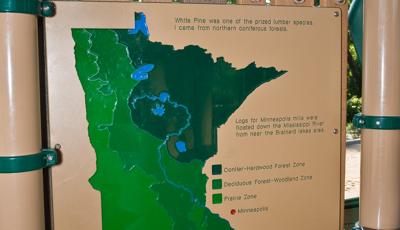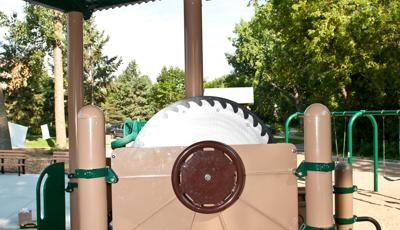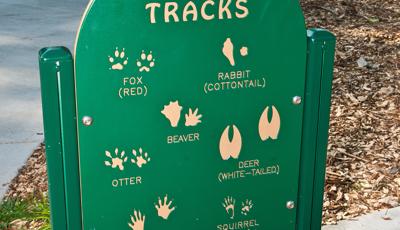 MN - 4th Avenue Playground
Video features a Minnesota nature themed playground by Landscape Structures. This playground is the first and only located on parkland along the Mississippi River in Minneapolis.
[video: camera comes into focus on green bushes. Text on screen reads: The Fourth Ave Playground Project. Camera switch to man biking away from camera down a designated bike path towards a nearby river.]
[video: music begins to play. Scene changes to a close-up view of the feet washing station with swing set in the background. Camera switches to an opening in the trees where a boat cruises past down the river. Camera view changes to looking up at a tall tree with the sun peeking through the branches. Camera close-up of a laminated piece of paper displayed reading: Welcome to Fourth Avenue North Playground. This unique playground was constructed with the help of many volunteers and much donor support. We would like to thank those supporters who helped make this play area possible.]
[video: A large canvas sign hangs between two trees, it reads: Thank you, 4th Avenue North playground supporters, [supporting companies logos displayed] bottom of sign reads "Leave it Better".]
[video: a woman walks her black poodle up to the dog water drinking station. Camera pans up a Permalene panel with the Minnesota state shape and information on how the state used to process lumber. Camera switch to close-up of a decorative raccoon face coming out of the knot of a nature scape concrete log. Camera pans right to left showing assorted length balance logs and log tunnel. Camera pulls back to full view of playground while slowly zooming in. Text appears and reads: Created by Landscape Structures.]
[video: camera pans up concrete steps made to look like bundles of cut lumber. A young boy begins to climb the stairs. Camera zooms in to his feet as he makes his way up the stairs. Young boy reaches the top of stairs.]
[video: camera pans up a Permalene panel labeled with the old log marks used when logs where floated down the Mississippi river. Camera switch to end of a concrete balance beam log with log markings shown on Permalene panel. Camera switch to show custom lumber saw spinning panel. Camera switch to Permalene panel with educational tree to seed matching game. Camera pans up the tall branches of a nearby tree.]
[video: close-up of detailed bark carving of concrete log balance beam. Camera switches to several structures and climbers around the playground log themed or shaped. Two kids stand on an elevated structure deck. A young boy makes his way down a concrete tree with cut branches for foot and handholds. Young girl in yellow shirt goes down slide with hands raised above her head. Two girls climb up tree stump climber onto main playground structure. Young girl climbs up concrete tree with cut branches as foot and hand holds. Children walk and run across elevated bridge between playground structures. Children all around climb on stairs and ladders to get on main play structure. Close-up of child's feet as they climb on different stump and log shaped climbers.]
[video: camera view of entire play structure as children run and play all around. Young boy climbs on concrete tree with cut branches as foot and hand holds above camera. Young boy slides towards camera on roller slide. A girl spins saw blade spinner panel. Young girl climbs up stacked logo stair steps. Two kids climb down diagonal chain wiggle log beam. Young girl walks towards camera on elevated cargo net bridge. A young boy runs up structure stairs and flings himself quickly down the log shoot slide. Camera close-up of young boy's face as he smirks at the camera. Camera close-up of another young boy as he gives the camera a toothy smile. Camera zooms toward young boy in black shirt as he smirks at camera. Young boy pushes his face towards camera causing the camera to go out of focus.]
[video: playground welcome sign with double slide in background. Camera close-up of Landscape Structures logo on Permalene welcome sign. A young boy comes down Swirl slide as two children climb a chain Wiggle Ladder. Two children go down swirl slide one after another. Young boy goes down double slide barefoot. Camera looks in log tunnel where little girl turns around and walks towards camera. Camera pulls back to full view of stump sitting seat steppers and full view of entire playground.
Close-up of a young child side stepping across elevated cargo net bridge. Close-up of adults sitting on side walk as babies play in the sand in front of them. Toddler lifts herself to her feet and her father pats her butt, she loses her balance and falls-down. Camera close-up of young boy's face as he squints and looks at the camera. Close-up of young boy's sandy feet. A boy and girl pump the handle of a hand well as water streams out. Close-up of pump nozzle as water is pumped out. Close-up of water hitting the concrete.]
[video: a child stands on a concrete log stepper with bare sandy feet. Two young girls shake the hand rope to the elevated cargo net making it jump and bounce. Close-up of young boy looking up at the sky over the camera. Mother holds onto her daughter as they sit side by side on the double slide. Camera pulls back to a full view of playground with one large tree in front. Camera zooms in to young boy standing by tree smiling and waving at camera. Fade to black screen with text that reads: Better playgrounds. Better world. Landscape Structures logo fades in. Landscape Structures logo is made of a white ribbon undulating above the text landscape structures. Text below the logo reads: playlsi.com 888-438-6574]
Age Ranges
2 to 5 years
5 to 12 years
Play Styles
Product Lines/ Categories
Min Area Required
127' x 118' (38,71 m x 35,97 m)

2-5 Area: 41' x 39' (12,5 m x 11,89 m)
5-12 Area: 71' x 66' (21,64 m x 20,12 m)
Design/CAD Files for this Playground
Design files are not available for this custom design. Contact your local playground consultant for additional details.
Design Standards
Contact your consultant to verify that this playground design meets current design standard requirements or to modify for other design standards.
Price Range (USD)
$200K-$500K+
Pricing for custom playground equipment varies. For international and exact pricing, please contact your local playground consultant.
Contact Your Consultant
Residents of the North Loop neighborhood in downtown Minneapolis, Minnesota, are enjoying the city's first and only playground located along the Mississippi River. It was personalized to showcase the attributes of this former sawmill location, including a re-imagined sawmill and tree nursery playstructures plus plenty of Log Tunnels and Log Steppers to complete the scene. Custom signage details the area's logging history. Kids of all ages are also encouraged to scout for native animal tracks throughout this nature-themed playground.
Installed: October 2011
Our color palettes offer a range of options to customize your projects
Our state of the art materials make our playgrounds stand out.
We've created a global network of local playground experts to be at your side, every step of the way. With an average of 20 years of experience, our playground consultants are knowledgeable and personable. They will guide you through product pricing and specifications, customization, financing options, community builds, on-time deliveries, maintenance, finding replacement parts, and service questions.
Playground consultant for this project
Find a Playground Consultant Near You
Contact Your Consultant
Related Playgrounds & Designs