Toddler Swing Add-On Beam
Overview
Add the Toddler Swing Add-on Beam to bring more swinging to the playground affordably. Seats with chains and fasteners sold separately.
---
Features
Accommodates angled chains to prevent side-sway
Accommodates infant, full-bucket and half-bucket swing seats
Accommodates small footprint
Attaches to the outer post of a Single Post Swing
Component Details
Product Categories

Shipping Weight

31 lbs

Design Standards

ASTM, CSA, EN
Dimensions

Frame only-area will vary based on swing seats selected
Min Area Required: 10' 7 3/4" x 17' (3,24 m x 5,18 m)

Design/CAD Files

All About Color

Color is an important decision, and our products are available in many color options. Contact your consultant to find the colors available for this component.

See Color Inspiration
Playground products shown in video may not be appropriate for every age group. Playsystems shown in video are for demonstration purposes only. Product configurations may vary.
Video features the freestanding Toddler Swing Add-On Beam.
[video: scene fades into the camera slowly zooming on a mother pushing her son in a full bucket toddler swing. Camera switches to a ground view up to the boy as he holds onto the swing chains. Scene switches back to a close-up front view of the boy as he continues to swing. His mother speaks to him.]
Mother: Oh, there a dog up there?
Man off camera: What if ah…
[video: Camera pulls back for a full front view of the mother pushing her. The boy swings from the Toddler Swing Add-On Beam attached to a full-sized swing set. Camera switches to a side view as the mother continues to push her son from the front.]
Mother: What were you making last night, apple pie?
[video: camera switches to a back view as they boy continues to swing. Camera switches to a full side view as the mother pushes her son on the swing.]
Mother: Better smile Eli.
[video: camera zooms with a side view of the boy swinging.]
Mother: Can you say, hold on and say, "Pew milk".
[video: camera switches to a front view as the mother pushes her son on the swing. Scene switches to a close-up of the swing chain connector to the Add-On Beam. Scene fads to black.]
Next Tab
Play System of this Component
We offer the widest range of park and playground equipment to promote healthy lifestyles, encourage skill-building and create unique outdoor experiences. From our playsystems and freestanding playground components to themed designs, site furnishings and more, we'll help you create a recreation space that welcomes your whole community.
---
Freestanding Play
Ages 2 to 12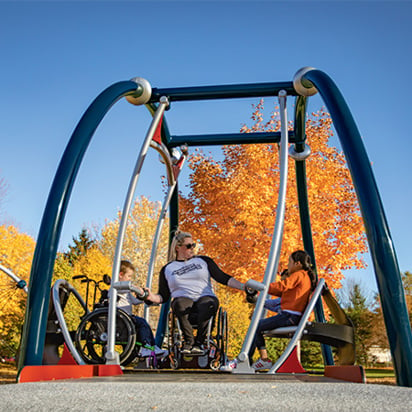 Freestanding Play events add fun and excitement to new and existing playgrounds! Revitalize your current playground or create a playground design that's completely unique using Freestanding Play components for kids ages 2 to 5 and 5 to 12.
Resources
View all Freestanding Play Events
Previous Tab
Related Playground Components