NEW! We-Go-Swing™
Swing All Together
We-Go-Swing Overview
We play, we laugh, we swing! The We-Go-Swing™ is a revolutionary step forward in inclusive play experiences. Designed to be integrated into the playground setting, this swing lets kids of all abilities play together and experience the thrill of swinging. With no need to transfer, the We-Go-Swing opens up a whole new world of playground fun.
---
Features
Promotes social interaction for a truly inclusive experience by encouraging multiple users to work together to swing
Does not need to be segregated from the play space, surrounded by a fence, or locked when not in use
Handlebars assist with moving the swing and keeping users in place, and rotate up for easy entrance and exit
60" x 72" entry deck included, to be connected to ramp or other access, for easy roll-on access
Available with one accessible bay and one bench seat, or two accessible bays
ADA compliant
Choose two ProShield® colors and one Permalene® color
Direct bury
U.S. Patent pending
Developmental Benefits
Sensory
Proprioception, Tactile, Vestibular+, Visual
Motor Skills
Agility, Balance, Coordination, Core Body Strength, Flexibility, Motor Planning, Upper Body Strength
Cognitive Skills
Problem Solving
Social/Emotional Skills
Cooperation, Imaginative Play, Social Skill Development
Learn about Developmental Benefits
Component Details
Age Ranges

2 to 5 Years
5 to 12 years

Product Categories

Shipping Weight

2,357 lbs

Design Standards

ASTM, CSA, EN
Dimensions

Max Fall Height (ASTM/CSA/EN): 48" (1,22 m)
Min Area Required: 26' 1" x 26' 8" (7,95 m x 8,15 m)

Design/CAD Files

All About Color

Color is an important decision, and our products are available in many color options. Contact your consultant to find the colors available for this component.

See Color Inspiration
Playground products shown in video may not be appropriate for every age group. Playsystems shown in video are for demonstration purposes only. Product configurations may vary.
Video features the inclusive wheelchair accessible We-Go-Swing.
[video: scene fades into a mother as she pushes her son's wheelchair onto the We-Go-Swing. She turns her son's wheelchair around and backs him up into the specially designs wheelchair location. She then lowers the two hand holds down into the swing position. The mother steps back and sits on the bench across from her son and lowers the bench hand holds down into the swing position. The boy and his mother begin to push and pull on the hand holds; they begin to swing. The camera switches to different views all around the We-Go-Swing as they swing.]
[video: three children join the young boy on the swing, two sitting on the bench while a girl standing in the middle. The boys mother helps the children swing by pushing on the back side of the bench seat. The camera focuses on the children as they smile and laugh while they swing together.]
[video: scene switches as a woman in a wheelchair joins the children on the We-Go-Swing. She sits in the middle of the deck holding onto the swing handles. They all push and pull to keep the swing moving. Camera switches a bird's eye view of the We-Go-Swing. Scene switches again to the children swinging together as a mother pushes the swing from the outside. The camera focuses on the boy in his wheelchair. He smiles with joy as he swings with his friends.]
[video: a man wheels his wheelchair up to the We-Go-Swing. He positions his wheelchair into the swing's wheelchair location. He lowers the hand holds and him and two girls begin swinging together. The camera focuses on how the mans wheelchair stays put while he swings. Camera switches to a focused view of the man's hands as he pushes and pulls the swing hand holds. Scene pulls back to a full view of the We-Go-Swing as they continue to swing. The camera jumps to different views of the We-Go-Swing components.]
[video: the camera focuses on the bottom of the swing as it glides over the PebbleFlex surfacing. Camera pulls back to a full view of children swinging together. Scene switches to the camera across from a young girl seating in her wheelchair. Here and a young boy swing together on the We-Go-Swing. The camera focuses on the young girl as she smiles while swinging. Scene switches children swinging together on the We-Go-Swing. The scene switches to the camera across from the young boy seated in his wheelchair swinging. He speaks to the camera.]
Boy: I am five years old and I think this swing is amazing. I like to swing also because any wheelchair person can go on it and any person that doesn't have a wheelchair can go on it. Yeah, and we can all play together.
[video ends.]
Next Tab
Play System of this Component
We offer the widest range of park and playground equipment to promote healthy lifestyles, encourage skill-building and create unique outdoor experiences. From our playsystems and freestanding playground components to themed designs, site furnishings and more, we'll help you create a recreation space that welcomes your whole community.
---
Freestanding Play
Ages 2 to 12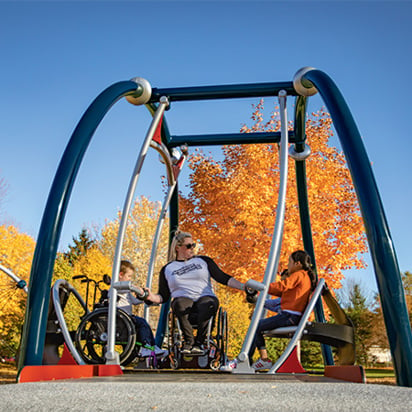 Freestanding Play events add fun and excitement to new and existing playgrounds! Revitalize your current playground or create a playground design that's completely unique using Freestanding Play components for kids ages 2 to 5 and 5 to 12.
Resources
View all Freestanding Play Events
Previous Tab
Related Playground Components