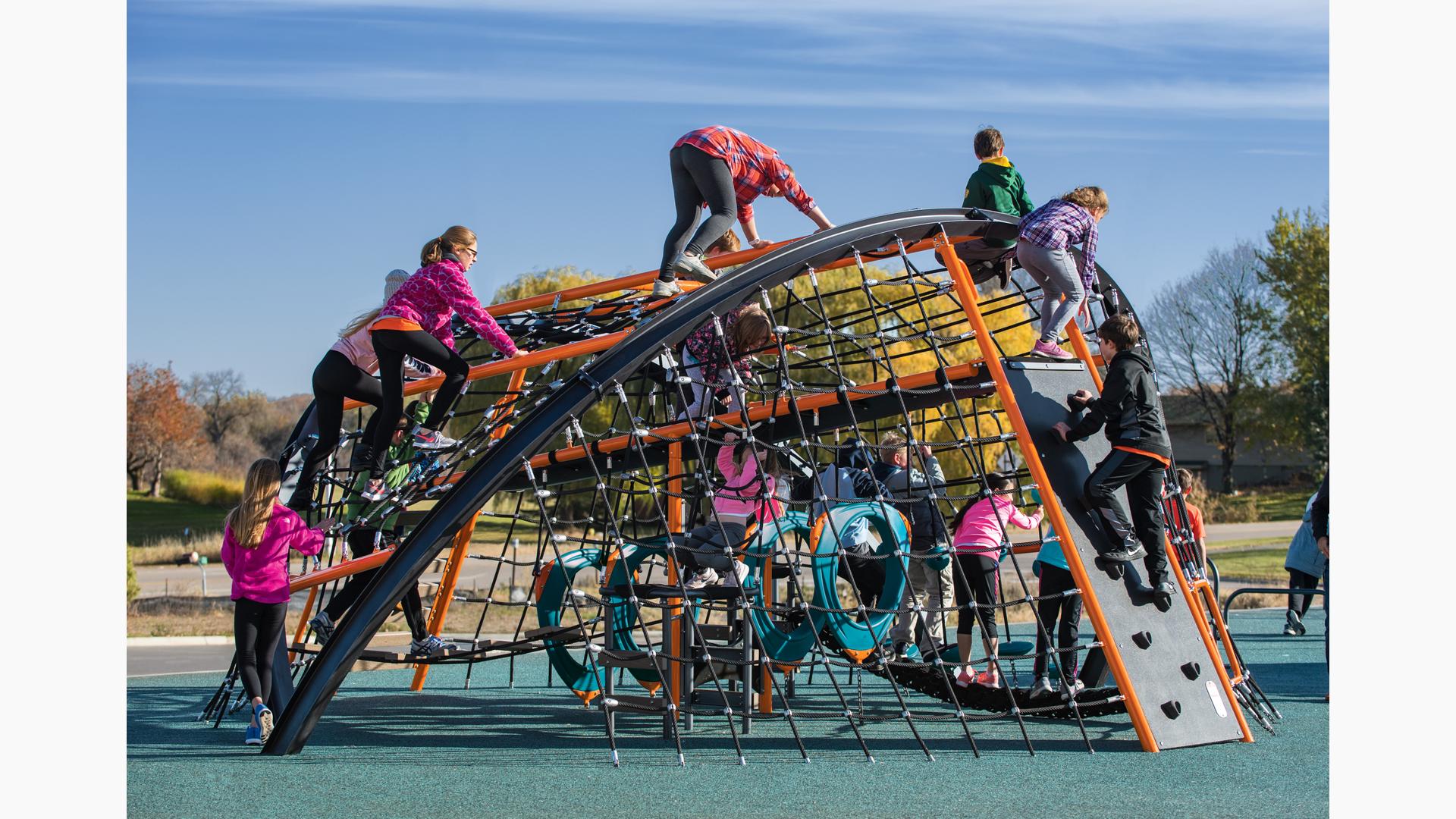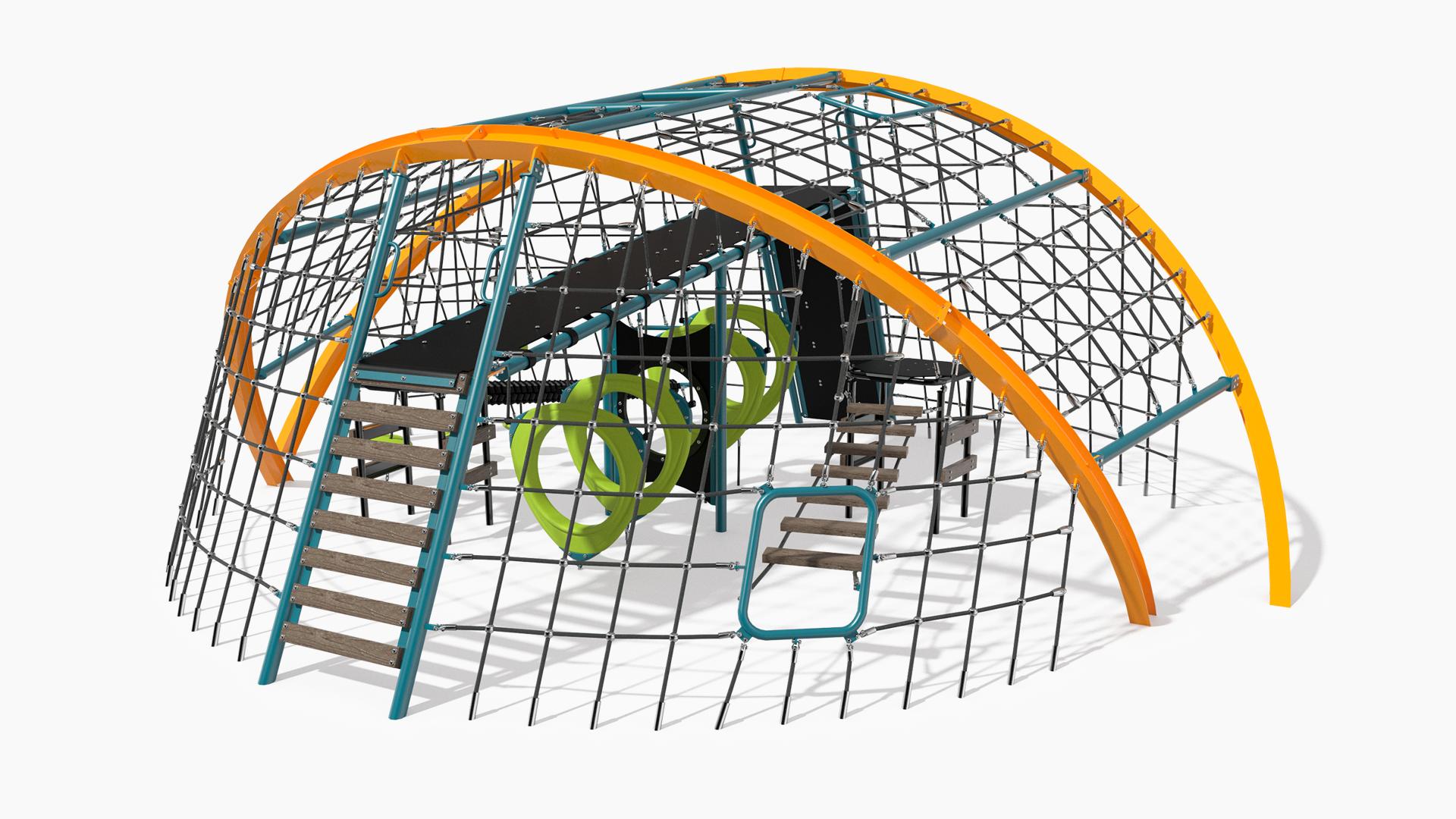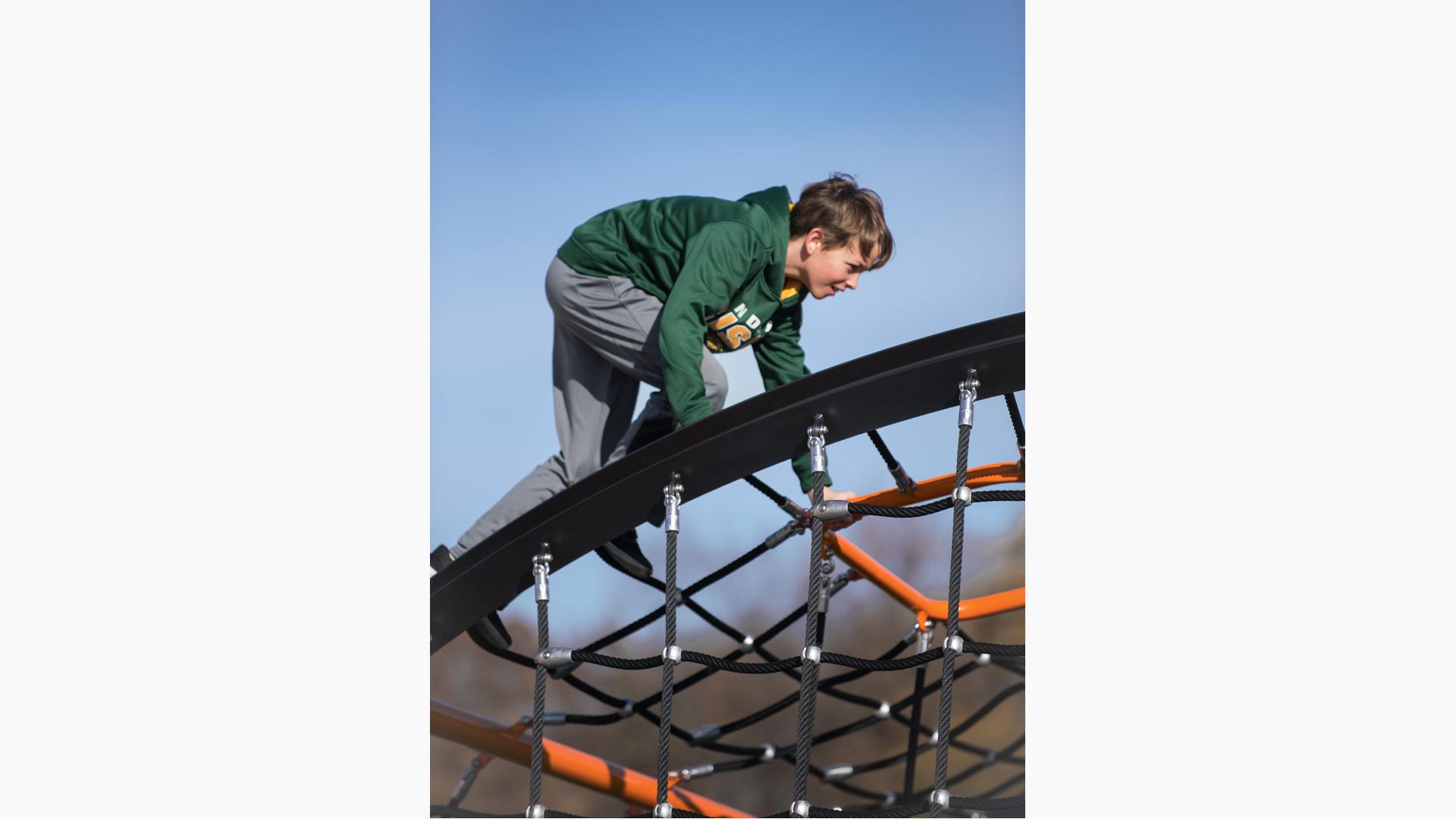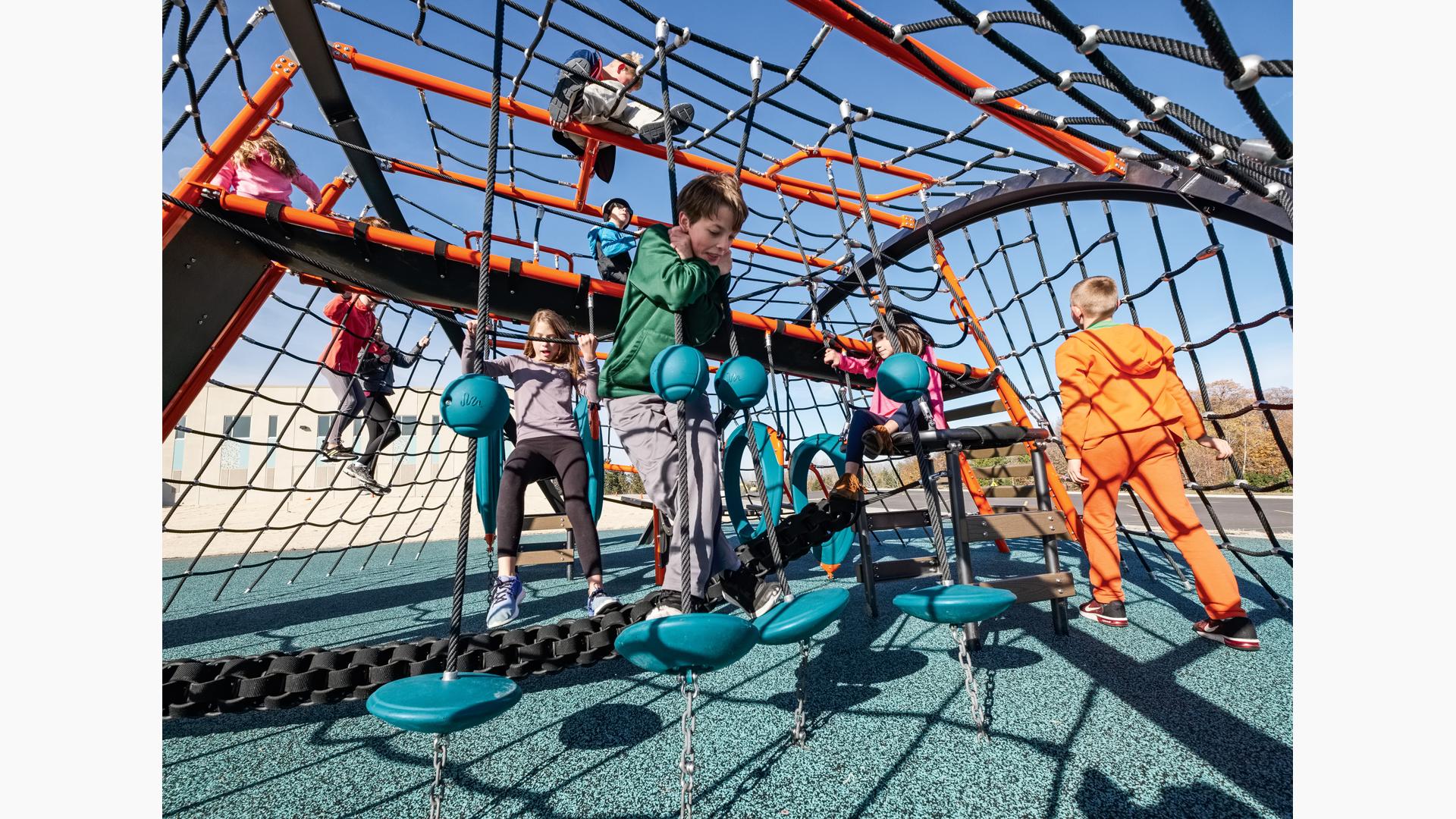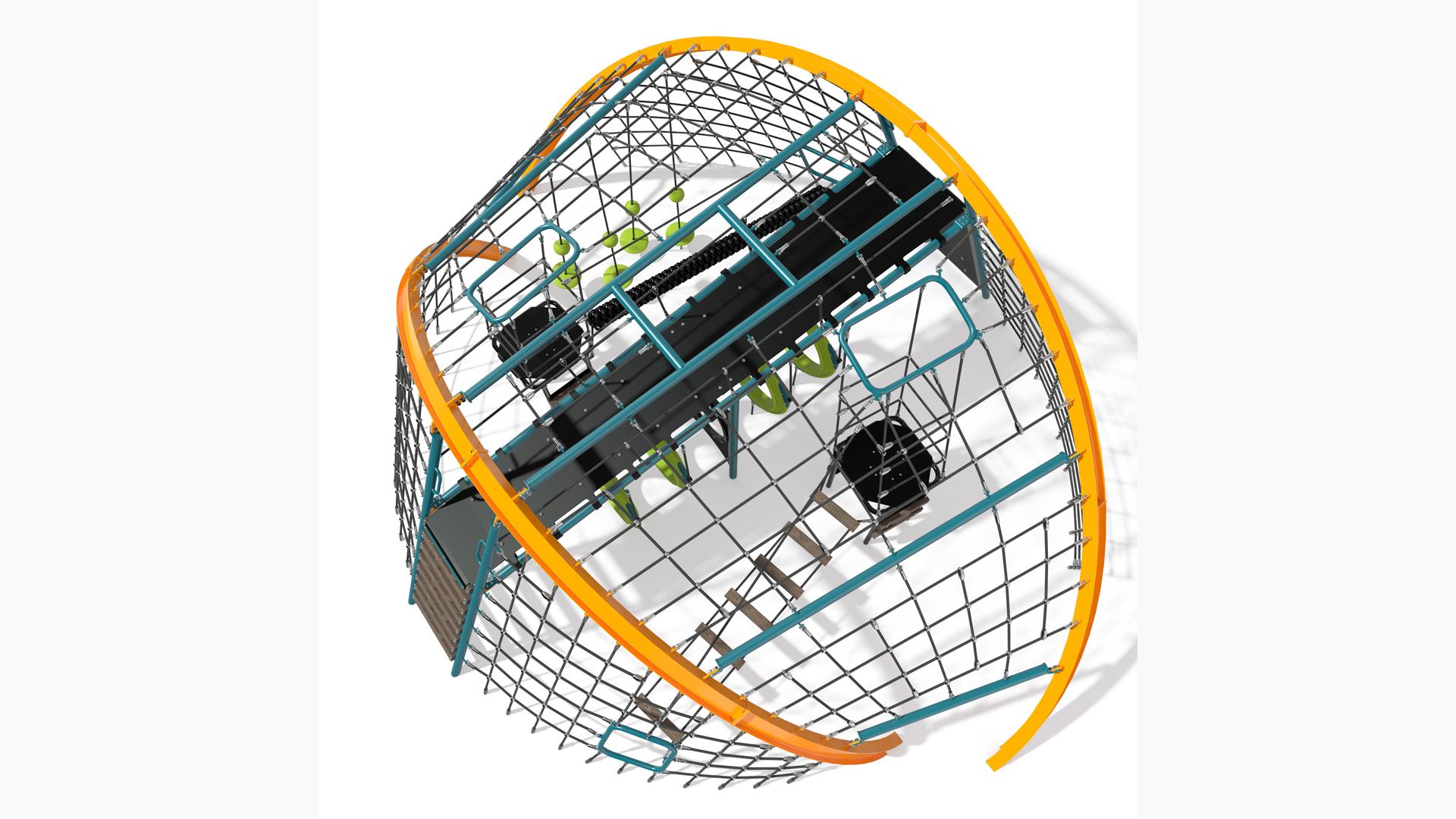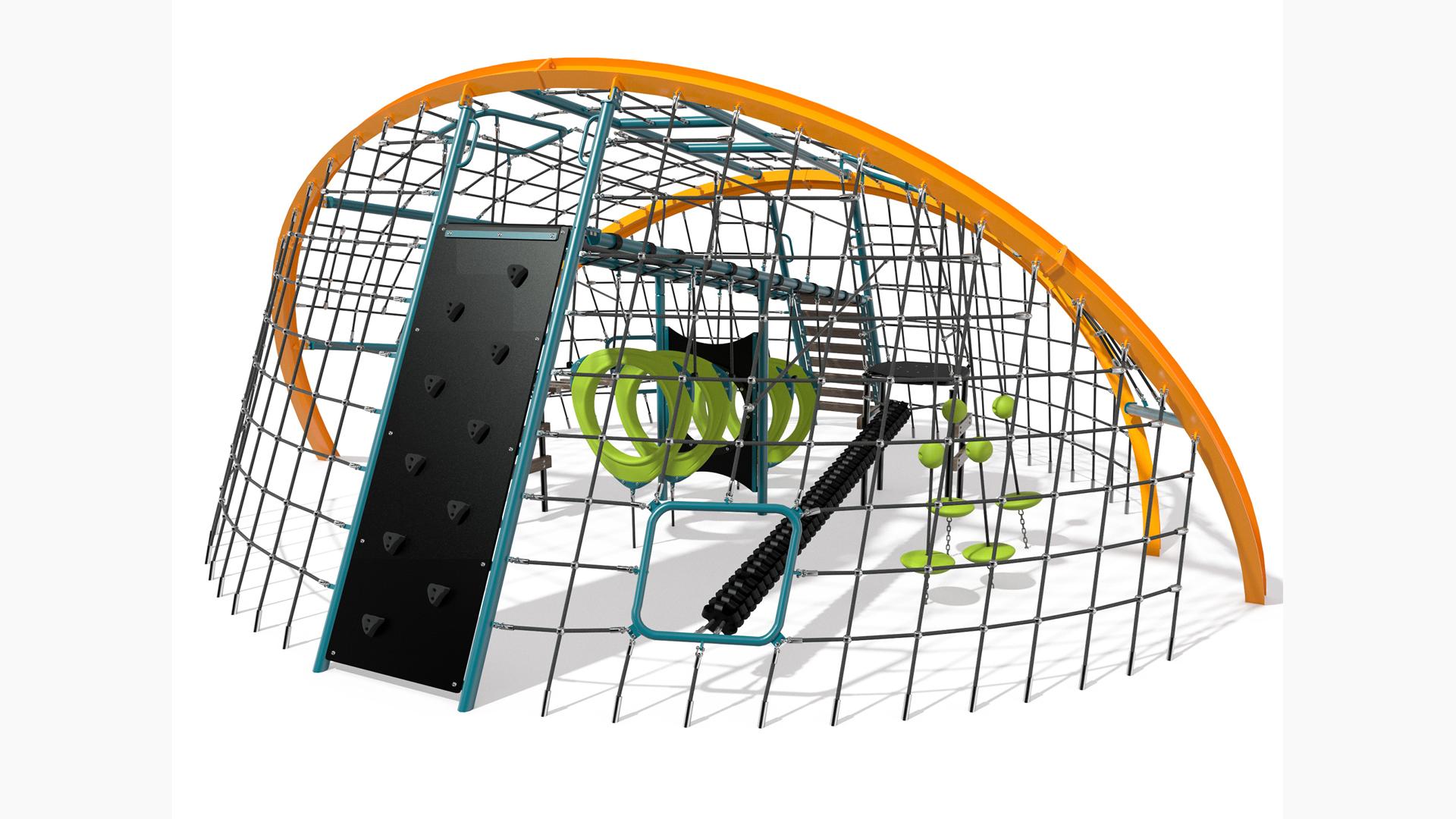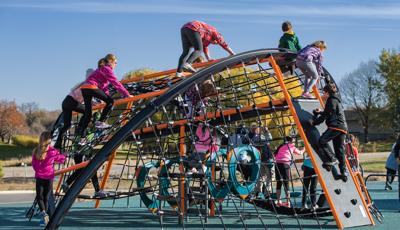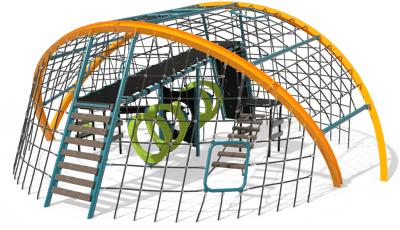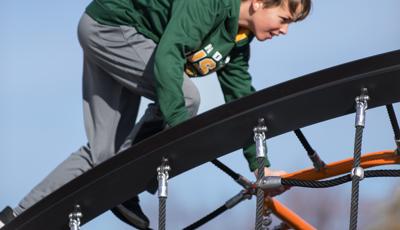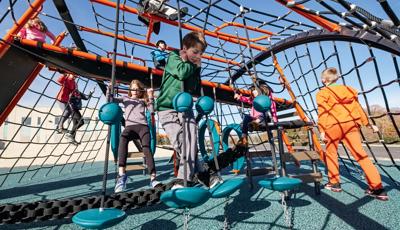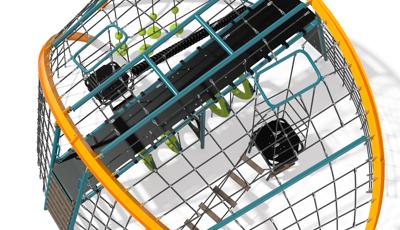 Crab Trap®
This video features the new 2019 Crab Trap.
Product video: Crab Trap: The unique look of net climbing structure offers tons of opportunities to climb, crawl and hang out. The open-ended play experiences engage creativity and critical decision making as kids ages 5 to 12
maneuver their positions from one challenge to the next. This statement piece will allow kids to reach exciting new heights in play and adds visual appeal to any playground.
[video: zooms in on cable and LSI logo imprinted on the clamps of Crab Trap net climbing structure.]
On-screen text: Crab Trap by Landscape Structures
[video: kids climb up netting, as well as belting with foothold structures. Kids climb through the dome climbing frame structure, and another walks across a thick folded belting rope. Overhead view shows top of structure with kids sitting atop.]
On-screen text: Attack it! Conquer it!
[video: girl climbs up side of climber up belted entrance with footholds. Kids play, bounce, and climb around and through structure.]
On-screen text: Inside and Out
Girl 1: I like... the whole thing.
Girl 2: It helps with your upper body strength.
Girl 3: It's awesome!
Girl 4: It's fun.
Girl 2: It's one of my most favorite playgrounds ever.
On-screen text: Our Materials Matter. [video shows renderings and features of material choices.]
Polyethylene [shows rotomolded plastic climbing elements]
ProShield Finish [shows brightly colored paint finish on metal elements of structure.]
Optional Hot Dip Galvanized (HDG) Steel [shows bent I-beams with hot dip galvanized finish]
Textured Rubber Belting [shows belted material used for walking across structure with grip.]
Handgrips [scene shows handgrips and footholds that are placed up the belting.]
Recycled Plastic Lumber (RPL) [recycled plastic lumber planks act as a ladder to higher parts of structure.]
Steel Reinforced Cables [cables run around interior and exterior of structure providing net climbers to access various parts of the structure.]
[video: RPL planks form a small bridge through interior of climber. Young girl sits atop planks. Kids climb across and around structure.]
[video: camera point of view shifts to kid wearing a Go-Pro as they climb to top of Crab Trap climber, then within.]
[video: two girls walk across folded belting rope as they try to balance to stay on it. Overhead view shows young girl climbing up RPL ladder.]
[video: all kids in classroom climb on top of Crab Trap. Group of kids dance in front of it. Scene switches to all fifty kids sitting on structure and waving to camera. Scene fades to Landscape Structures Logo.]
Product Categories
Dimensions
Max Fall Height: 118" (3,00 m)
Min Area Required: 33' x 36' 6" (10,06 m x 11,13 m)
Design/CAD Files for this Freestanding Play Element
Price Range (USD)
$75K-$100K
*Prices vary. For international and exact pricing, contact your local playground consultant.
Contact Your Consultant
Overview
Many climbing opportunities for up to 65 kids! The inviting Crab Trap® uses a variety of materials to add visual interest and create different climbing experiences, inside or out.
Features
Keeps kids engaged with limitless climbing routes

Different climbing challenges inside and out

Multiple routes for climbing from interior to the top of the net structure

Choice of ProShield® colors for I-beams and components

Steel-reinforced cables are extremely durable and vandal resistant, available in black

Also available in HDG (model #251054)

Rings and pods made from durable, UV-stable rotomolded polyethylene in your choice of color

Braided belt climber (U.S. Patent number 11,786,773) provides balance and climbing opportunities throughout the interior

ADA compliant

Direct bury
ProShield® Finish
Polyethylene
Sensory
Proprioception
Tactile
Vestibular+
Visual
Motor Skills
Agility
Balance
Cardiovascular
Coordination
Core Body Strength
Endurance
Flexibility
Lower Body Strength
Motor Planning
Upper Body Strength
Social/Emotional Skills
Cooperation
Imaginative Play
Social Skill Development
Learn about Developmental Benefits
Related Playground Components