Children need to play, learn and grow together, side by side
Landscape Structures has been a leader in creating play environments that allow all children and their families to In addition to ensuring access, we must ensure inclusion. play together, regardless of their abilities. But accessibility is not enough. Simply getting a child with limited mobility onto the playground doesn't necessarily enhance their play experience. Nor does it take into consideration children with sensory deficits and other developmental issues.
Playground products shown in video may not be appropriate for every age group. Playsystems shown in video are for demonstration purposes only. Product configurations may vary.
Video features a local Mesa resident as he explains the importance of inclusive play in playgrounds at Pioneer Park in Mesa Arizona.
[video: fade in to Eric Chuller also known as Wolf, stands in front of Pioneer Park playground. He speaks to camera.]
Eric: Inclusive play helps to... hmm how should I put this, it breaks down the barriers. There's it teaches people well not to stare it does it teaches people not to mistreat someone just because they're different whether it's something invisible that you can only see any under a brain scan like mine or whether it's someone and who can't even get out of a wheelchairs.]
[video: camera zooms in to Eric's face.}
Eric: Play has always been a huge component of helping me to socialize with people due to the communication deficiencies I had with my autism. I've always believed that parks and recreation have been an integral part in facilitating socialization for people of all creeds, colors, and abilities.
Eric voiceover: Action facilitates socialization but not without forethought, not without structure and that's what this place has given Pioneer Park, that's what this project has done. [video: camera pans left to right as a group of children stand at a railing of main play structure overlooking the park. Two boys at the top of tower wait to go down the slide and talk at the camera. Young boy squeezes past another to talk at camera. Young boy with glasses sits on in enclosed tower and speaks at camera.]
Eric voiceover: It's restructured the community in its own way and it's not just a fresh coat of concrete, paint, and equipment here the way that people are reacting to it I see proof in the way that these kids are playing with one another. The way that they're exploring, the way that they are meeting friends new and old here. The design of this park certainly helps to unite people well in that model of inclusive play.
[video: camera pans left to right over large crowd gathered at pioneer park for ribbon cutting ceremony. Top down view of a group of people cutting ceremonial ribbon. Camera pans right to left showing large tower structure of playground. Group of boys push two other boys on friendship swing. Camera switch back to Eric speaking to camera. Fade to Landscape Structures logo.]
Our Inclusive Play Design Philosophy
Our inclusive playground designs promote A Higher Level of Inclusive Play® by addressing accessibility, age and developmental appropriateness and sensory-stimulating activity.
Our team of designers follows the Seven Principles of Universal Design to create a playground that best fits the needs of those in your community:
Equitable Use
Flexibility in Use
Simple and Intuitive Use
Perceptible Information
Tolerance for Error
Low Physical Effort
Size and Space for Approach and Use
Universal Design is a framework for the design of environments, products, buildings, ideas and more with the express goal that they be usable by the widest range of abilities. This framework influences our Inclusive Play Design Philosophy to ultimately increase access, safety, comfort and social participation within our play environments.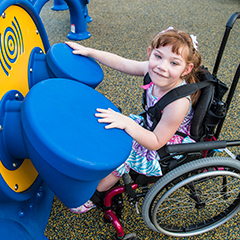 "Having a daughter with special needs, I have tears of joy each time I see one of Landscape Structures' playgrounds. I appreciate your dedication to exploring the needs of children of all abilities to improve and strengthen children's play."
Mom of daughter with disabilities
Environment + the play experience + variability
Environment
Creating a welcoming, safe and accessible environment is just as important as the play equipment you put in it. A well-designed environment makes the space more comfortable and user friendly for children and families of all ages and abilities.

Play Experience
Playgrounds can offer many opportunities for children to further develop physical, cognitive, sensory and social skills. An inclusive design includes a balance of play experiences to build all these skills.
Variability
Variability meets a child's curiosity with a developmentally The combination of these three elements allows every child to choose how they want to engage in the playspace. appropriate challenge, building comfortably on the skills they already possess to help them gain new skills. By striking this balance and achieving a "just right fit," children are encouraged to challenge themselves in ways that they can control and manage.
Visit our Inclusive Playgrounds
See how we're making playgrounds inclusive to children and families of all abilities. Browse our Featured Inclusive Playgrounds: