Benefits of Playground Shade Structures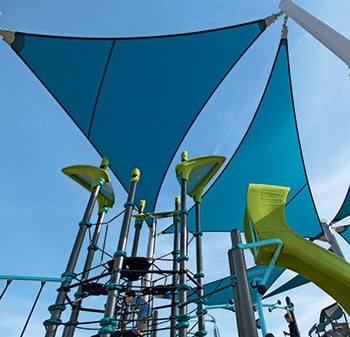 Playground safety needs to go beyond basic safeguarding from bumps and bruises while playing; UV rays from the sun can also be harmful to a child's health. Playground shade structures makes outdoor playtime more enjoyable for both kids and adults while offering critical sun protection to help keep kids safe while they are having fun.
Applying sun screen before going outdoors is a great first step, but playground shade structures can provide even greater sun protection by creating a physical barrier between the child and the sun's harmful rays. Playground shade sails or canopies also help to keep playground equipment cooler enabling longer play sessions and healthier outdoor activity. Shade protection on a playground also prolongs the life of playground equipment and rubber surfacing from premature fading and deterioration.
Beyond increased safety and function, shade structures also increase the aesthetics of a playground making it appealing to more visitors. Through brightly colored and uniquely shaped shade sails or shade cloths, playground shade structures create visually appealing playgrounds that increase outdoor comfort for all visitors.
Adding Shade to Your Playground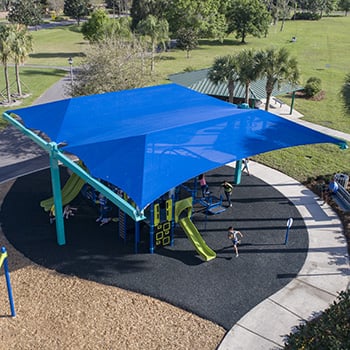 We offer two types of sun protection and shade products that provide cool and reliable shade for any play, rest and activity:
SkyWays® offers the largest break from the sun for any environment – playgrounds, parking lots, sports complexes, outdoor seating, pool surroundings and nearby buildings.
CoolToppers® can connect to our PlayBooster® playstructures and provide maximum integrated shade coverage for a variety of playground sizes.
Both our SkyWays and CoolToppers playground shade sails and structures are designed to block up to 97 percent of the sun's harmful UV rays and keep playground temperatures up to 30 degrees cooler. There is also a cool misting option available for CoolToppers, to keep kids even cooler on hot summer days.
Playground shade structures can be included in your original playground design or added at any time. If you don't see the size, configuration or attachment method your playground project needs, contact us and we can create the ideal custom solution to fit the unique requirements of your environment.
Playground products shown in video may not be appropriate for every age group. Playsystems shown in video are for demonstration purposes only. Product configurations may vary.
Why Our Playground Shade Structures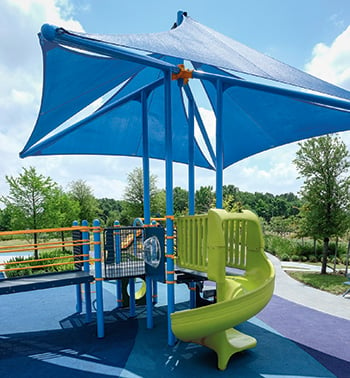 We work hard to insure each shade structure leaving our facility is something we're proud of and built to last through this generation of children and on to the next. We have more control over the final outcome because of our extensive in-house manufacturing capabilities. There's more room for collaboration, innovation and ideas. There's more room for better solutions and more room for quality assurance.
In addition to sun protection and reducing temperatures on a playground, our SkyWays and CoolToppers fabrics are also flame retardant and resistant to mildew, fading and ultraviolet rays, making it a long-lasting, great looking addition to your playground. They are also available in your choice of 17 standard colors, six flame-retardant colors as well as custom colors by request.