Symbol Communication Sign w/Posts
Model #298208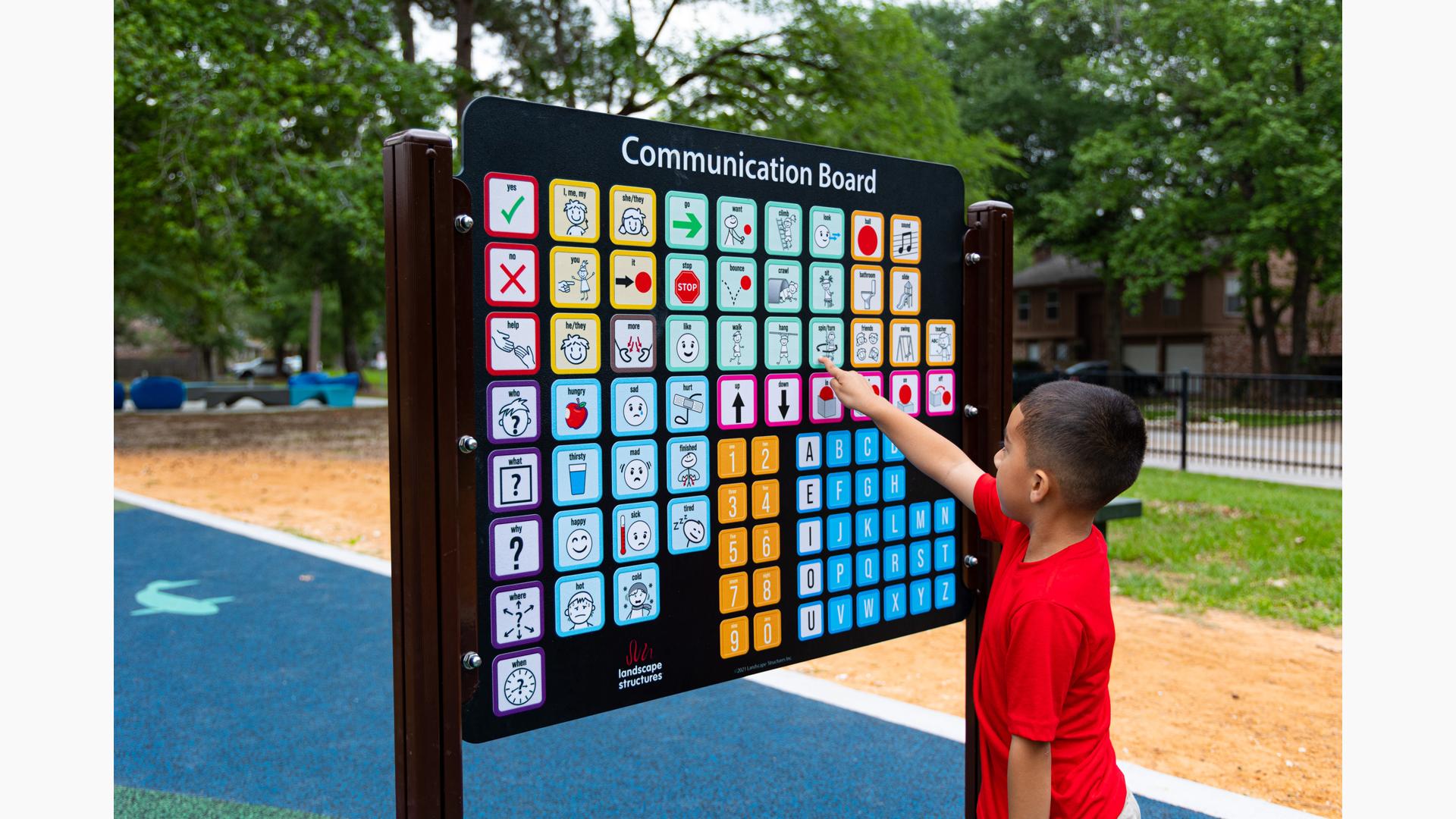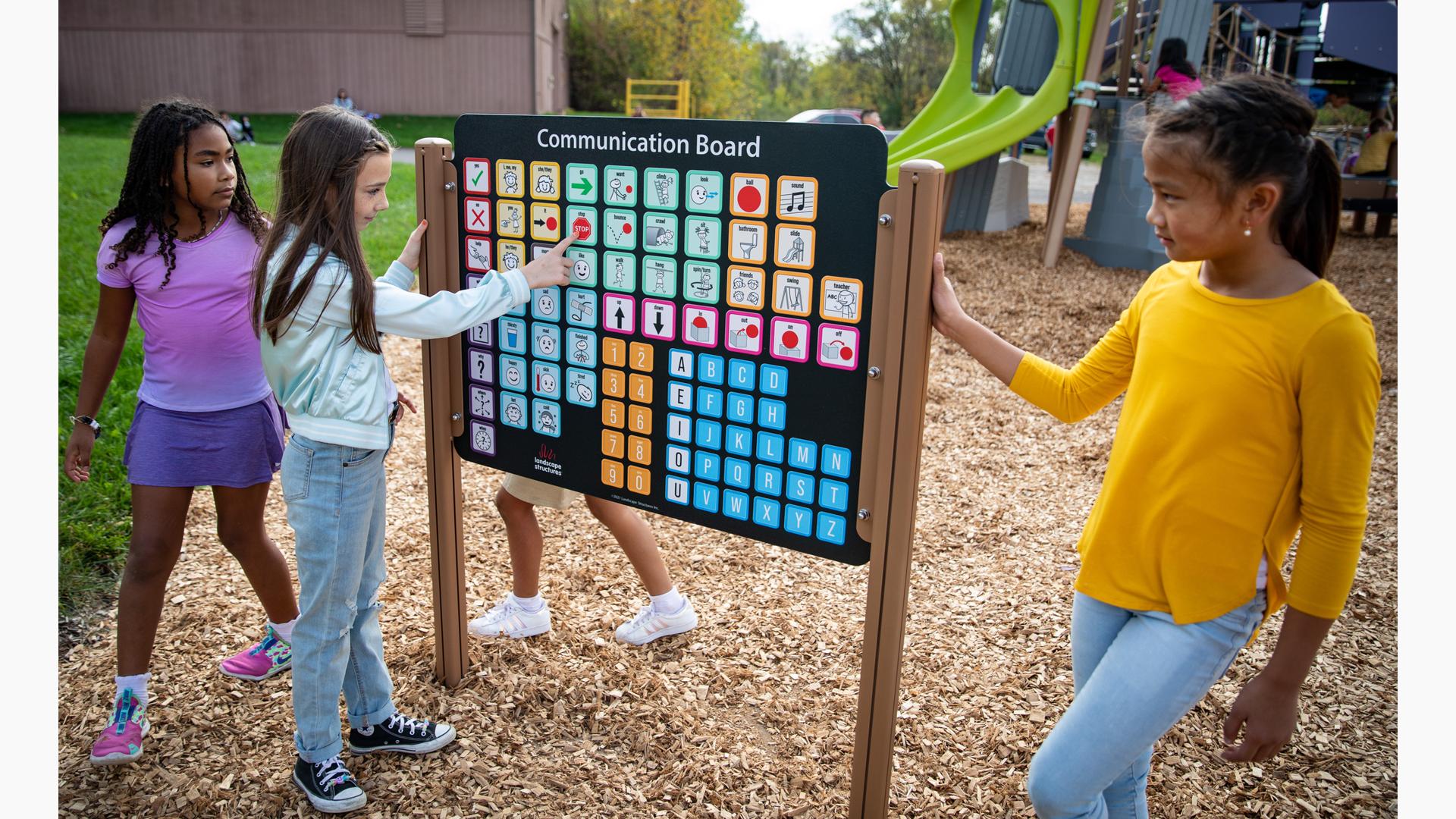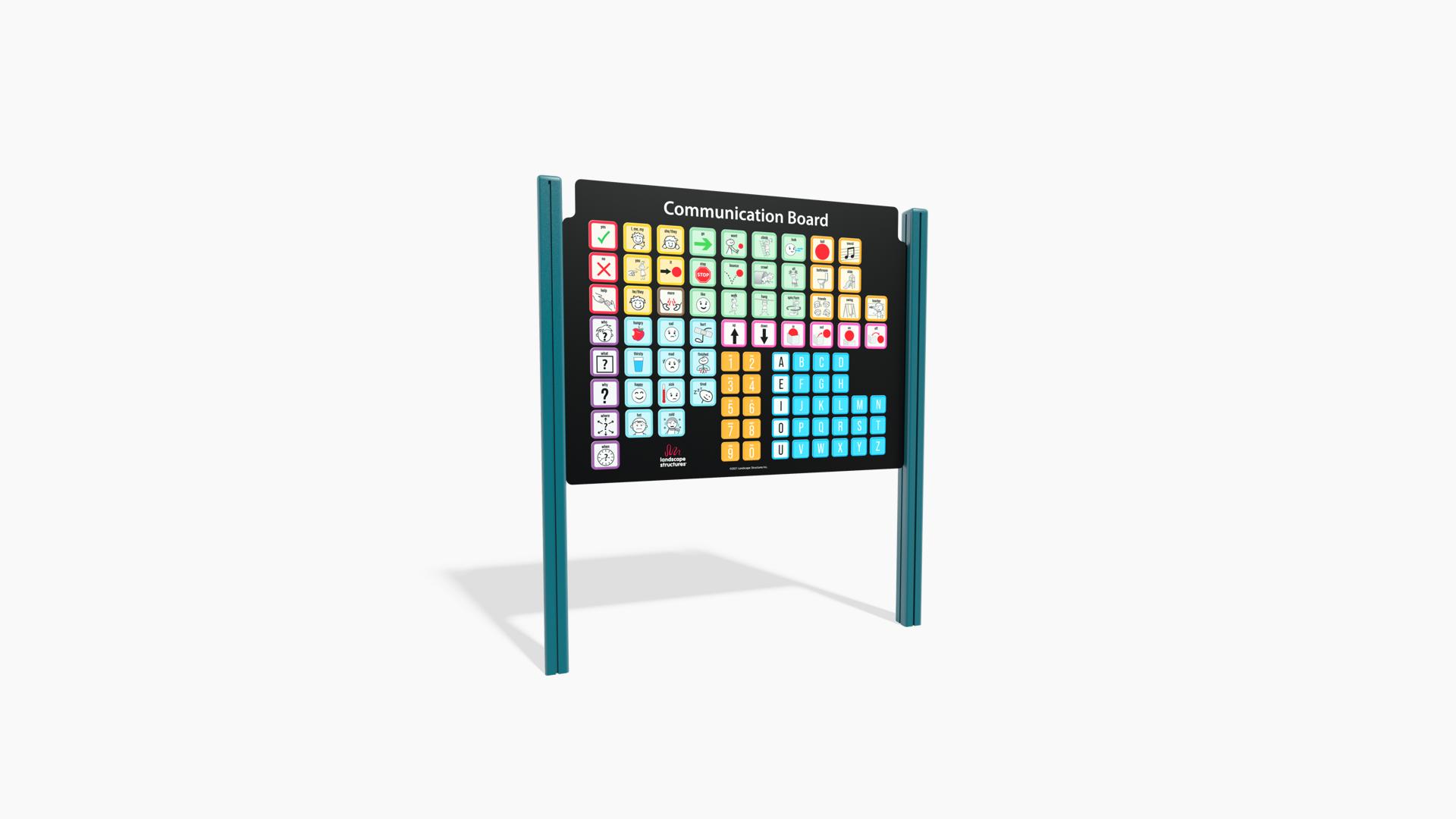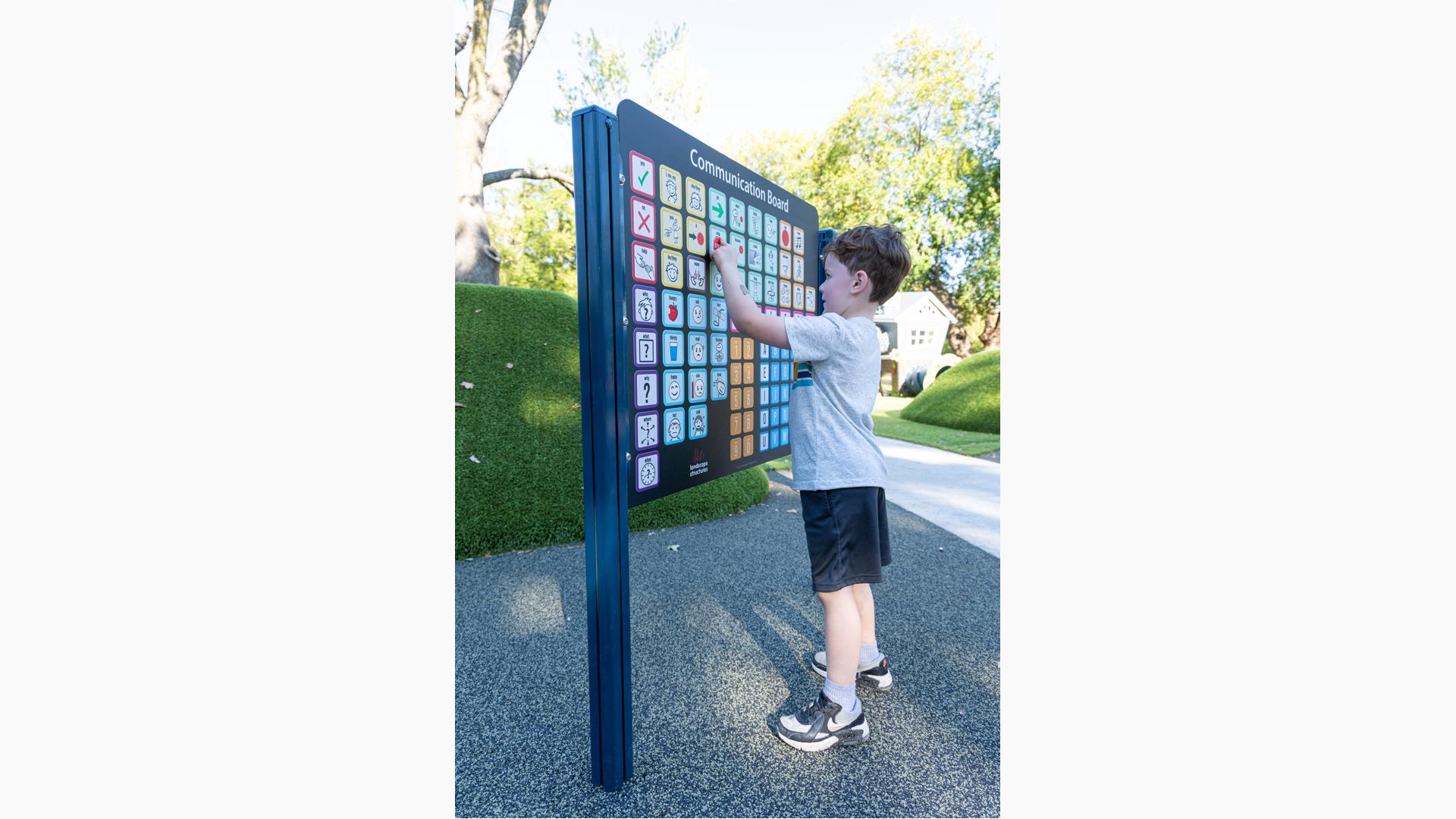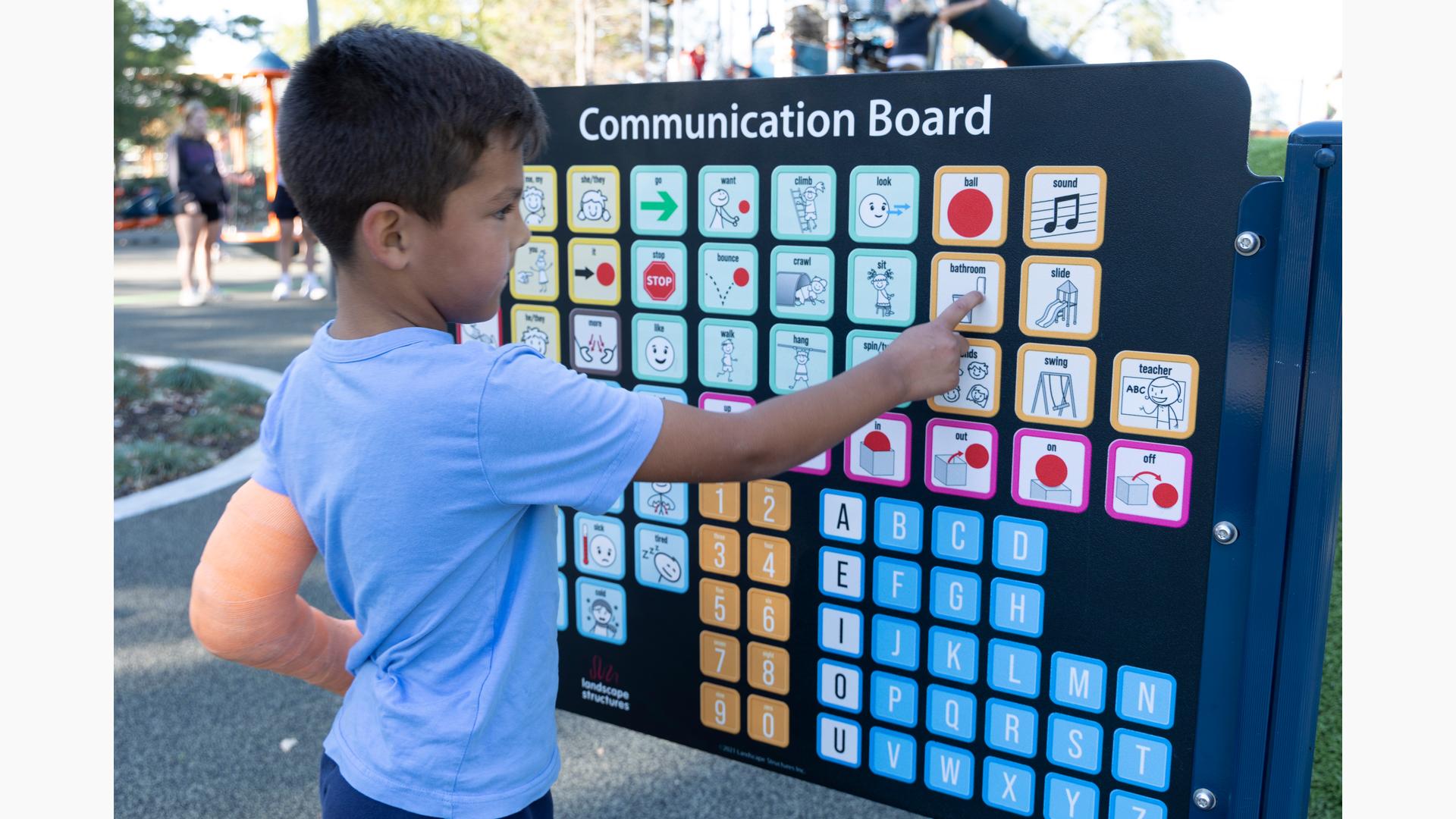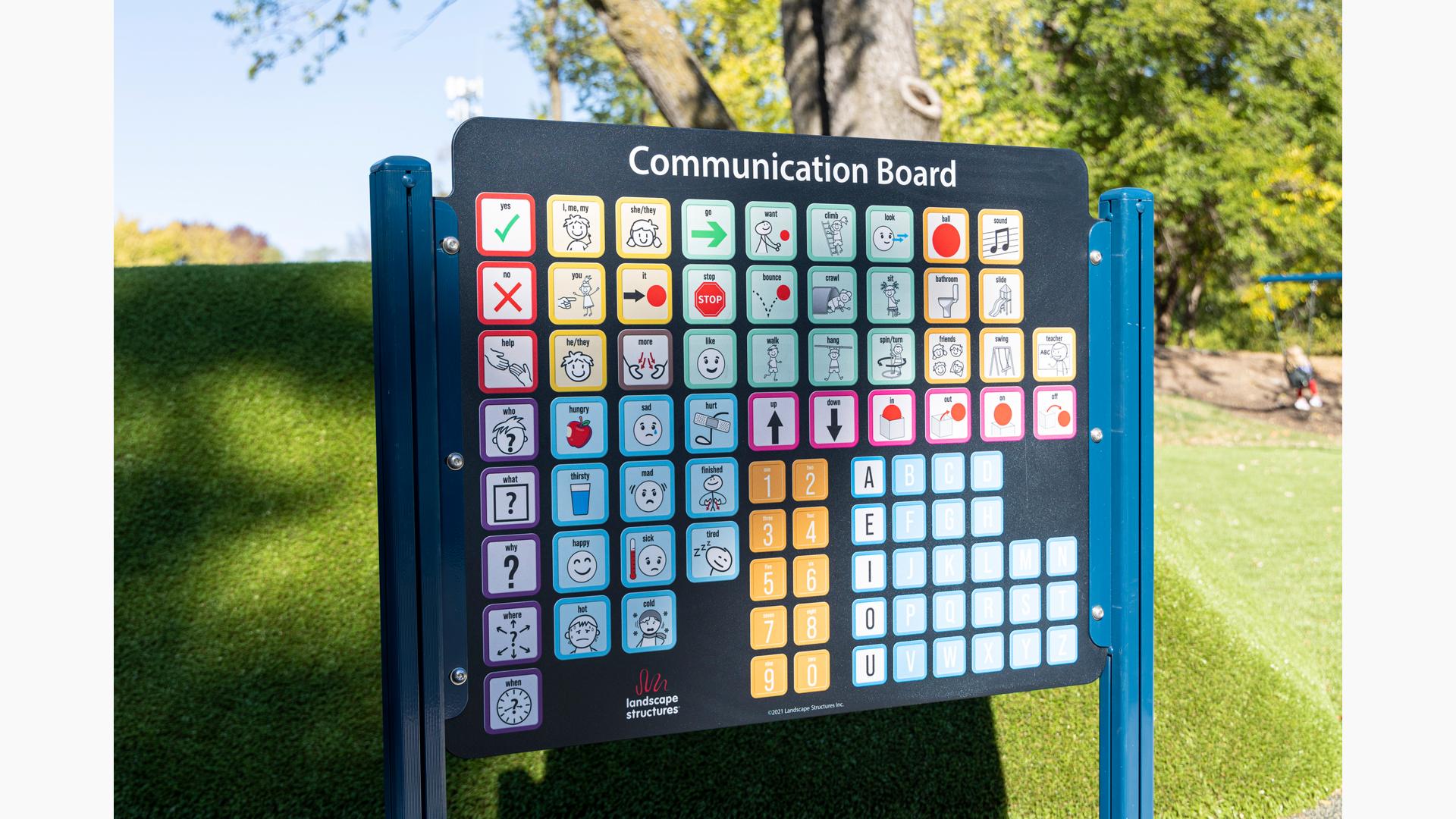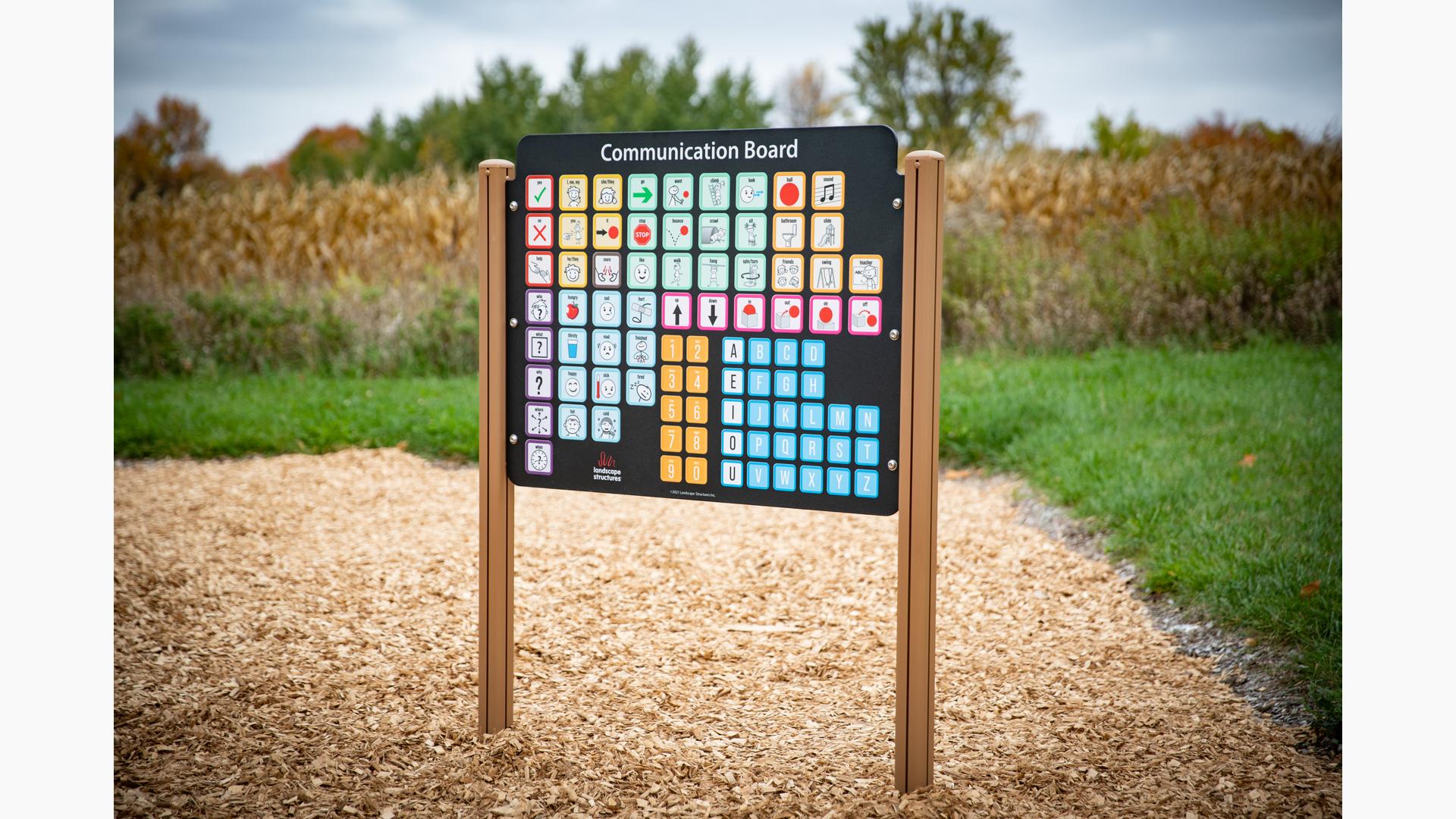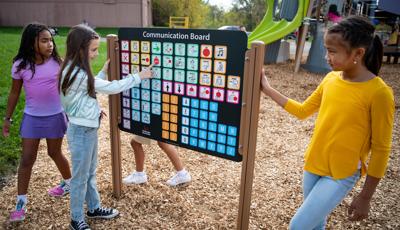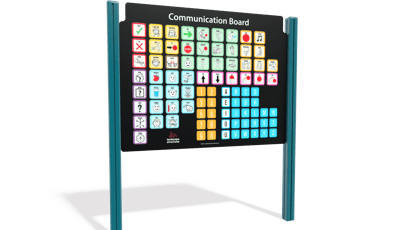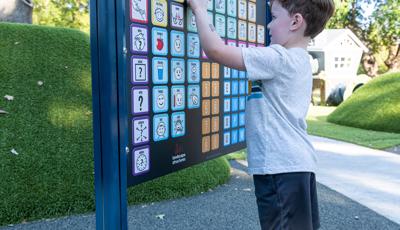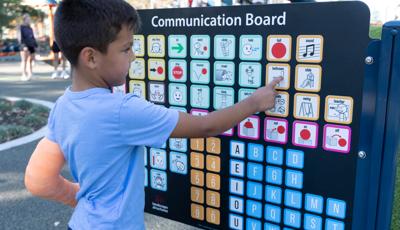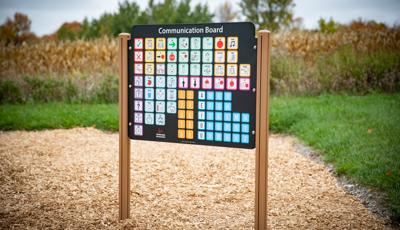 FP - Symbol Communication Sign with Posts
Video features a freestanding play inclusive Symbol Communication Sign with Posts.
[video: scene fades into a mother as she rolls her daughter in her wheelchair up to a play panel displaying different symbols, words, and pictures for nonverbal users to communicate. The mother kneels next to her daughter as they look at the panel.]
Mother voiceover: About the communication board, I love that because in her therapies we use those symbolism signs. It is a way of communication that she utilizes.
[video: scene switches to the mother as she kneels next to her daughter on artificial grass next to concrete log steppers.]
Mother: That a lot of people don't realize. She's nonverbal so people come up and talk to her, but she obviously doesn't respond.
Mother voiceover: But with those cards she can. And if more kids are seeing that, more parents are seeing that. It just makes everyone more aware of the different lifestyles that each family has.
[video: the young girl points and touches the symbol communication sign. The girl taps her open hands on the panel. Camera pulls back for a full view as the young girl looks at the symbols on the panel. Other children run and play around her at the park play area. The mother holds out a ball to her daughter as she finishes talking to the camera. Scene fades to white. The Landscape Structures logo fades into the center of the screen. Red text fades in below the logo reading "For a better tomorrow we play today.]
Design/CAD Files for this Freestanding Play Element
Price Range (USD)
$0K-$5K
*Prices vary. For international and exact pricing, contact your local playground consultant.
Contact Your Consultant
Overview
Pictures and symbols are an effective way for non-verbal, speech-challenged, and early-learning individuals to communicate with friends and caregivers. Placing a Symbol Communication Sign at the entrance to a play area ensures that everyone can express themselves!
Developed with guidance from experts in Augmentative and Alternative Communication (AAC) and Inclusive Design, Karen B. Haines and Ingrid M. Kanics, Landscape Structures' Symbol Communication Sign includes pictures representing nouns/pronouns, verbs, feelings, activities, and playground events as well as letters and numbers. While many different symbol sets are used across the AAC industry, the symbols created by LSI designers are universally understandable and easy to use. The graphics are simple and two-dimensional, which is helpful to those with visual processing challenges. They are arranged left-to-right as one would build a sentence with industry-standard colors representing different types of words. Additionally, symbols are placed on a black background to be easier to read for those with visual impairments. And because it's manufactured using proprietary DigiFuse® technology, the graphics will look great over the life of the play area.
Add a Symbol Communication Sign to your playspace for more inclusive fun!
Karen B. Haines is a speech-language pathologist who has worked in the public schools, an acute care hospital and as a Teaching Associate Professor and Speech Clinic Coordinator for the Department of Communication Sciences and Disorders at West Virginia University. She recently retired from WVU after 39 years; although she remains active in the field particularly in the area of AAC. She continues to teach graduate level AAC coursework and to provide AAC consulting services. For the past 13 years, Ms. Haines has coordinated the Augmentative Communication lab at Camp Gizmo. She also teaches professional development coursework in Assistive Technology and AAC in partnership with the West Virginia Department of Education.
Ingrid M. Kanics, OTR/L is an occupational therapist who has worked for more than 10 years helping communities create and manage amazing places where all children can play together. Besides a Masters of Occupational Therapy from Duquesne University, Ingrid has a Masters of Interior Architecture with an emphasis on inclusive, sustainable design from Chatham University. She owns her own consulting business, Kanics Inclusive Design Services, LLC, focusing on the creation and operation of inclusive indoor and outdoor play spaces. Ingrid presents at local, state and national conferences on the topics of play, sensory processing and Universal Design.
Features
Assist and augment communication at the entrance to a play space

Helpful for non-verbal children, early learners, and those who speak different languages

DigiFuse provides vivid, full-color, photo-realistic graphics with long-lasting durability on aluminum barriers for the optimal combination of beauty and strength

Panel is constructed from 1/4" aluminum

Choose any ProShield® color for posts

Available in direct bury and surface mount
ProShield® Finish
Related Playground Components