Overview
The Swiggly Stix™ Bridge offers just the right amount of challenge to kids ages 6 to 23 months and 2 to 5 years. And once they've conquered the Weevos® bridge, they can graduate up to the Swiggle Stix™ bridge on the Evos® play system.
---
Features
Stepping pods are made from durable, color-fast Polyethylene
Each stepping pod is secured in the ground while also being fastened to overhead arch with a rope
Developmental Benefits
Sensory
Proprioception, Tactile, Vestibular+
Motor Skills
Balance, Coordination, Core Body Strength, Flexibility, Motor Planning, Upper Body Strength
Cognitive Skills
Problem Solving
Social/Emotional Skills
Cooperation, Social Skill Development
Learn about Developmental Benefits
Component Details
Age Ranges

6 to 23 months
2 to 5 Years

Play Systems

Design Standards

ASTM, CSA, EN
Dimensions

Max Fall Height: 14" (0,36 m)
Min Area Required: 6' (1,83 m)

Design/CAD Files

Downloads are not available for individual components.

All About Color

Color is an important decision, and our products are available in many color options. Contact your consultant to find the colors available for this component.

See Color Inspiration
Playground products shown in video may not be appropriate for every age group. Playsystems shown in video are for demonstration purposes only. Product configurations may vary.
Video features the Swiggly Stix Bridge on a Weevos play structures.
[video: scene fades into a Weevos play structure as children play all around on the different playground activities. Scene switches to close-up of a child's legs as they walk across the disc steppers of the Swiggly Stix Bridge. Camera zooms in on a child's feet as they stand on one of the discs of the bridge. Scene switches to a girl as she spins her body around the vertical rope of one of the disc steppers. Camera slowly zooms in on a young girl as she stands by the Swiggly Stix Bridge and eats a cookie. A child laughs in the background as the girl lowers her cookie as smirks at the camera while chewing. Scene switches to a close-up of a boy as he spins himself around one of the ropes of the bridge. Scene switches as the camera views a child's feet walking across the disc steps of the bridge. Camera switches to an even closer side view of children's feet as they walk across the bridge. Camera pulls back and focuses on a girl's shoes as she stands on one of the disc steppers of the bridge. Scene switches to a view across the play area focuses on a young girl's legs as she steps across the bridge. Camera pulls back for a full view as a boy and girl climb across the bridge holding onto the vertical ropes of disc stepper. Scene switches to a side view as children climb on the ropes and sit on the discs of the bridge. The camera pulls back for a full view of the Swiggly Stix bridge as a boy and girl stand and hold onto the ropes. Children play on the other playground activities in the background as the scene fades to black.]
Next Tab
Play System of this Component
We offer the widest range of park and playground equipment to promote healthy lifestyles, encourage skill-building and create unique outdoor experiences. From our playsystems and freestanding playground components to themed designs, site furnishings and more, we'll help you create a recreation space that welcomes your whole community.
---
Weevos®
Ages 2 to 5 Years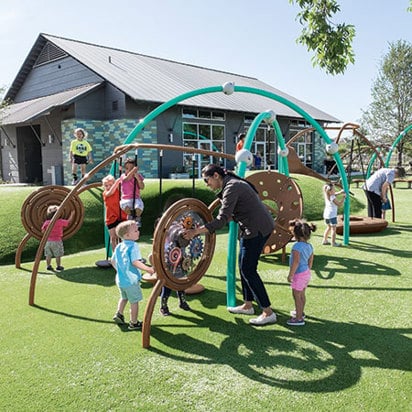 The Weevos® playground structure is designed for growth and development in 2- to 5-year-olds in six key areas: physical, balance, cognitive, sensory/motor, emotional/social and language. Best of all, Weevos safely lets toddlers and preschoolers bee-bop and giggle with just the right amount of wiggle, and clear sight lines let supervisors keep their eyes on all the action!
U.S. Patent Nos. 8,021,240, 8,366,562, 8,485,911 and 9,089,731. Canada Patent No. 2,658,420.
View of Weevos® Components
Previous Tab
Related Playground Components