Overview
The Evos® Navigator and Periscope Reach Panels add a much needed accessible, interchangeable fun to your Evos arches while encouraging creative play.
---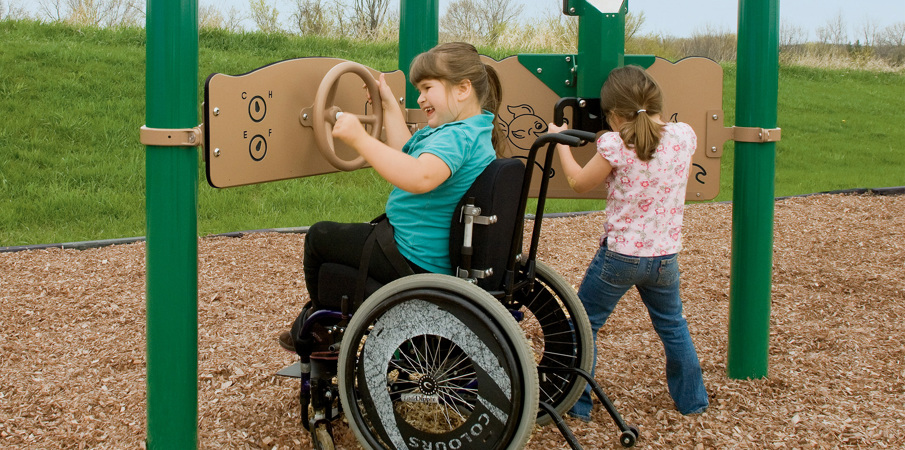 Features
Available individually or as a pair
Completely interchangeable for design versatility
For kids of all ages and abilities
Contains maintenance-free, oil-impregnated bearings
Navigator Panel has stainless steel shafts ensure durable driving
Octagonal tube equipped with stainless steel mirrors
Periscope moves side to side and forward 30 degrees
Wheelchair accessible for inclusive outdoor play
Developmental Benefits
Sensory
Proprioception, Tactile, Visual
Motor Skills
Eye-Hand Coordination, Motor Planning
Cognitive Skills
Problem Solving, Strategic Thinking
Social/Emotional Skills
Cooperation, Imaginative Play, Social Skill Development
Learn about Developmental Benefits
Component Details
Age Ranges

Play Systems

Design Standards

ASTM, CSA, EN
Design/CAD Files

Downloads are not available for individual components.

All About Color

Color is an important decision, and our products are available in many color options. Contact your consultant to find the colors available for this component.

See Color Inspiration
Playground products shown in video may not be appropriate for every age group. Playsystems shown in video are for demonstration purposes only. Product configurations may vary.
This video features children playing with the Evos periscope reach panel.
[video: view of the periscope reach panel next to the navigator reach panel. A young girl in a wheelchair looks through the periscope. An adult man off camera talks to young girl in wheelchair.]
Man: Do you see Mia? How about you're on this side.
[video: camera switches to a side view of young girl in wheelchair looking through periscope. Camera pulls back to full view of both the periscope panel and the navigator panel. A young girl stands and spins the steering wheel of the navigator panel. A young boy walks up to the young girl in the wheelchair using the periscope panel.]
Young boy: Was I dancing?
Young girl in wheelchair: Yes.
[video: camera zooms back from girl in wheelchair looking through periscope. A young girl with glasses stands by the girl in wheelchair. Young girl goes on the other side of the panel and begins to do jumping jacks in front of the periscope. Camera close up of young girl in wheelchair pulling her face away from the periscope.]
Man off camera: What do you see?
Girl in wheel chair: Jumping Jacks!
Next Tab
Play System of this Component
We offer the widest range of park and playground equipment to promote healthy lifestyles, encourage skill-building and create unique outdoor experiences. From our playsystems and freestanding playground components to themed designs, site furnishings and more, we'll help you create a recreation space that welcomes your whole community.
---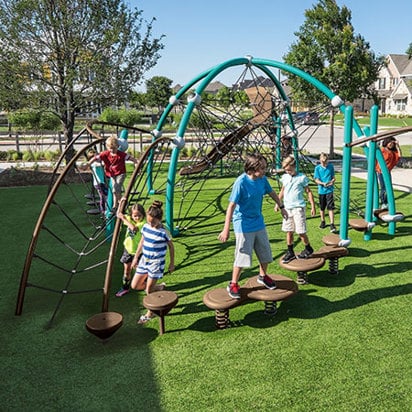 Evos® attracts kids with its unique appearance and endless opportunities for unstructured fun. Its ground-to-ground arches allow kids of all abilities to join in the fun. But most importantly, Evos lets kids find their own ways to play while building muscle strength, endurance and mental agility.
U.S. Patent Nos. 8,021,240, 8,366,562, 8,485,911 and 9,089,731. Canada Patent No. 2,658,420.
View all Evos® Components
Previous Tab
Related Playground Components