Overview
Kids of all abilities can be artists with the Evos® Image Reach Panel and Match 3 Panel. Attach these panels to your Evos arches, to encourage creative play.
---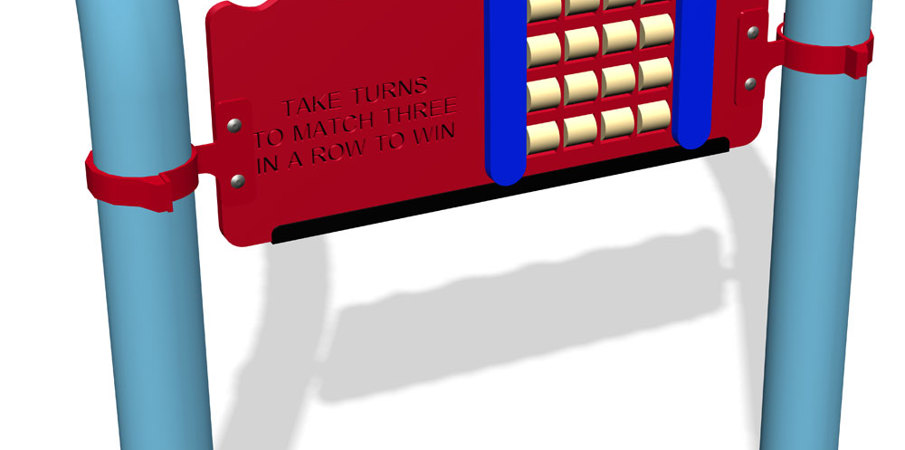 Features
Available individually or as a pair
Completely interchangeable for design versatility
For kids of all ages and abilities
Panel accessible from both sides
Wheelchair accessible for inclusive outdoor play
Developmental Benefits
Sensory
Proprioception, Tactile, Visual
Motor Skills
Eye-Hand Coordination, Fine Motor, Motor Planning
Cognitive Skills
Problem Solving, Strategic Thinking
Social/Emotional Skills
Cooperation, Imaginative Play, Social Skill Development
Learn about Developmental Benefits
Component Details
Age Ranges

Play Systems

Design Standards

ASTM, CSA, EN
Design/CAD Files

Downloads are not available for individual components.

All About Color

Color is an important decision, and our products are available in many color options. Contact your consultant to find the colors available for this component.

See Color Inspiration
Playground products shown in video may not be appropriate for every age group. Playsystems shown in video are for demonstration purposes only. Product configurations may vary.
This video features a young girl in wheelchair as she plays with the Evos match 3 reach panel.
[video: side view of match 3 reach panel. Panel reads: Take turns to match three in a row to win.]
[video: camera close up of young girl in wheelchairs chair being pushed up to match 3 reach panel. Camera switch to young girl in wheelchair and another girl in a pink shirt at match 3 panel. Adult off camera speaks.]
Adult: Yeah, help her.
[video: young girl in pink shirt lens over to panel and speaks to girl in wheelchair.] Young girl in pink shirt: Okay what color do you want this one? White?
[video: camera switch to top down view of young girl in wheelchair.] Young girl in wheelchair: Let me help [video: young girl in wheel chair reaches out to spin pieces of panel and grunts.}
Young girl in pink shirt: You don't need help?
Young girl in wheelchair: Yes [grunt]
Young girl in pink shirt: No, you put your... here I'll show you. [video: young girl in pink shirt grabs young girl in wheelchairs hand and assists her to spin panel piece. Young girl in wheelchair successfully spins panel piece on her own.]
Young girl in pink shirt: You're doing it!
Next Tab
Play System of this Component
We offer the widest range of park and playground equipment to promote healthy lifestyles, encourage skill-building and create unique outdoor experiences. From our playsystems and freestanding playground components to themed designs, site furnishings and more, we'll help you create a recreation space that welcomes your whole community.
---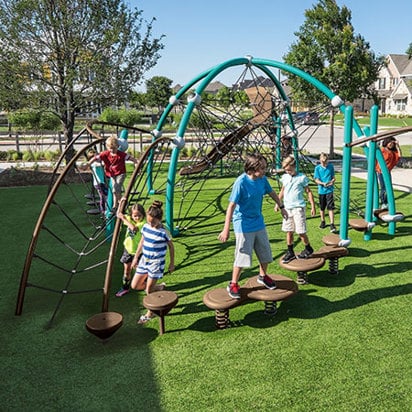 Evos® attracts kids with its unique appearance and endless opportunities for unstructured fun. Its ground-to-ground arches allow kids of all abilities to join in the fun. But most importantly, Evos lets kids find their own ways to play while building muscle strength, endurance and mental agility.
U.S. Patent Nos. 8,021,240, 8,366,562, 8,485,911 and 9,089,731. Canada Patent No. 2,658,420.
View all Evos® Components
Previous Tab
Related Playground Components