Jonesboro Miracle League Park
Jonesboro, Ark.
After seeing a video of The Miracle League® in action in 2010, Mayor Harold Perrin; Wixson Huffstetler, director of parks and recreation; and Sharon Turman, softball coordinator; agreed they needed to bring that type of inclusive recreation to the City of Jonesboro.
From that point forward, Wixson, Sharon and a larger team started inviting businesses to lunch to share their vision of inclusive recreation. Within months, more than 60 businesses had pledged a financial commitment, and the dream was well on its way to becoming a reality.
Creating a Showcase
"We started visiting Miracle Leagues across the country and made a list of what we liked at each site," explained Wixson. "Sharon even took a vacation that consisted of visiting 20 Miracle Leagues along the East Coast."
After the Miracle League tour, Wixson and his team realized that they wanted to create a Miracle League complex that would act as the showcase for all other Miracle Leagues. So they set their sights higher. What started as a $1 million project, grew into a $3.2 million project—none of which came from the tax payers in the City of Jonesboro.
"We wanted to build both the ball field and the inclusive playground at the same time because they complement each other so much. Kids and families are taking advantage of the playground before, during and after the games." Wixson Huffstetler parks and recreation director, City of Jonesboro
Their vision came to life as a 20-acre recreation complex complete with a rubberized ball field for children and adults with special needs, an inclusive playground, a concession stand, restrooms and a quiet room designed especially for children with autism. Even more, the Jonesboro Miracle League offers more than just softball/baseball. Sharon and her team plan to offer whatever sport kids want to play.
Focused on Play for All
Prior to the opening of the Jonesboro Miracle League Park, the City of Jonesboro had only one inclusive playground. And Wixson knew focusing on inclusive play at the Miracle League playground would bring the community even closer together.
"When I first started on this inclusive playground project, I was new to parks and recreation," explained Wixson. "I had done a lot of research about inclusive play, and it was very close to my heart. I have a son, and I want him to be able to interact with kids of all abilities. And I want those kids with special needs to experience the same things as my son."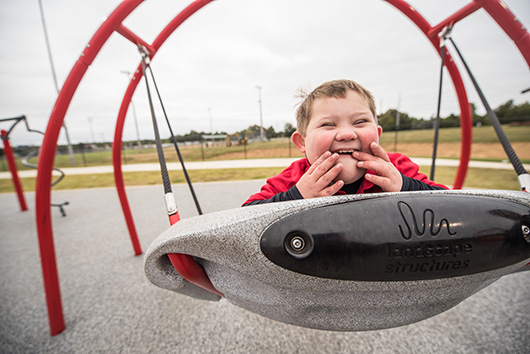 Wixson and a few of his team members traveled to Delano, Minn., for a tour of the Landscape Structures corporate headquarters. During their time there, they were able to meet with the designers and engineers who would be working on the Jonesboro Miracle League Park. This collaboration lead them to create a truly inclusive play space.
The most important consideration for the playground design was providing access to kids and families using mobility devices. They incorporated ramps throughout the entire playground—from the bottom all the way to the top.
"I wanted everyone to have access to every slide on the playground."
In addition to access, the playground design focused on including many sensory-stimulating activities including the Sensory Play Center®, OmniSpin® spinner, Roller Table, We-Saw™, Sway Fun® glider and a variety of playground swings, spinners and bouncers. And because there are so many activities available, several clinics are using the inclusive playground for therapy, and occupational therapy classes from Arkansas State University (ASU) are taking field trips to the space to learn how real-life environments can be used as a therapy setting.
Even more, the playground integrates lots of shade right into the playstructure. A lot of research Wixson did showed some kids, because of their disability, can't be in the direct sunlight. To include kids who can't play in the sun, the designers of the space partnered with Musco Lighting to install lights around the complex for evening visits; lights come on at sunset and go off at 10:15 p.m.
"Because of this inclusive recreation space, there have been friendships made between children of all abilities," said Wixson. "It's unbelievable what this has done for our community."
Creating Lasting Relationships
Jonesboro Miracle League Park held a grand opening in November 2014, and the ball field was open for play the following spring. According to Wixson, the first season was a bit chaotic but they never had problems finding buddies to participate with the players.
"Every company, civic club, ASU and more has come out to play ball with our Miracle League kids," said Wixson. "Our community members are creating relationships during games that will last a lifetime."
Wixson and his team hope to expand the programming at Jonesboro Miracle League Park. They're looking into starting a league for Wounded Warriors--they want veterans within the City of Jonesboro and surrounding communities to come together to take advantage of the accessible field and play ball. Additionally, they have been hosting Movies in the Park one Saturday a month, during which they encourage families to come and play on the playground and before they get comfortable on the field for the featured film.
"The thing that comes out of parents' mouths is 'Thank you, thank you, thank you! You have no idea how this has changed my child's life.' It gets emotional out there during games, but everything has been positive."
After working on this project, Wixson has realized how important it is to have inclusive play opportunities available for everyone. "A lot of people just don't understand it. From here on out, I will only be working on inclusive playgrounds. Inclusive play offers a huge benefit to your community, and it's something that every city should invest in."