The Jewish Community Center of Metropolitan Detroit
Playground Overview
As a preferred vendor of the JCC Association, we worked closely with the JCC of Metropolitan Detroit to design a playground that could accommodate lots of energetic and playful kids. A PlayBooster® playstructure, designed for kids ages 5 to 12, includes several slides like the Rollerslide, SlideWinder2® and Double Swoosh™ Poly Slide. Even more, the Evos® playsystem was installed to provide more challenge for kids' bodies and minds. With the O-Zone® Climber, RingTangle® Climber and Swiggle Stix® Bridge, kids will find plenty of playground components with which to engage and stay active. And if that isn't all, the HealthBeat® outdoor fitness system provides an extra fitness challenge for ages 13+!
---
---
Playground Details
Age Ranges

Design Standards

ASTM

Installed

June 2013

Design/CAD Files

Min Area Required

Total Area: 105' x 80' (32 m x 24,39 m)
5-12 Area 1: 48' x 48' (14,63 m x 14,63 m)
5-12 Area 2: 80' x 58' (24,38 m x 17,68 m)
Project Price Range

$200K-$500K+

Pricing reflects only the equipment shown in the 3D render above. For international and exact pricing, please contact your local playground consultant.
---
Playground products shown in video may not be appropriate for every age group. Playsystems shown in video are for demonstration purposes only. Product configurations may vary.
Video features an Landscape Structures playground at the Jewish Community Center of Metropolitan Detroit in Oak Park Michigan.
[video: fade in to a panning view across the entire playground with a pavilion standing by. A large playground sign comes into frame reading, community recreation park. Camera view switches to a different side of the playground with the view of an adult outdoor exercise area with fix workout equipment. Camera switches to a view of the welcome sign to the playground with children playing in the background on a Ring Tangle climber.]
[video: a full view of children playing on the Evos playground structure. A boy and girl play on a Pod Stomper bridge while other children climb on the O-Zone climber. Judy Front the Jewish Community Center Director speaks to the camera.]
Judy: We had to actually remove our old playground because it was no longer compliant. So, we had an empty space here for a year and a half.
Judy voiceover: And it took us that long to find the donors and we also wrote some grants and we were able to fund it and it was well worth the wait because look at what we got.
[video: elevated view of the PlayBooster playground witch children playing all around. Camera switches back to ground with the Evos playground system in front of the PlayBooster playground. Boy spins three boys on an Omni spinner. Camera back to Judy speaking to the camera and looking back to point at the playground.]
Judy voiceover: We did a community build a couple of weeks ago. So, most of it was finished. The heavy work the footings were done the community came together, we had about 100 volunteers out here on a hot Sunday afternoon. And we put it together and finished it and it really gave everyone from the community a sense of being a part of this great new project at the JCC.
[video: camera pans across the front of a swing set as children swing towards the camera. Two girls wait in line as two boys climb up the Sky Rail climbing ladder. Camera switches to a point a view worn camera as they spin on the Omni. Camera switches to the bottom of a Roller slide as boys sliding down towards the camera. Girl wearing glasses spins herself on the Gyro Twister. Three children stand by watching her spin. Two boys sit on Saddle seat spinners and spin slowly. Camera back to Judy speaking to the camera.]
Judy voiceover: They love it, we are actually having a hard time getting them off the playground because there having such a great time.
[video: a group of children run in front of the camera. Camera pans across the PlayBooster playground where a group of boys hold their arms up in the air standing on a bridge posing for a photo. A boy climbs towards the camera on the Ring Tangle climber. Camera back to Judy speaking to the camera.]
[video: A boy and girl play the Bongo drum panel together. Camera zooms in on the boy's face as he plays the drum panel.]
Boy: Hey.
[video: Two boys slide down the Roller slide side by side together. A boy and girl climb up the Sky Rail climber ladder. A boy rotates himself as he sits on the Saddle seat spinner. Camera pans up from the ground as three kids wiggle on the Pod Stomper bridge. The boy in the middle speaks to the camera and points across the playground.]
Boy: I like that twisty thing over there.
[video: a different boy off camera speaks.]
Boy 2: Yeah me too.
[video: camera switches to a boy wearing a fedora.
Boy wearing fedora: I like when I spin it really fast and then just jump on the side and spin.
[video: camera close-up of a boy and a bright orange hat as he shifts his body back and forth. Camera pulls back for a full view of the boy standing on a Wobble Pod. He jumps up in the air and lands back on the Wobble Pod. He almost loses his balance but recovers. Camera zooms in on his feet as he wiggles and jumps on the Wobble Pod.]
[video: camera zooms in on a girl as she climbs across the Disc Challenge bridge. A boy shifts his hands to center himself on a chin up bar. Five children stand on the Pod Stomper bridge while two adults stand by. Camera close-up of a young boy as the camera man asks him a question.]
Camera man: What else do you like on the playground?
Boy: Well going on the red spiny thing and going on that.
[video: young boy points to something across the playground. Camera switches to a point of view camera as a boy runs around the playground. He speaks to another boy playing on the Stationary Cycler.]
Boy wearing camera: I can't take pictures I can only take video.
[video: boy wearing camera watches as another boy runs on the log roll. Boy wearing camera climbs of the Sky Rail climbing ladder. He reaches the playground decking and sits down at the top of the Roller Slide. He slides down the Roller Slide. Boy wearing camera runs up to another boy sitting at the bottom of the Double slide. He talks to the boy sitting.]
Boy wearing camera: I can take a video of you.
[video: boy wearing camera runs past the Evos O-Zone climber towards a man with a camera. Boy speaks to man with camera.]
Boy wearing camera: I can take a video.
Man with camera: You taking a picture of me?
[video: man points his camera at the boy.]
Man with camera: I'm taking a picture of you.
[video: fade to screen shot image of the boy wearing a helmet with a camera attached to the top. Fade to a boy stepping in front of the camera and waving. A girl wearing a hat smiles while looking into the camera. A girl on a Pod Stomper speaks.]
Girl: Hold on don't move, we're switching.
[video: a group of children play on the Pod Stomper.]
Boy on Pod Stomper: Uh oh.
[video: camera focuses on some flowers planted on the perimeter of the playground. Two boys can be seen playing on the Pod Stomper in the background. Fade to black, text appears on screen. Text reads, better playgrounds, better world. Text disappears, and the Landscape Structures logo appears.]
Next Tab
Featured Products
We offer the widest range of park and playground equipment to promote healthy lifestyles, encourage skill-building and create unique outdoor experiences. From our playsystems and freestanding playground components to themed designs, site furnishings and more, we'll help you create a recreation space that welcomes your whole community.
Play Systems featured in this Playground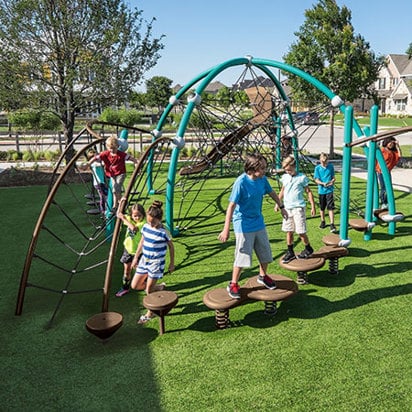 Evos® attracts kids with its unique appearance and endless opportunities for unstructured fun. Its ground-to-ground arches allow kids of all abilities to join in the fun. But most importantly, Evos lets kids find their own ways to play while building muscle strength, endurance and mental agility.
U.S. Patent Nos. 8,021,240, 8,366,562, 8,485,911 and 9,089,731. Canada Patent No. 2,658,420.
View all Evos® Components
PlayBooster®
Ages 5 to 12 Years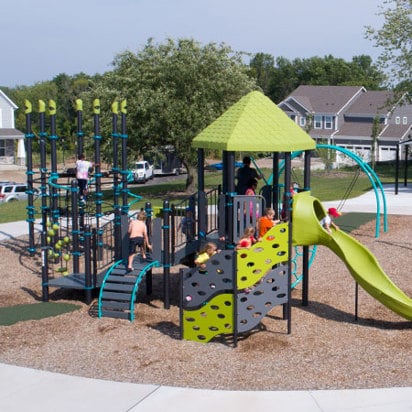 The PlayBooster® playground structure, the original post-and-clamp system, combines exciting ground-level components with climbing events and overhead activities for kids ages 5 to 12. The PlayBooster family includes the interconnected cables of Netplex®, the contemporary Vibe®, the nature-inspired Tree House and the double-decker PlayOdyssey® Tower.
Resources
View all PlayBooster® Components
Product Categories featured in this Playground
Freestanding Play
Ages 2 to 12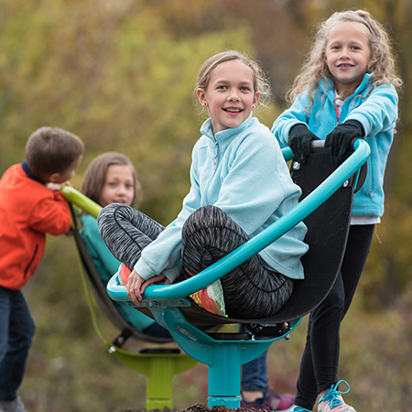 Freestanding Play events add fun and excitement to new and existing playgrounds! Revitalize your current playground or create a playground design that's completely unique using Freestanding Play components for kids ages 2 to 5 and 5 to 12.
Resources
View all Freestanding Play Events
Sports & Fitness
Ages 5 to 12, Ages 13+
Our Sports & Fitness equipment provides fitness components that are designed for outdoor parks and playgrounds where people of any ability can challenge their physical fitness and work toward improving their health from head to toe. We make it easy to add fitness to outdoor play.
Resources
View all Sports & Fitness Products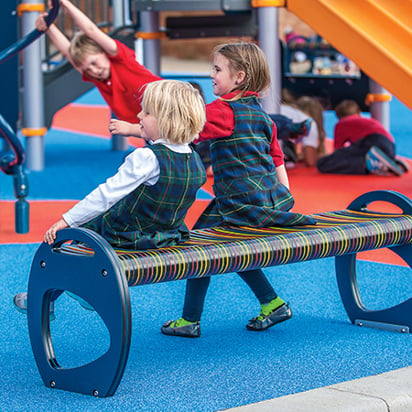 All of our various furnishings including shade products, picnic tables, benches, trash receptacles and more are designed to coordinate with your playground and surrounding environment. The right pieces will create a clean, safe and welcoming spot for the whole community.
View all Site Furnishings
Previous Tab
Next Tab
Playground consultant for this project
We've created a global network of local playground experts to be at your side, every step of the way. With an average of 20 years of experience, our playground consultants are knowledgeable and personable. They will guide you through product pricing and specifications, customization, financing options, community builds, on-time deliveries, maintenance, finding replacement parts, and service questions.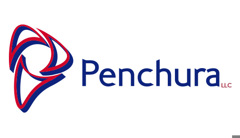 Find a Playground Consultant Near You
Previous Tab
Related Playgrounds & Designs