Grace Bible Church
Houston, TX USA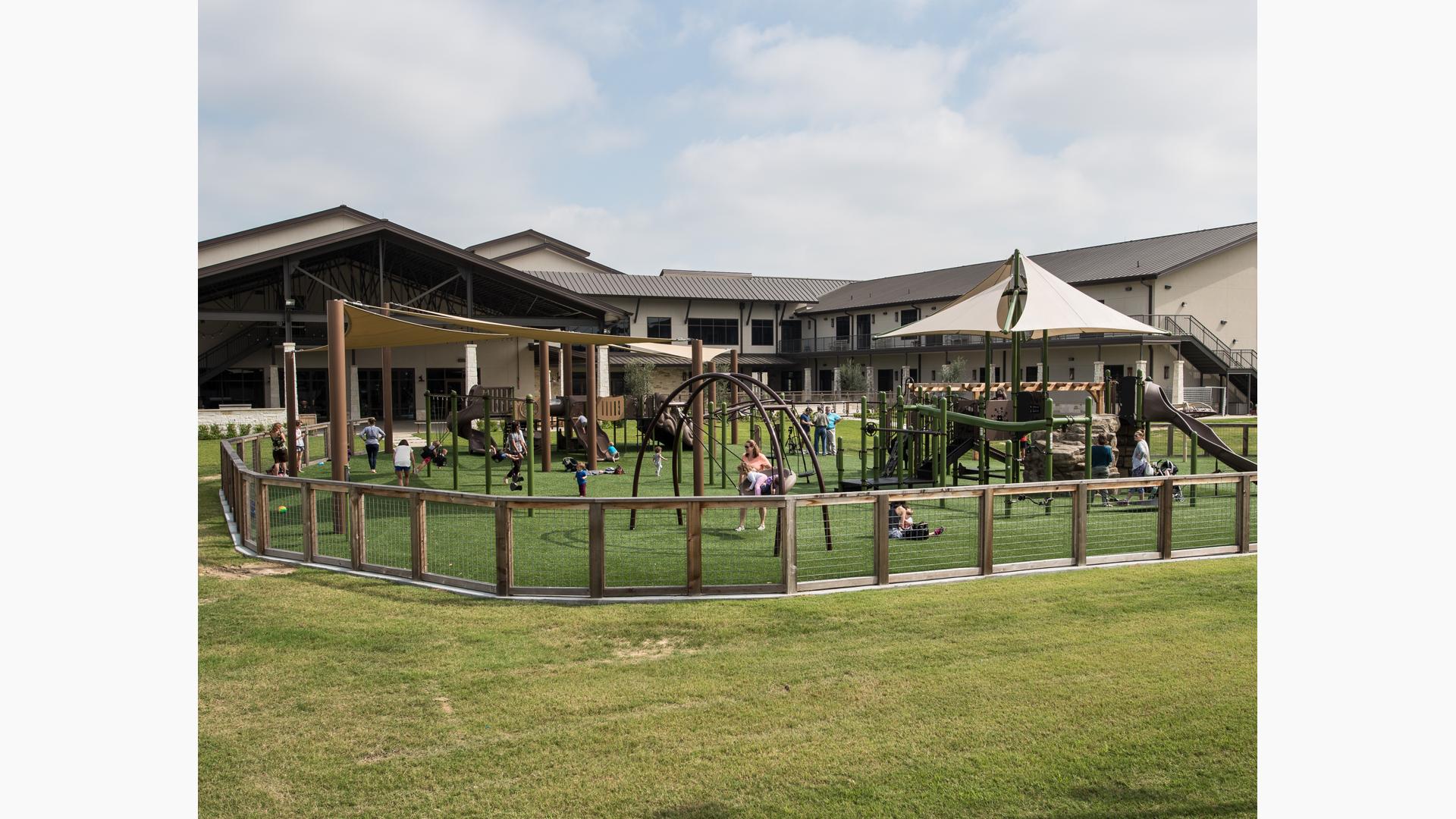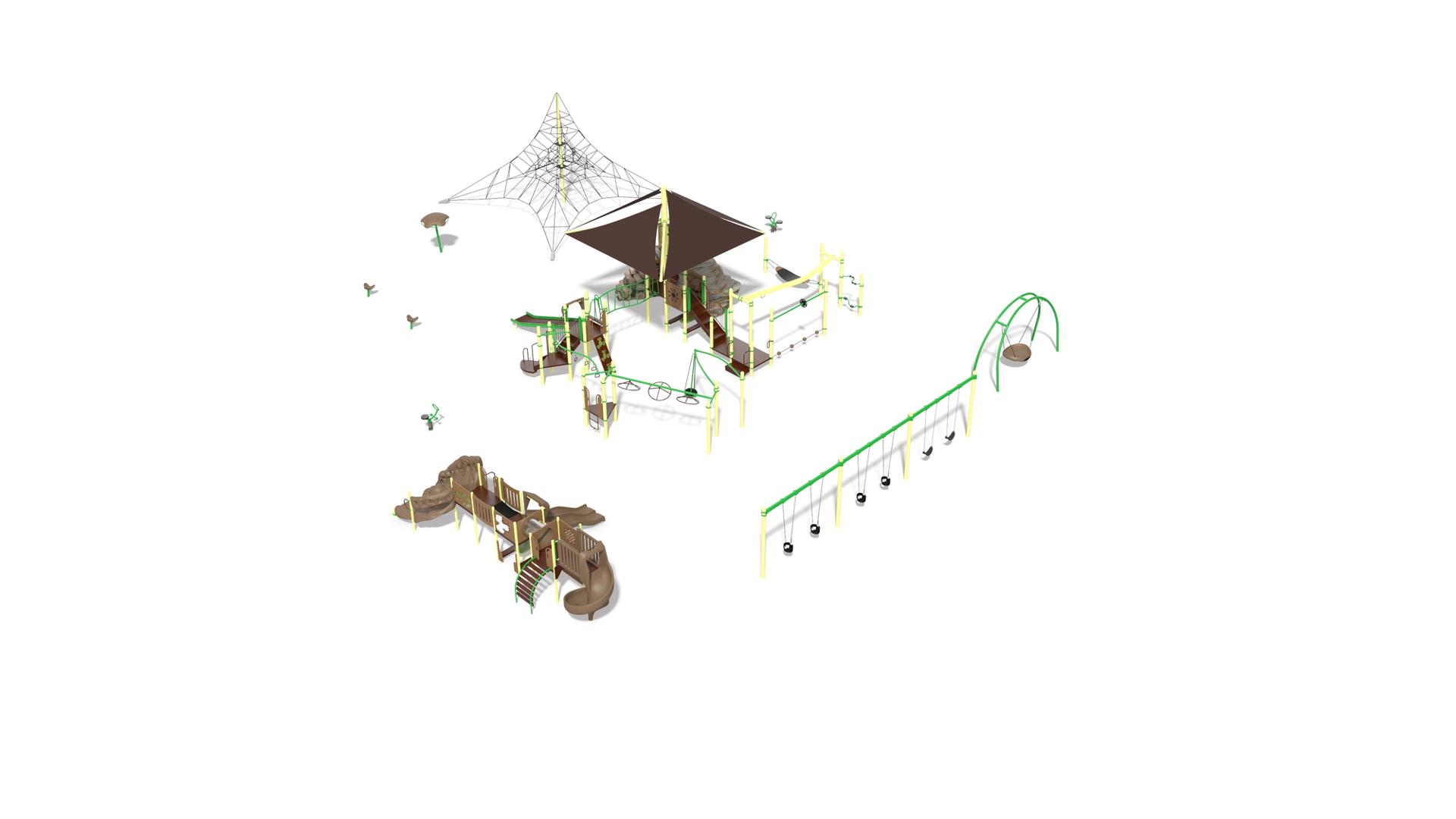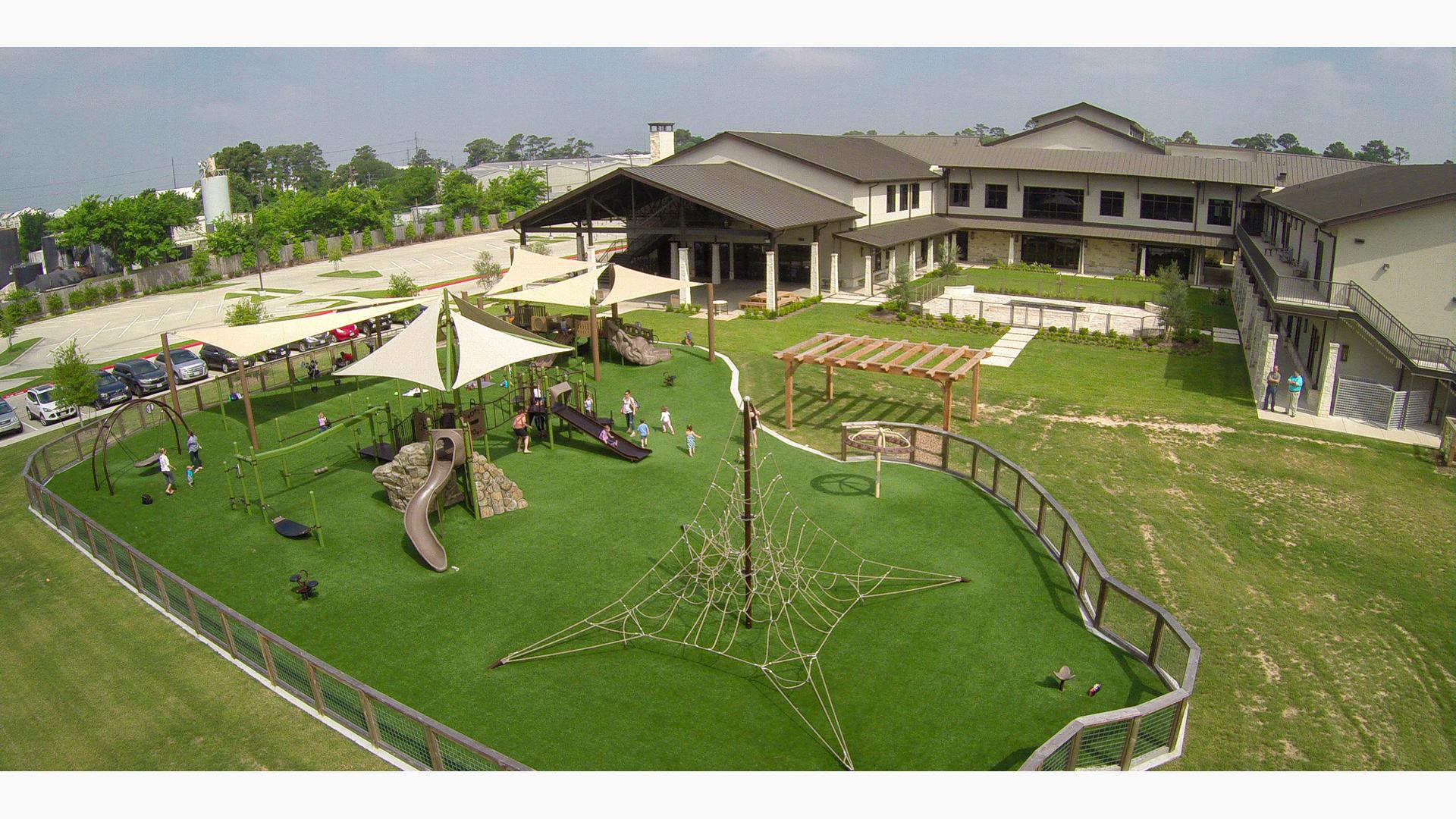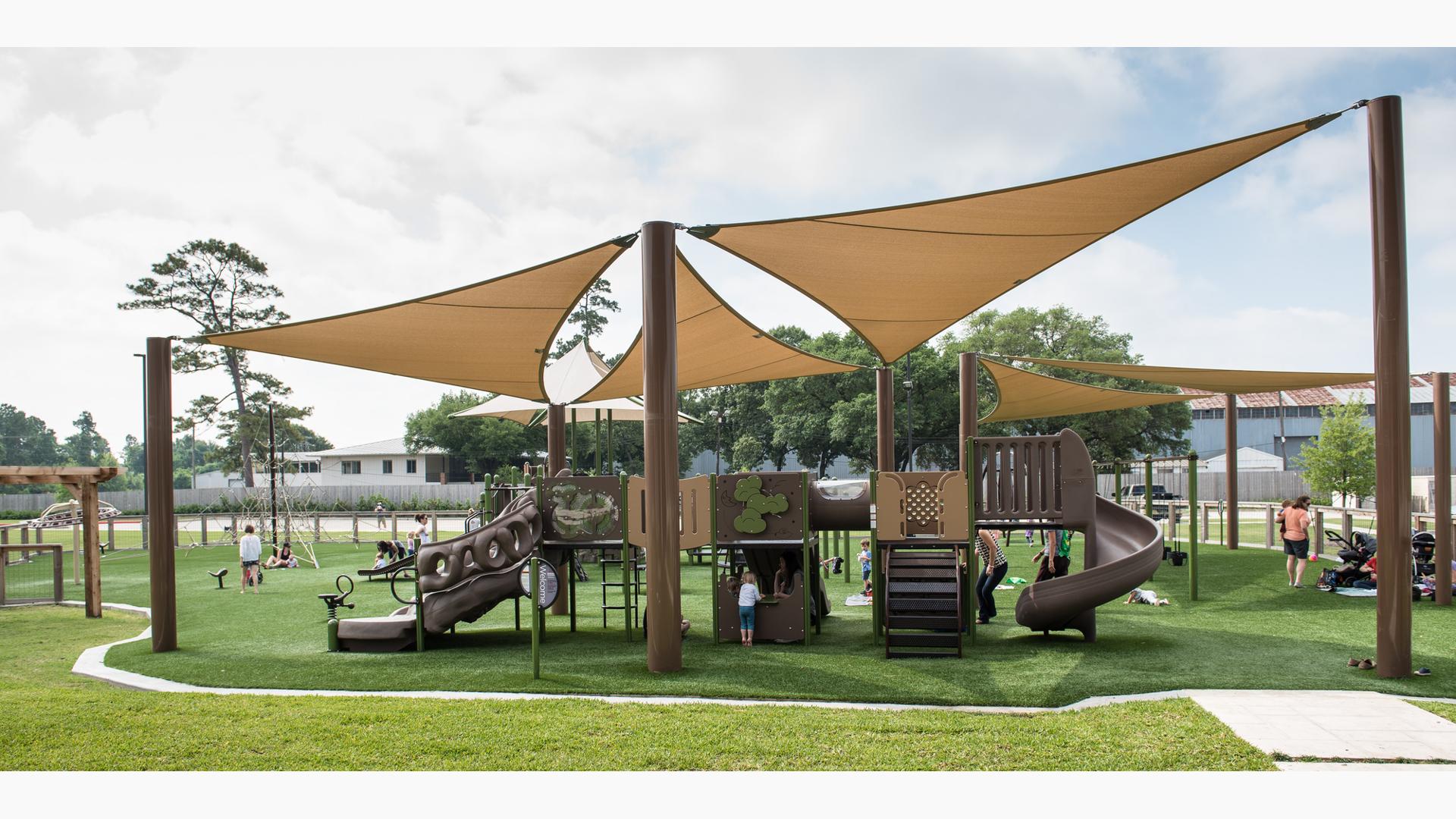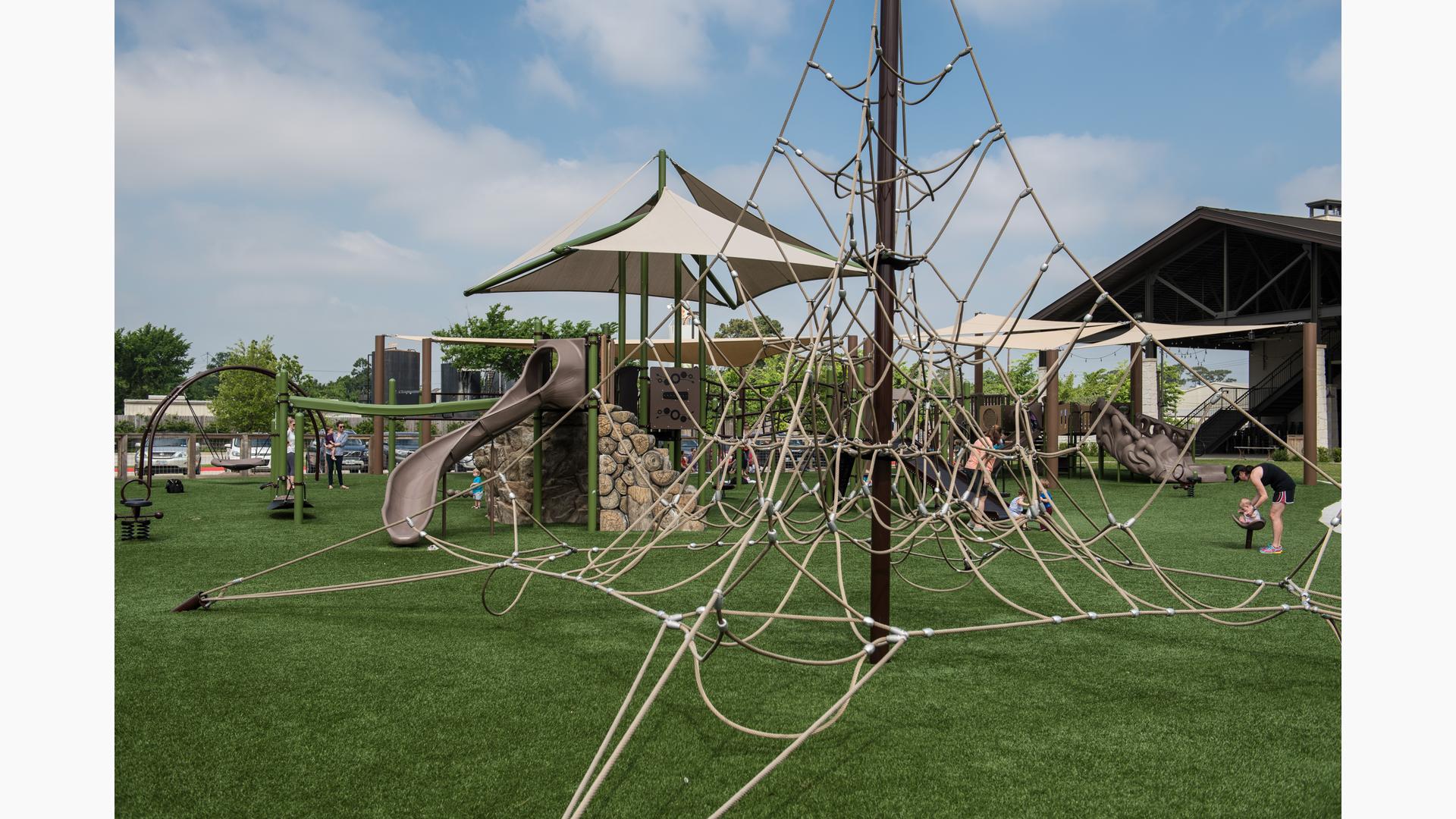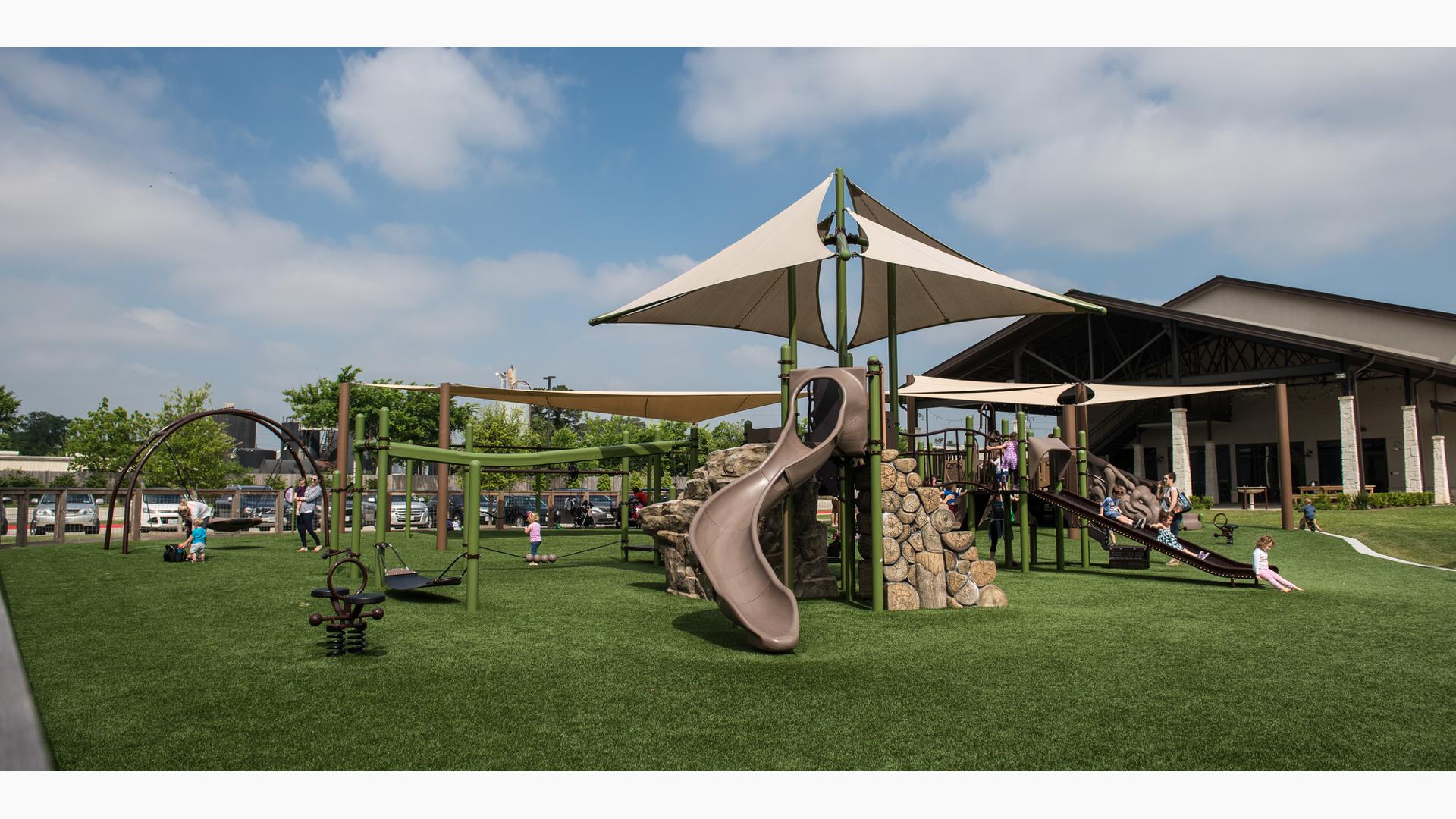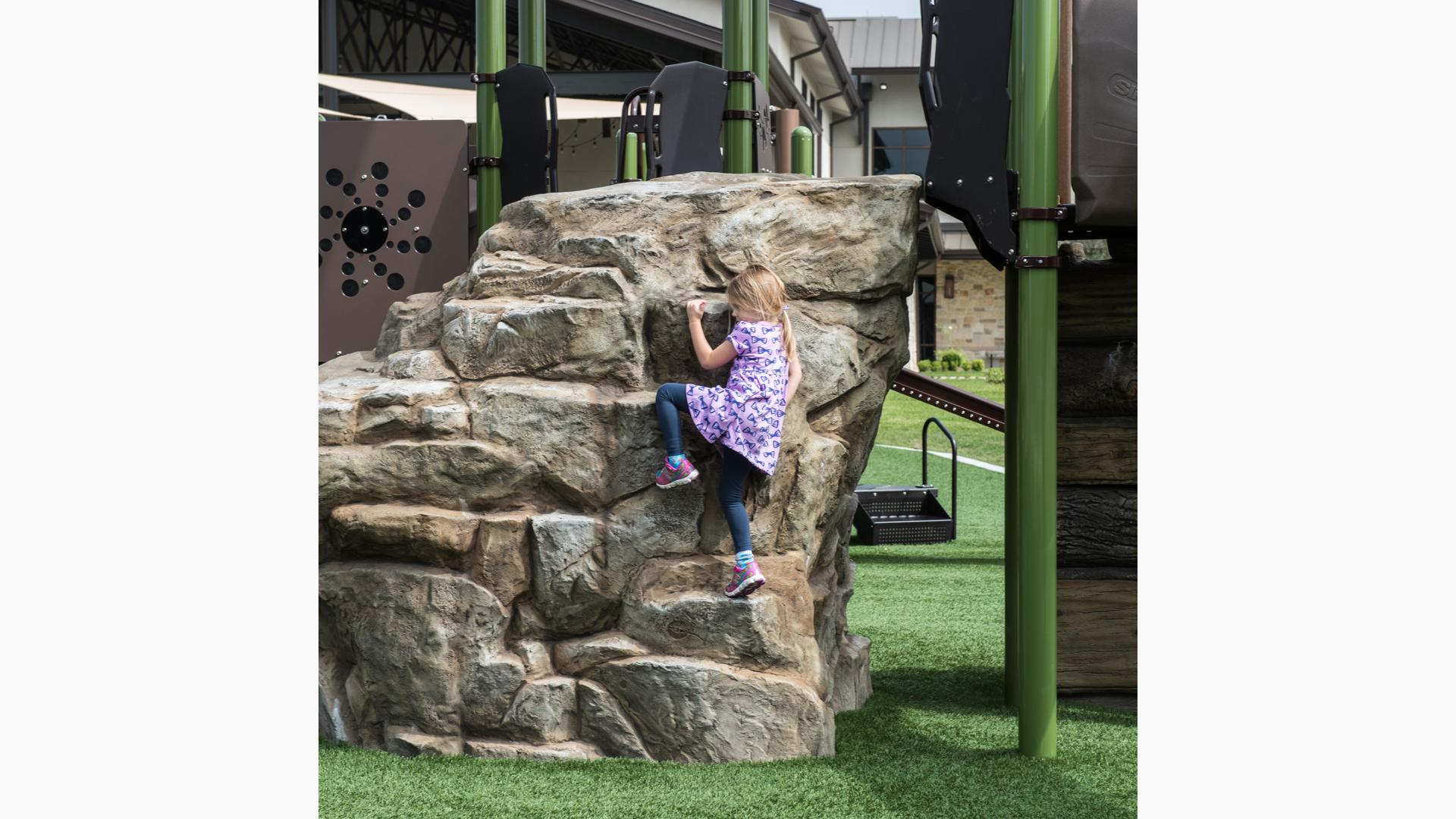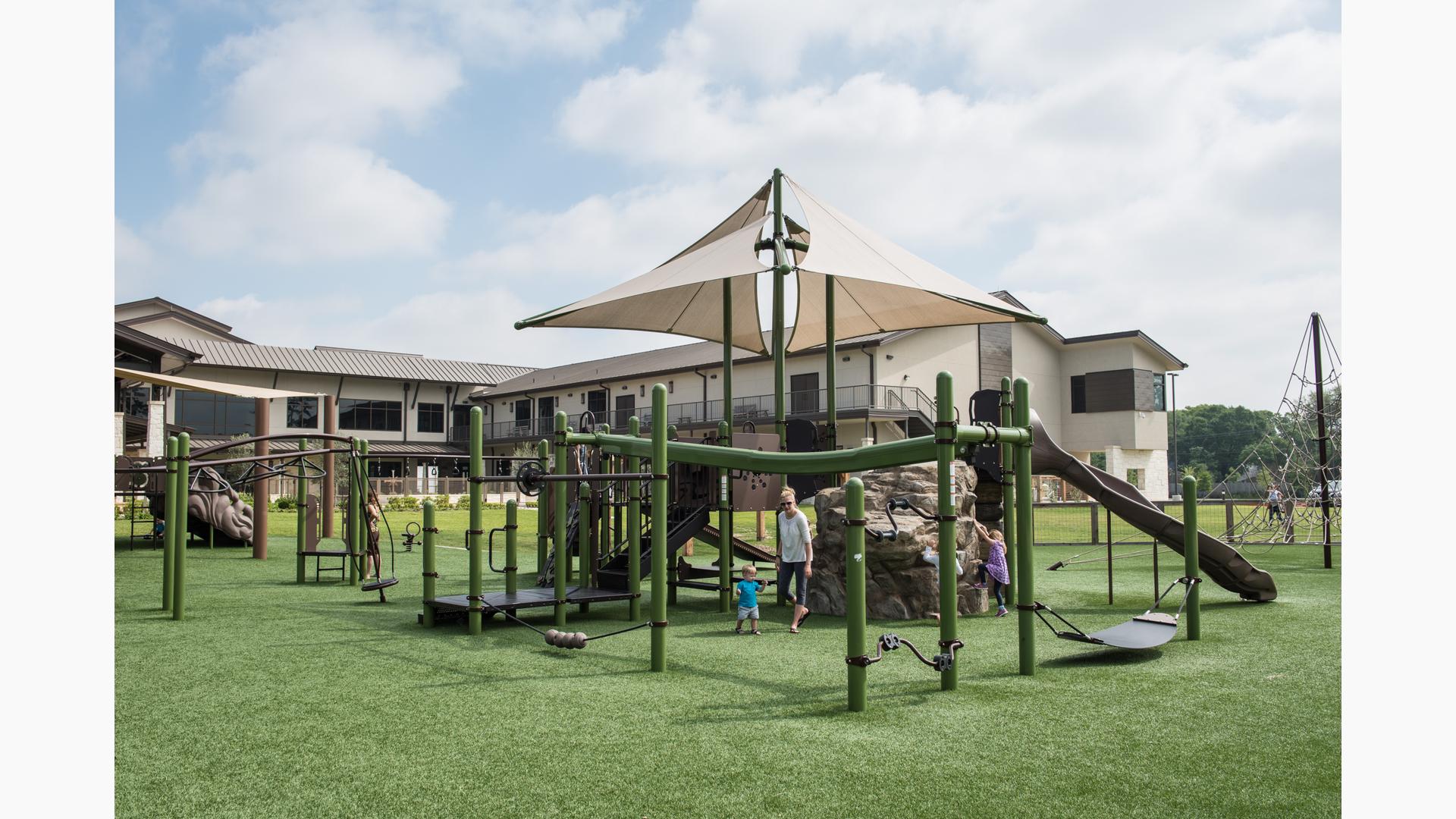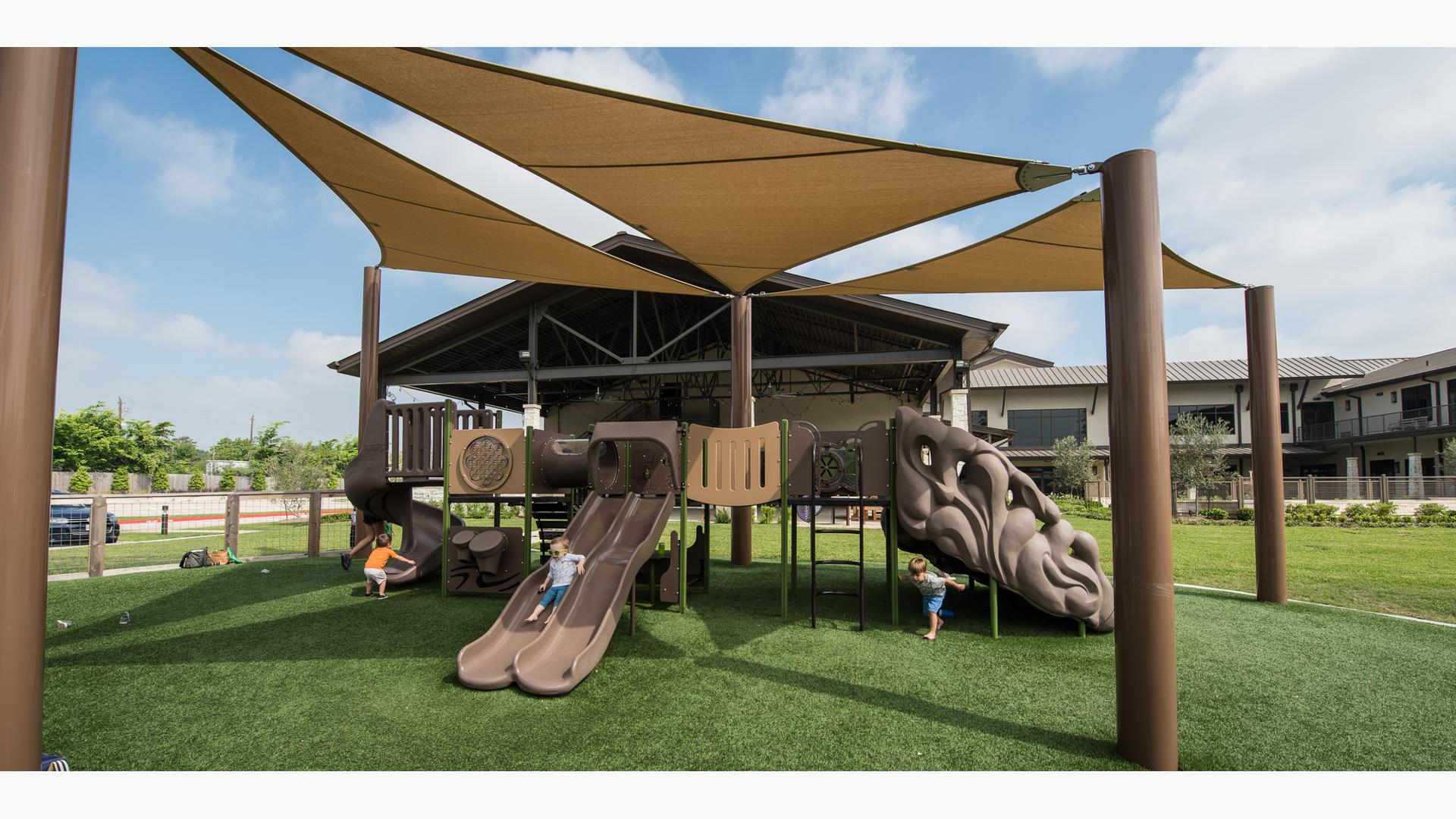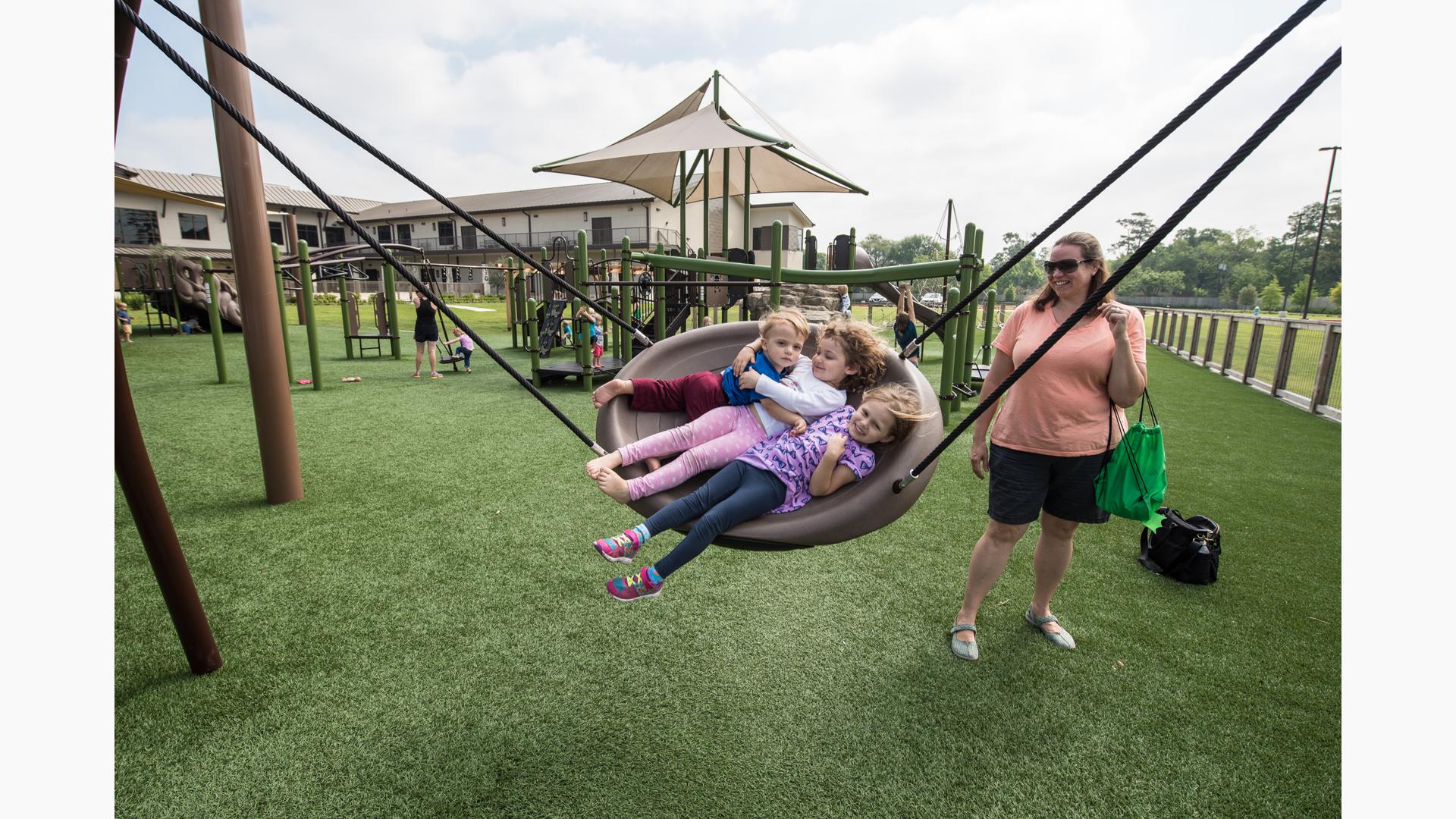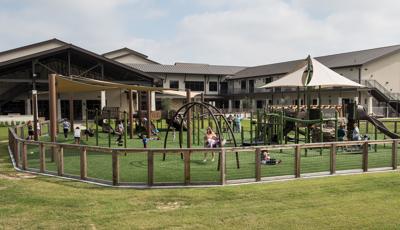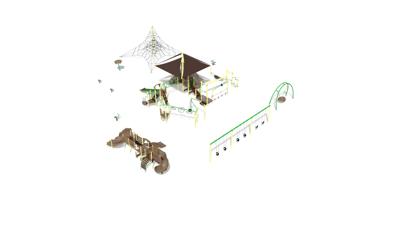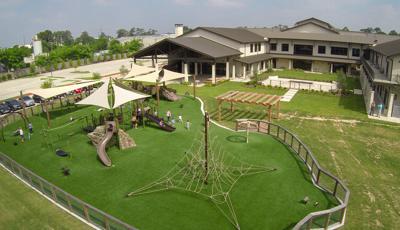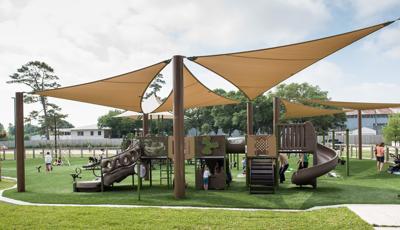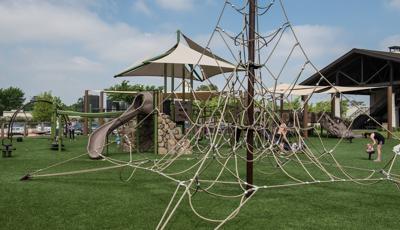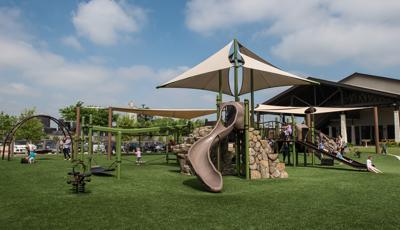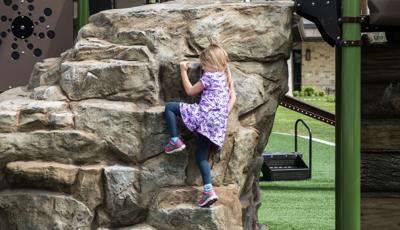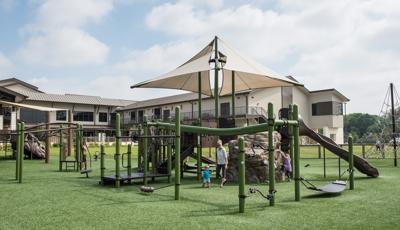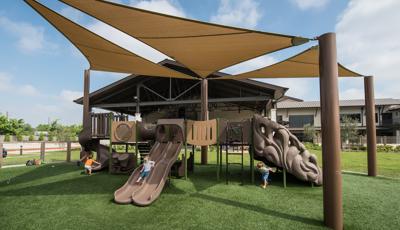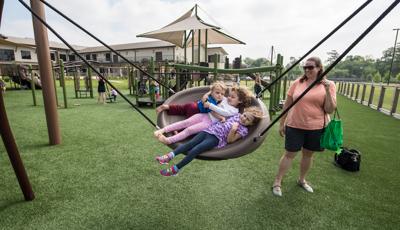 TX - Grace Bible Church
Video features the Landscape Structures playground at Grace Bible Church in Houston Texas.
[video: an elevated panning view of the entire fenced in play area with the church building in the background. The play area contains a Lunar Blast rope climber, a PlayBooster playground with SkyWays shade system and nature-inspired rock and log climbers, a Oodle inclusive swing and a SkyWays shaded 2 to 5-year-old play area.]
[video: camera view is angle up towards the Sky way shades mounted above the PlayBooster double wave slide. Parents push their children on swings on the swing set in the background. A young boy spins on a saddle seat spinner. A toddler and a baby swing side by side in full bucket seat swings. Camera pans across the entire swing set where a mother pushes her son in a full bucket seat swing. Her older son runs over to an open swing and begins to climb to get on it. A mother kneels and rotates her toddler by the shoulders while he sits on a saddle seat spinner. A toddler sits on the deck of the playground stairs. A baby stands by the deck of the stairs and grabs onto a nearby post. Two girls lay on the large Oodle swing. They swing in and out of frame several times. A young boy climbs up the Pinnacle rock climber. A baby sitting on a blanket throws down a toy elephant. The baby leans over and down to grab the toy she just threw. Two young boys peek over the edge of the playground decking at the camera.]
[video: a toddler begins to slide down the roller slide. A mother quickly grabs another toddler standing at the end of the slide and picks him us so the toddler sliding down the roller slide does not run into him. A young boy walks up to the side of the side of the log stack climber. He reaches up to point at a decretive carved chipmunk in the empty spaces between the logs. The camera comes into focus as a young boy's hand comes into frame as he points at a worm carving the side of the wood stack climber. He touches it with his finger. Camera switches to the young boy pointing to a mouse carving in the empty spaces of the stacked log stepper.]
[video: camera close-up of a toddler's feet as they climb up a playground step. Scene switches to a young boy bouncing on a Bobble spring rider. Four children ride together on the Oodle swing in slow motion. Two of the children sit while the swing while the other to lay on their stomachs looking at the ground. Camera zooms in on a young girl's face as she hangs from the handles of the ring bridge. Camera slowly pans up the girl's arms and to her hands where they hold onto the handles. An adult holds her for support. A mother spins her toddler on the saddle seat spinner.]
[video: An overhead view of two mothers pushing their children in full bucket seat swings. A top down view of a mother standing on the side of the roller slide as she holds her son. She holds on to him as he slides down the slide. Camera pans from the outside of the fence of the entire play area. Fade to black. Landscape Structures logo appears with text below reading, better playgrounds, Better world.]
Age Ranges
2 to 5 years
5 to 12 years
Product Lines/ Categories
Min Area Required
92' x 119' (28,04 m x 36,27 m)

2-5 Area: 43' x 28' (13,11 m x 8,53 m)
5-12 Area: 59' x 52' (17,98 m x 15,85 m)
Design/CAD Files for this Playground
Design Standards
Price Range (USD)
$200K-$500K+
Pricing reflects only the equipment shown in the 3D render above in USD. Freight, brokerage, exchange rates, etc. not included. For international and exact pricing, please contact your local playground consultant.
Contact Your Consultant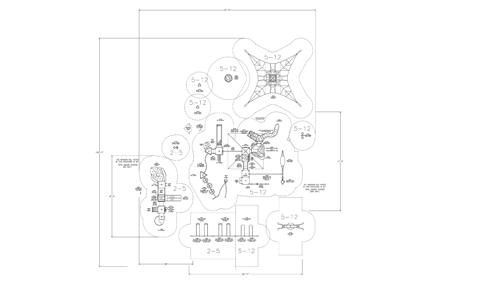 Bridges & Ramps
Motion & More Fun
+ view more
Slides & Gliders
Grace Bible Church offers a play experience to children of all ages. The PlayBooster® play structure incorporates a variety of multisensory playground activities that allow kids to climb, spin, bounce, slide and glide. Rock climbers from The Canyon Collection® are incorporated into the play structure to engage kids of all ages with a rugged, yet safe, challenge found only in nature. Additionally, the PlayShaper® play structure provides activities to keep the youngest adventurers engaged and active. And to keep kids and caregivers safe from UV rays, SkyWays® shade products and CoolToppers® shade products were included over both of the playground structures.
Installed: February 2016
Our color palettes offer a range of options to customize your projects
Our state of the art materials make our playgrounds stand out.
We've created a global network of local playground experts to be at your side, every step of the way. With an average of 20 years of experience, our playground consultants are knowledgeable and personable. They will guide you through product pricing and specifications, customization, financing options, community builds, on-time deliveries, maintenance, finding replacement parts, and service questions.
Playground consultant for this project
Find a Playground Consultant Near You
Contact Your Consultant
Related Playgrounds & Designs