Overview
This PlaySense® playground offers an amazing 19 play events! Created just for kids ages 5 to 12, this affordably priced playground offers lots of play value for elementary-aged kids. This complete phasable design contains all components available for Phase 1, 2, and 3.
---
Features
Design 400 Phases 1 , 2 and 3 Complete includes the following components: Air Dancer™ Overhead Event, Chinning Bar, Clatterbridge, Corkscrew Climber, Double Swoosh™ Slide, Handhold/Leg Lift, Handloop, Loop Arch Climber, Loop Ladder, Pod Climber, Single Beam Loop Horizontal Ladder, SlideWinder2, Square Peak Tile Roof (3), Storefront Panel, Summit Climber™, Talk Tube (2), Thunderhead Climber®, Transfer Point, Turning Bar, Vertical Ladder, Wiggle Ladder, Wire Barrier (3), Wire Barrier with Maze Panel and Wire Barrier with Steering Wheel
Developmental Benefits
Sensory
Proprioception, Tactile, Vestibular+, Visual
Motor Skills
Agility, Balance, Cardiovascular, Coordination, Core Body Strength, Endurance, Flexibility, Lower Body Strength, Motor Planning, Upper Body Strength
Cognitive Skills
Problem Solving, Strategic Thinking
Social/Emotional Skills
Cooperation, Imaginative Play, Social Skill Development
Learn about Developmental Benefits
Component Details
Age Ranges

Play Systems

Shipping Weight

4,053 lbs
Dimensions

Elevated play events: 15
Ground-level play events: 4
Max Fall Height: 84" (2,13 m)
Min Area Required: 40' 3" x 42' (12,27 m x 12,80 m) ASTM

Design/CAD Files

All About Color

Color is an important decision, and our products are available in many color options. Contact your consultant to find the colors available for this component.

See Color Inspiration
Playground products shown in video may not be appropriate for every age group. Playsystems shown in video are for demonstration purposes only. Product configurations may vary.
Video features the PlaySense structure design 400.
[video: scene fades into children playing all around a playground structure on the many different playground activities. Scene switches to a group of children as they climb up a Thunderhead climber. The climber is shaped like rolling clouds leading up to the playground decking. Camera switches to a boy as he slides down the double slide by himself. Camera switches to a line of children waiting to go down the playground SlideWinder slide. Scene switches to an elevated view of a girl as she begins to make her way across the looped monkey bar rungs. The scene fades into another girl as she makes her way across the monkey bars.]
Woman off camera: Good job, that was a nice one.
[video: scene transitions again as a boy reaches the end of the monkey bars. Scene switches to a elevated view of a girl as she climbs up the Loop Arch climber. Scene switches to a view up to a boy swinging across the looped monkey bars while another boy slides his way across the Air Dancer hand slider.]
Woman off camera: Alright!
[video: the camera focuses on the boy on the Air Dancer as he wiggles his body and slides the hand holds down the bars to reach the other landing platform.]
Woman off camera: Wow!
[video: scene switches to a group of children rushing up the Thunderhead climber towards the camera. Camera switches to a ground view of children climbing down the Thunderhead climber. Camera pulls back as children climb up the different playground climbers all around. Scene switches to three boy sitting in the shade of Thunderhead climber touching and view the different animal shapes and tracks underneath. Scene fades to black.]
Next Tab
Play System of this Component
We offer the widest range of park and playground equipment to promote healthy lifestyles, encourage skill-building and create unique outdoor experiences. From our playsystems and freestanding playground components to themed designs, site furnishings and more, we'll help you create a recreation space that welcomes your whole community.
---
PlaySense®
Ages 2 to 12 Years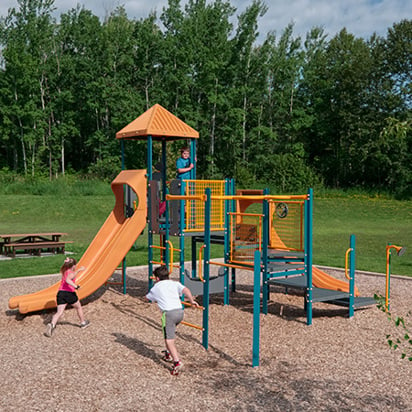 PlaySense® playgrounds are perfect when you are looking for more fun per dollar. These preconfigured playgrounds serve kids ages 2 to 5 and 5 to 12 so everyone is happy, and every community can have an affordable playground to call their own.
Resources
View all PlaySense® Playgrounds
Previous Tab
Related Playground Components