There's a Play Deficit in America
KaBOOM!® is dedicated to ensuring that all kids in America get a childhood filled with the balanced and active play needed to thrive. Celebrating more than 20+ years of service, the national nonprofit organization rallies communities to fund, plan and build playgrounds throughout the nation.
KaBOOM! inspires communities to make play the easy choice and works to drive the national discussion about the importance of PLAYces. Since their inception, KaBOOM! has collaborated to build or improve more than 17,000 playspaces, engaging more than 1.5 million volunteers and serving over nine million kids.
Partner in Play
We're proud to be selected as KaBOOM!'s Partner in Play. Landscape Structures will serve as the primary supplier of playground equipment and partner to build hundreds of play spaces in communities in need across the United States, Canada and Mexico. These playgrounds deliver safe places to play and instill a sense of ownership and pride that revitalizes neighborhoods.
Landscape Structures has a rich history of working with KaBOOM! for nearly two decades on community-built playspaces including a basketball-themed playground for NBA All Star Week, the 1,000th KaBOOM! community build project in Atlanta, Ga., as well as many other much-needed playgrounds. See a gallery below of some of these exciting projects, and find a KaBOOM! playground near you!
Grant Opportunities
KaBOOM! partners with over 275 companies to fund grants to help communities build safe places for underserved children. They also offer extensive online resources and tools to help communities make their playground vision a reality.
Some of the KaBOOM! grant programs are listed below: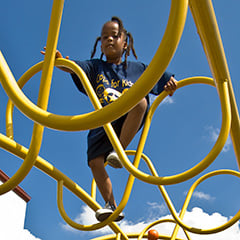 Build it with KaBOOM!
Plan and build a new community-built playground in your community by working with KaBOOM!
Build it Yourself
Keurig Dr. Pepper has teamed up with KaBOOM! to offer Let's Play Community grant opportunities.
Contact a Landscape Structures consultant to learn more!