Overview
Check out the Evos® BalanceWinder™ Playground Climbing Net! It's a great alternative to the Evos® Helix Net™ climbing nets and helps kids develop balance as they counterbalance against gravity.
---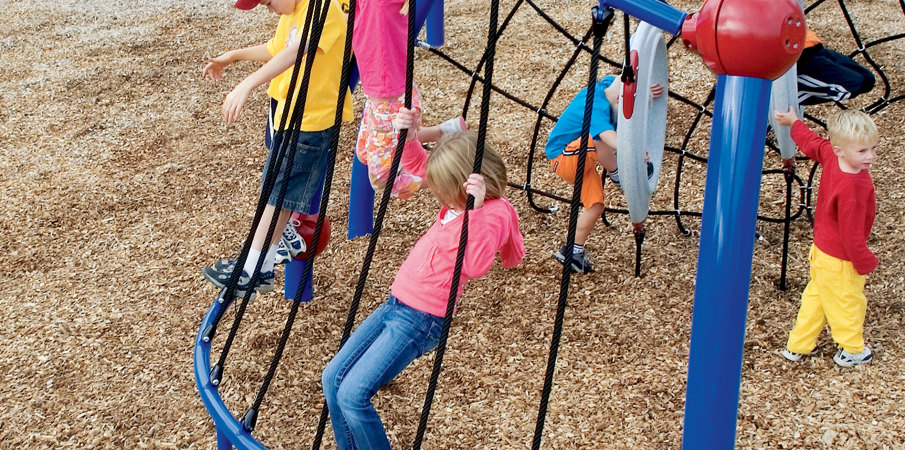 Features
Builds total-body strength
Durable steel construction
Good for one to many kids
Uses the highest quality climbing cable available
Developmental Benefits
Sensory
Proprioception, Tactile, Vestibular
Motor Skills
Agility, Balance, Coordination, Core Body Strength, Flexibility, Motor Planning, Upper Body Strength
Cognitive Skills
Problem Solving
Social/Emotional Skills
Cooperation, Social Skill Development
Learn about Developmental Benefits
Component Details
Age Ranges

Play Systems

Design Standards

ASTM, CSA, EN
Dimensions

Max Fall Height: 14 3/4" (0,37 m)

Design/CAD Files

Downloads are not available for individual components.

All About Color

Color is an important decision, and our products are available in many color options. Contact your consultant to find the colors available for this component.

See Color Inspiration
Playground products shown in video may not be appropriate for every age group. Playsystems shown in video are for demonstration purposes only. Product configurations may vary.
This video features children playing on the Evos Balance Winder rope and post climber on a sunny winter day.
[video: fade in to full shot of Balance Winder rope post climber attached to the Evos play structure. Camera switches to close-up of the rope to beam attachments. Camera switches to a close-up of the cast-aluminum ball connector on main support beam. Camera switch to view of rope connections to top arched bar.]
[video: a young boy and girl wearing winter clothes hold on the vertical ropes of the Balance Winder as they balance with their feet on the bottom curved bar. The boy swings his body 360 degrees around the rope he was holding on to. Close-up of the young girl holding on to a vertical rope. Camera switches to a close-up of a girl's boots as she steps to the other side of a vertical rope in slow motion.]
[video: camera switches back to full view of Balance Winder as both boy and girl swing themselves around the vertical ropes they are holding on to.]
Young boy: Woo this is fun.
[video: elevated view of balance winder as two young boys and a girl stand and hold on to the vertical rope. Close-up of young boy as he pulls himself to the other side of the vertical rope he is holding onto. Camera switches to a view looking up to a young boy as he makes his way through several of the vertical ropes.]
Young boy: Woo-hoo.
[video: close-up of young girl's jacket hood as she climbs away from the camera and across curved foot bar and holding on the vertical ropes. Camera pulls back to full shot of Balance Winder as the three children continue to walk and spin themselves on the vertical ropes. Scene fades to black]
Next Tab
Play System of this Component
We offer the widest range of park and playground equipment to promote healthy lifestyles, encourage skill-building and create unique outdoor experiences. From our playsystems and freestanding playground components to themed designs, site furnishings and more, we'll help you create a recreation space that welcomes your whole community.
---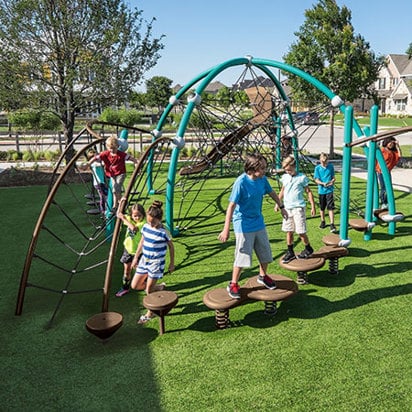 Evos® attracts kids with its unique appearance and endless opportunities for unstructured fun. Its ground-to-ground arches allow kids of all abilities to join in the fun. But most importantly, Evos lets kids find their own ways to play while building muscle strength, endurance and mental agility.
U.S. Patent Nos. 8,021,240, 8,366,562, 8,485,911 and 9,089,731. Canada Patent No. 2,658,420.
View all Evos® Components
Previous Tab
Related Playground Components